How to Repair Corrupted MP4 Files on Windows in 2023
MP4 has been the most frequently used one though we know that you have your own choices. Sometimes. an MP4 file will be broken, corrupted or even lost for various reasons, which will be extremely frustrating and painful for all the users. However, you don't need to worry too much since there are always some ways to fix or recover your broken or deleted MP4 files. Today, we will focus on MP4 Repair, informing you of how to repair corrupted MP4 files on Windows. The three solutions recommended in this article prove to be practical and FREE, including WorkinTool Data Recovery, VLC media player and WorkinTool Video Editor. However, it is strongly advisable to try WorkinTool products as they are:
1. Free trial versions
2. Easy to use
3. Batch processing and recovery available
4. Multiple formats supported
[FREE MP4 Repair] How to Repair Corrupted MP4 Files on Windows in 2023
There is no doubt that we are now living in a world dominated by videos, especially with the advent of social media like TikTok and YouTube. Therefore, plenty of videos are being shot and uploaded to or downloaded from all online platforms. Of all the formats, MP4 has been the most frequently used one though we know that you have your own choices. As a digital multimedia container format that stores video and audio, along with other data such as subtitles and still images, an MP4 file will sometimes be broken, corrupted or even lost for various reasons, which will be extremely frustrating and painful for all the users.
However, you don't need to worry too much since there are always some ways to fix or recover your broken or deleted MP4 files. Today, we will focus on MP4 Repair, informing you of how to repair corrupted MP4 files for FREE on Windows.
---
Something to Say Before MP4 Repair
📌Why are my MP4 files corrupted or broken?
If your MP4 videos are unable to open or play, they can be deemed broken or corrupted. The reasons for it are various. However, here are the main ones:
External Reasons
Internal Reasons

Sudden system shutdown
Sudden shutdown of camera
A bad internet connection
Error downloading video
Bad sectors on Hard disk
The use of unreliable video editors
Incorrect conversion of video formats
Incomplete media download or transfer
Unexpected stopping of media player or it is forced to stop
Already affected/infected files in the folder can corrupt other files as well

Virus attacks
Corrupt video headers
Error reading or writing data
Low battery during video recording
📌How can I prevent my .mp4 files from being corrupted or lost?
Ensure that the PC or laptop runs optimally and has a consistent electrical connection and continuous supply.
Keep updating the operating system and install antivirus software.
Avoid using the shortcut key–Shift + Delete.
Always back up your MP4 videos with the help of online drives, such as iCloud, OneDrive, Dropbox or Google Drive.
Install data recovery software, for example, WorkinTool Data Recovery.
So how to repair corrupted MP4 files on Windows? Please read on to learn three easy and FREE methods.
---
How to Repair Corrupted MP4 Files on Windows Through Three Ways
Here are three approaches to corrupted MP4 repair.
1. Repair Corrupted MP4 Files with Data Recovery Software
The easiest way to fix a broken MP4 video is to find your original .mp4 file back. So how can I achieve this goal with minimal effort? The answer is to try data recovery software. However, there are a variety of options in the current market, so which would be an effective solution? Here, we would like to introduce you to WorkinTool Data Recovery. You can use it to recover your original MP4 videos to replace the corrupted ones in any location of your HDD, SSD, portable HDD, SD cards (from your camera or motion camera), USB drives, flash disks, etc., or caused by missing partitions.

📃How to recover corrupted or lost MP4 files via WorkinTool Data Recovery?
Step 1. Click open WorkinTool Data Recovery and select a scene for recovery.
(Taking Deletion Recovery as an example.)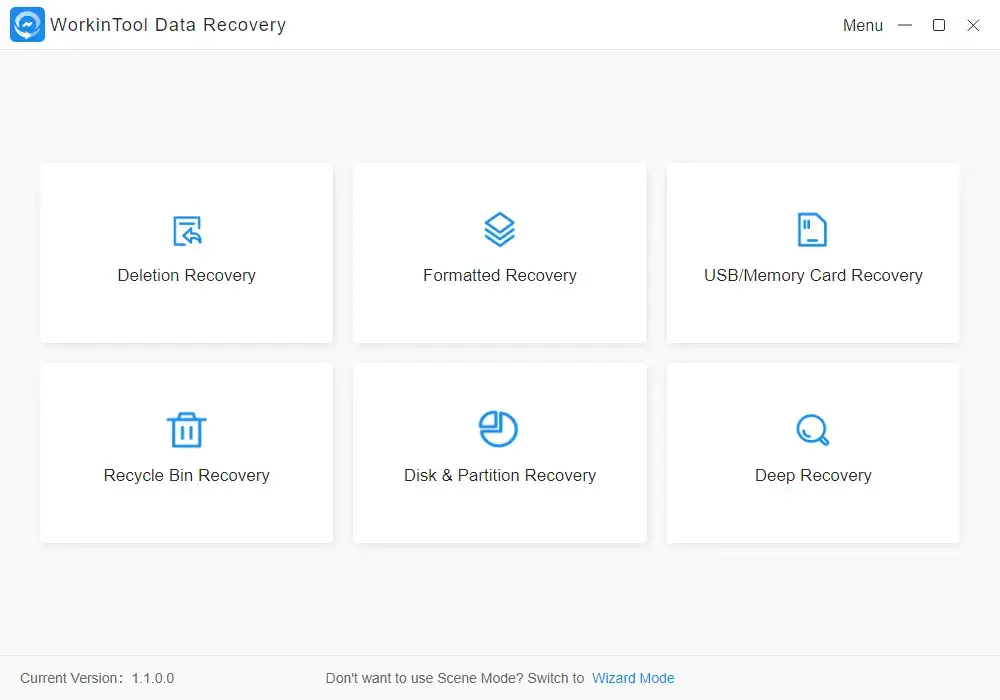 Deletion Recovery: It allows you to recover the original .mp4 files from the location where they were stored.
Format Recovery: Brings back the formatted data from SD cards, disk partitions, etc.
USB/Memory Card Recovery: It helps you get back the lost MP4 videos from mobile devices like USB, portable HDD, memory cards and more.
Recycle Bin Recovery: Quickly and precisely retrieve and recover MP4 files deleted or cleared from the Recycle Bin.
Disk Partition Recovery: Repair MP4 loss due to missing disk partitions.
Deep Recovery: A more complete and time-consuming search mode will be adopted to find the deleted or lost .mp4 files in order to maximize the recovered data.
Step 2. Choose a location to retrieve your corrupted or lost .mp4 files and then click Scan Now.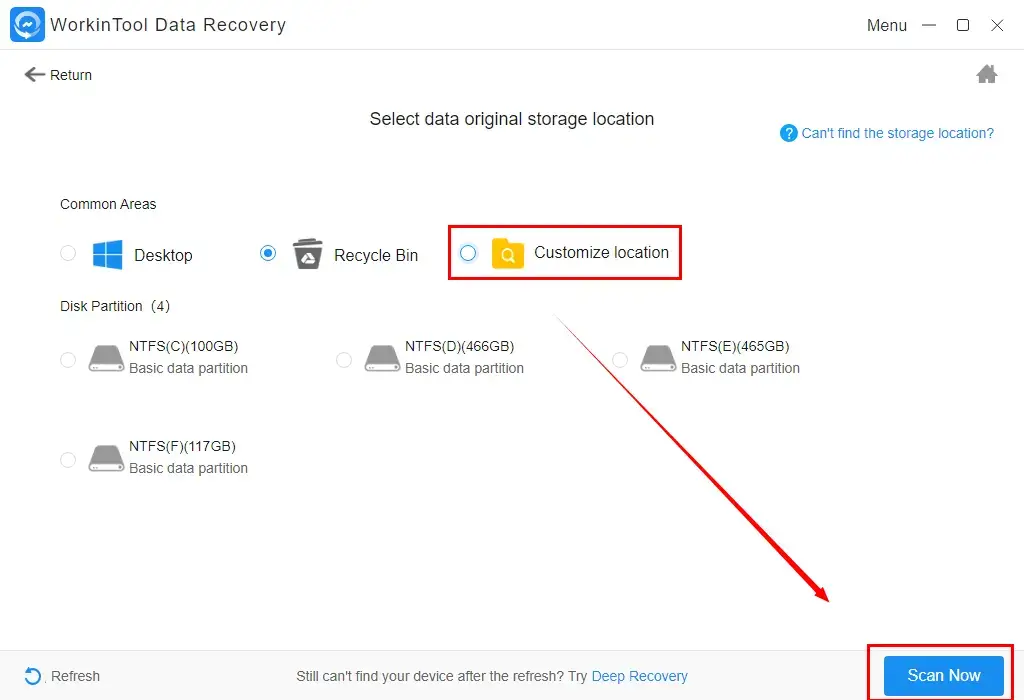 Step 3. Navigate to Video >mp4 and then press the Recover tab.
Tick all the options related to your original MP4 videos before they are broken.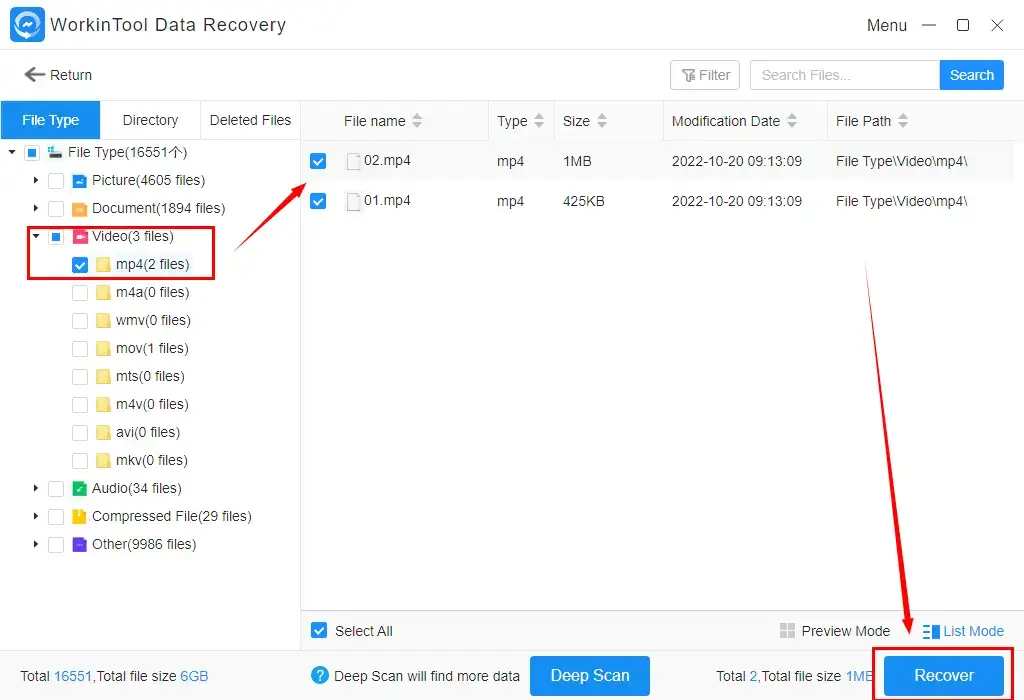 📢Notes:
Deep scan is available if you are discontent with the current outcomes. This mode will prompt the software to undertake a deeper scanning of the chosen location and bring back more MP4 videos. However, it will be time-consuming.
A search column is available for you to pinpoint the exact MP4 file(s) retrieved if there are too many records.
Step 4. Alter the save path as you like and then click Sure.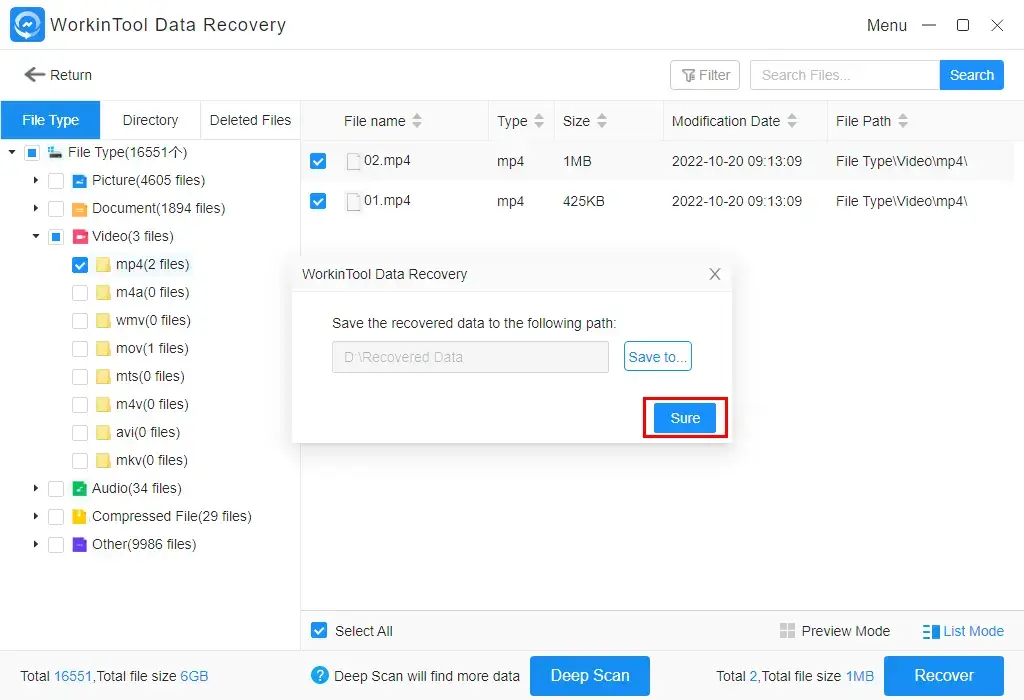 Step 5. Hit Open to direct you to the restored MP4 files.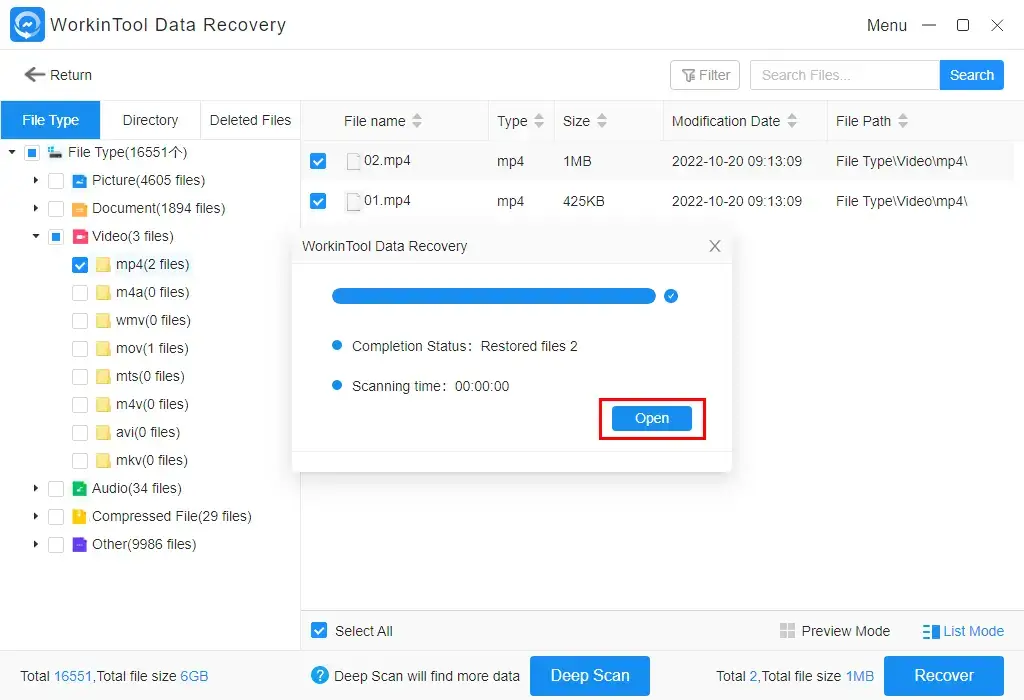 Here is the outcome.

📣Additional Words
📕Why should you choose WorkinTool Data Recovery?
As a new but crucial member of the WorkinTool product family, WorkinTool Data Recovery captures the users' minds instantly with the following features:
Easy to Use: For most of its recovery features, WorkinTool takes you approximately five steps to recover all the desired MP4 files to replace your broken MP4 videos.
Multiple Video Formats: In addition to MP4, WorkinTool can bring back all the common video files in your computer, such as MOV, WMV, M4A, M4V, MKV, AVI
Various Data Recovery: With the assistance of WorkinTool, a range of your data can be effortlessly restored in a flash, including office documents, PDF files, audio, videos, E-mails, archives and other essential ones.
Batch Recovery: Unlimited MP4 videos can be recovered in batches by WorkinTool, which effectively enhances your working efficiency.
Partition Recovery: As a piece of practical and free partition recovery software, it is simple for you to get back the deleted files as a result of missing disk partitions.
FREE and Green: All the features of WorkinTool Data Recovery are accessible without a license payment and compulsory registration. Meanwhile, though it is freeware, no ads will be involved in your MP4 file recovery.
📕What else can WorkinTool Data Recovery do?
2. Fix Broken MP4 Videos with VLC
An alternative way to simply repair corrupted .mp4 files is to convert them to other formats through a reliable media player. VLC has been a good choice and won the recognition of global users. You can try to repair the broken MP4 files by converting them to other formats. Moreover, batch processing of all your videos is possible in VLC, but it takes a longer time to export all the transcoded files.
📃How to fix broken MP4 videos with VLC?
1). Open VLC Media Player, find Media and then select Convert/Save.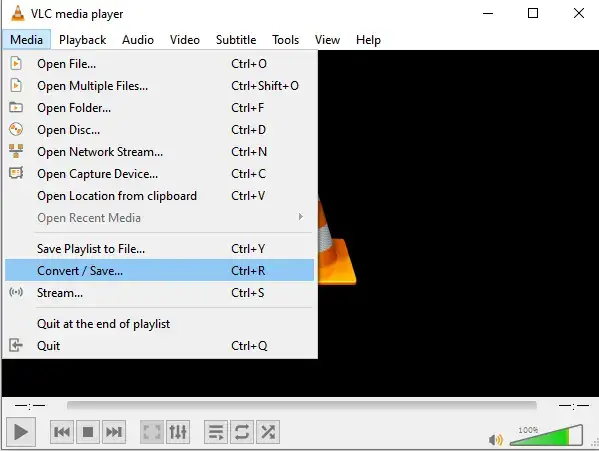 2). Click Add to import the broken MP4 video(s).
3). Then press the Convert/ Save tab.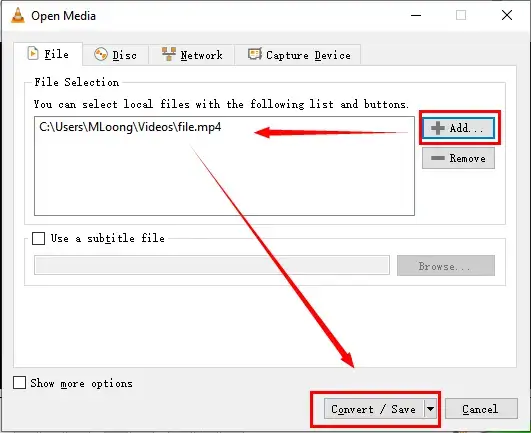 4). Then set a name for your converted file and the location to save it.
5). Pick the input codec you want from the Profile list and then hit Convert.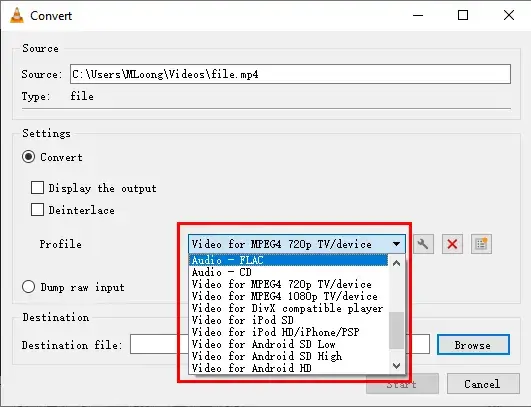 3. Restore Corrupted MP4 Files by WorkinTool Video Editor.
If video conversion is your attempt at MP4 repair, you can also resort to another WorkinTool product–WorkinTool Video Editor. It is an all-around video editor that enables you to complete almost every simple and complex video task. Video conversion is easy as a pie with the help of this tool.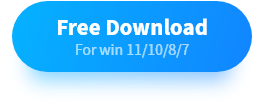 📃How to restore corrupted MP4 files by WorkinTool Video Editor?
1). Open WorkinTool Video Editor and click + New Project to activate the editing console.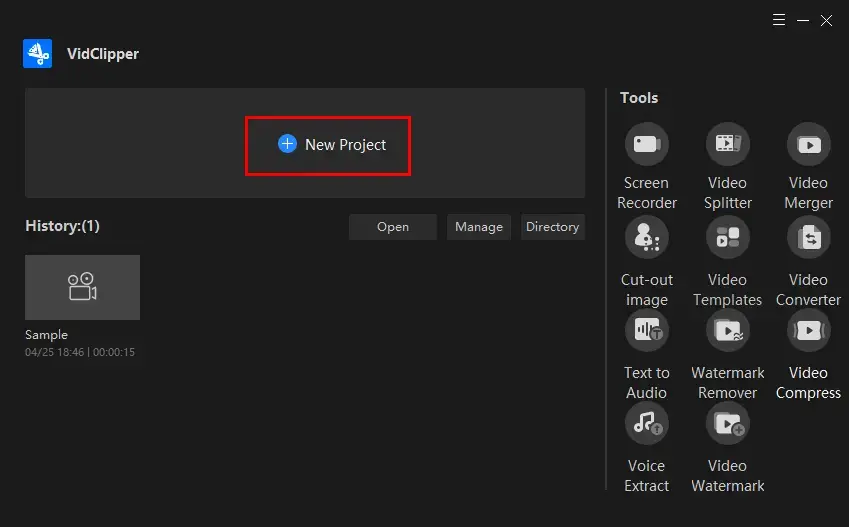 2). Then click + or Import to add your broken MP4 video(s).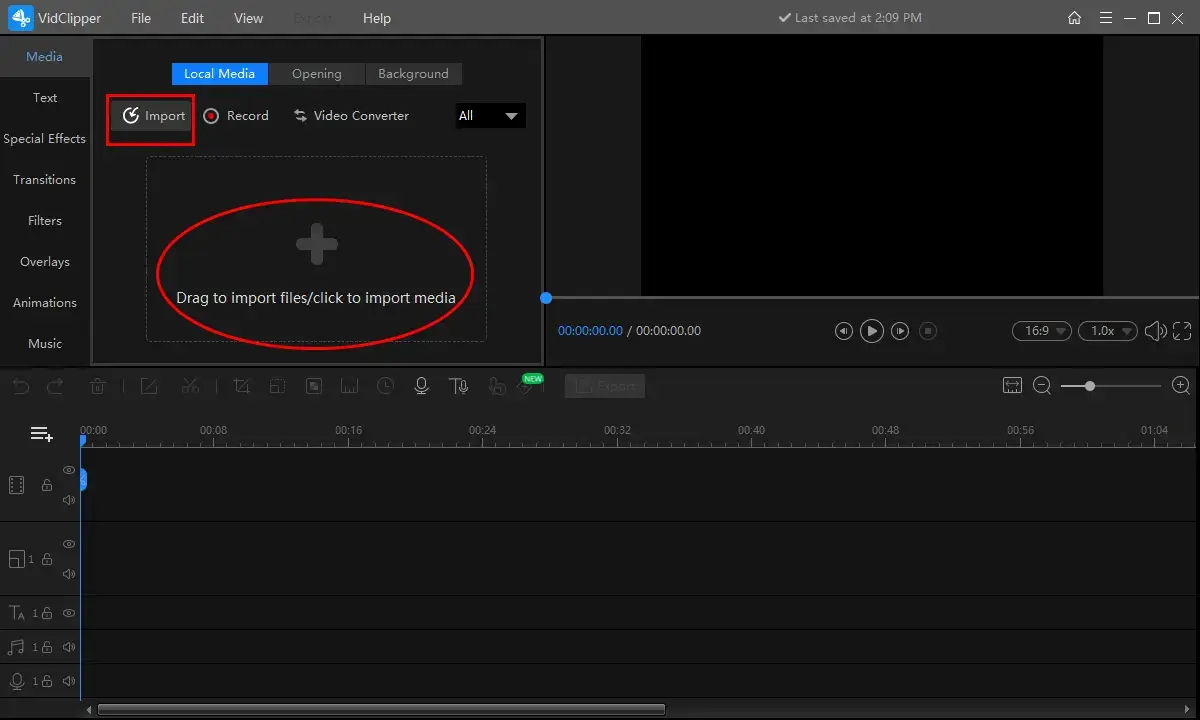 3). Drag the video(s) to the editing bar and then hit Export.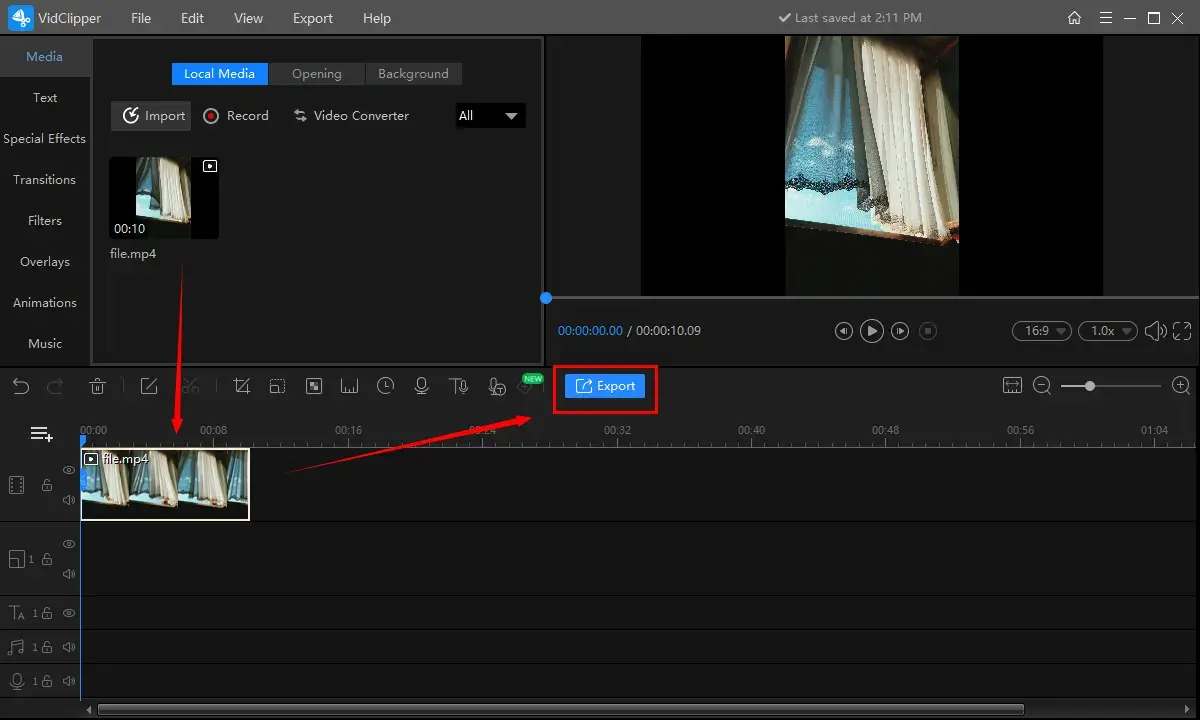 4). Select the video format and quality and then press the Export tab.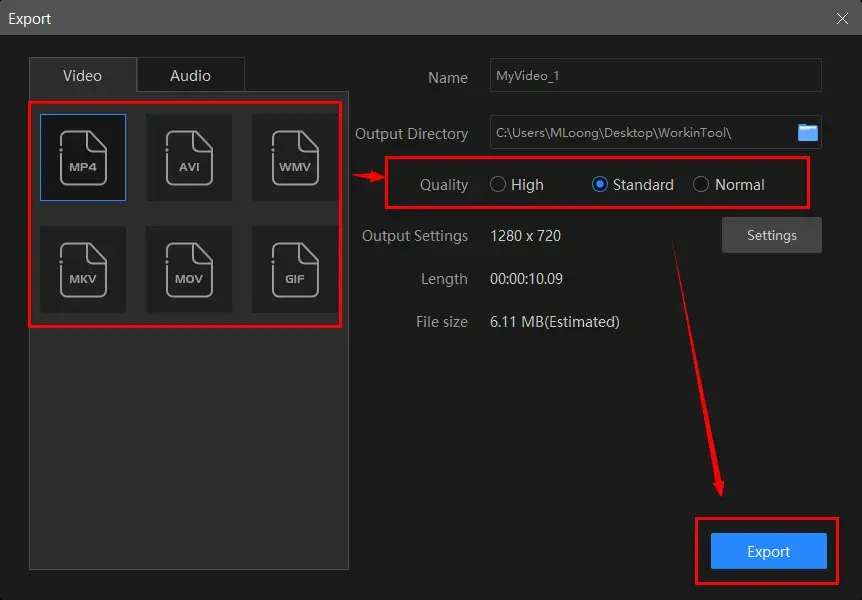 ✔Why should you rely on WorkinTool Video Editor?
Multiple Formats Available: The corrupted MP4 videos can be transformed into the original format or other five like AVI, MOV, WMV, MKV and GIF. You can refer to the relevant tutorials, including MP4 to AVI, and MP4 to MOV.
Video and Audio Quality Adjustable: The video and audio settings are optional for you to change the quality of your fixed MP4 videos, such as video (Encoder, Frame Rate, Resolution Rate and Bit Rate) and audio (Encoder, Sample Rate, Channel and Bit Rate).
Batch Conversion:

Multiple broken MP4 files can be imported and transcoded simultaneously and instantly.
---
Wrapping up
This is all about how to repair corrupted MP4 files for FREE on Windows. We hope you don't have to worry too much at the completion of this article if such a dire situation happens. You are welcome to try all the solutions; however, it is strongly advisable to use the WorkinTool products.
Now, are you ready to fix your broken MP4 videos?