How to Recover Deleted Myspace Photos | Three Proven Ways [2023]
Got trouble with the deleted Myspace photos? Are the old Myspace photos not loading? Relax. This post will introduce three free ways to help you a lot.
1. Retrieve Lost Myspace Photos from Mixes in Myspace – First Choice
2. Recover Deleted Myspace Photos with Data Recovery Tool – Professional and Easy
3. Get back Deleted Myspace Photos with Backup – Preparation Required
How to Recover Deleted Myspace Photos | Three Proven Ways [2023]
With internet torrents, many social websites have sprung up like mushrooms in recent years. Myspace is one of them. It was launched in 2003, much earlier than Facebook and Twitter. Myspace was the fourth most popular English website in the world several years ago. Although it has passed its culmination, it remains in use for us to interact with our friends, post blogs, share our photos, etc. If the old Myspace photos are not loading on your new account or you want to recover deleted Myspace photos, you are lucky enough. This post will elaborate on three free ways to settle all your troubles. Just keep on reading, and more surprises are waiting for you.
💡 What you will learn after reading:
How to Restore Deleted Myspace Photos

Retrieve Lost Myspace Photos from Mixes in Myspace

Recover Deleted Myspace Photos with Data Recovery Tool

Get back Deleted Myspace Photos with Backup

FAQs for Myspace Photos

How to Restore Deleted Myspace Photos
With the update of the Myspace website, the old account data, including photos, videos, etc., is manually transferred from the classic platform to the new platform or device. If your photos are missing on the new platform, this post will give you a bonus – tell you the easiest way to retrieve old or lost Myspace photos.
Additionally, suppose the images are not loading, deleted from the new Myspace, or accidentally deleted by yourself. It's hard to accept the result of deleted or lost favorite photos in seconds. In this case, you can exert professional recovery software or backup tools to retrieve Myspace photos. For your convenience, the editor tests quite a few products and narrows them down to two reliable software for you. If you want to find out what they are, just continue reading.
#1 Retrieve Lost Myspace Photos from Mixes in Myspace
If you delete the uploaded photo folders on your storage device or your old Myspace photos are missing, you will likely find and recover them from the Mixes feature in Myspace. Since your personal data will be automatically synced to your classic Myspace account, photo albums will be transferred to the new platform. So it's the easiest way to recover deleted Myspace photos. If you fail to see them, you can take the two mentioned-above ways.
📝 How to Recover Lost/Old Myspace Photos from Mixes
Step 1. Login to Myspace.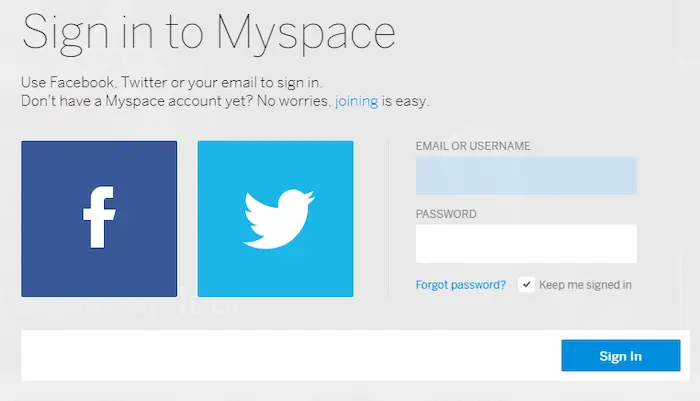 Step 2. Find Mixes on the left toolbar and tap on Classic – My Photos. Then you can see and recover your missing or deleted Myspace photos.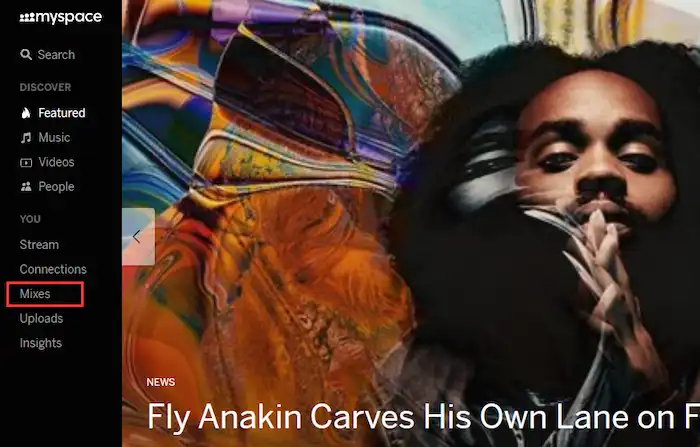 #2 Recover Deleted Myspace Photos with Data Recovery Tool
Whether you unintentionally delete your Myspace photos or old ones are missing on the new platform, professional data recovery software can deal with all these difficult situations. They can recover deleted or lost photos from uploaded or saved storage devices. WorkinTool Data Recovery is top-tier among various recovery products for its cost-effective price and powerful recovery functions. It is an all-in-one station for Windows users to solve recovery problems. It can retrieve deleted Myspace photos with three simple steps from almost all storage devices like computer disk partitions, digital camera memory cards, SD cards, USB flash drives, and more.

📝 How to Retrieve Deleted Myspace Photos Using WorkinTool Data Recovery
Step 1. Select Deletion Recovery mode.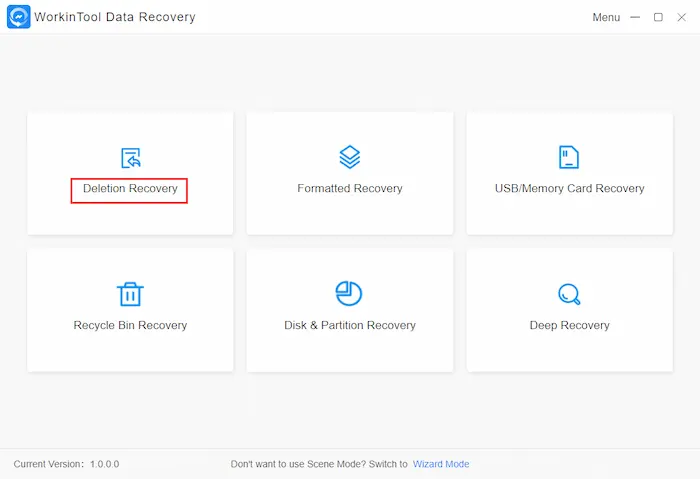 Download and launch this software even without registration. Select Deletion Recovery mode. (Of course, you can choose five other modes as you need, including Formatted Recovery, USB & Memory Card Recovery, Recycle Bin Recovery, Disk & Partition Recovery, and Deep Recovery.)
Step 2. Choose a storage location.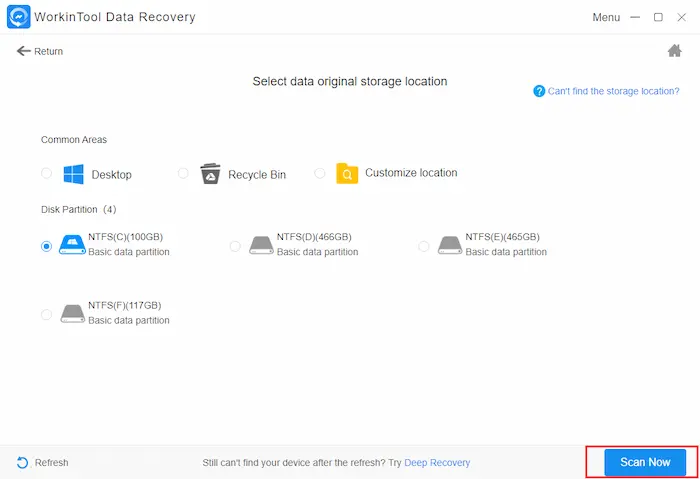 Click on the location from which you store or upload Myspace photos. Then tap on the Scan Now icon to begin digging out what you desire.
Step 3. Target and recover.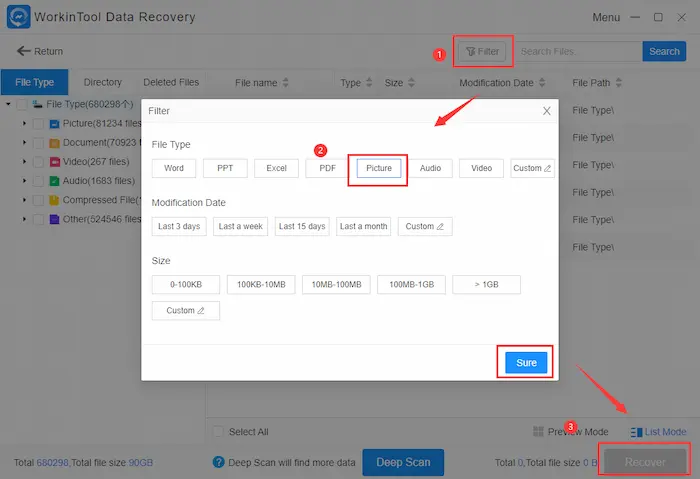 Within seconds, all scanned files will appear on your screen. Then click Filter > File Type > Picture. Moreover, you can select the modified data and size to narrow the recovery range. Tap on Sure and pick the photos you want. Lastly, click on Recover to get back all you wish. 
💡 More Tutorials You Probably Like
#3 Get back Deleted Myspace Photos with Backup
If you are used to syncing your data with Dropbox, it's super easy to recover deleted Myspace photos from backup files. It is a free and valuable backup tool. With your permission, it will automatically upload photos and videos from iOS, Android, Windows, Mac devices and your camera to the cloud. Losing photos will not be your business anymore. However, you can only enjoy 2GB of storage space. Otherwise, you need to buy a premium plan to expand your space.
More sparking points:
Manage and Preview Photos: You can sort tons of photos into folders or make marks that are easy to find. Additionally, you can preview over 35 photo formats like JPEG, PNG, TIFF, GIF, etc.
Simplify File Transfer: With technical advances, it can quickly transfer large files such as videos, charts, and audio.
Easy to Share: You can easily create links to share files or folders with people without a Dropbox account.
Data Security: It uses the latest encryption technology to ensure your data and information are secure.
📝 How to Restore Deleted Myspace Photos with Dropbox
Step 1. Log in to Dropbox.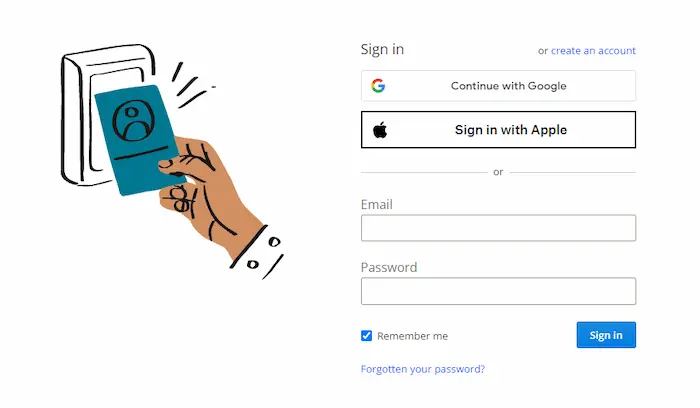 Go to the Dropbox website and log in with your account.
Step 2. Find the folders and recover.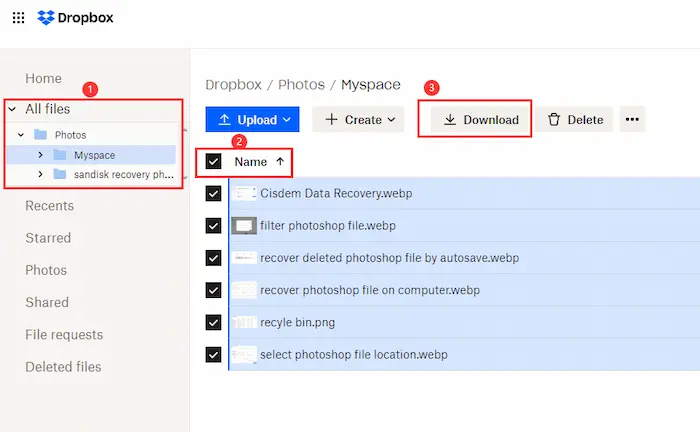 Click on All files > Photos > xxx. (xxx stands for the name of the folder where your deleted Myspace photos are stored.) Then select the images you want to recover and click the Download button. The lost Myspace photos will go back to your computer.
❗ Note: You can only download folders of less than 20 GB with fewer than 10000 files simultaneously.
---
FAQs for Myspace Photos
😎 Why Are Old Myspace Photos Not Loading?
Suppose the albums hold space for photos. However, the pictures are not loading. In this case, it means Myspace servers have removed them away permanently.
💬 How to Search for Your Old Myspace Profile?
Your old Myspace account is likely to exit and retain intact profile info on the Myspace website. However, they are possibly set to "public" which you can search for without a password. Let's check how to find your old Myspace profile together.
Step 1. Go to myspace.com and sign in with your Myspace account.
Step 2. Click the Search button on the left menu. Then enter your name and the related results will pop up, including your old Myspace profile.
📌 Why Are My Myspace Photos Gone?
Accidental Deletion:

If you delete your Myspace photos from your Myspace or your storage device, they will be immediately erased.  

System Crash:

 A system crash occurs without signals and can lead to Myspace photo loss.

Out of Sync:

Due to the change of the Myspace server, your data, including photos, videos, etc., will be transferred to the new platform. Hence, the out-of-sync with the old account will cause the loss of Myspace photos. 

Two Accounts:

The Myspace authorities state that your photos are missing because you possibly have another account where photos are stored. You can find the original account using your old email address or your full name. 
🙋‍♂️ Tips for Preventing Myspace Photos Loss again
Back up Photos:

 The most secure way is to back up your essential photo files to other storage devices or professional backup software.

Think twice before Clicking:

 You'd better think twice before you click the formatting or deleting button. Because deleting is easy while recovery is tough.

Uninstall Unknown Software:

Unknown software may bring viruses to your device and make your Myspace photos miss.

Remember Your Account:

 You can take note of the email address and registration information in case of login into a new account.

---
The Bottom Line
It's a disaster to delete Myspace photos or find the images are not loading. However, this post offers three free ways to recover deleted Myspace photos as possible. Among them, WorkinTool Data Recovery stands out for its genuinely free price, all-range recovery solution, and easy operations. However, different readers have different opinions. Just pick the one you like and recover your photos immediately!