How to Recover Data from a Dead USB Flash Drive [3 Ways]
Worried about recovering data from a dead USB flash drive and fixing USB flash drives? Relax. Read this post to recover files from a corrupt or unresponsive USB flash drive easily. After reading, you will know:
💌 Ways to identify a dead USB problem
💌 3 methods to recover data from a flash drive that won't work
💌 2 solutions to repair a USB stick
💌 FAQs on dead flash drive recovery
How to Recover Data from a Dead USB Flash Drive [3 Ways]
Overview
In this digital office epoch, the USB flash drive has played an essential role in our work and made our life more convenient. A tiny USB hard drive can store enormous documents, pictures, videos, and more file types. However, the USB flash drive is not functioning or responding at all when plugged into a computer or other USB device, and the files in it become inaccessible. We often call it a dead USB flash drive.
Can you recover data from a dead USB? If you are in this terrible situation, never abandon recovering all your valuable data from the dead USB. This post will tell you how to recover data from a dead USB flash drive in three ways and solutions to repair USB drives. If you want to know the answer, please continue reading.
Table of Contents
How to Identify a Dead USB Problem
How to Recover Data from a Dead USB Flash Drive? – 3 Ways
How to Fix Your Dead USB Problem
FAQs for Recovering Data from a Dead USB Flash Drive
Summing up
How to Identify a Dead USB Problem?
Some symptoms or signals herald when your USB flash drive is dead or failing. Of course, not all signs have the same difficulty in flash drive recovery. Some may not be easy to recover. However, first, let's check the common symptoms of a dead USB flash drive.
📲 USB flash drive not recognized/showing up on PC: There are many reasons. However, if it is possible to damage physically, it's hard to recover data using third-party software. You can retrieve your data with the help of a professio

nal USB flash drive repair service.

📡 USB flash drives can be recognized, but the files are inaccessible: Usually, it is caused by a corrupted USB flash drive. Moreover, USB corruption is a logical issue, not a physical issue. In this case, you can try the following three methods to solve your problem.
💻 Files in the USB flash drive are empty or missing [Missing/No Media]: It's because the USB is corrupted or disconnected from the computer. Or your files may be erased by a virus or malware. In this situation, the following methods will also work out well.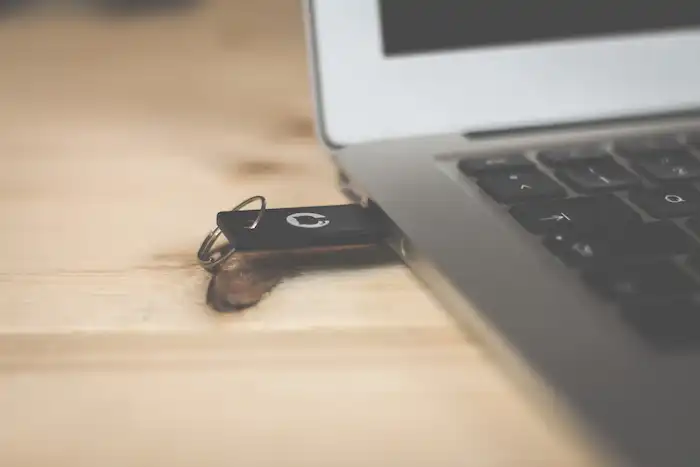 How to Recover Data from a Dead USB Flash Drive?
If your computer recognizes your dead USB, in most cases, you can directly return your files to their original location with a third-party flash drive recovery tool. You can use professional USB data recovery software, file backup, and USB data recovery service to recover data from dead USB flash drive devices. However, there are some situations where you need to fix your dead USB flash drives first before recovery. But no worries. This post will cover the repair methods as well. Let's dive into the detailed instructions one by one.
Get back Data from a Dead USB Flash Drive with Software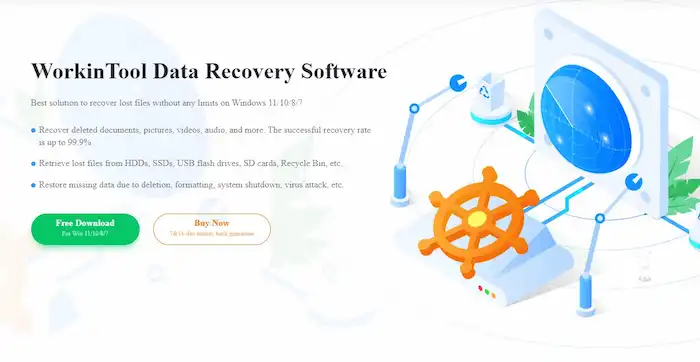 It's vitally important to choose reliable and great software to bring your dead USB flash drives to life. After a series of testing and comprising, WorkinTool Data Recovery is on the top-tier recommended list for its low price, promised safety, and extensive recovery capabilities. Unlike other paid software, it realizes 500MB of free recovery capacity. Moreover, it performs a read-only mode which will not overwrite or cause secondary damage to your USB files.
⭐ More Highlights of WorkinTool
01

Various Data Loss Situations Supported: Besides dead flash drive recovery, it can do well in other complex data loss cases like accidental deletion, formatting, system crashes, virus attack, etc.

02

Various Storage Devices Supported: Other than USB flash drives, it can recover data from multiple storage devices such as MP3/4 players, HDDs, SSDs, memory cards, disk partitions, etc.

03

Easy to Operate: It is designed with a modern and straightforward user interface that is delightful to your eyes and makes it easy to recover lost files with three steps.

04

High Success Rate: With a more advanced scan method, WorkinTool can dig out more inaccessible files, and the success rate is high.

💡 How to Recover Data from a Dead USB Flash Drive via WorkinTool
Step 1. Connect your dead USB flash drive to your computer. Then launch the helpful software and select the dead USB drive.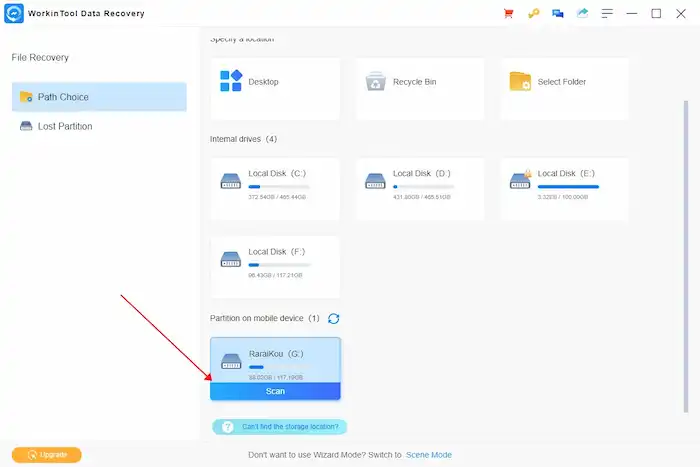 Step 2. Select a recovery method from Quick/Deep/Formatted Scan and click on Scan Now to start the recovery process.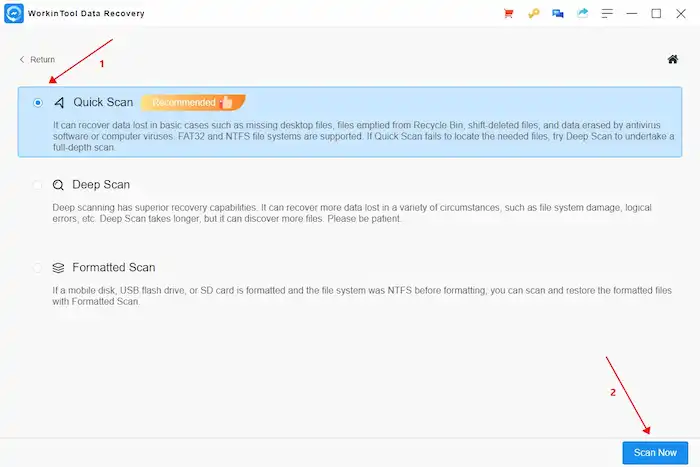 Step 3. Lastly, locate, preview, and select the files you want to recover. Hit Recover. After seconds, you will recover dead USB drive data.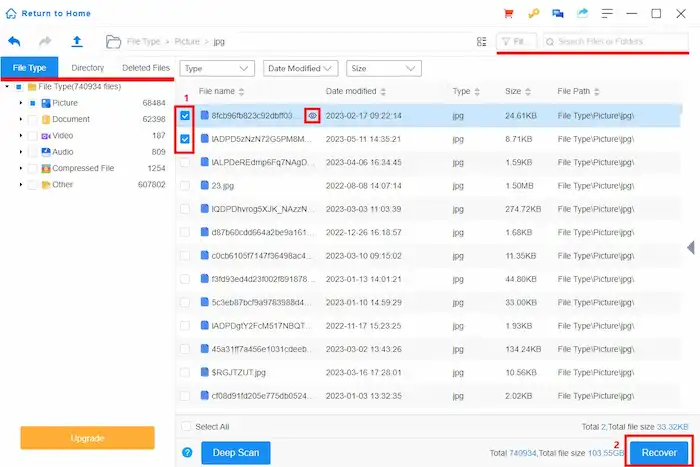 💌 Note: If you still cannot find the desired files, you can try Deep Recovery to recover USB flash drive data, which will continue the in-depth scan based on the initial results.
Restore Data from a Failing USB Flash Drive with Backup
If you are accustomed to backup your valuable files using third-party software or other USB hard drives, it's a piece of cake for you to restore your lost files. You can omit the scan courses and directly find the ones you want. Once you get back from your backup files, you'd better store them in another safe USB flash drive in case of data loss again.
Suppose you don't use the backup software. You can use it from now on to facilitate you significantly in case of data loss. There are many free and valuable cloud storage software like OneDrive, Google Drive, Dropbox, etc. Among them, Google Drive is the most reliable and excellent choice for its ample 15 GB free cloud storage. Hence, the editor will take it as an example to elaborate on how to back up and recover data from a dead USB flash drive.
💡 Tutorials on Backing up and Recovering Data with Google Drive
#Backup
Step 1. You need to download the Google Drive desktop version if you want to sync data to your USB flash drive or internal hard drive.
Step 2. Sign in with your email address. Then click on the hidden icons on the lower right corner toolbar and find the Google Drive icon.
Step 3. Go to

Settings > Preferences > Folders from your computer

. Then you can choose all the files from your USB and back them up to the cloud.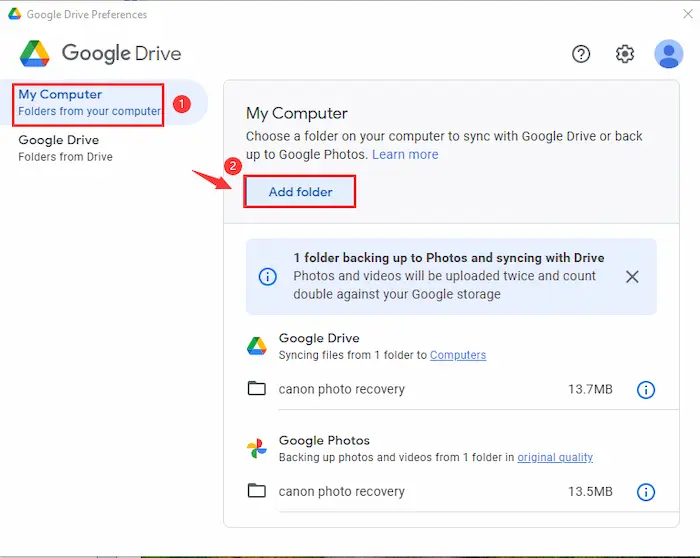 #Recover
Step 1. Go to the Google Drive page and log in to your account.
Step 2. Click on

Computers > My Computer

. Here you can find the folders uploaded from your dead USB flash drive. Then right-click on the folder you want to recover and tap on 

Download

. Within seconds, all you lost will come back to your computer.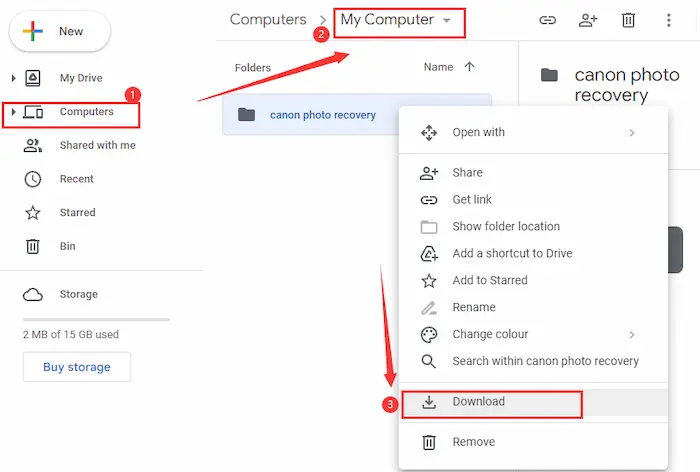 Recover Data from a Dead USB Flash Drive with Data Recovery Service
If your dead USB flash drive is unrecognizable or damaged physically, the best choice is to get professional help from a data recovery service. Although repairing USB flash drives may cost a lot, they provide more advanced machines and experienced staff to help you bring your dead USB flash drive to life.
📝 To Perform Broken Flash Drive Data Recovery
Step 1. The first thing is to search for the nearest and most reliable data recovery service.
Step 2. Ship your dead USB to the service center. Then the experts will estimate the possibility of recovery and try their best to recover your data.
Step 3. After several weeks, you will hear the good news for your files in the dead USB hard drive.
How to Fix Your Dead USB Problem?
If we want to continue using this dead USB, you need to try to repair the USB flash drive. Moreover, sometimes we fail to recover data from a dead USB flash drive directly. In this case, we need to fix it before recovery. Luckily, the methods are simple to operate.
Method 1 – Formatting:

After recovering files from the failing USB, we can fix the USB by formatting. However, once we decide to format it, all the files will be erased or inaccessible to us. So we'd better store the recovered files properly.

Method 2 – Repair by your PC:

 Go to 

File Explorer > This PC

. Then right-click on your dead USB and select 

Properties

. Click on 

Tools > Check > Scan and repair drive

. And then, the Windows computer will automatically repair your corrupted USB.
FAQs for Recovering Data from a Dead USB Flash Drive
💌 Can a dead flash drive be repaired?
Luckily, the answer is yes in most situations. The text above shows two possible ways to repair a thumb drive. However, if you fail to fix it or need more confidence to do it well, you can ask the data recovery service teams for help.
💌 Why is my USB drive not showing up in Windows 10/11?
There are various reasons. Firstly, it's probably because your USB drive is damaged physically. Secondly, your USB may not connect to your computer correctly, and you can try reconnecting it. Lastly, your USB port on the computer is corrupted. 
💌 Why is my USB stick dead?
If your USB flash drive fails to work, many reasons can cause it, like virus attacks, file system corruption, broken circuit board, physical damage, and more.
Summing up
A dead USB flash drive is a nightmare for us. We are unwilling to accept the terrible reality. However, the sooner you try to recover data, the better result you will get. This post tells you three simple ways to recover data from a dead USB flash drive and two solutions to repair USB flash drives. WorkinTool Data Recovery is the most convenient and powerful tool for you. Nonetheless, no matter which you select, the editor hopes these methods can figure out your problem and give you a great recovery experience.
You May Also Need