How to Reduce PDF File Size Without Losing Quality
Do you know how to reduce PDF file size on Windows, Mac, iPhone, and online for free? Check out this post for the best solution, and get the suitable tool to make your PDF job easier than before. They may have the following advantages:
😍 1. Long-term free trial to use all the features with NO ads.
🤩 2. Easy interface for users to edit and convert PDFs in THREE STEPS.
😎 3. Quickly edit and convert PDF files the way you want.
🥳 4. Multiple PDF features for users to operate without limit.
😊 5. Available for all office file format conversations.
How to Reduce PDF File Size Without Losing Quality
PDF has become the primary format for people to present documents in their offices and daily lives. PDF documents such as magazines, government documents, and more such large PDF files often contain many images, tables, and text information. In addition to the inconvenience of storage, it can be problematic when uploading your PDF files to a specific location. In many electronic records courts in the United States, the space required to upload a file is less than 35 megabytes. You must exceed this specification to be able to upload correctly, and thus affect the progress of the work. Knowing how to reduce PDF file size can be a tremendous help.
This post introduces four methods to compress PDF files on different platforms: Mac, Windows, iPhone, and online. Please read it and select one suitable way according to your needs.
---
How to Reduce PDF File Size on Mac
When it comes to reducing file size, the first thing that comes to mind is the file compressor. So after carefully comparing nearly ten popular file compressors on the internet, we chose WorkinTool File Compressor as the Top 1 software for this comparison on Mac. This tool is a standard professional document compression software. Not only is it a PDF document, but it can also compress many types of computer files. For example, this fantastic software works equally well for images, video, and PPT compression. Its user-friendly interface and understandable navigation ensure users can easily compress high-quality files to the desired size range. You can shorten the work completed with just a few clicks and seconds.

The PDF compression feature provided by this software offers users three compression modes. They are Smaller, General, and Clearer. The first option focuses more on the compressing level. On the other hand, the third option focuses on the PDF quality level. You can select any compression mode you want to reduce the size of the PDF. All PDF conditions and information are displayed in the PDF file processing window, showing you the PDF file size before and after compression in detail. Help users have a more intuitive understanding of whether to meet their needs.
Specific steps on

how to reduce PDF file size:
Download and launch this tool and click the 

PDF Compressor

.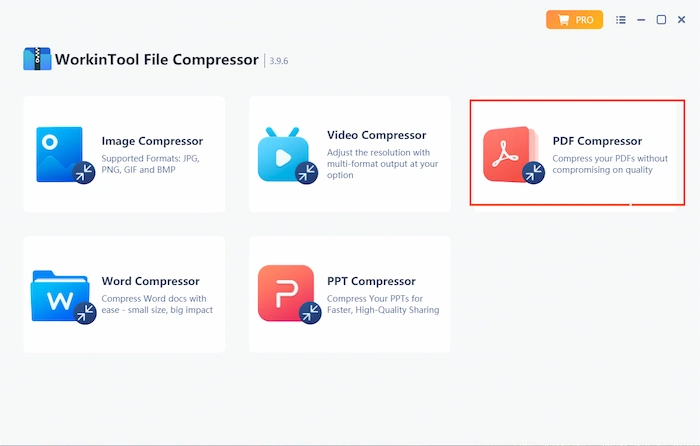 Upload your PDF file. You can select it on your computer or directly drag it into this function.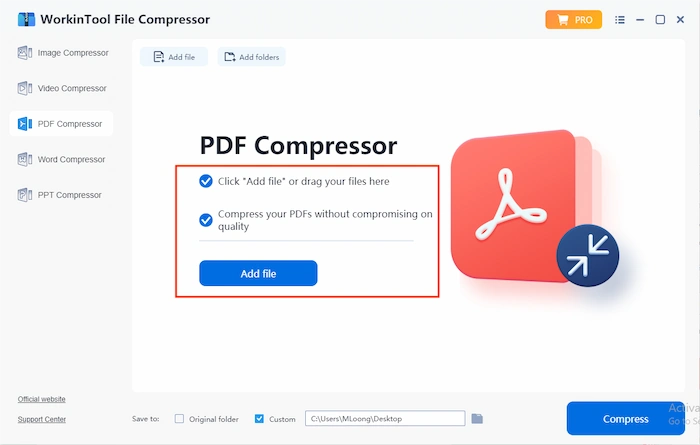 Then, manually decide the compression mode you want. Tap

Compress

to start the process, and you will see the process on the state bar.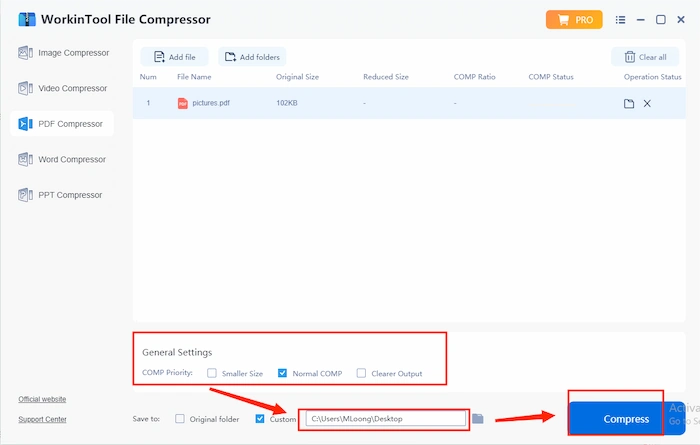 How to Compress PDF on Windows
From another angle, you can also use WorkinTool PDF Converter to reduce the size of PDF files on Windows. Unlike the previous software, this PDF converter is a PDF format-based comprehensive function software. It does more than provide PDF compression. Users can also use it to edit PDF files from more directions—for example, PDF format conversion. Manage page content in PDF files, Watermark PDF, and more. You could call it a versatile PDF processing tool.

Professional PDF editing tools like this one, which offers compression capabilities, are good. PDF file compression will have two options for the user as a choice. The first is to balance the PDF quality and the compressed file size, while the other is to compress the file to the minimum size. But of course, choosing this one will have to sacrifice some PDF quality for better compression results.
How to use it to compress PDF size:
Download it and install it on your computer. Then press the Compress PDF in the toolbar, and upload the PDF for later processing.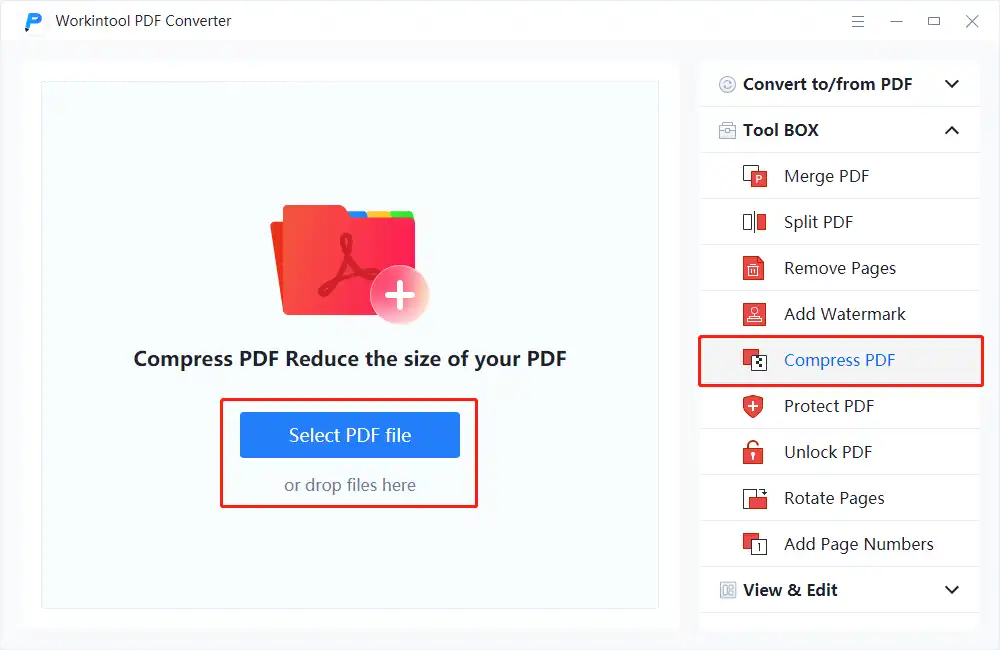 Select the compression level that you want and alter the saving path. Then, click Convert to start.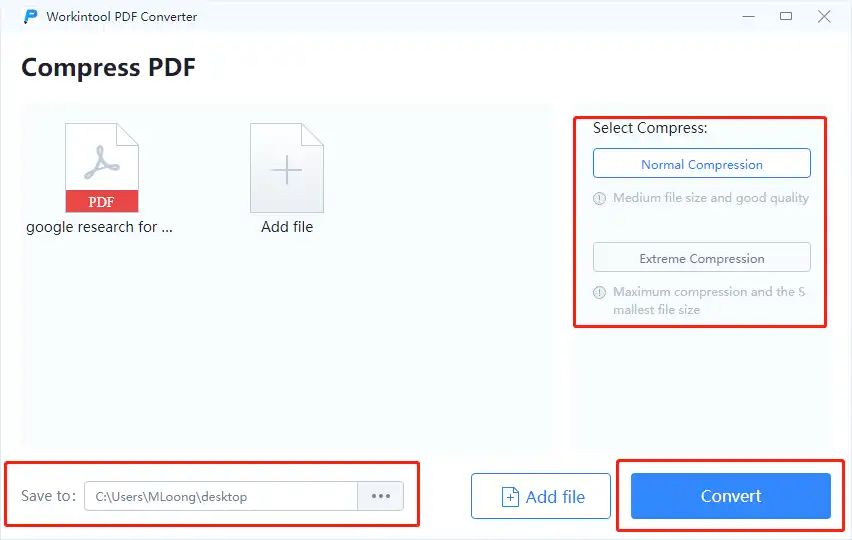 How to Reduce PDF File Size on iPhone
There is a built-in file management software called File on iPhone. If you only need to compress the PDF size without any other special requirements, you don't need to download any third-party software. And its operation is very simple. You only need to save the PDF file in File, and with just two clicks, the file size can be immediately reduced.
Ways to Shrink PDF on iPhone:
Open your PDF file in the File. Tap and hold the PDF.
Find Quick Actions.
Select Optimize File Size to start compression.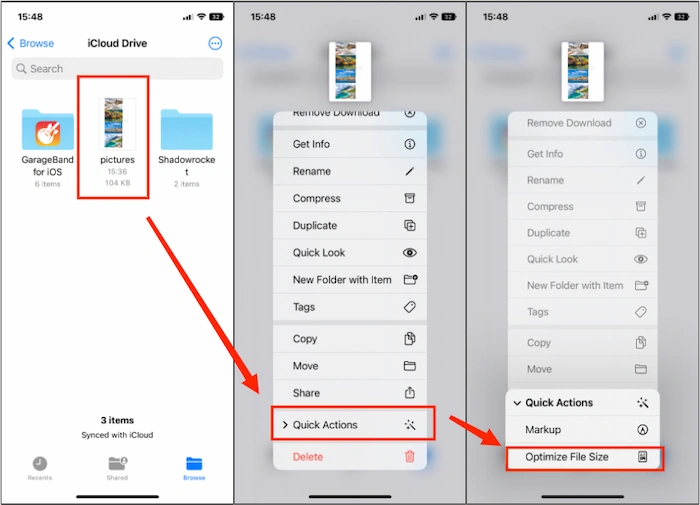 How to Shrink PDF Online
Soda is a platform specifically designed for processing PDF files. Its features are vibrant, and you can convert other files into PDF or convert PDF to other formats. You can also browse and edit PDFs or perform other operations. It provides a wealth of online tools and supports downloading software to the Windows desktop. Its most significant feature is its simple operation. In addition, many of its features are free, such as compressing PDFs.

Steps on How to Reduce PDF File Size:
Open it in your browser and import your PDF file.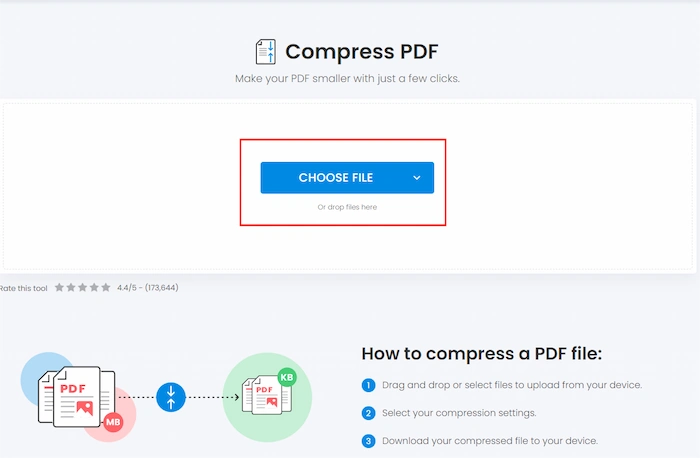 Select a compression mode. You can enjoy the free Regular Compression mode. Then click COMPRESS FILE.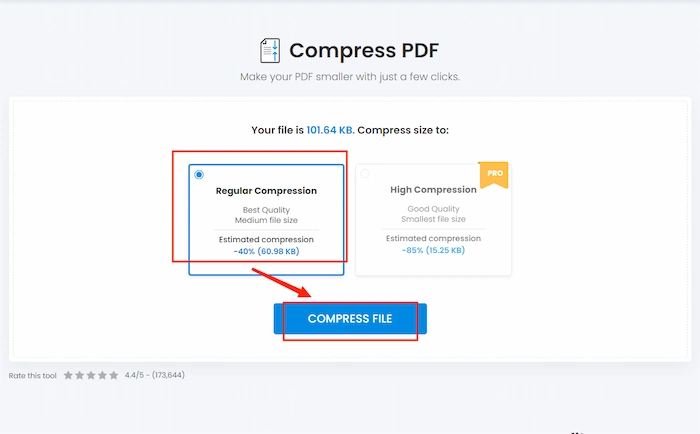 You can check the compressed file size. Last, click DOWNLOAD FILE to save your compressed file.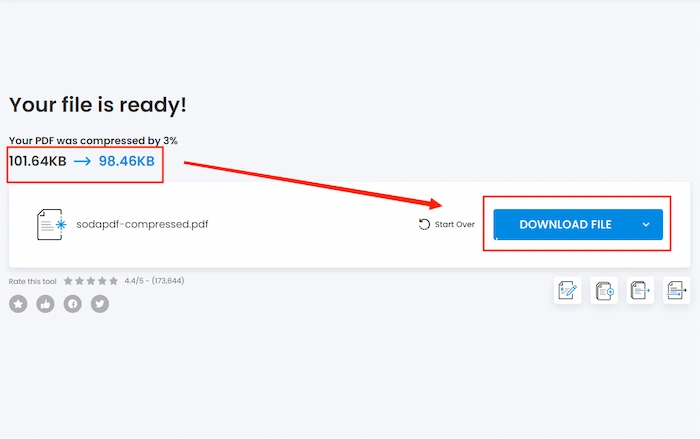 More to Share
This article provides four solutions about how to reduce PDF file size on Mac, Windows, iPhone, and online. Two of the WorkinTool software are similar in that they both support batch compression, which means you can compress multiple PDF files simultaneously. It's convenient when you're dealing with various PDFs. However, there are slight differences between them. Because WorkinTool File Compressor is a professional compression software, it has more than three compression levels. Users can see the PDF file information in the process window. This is what the PDF converter doesn't have.
But no matter which tool you use, we guarantee you'll have an excellent compression experience. More importantly, these four desktop and online compression tools are all free (The iPhone's built-in software File also has no usage restrictions). So now is the perfect time to try these approaches. Even if we say more than your own experience, don't hesitate. Take Action Now to reduce your PDF file size.