How to Compress Images on Windows [3 Simple Ways]
If you have encountered any problems that need you to compress images, well, don't worry, WorkinTool File Compressor will help you with these issues. It is a very powerful compressing tool. With the aid of this amazing software, you can easily reduce the image size to any level you want. It supports two different modes to compress images. As the user selects the corresponding compression option, the AI mode will automatically help users to compress the image. Or directly entering a specific number of the file size you want is also feasible. It provides a long-term free trial, download and experience all the magic yourself.
You must have seen some people share their fun life photos on the Internet social media platform.  No matter whether it is a picture of their cute dog, extraordinary scenery, a selfie, or a family union, no doubts images are the greatest carrier for people's communication and sharing. In order to guarantee the successful upload of images, people always find ways how to compress images before putting them on social media applications.
Tell me if I am wrong. Often in the case that you might try to share an image, but the image size is getting in your way. Actually, if you look carefully at those rules of the platform, you will notice that many websites or apps have limited the uploading image size. But this also makes sense. Because if they don't make any restrictions on the size, the image loading speed slows down as the image size increases. And this isn't great for users' experience.
From their perspective, if they are happy to upload a memory-bearing image, but are told it has been rejected because of size issues, there's a good chance that users will give up putting their heart and soul into these platforms. It shouldn't be like this right? People have the right to share their life with others. This is why here I want to share with you three great methods to compress images. So that you can put any image you want on those social media platforms regardless of the image size.
---
The Best Way to Compress Images
After thoroughly comparing image compressors on the internet, the first method I want to share with you to compress images is to use third-party software – WorkinTool File Compressor. It is a newly published compressing all-in-one software. It supports multiple popular image formats like JPG, PNG, GIF, and BMP for shrinking.  And it provides two different modes for users to decide.
For example, if you are a rookie at compressing images, and you don't have any clue about what level of compression is appropriate for uploading to the platform. Well, that wouldn't be a problem because this tool can help you directly set a basic compressing level, and it automatically reduces the image size to a proper level. Let's say you are a pro and you know exactly how big you want this picture to be. That is even easier, you only need to enter the specific numerical value in the customized compressing box, and that is it. Yes, this amazing tool also supports customizing a compressing level. How cool is that?
How to Use WorkinTool
Here, let me walk you through how to use this remarkable software to reduce image size: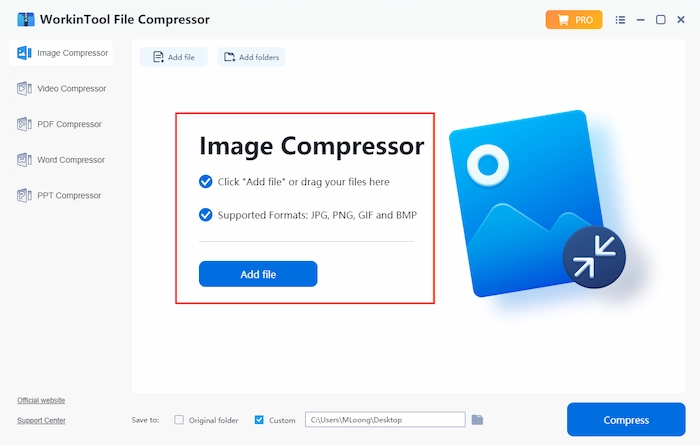 Secondly, select "Image Compressor" to put your image into the window for a later process.
Then, you can customize the image compression yourself.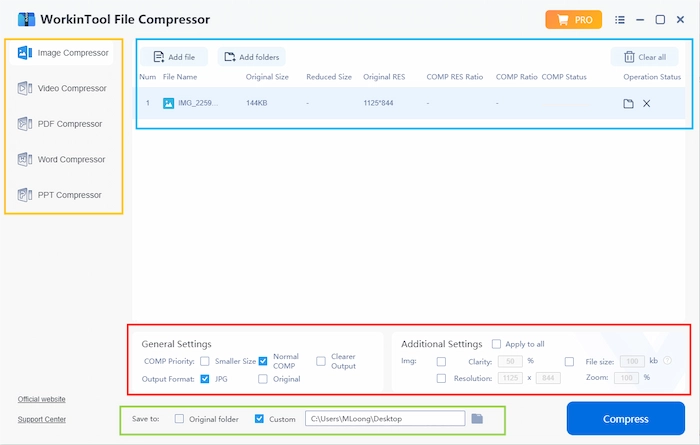 There are three AI compressing buttons. You can choose any one of them depending on if you want to get a clear compressing version or a smaller version. Or like I said, if you have the specific size value, you can also enter them in the size box. Besides that, you may also manually set the clarity, resolution, and zooming level.
On the top of this processing window, you will see the state of the original size, resolution, and the after. So that, you can fix the error in time if there is a problem.
Finally, after you have set the value right, click "Compress" to finish this process.
🚨 Notice:
You may also put a folder of images into this software to batch compress. More importantly, if you have any doubts about the safety issue, I can promise that it is unnecessary.
It won't upload any users' information to the server. And It only saves the copy of your processing image. So, your original images will remain untouched. And it also works for GIF image format as well. Except for image compressor, video compressor, and office file compressor are also available.
---
Compress Images in PowerPoint
Another method to reduce image size is to use PowerPoint software. Normally images in PowerPoint are huge, especially when they are high-resolution. In this case, the image loading speed will be greatly affected, and it is not good for using as teaching or data displaying materials. However, PowerPoint has a built-in function that can help users to solve this problem. In this method, you can straightly insert any image you want, and compress them to a certain level for PowerPoint displaying.
But it is not perfect. it doesn't have much choice for compressing, which means you can not customize the compressing level. And there are chances that you can not pick the processed picture out to upload on Instagram again because it is specialized for PowerPoint image displaying. Let's see how it works.
At first, you need to open a PowerPoint slide and insert the picture you want to compress.
Then, tap "Compress Pictures" under the banner of "Picture Format".
And an adjustment window will pop up to tell you to set a compression option.
Last, an "OK" will end this process.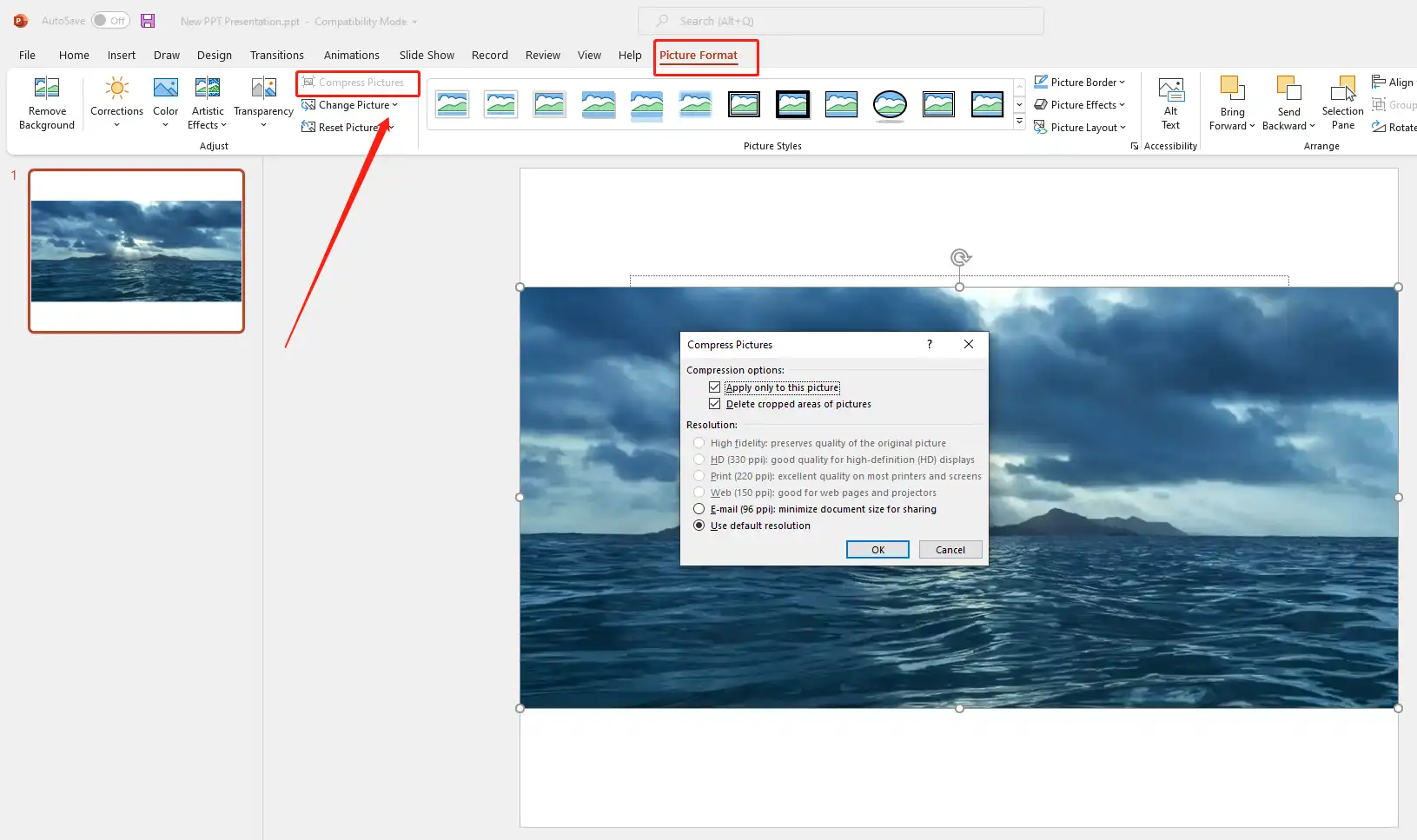 ---
Shrink Images by Photos App
The last solution to compress images that I want to introduce is to use the built-in Photos app in the Windows system. People constantly use this function to check their photos, crop, and rotate them. Some basic picture editing operations will be applied when using. But what few people know is that this Photos app can also reduce image size. With its "Resize" function, users can immediately shrink the picture. Come and take a look.
You need to use this Photos app to open the picture you want to shrink.
Then, find the "Resize" button under the right "…" for the image set.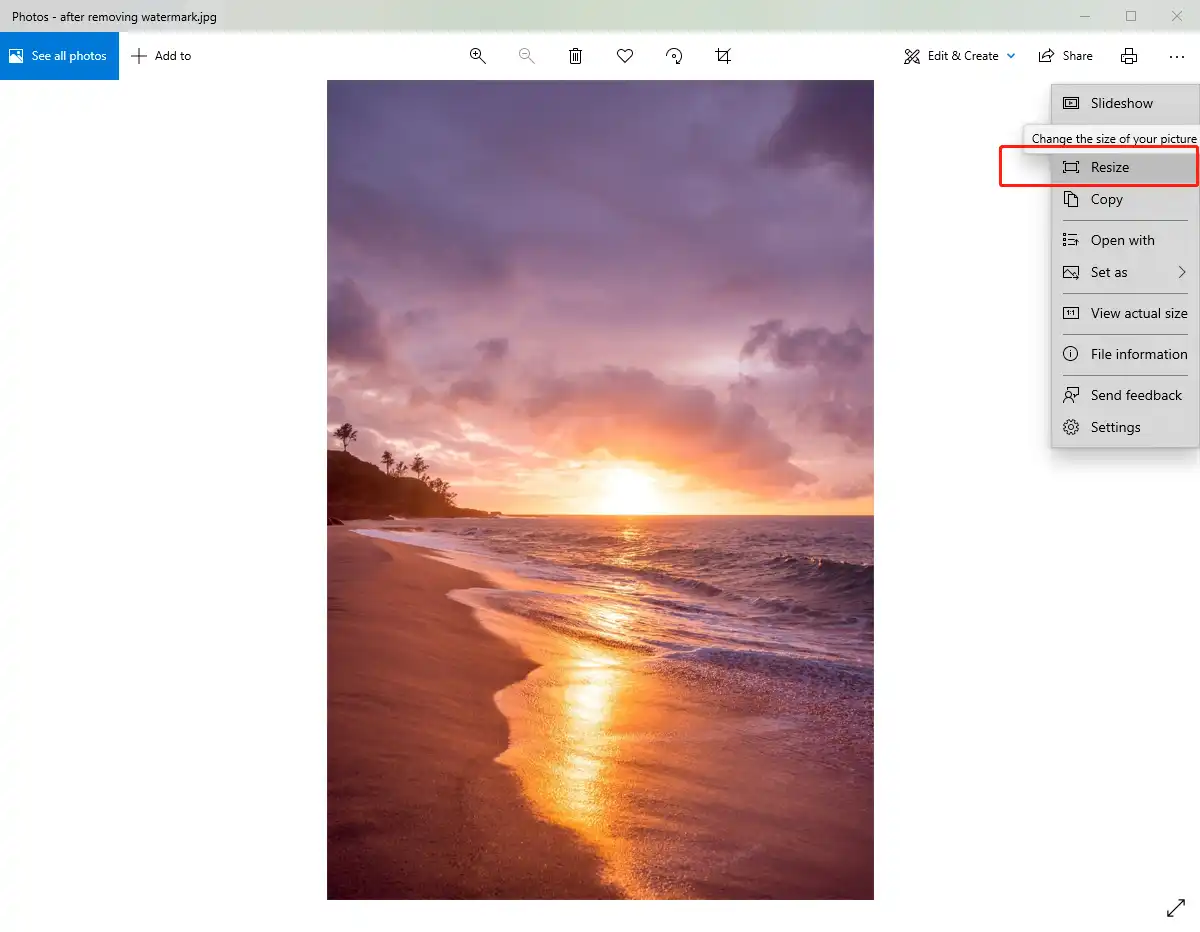 Here there are four different resize options for you to decide on.
Last, choose one and it will tell you to save it in a folder. You can check the result in the saving folder.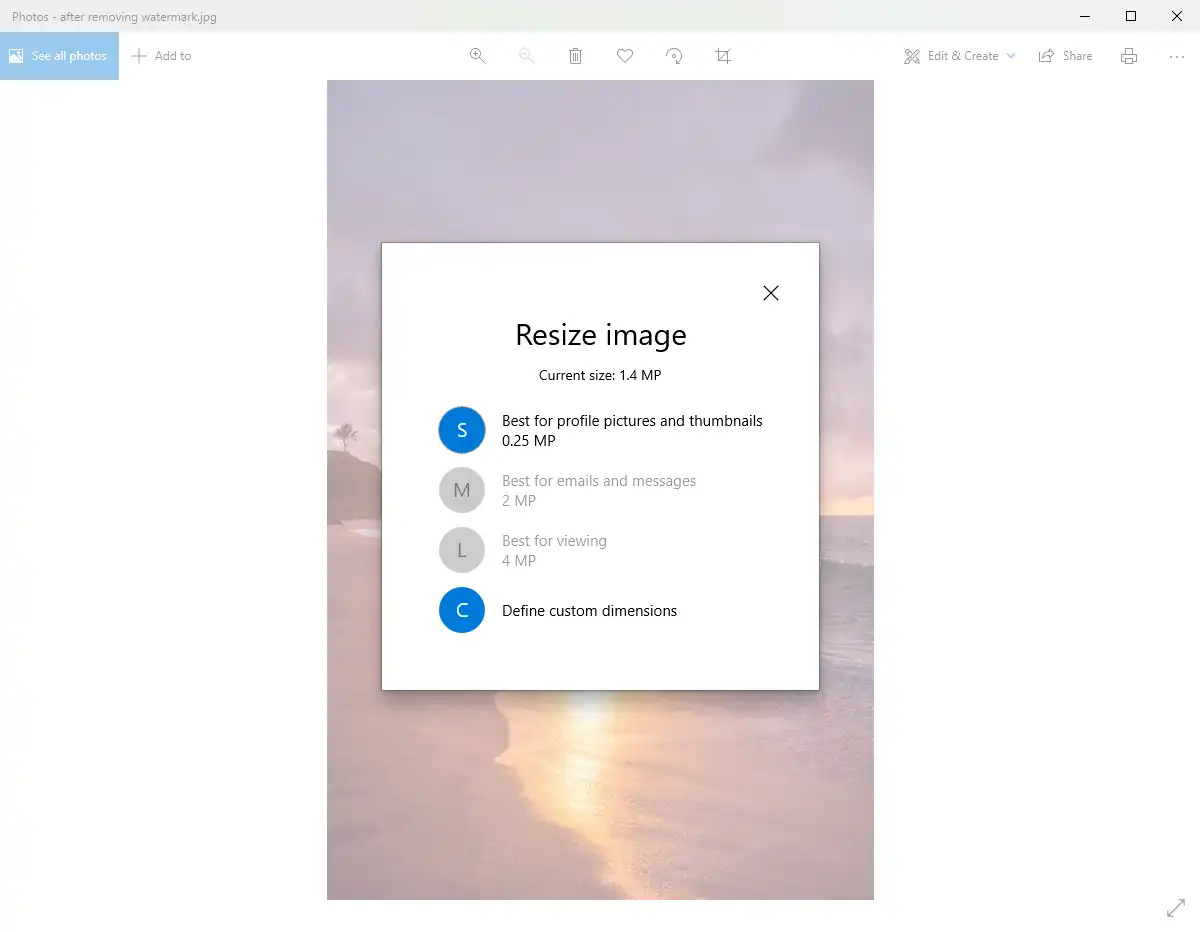 Nonetheless, it is for all the images. There are many images like the last one that will provide you with all four options to compress. Usually, you can only pick one or two. And the compression quality will not be guaranteed. So, like the method of using PowerPoint to compress pictures, it has its shortcomings as well.
---
More to Share
Although, as you can see for yourself. Microsoft has its own way to compress an image, not every user will benefit from it. Among all the approaches I have mentioned, I am sure you have known that WorkinTool File Compressor is the best tool to reduce image size now. What's more, since it is newly published, you can enjoy a long-term free trial to compress images within 200 KB without any other limits. Download and experience all those magics yourself right now.
If you have any questions or suggestions, please feel free to contact us at any time.