Top 3 Ways to Insert Watermark in PDF
Inserting watermark in PDF seems to be a function that most PDF document management software have. Because PDF documents are mainly used for materials needed for our daily work and study. Adding watermark to PDF file may be to clarify its privacy and protect its integrity, or protect product copyright to prevent reproduction, dissemination and abuse. This article is to introduce some easy-to-use software to insert watermark in PDF, including their operation process and characteristics.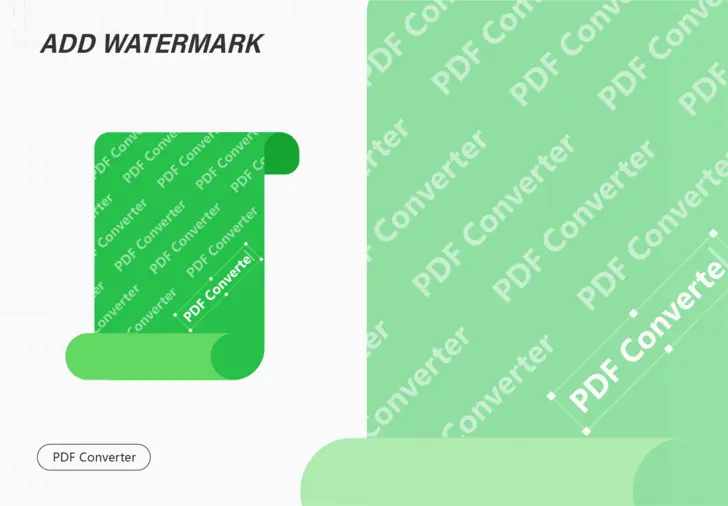 PDF documents are mainly used in our daily work and study, the need to edit PDF is multifaceted. For example, adding a watermark to a PDF file can clarify privacy, prevent unauthorized theft, protect product copyrights, and prevent copying, distribution and abuse. As mentioned above, we really need to learn how to effectively insert watermark in PDF.
This article mainly introduces some good software for inserting watermarks in PDF, including their operation process and features. So you can get your favorite PDF tool by just reading this article for a few minutes.
# 1: WorkinTool PDF Converter – the Best PDF Tool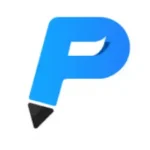 WorkinTool PDF Converter is a comprehensive PDF tool released by a professional team, which has gained a lot of experience and popularity. Both available on web and desktop, it can achieve all operations on PDF documents. With the help of WorkinTool PDF Converter, you can convert files to PDF, or convert PDF documents to any other formats. In addition, WorkinTool PDF Converter also offers you the function of merging and splitting PDF, compressing PDF, encrypting PDF, as well as watermarking PDF which is mentioned in this article mentioned. And I have shown you all the details about how to insert watermark in PDF in the following part.
Step 1. Open the WorkinTool desktop, press Add Watermark at Tool Box.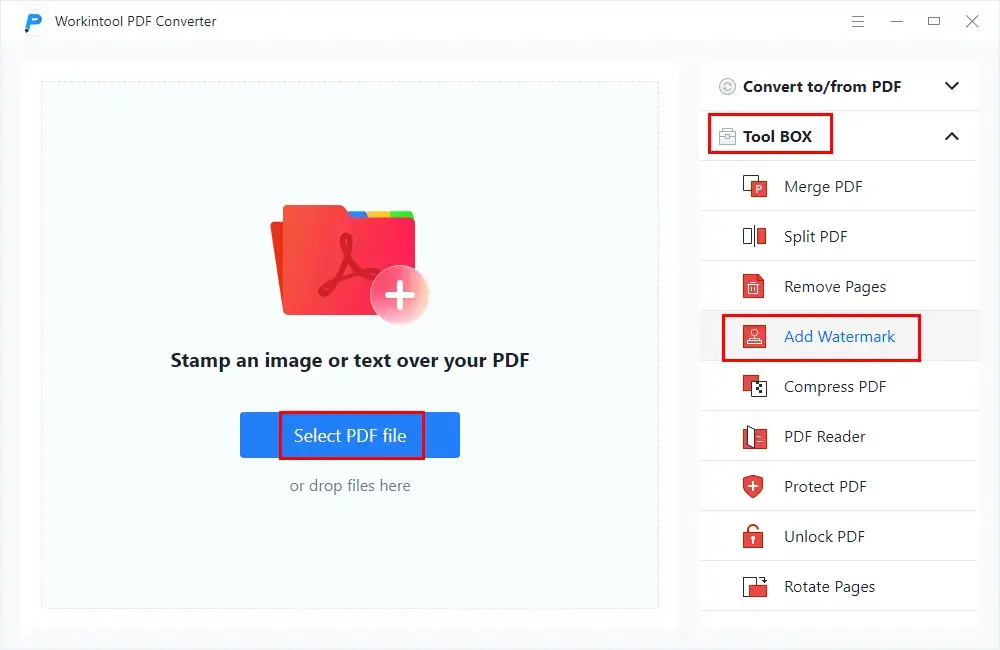 Step 2. Upload the PDF file.
Step 3. If you place text on it, follow the sequence below.
Write down the corresponding text.
Decide the details of the font.
Adjust the transparency, size, rotation, and position.
Press the conversion button.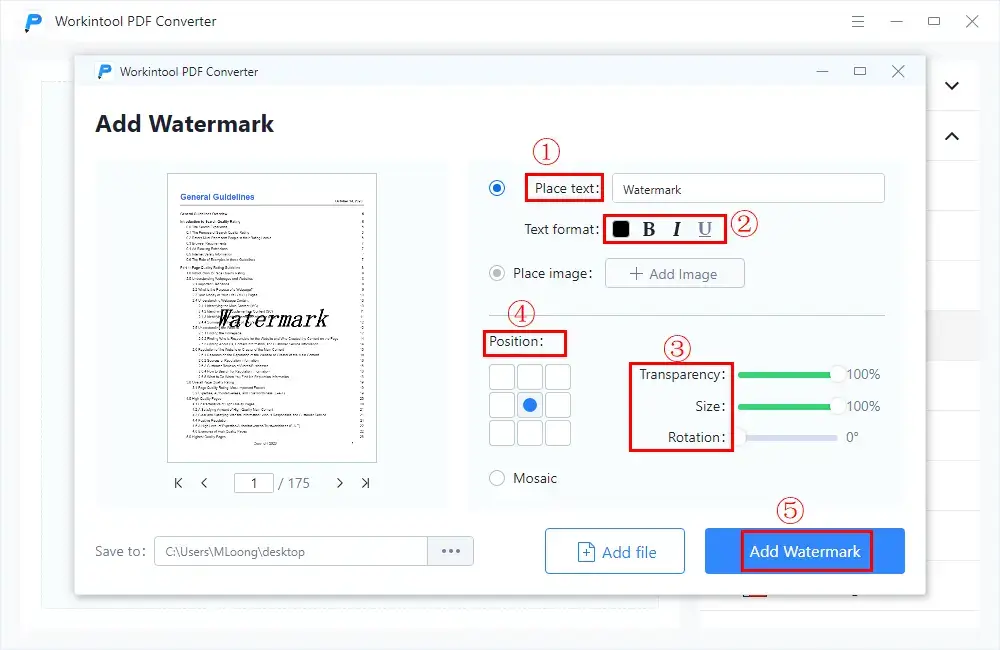 However, if you want to place an image on PDF, you should click place image and choose the image file. Then also adjust its transparency, size, rotation, and position and press the conversion button last.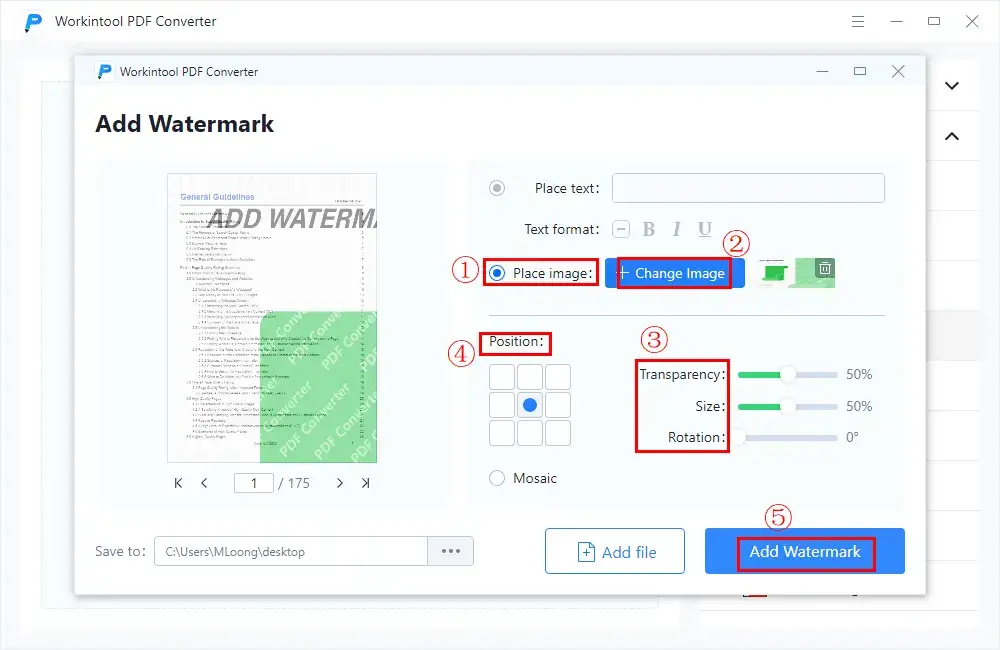 Now, you have inserted a watermark in the PDF document successfully.
Pros:
Clear instructions and simple operation.
Fast operation speed and high result quality.
It offers a long free trial experience to satisfy users' curiosity.
There is a team to follow up on users' feedback and suggestions in time.
The software design style is simple, the interface is clean, and makes users visually comfortable.
All-in-one PDF document management tool solution for compressing, combining, splitting, protection, rotating, etc.
Cons:
The functions are still under development.
It can only satisfy daily work demands, not including large business communication.
You can only select the whole document to be watermarked, and you cannot select some pages to be watermarked separately.
---
# 2: Soda PDF – A Good Way to Insert Watermark in PDF

Soda PDF is a powerful, easy-to-use document management tool that helps you reduce the dependency on printed paper, help you declutter your desk, and make you feel organized about work. If you haven't tried their software solution yet to quickly edit, create, convert, secure, split, merge, compress, OCR, and E-Sign your documents, you can try to download Soda PDF Desktop or try Soda PDF Online from your web browser.
Since the desktop software is subject to a trial period, today I will take the web version as an example.
Step 1: Find the function block "add watermark" on the page.
Step 2: After choosing a PDF file, you can place text on it, and don't forget to determine its font, size, page range, and appearance.
After the operation on the web version is completed, advertising pages will pop up, and the completed document needs to be downloaded separately, which is inconvenient.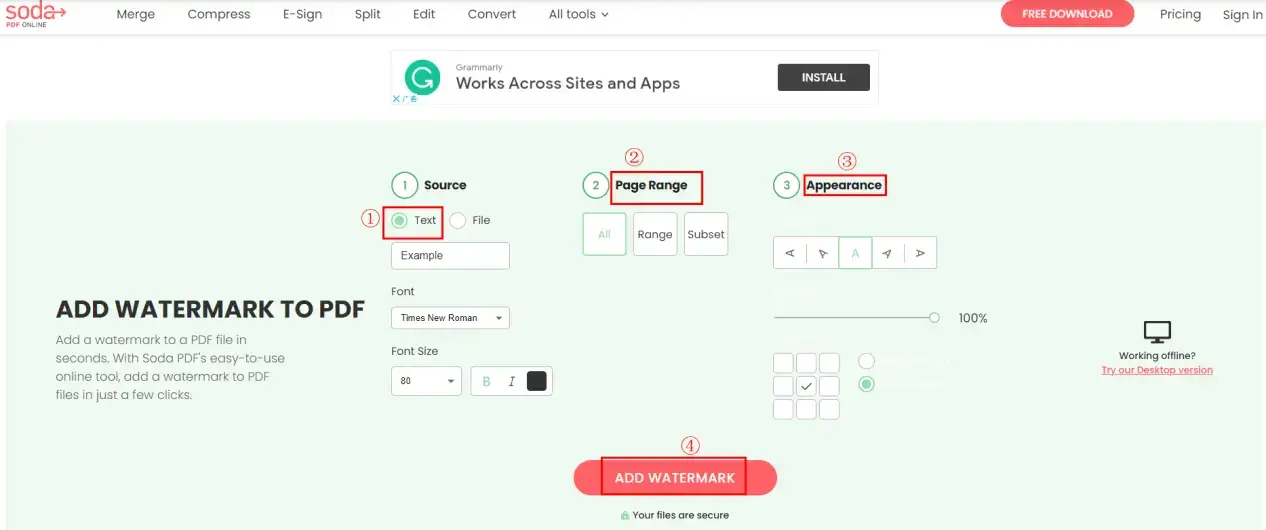 Step 3: If you want to place files on it, first you should upload the corresponding file, then repeat the above requirement.

Step 4: View the watermarked PDF file.
Pros:
Soda PDF is relatively mature, with two channels: Web page and desktop, which can meet the needs of online and offline use.
With advanced functions such as electronic signature and OCR, the function development is relatively mature.
Cons:
Desktop software has only a seven-day free trial period, which is short.
There are advertisements forced to watch on the desktop, and whether the operation is successful or not is unstable. For example, adding an image watermark to the PDF document mentioned above fails.
In addition to the slow speed of web page conversion, it will often show conversion errors which make users exhausted and waste time. This is very unfriendly to users.
---
# 3: Icecream PDF Editor: Help you Insert Watermark in PDF
Icecream PDF Editor is an intuitive free PDF editor for Windows that enables you to create and edit PDF files. It includes 4 major PDF editing modes: edit, annotate, manage pages and fill in forms. You can edit text and objects, add notes, manage pages, merge PDF, protect files, and much more with the PDF editor.
I will also use the example of downloading software for illustration.
1st Step: After installation, open the software and click open on the home page to upload the document.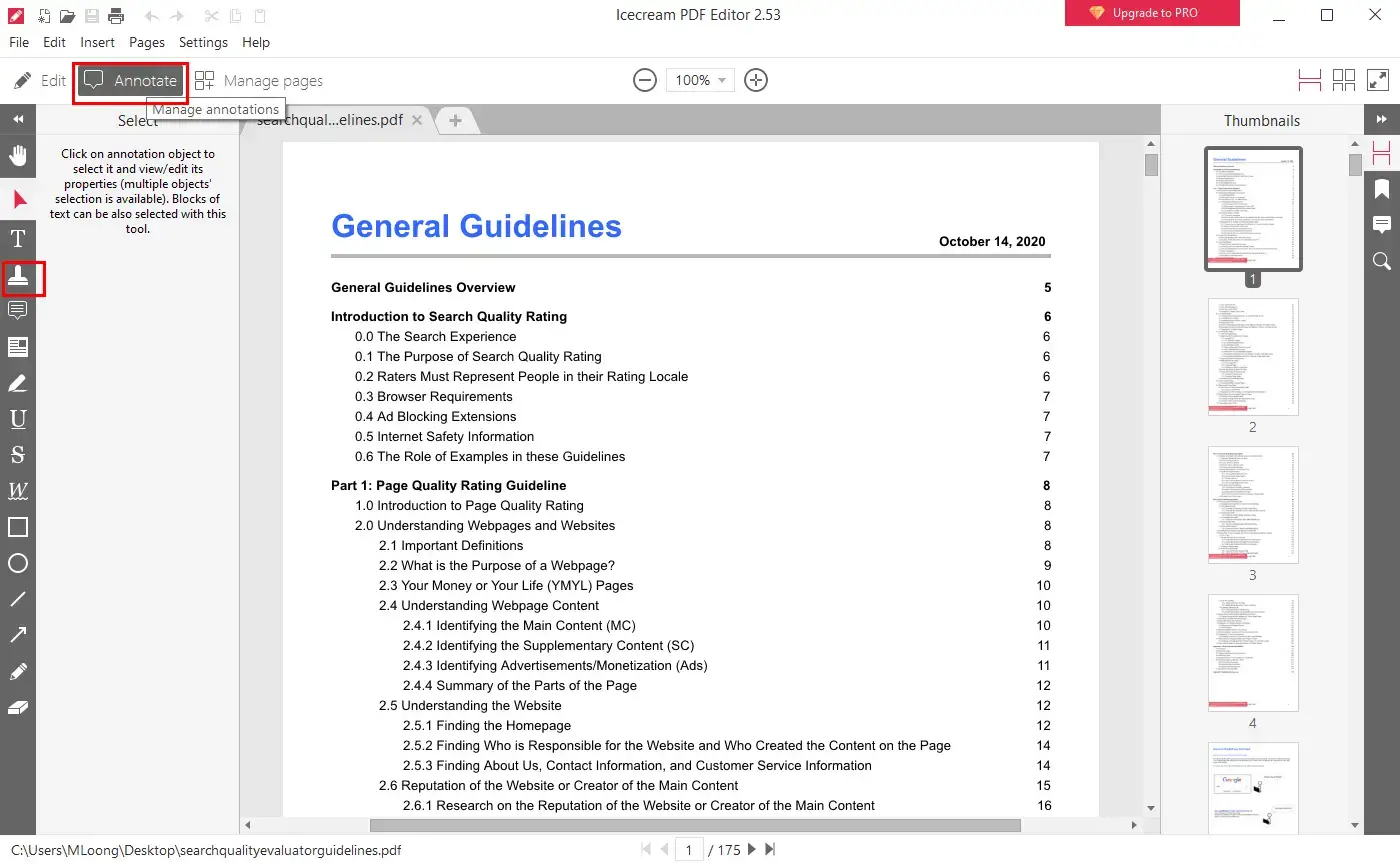 2nd Step: Click annotate and choose manage stamps.
3rd Step: If you select standard, paste the original template content into the document.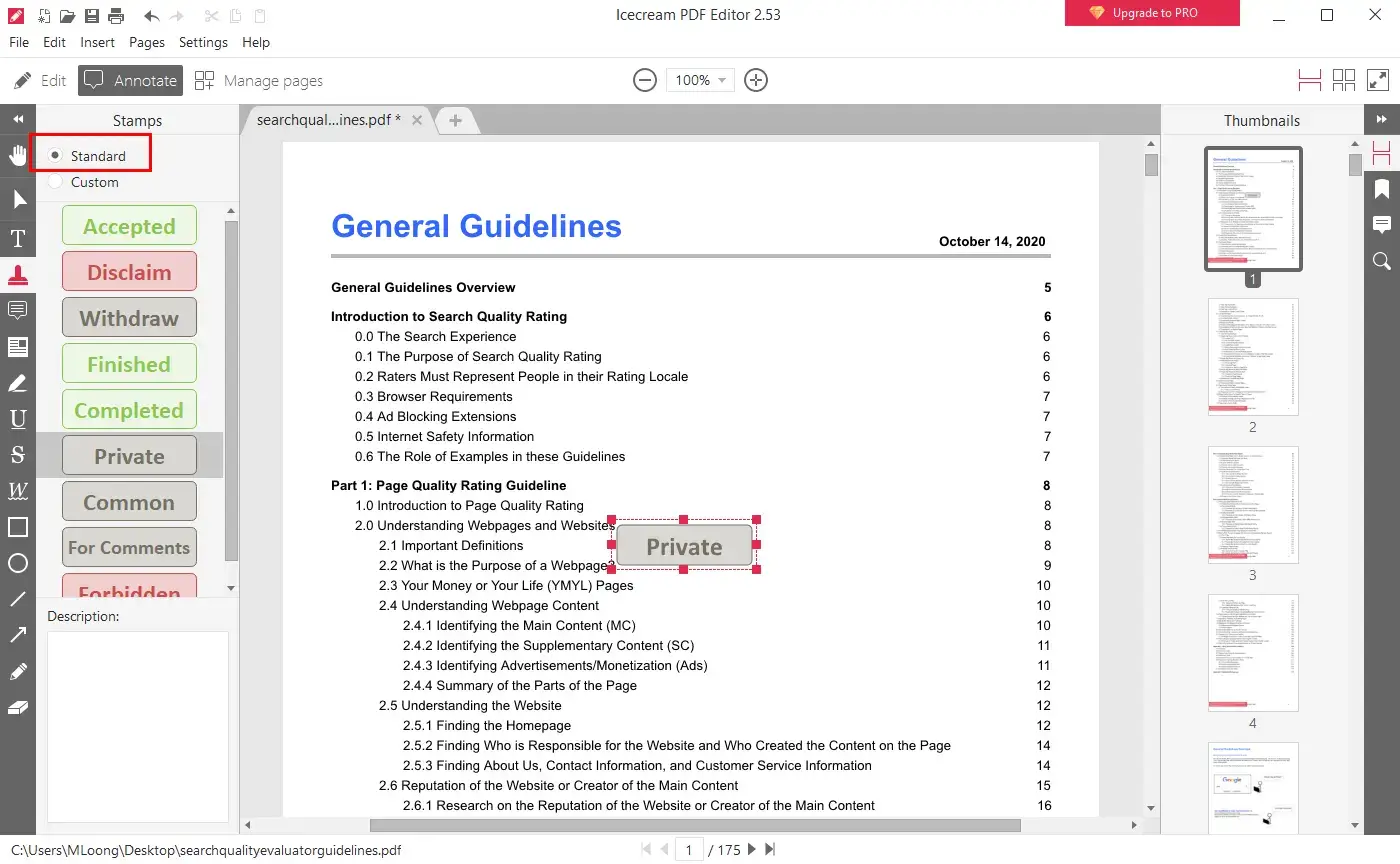 4th Step: If you click custom, you can write the text content of the watermark yourself.
By the way, it's also okay for you to customize the watermark content on a page of the document and the location of the watermark according to your own needs.
Pros:
You can play a subjective initiative to customize the location and page number of the watermark.
Cons:
It doesn't support other types of watermarks.
You can only cover the watermark page by page, which wastes time and energy, and the operation process is very long.
---
Conclusion
The above are three kinds of software with different styles and different operations to insert watermark in PDF documents. You can select the most appropriate software according to your requirements. However, the most recommended one is WorkinTool PDF Converter for its security and stability. You also can use Soda PDF and Icecream PDF Editor, but they may not work well sometimes. So simply free download WorkinTool PDF Converter and enjoy all the free features from today!
Products Reviews:
TrustScore
4
|
323
reviews