How to Save One Page of a PDF on Windows and Mac
Do you know how to save one page of a PDF on Windows and Mac for free? Don't worry, check out this post for the best solution and get the WorkinTool PDF Converter to make your PDF job easier than before.
😍 1. 100% FREE to use all the features with NO ads.
🤩 2. Easy interface for users to edit and convert PDFs in THREE STEPS.
😎 3. Quickly extract one page or certain pages from a PDF.
🥳 4. Multiple PDF features for users to operate without limit.
😊 5. Available for all office file format conversations.
How to Save One Page of a PDF on Windows and Mac
As you know, PDF files are used more and more frequently today. However, PDF is not an editable file format. The PDF document always contains multiple pages. So how to save one page of a PDF successfully? It is not convenient to extract one page from the PDF file to view. The best way to do this is to ask professional PDF page managing software for help. This article offers free methods for Windows and Mac users unfamiliar with PDF software. Also, we will introduce an online PDF page splitter to you. Step-by-step guides will be provided. Please read on to learn more.
🔎 How to Save One Page of a PDF on Windows
As the creator of PDF documents, Adobe is a natural choice for PDF editing on Windows. But the Adobe PDF editor is expensive and has a difficult learning curve. It is inappropriate for people who are new to PDF editing or use it sparingly. So, for this part of users, are there any more practical, easy-to-use Windows PDF editor alternatives? Well, there is. We highly recommend that you try WorkinTool PDF Converter.
WorkinTool PDF Converter
Please do not assume that this converter can only make conversions referring to its name. It does everything Adobe currently does. And it solves all PDF-related problems perfectly on the Windows side. It provides a specific PDF splitter feature to help users save one page of a PDF or save certain pages of a PDF. It offers various options when extracting PDF pages. For instance, you can save all the picked pages as a single PDF document. Or you can save certain pages in a PDF and combine them into a new PDF file. Also, you can use it to print only one page of a PDF to your computer. Within easy steps, you can extract a PDF page. It's most appealing to users because it's free and easy. The interface is clear and easy to understand, and it's free to use without restrictions.
🚀 Reasons to select WorkinTool PDF Converter
Free to extract PDF pages
Easy for novices without PDF editing experience
Safe to install and use
Free of ads, pop-ups, registrations, etc
Throughout PDF processing features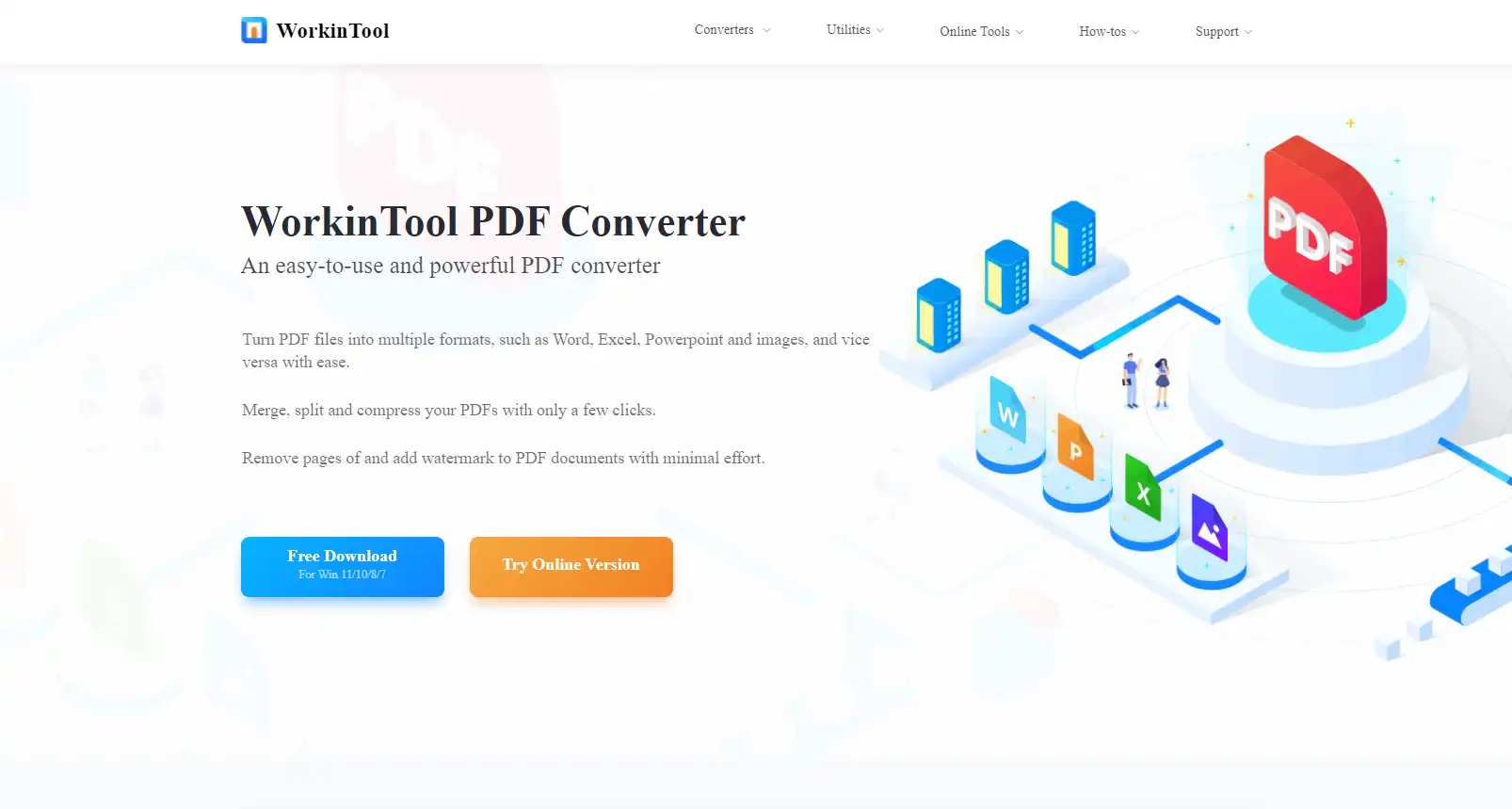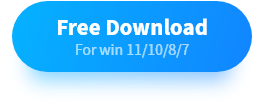 How to save one page of a PDF using WorkinTool:
📌 Method 1: Use the PDF Splitter to extract a PDF page
Launch WorkinTool PDF Converter and find the Split PDF button to upload your file.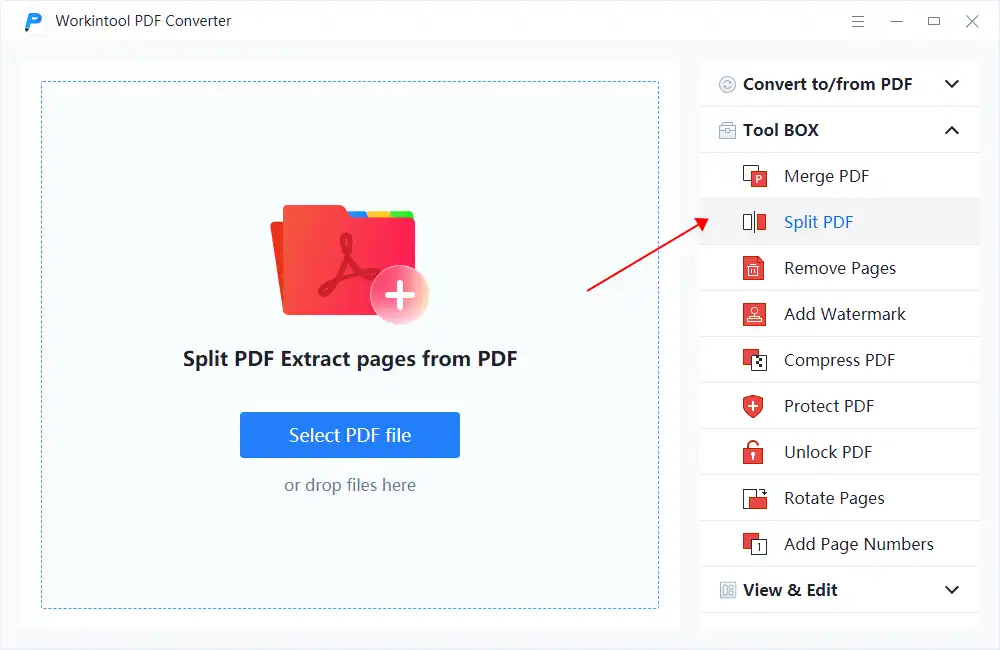 2. Select one or multiple pages you want to save.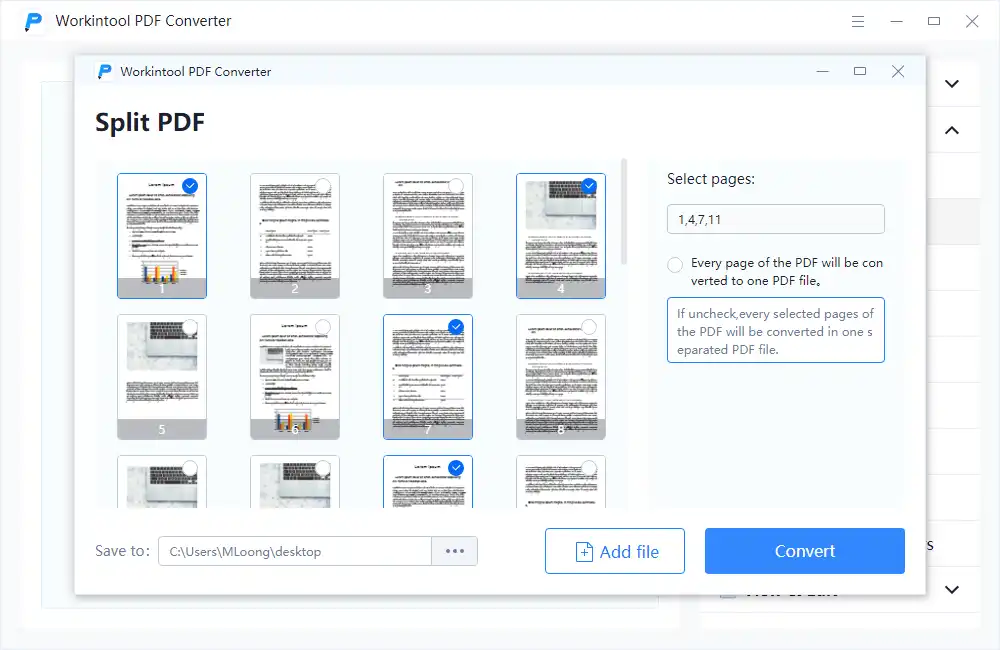 When you are done selecting them, click 

Convert

and wait for the result.
📢 Notice:
It allows you to save every page you choose as an individual PDF file. If you don't check the option, all selected pages will be put into one PDF file.
📌 Method 2: Print only one page in a PDF to save
Open this tool and find the PDF Edit button to upload your PDF.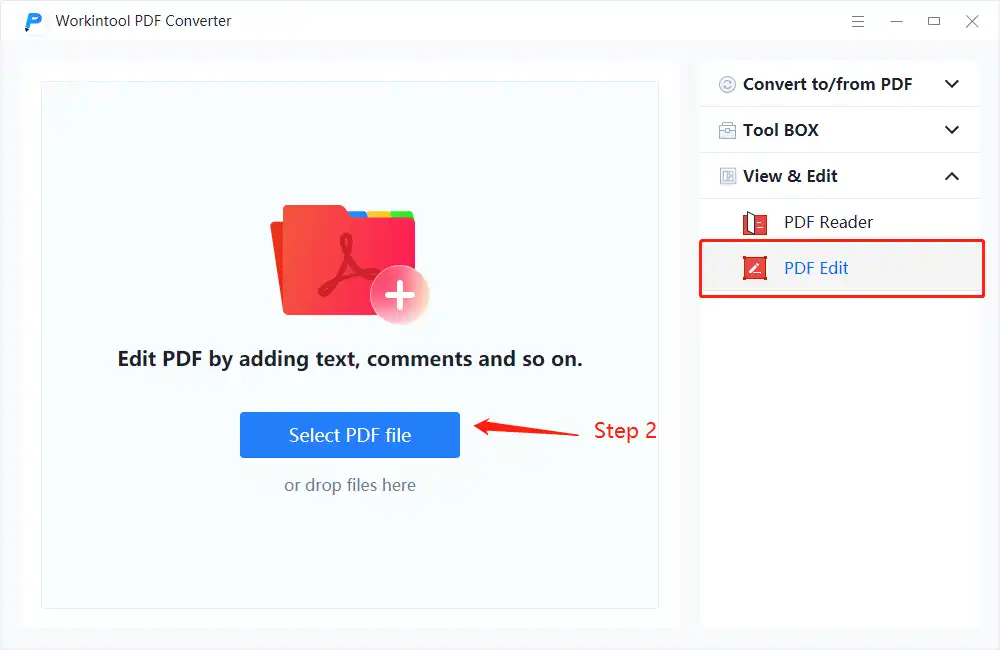 Edit your PDF content as you like. Once you are done, click the 

Print

option.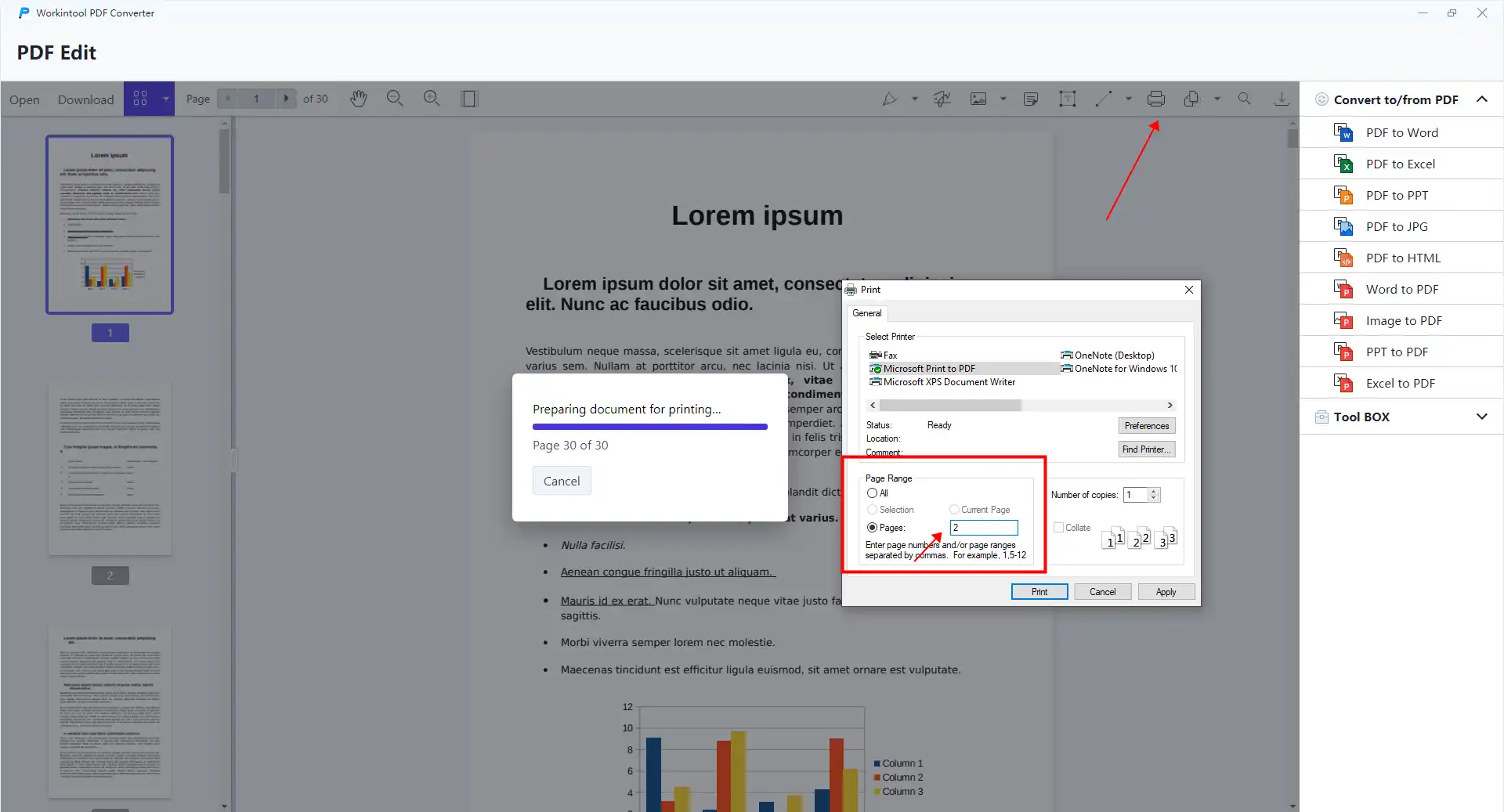 Select

Page

in the 

Page Range

and enter the exact page number you want to save. Then, tap 

Print

 to seal the deal.
🎯 More features in WorkinTool 🎯
---
🔎 How to Save One Page of a PDF on Mac
If your computer is on a Mac system, it will be much easier to manage PDF pages. You can easily save one page of a PDF using the Preview software that comes with Mac. The application is also free to use. Though it's less potent than other third-party PDF editors with many features, it's more than adequate for saving certain pages in a PDF. Let's see how to save only one page of a PDF with it: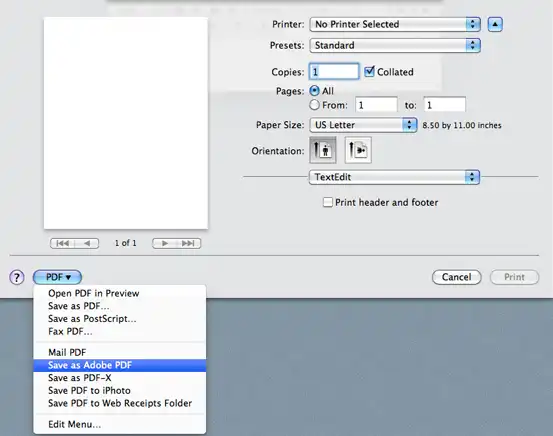 Open your PDF file using

Preview

and click F

ile

> 

Print

.

Enter the page you want to save from the PDF file. 

Then click 

PDF

 > 

Save As PDF

.
---
Bonus: How to Extract One PDF Page Online
Modifying PDFs online is even more common if you want to avoid downloading any third-party software. Our advice, then, is that you should learn about one helpful online PDF editor. In order to save one page of a PDF online, we recommend WorkinTool Split PDF online page here. 
We know that users are most concerned with file security, processing speed, and online service prices. We can assure you here. The online service offered by WorkinTool is entirely free without restrictions for use times. And it leads to a stable uploading and converting speed. You can use it to operate a PDF file within 50 MB. For security purposes, you don't have to worry either. All the files you upload will be automatically deleted from the background within 24 hours. No one has access to it.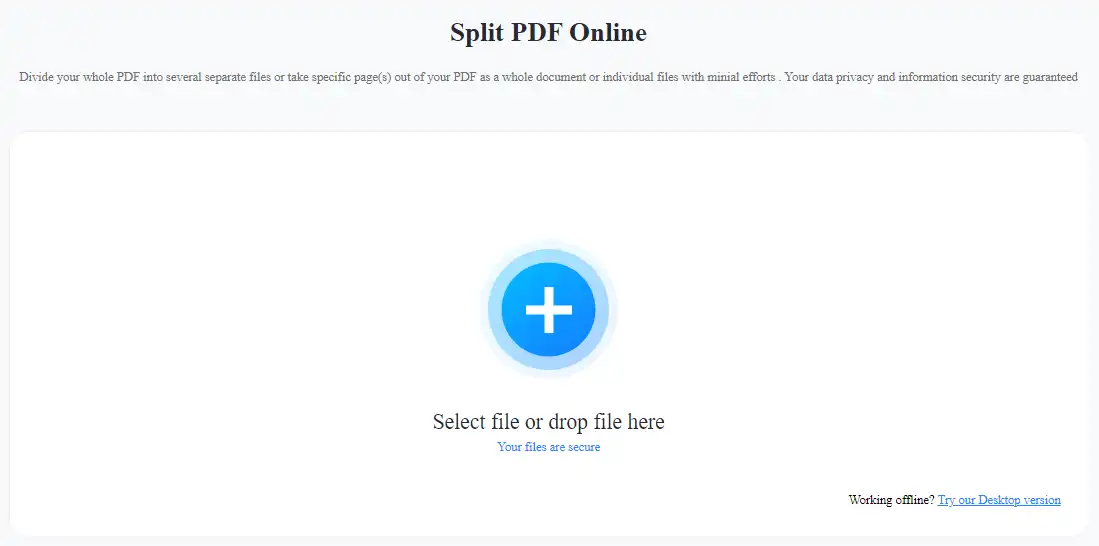 Enter 

WorkinTool Split PDF online page

 and upload your target PDF file.

Select the page that you want to save.

Once you are done selecting, click 

Convert

 and wait for the result.
---
Bottom Line
In this article, we focus on how to save one page of a PDF file and provide detailed tutorials for different devices. For Mac users, the built-in Preview is enough to save a single PDF page in a simple step. For Windows users, WorkinTool PDF Converter is your best bet. It provides two features for saving certain PDF pages. It also provides an online counterpart to use. The most important thing is that this tool is entirely free. Indeed, it's well worth a try.