How to Record Audio on Samsung S21/20/22 | 3 Ways [2023]
Recording audio on Samsung is a great way to capture every critical moment in the lecture, meetings, and conference. And this post explains how to record audio on Samsung S21/20/22 with three Android audio recorders.
✨ #1. Samsung Voice Recorder (Bulit-in free audio recording tool)
✨ #2. TransVoice (Versatile but easy-to-use audio recorder and editor)
✨ #3. Notta (Qualified voice recorder to keep high-quality audio)
How to Record Audio on Samsung S21/20/22 | 3 Ways [2023]
With the technology's development, we can easily record audio, lectures, meetings, and more critical moments on our mobile phones, like Samsung S21/20/22, etc. Moreover, we are able to capture and maintain fleeting ideas or music creations with the built-in Samsung voice recorder. So how to record audio on Samsung S21/20/22? But no worries. This post will tell you the answers and two other professional voice recorders for Samsung will also be available. Just go ahead and find a solution together.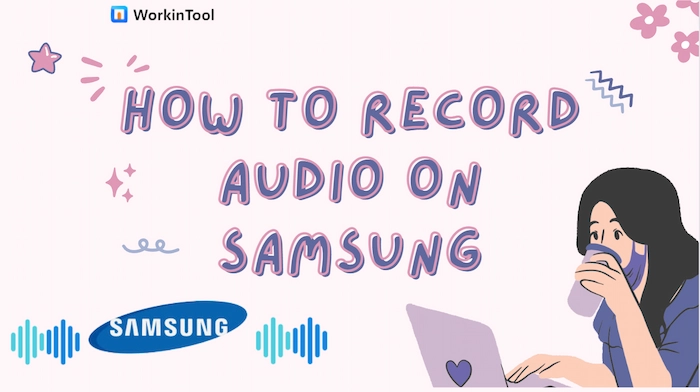 ---
How to Reader Audio on Samsung S21/20/22
Suppose you only need the basic audio recording function. In that case, you are lucky not to download and pay for other third-party Android audio recorders because Samsung has preinstalled a default voice recorder on your phone. With Samsung Voice Recorder, you can easily record any sound with high quality and edit your voice memos.
More specifically, three built-in recording modes are provided in this lightweight voice recorder: Standard, Interview, and Speech-to-Text. In the third mode, you can effortlessly transcribe your audio to the text in seconds. However, this app fails to support Samsung S5 and Note4 Android M-OS. If your device is in the system, you can use the other two mentioned apps to record voice as well.
📌 How to Record Audio on Samsung with Voice Recorder
Step 1. Find and open the Samsung Voice Recorder on your device first. If you don't have this app, you can get one from Google Play Store.

Step 2.

Choose one wanted mode: Stardard, Interview, or Speech-to-text. Then touch the red button to start recording.

Step 3.

 Tap the BOOKMARK to mark if needed. Finally, click the stop button to stop and save the voice memo on your Samsung.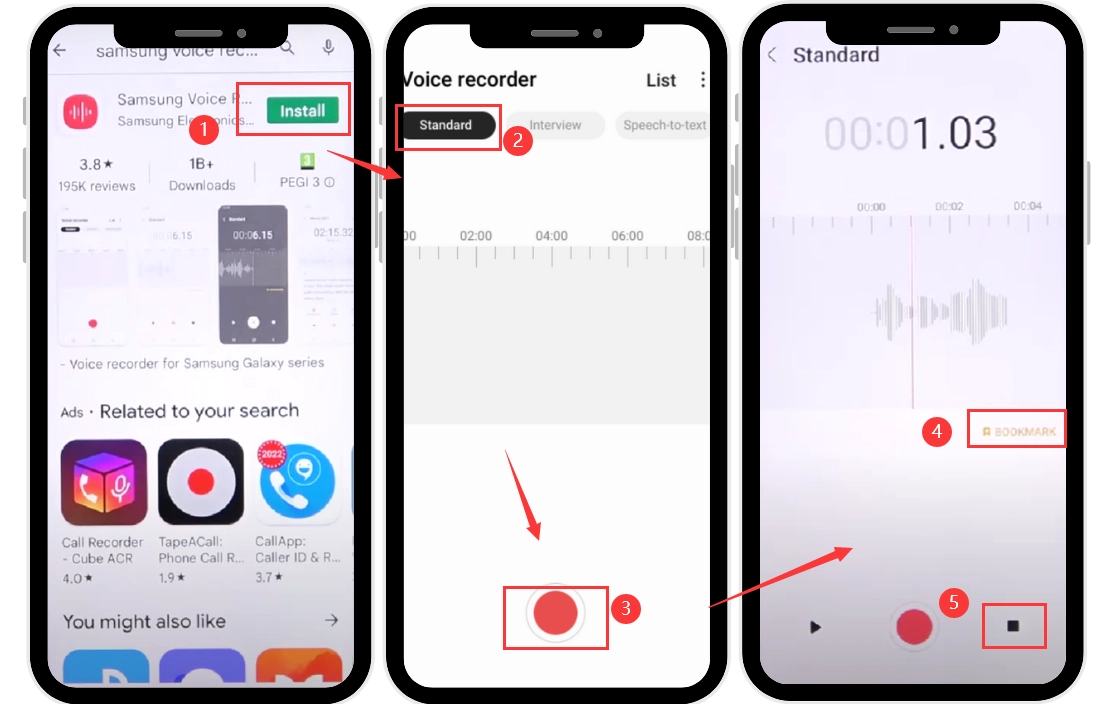 👀 Note:
 For better recording quality, you'd better ensure no noise in the background and put your Samsung phone as close as you can to the sound source.
🔎 #2. Record Voice on Samsung with TransVoice
If you are seeking more advanced recording or audio functions on Samsung, TransVoice is an app you cannot miss. It is an accessible-to-use, versatile audio recording and editing app for all Android devices, including all versions of Samsung phones. TransVoice offers six recording modes for users to select from different situations: Music Mode, Default Mode, Conference Mode, Conference Mode, and Conference Mode.
To improve the quality of voice recordings, TransVoice can turn on smart noise reduction to remove the noise from the background. Furthermore, you can record while listening to check the recording's effect. Moreover, TransVoice is a comprehensive audio app that offers 30+ other tools to refine your audio files, such as
✨ Transcribe Audio to Text:

 Automatically convert audio to text and copy it to make notes.

🏅 Edit/Trim Your Voice Memos:

 You can trim, merge, compress, split, and convert your Samsung voice recordings in one go.

🎯 Level up the Recording Work: To make your recording more perfect, TransVoice will allow you to add fade-in and fade-out effects, change the pitch and tone, etc.

…

📌 How to Record Audio on Samsung Android in TransVoice
Step 1. Free download the TransVoice app from your Google Play store first. Then, launch it and go to Tools > Recording Tools. Next, click the Recorder function.

Step 2.

 Slide the recording mode to select the ideal one. Then hit the record icon to begin recording audio on your Samsung.

Step 3.

 While recording, you can click the Mark button to make a note. Lastly, click the Save button to finish.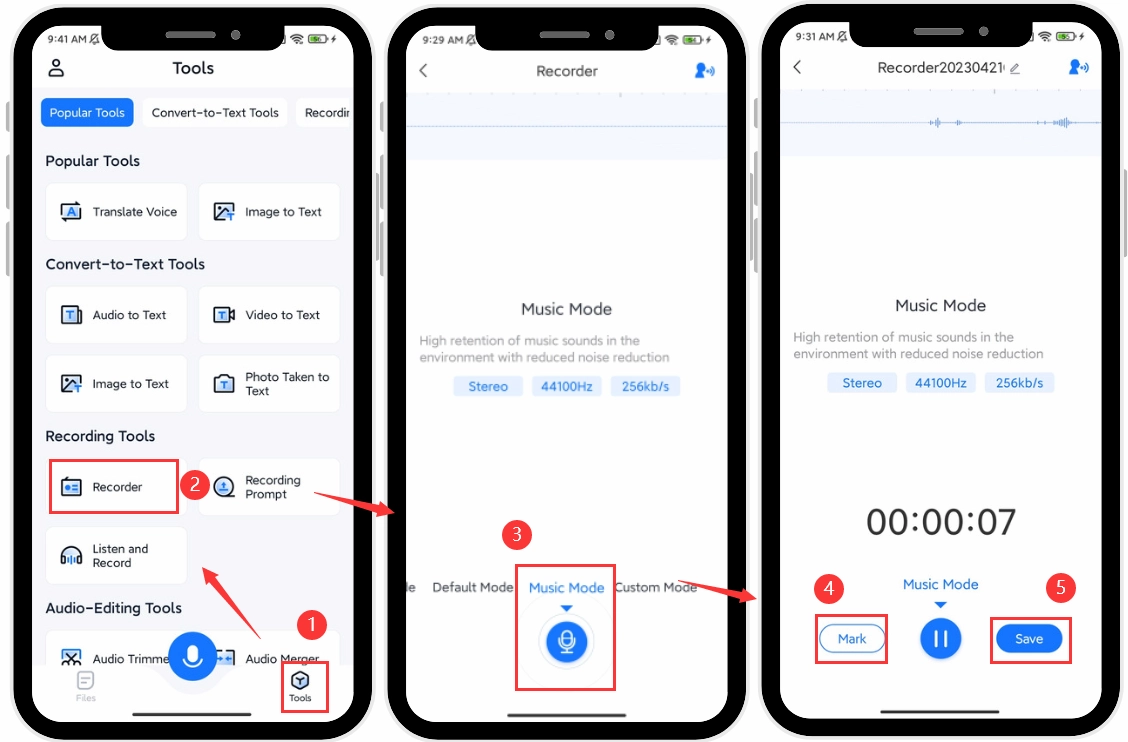 👀 Note:
✨

Default Mode:
 

It is the universal recording mode that has the best compatibility and can keep the Hi-Fi audio quality. [Tech Info: Mono 44100Hz 256KB/s]
⭐

Music Mode:
 

This mode can capture and maintain every detail of music songs as much as possible. Moreover, it can automatically filter the environmental noise to keep the original sound quality. [Tech Info: Stereo 44100Hz 256KB/s]
✨

Conference Mode:
 It is specialized for recording a meeting, lecture, or conference, which can capture various sounds in a broader environment. [Tech Info: Mono 48000Hz 320KB/s]
⭐

Forensic Mode:
 

It is the forensics must-use mode due to its highly-sensitive dynamic capture technology. [Tech Info: Stereo 48000Hz 320KB/s]
✨

Custom Mode:
 

You can create your exclusive recording mode by altering the sound quality, sound channel, and sampling rate.
💗 More Guides on TransVoice
🔎 #Way 3. Record Audio on Samsung with Notta
Notta is your other reliable option to record audio on your Samsung phone. With Notta, you have no problem recording audio while maintaining the sound's high quality. Samsung. And the most significant advantage is that it can maintain audio and transcribe it into text in real time with 98% accuracy. Moreover, you can one-click to share the transcription with your friends or import it to Notion on your desktop instantly.
📌 How to Record Audio on Samsung with Notta
Step 1.

 Open Notta to click the + > Record Now.

Step 2.

 Click OK in the pop-up notification window.

Step 3.

 Touch the Image or Mark button to take notes if needed. At last, click the red Stop button to end the recording.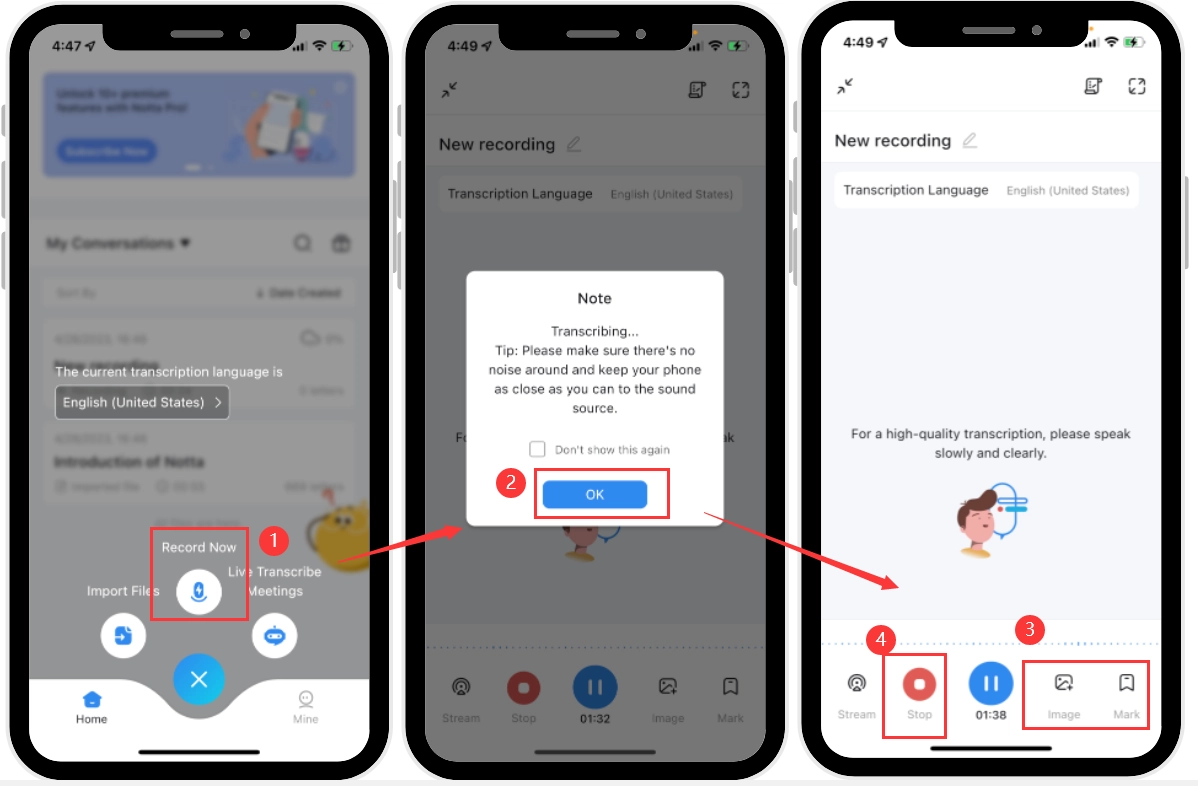 FAQs – How to Record Audio on Samsung
🗂️ Where is audio recording on Samsung?
The audio files are always saved in the Samsung Voice Recorder app.
🗂️ Does Samsung have a voice recorder?
Yes, almost all Samsung devices have a free built-in voice recorder, except Samsung S5 and Note4 Android M-OS.
🗂️ How do I record on my Samsung phone?
If you are going to record audio on your Samsung phone, you can use the built-in Samsung Voice Recorder to make it. If you want more professional audio tools, like compressing, dubbing, reducing noise, etc., you need to download other advanced apps like TransVoice.
🗂️ Where is Voice Recorder on Samsung S21?
Generally speaking, the Voice Recorder is on your desktop Samsung S21. If not, you can navigate to the Google Play Store and enter "Samsung Voice Recorder" to download one for free.

---
The Bottom Line
Generally speaking, recording audio on Samsung is a great way to capture every critical moment in the lecture, meetings, and conference. Luckily, this post explains how to record audio on Samsung with three Android audio recorders. And TransVoice is the most recommended tool to capture and preserve high-quality audio.