How to Add Text to a Video for FREE on Windows | 3 Ways
In order to make your videos stand out, some tricks are definitely essential. Inserting text into a video is one of them to make it outweigh those without "decoration." Today, we will discuss how to add text to a video for FREE in Windows. The blog post will cover the following topics:
🎯How to Add Text to a Video with a Third-Party Tool–WorkinTool VidClipper [⭐Hot]
🎯How to Insert Text into a Video Without a Third-Party Tool–Microsoft Photos
🎯How to Put Text in a Video Through an Online Video Editor–FlixClip
You are welcome to use all the solutions; however, it is highly recommended to try WorkinTool VidClipper since it is simple, convenient, powerful and 100% free with no watermark on the outcomes.
Please start your reading now to discover more.
How to Add Text to a Video for FREE in Windows | 2023 Offline and Online Ways
Tons of videos are uploaded to a variety of social media platforms like TikTok, Instagram and Twitter every day. In order to make your videos stand out, some tricks are definitely essential. Inserting text into a video is one of them to make it outweigh those without "decoration." Today, we will discuss how to add text to a video for FREE in Windows.
Now, let's begin our journey.
---
Before Text Addition in a Video
📌Why do you need to add text to a video?
These are the common reasons for putting text in your videos:
💡To Make Content More Understandable
Undoubtedly, a video narration with captions will be easier for the audience to understand. Absolutely, the effect of your video will get enhanced.
💡To Highlight Key Information
The central messages in your video, especially a tutorial video, are worth mentioning in an explanatory way helped by words so that your audience will be clearer about what you are talking about and remember it better.
💡To Make Sense Without Sound
Text assists users in grasping what your video is about, even if it is watched without sound. Therefore, you can easily get your information transmitted even if your video is mute.
💡To Achieve Aesthetic Sense
Some exquisitely-designed text will add a dash of beautiful color to your video, making it outstanding and appealing.
💡To Create Brand Identity
A logo with a few slogans on a video will deepen your target customers' impression of your brand or even convert random users to your potential clients.
So how can I easily insert text into a video? Please read on to learn about specific solutions.
---
How to Add Text to a Video in Windows with a Third-Party Tool
A handy tool like video editing software will be an effective solution to such an issue. If you are a video content creator, you definitely need to have one on your PC. Here, we will present a useful video editor–WorkinTool VidClipper.
WorkinTool VidClipper is an acclaimed product released by a new but promising SaaS provider–WorkinTool. Inspired by the lightweight concept, its designers endow it with a user-friendly interface, allowing the IT green hands to enjoy an effortless and smooth video-editing experience. Additionally, you can't miss this practical software for the following reasons.
📕How to add text to a video in Windows with WorkinTool VidClipper?
Step 1. Open VidClipper and then click +New Project to activate the editing console.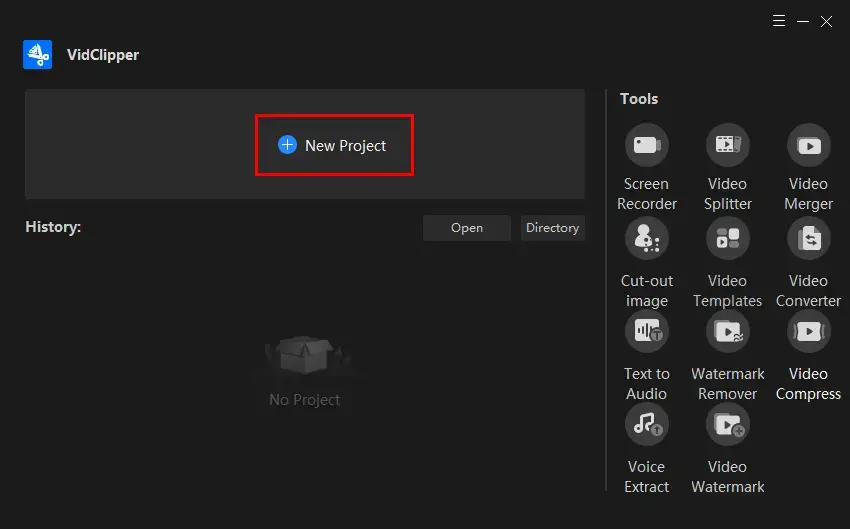 Step 2. Press Import to upload your video and then drag it to the editing bar below.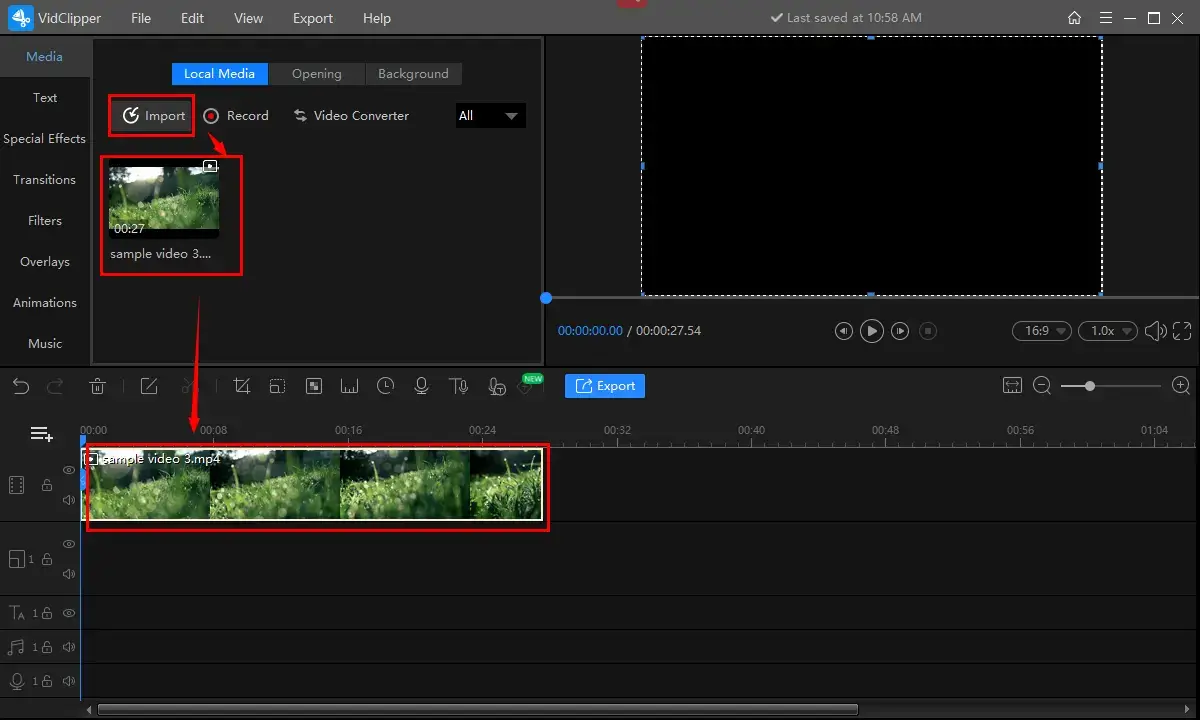 Step 3. Find Text, pick a template and then drag it to the editing bar below your video.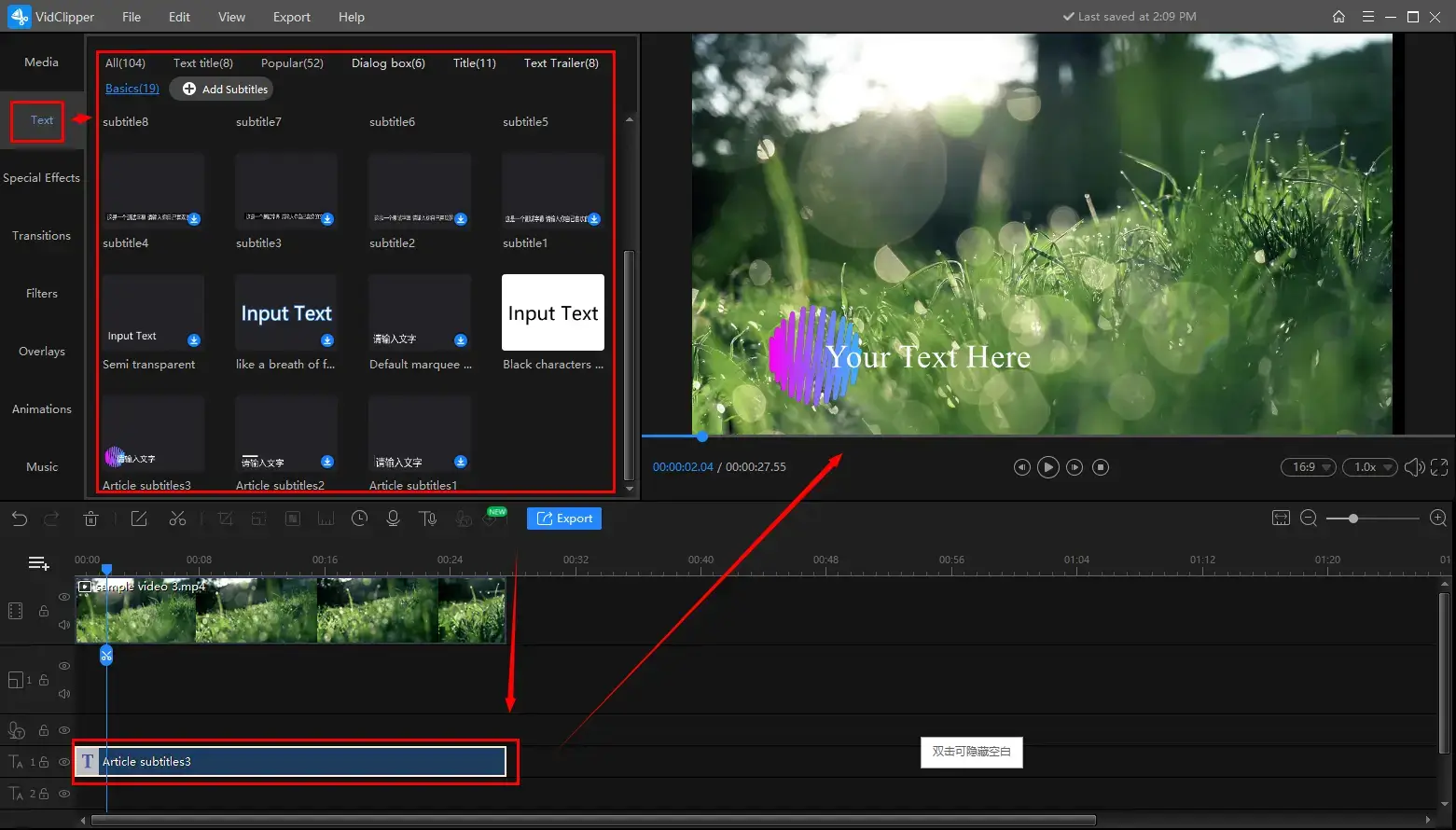 Step 4. Click on the text progress bar to open the text editing console to set your text, drag the bar to decide the text duration and then hit Export.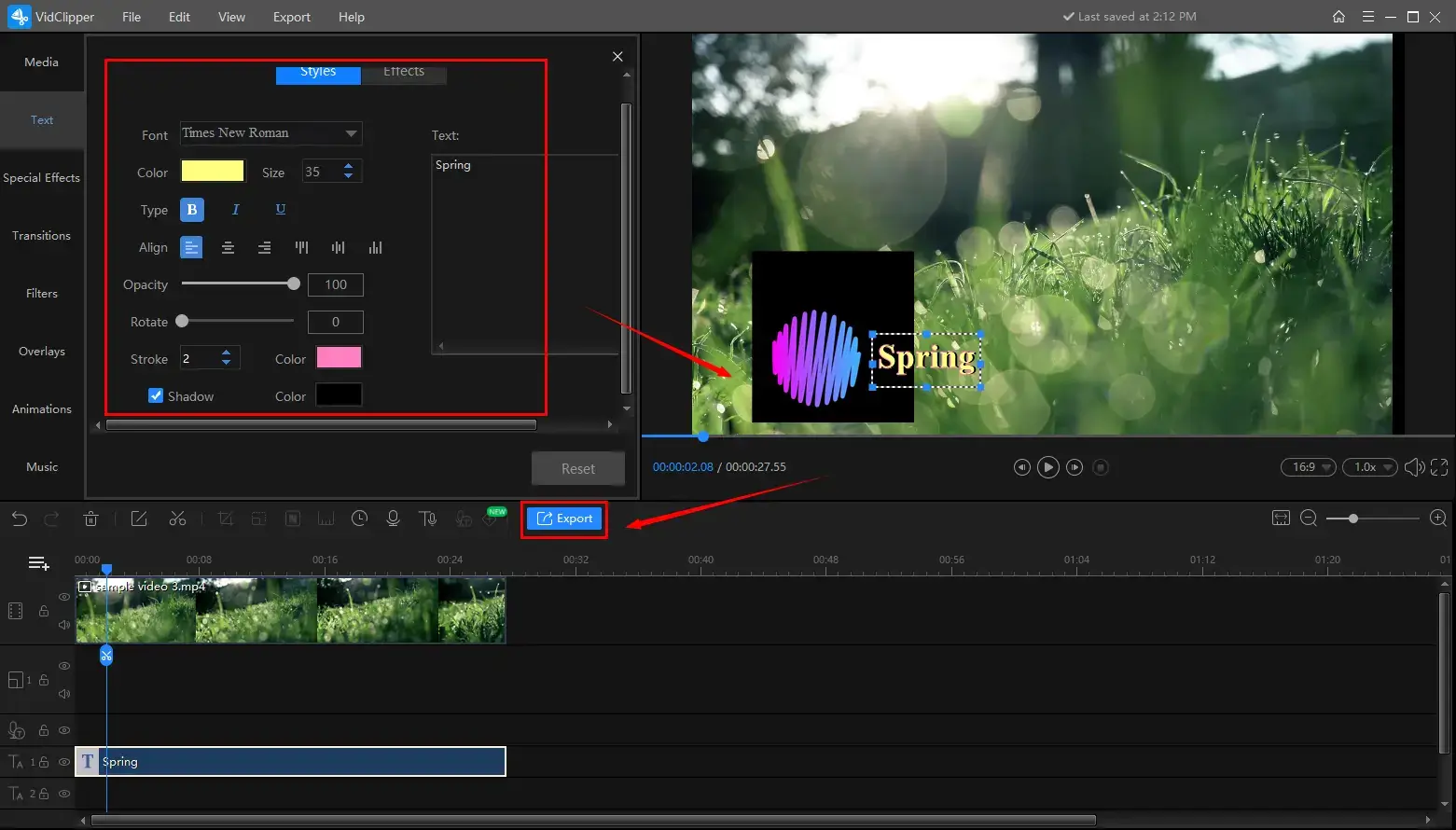 Text Settings
Font: 30+ fonts available
Type: Bold, Italics and Underline
Align: It determines how your text is presented and where it is located, including Left, Center, Right, Horizontal Left, Horizontal Center and Horizontal Right.
Opacity: 0-100
Rotate: 0-360 degrees
Stroke: Provide your text with a brush-like sense. Intensity: 0-20. 100+ color supported
Shadow: Put a shadow filter on your text. 100+ color available.
Effects
Motion Effects: 20+ ones for you to export the animated text, including move up and down, clockwise, counterclockwise, zoom in and out, etc.
Step 5. Choose the video format, adjust your settings and then hit Export.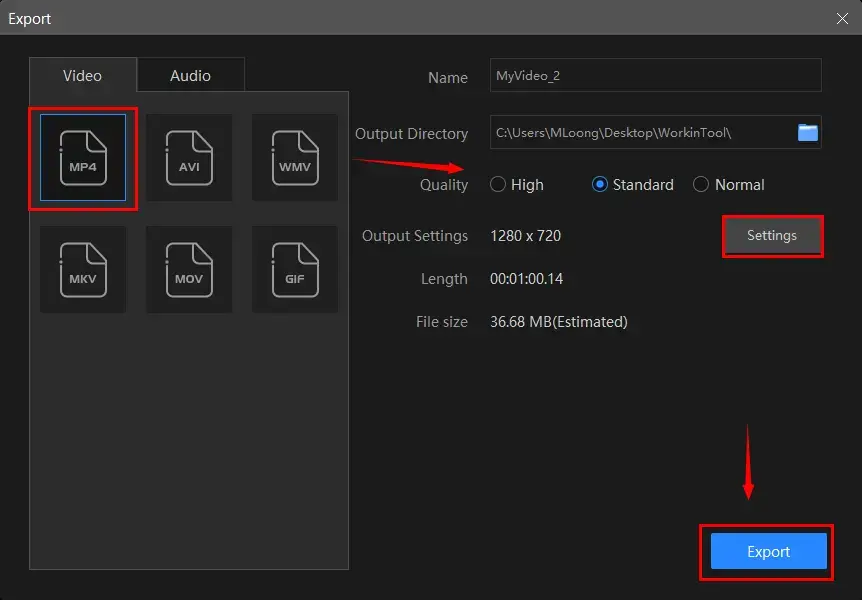 Video Settings Notes

Quality
High, Standard and Normal (from high definition to low definition)
Video
Encoder
Convert digital video to analog video signals (H264 and mpeg 4)
Resolution Rate
The number of pixels in each frame determines the amount of detail in your video or how realistic and clear the video is displayed (From 432 x 240 to 1920 x 1080 to custom)
Frame Rate
The measurement of how quickly a number of frames appear within a second, which is why it's also called FPS (frames per second). (From 5 to 60 to custom)
Bit Rate
The measurement of the amount of data used to encode a single second of video (From 512 to 40000 to custom)
Audio
Encoder
An algorithm that compresses and decompresses digital audio data according to a given audio file format or streaming audio format (Mpeg aac)
Sample Rate
The measurement of the samples per second taken by the system from a continuous digital signal, which determines the range of frequencies captured in digital audio (From 16000 to 48000)
Channel
A representation of sound coming from or going to a single point [1 (Mono) and 2 (Stereo)]
Bit Rate
The amount of data transferred into audio (From 32 to 320)
Step 6. Click Open folder to lead you to the folder containing your new video with text.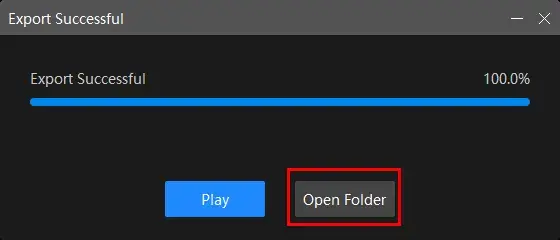 📣Attention
The text title and text trailer are unique features in WorkinTool VidClipper, which enables you to create a video with a customized text title animation and movie-credit-like text list.
You can also depend on WorkinTool VidClipper to add subtitles to a video with this feature.
🎯Additional Words for WorkinTool VidClipper
💡Further editing features are available when your text-added video is ready. For instance, you can
💡The reminder or post-export status is totally adjustable when your text-ornamented video is under processing, including a ringtone reminder, PC shut down and no further operation.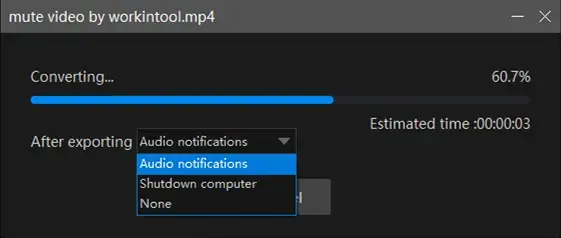 ---
How to Insert Text into a Video Without a Third-Party Tool
Can I add text to a video without an additional program outside Windows? Yes. If you have upgraded your operating system to Windows 10 or higher, the easiest method will be Microsoft Photos. On top of being a built-in photo viewer and video player, it is a basic and free image and video editor as well. Hence, you can rely on it to complete basic video editing tasks, including text addition.
📕How to insert text into a video in Windows via Microsoft Photos?
1. Open your video with Photos.
2. Go to the three-dot icon > Edit more > Add animated text.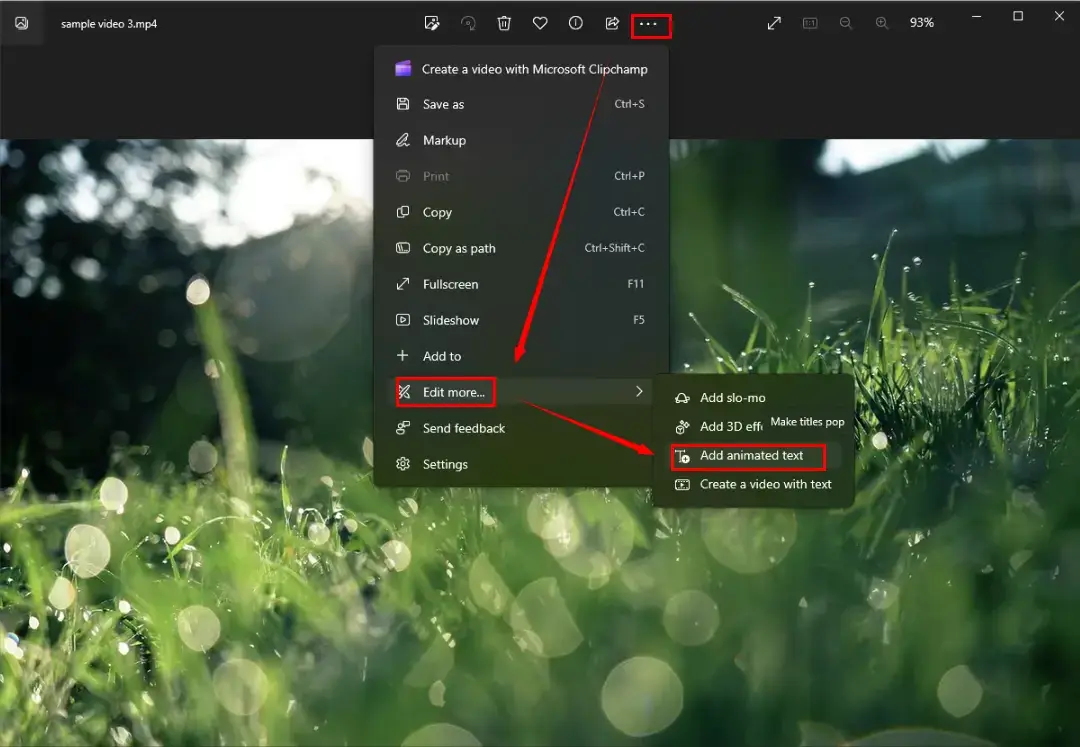 3. Enter your texts, choose a format and layout, and then click on Done.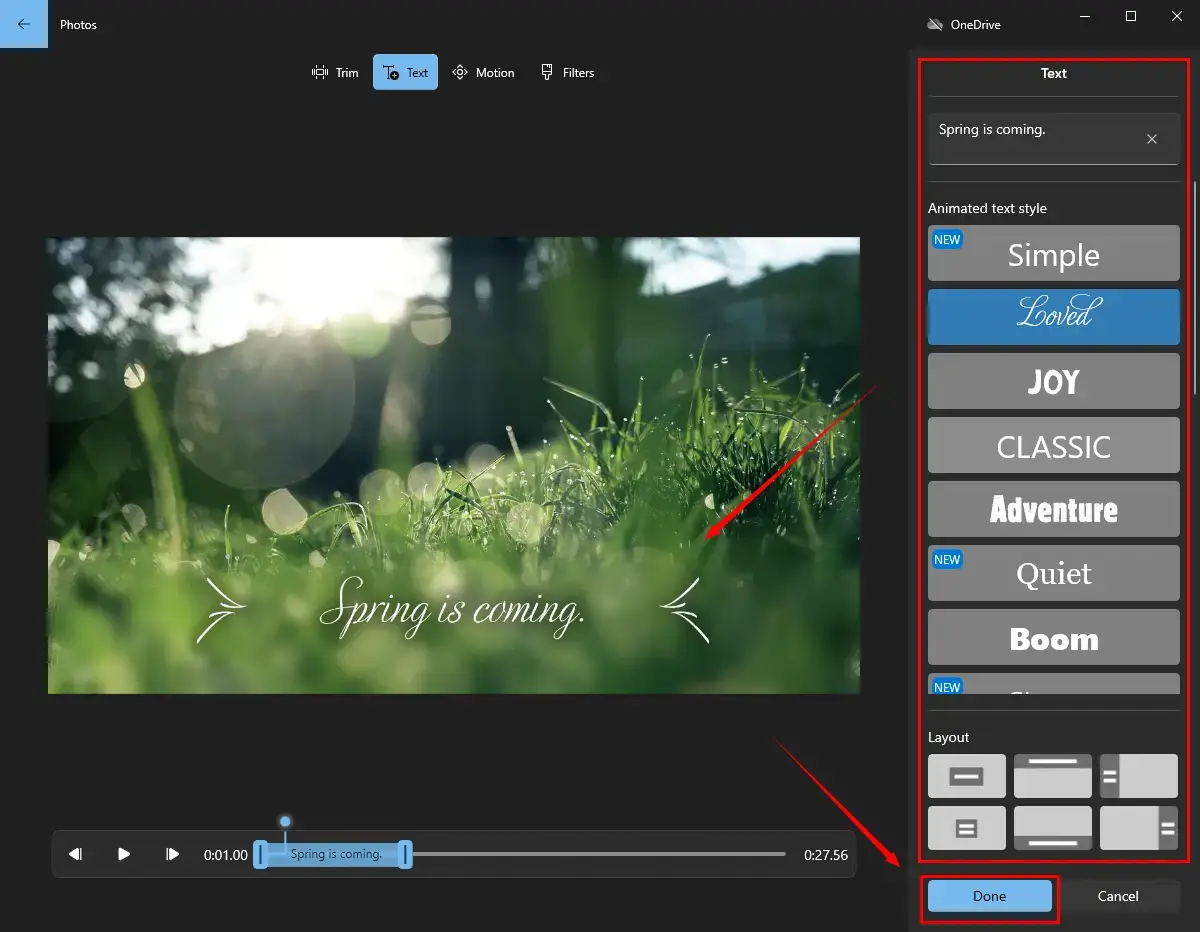 4. Select your video quality in the new Finish your video window and then hit Export.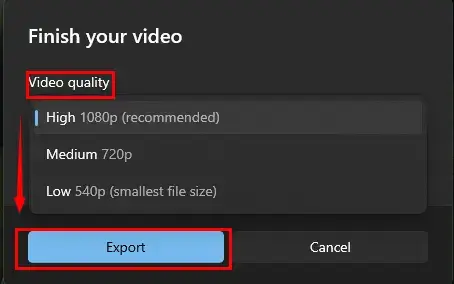 ---
How to Put Text in a Video Through an Online Video Editor
What if my computer fails to get upgraded and I am unable to use Microsoft Photos to realize this goal? Also, downloading and installing an extra program is the last thing I want to do. Then what should I do to put text in a video? Please worry not. A useful online video editor can also resolve this issue for you.
Here, you can take a look at FlexClip, a widely-recognized and free video editor online. With its assistance, you can accomplish nearly all the missions regarding video editing, with no exception of text insertion. However, limitations can be found within its free version, such as limited video quality, video length, project storage numbers and more.
📕How to Put Text in a Video in Windows via FlexClip?
1). Go to FlexClip's official website and then find Tools > Add Text to Video.
2). Press Upload Files to import your video.


3). Click Text and then select a style.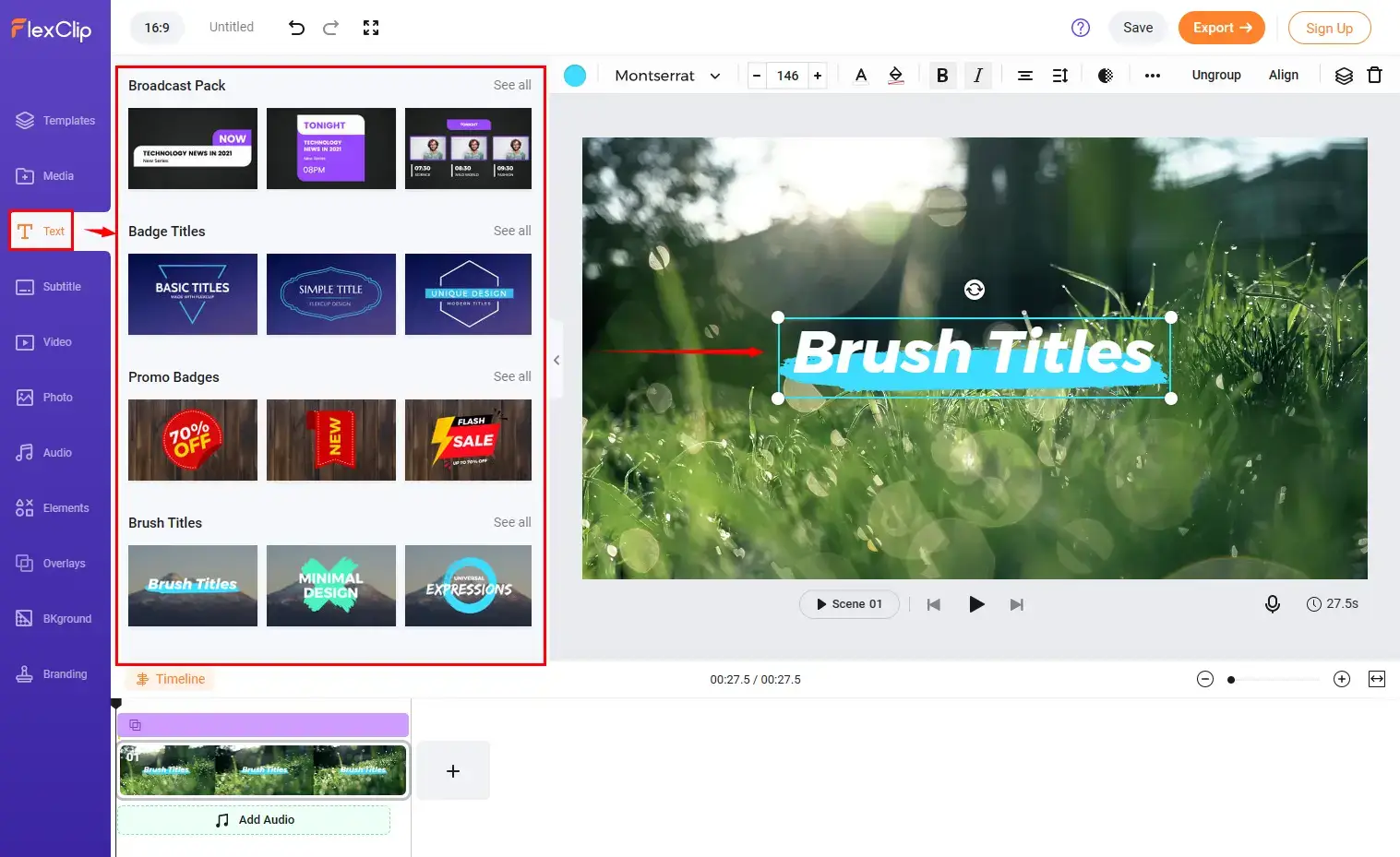 4). Double-click the default text on the video to type your own, adjust the settings and then drag the purple progress bar to determine how long your text will appear on your video.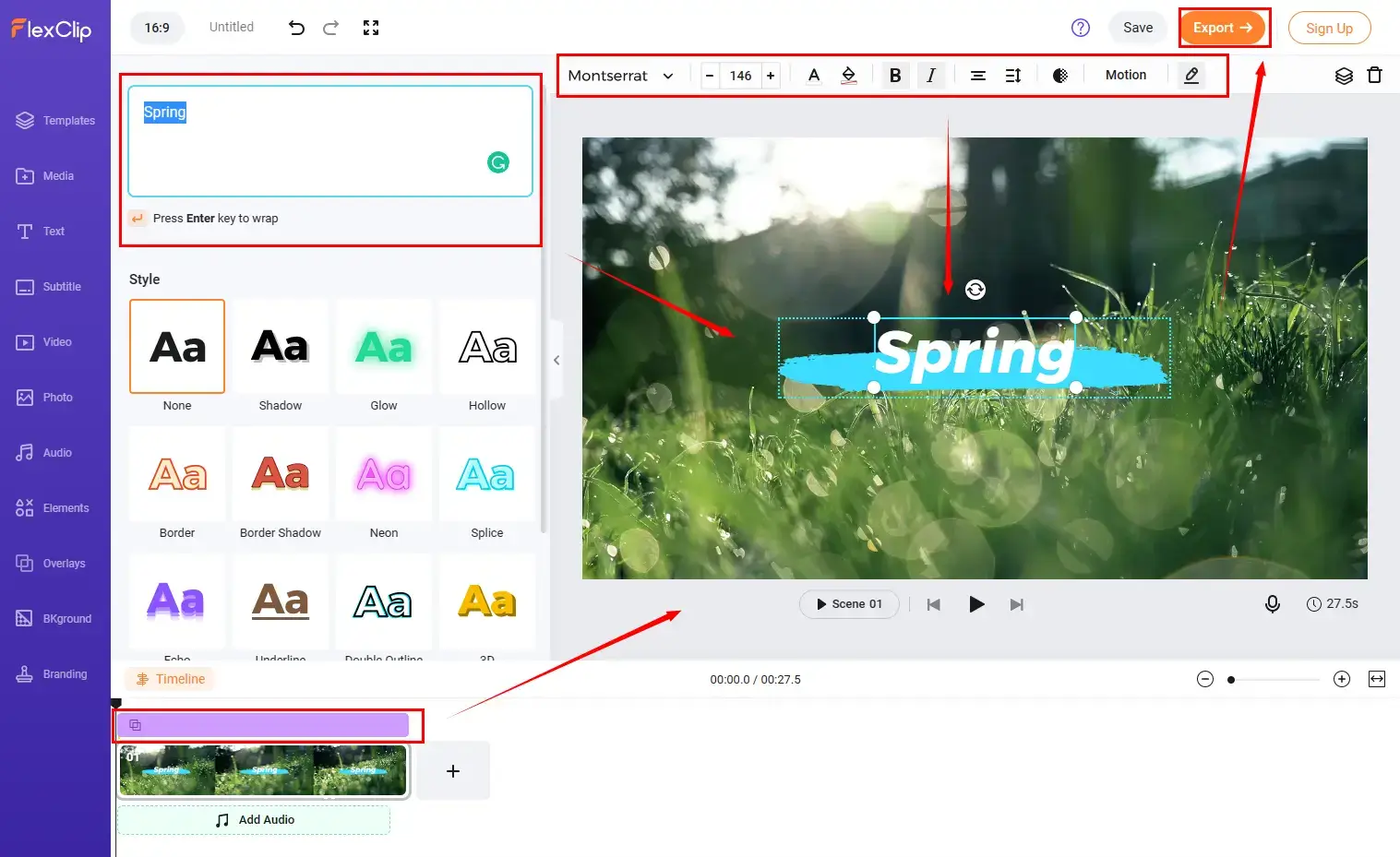 📝Settings include text font, size, color, background, boldness, italics, align, format, opacity, style, motion and group/ungroup.
5). Then click Export.
6). Sign in to your Google, Facebook or FlexClip account to open the download page.
7). Choose video quality and then hit Export.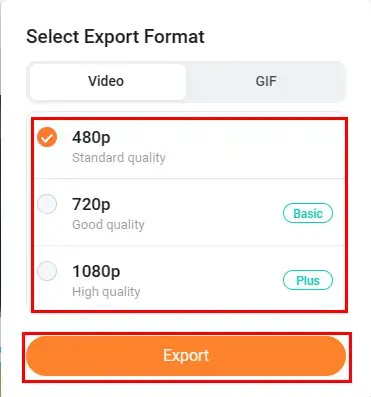 8). Press Download to get your text-inserted video.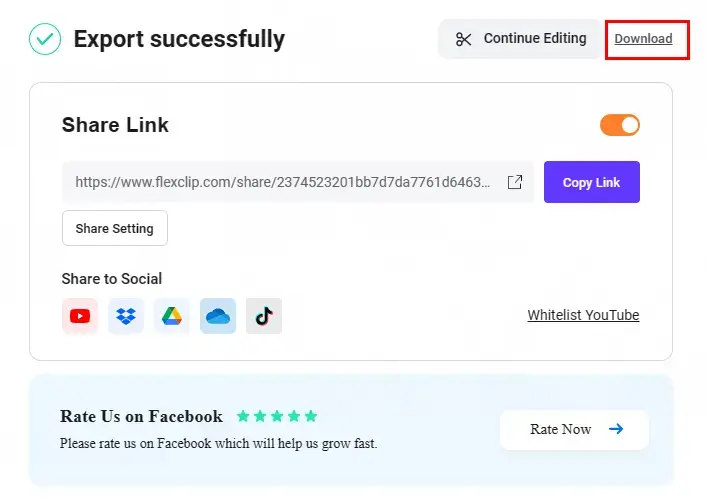 ---
Beyond Text Insertion in a Video
🔑How to Add Text to a Photo for FREE?
To insert text into a photo, you can turn your attention to another WorkinTool's powerful product–WorkinTool Image Converter. Here comes the guidance: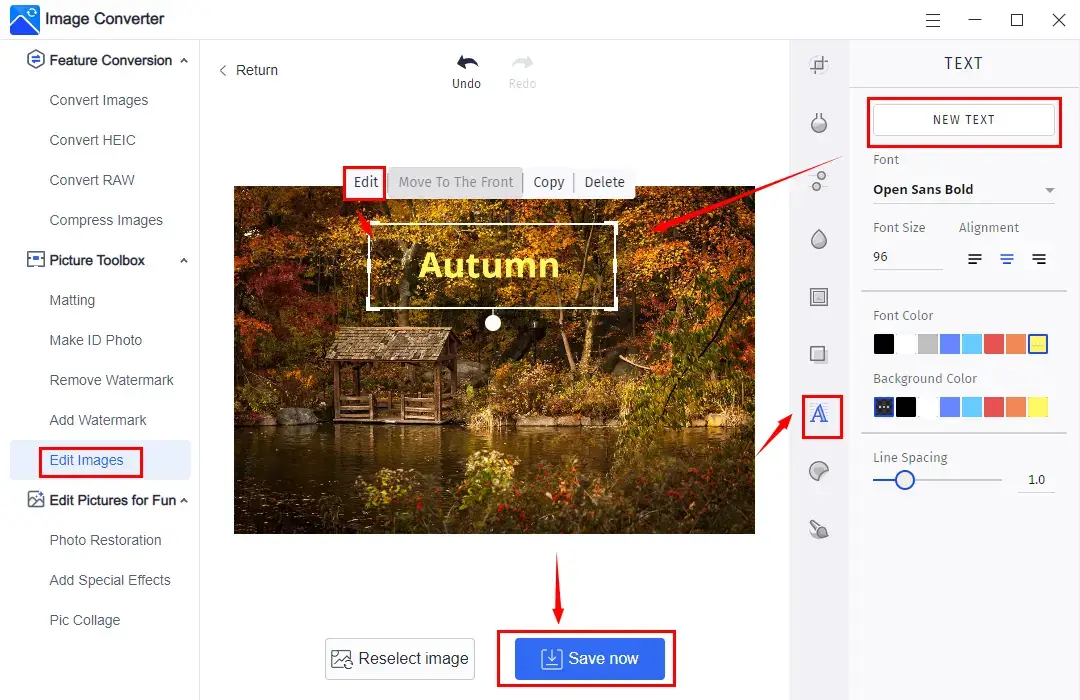 Open WorkinTool Image Converter and then find Edit Image > A.
Click Add images to upload your photo.
Hit Edit

to type your text, change the

text settings

if you want to and then click

Save Now

.
---
Wrapping up
How to add text to a video for FREE in Windows? We sincerely hope you will find this question less challenging to answer after finishing this blog post. Please feel free to use all the aforementioned solutions until an ideal one is pinpointed. However, it is strongly advisable to try WorkinTool VidClipper as it is easy to operate, convenient, practical and 100% FREE.
Now, are you ready to add text to your videos?