How to Add Video Transitions, Effects and Elements | 2 Ways
Video transition is a very important part of video editing. For one thing, it makes the switch between two shots more natural. And for another thing, it tells the audience that this is where the next scene is about to start so that they can focus. Today, we will show you how to add video transitions, effects and elements on Windows in two ways.
🎯Offline–WorkinTool VidClipper
🎯Online–Clipchamp
So, if you prefer video editing software, here I will highly recommend you to use VidClipper vidoe editor. With its user-friendly interface and complete transition templates, I am sure you can get the job done in no time. Moreover, it is super multi-functional to solve many of your video and even audio editing problems. Come and experience its magic right now by reading this post and installing it on your computer.
How to Add Video Transitions, Effects and Elements on Windows 
2 Ways [Offline and Online]
Let's imagine that you are new to movie making and start to make your first movie. But here comes the question, you have several video clips in your hands but don't know how to use them. Let me put it this way, these clips don't fit together very well. If you just combine the two clips together crudely, then suddenly jumping from one shot to another will make the process seem abrupt and unnatural.  In that case, you might need to get some extra spice on your pie. Adding video transitions becomes the best solution you can do. So we will show you how to add video transitions, effects and elements on Windows in two ways.
Well, here I am going to introduce a product that can easily help you make your video spark. It is relatively easy compared with other video editors online. It allows you to add exceptional video transitions, including title and ending animations.  And you can customize to make these transitions and animations to give it your own personal touch. It will definitely level up your video quality. Moreover, it is totally free to use all the functions within. Let's dive in now.
---
How to Add Video Transitions, Effects and Elements Offline 
✅WorkinTool VidClipper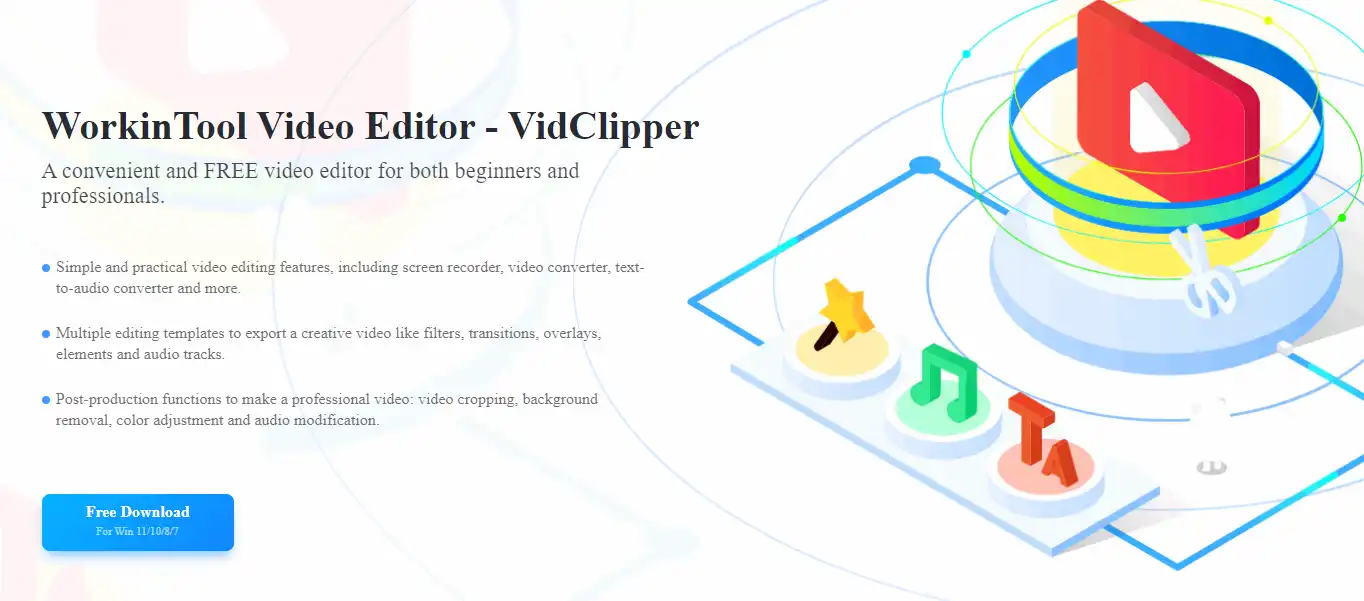 The product that I highly recommend is WorkinTool Video Editor – VidClipper. It is a newly published video editing software. Though it is new software with super multi-functional features, it contains all the practical editing features that users may actually need, such as:
Hence, you save time and trouble finding and installing them individually.
And with the cleanest interface and user-friendly navigation, whether you are a beginner to this video editing or a professional movie editor,  you'll be able to pick it up quickly and use it to create your favorite piece of art. Of course, for a video editor, the most important thing is if it's rich and complete in functions. You will be using it to edit your video like a pro, add music to a video, convert text to speech for narration. And unlike Adobe Premiere Pro, all of these functions are totally free to use.
As for adding video transitions, you can always trust WorkinTool VidClipper. It is equipped with 350+ video transition templates. And each has its own unique mode to connect. Stylish, but not overly pretentious. You can adjust the length by clicking on the selected transition animation. If you have more than two video clips, you can insert a different transition between each. If you've ever seen the cartoon "Tom and Jerry" you know that it's a very popular method to use.
Now, let's head into the details and see how to make this work.
🎊 Add  Video Transitions
First, go to download and install this powerful software on your computer.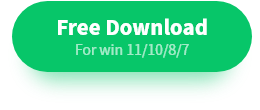 Open it and insert your videos into the timeline, get them ready for later edit.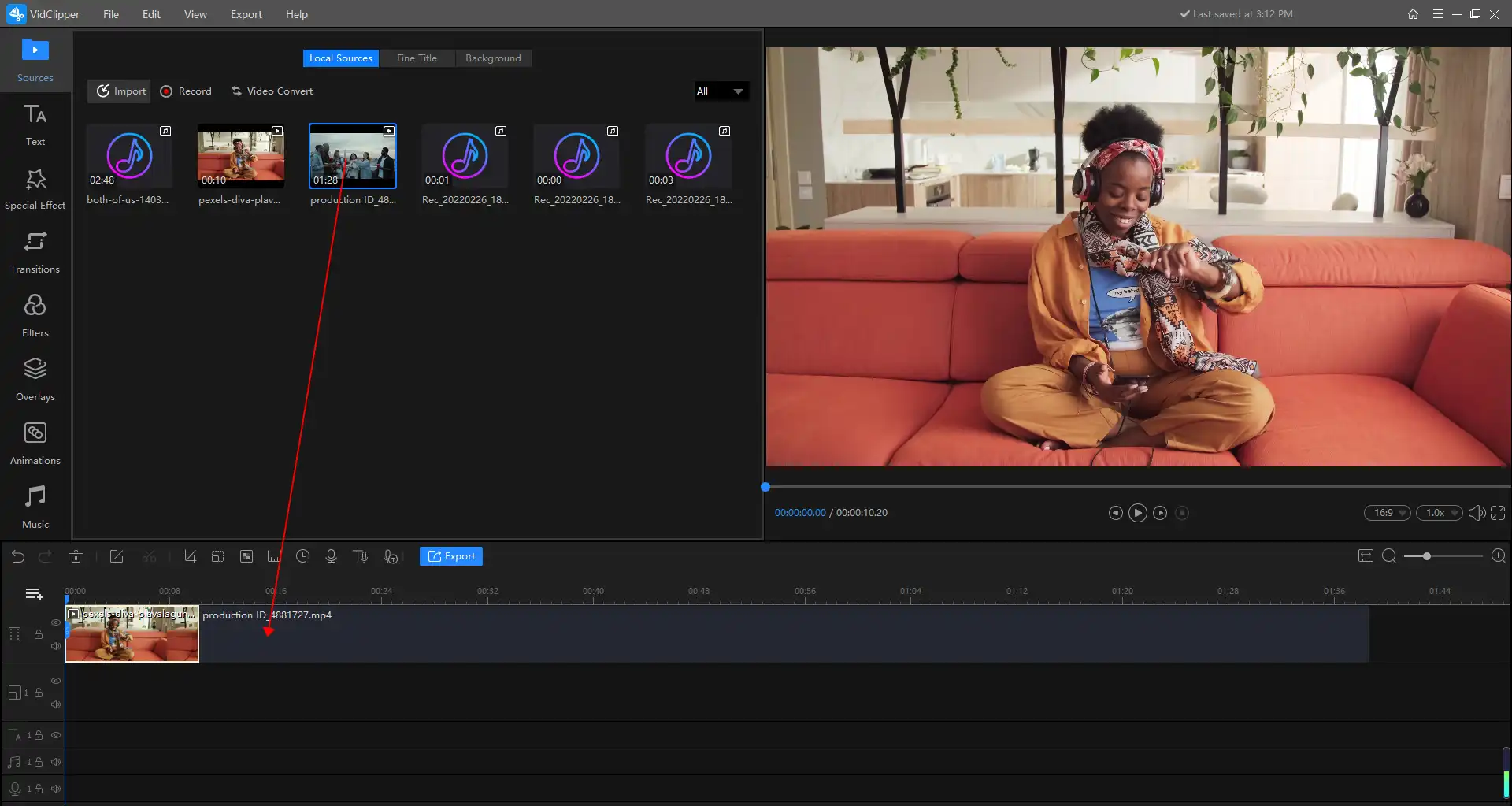 In the Media section, except that you can insert local videos, you can also add a heading clip from the media library. There are over forty different titles that you can pick to apply to your videos.
(You can see the media library has included titles from major movie companies to natural views.)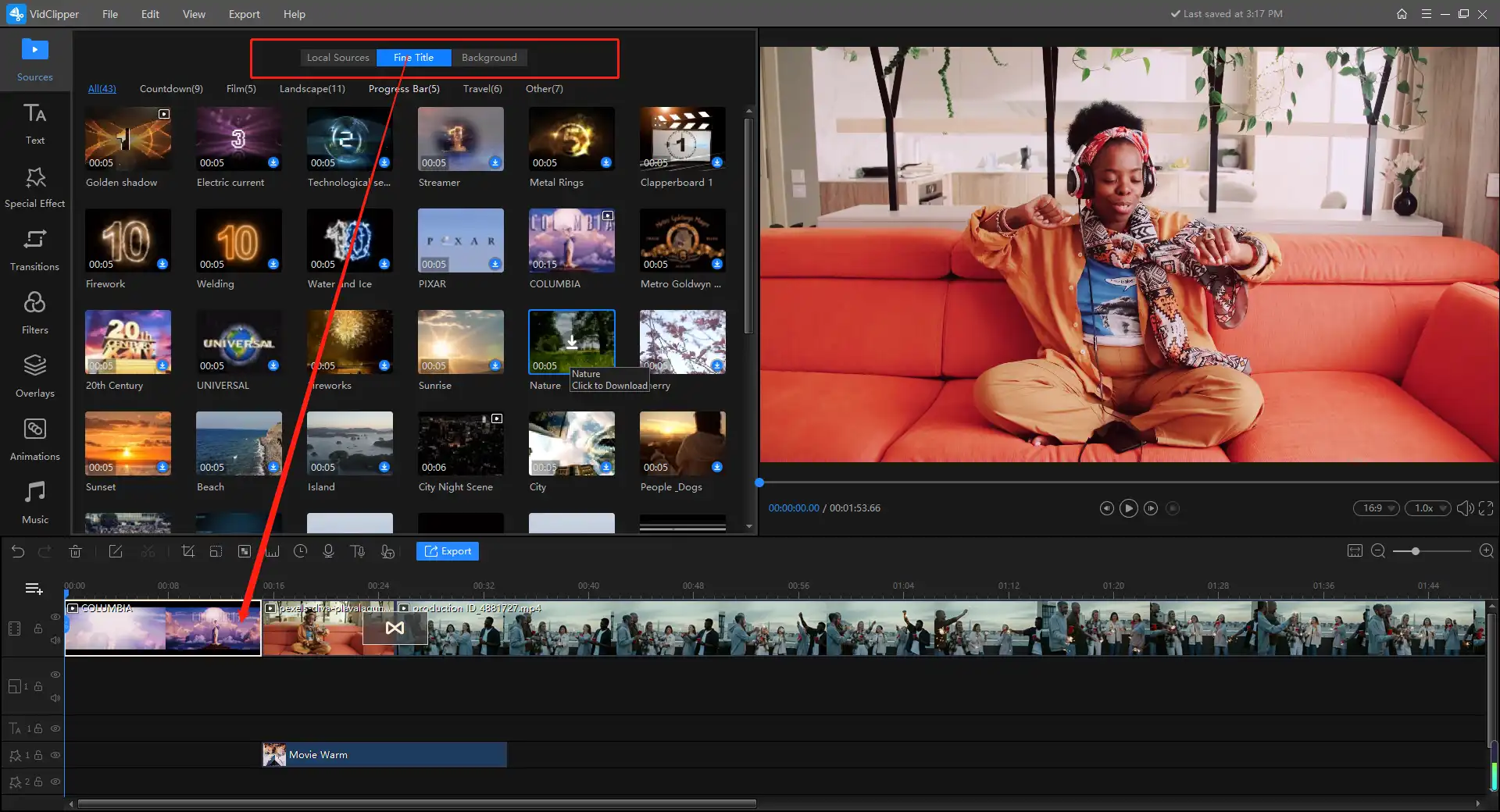 Then, here comes the most important part: adding video transitions. Go to the "Transitions" section and here you will see 350+ transitions at your disposal. Select one and insert it into your video clips.
Click Export to save your project.
🚨 Notice:
Transitions are only for connecting more than two video clips together. If you only have one complete video and you want to insert one, try to slit the video into two halves first.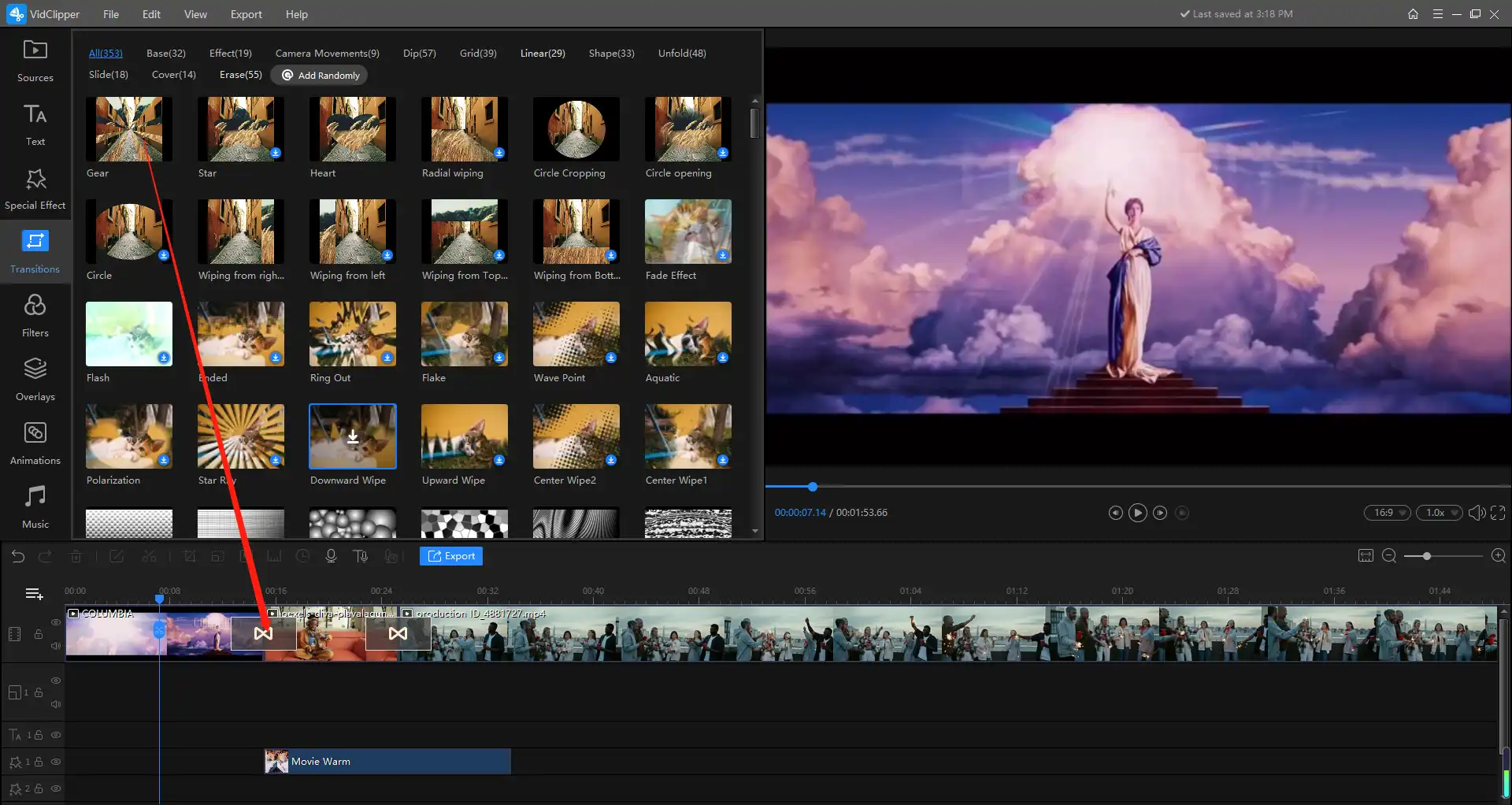 Of course, this transition can be set for a length of time. If you think the transition is too fast or too slow, click on the transition in the timeline and customize it.
So at this point, basically, adding video transitions is over. The rest is output directly to the computer.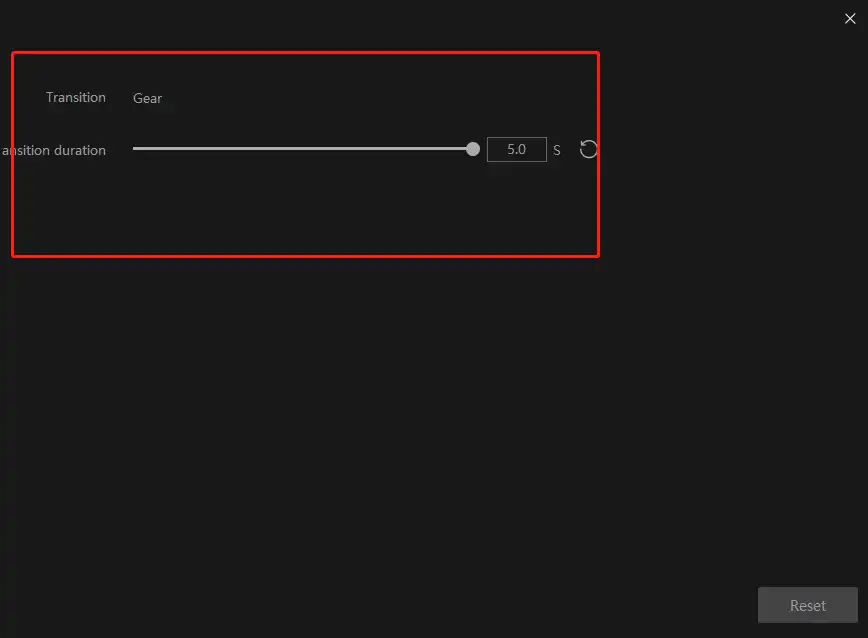 🎉

Add Special Effects and Elements
Additionally, for a complete video, adding video transitions is not enough. Here I'm going to talk about adding video elements. It's really quite simple. And adding special effects shares the same process. So let's take a look.

Follow the first two steps mentioned above.
Go to Special Effects/Elements and then pick the one that you like and download it.
Drag the chosen effect or element to the timeline and extend it to expand its length.
Press Export to save your project.
📢PS: You can depend on WorkinTool VidClipper to add more tricks to make your video more colorful.
✨For your reference
---
How to Add Video Transitions, Effects and Elements Online 
A number of free online video editors are available if it truly bothers you to use any desktop software. To achieve this goal online, you can turn to the online version of Clipchamp for help.
✅Clipchamp
Clipchamp is now a product belonging to Microsoft. It is a web-based video editing and creation tool designed for users to create, edit and compress videos online easily. It offers a wide range of video editing tools including trimming, cropping, adding text and captions and of course, applying filters, transitions, effects and elements to videos. Clipchamp also provides users with a library of stock footage, audio tracks and customizable templates to help them create professional-looking videos quickly and easily.
In addition to video editing, Clipchamp also enables users to send their output directly to their social media platforms. Much as it is free to use, you need to upgrade it to a pro version to enjoy premium filters, transitions, elements and more.
🎉How to Use Clipchamp?
1). Open Clipchamp and then log into your account (Your Google or Microsoft account works.).
2). Click Create a new video to open its editing page.

3). Hit Import media to upload your video(s) and then drag it or them to the timeline below.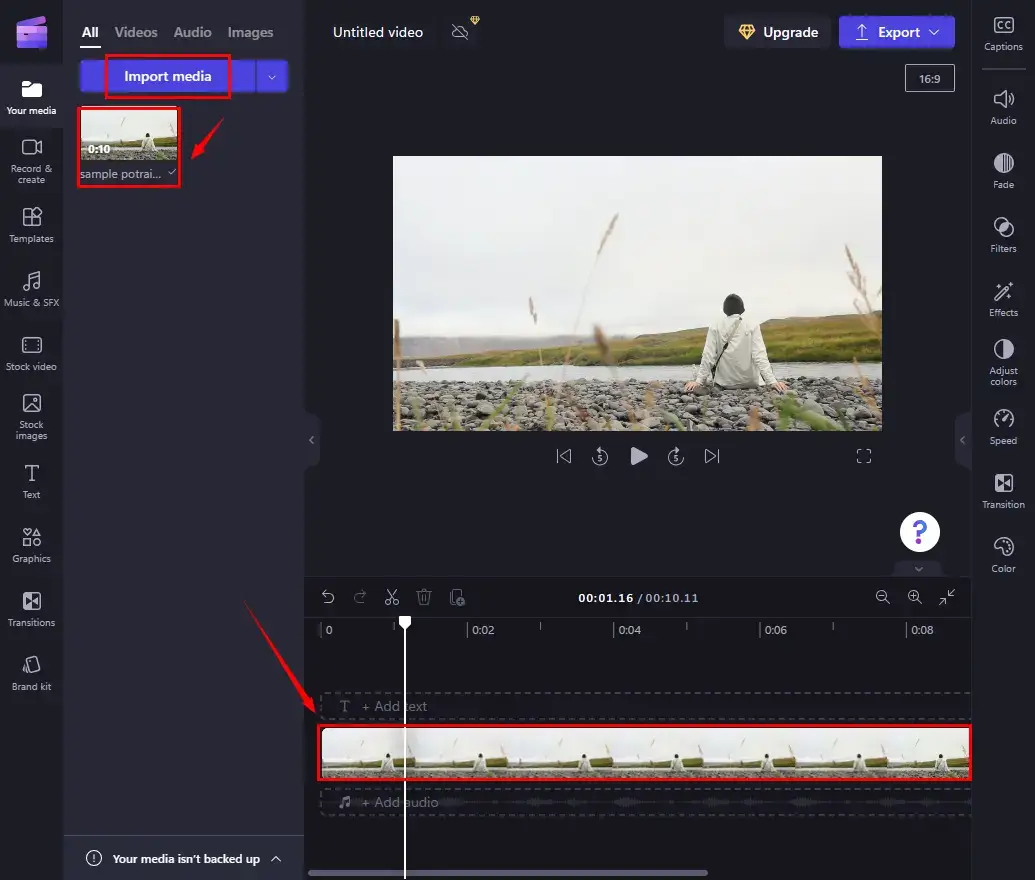 4). Add transitions to your video.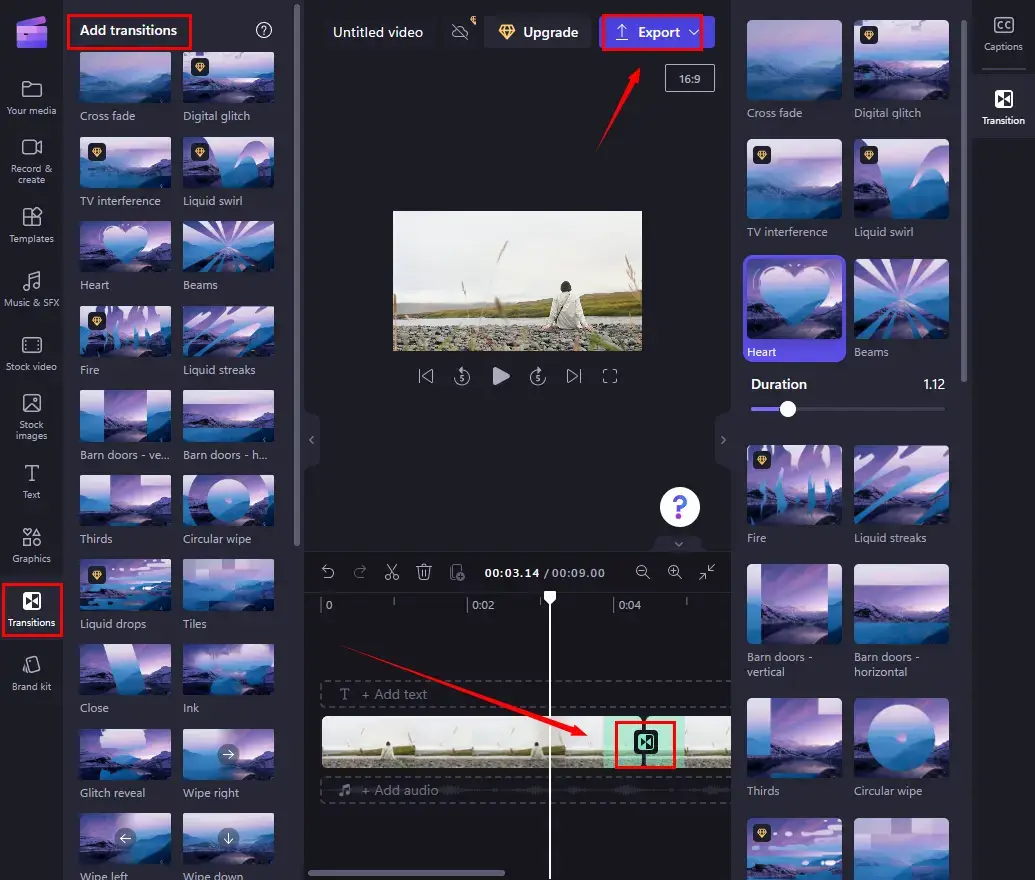 Find Transition and then search for and select the desired effect.
[One video] Cut your video into two clips and then drag the chosen transition to the gap between them on the timeline.
[Multiple videos]Drag the selected transition to the gap between each clip on the timeline.
5). Include effects on your video.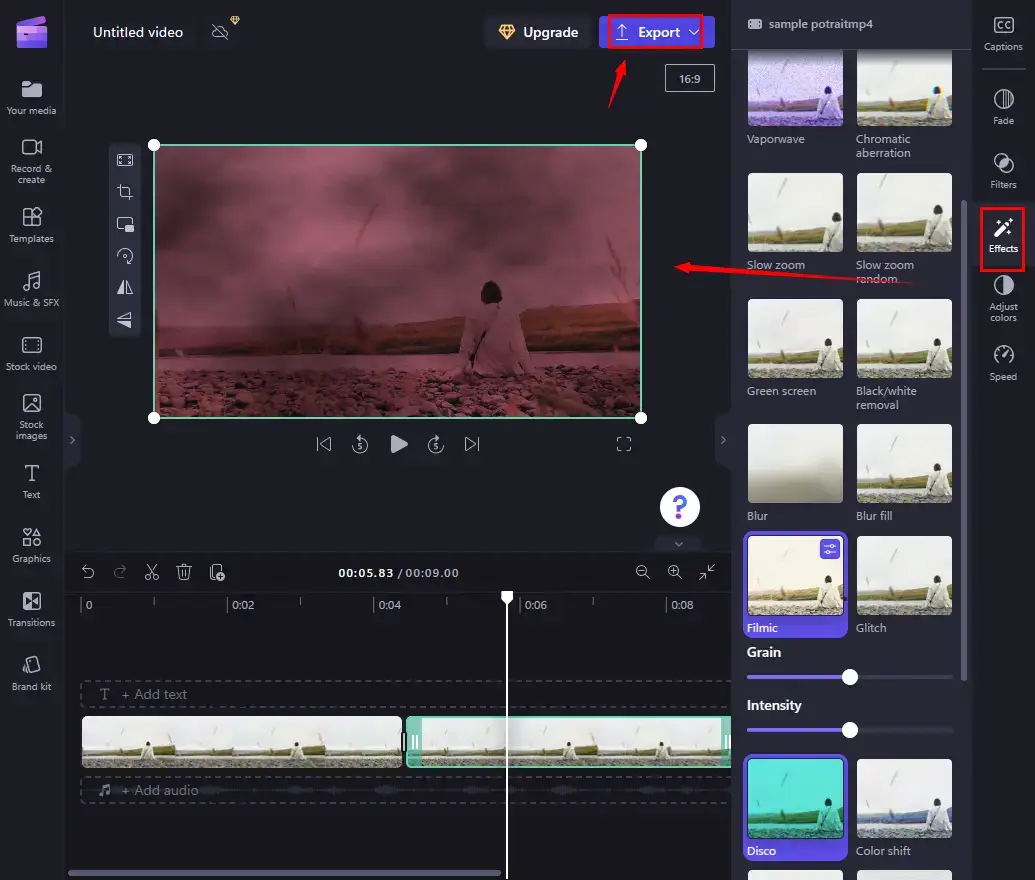 Go to Effects and then find and pick the one that you like.
By clicking on the chosen effect, it will be automatically added to your video.
Adjust the intensity at your will.
6). Embed elements into your video.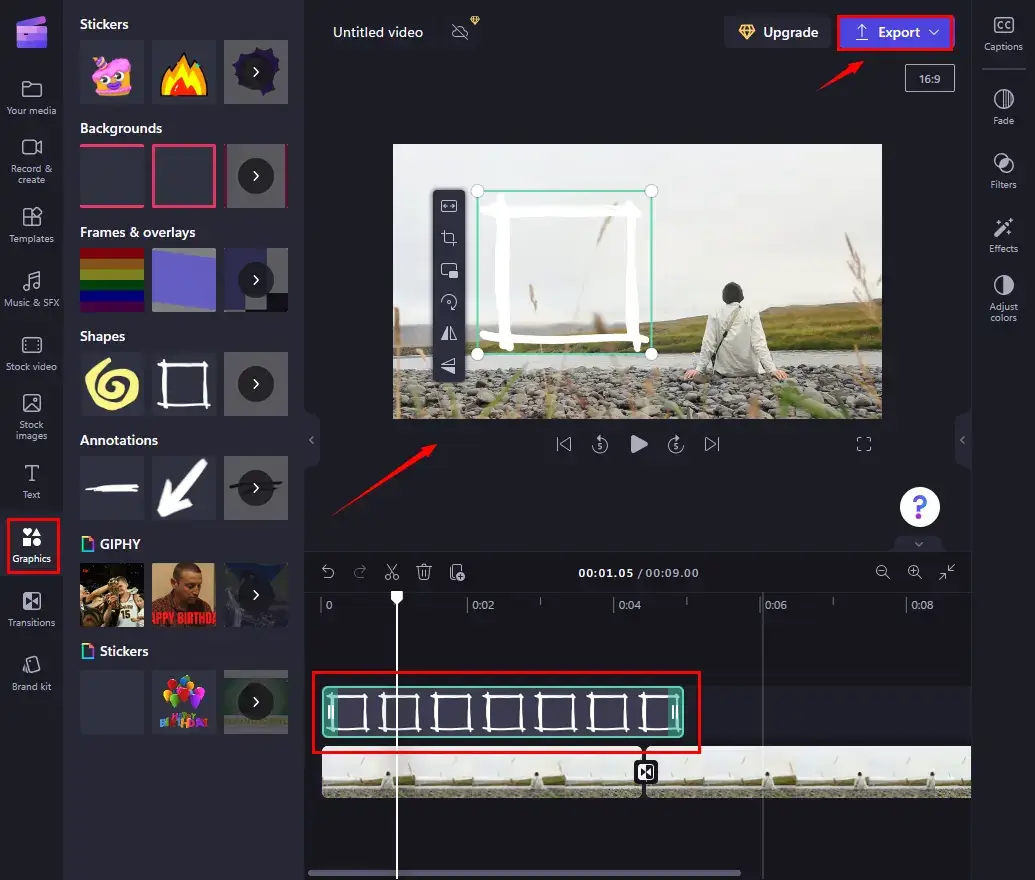 Navigate to Graphics and then select the wanted one from a category.
By clicking on the chosen graphic, it will automatically be moved to the timeline.
Adjust the size on the monitor and change the duration on the timeline.
7). Click Export and then choose the desired quality.
(The download will start automatically.)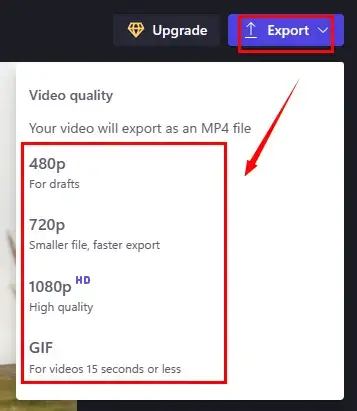 ✨For your reference
---
What is and Why Use Video Transitions
A transition is to make the switch between the two shots more natural and inform the audience that this part of the video is about to be over and the next scene or sequence is coming. And it also enhances the audience's attention in case they have slipped out of their minds.
But before you officially add a video transition to the video that you are about to start, you should clarify where you want your video clip to start or end. And you should try as hard as you can to make sure that your clips are smooth enough at the start and end. So that when the transitions are fading in or out, they won't seem abrupt. And be sure there aren't any gaps between the two video clips. Otherwise, your video may go black in the middle of playing. If you don't want something like that to happen, you might double-check your video clips, before really inserting video transitions.
---
More to Share
Now, after this very thorough guide on how to add video transitions, effects and elements, I am sure you must have known one thing or two. But I want to add more about VidClipper that it is more than just a video editor.  With it, you can say that you don't need other editing software. It will give you everything you need as a new movie editor. And you can get to use it for free without any limitation at all. How incredible is that! Just come and download it to your computer and experience the magic now. I promise that you won't be disappointed.