How to Remove Background Noise from Video for Free
This WorkinTool VidClipper can easily and automatically remove background noise from your video. Multiple noise reduction degrees are optional here. With a simple click, you can remove noise from a video without any effort. Beginners for video editing can operate it in seconds. No ads, viruses, or watermarks will appear here.
How to Remove Background Noise from Video for Free
I believe that most of you have encountered such a problem: after recording a video, it is found that the video has some noise when trying to use it as video material. And you don't know how to remove it. This noise is a normal phenomenon, and even some professional recording equipment will inevitably have these noises. To remove these annoying noises in a video, you need to use professional video editing software. This guide mainly talks about how to remove background noise from video with free and effective video editors. Tools that are suitable for Windows and Mac are available here.
How to Remove Background Noise from Video on Windows
There is numerous video editing software for Windows. However, their quality is even. Finding a 100% free and truly efficient video editing tool is tricky. Some of them cost a lot or have several hidden catches. All the video editing desktop tools I'll recommend today are free with no limits. I'm convinced these tools won't waste your precious time but will help you figure out the video noise in seconds.
Remove Background Noise from Video for Free with WorkinTool VidClipper
WorkinTool VidClipper is a comprehensive video editor that is new to the field. This video editing tool combines nearly all video processing features into one. It can merge and split video, record screen, remove watermarks, compress video, cut out images from video, etc. Meanwhile, it offers all users a long-term free trial. As for eliminating background noise from the video, it can reduce noise automatically with one click. It is worth mentioning that there are no extra limits or requests for free users at all. You can use it to remove background noise from a video with ease. Here are the exact features of WorkinTool VidClipper that you can refer to:
😘 Reasons to have it:
Free to use without any restrictions
Multiple noise reduction modes to select
Easy to use for beginners
Great noise reduction results
Free of viruses, ads, and watermarks
Various video editing features
😟 Reasons to avoid it:
Let's see how to remove background noise from video with WorkinTool VidClipper.
Step1. Launch the software, then select +New Project to upload your video to reduce noise.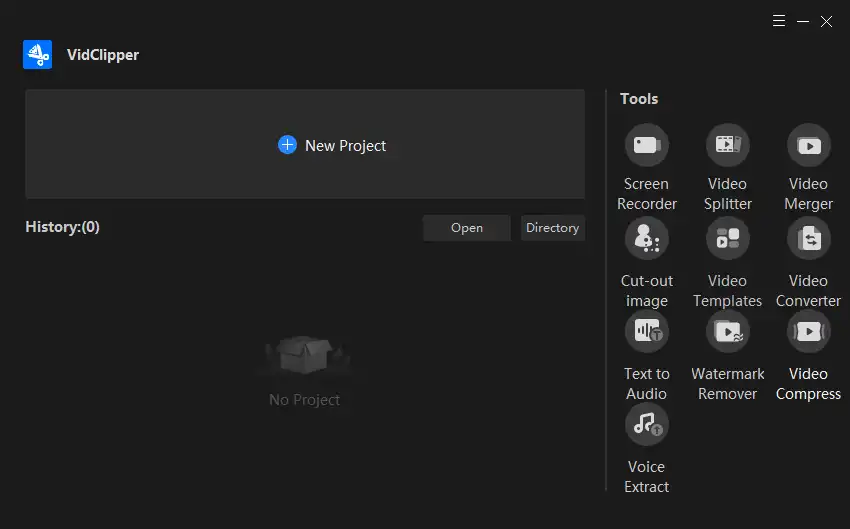 Step2. Click import> the add button to add your video to the editing channel.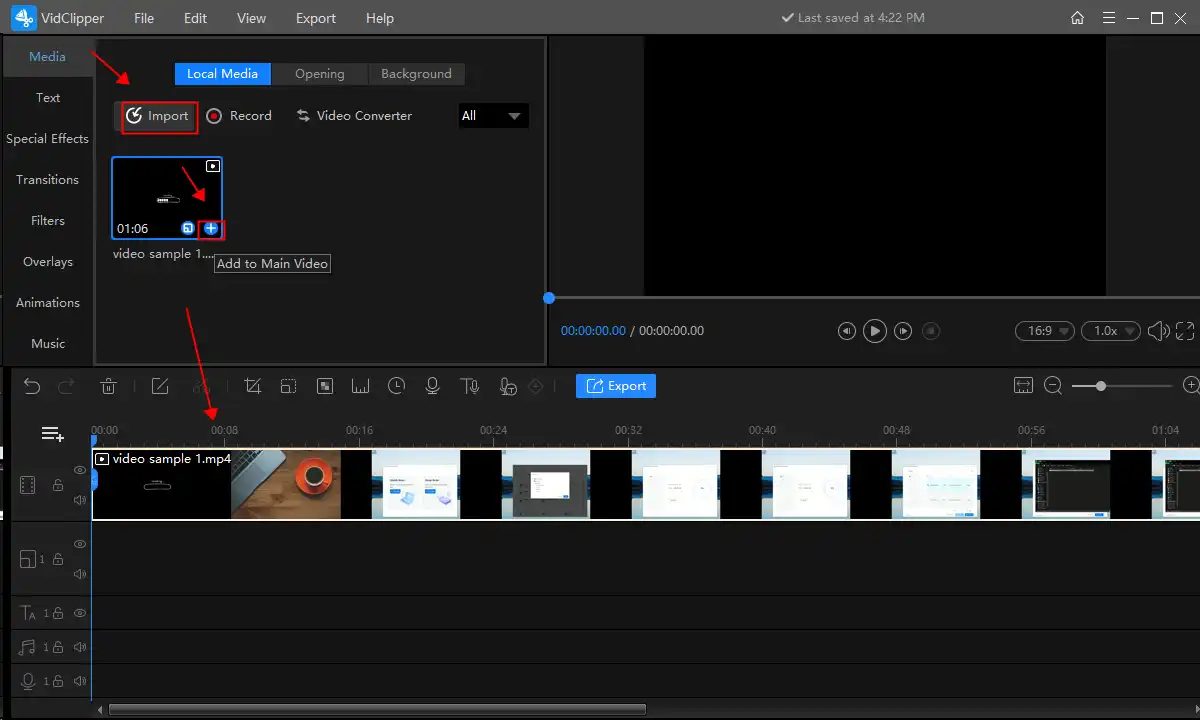 Step3. Left-click the video, then select Audio. Open the Noise Reduction and decide the degree you want to reduce. There are four optional levels: low, normal, medium, and high. To minimize the noise in a video to the greatest extent, pick the highest noise reduction level.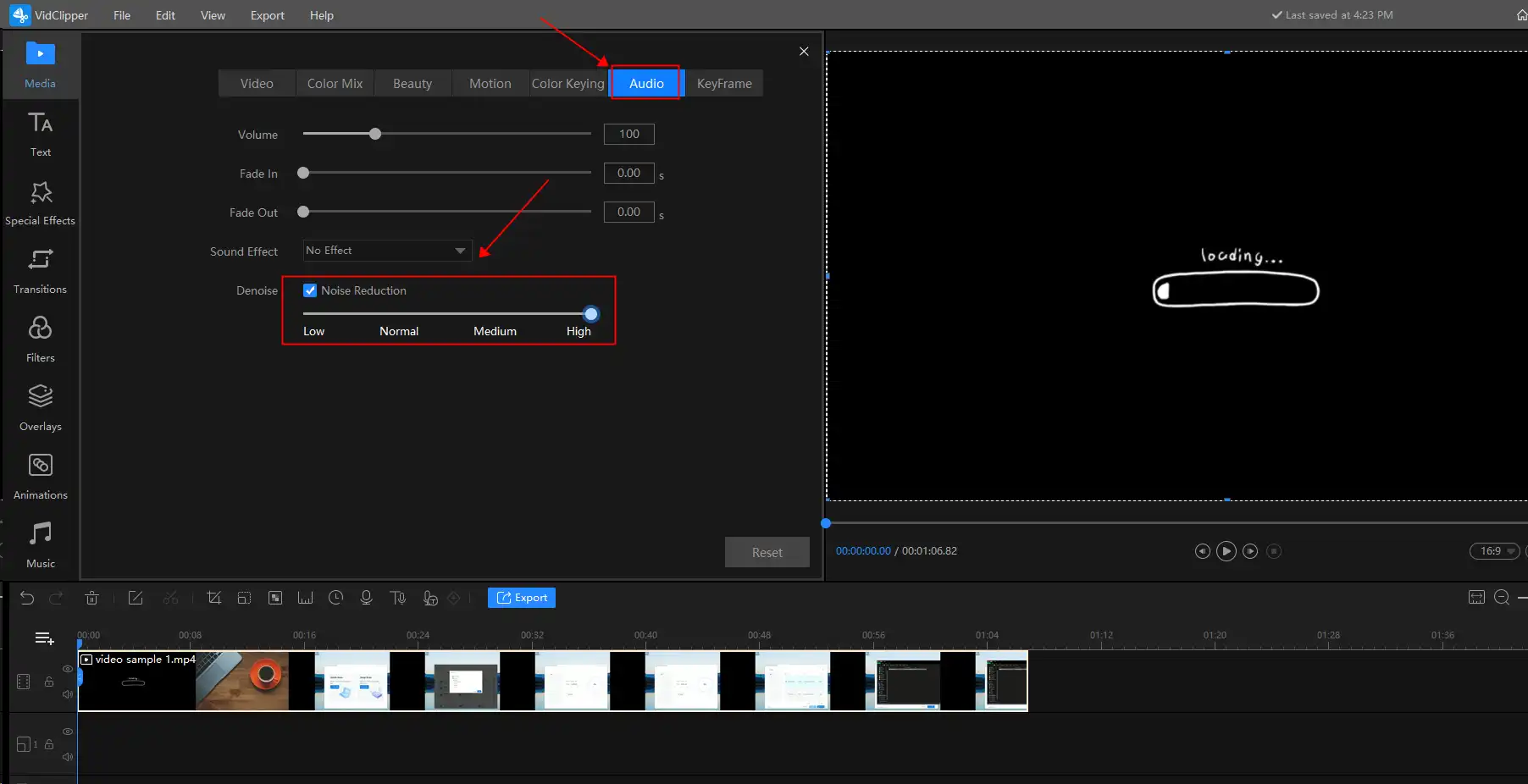 Step4. Click Export to save the video without noise. You can change the format, quality, and location of the converted video here.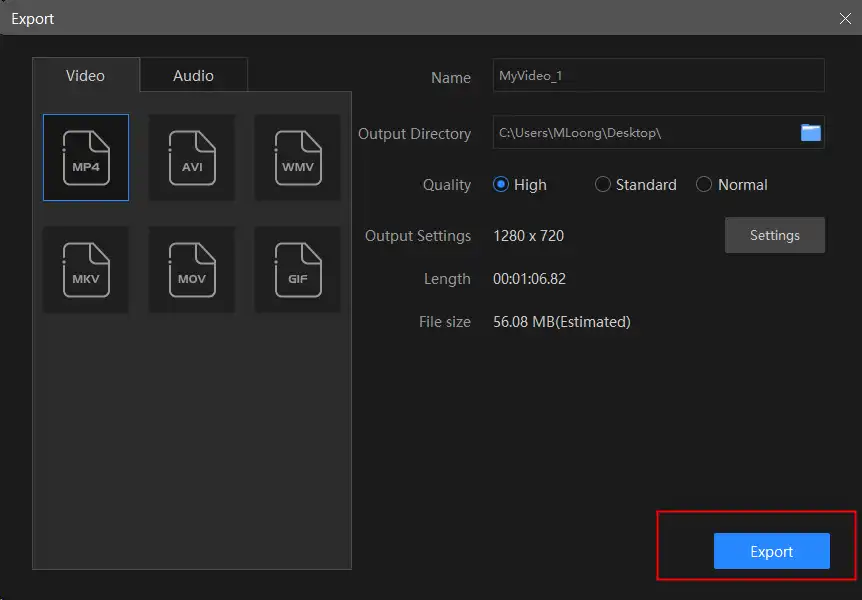 Other Editing Tools in WorkinTool VidClipper
In addition to reducing video noise, this video editor can also realize editing videos, GIF images, converting file formats, etc. Here are some of its other features. You can have a check if interested.
Reduce Noise in Video with Filmora Video Editor
Filmora Video Editor is another helpful video editor that helps you remove background noise from video. Suppose you are a novice in video editing and not very familiar with the operation and functions of various professional video software. In that case, you can try this easy-to-use video editor. It has a built-in one-key denoising function, which is suitable for beginners and can significantly improve your work efficiency. However, there are several limits for free users to remove background noise from videos with it. For example, free users cannot export a video in 4K resolution and cannot output a video without a watermark. If you don't mind these restrictions, you can pick it to reduce noise in a video.
😘 Reasons to have it:
Easy and free to operate
Available on Windows and Mac
Three modes to remove background noise
No ads throughout operations
😟 Reasons to avoid it:
Export the edited video with a watermark
Free users won't have access to advanced features
Need to create or log in with a Wondershare ID
Step1. Open the software, then click New Project on the main user interface.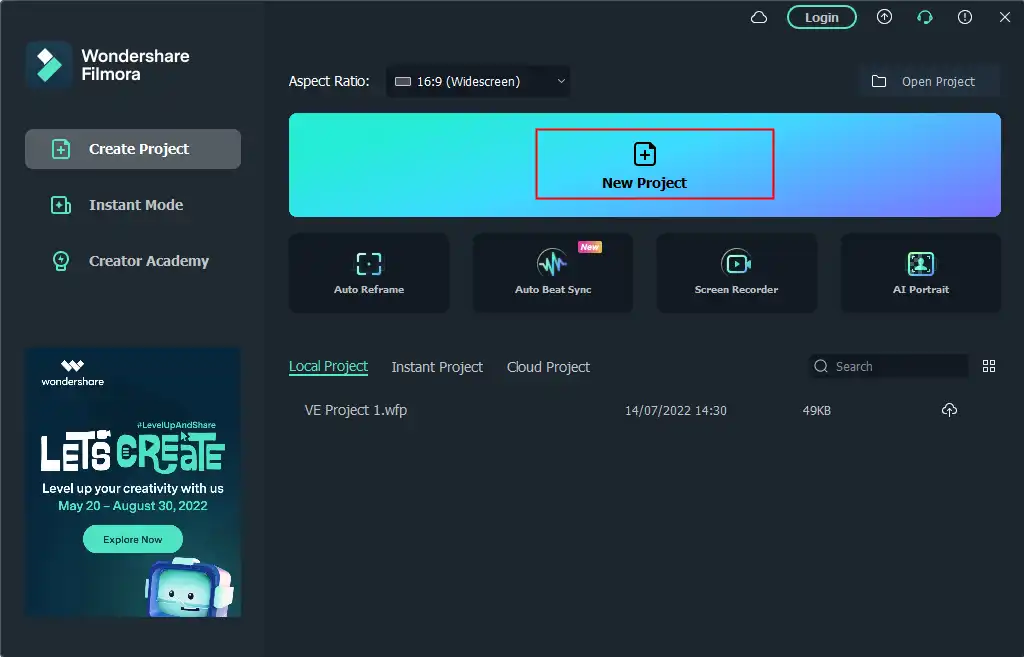 Step2. Drag and drop your video or select from the folder to upload. Then add the video material to the timeline panel.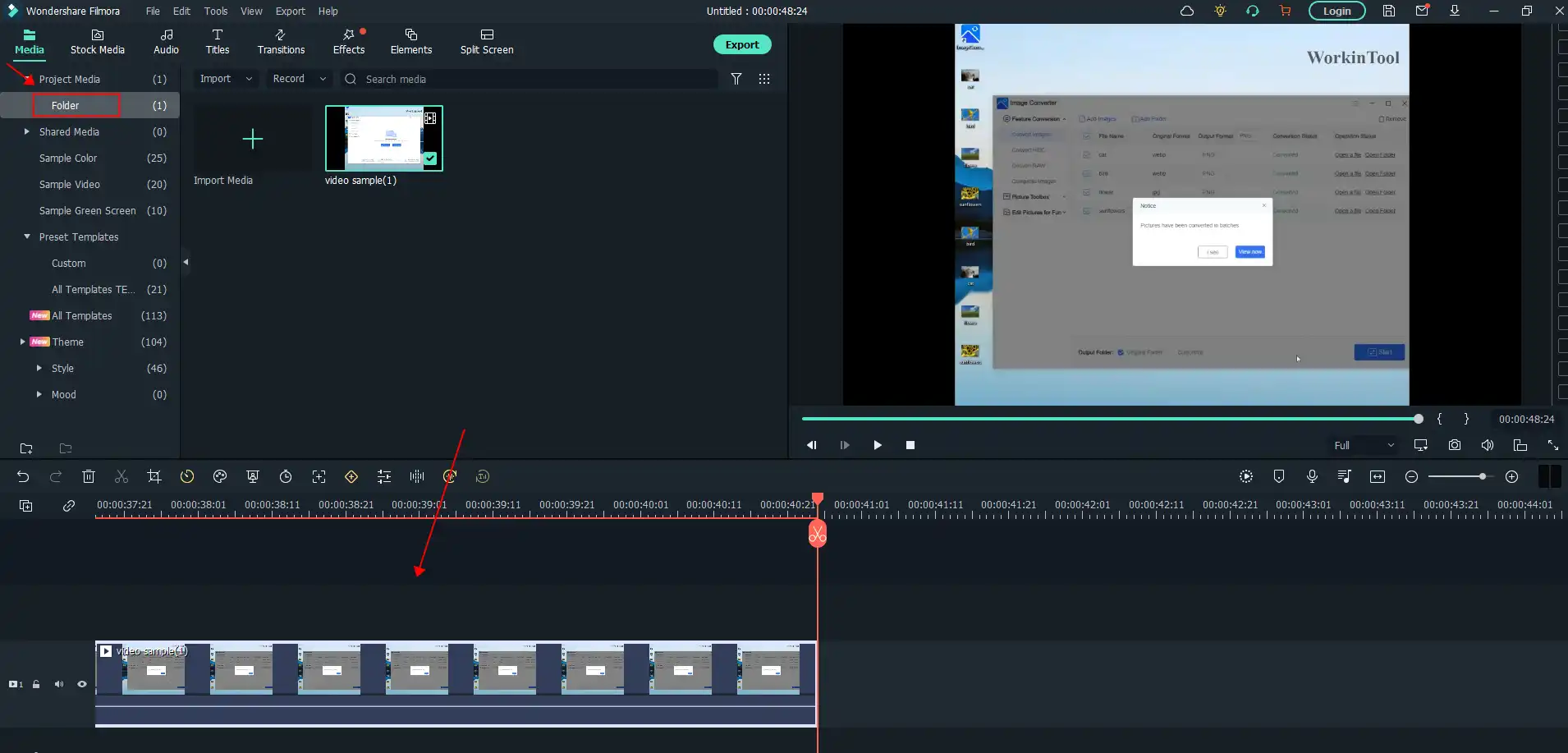 Step3. Right-click on the video, and then select Adjust Audio> Denoise. Choose the noise reduction strength, then click Export to save the converted video. For free users, you can only export with a watermark.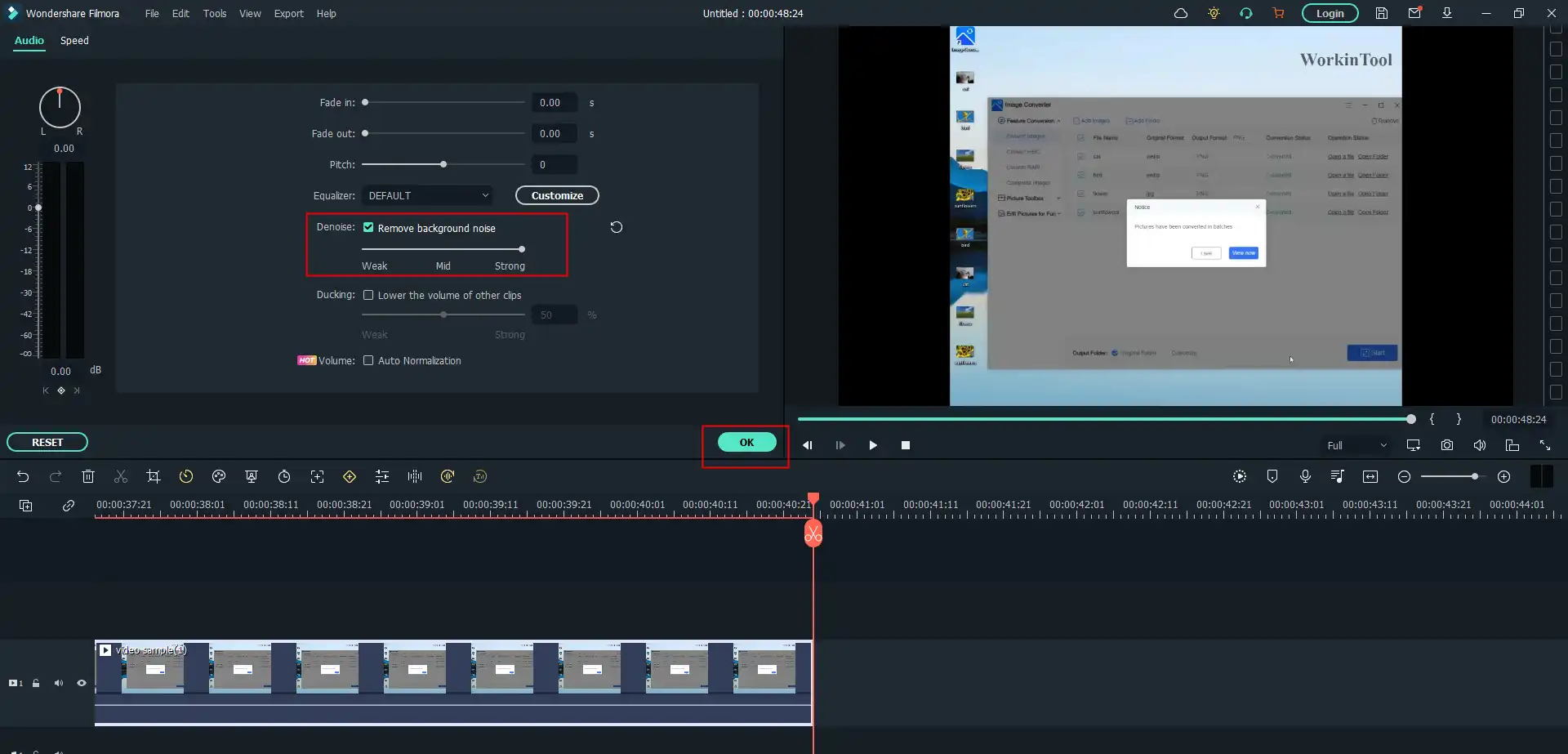 How to Reduce Background Noise of a Video for Free on Mac
iMovie is the default video editing application that comes with the Mac system. With it, you don't have to install another video editing tool to make and edit videos. iMovie has a built-in tool that can easily remove background noise from video, and it works well. You can also use it to crop a video, increase the video volume, add filters to a video, etc. However, in comparison, it has fewer video editing features than professional and comprehensive video editing software.
😘 Reasons to have it:
Open-source and free to use
Easy and fast to remove background noise from video
No installation for Mac users
Arbitrarily select the degree of noise reduction
😟 Reasons to avoid it:
Available on Mac only
Relatively fewer editing tools
Step1. Open iMovie, then click Create New and upload your video file.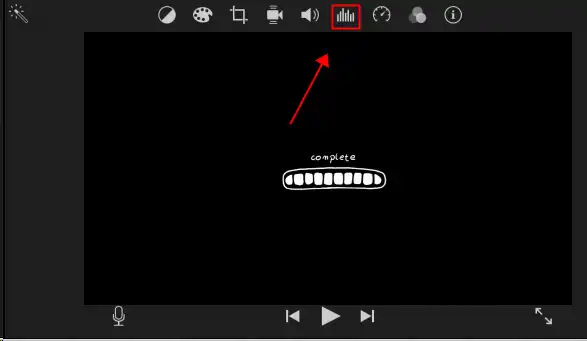 Step2. Click on the noise button on the toolbar. Open the Remove background noise effect. Then adjust the proportion you want to reduce.

Step3.  Click the Export button to save the converted video.
Wrapping Up
In this instruction, I mainly present how to remove background noise from your video in free and accessible ways. Video editors that are suitable for Windows and Mac are attainable here. All the tools I recommend here can reduce noise in a video with a great result. Each of the above software has advantages and disadvantages. Pick one that suits your needs and denoise the video now.