How to Convert WMV to MOV for FREE on Windows and Mac
We have provided two practical and convenient methods and one online tool to convert WMV to MOV. The best solution is to use WorkinTool Video Editor – VidClipper. It is a professional video processing software. The built-in conversion function can help users to turn various video formats into what they want. Not even to mention the customized video parameter settings. Best of all. 100% FREE to use all the functions. Come and experience the magic yourself now.
1. Various video editing features.
2. Multiple trendy format conversions.
3. Totally FREE without any limit.
4. Easy-to-use interface and software operation.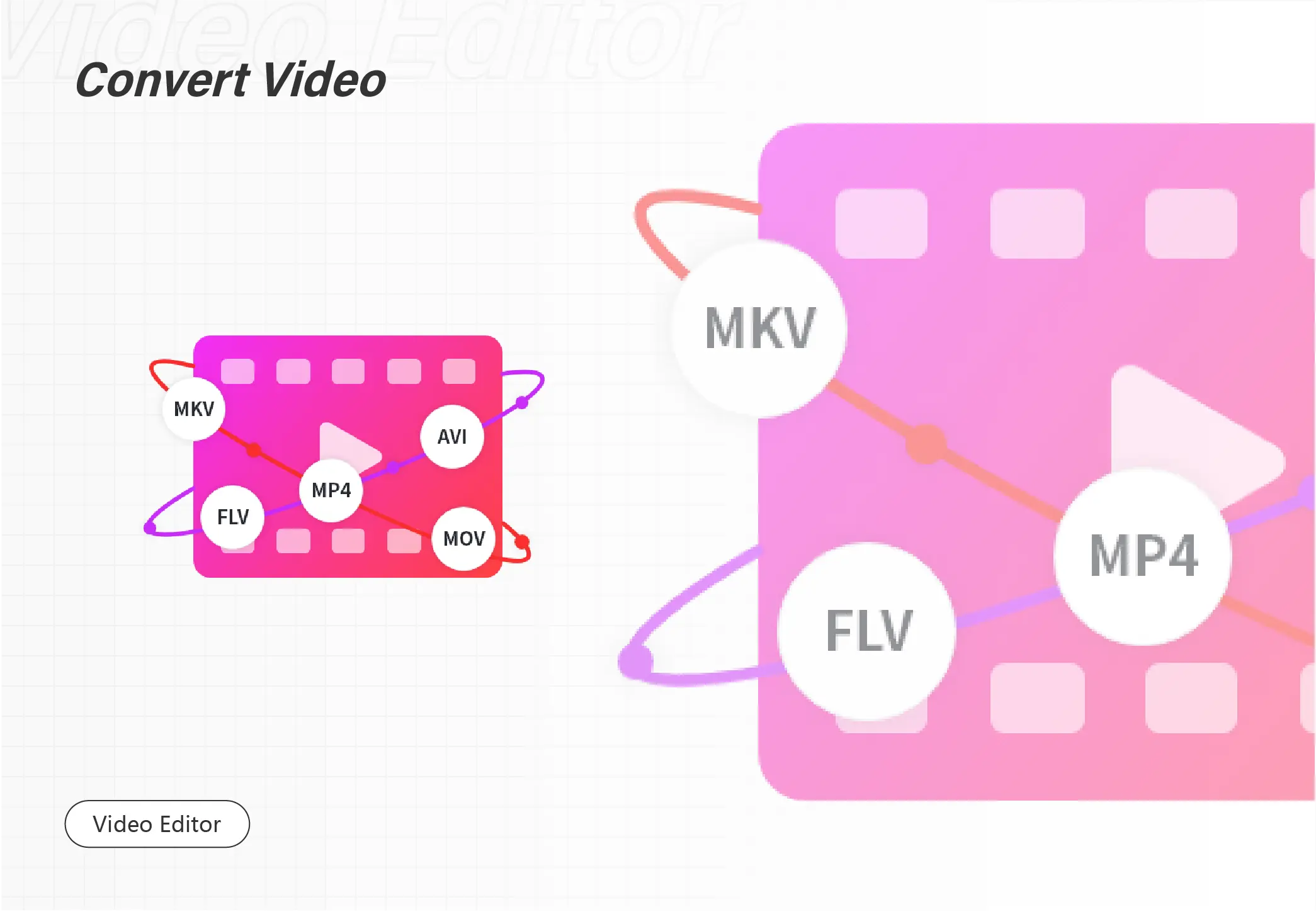 How to Convert WMV to MOV for FREE on Windows and Mac
The Windows system is still the standard on most people's computers, and various video and audio formats associated with windows are still mainstream on Windows.WMV format was developed in 1999 and has been used to fit Windows as a storage video content since then. But as Apple's devices became widespread, many users migrated from Windows Loyalists to Apple's macOS. Due to the shift in PC systems, videos in WMV format might have trouble playing on Apple-related devices. As a result, the formerly popular WMV format also needs to change. Therefore, you should consider how to convert WMV to MOV.
---
The Best Method to Convert WMV to MOV
Indeed, it's so effortless to find a way to convert video formats through the Internet these days. Thousands of websites tell you to use their products every time you Google them. But to be fair, online video format conversion is fast indeed, as long as a network connection can be implemented. But you also risk the files you upload could be stolen at any time. Desktop products you need to download and try to delete one by one, a grueling process that may eventually lead you to pick one that doesn't fit, use it uncomfortably but don't want to download the other. So, why don't you let me save your time and give you the best solution?
For this reason, I highly recommend you try WorkinTool Video Editor – VidClipper. It is an all-in-one video editing software. Each relatively independent but interrelated function is beneficial because of its identifiable interface. In particular, one of the format conversion functions is to provide the most common day-to-day use of different video and audio formats as an option for users—more custom video parameters to assist, handing over the rights entirely to the user. More importantly, it is 100% FREE for all the functions and features.
🎯

Easy Steps to Make a Conversion
1. First, download and launch VidClipper, and click + New to get into the editing window.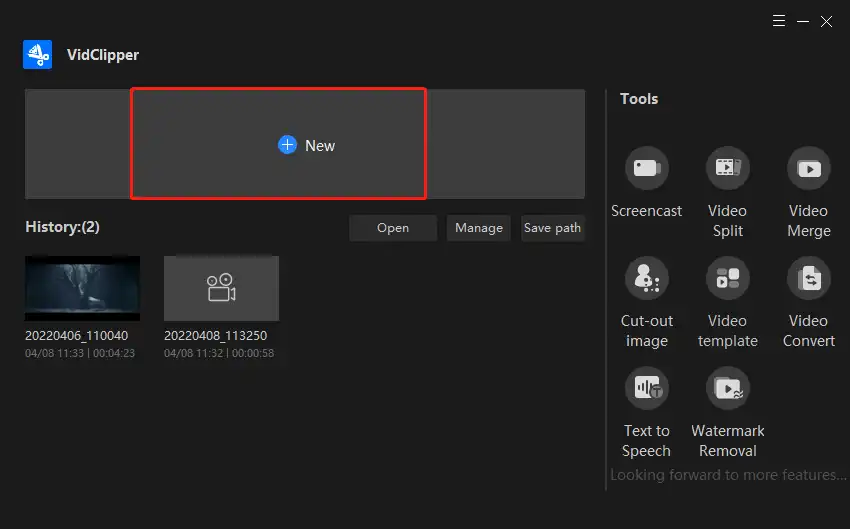 2. Then, import your prepared WMV videos, drag them to the timeline, and tap the Export button for conversion.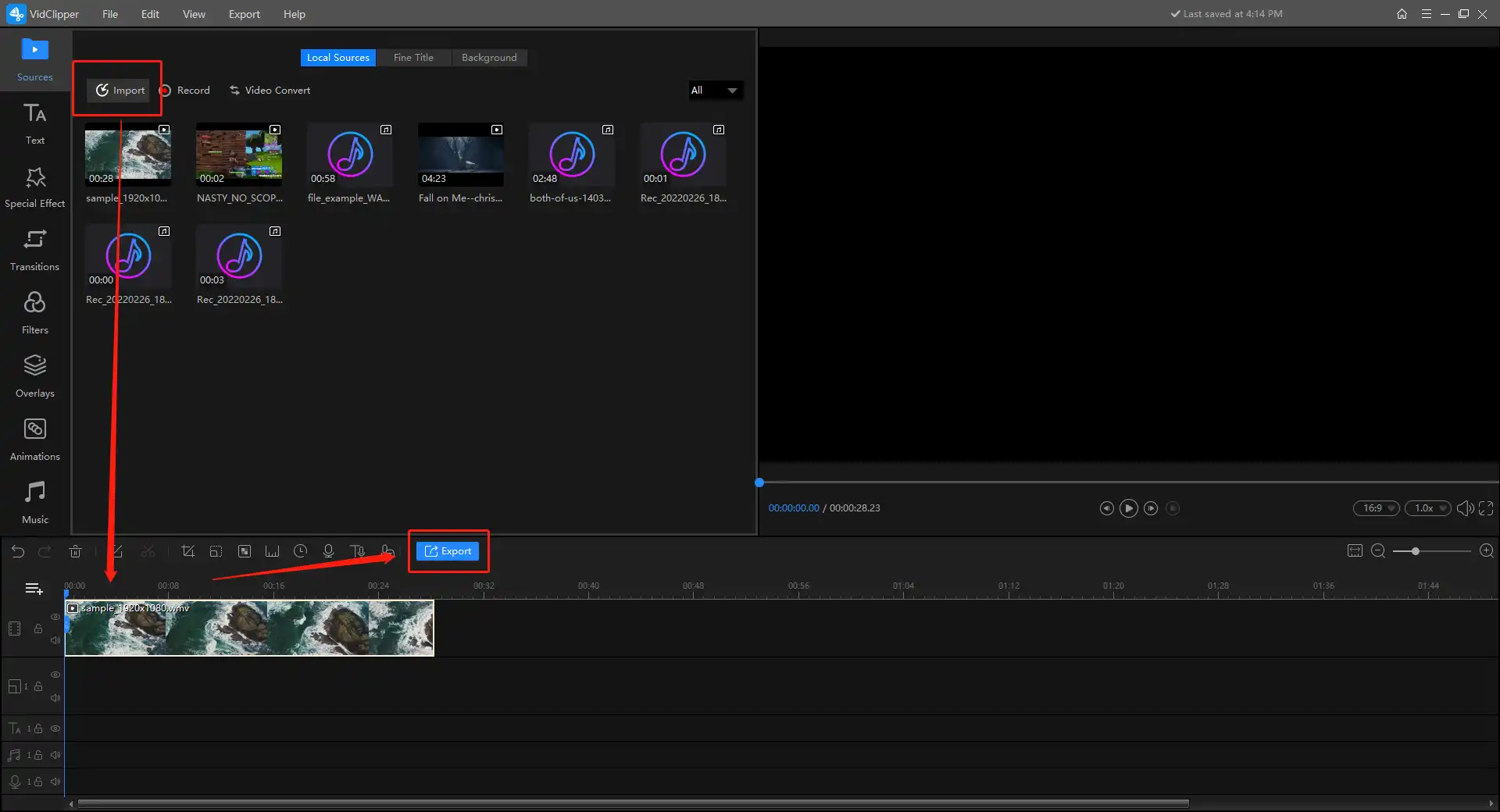 3. Next, select the MOV option in the Video section. On the right side, you can check the video's basic information, such as quality, resolution, length, and file size.
4. Lastly, you need to hit Export one more time, and the video will be converted to MOV format and saved in the destined folder.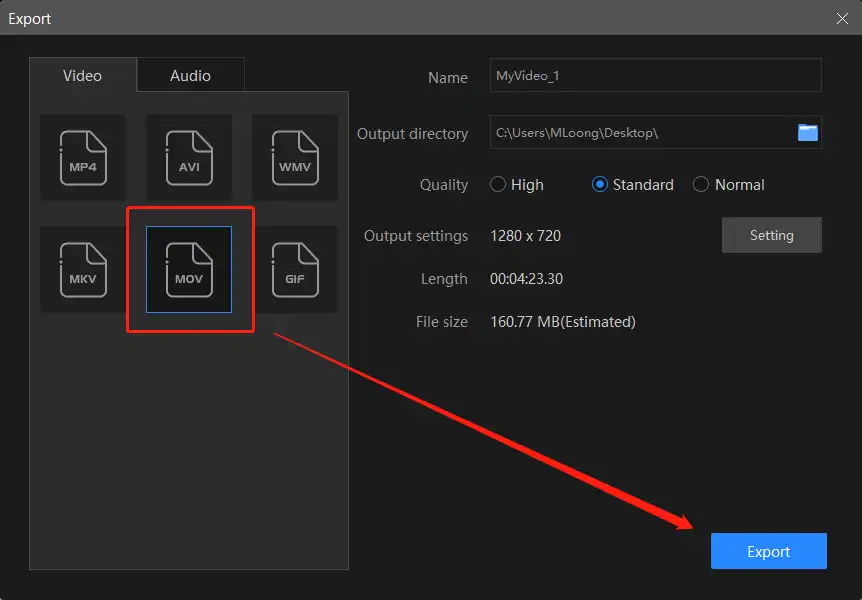 📢 Notice:
As we have mentioned, WorkinTool VidClipper also provides customized video parameter settings. If the user has this aspect of demand, they may go to the settings button on the right side to set it up. It contains the quality of the video, encoder, Frame rate, Resolution, and Bitrate. For audio, here are the sample rates and channels as well.
Encoder

: It contains video coding formats for recording and distributing full HD video and audio.

Frame rate

: Describe how many images will be displayed per unit of time. The higher it is, the better quality this video will have.

Resolution

: Describe how big the display screen size will be. The commonly used sizes are 1080P and 720P. The bigger the resolution is, the clearer the video will be.

Bitrate

: Controls the number of bits that will be processed per unit. The higher the bit rate is, the better the quality will be.

Sample rate

: This refers to the number of samples of audio carried per second. The higher, the better.

Channel

: It represents a point of articulation or reception of sound. It could be a microphone or a speaker. An audio file can include several channels.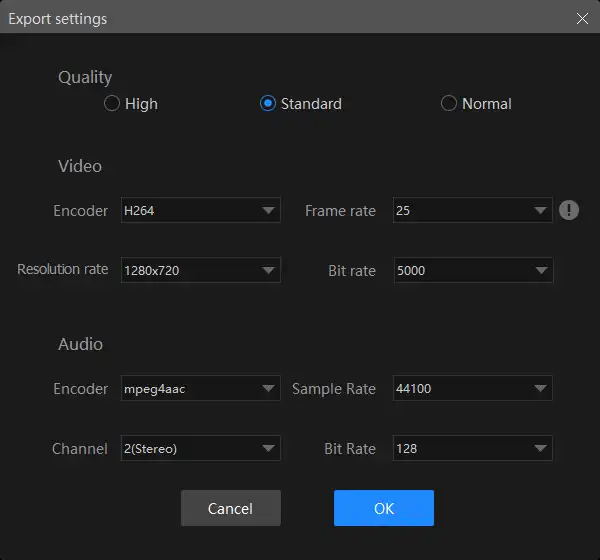 🎉 Why Choose WorkinTool Video Editor – VidClipper 🎉
---
An Alternative Way to Convert WMV to MOV on Mac
Besides using a professional Windows video editor to convert WMV to MOV, there is another way to get it done on Mac. And that is VLC Media Player.
The VLC media player is a famous open-source multimedia player. It is widely used in schools and companies. As a professional media player, surprisingly, there is a VLC hidden converting function that one seldom knows. However, it is buried deep in the settings menu. Here follow my instructions to check it out.
📍

Veiled Menu for Video Conversion
1. First, Media > Convert / Save…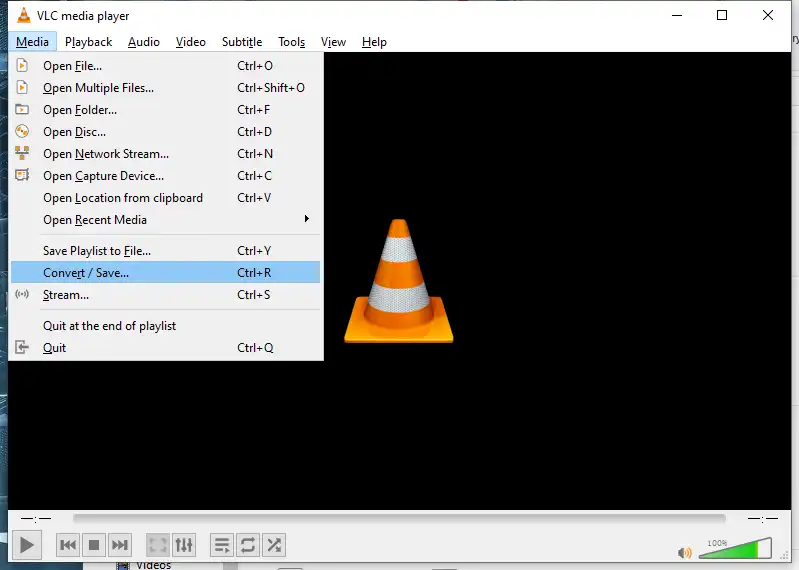 2. Second, click + Add… to input WMV videos > Convert / Save.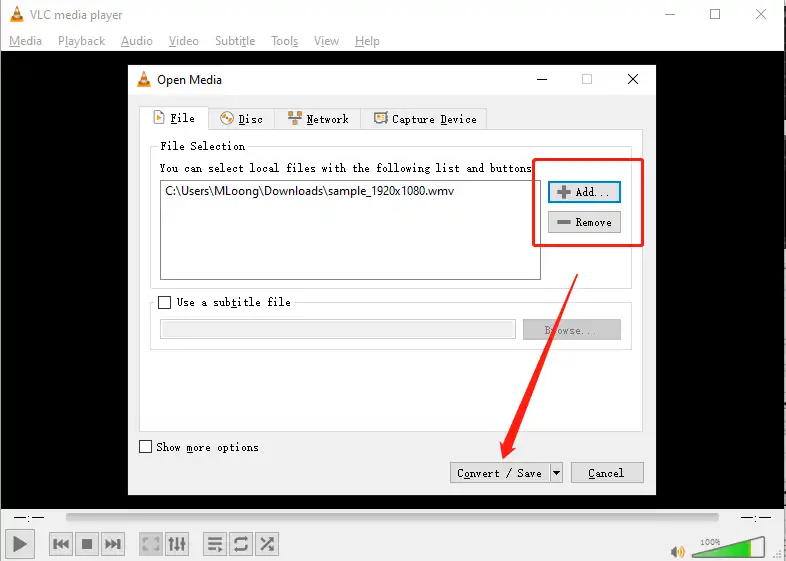 3. After that, select H. 264 +MP3 (MP4) in the profile and tap the wrench icon.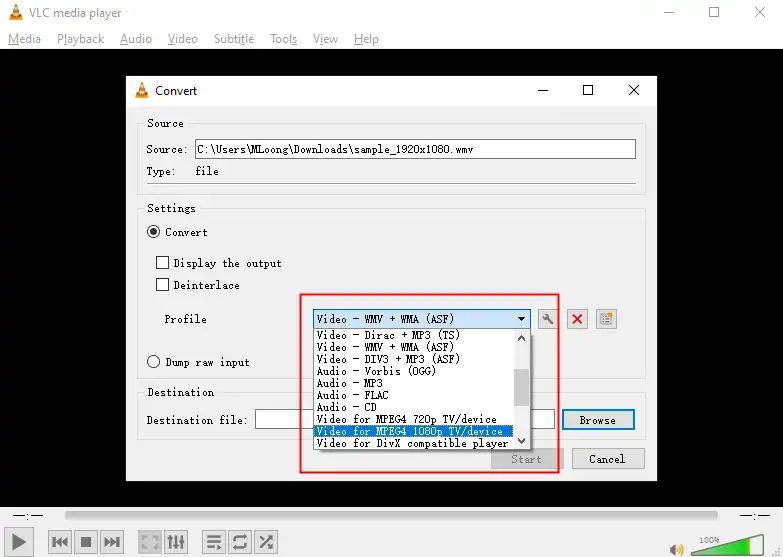 4. Finally, choose MP4/MOV and Save to Start the conversion.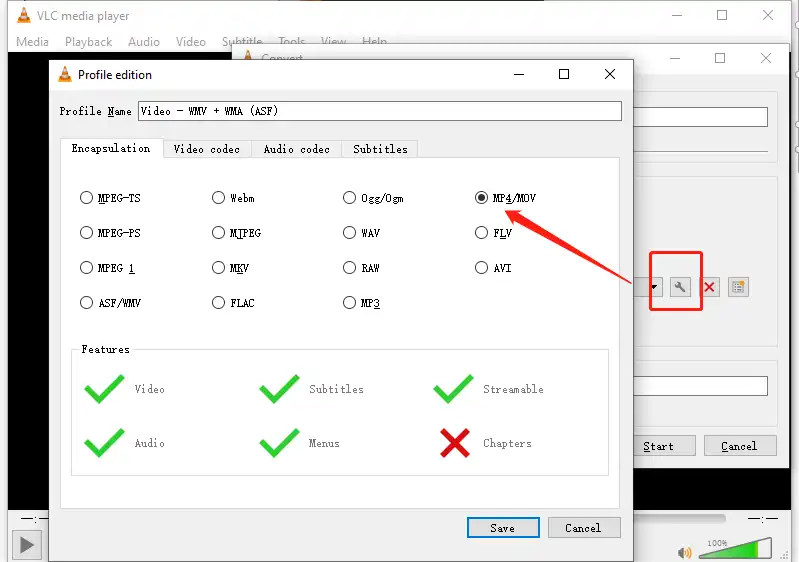 ---
Online WMV to MOV Converter
Of course, if you don't want to download a third-party application to your computer just because you need a video conversion once or twice, you may try an online conversion tool. For this part, I highly recommend you use CloudConvert.

It is a universal online converter. Whether you're a Windows or MAC user, you can implement online format conversions at any time. Not only video format, but it also provides a lot of other file formats, including but not limited to image format conversion and office file format conversion. It also offers users custom options to adjust video resolution, quality, and file size. Now, check out how to do it.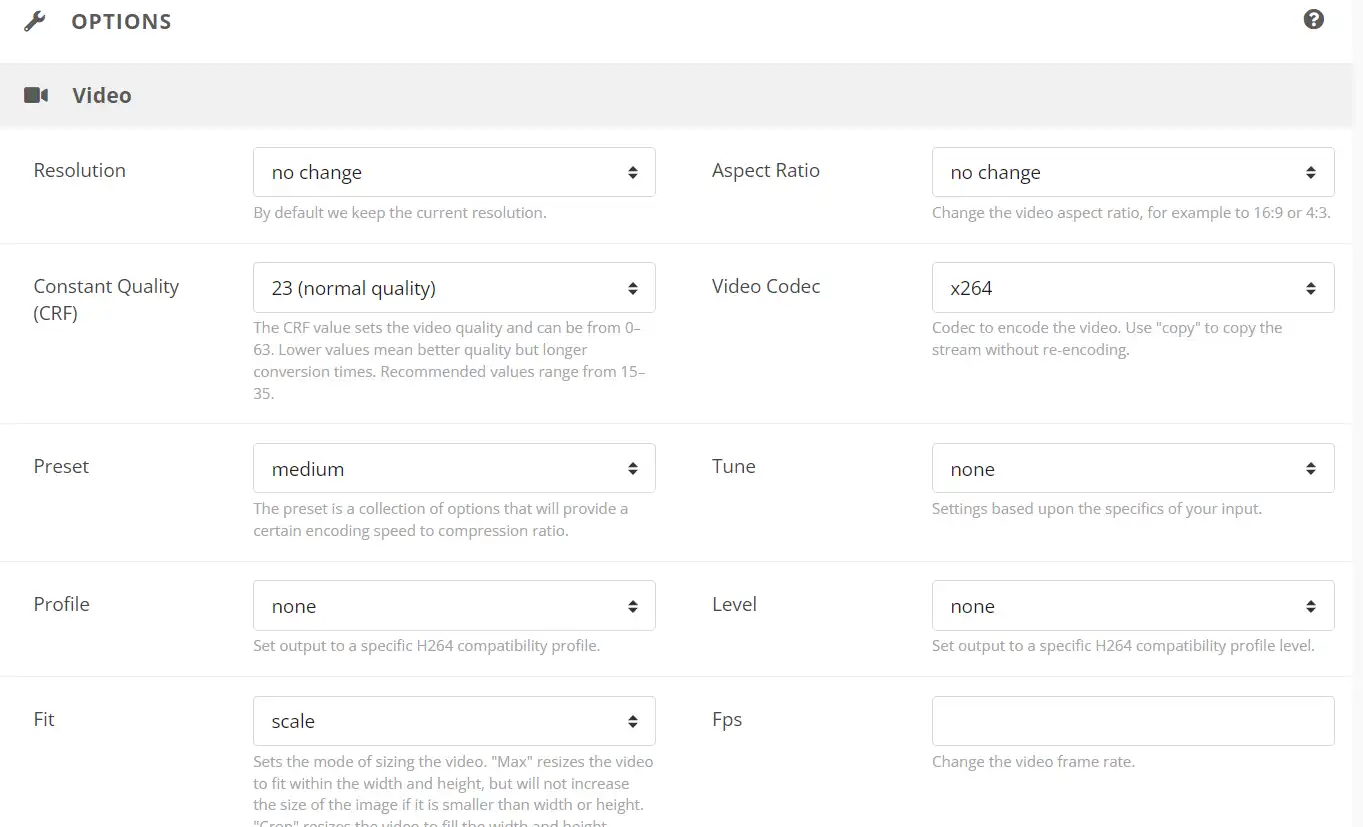 Open the 

CloudConvert

 page and put your target WMV video.

Adjust the video resolution, quality, file size, and other details.

Click on 

Convert

 to export the converted video.
---
What You Want to Know
💬

How do I play WMV on Mac?
Unfortunately, the media player doesn't support WMV video on the Mac, so you might want to work a little more complicated. There are three methods. The first is to turn the WMV format video to MOV format, as described above. The second is downloading a third-party media player, such as VLC Media Player. A third way is to add a plugin to QuickTime Player to augment the supported video format.
💬

Is the MOV compatible with Windows?
Yes. Although MOV is an early format exclusively used on Apple devices, the situation has changed. Windows Media Player 12 and above are also currently compatible with this video format. Most Windows computers can play MOV files with the default media player. If not, downloading third-party software like VLC can also do the trick.
💬

WMV vs. MOV
For more information, you can view this WMV vs. MOV directly to see their advantages and shortcomings.
Comparison
WMV
MOV
Pros

Well-supported on the Windows system
Lossless format to contain video data

Supported on All Apple Devices
Compatible with Windows Media Player
Lossless video format for video, audio, and subtitles.

Cons

Aged video format
Is it not compatible with the Mac system

Aged video format
Cannot be viewed directly on the website

Resolutions
---
To Wrap Up
In conclusion, converting WMV to MOV is not as hard as you think. As long as you have the right tools, there are a million ways to help you get the job done. So, we have recommended you use the two methods through thorough testing. Both ways are free, and you can use them without limits. I guarantee that no matter which one you choose to use, you won't get any unsatisfied results.
Are you ready to transform these video formats now?
Products Reviews:
TrustScore
4
|
323
reviews