How to Copyright an Image with Watermark for Free
It is essential to learn how to copyright an image. A useful watermark tool enables you to copyright your images or photos with a text or logo watermark. You will read the methods of adding a logo and a signature watermark to your pictures, together with additional useful information regarding this topic. Please start your reading now.
💙 Long-term free trial and ad-free.
💙 Less than three steps to copyright photos.
💙 Output without watermarks.
💙 Keep high quality of your photos.
How to Copyright an Image with Watermark for Free
The prevalence of social media has inspired people to upload more images or photos online. It is easier to share your life, experiences, or even ideas, but it is easier for others to steal your work. That is why copyright protection turns out to be increasingly important nowadays, and it is essential to learn how to copyright an image.
If you choose to trademark photos online, it will cost $35 per image and take up to eight months to finish the whole copyright filing. The specific pricing varies on your image number. On the other hand, if you decide to get a copyright certificate via mail, it will cost $50 per photo and take at most 13 months. Is there an easy and free way to protect my images? Well, you can apply a personal watermark to them; you only need a practical watermark tool on your PC.
How to Copyright an Image on Windows
As mentioned in the previous chapter, a watermark effectively allows general people to copyright-protect images and photos. We introduce you to a helpful desktop tool – WorkinTool Watermark Eraser.
WorkinTool Watermark Eraser is a powerful all-in-one watermark solution provider for the Windows system. Designed with an easy-to-use interface and straightforward navigation, even beginners will find operating less challenging. Besides, only a few steps will allow you to create watermarks on your images or photographs. Moreover, many features of your watermarks are adjustable, including size, transparency, and inclination.
I recommend you make a logo or a signature watermark to import copyright protection to your pictures. In this software, there are two types of watermarks to select: text and image.
Copyright Images with WorkinTool Watermark Eraser 
💾 Powerful: Watermark Eraser is more than a watermark remover designed for pictures. It also allows you to add/remove watermarks from a video, add logos to images, edit photos, etc.
🕵️‍♀️ Secure: Your safety is our priority. Therefore, we will spare no effort to protect your data privacy and information security.
🥏 User-Oriented: We will listen carefully to what our customers say, doing our utmost to satisfy all their needs and upgrade our products accordingly.
🧩 FREE of Ads and Pop-ups: No annoying pop-ups or advertisements throughout the operating process.

1️⃣ How to Copyright an Image with Text:
Step 1. First, open the tool and choose Add watermark to the image. Select an image or drop your file in the designated area to upload your picture.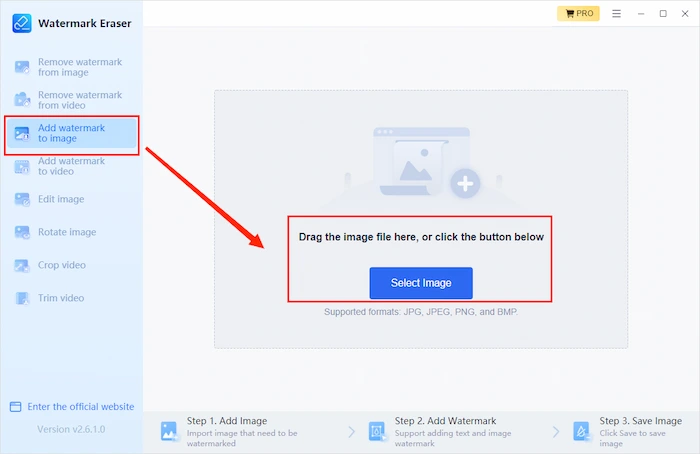 Step 2. Next, select Add text watermark.
Step 3. Enter the words of your watermark, adjust the parameters, and then click Save.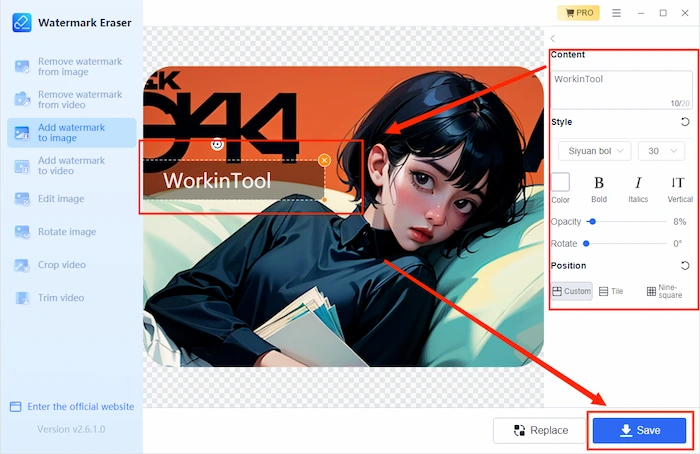 2️⃣ Copyright Photos with an Image Watermark:
Step 1. Open the tool and select Add watermark to the image. Then choose Upload image watermark.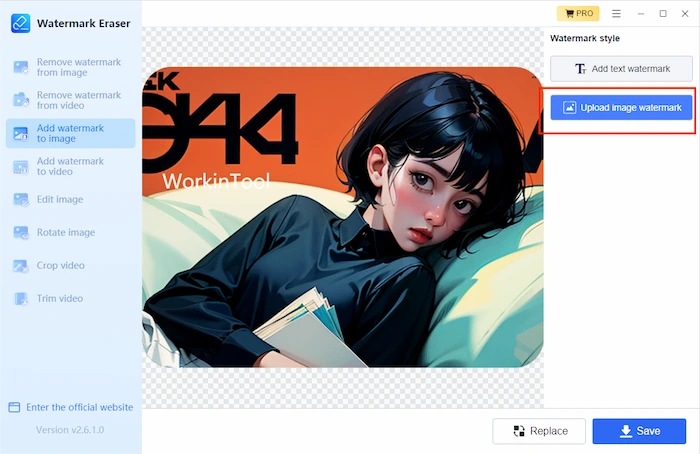 Step 2. Select the watermark style and position, then click Save.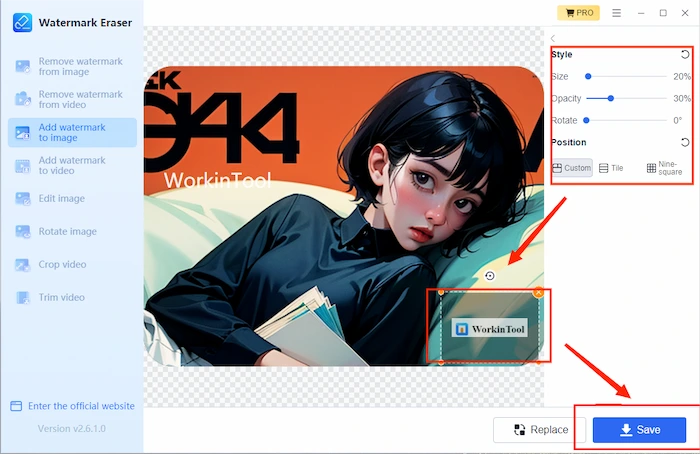 More Guides You Probably Need
| | |
| --- | --- |
|  🥏 Watermark Remover | 💬 Watermark Maker |
| | |
| 🏆 Ranking Articles | 🎯 Video/Photo Editor |
| | |
Solutions on How to Add Watermarks with Paint 3D
Instead of watermark makers, you can also use photo editors to add a signature or logo to copyright your photo. The built-in program called Paint 3D on Windows or other tools with your phone can aid you. However, take Paint 3D as an example; many features are not optional for you to customize the watermarks. At the same time, other tools will usually charge your license payment to export the edited photos. Also, some photo editors in the field cannot change the opacity of the text or image on the photo, which will affect the viewing experience.
🏃‍♂️ How to Copyright an Image: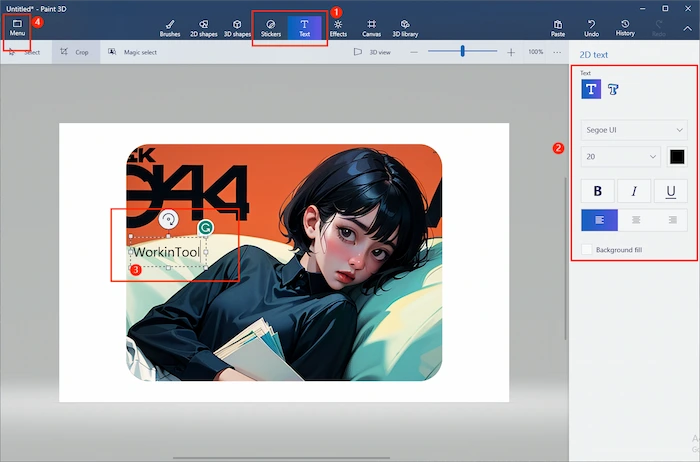 Step 1. Open your image with Paint 3D.
Step 2. Then click the Text tool at the top and add the wanted text to your image. You can also click Stickers to add an image watermark.
Step 3. Adjust the font size, type, location, and effect. Click Menu to find Save to keep your finished image.
How to Copyright an Image Online
If you only occasionally need to add watermarks to your images to protect their copyright, then you don't need to download software specifically. There are also many online image watermark-adding tools on the browser. It is convenient and easy to use, but it also saves storage space on the device. An online tool called Watermarkly can add text or image watermarks and provides some interesting stickers. Not only that, it also supports adding watermarks to multiple photos at the same time. If you have multiple photos to process, then it is definitely a good choice.
🏃‍♀️ Guide to Adding Watermark to Image:
Step 1. Open this online tool to import your images. You can choose to add text or logo to it. Then set up Properties to adjust the style of the watermark. Click Next Step.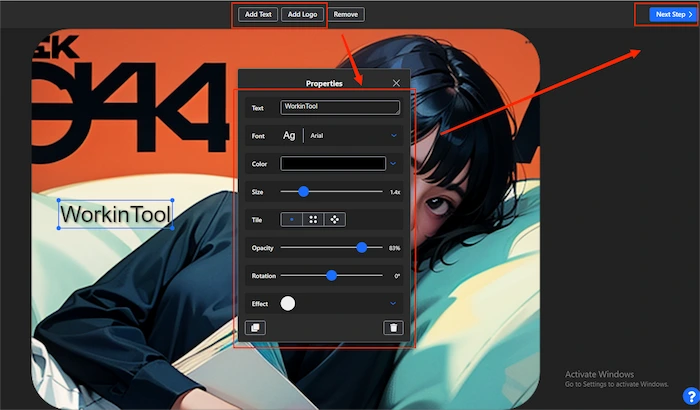 Step 2. Adjust the settings, then click Watermark Images to save it.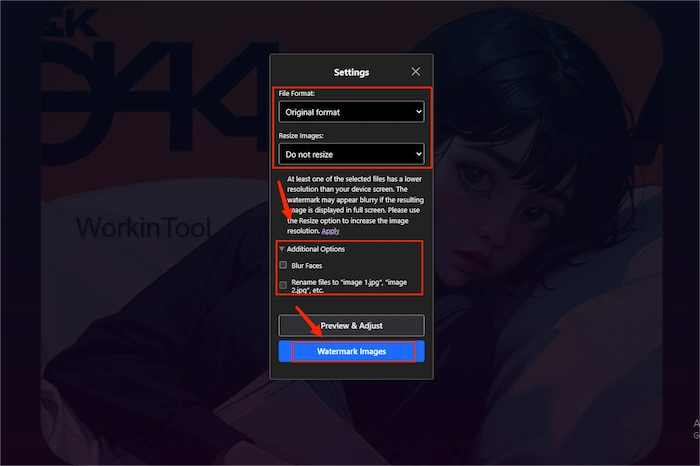 FAQs
🔎 What is copyright?
Copyright is a type of intellectual property that can protect original works of authorship. It is a way to save a specific work created by an owner from being used by others without permission. In copyright law, there are many works, including paintings, photographs, illustrations, musical compositions, sound recordings, computer programs, books, poems, blog posts, movies, architectural works, plays, and so much more!
🔎 Why do you require copyright?
Sometimes it will put you in a bad mood when you see your pictures displayed on others' social media accounts without your approval. However, the phenomenon could be prevented to some extent if your images or photos are copyrighted. The public's growing awareness of intellectual property will force them to shun the thought of using them without informing the owner. Hence, adding copyright protection to your images or photos is essential. Though there are many approaches to achieving this goal, placing watermarks over pictures will be an effortless method for social media lovers.
🔎 How to remove copyright from an image?
If you want to remove the copyright logo from an image, WorkinTool Watermark Eraser can greatly help you. However, you had better not take the edited images for commercial use. Otherwise, your work is illegal, and you will be prosecuted.
First, open WorkinTool and select the Remove watermark from image feature.

Next, click Select Image to load your photo file.

Lastly, use the Brush tool to highlight the copyright logo. Lastly, click Save to keep the edited photo on your device.
🔎 If I take a photo, do I own the copyright?
Of course, according to the Berne Convention, you have the copyright of the photos you took. Because many work-stolen issues have risen recently, you'd better watermark your original photos or register copyright in the US. Copyright Office to prove you own the photographs.
Easy and Fast to Copyright Images/Photos/Drawings with Watermarks
with free and comprehensive WorkinTool Watermark Eraser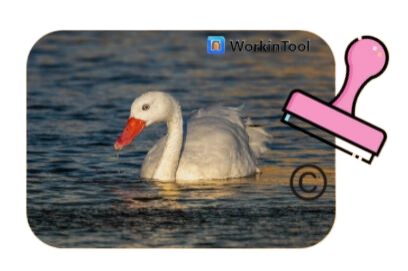 ---
Final Thought
Generally speaking, how to copyright an image will no longer be a problem if you turn to a watermark maker for help. We sincerely hope you understand the importance of image copyright and its methods. Also, it is strongly recommended that you try WorkinTool Watermark Eraser. Except for desktop software and online tools, we offer you a watermark maker app for Android. It makes things easier if you need to add copyright to your pictures on mobile phones.