How to Copyright an Image or Photograph with Watermark
WorkinTool Watermark Eraser enables you to copyright your images or photos with a text or logo watermark. You will read the methods of adding a logo and a signature watermark to your pictures, together with additional useful information regarding this topic. Please start your reading now.
How to Copyright an Image or Photograph with Watermark 2022
The prevalence of social media has inspired people to upload more images or photos online. It is easier to share your life, experiences, or even ideas, but it is easier for others to steal your "works." That is why copyright protection turns out to be increasingly important nowadays, and it is essential to learn how to copyright an image.
You can resort to the U.S. Copyright Office to copyright protect your images. However, it is a paid service that is also time-consuming and cumbersome. Also, there is no point in doing so if you want to prevent your photos from stealing and spreading. So is there an easy and free way to protect my images or pictures? Well, you can apply a personal watermark to them, and all you need to do is to have a practical watermark tool on your PC.
This article will mainly discuss the following topics:
How to Copyright a Digital Image with Watermark Maker?
Other Easy Ways to Copyright Protect an image
What Is a Copyright, and Why Do You Need It?
Final Thought
Let's start our journey 😀.
How to Copyright an Image by WorkinTool Watermark Eraser?
As mentioned in the previous chapter, a watermark effectively allows general people to copyright-protect images and photos. We introduce you to a helpful desktop tool – WorkinTool Watermark Eraser.
WorkinTool Watermark Eraser is a powerful all-in-one watermark solution provider for the Windows system. Designed with an easy-to-use interface and straightforward navigation, even beginners will find it less challenging to operate. Besides, only a few steps will allow you to create watermarks on your images or photographs. Moreover, many features of your watermarks are adjustable, including size, transparency, and inclination.
To import copyright protection to your pictures, I recommend you make a logo or a signature watermark. In this software, there are two types of watermarks to select: text and image.
How to copyright an image with a text logo or signature:
Open the tool and choose Add watermark to the image.
Select image or drop your file in the designated area to upload your picture.
Select Add text watermark.
Type your logo words, adjust the features and click on Save to export the results.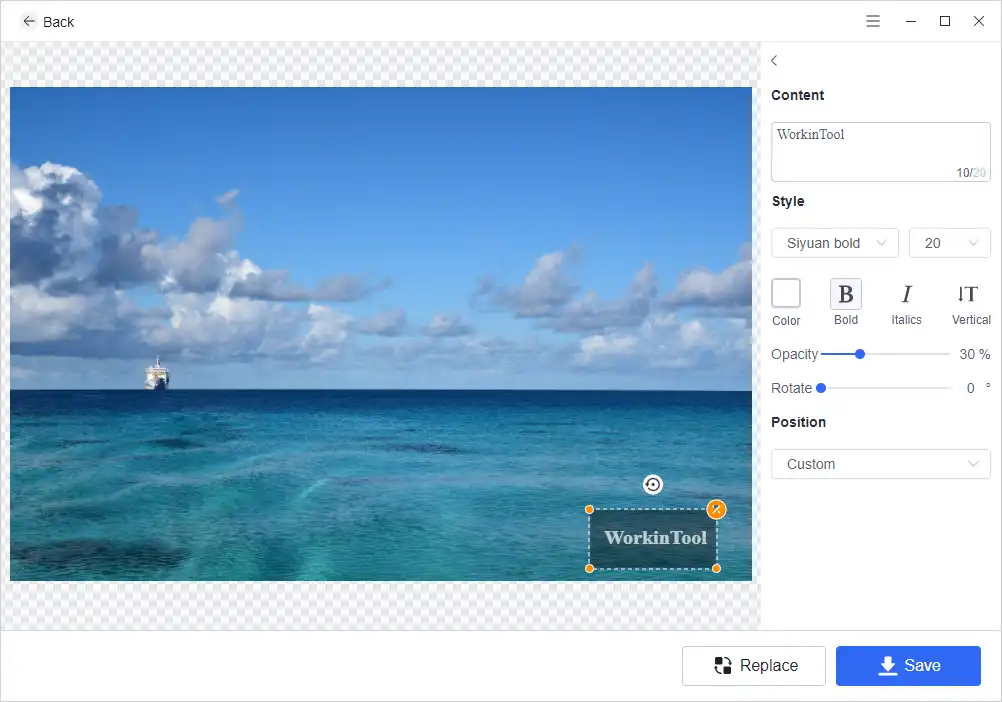 How to copyright an image with an image watermark:
Open the tool and select Add watermark to the image.
Upload your file by choosing from the folder or dragging it.
Select the image watermark.
📌 Why Pick WorkinTool Watermark Eraser instead of Other Watermark Makers?
WorkinTool Watermark Eraser, new to the market, is designed to resolve nearly all of your common watermark-related issues.
These are the specific reasons for making this option:
Professional: Watermark Eraser is developed by Shanghai Hudun-Tech Group, a recognized Hi-Tech company specializing in SaaS solutions. We are exceptionally professional regarding office tools and aim to improve office work efficiency.
Powerful: Watermark Eraser is more than a watermark remover designed for pictures. It also allows you to remove a watermark from a video. Meanwhile, no matter the text or image watermark, it can eliminate quickly and instantly. Moreover, adding a watermark to an image or a video is another powerful built-in feature of this tool. You can also resize and trim your video with its updated version. Hence, it is a great help in the modern workplace and school.
Secure: Your safety is our priority. Therefore, we will spare no effort to protect your data privacy and information security.
User-Oriented: We will listen carefully to what our customers say, doing our utmost to satisfy all their needs and upgrade our products accordingly.
FREE of Ads and Pop-ups: No annoying pop-ups or advertisements throughout the operating process.
Other Ways to Copyright an Image
📌 Are there other ways to copyright an image or a photo?
Instead of watermark makers, you can also use photo editors to add a signature or logo to copyright your photo. The built-in program called Paint 3D on Windows or other tools with your phone can give you some aid. However, take Paint 3D as an example; many features are not optional for you to customize the watermarks. While other tools will usually charge your license payment to export the edited photos. Also, some photo editors in the field cannot change the opacity of the text or image on the photo, which will affect the viewing experience.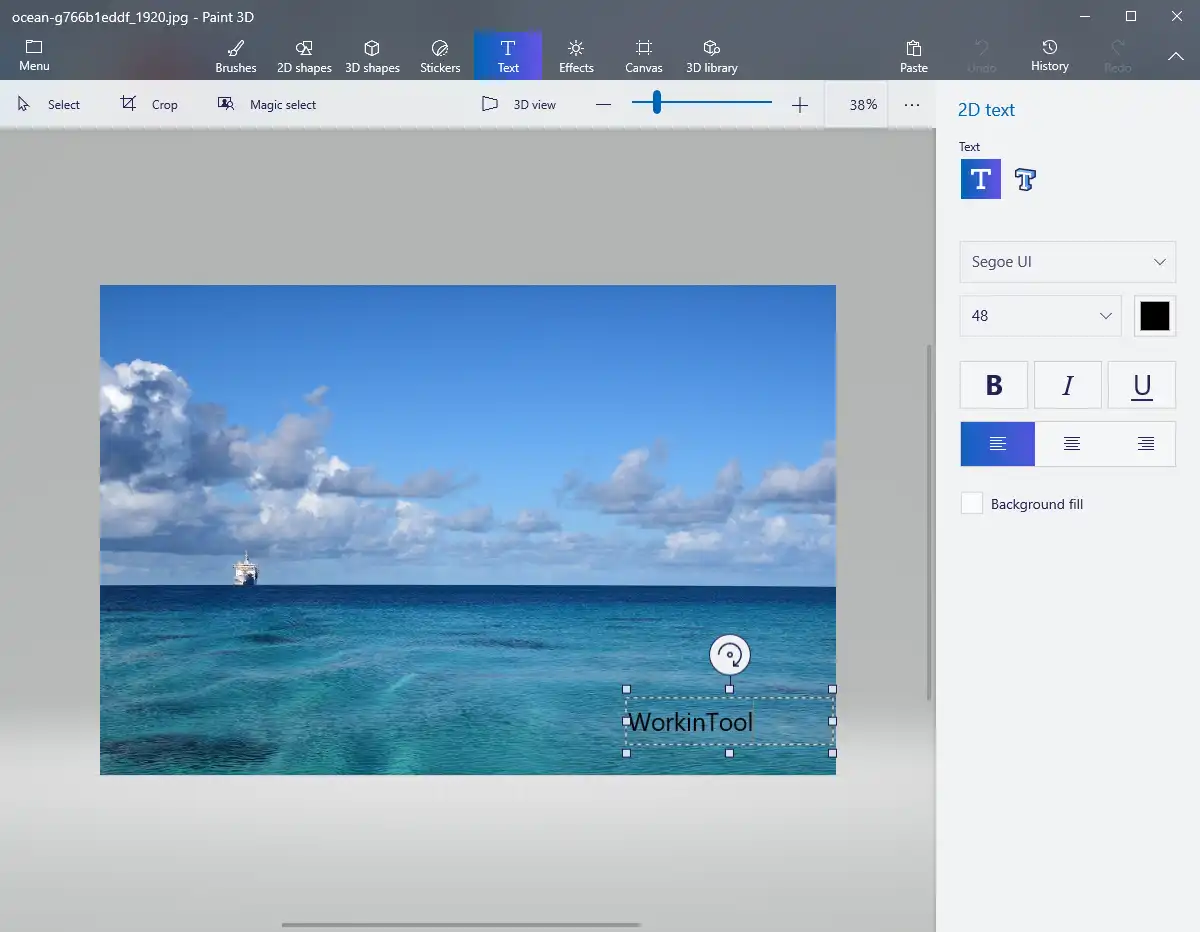 ---
What Is a Copyright, and Why Do You Need It?
Copyright is a type of intellectual property that can protect original works of authorship. It is a way to save a specific work created by an owner from being used by others without permission. In copyright law, there are many works, including paintings, photographs, illustrations, musical compositions, sound recordings, computer programs, books, poems, blog posts, movies, architectural works, plays, and so much more!
Why do you require copyright?
Sometimes it will put you in a bad mood when you see your pictures displayed on others' social media accounts without your approval. However, the phenomenon could be prevented to some extent if your images or photos are copyrighted. The public's growing awareness of intellectual property will force them to shun the thought of using them without informing the owner. Hence, adding copyright protection to your images or photos is essential. Though there are many approaches to achieving this goal, placing watermarks over pictures will be an effortless method for social media lovers.
---
Final Thought
Copyrighting an image or a photo in our daily life is not as tricky as expected if you turn to a watermark maker for help. We sincerely hope you understand the importance of image copyright and its methods. Also, it is strongly recommended that you try WorkinTool Watermark Eraser. Except for desktop software, we offer you a watermark maker app for Android. It makes things easier if you need to add copyright to your pictures on mobile phones.