How to Remove Date Stamp from Photos | 5 Easy Solutions
Sometimes date stamps on your photos can bug you hard. You will definitely need some effective methods and tools to remove them. Luckily here we provide you with five different ways to get them off real quick. Also, this post comes with a tip to help you cancel the date stamp feature on your smartphone camera. WorkinTool Image Converter is proven to be the best on this list. It offers various custom options for users to add or remove any watermark they want without lowering image quality. Download and experience it now.
😍 1. Custom options are offered for the watermark feature.
🤩 3. Easy interface for users to edit with THREE STEPS.
😎 4. Support more than 100 different image formats to operate.
🥳 5. Cover all the features that you can on the market and exciting filters.
😊 6. Available for image conversion, compression, matting, watermark, and more.
How to Remove Date Stamp from Photos | 5 Easy Solutions
You've certainly seen this happen before. When you take a picture with a digital camera or smartphone, they are automatically stamped with a date. It may have been caused by the user not turning off the feature before or even by the fact that the date stamp was turned on voluntarily by users at first. But if that date has affected the overall composition of the image, or if you don't want others to see it when you share it, you can use the tool to remove date stamp from photos.
Read this article if you don't want to keep your photos date-stamped. We'll give you five practical, quick, and effective ways to remove unwanted dates directly from a picture without leaving a mark. We will also provide you with the method to turn off the photo date stamp feature instantly on your phone in case you don't know. Detailed tutorials can be easily found in the guide below. Let's take a look.
---
How to Remove Date Stamp from Photos on Windows
In principle, if you think about the date stamp before you take a picture, you can turn it off in time to avoid unnecessary hassle. (The close method is mentioned below). But if you want to get rid of a date that's already printed on a photo, you'll have to use tools like a photo editor to help you. However, finding a professional photo editor or watermark eraser is relatively easy today. Considering everything, we'll show you how to use the WorkinTool Image Converter to remove a date stamp from a photo and Photoshop for editing image watermarks.
WorkinTool Image Converter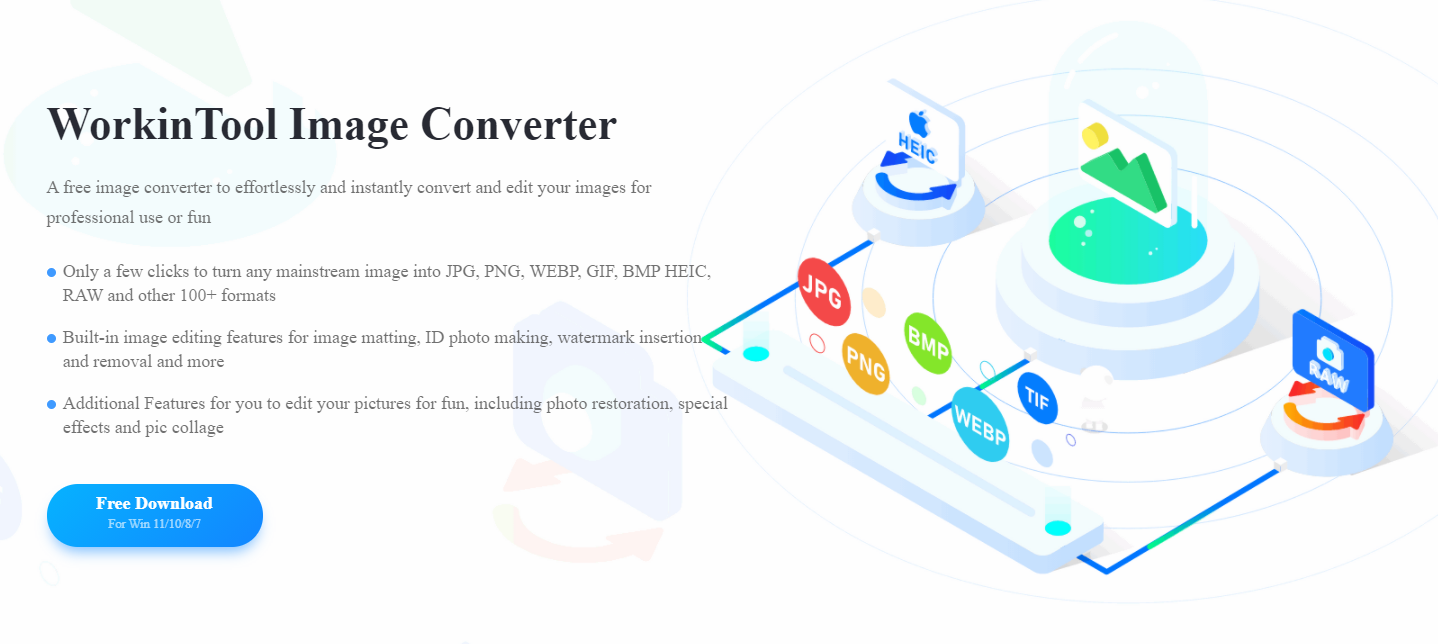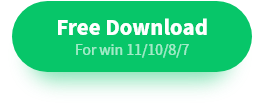 WorkinTool Image Converter comes in handy when you need to solve. The data you want to remove it like a watermark on the photo. And this tool has an excellent watermark removal feature. It is offered with two custom watermark selections and four removal modes for users to apply for their image watermark removal. And for data stamps, You only need to use the preset options, and it will get erased like it never existed. Of course, this software is not just a watermark function. All the tasks related to image processing you can think of are included in it. For example, it has image conversion, compression, background removal, editing, adding text, special effects, and so on. Most importantly, unlike Photoshop, the software is simple enough to use, even if you've never used a similar image editor before.
100 +image formats conversion available

Customize to enlarge or compress images

Add or remove photo watermarks with multiple choices

Change or remove the image background

More than 65 image filters to apply
Look how it works with WorkinTool:
First, click on Remove Watermark and add your photo.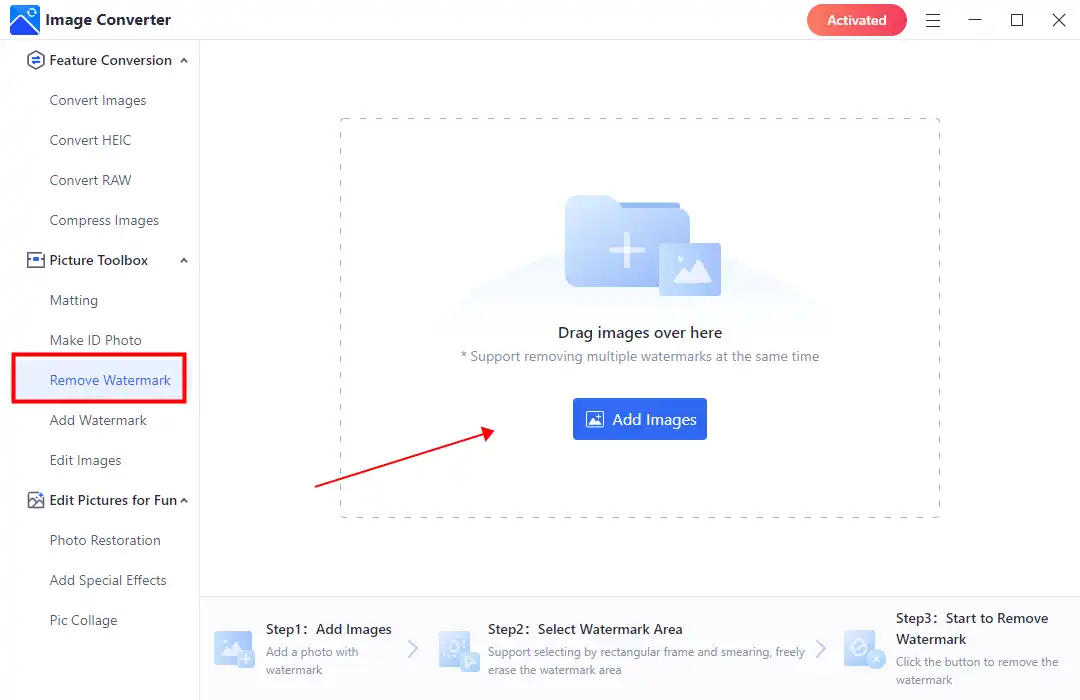 Pick the selection and removal mode to cover the date. (Use the presets that are also available to remove the data stamp.)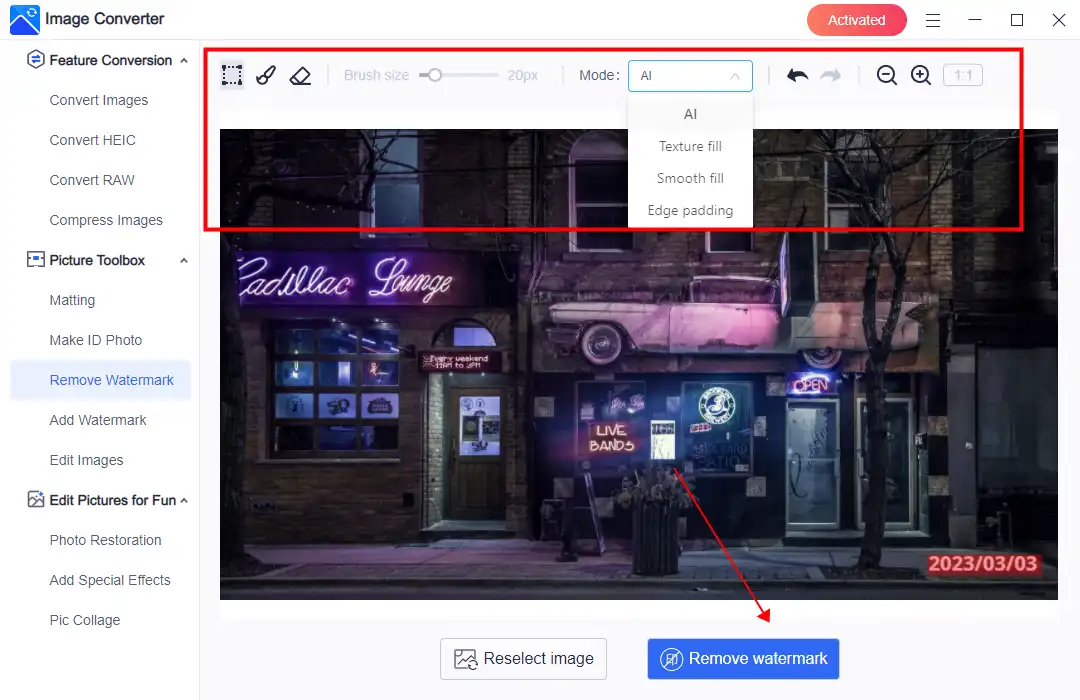 After covering, click on the 

Remove watermark

 to continue. Then you can see the result and consider if to save it or redo it.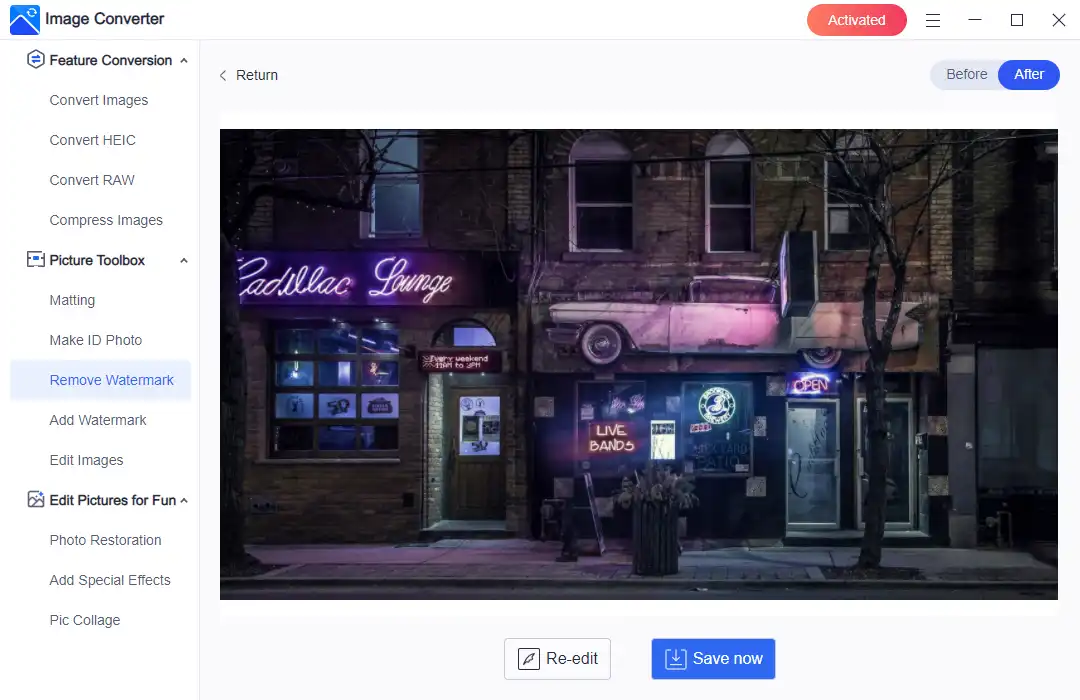 💖 Additional WorkinTool Image features 💖
---
Remove Date Stamp from Photos with Photoshop
It's a shame that WorkinTool Image Converter is only available on Windows. But don't be sorry. Adobe Photoshop can help users erase date stamps on all system versions. Let's face it. Photoshop is a market leader when it comes to image editing. But considering that users are not all professionals, the biggest problem with this software is that it is too complex and expensive. You can do twice the job on other tools when you remove one date from your picture.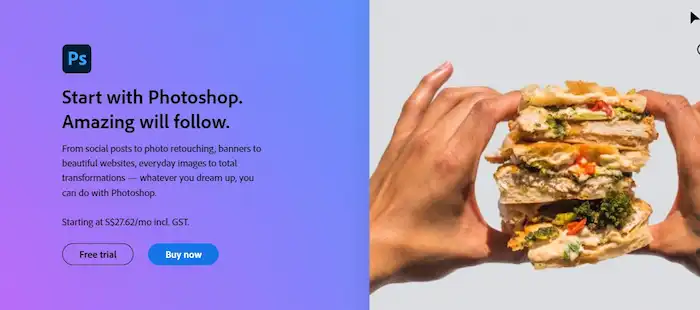 Click 

File 

> 

Open

 and add the photo with the date stamp on it.

Pick the 

Lasso 

tool and apply it to the date stamp.

Click 

Edit 

> 

Fill

 > 

Content-Aware Fills. 

Then you can see the date stamp is gone.
---
Remove the Date from Photos by Cropping
The easiest way to remove a timestamp from an image on the desktop is to crop it out. However, the whole picture might be shortened a bit in this way. If you don't mind it changes your image, you can use this method. For cropping, the most accessible tool is the built-in Photos app. It offers basic photo viewing and editing features for users. Most importantly, it is totally free. 
How to crop date out from a photo with Photos for Windows
Step1. Open your photo with the Photos app.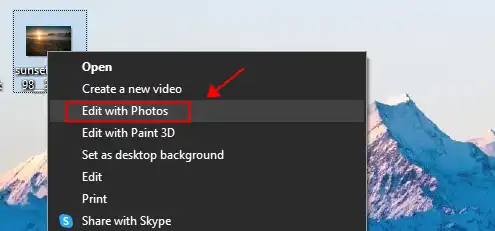 Step2. Select the crop tool, crop the date part out of this picture, then press Save a copy.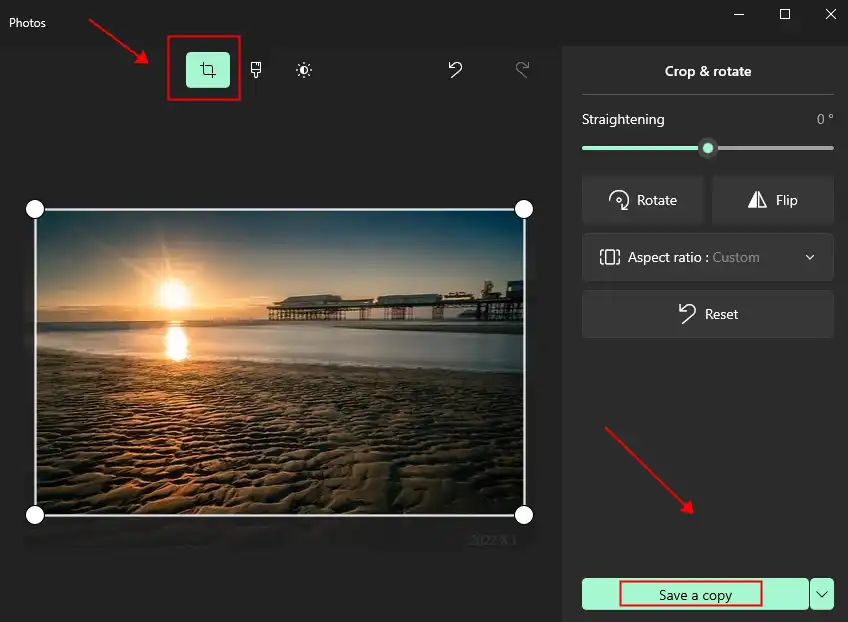 ---
Watermark Remover App for Android
Since we talk about phones, a WorkinTool Android app can also help you do watermark business. Video Eraser App works for free to remove any watermarks on your images or videos. Except for watermark removal, it also gets adding watermarks, cropping, resizing, compressing, and more. Even if a part of the feature is set to charge, it gives you a free daily trial with no hidden requirements. You can use it to remove date stamps from photos anywhere and at any time.
How to use Video Eraser to remove the date on photos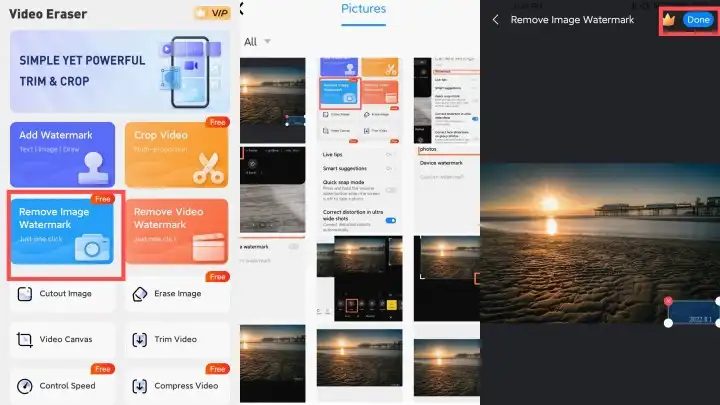 Step1.

 Please open it and tap the 

Remove image watermark

 on the main page.

Step2.

 Add the specific photo to upload and cover the date stamp with the selection box.

Step3.

 Click 

Done

 in the top right corner. Then wait for it to complete and save it on your photo.
---
Delete the Date Stamp from Photos Online
All four of the above are desktop-based software tools to help users solve the problem of image date stamps, so is it possible that you do not need to download software to remove the image watermarks at any time and place? Yes, of course. You still got one solution to try: Online watermark remover. For this part, try 
watermarkremover.io
.
 Once you put it in, it can remove any watermark from your images in seconds, including date stamps. And the AI technology will fix the date part image just like it initially.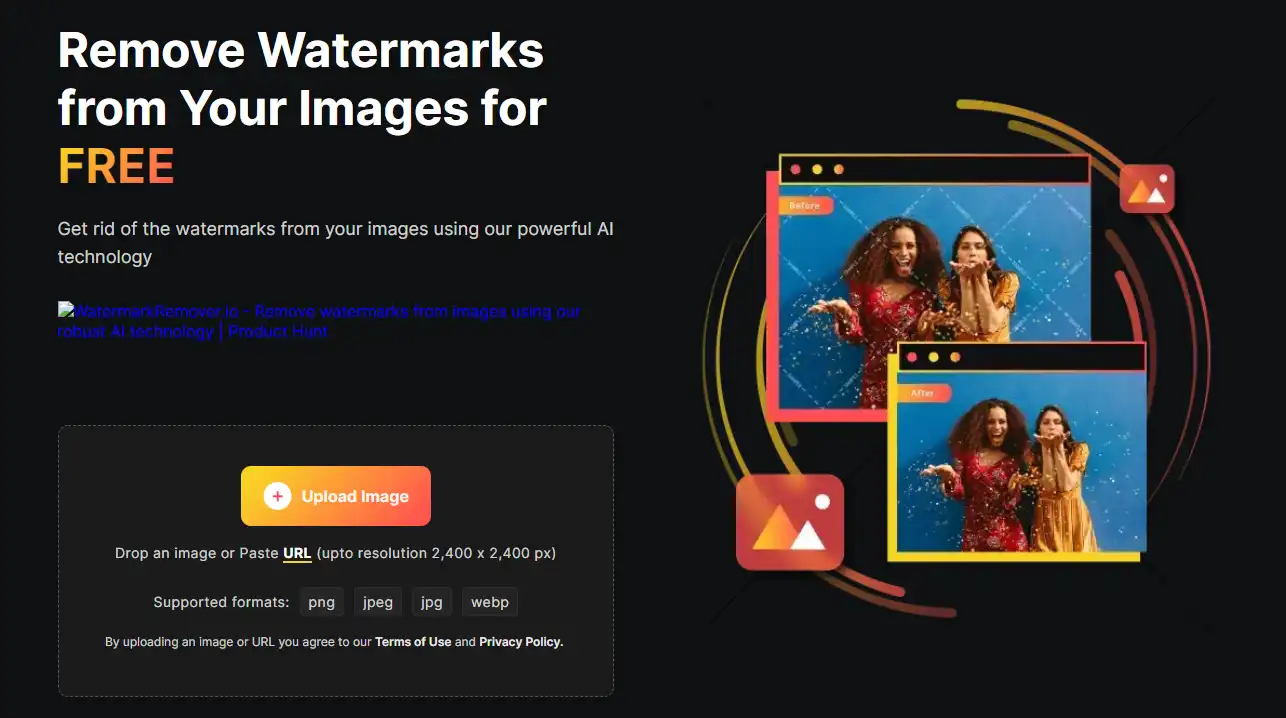 Visit watermarkremover.io with your website explorer and click

Upload Image

.

And select Remove Text and check the result on the right side.

Then you should be able to save this picture to your local computer.
---
💡 Bonus Tips: Cancel Date Stamp on Phone Camera
If the date and time on an already taken photo are a hassle for you, you can set not to generate a date on a photo before taking pictures. You can set the camera. Go to settings, find the watermark, and then choose not to add time stamps to your photos. By setting the camera, all your pictures will not have time watermarks on them. In this way, you can remove the date stamp from a photo from the root.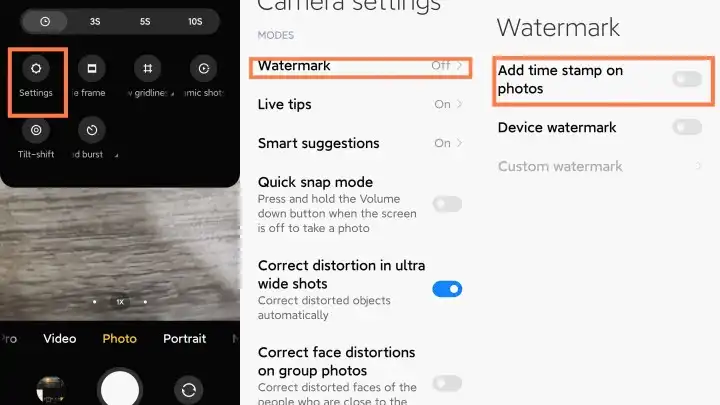 ---
Conclusion
In this article, we present to users five different ways to remove a date stamp from a photo in the most accessible way possible. Each approach corresponds to another platform and system, including three desktop tools, a mobile application, and an online watermark remover. All the methods mentioned have been tested and proved to be effective. So, you can pick any one of them to apply. However, all things considered, WorkinTool Image Converter is the most worth trying. It is simple to use, fast to edit, and suitable for all watermarks.