Android Formatted SD Card Recovery: Recover Files from Formatted SD Card
Not sure how to recover lost files on an Android formatted SD card? Don't worry. Check out this post for the best solution to perform formatted SD card recovery and get the WorkinTool Data Recovery tool to spare you extra time on data recovery.
😍 1. Up to 500 MB FREE Data Recovery try-out.
😝 2. The cheapest data recovery software of its kind.
🤩 3. Easy interface for users to recover in THREE STEPS.
😎 4. Quick scan and recover files the same as the original.
🥳 5. Cover all file types of pictures, documents, videos, audio, etc.
😊 6. Available for all external storage devices like USB flash drives and SD cards.
Android Formatted SD Card Recovery: Recover Files from Formatted SD Card
When you format a storage device, refresh the settings. Delete everything in it and free up all the space it has available. The whole process can be used to fix a computer glitch or resell it. But you need to know that formatting is a solution with consequences. When you use it to free up space, any data you need, whether it's there or not, disappears altogether. You will only think about how to get it back when you realize it. The use of smartphones increases the chances of such problems. Although there is no way to redeem a formatted device, you can still perform formatted SD card recovery.
SD cards are formatted for a number of reasons. It could be the user's careless operation or operating system reasons. It could also be a virus invasion. Whatever it is, if the SD card has been formatted, it was not realistic to reformat it thoroughly before. However, you can use other software and methods to restore previously stored files to a different location. If you want to use data recovery software for operations, we recommend using WorkinTool Data Recovery Software.
---
Why Format an SD Card
Countless cases can cause SD card formatting. Since you want to resell the SD card and format it using your desired information, or there could be some damage to the SD card, you can use formatting to repair it. Even more, there could be some factors that make your SD card become formatted. The following are the most common reasons for SD card formatting:
---
Unformat SD Card or Make Formatted SD Card Recovery
Starting with the technical aspects, it is impossible to unformat an SD card. Because formatting itself is a one-way process, you can only reverse this process if you have formatted it. But that doesn't mean that the data you lose after formatting will never be recovered. So this road is not feasible in practice. So can you achieve formatted SD card recovery?
In general, formatting only wipes out some data on your storage device. It's easier for you to understand. You can compare an SD card to a closet full of clothes, and formatting is pulling out all the clothes inside. Take them out, not to throw them away immediately, but to put them aside. When you buy a new jacket, you throw away an old one—same thing. You write some new data into it, and the old data is deleted. But writing new data is much faster than buying new clothes. That's why you need data recovery software to help archive formatted SD card recovery. It can help you find all the clothes you have already taken out and keep the ones you want.
Of course, the method we are talking about here is to use data recovery software to more accurately and effectively help you recover lost files because of formatting. Of course, if you have an Android phone that has a recycle bin or is backed up in the cloud, you can check those places to see if there are any pre-formatted copies of your data. If you have them, you can download them back in time.
---
How to Perform Formatted SD Card Recovery
As we mentioned earlier, if it is discovered that you still have important files to restore after your SD card has been formatted, stop using the SD card this time. As long as the files are not overwritten, you can use data recovery software to scan and recover them. It is essential to select the data recovery software at this time. If you need help figuring out where to start, check out our fresh 2023 reviews of the Top 8 SanDisk SD card recovery software. Of course, to save you more time, if you want to use fast and good software to recover your lost files immediately, we strongly recommend you try WorkinTool Data Recovery Software to perform formatted SD card recovery.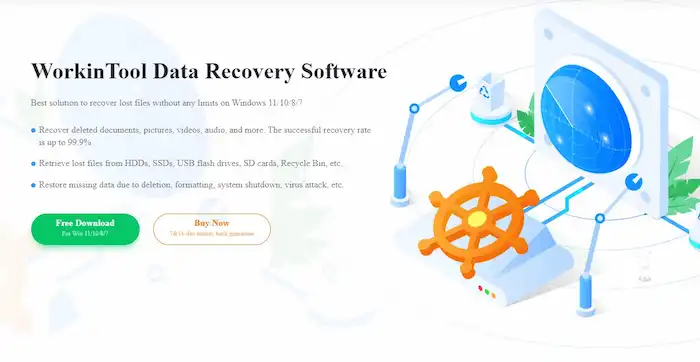 WorkinTool Data Recovery Software
This is a UI design avant-garde, user experience excellent data recovery software. It won't be visually boring or confusing by all the bells and whistles of the icon UI. User-friendly enough, only three steps to complete the user needs to restore the file work. Pinpoint user needs. The main interface is divided into six basic user scenarios to help users quickly select the required functions. With the filter option, quickly find the required files and restore them. The scanning speed is fast enough. Fast scan for 5 seconds to complete the disk scan and deep scan mining hidden content. But the biggest draw for users is its 500 MB free recovery experience. Users can upgrade to senior members anytime to enjoy unlimited data recovery services if they are satisfied with their recovery results.
The price of this software is the lowest type of data recovery software. The Premium Plan is only $29.99/month, $39.99/annual, and $49.99/lifetime. Half the price of others.

See how it works:
1. Launch WorkinTool Data Recovery and select USB/Memory Card Recovery. Then, select the SD card partition and click Scan Now.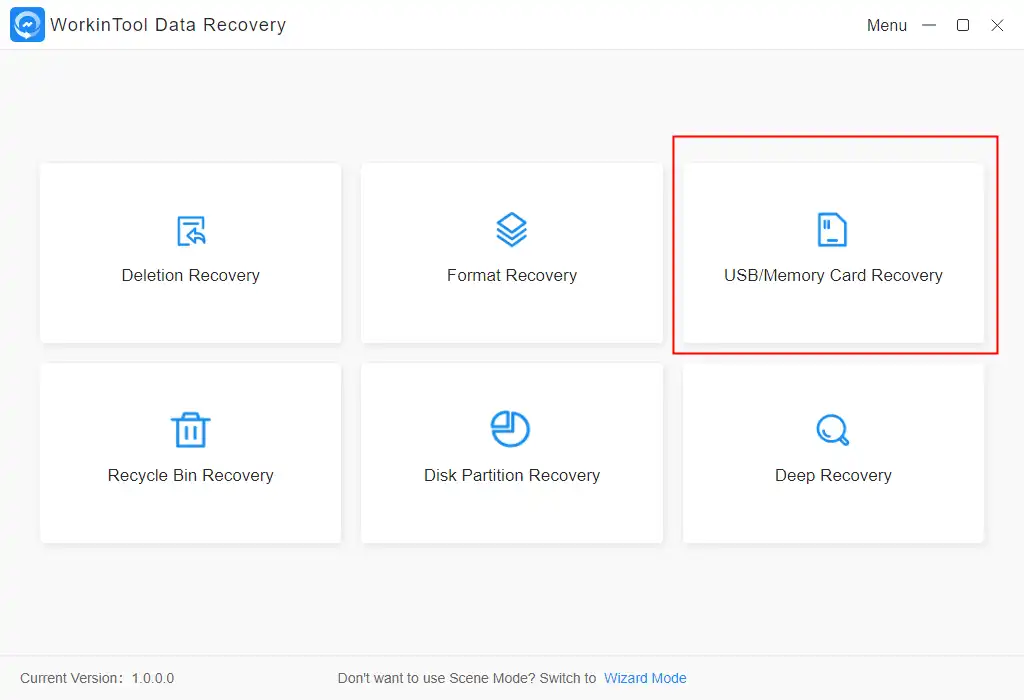 📣 Notice:
Normally, if you have already connected your SD card to the PC, there will be the disk showing on the page. If not, you will see the picture below. After joining, click Refresh to continue with the following steps.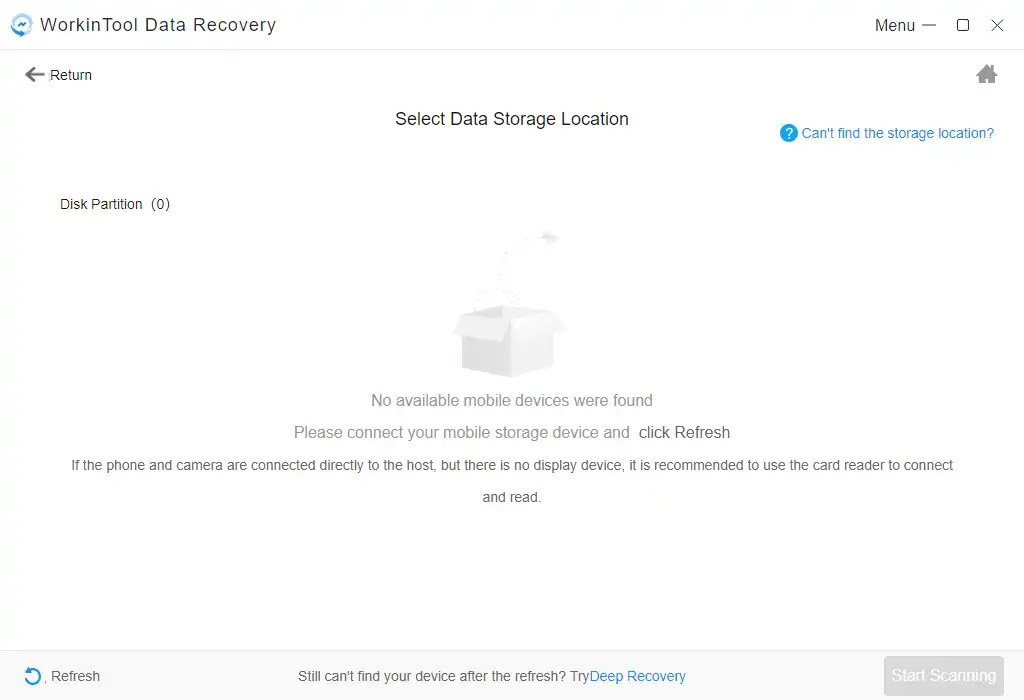 2. After scanning the formatted SD card, find your lost files using the Filter feature and the File Type function.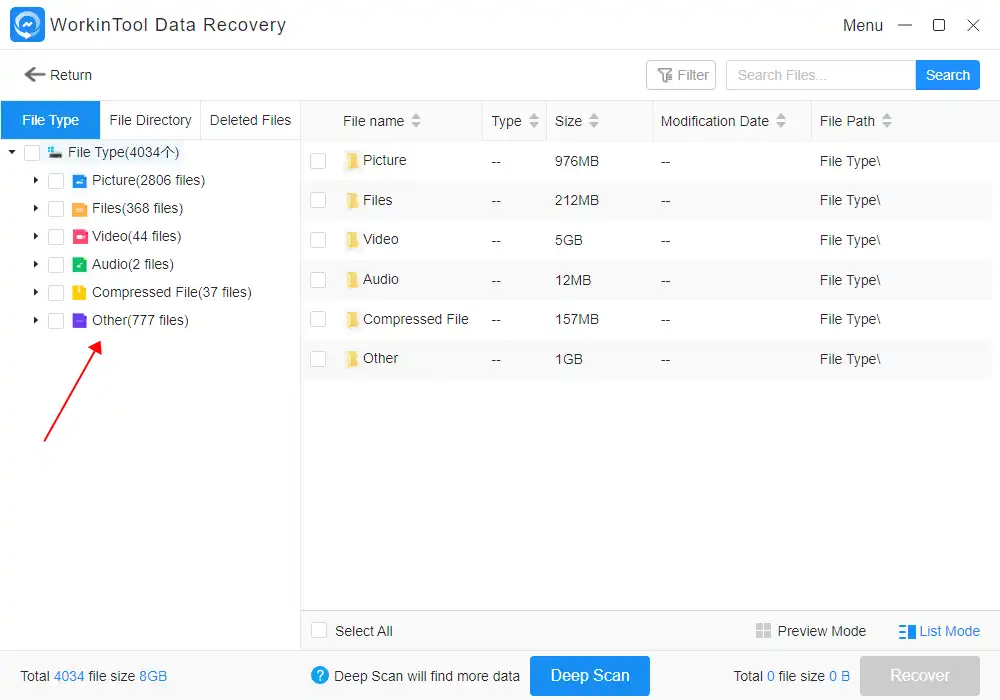 3. Finally, click Recover and set a saving location for the recovery to complete.
---
Bottom Line
As you can see, there is no way to reverse the formatting of an SD card. We have explained to you that this is a one-way process. And many times, the format SD card is also unavoidable. But the good news is that you can also restore the data stored in it and store it in another location. Then start using the software and the user manual we provide you to download and apply WorkinTool data recovery software to perform formatted SD cards.