How to Recover Formatted USB Drive for FREE
If you accidentally format a USB drive and are looking for free solutions to undo formatting and recover files from formatted files, this blog shows what you need. There are two free solutions that are useful for USB format recovery, including a computer command and a free data recovery tool. We recommend the tool for the features below.
🤍 100 free with no costs.
🤍 Easy for users of any skill level.
🤍 Capable of data recovery from multiple devices, not limited to USB drives.
🤍 Fast scan speed.
🤍 Comprehensive scan result.
How to Recover Formatted USB Drive for FREE with/without Software
A USB flash drive, also called a thumb drive, has been commonly used nowadays since its first release in 2000. This data storage device is rewritable, removable, and much smaller than an optical disc. Therefore, it can copy and store flash memory for many portable devices. With a small thumb drive in your hand, it is easy to share files with colleagues and classmates. It can also be an extension media for desktop and laptop system storage.
Although USB drives are convenient and fast to use, they might let you sink into devastating situations. For example, a USB data loss could happen when there are unexpected user or card errors, among which a formatted USB drive can lead to the worst result. It puts all of the data residing on your drive at risk. If you don't take immediate action, a simple incorrect click can result in a nightmare. Therefore, in order to avoid that disaster, you should be familiar with how to recover formatted USB drive.
This post offers two free solutions to help you restore files from a formatted USB flash drive. You can download the free flash drive recovery software below or follow the detailed steps to retrieve files from formatted USB drives or pen drives without using software. We promise you can get the lost files back without costing a penny.
---
How to Recover Formatted USB Drive with Software
The easiest and most convenient way to recover data from a USB drive, whether formatted or unformatted, is to use the backup media to transfer lost files. However, only some people will back up a computer's main drive, not to mention a removable flash drive. If you don't have the habit of performing periodic backups, how do you handle the more complicated data loss situation?
In this case, data recovery software can be applied to unformat a USB flash drive. Although the formatting process is not reversible, you can still recover most of the lost data to its original status with a reliable data recovery tool. There are many USB format recovery software tools on the market, some for Windows, some for Mac, and some for other operating systems. After trying many of them and analyzing their performance, we finally picked out the freeware with unlocked features, a user-friendly interface, and a high recovery rate.
WorkinTool Data Recovery Main Features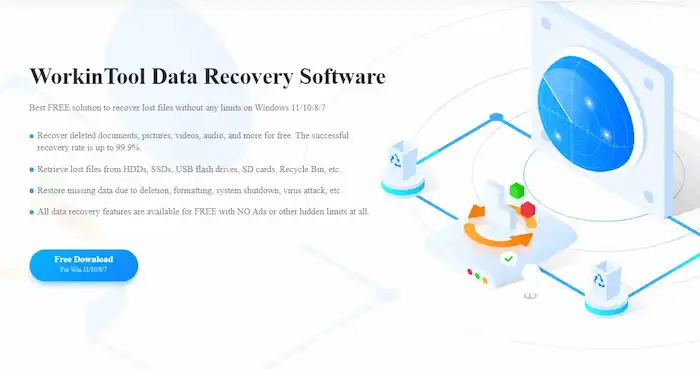 This USB flash drive recovery software, WorkinTool Data Recovery, is the one you can't miss. Why do we start with third-party software instead of a built-in computer program? The reasons are as follows.
100 FREE

: Unlike other data recovery software that advertises itself as freeware but locks all the practical features or offers limited recovery storage, WorkinTool Data Recovery presents all its functionalities without hesitation. Users can free download this application and 

recover deleted files on USB drives

 as desired.

Easy to Use

: Users don't need to learn complicated data recovery skills. A

 clean and streamlined interface

 makes USB data recovery a simple task. Using the filter feature, you can quickly locate the lost files by file type, size, and modification date.

High Recover Rate

: There are two-level scan modes, Quick scan, and Deep scan. The former launches a quick scan of all the remaining files. The latter performs a deeper scan, which takes longer but gives a more complete result.

Multiple Scenarios

: WorkinTool flash drive recovery software is able to restore deleted, formatted, and corrupted files. It can handle a range of file formats from versatile devices like USB drives, memory cards, internal computer disks, digital cameras, camcorders, dashcams, etc.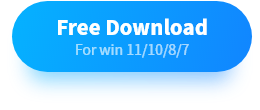 How to Recover Formatted USB Drive with WorkinTool
Step 1. Connect your USB device to a Windows computer, launch WorkinTool Data Recovery, and select Formatted Recovery or USB/Memory Card Recovery. Then select your USB device to perform a quick scan,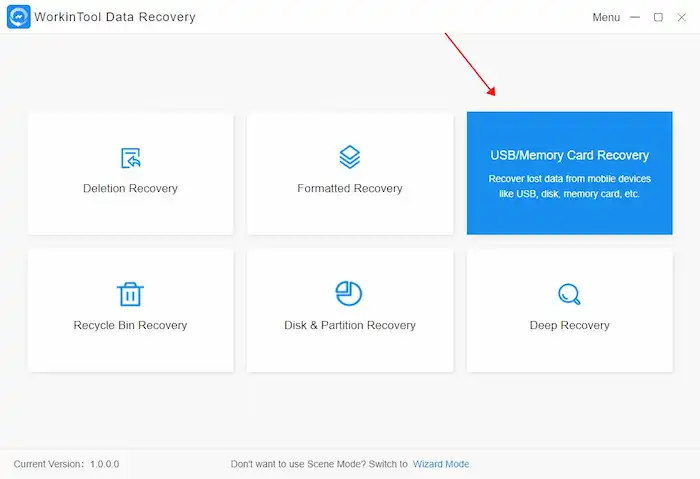 Step 2. After scanning, click Deleted Files and use the filter option or the search bar to look for the deleted files by file type, size, and modification date.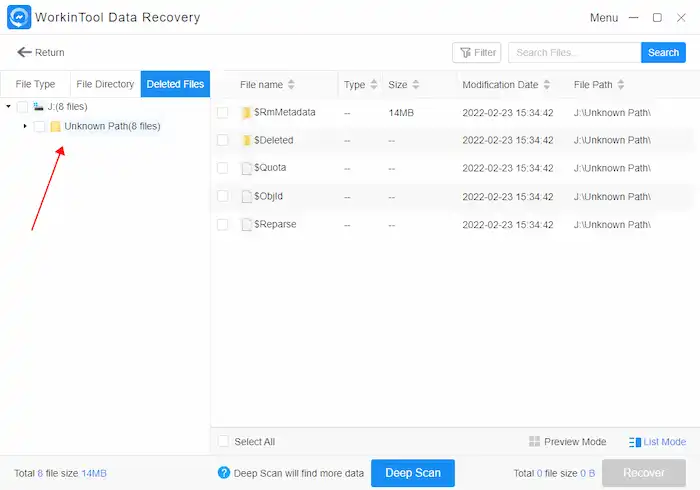 Step 3. Tick the checkbox left to the files you want to retrieve, hit Recover, and select a path to store the recovered files.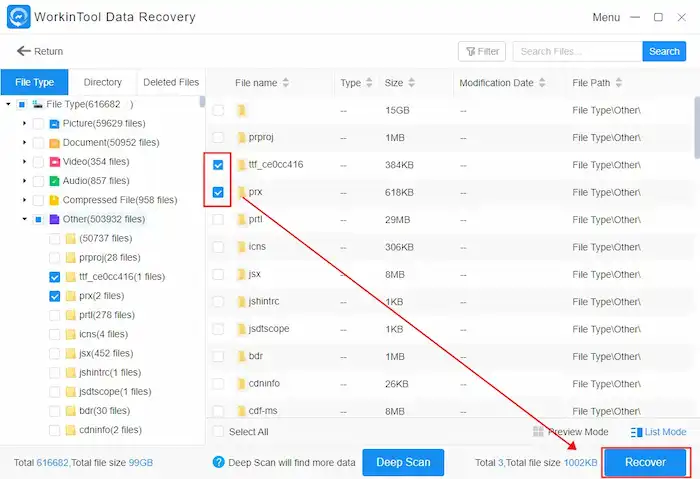 ---
How to Recover Formatted USB Drive without using Software
Command Prompt, also called CMD or CMD.exe, is Windows embedded command-line interpreter. It can help users check hard drive errors, unhide hidden files, recover deleted files, and run repairs. It is more suitable for computer experts. Although it is sophisticated and only sometimes workable, you can follow the steps below to have a try. It is not that difficult. Here is how to recover files from a formatted USB flash drive using CMD.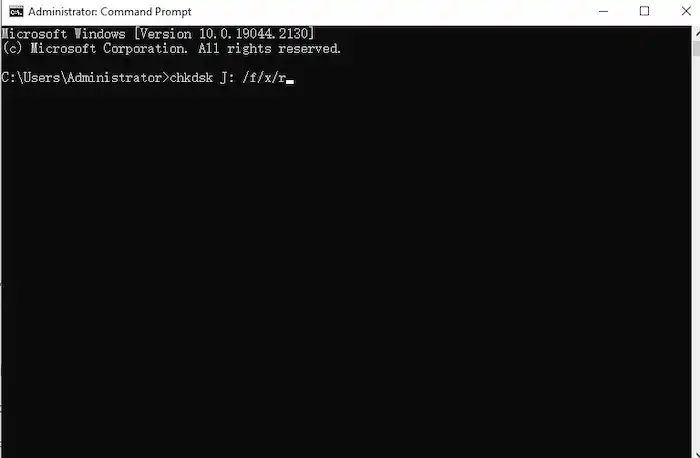 Step 1. Connect the formatted USB to your computer.
Step 2. Type cmd in the desktop search field and select Run as administrator.
Step 3. Enter this command: chkdsk X: /f/x/r. (Replace the letter X with the drive letter of your formatted USB.)
Step 4. Press Enter and wait until the process is finished.
---
FAQs
What formatting means?
Formatting a computer or a storage device means erasing all the remaining data and renewing the operating or file system to store new data and prepare the drive for a new OS. Sometimes formatting a device is suitable for system reinstalling and file organization. But improper formatting may also lead to severe data loss.
What will cause formatting?
Various reasons can result in a device formatted, including but not limited to the following.
Human maloperation

System corruption

Improper device ejection

Sudden power failure

Malicious software or virus infection

Overmuch bad sectors
How to prevent USB from formatting?
Be careful when you need to change file systems.

Always keep a periodic backup for your drives.

Check your device and system health regularly.

Enable Write-Protection.

Don't abruptly interrupt the file-transferring process.

Insert and eject USB drives properly.

Keep your device fully charged.
---
Bottom Line
Formatting a USB flash drive could lead to massive data loss. But if you take measures immediately and do not write new data to that drive, you still can recover data from a formatted USB flash drive.
It is not easy to recover formatted USB drives unless you use practical flash drive recovery software or are familiar with the command line code. Hope this blog is intuitive!