[FREE Method] How to Recover Deleted Files on Windows 7
Performing Windows 7 file recovery cannot be easier with WorkinTool data recovery software. Download and enjoy it right now to learn the best way to recover what you have lost on Windows 7.
😍 1. 100% FREE to use all the features with NO ads.
🤩 2. Easy interface for users to recover in THREE STEPS.
😎 3. Quick scan and recover files the same as the original.
🥳 4. Cover all file types of pictures, documents, videos, audio, etc.
😊 5. Available for all external storage devices like USB flash drives and SD cards.
How to Recover Deleted Files on Windows 7
The problem of accidentally deleting important files is nothing new, but it always haunts computer users. Especially for office workers, this kind of issue can be deadly. Of course, you can store a mountain of data in a computer and take whatever you need whenever you want. But not all things go your way. As long as you have a long history of using a computer, you will also experience some data loss. Even in the 10/11 version of Windows, Windows 7 is still very popular with computer users worldwide. So, do you know how to recover deleted files on Windows 7?
The reason for the data loss is not simply because you accidentally hit the delete button. Sometimes there may be various other reasons, such as system formatting, software failure, computer viruses, etc. But no matter the reason it causes you to lose your data, nothing is more important than making you want your precious documents back as soon as possible. Here in this post, we will provide you with several ways to help you perform Windows 7 data recovery. Among all the methods, data recovery software is the best way to do it.
---
Recover Deleted Files on Windows 7 Using a Recovery Tool
Before you officially start working on data recovery, you need to know how Windows deletes files. After deleting a file or formatting a partition, the missing file is still physically on your computer, but you can't access it. At this point, the file is in a very delicate state. As soon as you notice that your data is missing, stop working on your computer and take immediate data recovery action. As long as the files are not overwritten by other newly written data, deleting them can be eliminated with data recovery software. Our recommendation is to use WorkinTool Data Recovery Software for better data recovery software.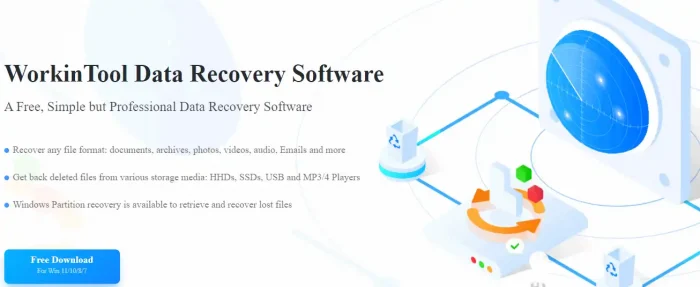 WorkinTool Data Recovery Software
WorkinTool data recovery tool is an all-in-one recovery tool that helps users solve all kinds of data loss situations. It has a manageable software design and valuable features. All users can use the six data loss scenario options to achieve the recovery of the file. Whether you have an early recovery experience or not, you can restore deleted pictures, videos, and many other items within a minute. It is perfectly compatible with almost every Windows operating system on the market, including Windows 7. You can scan and identify up to 400 different file types and recover them based on the user's choice.
Recovery software is not limited to restoring files on your computer. It can also help users recover lost external storage device content like your SD card or USB flash drive. You can even recover disk content that is already RAW. But the most exciting thing is that the data recovery tool is now 100% free and free of advertising. Below are six basic recovery options you can try out independently.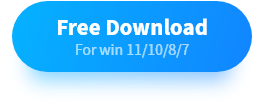 Three Steps to Perform Windows 7 Data Recovery
1. Launch WorkinTool Data Recovery and select Deletion Recovery.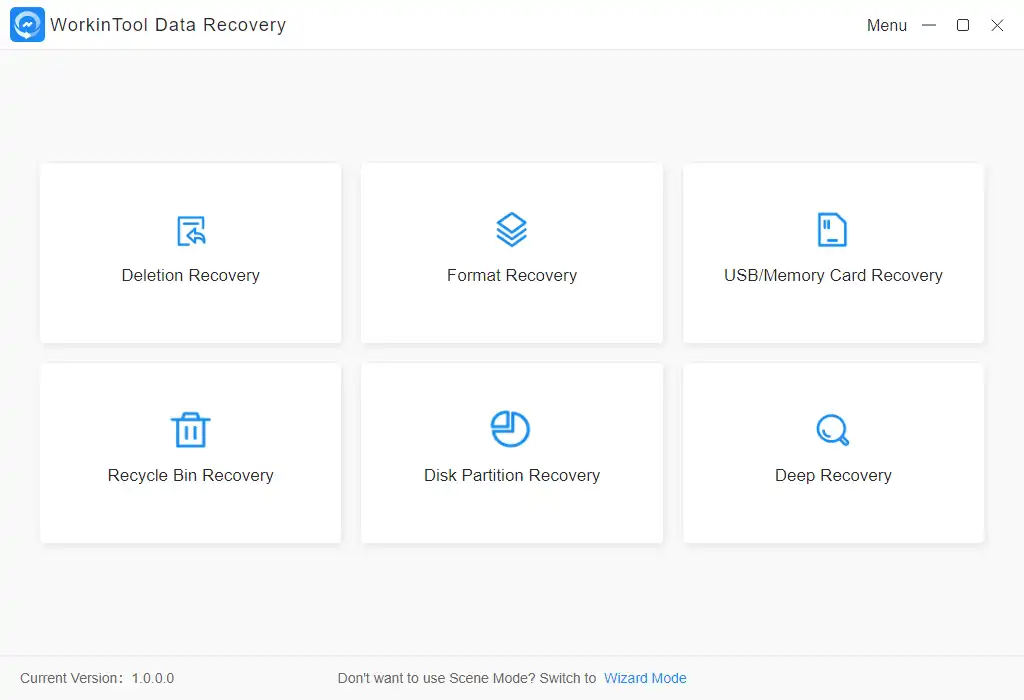 2. Locate the disk partition where you saved your lost file before, then click Scan Now.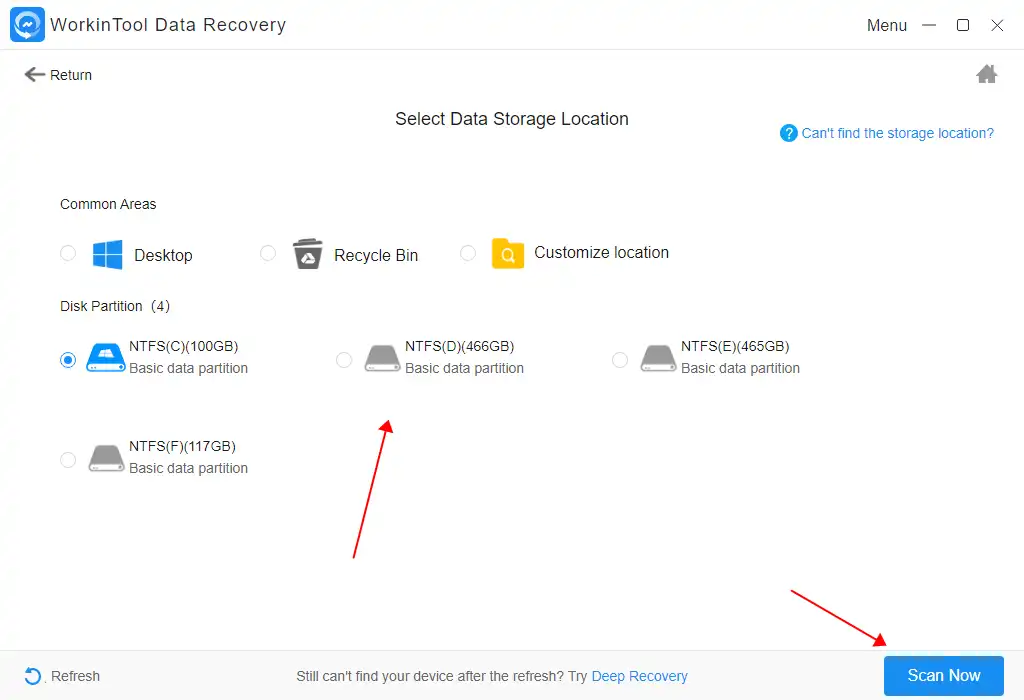 3. Use the Filter and File Type menu to find the desired illustrator file and click Recover.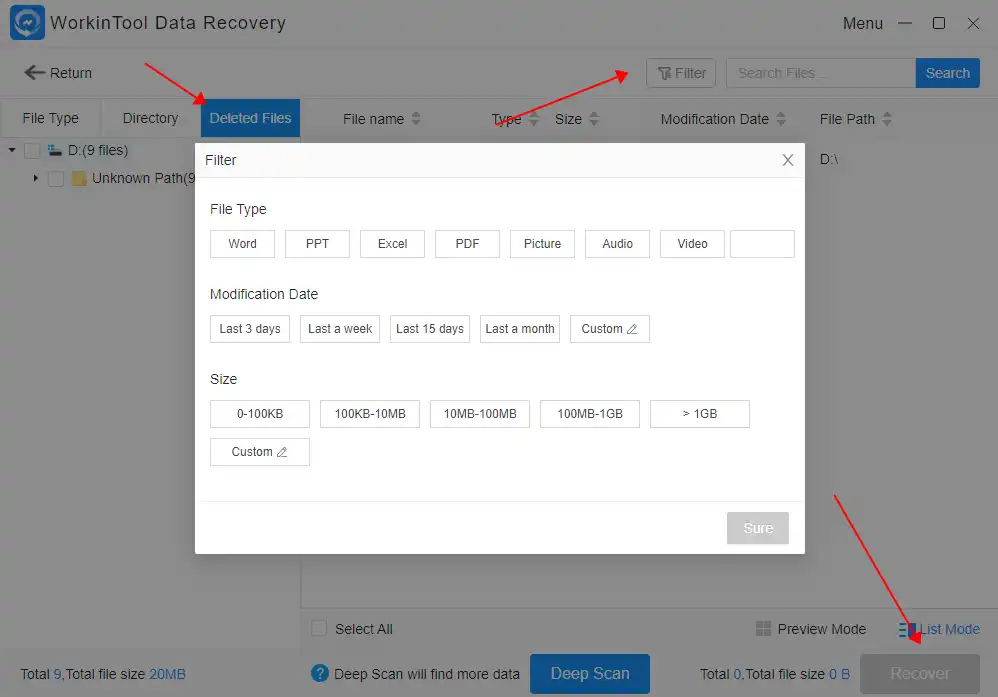 4. Finally, make the recovered file your saving path. Then you can wait for the recovery result to come out.
---
Restore Deleted Files on Windows 7 Without Tools
Except that you can use data recovery software to retrieve your data, there are three built-in ways to restore deleted files on Windows 7 without downloading tools. Let's check out those three methods.
Method #1: Use the Recycle Bin
Like other data recovery methods, when you find out that your files are gone, you should first check the Recycle Bin. Recycle Bin is where you can store all the temporarily deleted files. If you still need to empty your files permanently, you will still get your chance to restore your files in one click.
Follow these steps to restore your lost files: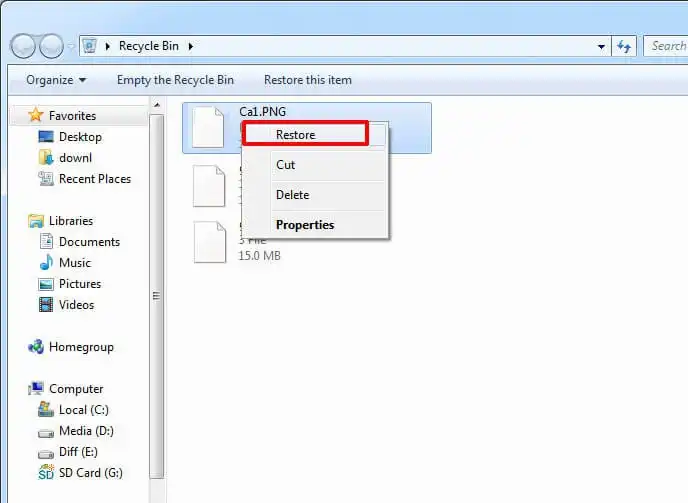 Open

 the Recycle Bin on your Windows 7 desktop

Select

 the files that you want to recover. You are allowed to convert multiple files at once.

Right-click

 on the files and select 

Restore

.
Method #2: Restoring Previous Versions
Windows 7 also allows users to restore their files to a previous version. This method will only work if there are earlier file versions before it is deleted.
To try this method, follow these steps: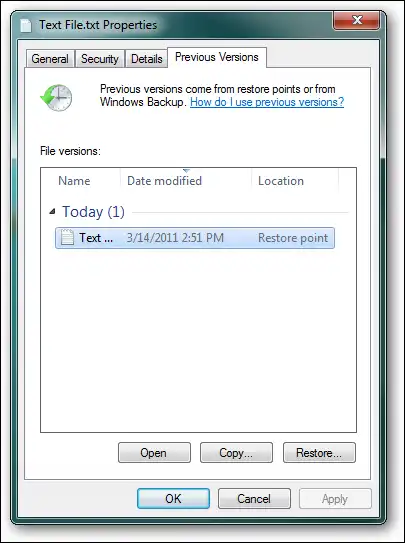 Open

 File Explorer and go to the file folder that you used to contain your required file.

Right-click

 and select 

Restore previous versions.

Then, select the version you want to restore.

Click

 the 

Restore

 button to recover the file.
Method #3: Using a backup
Of course, if you have backed up your computer before, you may also use the backup and restore feature on your Windows 7 to recover the older version of the deleted file.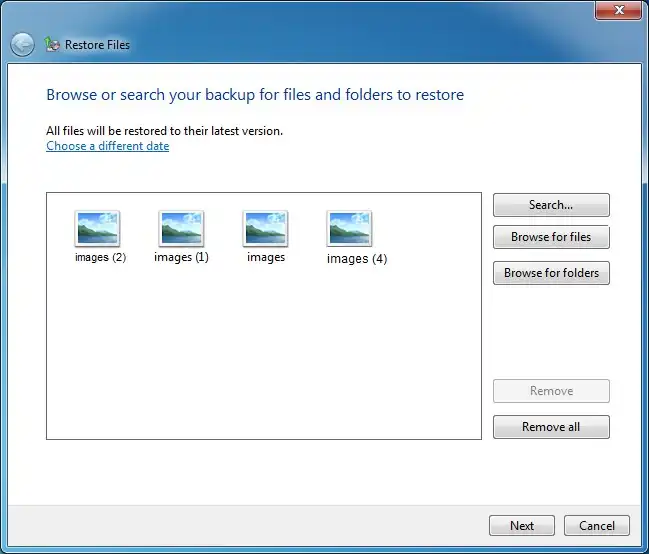 Launch

 your backup and recovery tool on Windows 7.

Find

 the file you would like to restore.

Click the 

Restore

 button to restore them back to their original location.
Data Recovery Software vs Basic Windows Tools
---
Bottom Line
Yes, in this article, we have given you a total of four ways to recover deleted files from a Windows 7 computer. Of course, by contrast, the most effective method is using data recovery software, such as WorkinTool Data Recovery software. It provides you with the best service to recover files. Even if you have completely emptied the recycle bin or formatted the disk, you can download this software free of charge and use it to retrieve your lost files. Come and experience it now.