How to Recover Shift Deleted Files in Windows for Free
Does Shift Delete permanently deleted files? The answer is No! The deleted files can be recovered if you don't write new data in the storage place. This post explains one free shift delete file recovery and two built-in tools to quickly get the lost files back. The free data recovery software is highly recommended for the following advantages.
🌕 100% FREE without any cost.
🌕 Easy to start and suitable for any user.
🌕 Covers hundreds of file formats.
🌕 Workable for various storage devices.
🌕 Quick scan speed and complete result.
How to Recover Shift Deleted Files in Windows for Free
Chasing after deleted files is frustrating, especially for permanently deleted files using the Shfit+Delete keystroke combination. Yes, Shift+Delete is a convenient way to remove unwanted data to clear up computer storage space. But things get shocking if you use the Shift+Del shortcut by mistake when you have pulled an all-nighter to finish some business projects and school presentations. And it is more devastating if you believe that change is irreversible.
In fact, you can undo the Shift+Delete hotkey and recover those files you thought to be permanently deleted. There are versatile solutions you can do achieve that. So this blog is a summary of those effective methods. Stay put, keep reading, and you will learn how to recover shift deleted files in Windows for free.
How Does Shift + Delete Work?
The Delete option will transfer given files to Recycle Bin, from which users can easily restore the deleted files. Those files do not permanently disappear.
However, when you press Shift + Delete, the files you select will not go to Recycle Bin. Instead, Windows will bypass this process and directly delete the selected items, marking the emptied storage space as rewritable.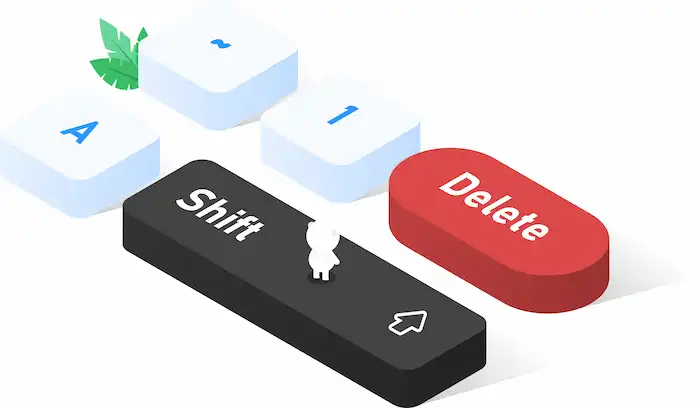 Can I Recover Files after Shift + Delete?
Yes, you can! The Shift + Delete command will mark the storage space that previously stored the files as available for use. But the data of shift-deleted files will remain on your computer until its original space is overwritten. Therefore, if you start recovery as soon as possible and stop writing new data on that partition, you still have a chance to recover files even after Shift + Delete. You can even restore deleted files from Recycle Bin as well.
The following section will guide you through three proven ways to recover shift-deleted files. We will start with WorkinTool Data Recovery software. This free file recovery tool can restore files without size and quantity limitations. Then we will introduce two free and easy-to-use computer built-in recovery tools.
---
How to Recover Shift Deleted Files with Free Software
Since the Shift + Delete command marks the previously used storage place as available for use instead of permanently removing those files and making them irreversible, software with advanced algorithms can easily restore those seemingly disappeared files as long as new data does not overwrite them.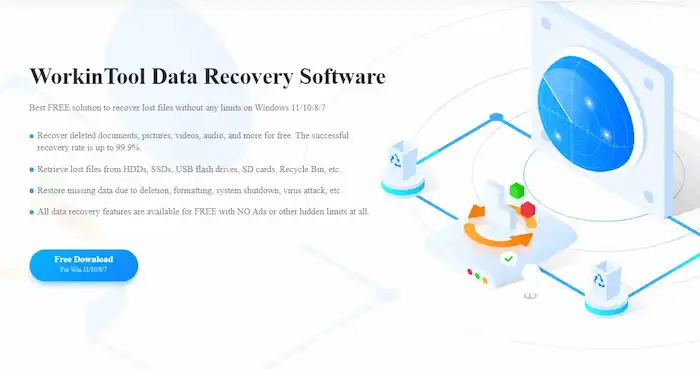 WorkinTool Data Recovery is such a tool. This free shift delete file recovery software can bring deleted files from internal computer drives, Recycle Bin, formatted partitions, USB drives, flash drives, memory cards, SD cards, and other external drives without pressure. It is workable on a large number of devices and can recover hundreds of file formats to their original status. Check the following steps to learn how to recover shift deleted files with WorkinTool.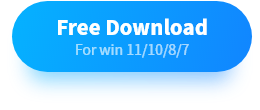 Step 1: Free download and launch WorkinTool Data Recovery
Click the blue button to free download this shift delete file recovery software. Launch it, and you will see six function panels on the main page: Deletion Recovery, Formatted Recovery, USB/Memory Card Recovery, Disk & Partition Recovery, Recycle Bin Recovery, and Deep Recovery.
The first five sections are responsible for different data loss scenarios. And the last one can handle more complicated situations, such as files deleted long ago and hidden too deep to be discovered.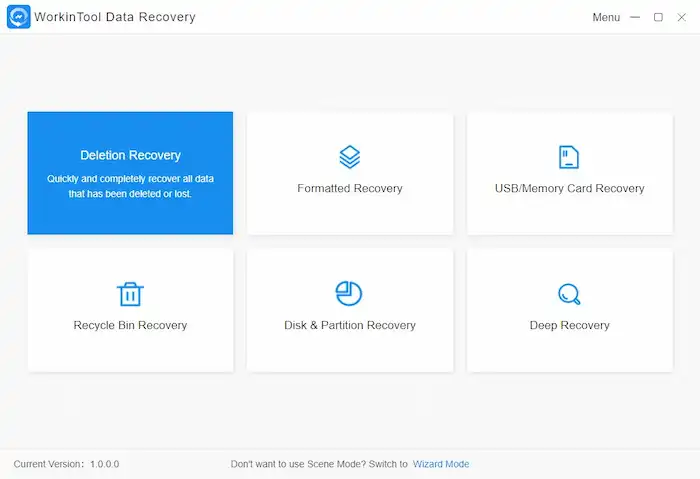 Step 2:
Scan the shift deleted files
For Shift-Del files, select Deletion Recovery, then locate the area or disk partition in which the original files are. Then hit Scan Now to perform a quick scan, which only takes seconds to complete. You need to wait a while for the result page to appear.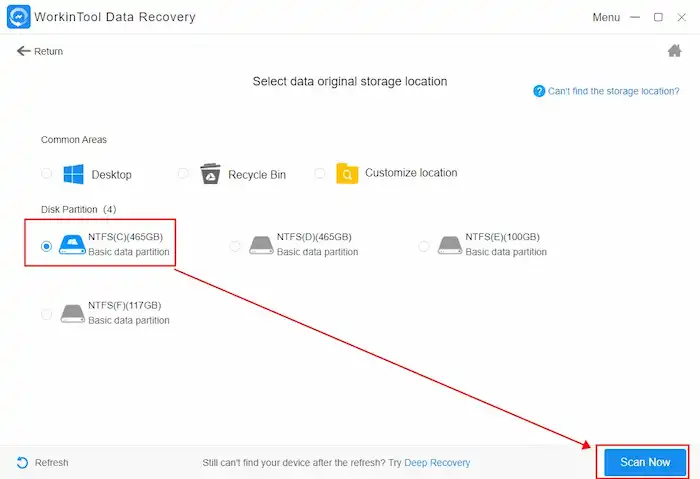 Step 3:
Locate the shift-deleted files
The scan results are reconstructed and displayed by file type in the File Type menu, which shows all the remaining files and invisible files on your computer. You can use the filter option to customize and look for deleted files by deletion date, file type, and file size. Or you can go to the Deleted Files menu to specify your files for a quick recovery.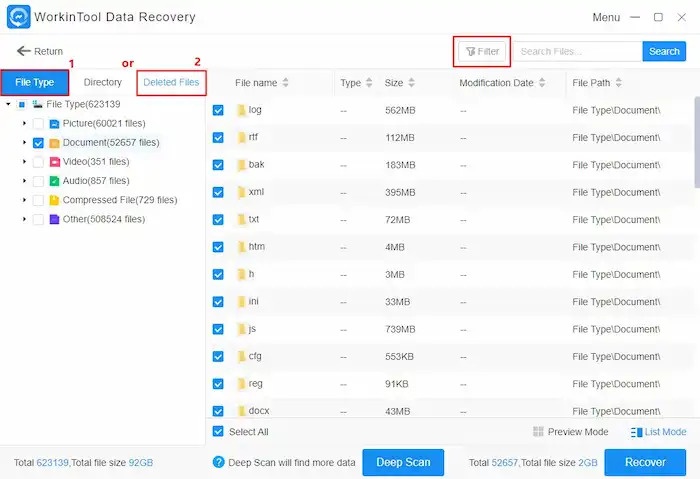 Step 4: Recover the selected files
After finding the items you want, tick them and hit Recover, then rechoose a file directory to save them. If you didn't find the files you need, click Deep Scan to perform a deeper scan, which takes longer but gives a more comprehensive result.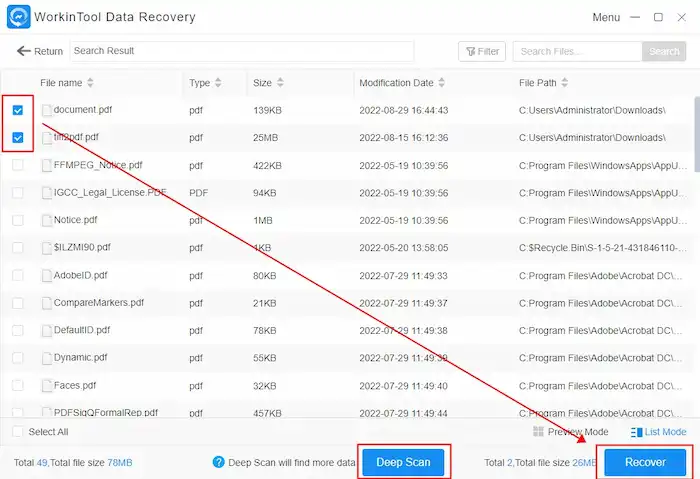 As you can see, anyone of any skill level can easily recover shift deleted files using WorkinTool in seconds. Users can get what they want without reading a lengthy tutorial.
More Features of WorkinTool
💡You May Also Like

💡
---
How to Recover Shift Deleted Files without Software
The two methods—File History and Backup and Restore we will introduce later require pre-activation. With the two features, you can retrieve shift deleted files without downloading third-party software. However, if you have not activated them before, you can't use them to recover those deleted files. In this case, you should scroll up to download WorkinTool Data Recovery software.
Option A: Recover Shift Deleted Files with File History
The File History option is a built-in backup tool in Windows. It automatically saves copies of your files to another drive so you can get them back if they are lost or damaged. You can manually adjust the backup interval from every 10 minutes to daily. It keeps your backups from 1 month to Forever (default). This method is more straightforward than creating a cloud backup drive or setting up a local drive. See how to recover shift deleted files with File History.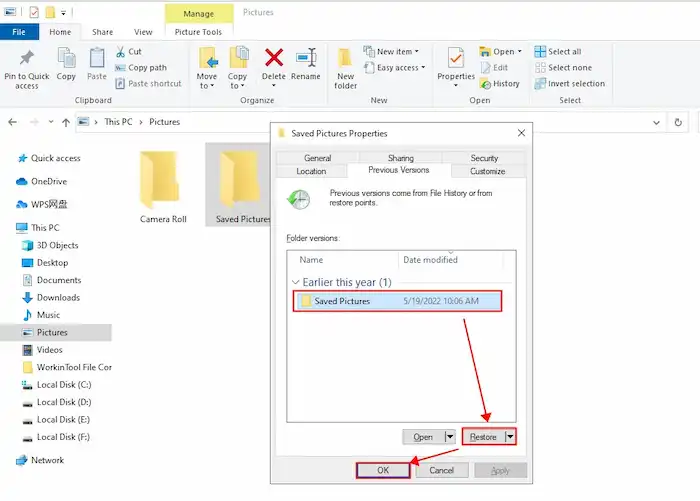 Right-click the folder that stored the shift deleted files.

Select 

Restore previous versions

.

Select a recent version you want to restore and hit the 

Restore

 button.
Option B: Undo Shift Deleted with Backup and Restore
If you have enabled the Backup and Restore feature on your Windows computer, whether a cloud drive or local drive, you can follow the instructions below to recover shift deleted files.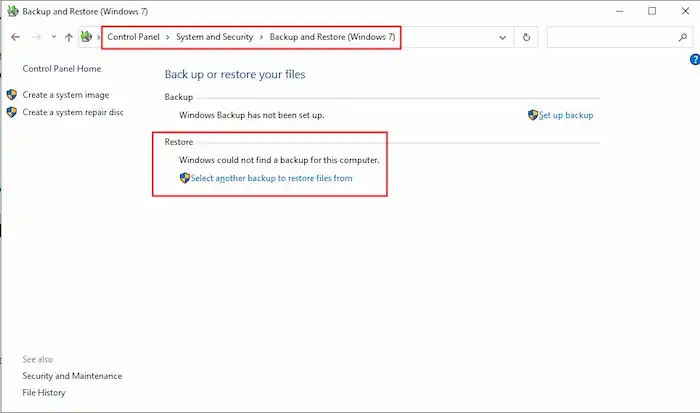 Type 

Control Panel

 in the desktop search field and open it.

Click 

System Security

 > 

Backup and Restore

 

(Windows 7)

.

Select an available backup in the 

Restore

 menu to retrieve deleted files.
---
Bottom Line
Shift-deleted files do not permanently disappear. You can try free shift delete file recovery software like WorkinTool Data Recovery to get them back or use preinstalled tools like File History and Backup and Restore. You should keep in mind that the moment you press the Shift + Delete combination key, you should stop using the drive and perform an immediate recovery in case the situation worsens.