How to Recover Permanently Deleted Files in Windows 10 & 11
Permanently deleted files can be recovered as long as new data do not overwrite them. In this post, we provide practical methods to recover permanently deleted files in Windows 10 and other versions with or without software. Pick one and read in deep to learn how to use them to undelete files.
1. Command Prompt (Knowledge-based and time-consuming)
2. Previous Versions (Easy and quick but with prerequisite)
3. WorkinTool Data Recovery Software (Easy and quick, no prerequisite, free recovery space)
How to Recover Permanently Deleted Files in Windows 10 & 11
Date deletion often occurs on Windows. Common causes like human operation error, accidental formatting, software corruption, power failure, virus attack, hardware impairment, etc. It is troublesome to get back deleted files.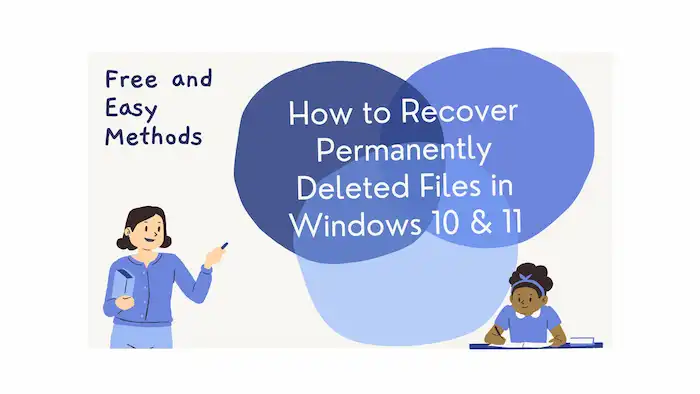 Recovering lost files on a computer can be tricky and frustrating. But in order to save precious data, we have to do so. Also, it might take more time and effort to get back permanently deleted files on your computer, especially those that were deleted a long time ago or were deleted using the Shift+Delete shortcut. Therefore, this article aims to help you get back seemingly permanently deleted data. Read on!
---
Can PD files be recovered?
Before getting deep into the text, we must answer this question that many people ask—Can we recover permanently deleted files in Windows 10? Are Permanently deleted files gone forever?
The answer is—It depends. The chance of recovering a permanently deleted file depends on whether the file was overwritten, that is, whether new data replaced the original data and was stored in the same location. If the new data does not overwrite the deleted file, even if the file is permanently deleted, there is still a chance to recover it. But if the new file overwrites the original file, there is a high probability that you will not be able to retrieve the lost data because the data structure of the original file will be completely overwritten.
---
How to Recover Permanently Deleted Files in Windows 10 & 11
There are many ways to recover permanently deleted files on Windows 10 system. You can use the built-in Windows recovery tool or use third-party recovery software. We provide the most suitable recovery methods for different data loss situations. You can browse the table below and jump directly to the solution that best fits your situation.
🔎
Quick Look
📝 1. Recover Permanently Deleted Files in Windows 10 & 11

without Software
▶ Command Prompt (Knowledge-based and time-consuming)
▶ Previous Versions (Easy and quick but with prerequisite)
📝 2.
Restore Permanently deleted files in Windows 10 & 11

with  Software
[HOT]🏆
▶ WorkinTool Data Recovery Software (Easy and quick with no prerequisite but free recovery space)
---
Recover Permanently Deleted Files in Windows 10 & 11 without Software
There are two solutions you can use to restore deleted files on Windows 10 and 11 for free. Let's see their features and steps of use in detail.
▶ Command Prompt
It is not easy to learn how to recover permanently deleted files in Windows 10 and 11 using CMD. Honestly speaking, this tool is the least user-friendly way to get back permanently deleted files. But if you can use this method successfully, even if it doesn't succeed in helping you, you can use the other two methods in this article without any problems.
Command Prompt, also called CMD, Windows Command Processor, is a built-in command line interpreter on Windows systems. By entering specified command lines, users can execute administrator tasks easily and solve many kinds of system issues like recovering deleted data, repairing corrupted files, checking system errors, etc. Similar tools like Windows File Recovery and Windows PowerShell can also use command lines to recover lost files on Windows 10.
📝How to Recover Permanently Deleted Files using Command Prompt in Windows 10 &11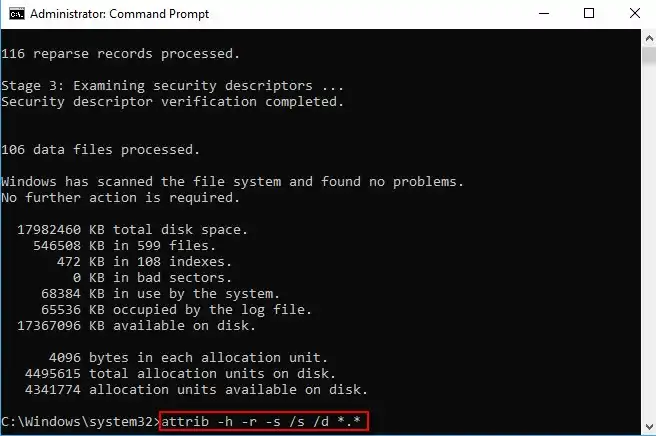 1. Type cmd in the Windows search field and click Run as administrator.
2. Type chkdsk X: / f and hit Enter. (X represents your hard drive letter.)
3. Type Y and hit Enter to continue. Then type your drive letter and hit Enter again.
4. Type attrib -h -r -s /s /d *.* and hit Enter again.
After completion of the procedure, you can check all your recovered files in a new folder on your drive. The recovered files may be displayed in generic form and saved in .chk format. Therefore, it may be hard to recognize and verify them in a short time. You need to change each file's extension manually to see if you have recovered the desired data.
💡Also Read: CHK File Recovery
▶ Previous Versions
They are multiple ways to restore a deleted file or folder to its previous versions, like File History for restoring and checking the previous version of a file and Shadow Copy for data backup and restore. If you have enabled a proper method, you can recover lost or deleted files based on your situation. But the premise is that you should activate this feature in advance of the permanent deletion of your files.
📝How to Restore Permanently Deleted Files to Previous Versions in Windows 10 & 11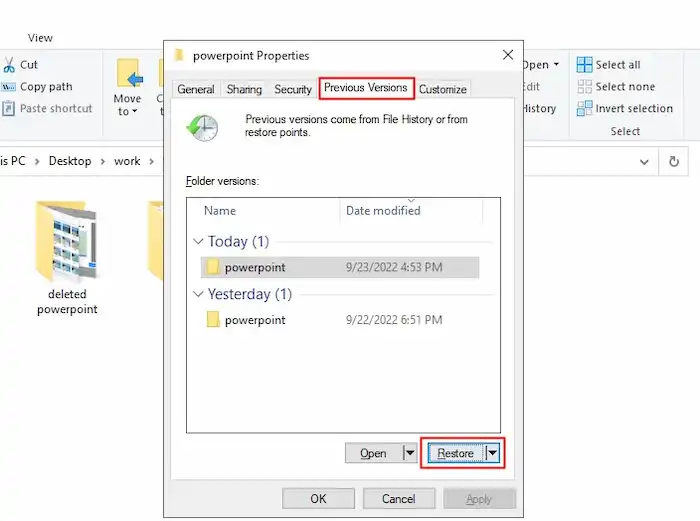 1. Find the folder that once held the files or folders and right-click on it.
2. Click Restore previous versions to open the Previous Versions tab.
3. Refer to the modification date, select a previous version, and then press OK to recover lost items.
💡Also Read: How to Turn on File History on Windows
---
Restore Permanently deleted files on Windows 10 & 11 with  Software 

[HOT]🏆
It is also possible to recover permanently deleted files in Windows 10 with free software. After testing a number of file recovery tools on Windows, we finally found one that is practical, easy to use, and cost-effective. It comes with free recovery capacity. So users can recover some lost items from a PC for free without costing a penny. Read on to learn the key features of this software and how to recover permanently deleted files in Windows 10 and 11 via this tool.
WorkinTool Data Recovery Software
WorkinTool Data Recovery Software, as a versatile and professional recovery tool, is practical in features but user-friendly in use. Unlike the CMD tool, which is complicated to use, or the previous version recovery method that needs to be pre-activated, this third-party data recovery software can retrieve deleted, lost, formatted, and permanently deleted files in seconds under any data loss situation, even without a backup. As long as the deleted data is not overwritten, WorkinTool can bring it back intactly with its advanced AI scanning and recovery technology.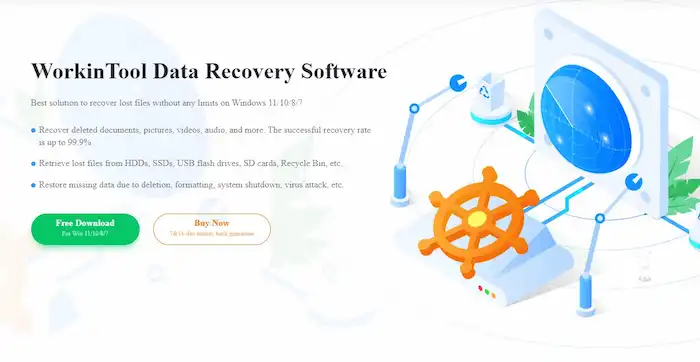 Key Features of WorkinTool
Easy to Use: It takes approximately three steps to recover deleted, lost, or formatted data. Each feature is clearly labeled on the clean homepage with navigation.
Multiple Formats: WorkinTool aims to retrieve all the common files or data in your computer, including Office documents, photos, PDFs, videos, audio files, compressed files, etc.
Batch Recovery: WorkinTool brings back unlimited data in batches, effectively enhancing your working efficiency.
Various Devices: As a piece of versatile recovery software, it is simple to get back the deleted files from SSDs, HDDs, external hard drives, USB drives, memory cards, cameras, and more.
FREE Recovery: 500 MB of data is recoverable within its free-trial plan. No compulsory registration is required to enjoy its features.
Green: No ads will pop up in your data recovery though it is freeware.

📝How to Recover Permanently Deleted Files in Windows 10 and Other Versions via WorkinTool
1. Open WorkinTool Data Recovery Software and select a location to scan. You can pick a location from the desktop, Recycle Bin, specific folders, computer drives, or external storage media.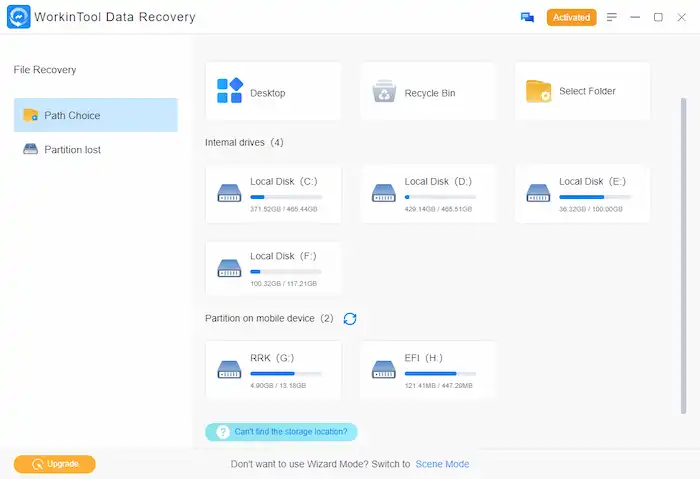 2. Pick a recovery method from Quick, Deep, or Formatted Recovery and press Scan Now to start scanning.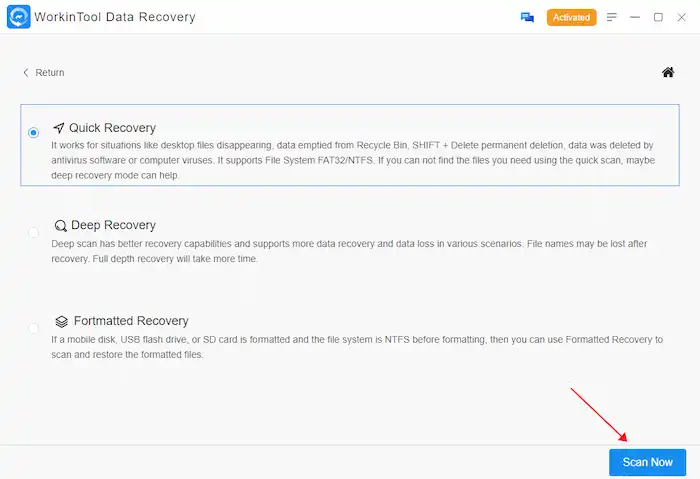 3. You can go to the Deleted Files tab or filter deleted files by type, size, modified date, etc. After finding the files you want, tick the checkbox and hit Recover to bring them back.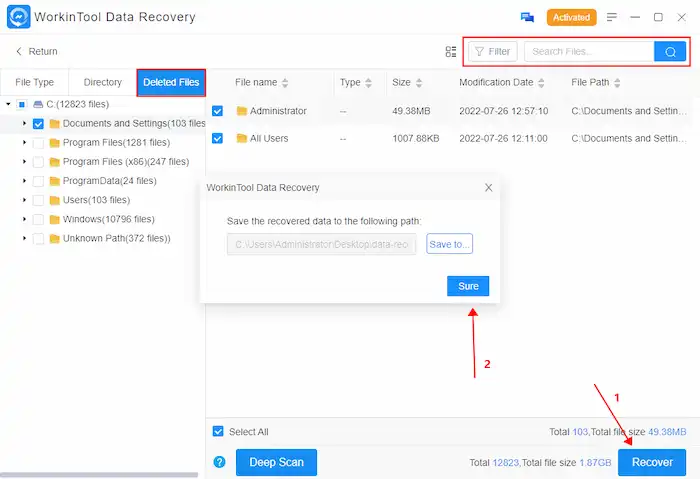 You May Also Need
---
Bottom Line
Here is the end of this post. You must know how to recover permanently deleted files in Windows 10 & 11 with or without software. The built-in tools on Windows are free but followed by complicated skill or activation requirements. However, the third-party file recovery software WorkinTool Data Recovery Software is safe, easy, and practical. It can undelete lost files without a backup on all Windows systems. Moreover, you can try its free plan to recover small files within 500MB. Now pick one solution and recover your lost files ASAP.