How to Recover Deleted Facebook Messages on PC, iPhone, Android
Facebook Archive can help you store deleted messages within 30 days. You can go to Archive first to check if you can get the messages back. If they are permanently deleted, data recovery software allows you to recover deleted Facebook messages on your PC. Here are the key reasons to install WorkinTool to retrieve deleted files:
1. Completely free to recover messages, emails, audio, videos, etc.
2. Fast to scan and recover files on your computer
3. Filter documents to rapidly locate the file
4. Retrieve files without making them broken
How to Recover Deleted Facebook Messages on PC, iPhone, Android
What should I do if the messages on Facebook disappear? Now, Facebook is popular with a wide range of users. It is not only a social platform but also a chat tool. If the chat history, email, or other messages on Facebook are accidentally deleted or cleared, how to get them back? In this article, I will share how to recover deleted Facebook messages.  Easy methods for laptops and mobile phones, like iPhone and Android phones, are accessible.
How to Recover Deleted Messages on Facebook on PC
If you usually use Facebook to send and receive messages on your computer, you can refer to the following two methods to restore deleted Facebook messages. One way is to use the default archive function. Another way is to use data recovery software to deeply scan your computer and get back the permanently deleted files.
🟢 How to Get Back Messages in Facebook Archive
Facebook provides users with an archive feature that helps save recently deleted messages, posts, emails, etc. You can get the deleted files back if you open the archive button. However, it only preserves data within 30 days. After that period, the deleted messages will be permanently removed. See how to recover deleted Facebook messages with Facebook Archive in detail:
Go to the Facebook official website and log in to your account. Click on the Messenger icon in the top right menu bar and select See all messages at the bottom. Go to Chats and click on the More button> Archived chats. In this way, you can check the deleted messages on Facebook.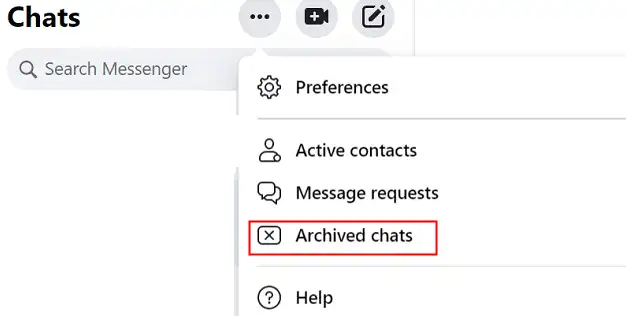 🟢 How to Recover Permanently Deleted Facebook Messages with Data Recovery Software
If you download the Facebook software on your computer and receive and send messages with the desktop software, you can use data recovery software to get back this part of deleted messages. The chat record files generated by desktop software are usually saved directly on the computer's hard drive. First, you can search the computer folder to see if the messages on Facebook exist on your PC. If not, you can try to use data recovery software to retrieve lost files with one click.
WorkinTool Data Recovery is a handy and helpful tool to recover deleted files from a computer. The primary reason to choose it is that it is completely free to recover deleted files and leads to excellent data recovery results. There are no limits or hidden catches throughout the scanning and recovery process. Plus, it's also great for newbies. Don't worry if you don't know anything about computers and file types. With its intelligent file filter, you can quickly find the target file among numerous scanned items. It allows you to filter the file by name, type, location, deletion time, etc. You can also customize the filtering conditions. The WorkinTool Data Recovery program is available for Windows users.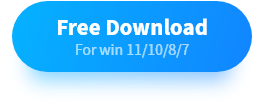 How to recover deleted Facebook messages with WorkinTool Data Recovery
Step1. Install WorkinTool Data Recovery from the WorkinTool official website. Open the software, then select Deletion Recovery on the first user interface.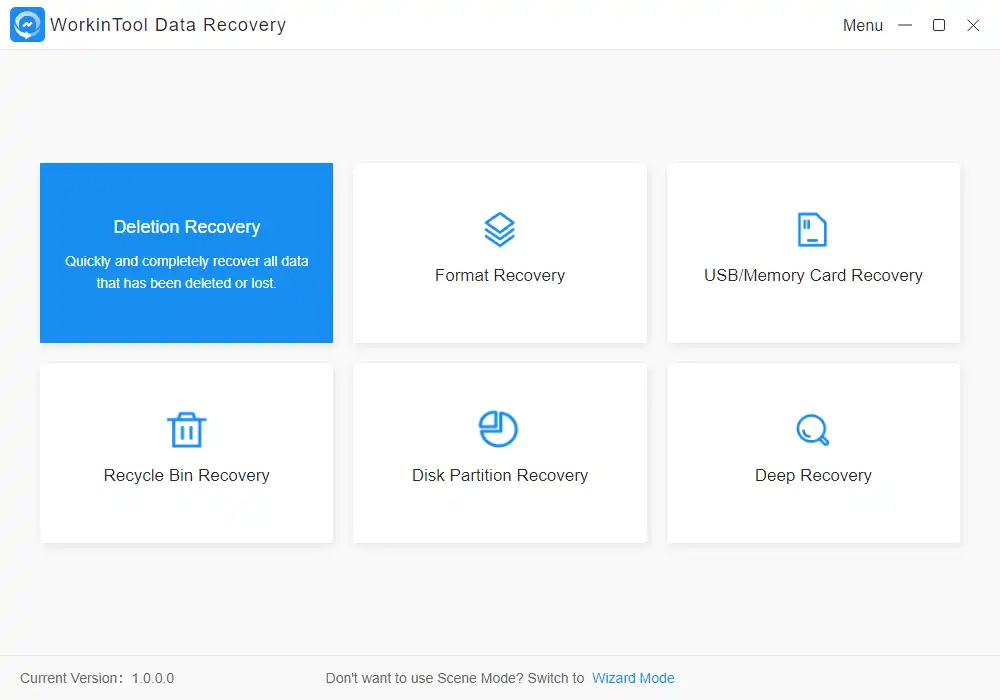 Step2. Select the hard drive you save the Facebook data, then click Scan Now. Filter the scanned files through file name, type, deletion time, etc. Generally, messages are saved in the .txt files.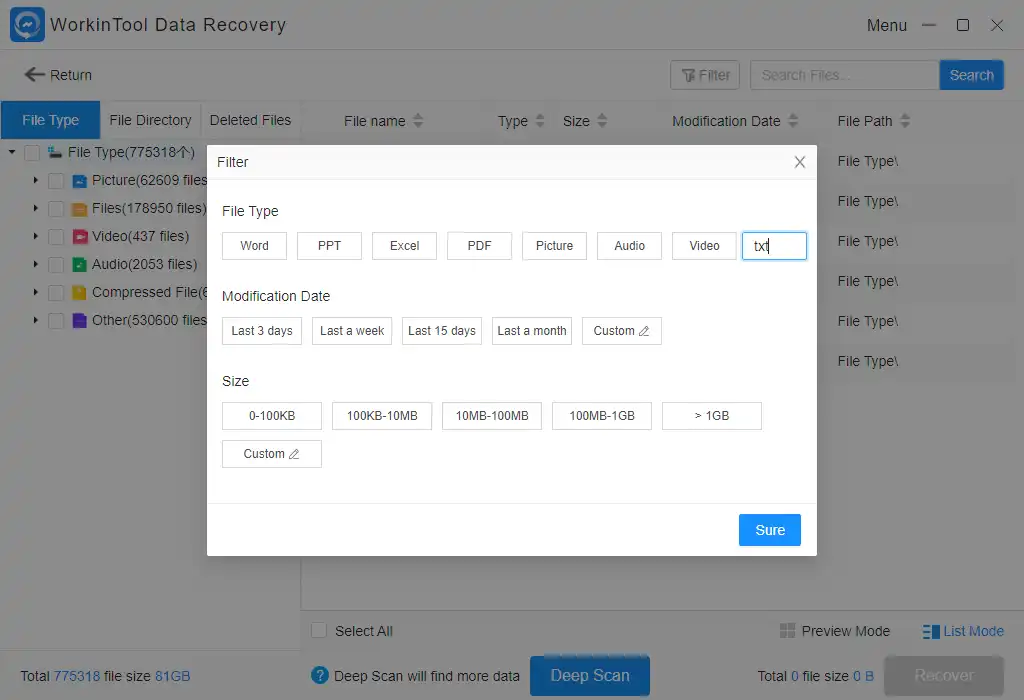 Step3. Then select all the files you want to restore and press Recover. Select a folder to preserve the recovered messages, then press Save.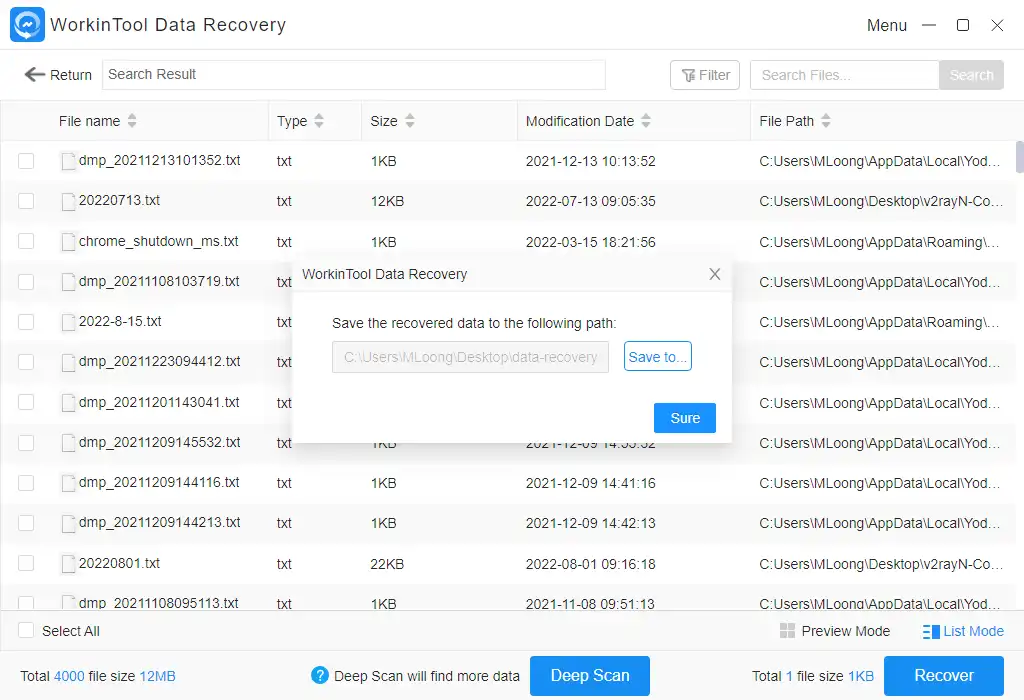 Other Helpful Usages of WorkinTool Data Recovery
How to Recover Deleted Facebook Data on iPhone and Android
If the Facebook messages on mobile phones are lost, and you can't find back from archived messages, you can first go to the file manager to check whether the messages are saved in your phone folders. If not, you can use the data recovery app for iPhone and Android. This Dr.Fone Data Recovery App is effective in retrieving data on phones. It is compatible with nearly all popular Android and iPhone devices. You can use it to scan your phone and recover data, such as call history, messages, documents, audio, photos, videos, etc. It is pretty easy to use and beginner friendly. With its straightforward navigation, you can effortlessly find the deleted Facebook message.
But you should know first that it is not free to recover files. It costs $9.99 per month and $29.99 per year. It is not a great choice if you don't want to spend a penny. See how to recover deleted Facebook messages with the Dr.Fone Data Recovery App on iPhone and Android phones:
Step1. Install Dr.Fone from Google Play or Apple Store on your phone.
Step2. Open the app and select the file type you want to recover, then it will start scanning all the related files on your phone. Then pick the file to retrieve. To do so, you have to upgrade to its premium version.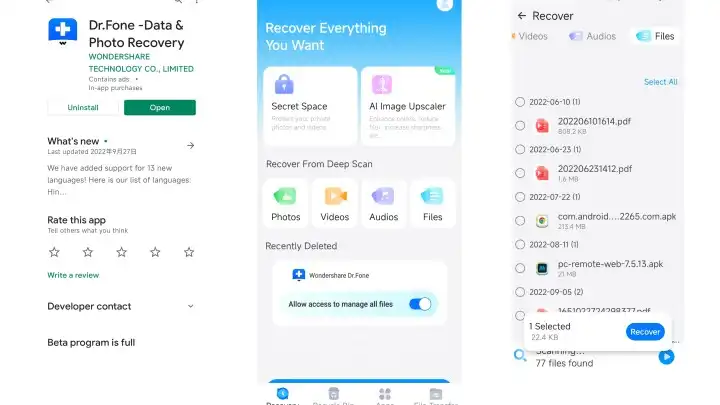 FAQs on Restore Deleted Messages on Facebook
Can you recover deleted Facebook messages without the software?
If you have backed up your data on Facebook or opened your archive on Facebook, you can find the deleted files on Facebook. But the Archive can only preserve 30 days. If the message is permanently deleted, you can only recover it using third-party software.
How to recover deleted messages on Facebook Messenger?
Facebook Messenger is a free messaging tool for receiving and sending instant messages, chatting, sharing files, etc. It also has an inbuilt archive folder. You can check it first. If you fail to restore deleted messages on Messenger, you can also turn to the data recovery tool.
Is there a way to retrieve permanently deleted messages generated on the Facebook webpage
If you don't back up the files when sending messages on the Facebook web version, then it is hard to recover them back. Since there are no local files on your computer, data recovery software and apps don't work either.
Wrapping Up
Now you may have an idea of how to recover deleted messages from Facebook on PC and mobile. It is recommended that you go to Facebook Archive to check first. If you fail to get critical files back, you can rely on effective data recovery tools.