How to Recover Deleted CCTV Footage/Surveillance Videos
CCTV footage videos are important in our daily life and should be kept safe in the camera's memory cards or on your computer. However, they can't be stored permanently for various reasons. What can you do when you need a specific surveillance video but fail to locate it anywhere? Please don't worry and spare a few minutes to read this article on how to recover deleted CCTV footage/surveillance videos in Windows. You will read the following topics:
💡How to Recover Deleted CCTV Footage/Surveillance Videos Without Backup–Data Recovery software (WorkinTool Data Recovery) and Command Prompt
💡How to Retrieve Lost CCTV Footage/Surveillance Videos with Backup–Physical and online backup services
However, it is highly recommended to try WorkinTool Data Recovery as it is
💖FREE trial plan to recover 500-MB files
🧡Temporarily and permanently deleted data recoverable
💛High recovery rate
💚Easy to use and green
💙Multiple file formats supported
💜Batch recovery available
💝Partition recovery possible
💕Cheaper license price
How to Recover Deleted CCTV Footage/Surveillance Videos in Windows
CCTV footage videos are important in our daily life as they can be used as evidence to support your testimonials or defend yourself against groundless accusations. So they ought to be kept safe in the camera's memory cards or on your computer. However, the footage videos can't be stored permanently for various reasons. What can you do when you need a specific surveillance video but fail to locate it anywhere? Please don't worry and spare a few minutes to read this article on how to recover deleted CCTV footage/surveillance videos in Windows.
Now, please fasten your belt and start your journey.
---
Words Before Deleted CCTV Footage Video Recovery
📌What are the types of CCTV camera connections?
Usually, there are two types of CCTV camera connections: wired and wireless. Below is the detailed information
| | |
| --- | --- |
| Wired CCTV Camera | It always refers to a CCTV camera transmitting video signals to a central hub with the help of coaxial or Ethernet cables. The hub is where the footage is recorded and stored. Digital Video Recorder (DVR), Personal Video Recorder (PVR), and Network Video Recorder (NVR) devices are such examples and usually export videos in digital format to hard drives, SSDs, pen drives, and other familiar external storage devices. |
| Wireless (Wire-free) CCTV Camera | It means a CCTV camera sending video signals to a network drive or via WiFi to the cloud directly. So a hub device is unnecessary to store the footage. |
 📌Does CCTV Footage Get Deleted Automatically?
For a modern surveillance camera, its footage videos are normally stored in an external hard drive, an SD card or a cloud device. Hence, it is commonly programmed to overwrite the monthly footage videos automatically to free up more space to store the new ones the next month. However, your CCTV footage videos are subject to advance overwriting when
The maximum storage size is exceeded.
The maximum footage number is exceeded.
Some low-quality videos are replaced by high-quality ones.
Therefore, surveillance videos are not guaranteed to get stored forever.
📌Are there any other reasons for losing CCTV footage videos?
Here are the major reasons behind CCTV footage video loss:
Inadvertent deletion
Corrupted DVR or hard drive
Damage caused by fire or moisture.
Failed sectors in DVR hard disk drive.
Formatted or damaged SD card
Malware or virus attack on CCTV hard drive/SD card
📌Is it possible to recover deleted videos from CCTV footage?
The answer is affirmative. When your CCTV footage is overwritten, its actual data remains on the storage device though it becomes temporarily invisible and inaccessible. With proper approaches, you can have your lost surveillance videos back. However, you should STOP any operation with the storage device to avoid further overwriting of your footage, which will make your deleted surveillance video recovery more challenging.
So how can I retrieve my lost CCTV footage videos? Please read on to learn the specific solutions in the following topics:
How to Recover Deleted CCTV Footage/Surveillance Videos Without Backup?
How to Retrieve Lost CCTV Footage/Surveillance Videos with Backup?
Now, let's move on to the main theme.
---
How to Recover Deleted CCTV Footage/Surveillance Videos Without Backup?
Always remember to back up your CCTV footage videos since they are crucial resources for various purposes. But if you forget to use a backup service, you can seek assistance from this chapter created to help you get back overwritten CCTV footage or surveillance videos without backup.
1. Recover Deleted CCTV Footage/Surveillance Videos Without Backup Using Data Recovery Software
Data recovery software will be the most effective and guaranteed way to bring back erased CCTV footage videos. Most of the options in the market are designed to be simple and convenient, so you can choose the one you like. Here, we will introduce a handy tool like this–WorkinTool Data Recovery.

🎯How to Recover Deleted CCTV Footage/Surveillance Videos Without Backup Through WorkinTool Data Recovery?
Step 1. Click open WorkinTool Data Recovery, connect the storage device of your camera to your PC (if necessary) and then choose a recovery scene.
(Please click the Scene Mode command at the bottom to switch to this console if your opening interface is Wizard Mode.)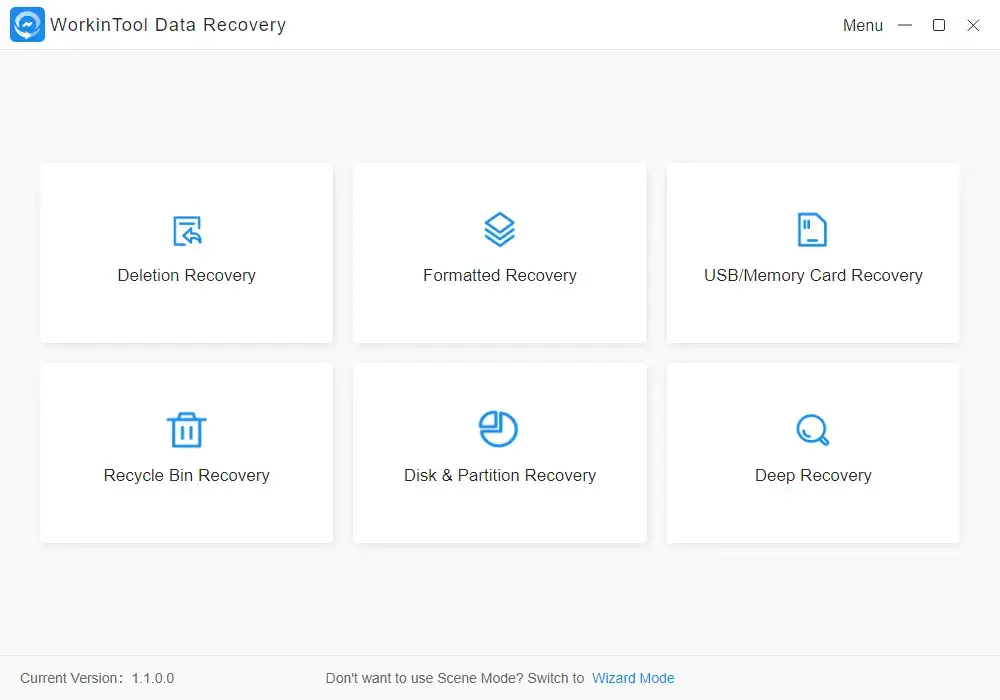 🔈PS
Choose Deletion Recovery if you intend to retrieve removed surveillance videos on your computer.
Select Format Recovery or USB/Memory Card Recovery if you plan to recover eliminated CCTV footage videos from a formatted or unformatted storage device like an SD card, a USB drive, an external hard drive, etc.
Opt for Recycle Bin Recovery if you want the surveillance videos emptied in the Recycle Bin.
Try Deep Recovery if you are discontent with the outcomes presented by quick recovery and would like the computer to scan your computer deeper and maximize the recovery effect.
Step 2. Pick a location and then click Scan Now.
(Mark the whole disk if you have no knowledge of the exact folder of your CCTV footage videos.)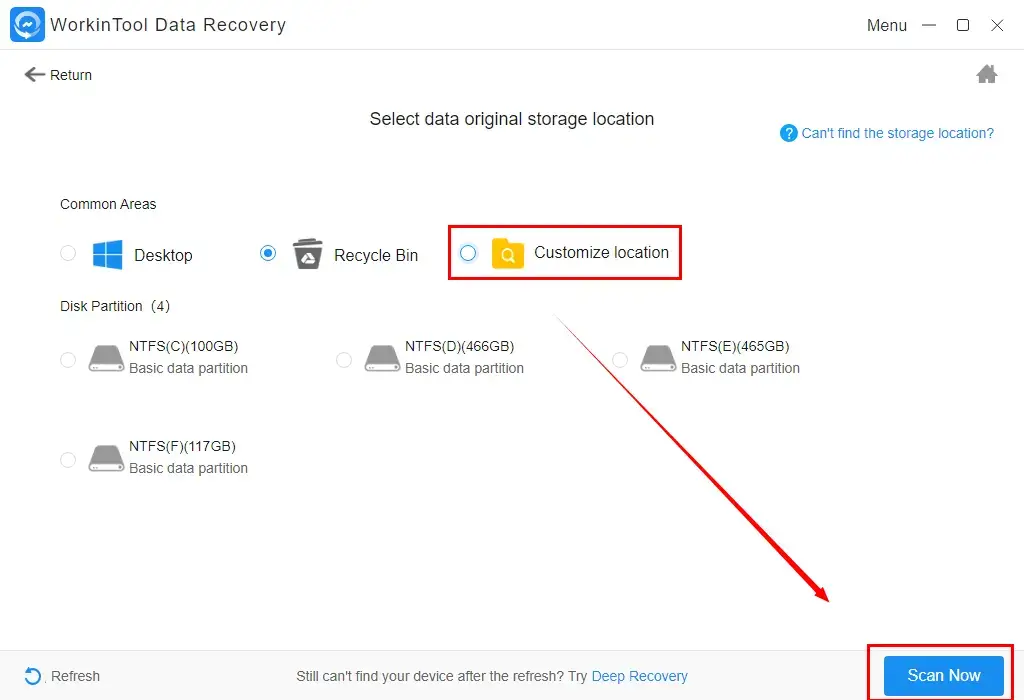 Step 3. You have two options here:
Option 1: Find File Type > Video > the video formats that apply > Recover.
Option 2: Navigate to Filter > Video > Sure > Recover.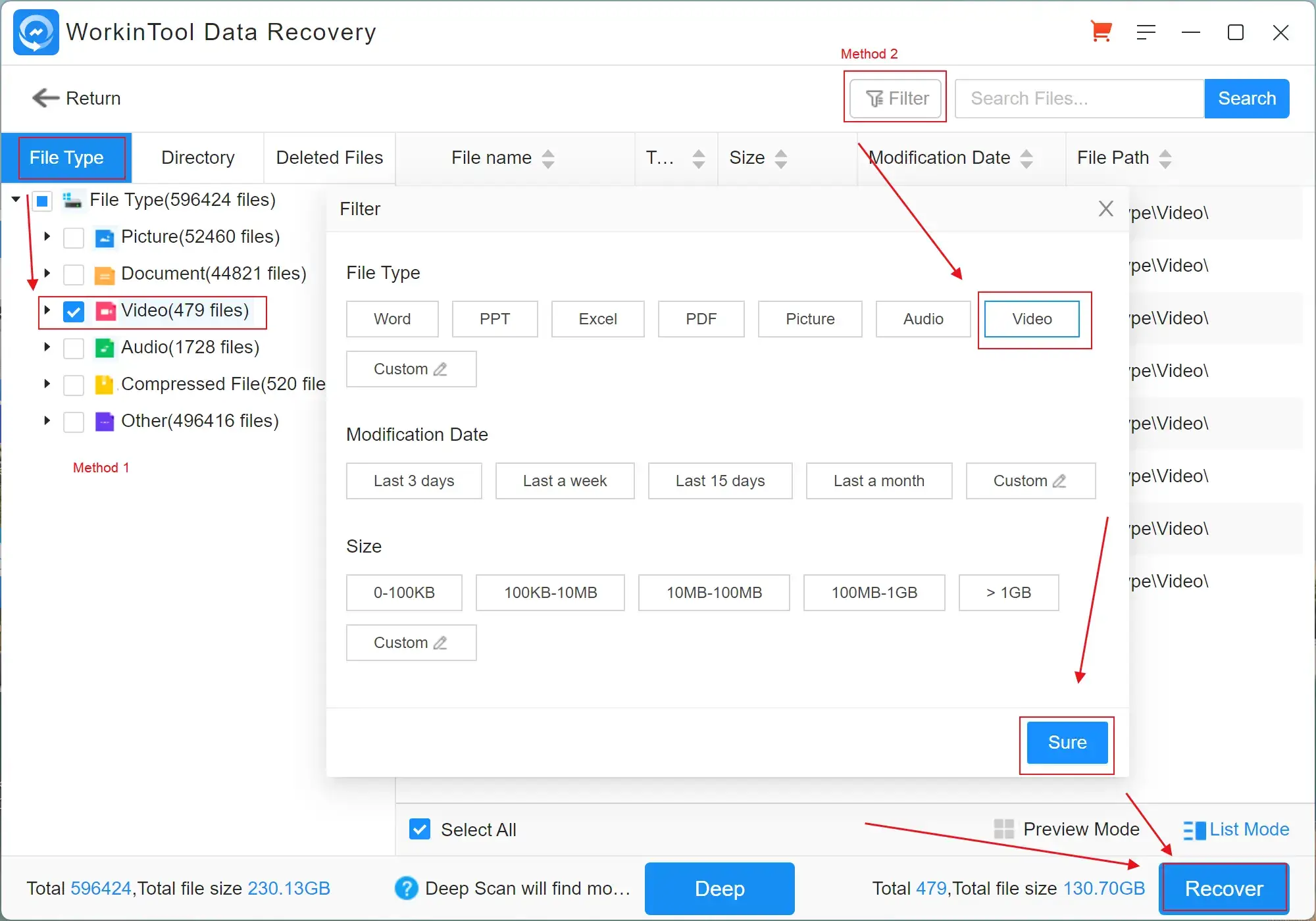 Step 4. Select all the desired videos (a process necessary for option 2), hit Recover, set the save path and then click Sure.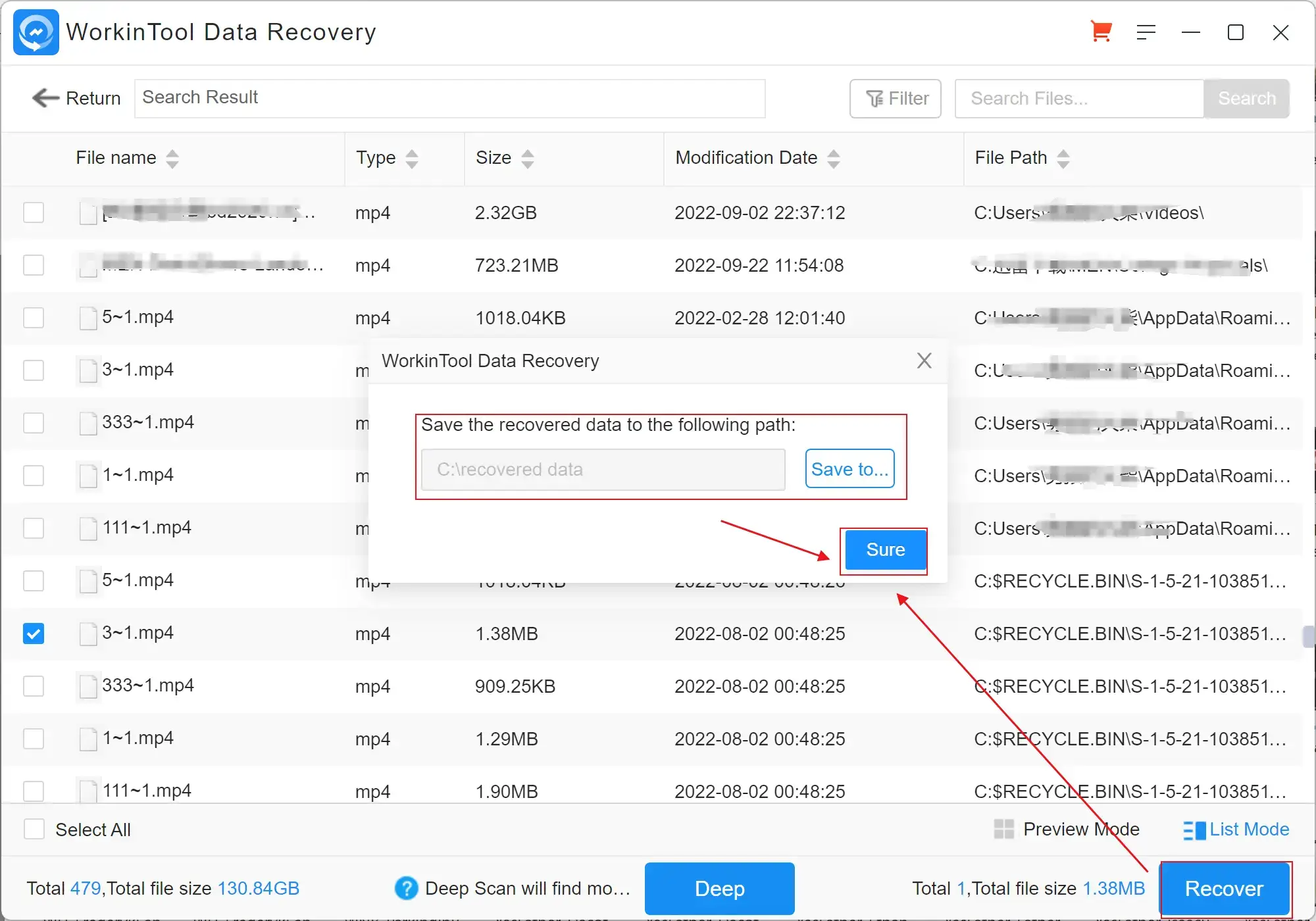 Step 5. Then press Open to meet your recovered surveillance videos.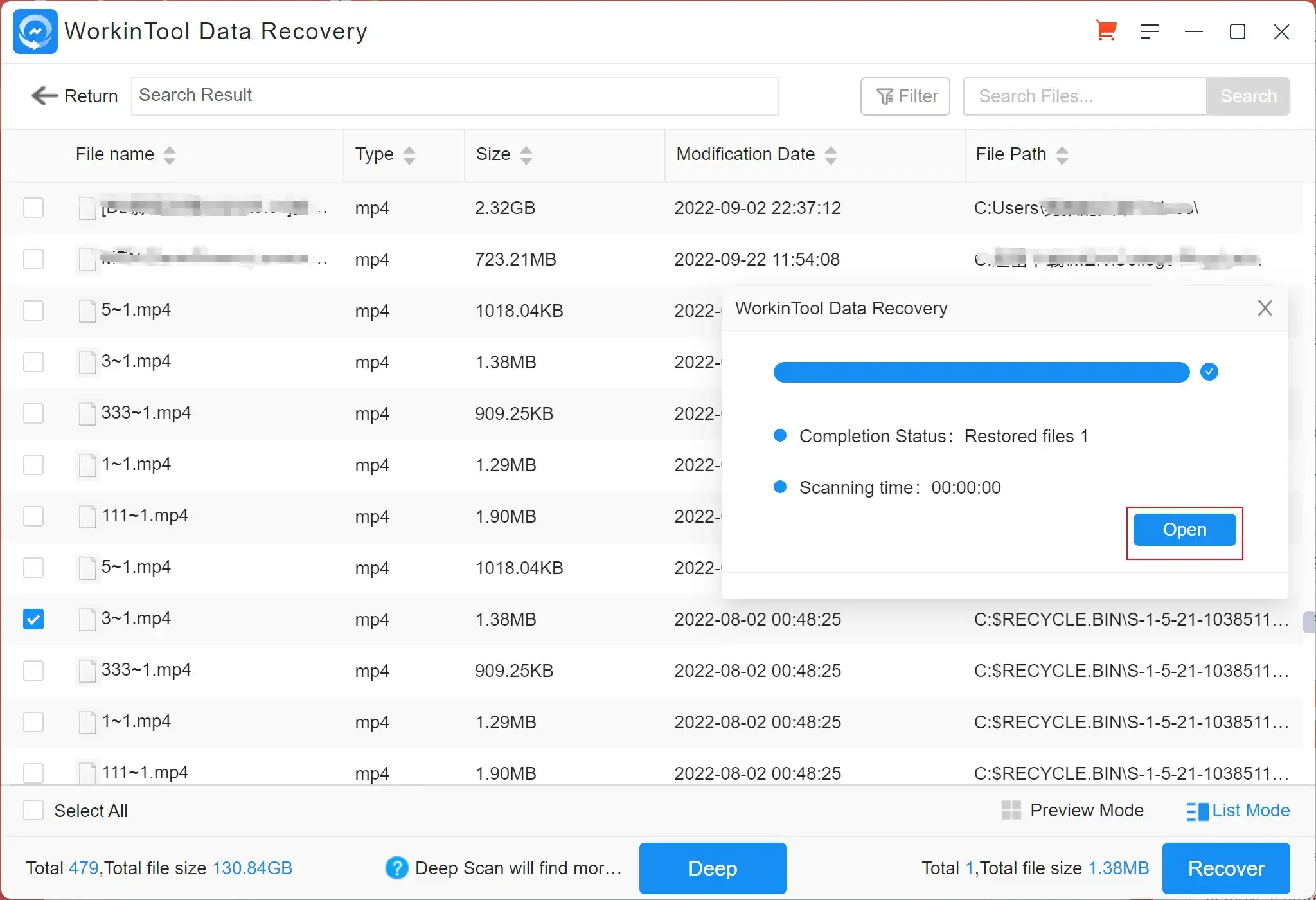 More to Say About WorkinTool Data Recovery
💡Why does WorkinTool Data Recovery stand out?
WorkinTool Data Recovery is a valuable member of the WorkinTool product family. It wins wide recognition in the market instantly thanks to the following features:
Easy to Use: Only a few clicks within five or six steps are necessary to experience most of its recovery features.
Multiple Formats: WorkinTool enables you to recover all the common files or data on your computer, including office documents, photos, PDF files, audio, videos, emails, ZIP files and other essential ones.
Batch Recovery: WorkinTool aims to bring back unlimited data in batches, effectively enhancing your work efficiency.
Partition Recovery: As a piece of free partition recovery software, it targets the retrieval of deleted files due to missing disk partitions.
Reasonable FREE Trial: Up to 500-MB files are recoverable within its free-trial plan and no compulsory registration is needed to use all its features.
Cheaper Price: A less expensive license payment will enable you to enjoy the same experience offered by other tools in the market.
Green: No ads will appear in your data recovery, whether a free trial or premium plan is chosen.

More Tutorials to assist you in finding your lost CCTV footage videos
2. Regain Removed Videos from CCTV Footage/Surveillance Without Backup via CMD
CMD stands for Command Prompt, which is a built-in command console in Windows operating system. It is useful to complete some data recovery tasks. Here is what you should do:
Type "cmd" in the search box at the bottom to activate Command Prompt.
Click open Command Prompt and then Type CHKDSK <drive letter>:/f with the following parameter
(/f parameter helps resolve any detected errors in the disk.)
-h: To show hidden attributes
-r: To locate bad sectors and recover read-only information
/s: to prompt the system to search for a specific path location

After that, the CMD window will display a short report to inform you of the result.
❌The Inconvenience of This Approach
Some limitations apply to this method as
It isn't ideal for amateur users or IT green hands.
It is less likely to recover bug-infected CCTV footage videos.
Improper CMD use will give rise to device corruption or permanent data loss since the recovery of permanently deleted files is a sophisticated and troublesome process that requires in-depth computing knowledge.
---
How to Retrieve Lost CCTV Footage/Surveillance Videos with Backup
If you have backed up your surveillance videos, it will be as easy as ABC to have them back.
When you back your CCTV footage videos up on your computer:
Locate the footage backup folder and then open it.
Find the deleted video(s) from the DVR hard drive or SD card.
Then copy it or them back to the disk or memory card.
When you use an online backup service:
Open your online drive and log in to your account
(Take Google Drive as an example.)
Locate the wanted surveillance video(s) and then click the three-dot icon to open a new menu.
Hit Download to get the videos you want.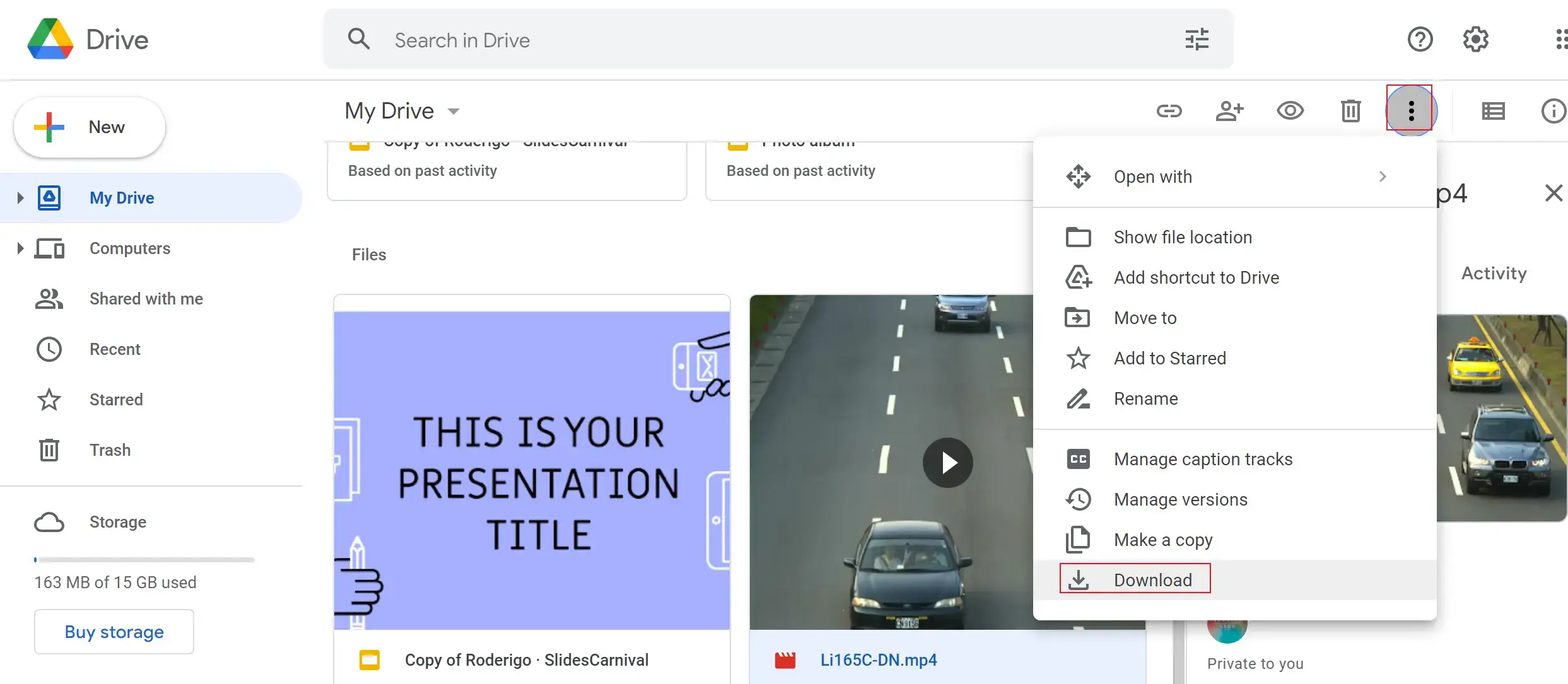 ---
Words After Deleted CCTV Footage Video Recovery
📕How to avoid video loss from CCTV footage/surveillance?
Although you are now aware of some practical ways to recover deleted videos from CCTV footage/ surveillance, it would be better if you don't lose them in the first place. Here are some tips to help you avoid CCTV footage video loss:
Conduct a thorough examination of your network and power connections frequently
Prevent your security camera from fire or moisture damage
Always back up your videos through physical or/and online backup devices or services
Run data recovery software (try WorkinTool Data Recovery

to enjoy a hassle-free process to get back all your deleted CCTV footage videos)
---
Wrapping up
We write this blog to teach you how to recover deleted CCTV footage/surveillance videos in Windows. I believe that you will find it less difficult to resolve this issue after you finish it. You are welcome to experience all the aforementioned methods. However, it is strongly advisable to try WorkinTool Data Recovery.
Now, are you ready to retrieve your lost CCTV footage videos?