How to Recover Deleted Photos from Samsung Phone Easily
Performing Samsung Photo Recovery cannot be easier with WorkinTool data recovery software. Download and enjoy it right now to know the best way to recover photos from Samsung phones.
😍 1. Cost-effective and available for free recovery
🤩 2. Easy interface for users to recover in THREE STEPS.
😎 3. Quick scan and recover files the same as the original.
🥳 4. Cover all file types of pictures, documents, videos, audio, etc.
😊 5. Available for all external storage devices like USB flash drives and SD cards.
How to Recover Deleted Photos from Samsung Phone Easily
"Oops! I accidentally deleted photos on my phone. I'm using Samsung Galaxy S6 currently. Do you know how to recover deleted pictures from Galaxy S6? Can I initiate Samsung Galaxy S6 photo recovery by myself?"
It is normal to have your photos deleted from your phone. On the one hand, deleting images can make room for the phone's memory. On the other hand, deleting unnecessary images can make it easier for users to find the pictures they need. But now and then, people can only delete the right images they need. When they remember to see those pictures, they are gone. For Android users, Samsung is one of the most popular brands in the world. So it is often to perform Samsung photo recovery. If so, do you know how to recover deleted photos from Samsung Phone? Can you recover permanently deleted photos?
Don't worry. In this post, according to different situations, we will describe four methods to help you solve the Samsung photo recovery problem. And all the methods here cover all the Samsung series of mobile phones, including the Samsung Galaxy S6, S8, S9, S10, Samsung Galaxy Z Flip4, Galaxy Z Fold4, Galaxy S22 Ultra, Galaxy A53 5G, Galaxy M53 5G, etc., literally.
In order to recover your photos with the best results, we suggest you stop storing any more pictures on your phone and start Samsung data recovery immediately. To find the best solution, follow our instructions, and you should be able to get your deleted photo back.
---
Quick Navigation
---
How to Recover Deleted Photos from Samsung Phone
Now, let's look at the four recovery methods that can help you recover Samsung deleted photos. No matter if you accidentally deleted them a few minutes ago or emptied the Recycle Bin, making it permanently lost, there is a way to restore deleted pictures on Samsung phones.
1: Recover Deleted Photos from Samsung Recycle Bin
Nowadays, like other smartphones, Samsung has equipped itself with the gallery app function with a default Recycle Bin feature. All temporarily deleted photos will be stored there until someone manually empties it, or after 30 days, it will automatically empty itself. After that, all your photos will be permanently deleted. If you remove your pictures within 30 days, hurry up and follow our instructions. You will learn where is the photo recycle bin on a Samsung phone and how to recover deleted photos from Samsung gallery recycle bin before it is too late.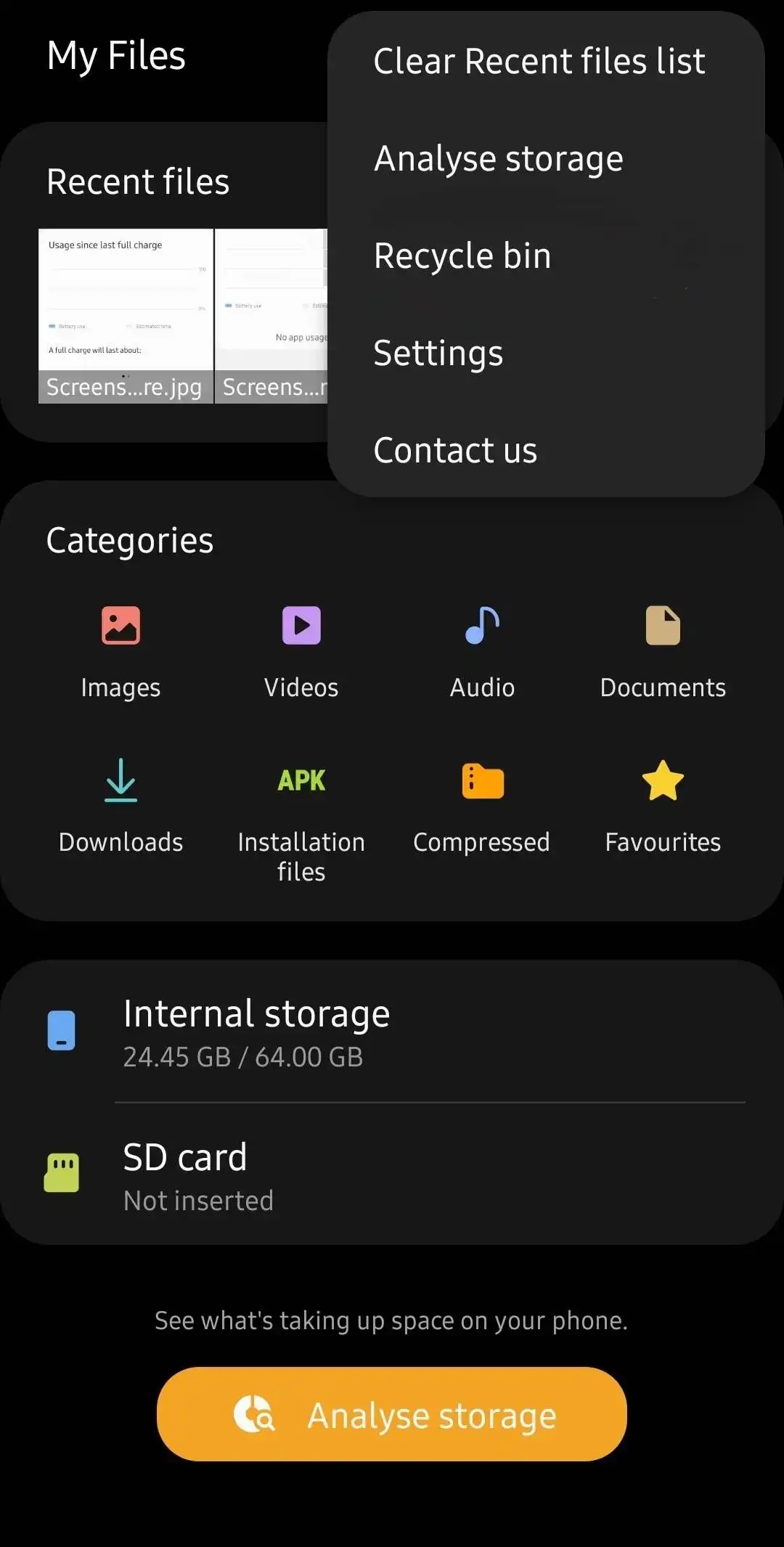 📝How to recover deleted photos from Samsung Recycle bin:
Launch the Gallery app on your Samsung phone.
Choose the menu option and select Recycle Bin.
Find the picture you would like to recover and tap Restore bottom.
It allows users to restore multiple images at once. Users can select more photos there to undelete them.
---
2: Use Data Recovery Software
However, if your photos are no longer in the Recycle Bin or elsewhere, you can still retrieve your permanently deleted photos from Samsung without backup using data recovery software. It will scan your storage device, find traces of your lost photos, and then get them back. Alright, where can you find one Samsung photo recovery tool that is both effective and easy to use at the same time? Do you know which one recovers lost data from the SD card and which doesn't? To save some effort, we recommend trying WorkinTool Data Recovery Software.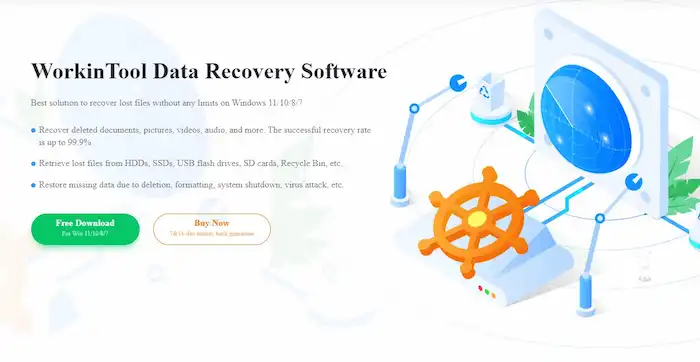 WorkinTool Data Recovery Software
It is a well-designed recovery tool that effectively helps users solve data loss problems.
Easy to Use: With no unnecessary features or old-fashioned interface, it is made to recover data in the easiest and fastest recovery process. Whether you have an early recovery experience, you can restore deleted files within a minute.
Multiple File Formats: Users can restore pictures, videos, and many other items. There are 400 different file types in its scanning range.
Broad Compatibility: This data recovery software can recover deleted, formatted, and hidden files from multiple devices, including Windows computers, SD cards, Android phones, internal disks, cameras, camcorders, USB drives, and other removable storage media.
Cost-effective Performance: This photo recovery software offers a free recovery capacity of up to 500MB. And its developer prices its pro edition at a low cost, (from $29.99/mo, 39.99/yr, to $49.99/lifetime), much more cost-effective than most of its competitors.
As for Samsung photo recovery, it offers the best recovery service to recover data on the SD card of Samsung devices. Including JPG, PNG, GIF, and many other image formats, WorkinTool can find and get deleted photos on Samsung back in no time. Here are the six recovery modes this tool provides users who need help knowing how or where they lost their files. If there is a need, choose the right one and follow the instructions.
WorkinTool Recovery Modes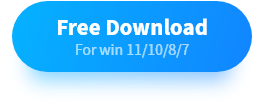 📝How to Recover Deleted Photos from Samsung Phone SD Card?
1. Connect the Samsung SD card to a computer with a card reader. Open WorkinTool Data Recovery and click USB/Memory Card Recovery. Select the Samsung memory card that contains deleted photos. Then click Scan Now.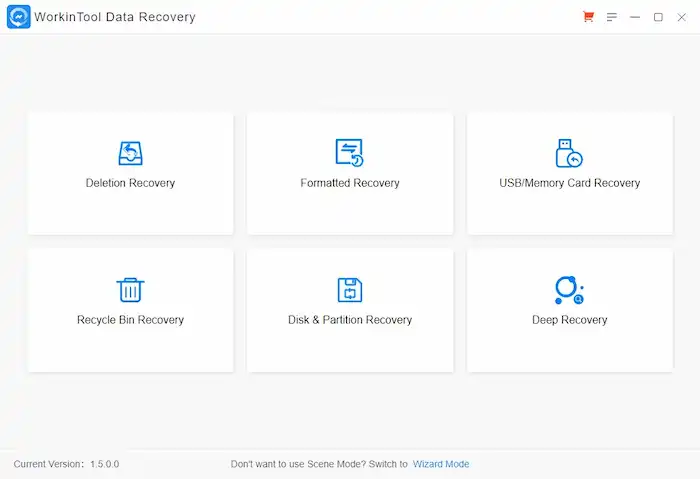 2. After scanning, you can directly use the Filter or click Deleted Files to find the lost photos you need. Please select it and tap Recover.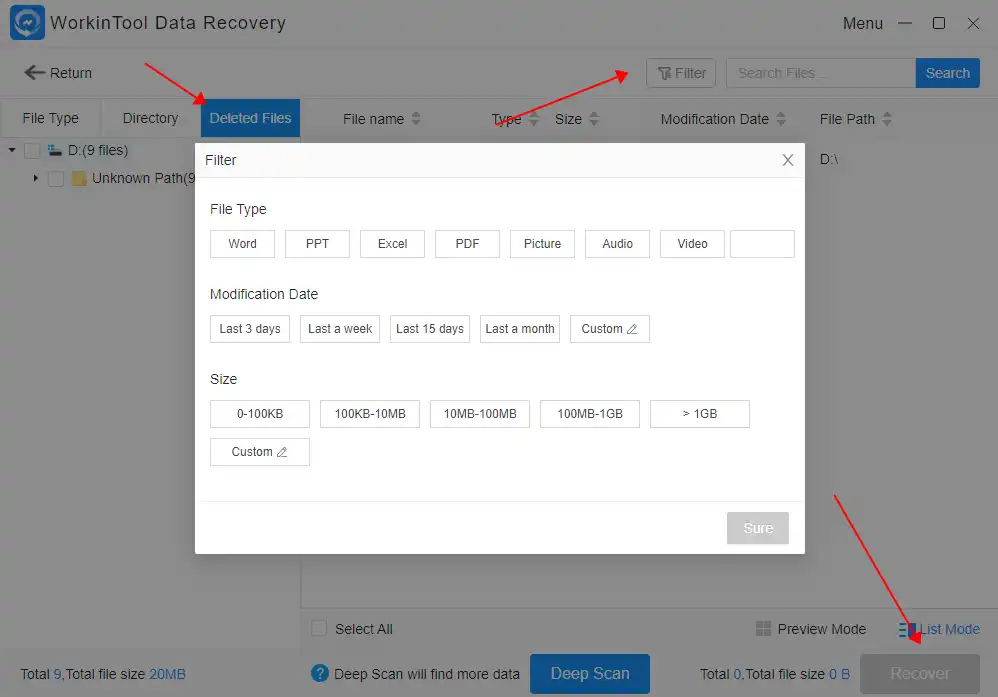 3. Lastly, set a saving location and tap Recover again. You will get your lost videos back in only a few seconds.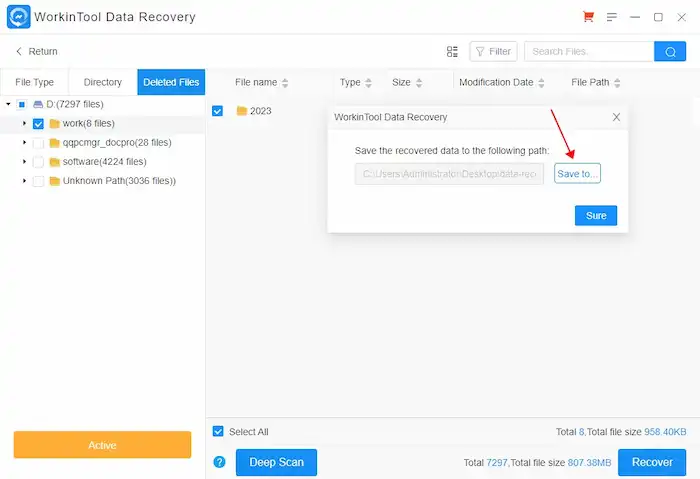 ---
3:  Try the Google Photos app
If you are an Android user, you must be familiar with the Google Photos app. this app is popular and accepted by Android users. Even though Google has stopped free and unlimited storage space since 2021, it is still wildly used among us. Why? Well, it is available for everyone with a Google account. And it can expand more storage space for people to store their pictures.
So, how do you use the Google Photos app to recover deleted photos? Well, it's like the built-in Photos app. There is a recycle bin folder to store deleted photos. Users can access the folder by clicking Library and selecting the Bin option. Suppose you learn how to recover deleted photos on Samsung via Google Photos. In that case, you will also know how to recover deleted photos from all Android phones, even after a factory reset. From there, you can restore the pictures you like.
📝How to recover deleted photos from Samsung phones using Google Photos: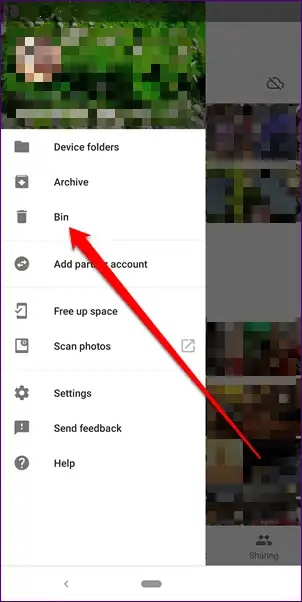 Launch the Google Photos app on your Samsung phone.

Log in with your Google account and find the 

Bin

 option in the 

Menu.

Select the photo you want to restore and restore it to your phone.
---
4: Retrieve deleted Photos from Samsung Service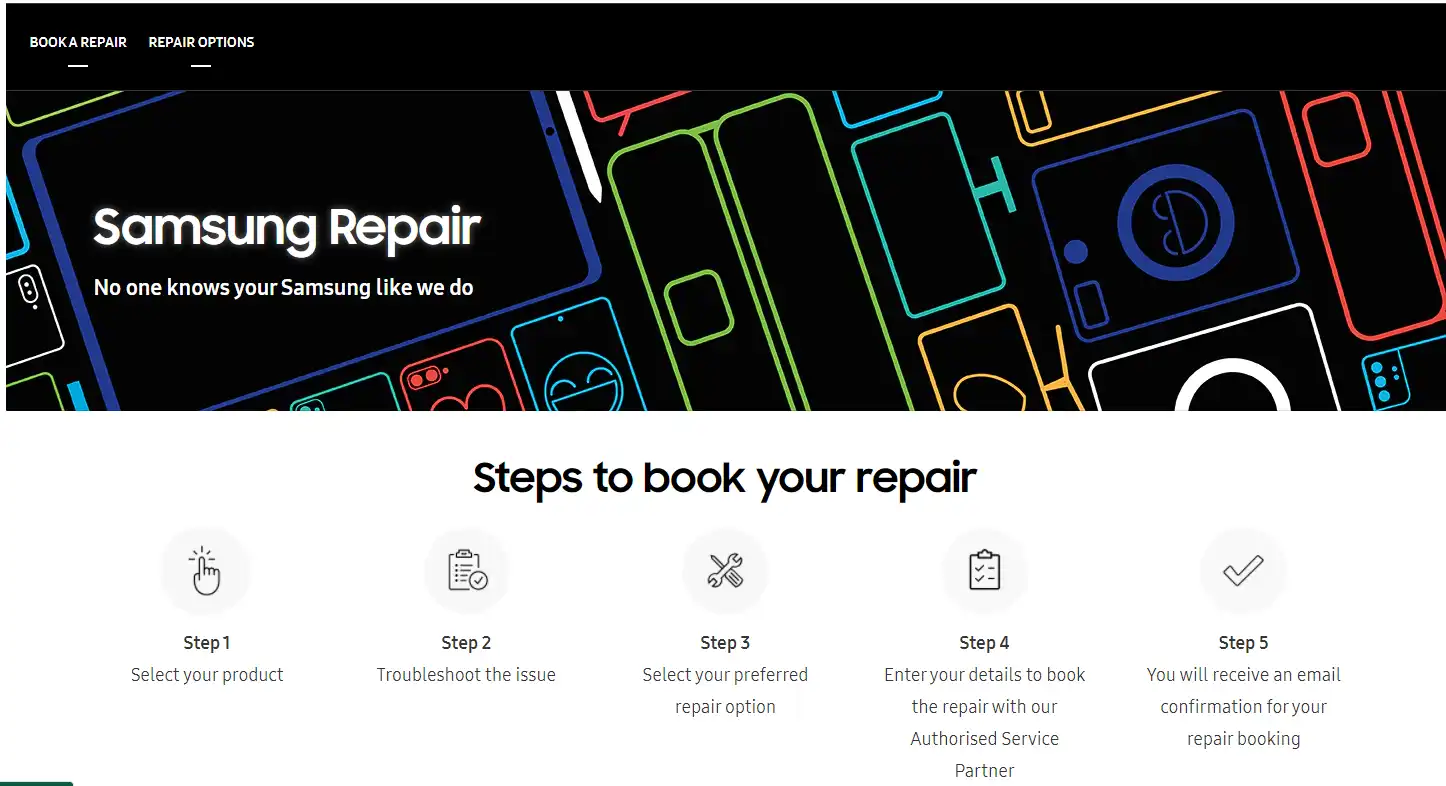 However, those three methods are only for situations where your Samsung phone or SD card is undamaged. But not all of us have the luck to restore pictures at home. For instance, if your Samsung phone or SD card is already broken or becomes inaccessible, you will need the final solution.
If you encounter these situations, it's best to contact a professional data recovery service. If something is wrong with your Samsung phone, send it back to the Samsung warranty repair factory. As long as it is under warranty, you do not have to pay any fees. The same reason goes for your SD card. If it is broken, send it back to where you bought it, they should have their own way.
---
Bottom Line
Learning how to find deleted photos on Samsung phones is not difficult. As long as you are a Samsung user, whether you are using Galaxy S6 or S10, you can choose any method above according to your addition to recovering deleted photos. As you see, we provide you with four different but equally valuable approaches to help you solve photo loss problems. If you don't know how to recover deleted photos from Samsung phone, you will find at least one way to start your recovery process after this post. Follow our instructions and start right now.