Western Digital Data Recovery: Recover Data from WD Drive
Performing a Western Digital data recovery cannot be easier with the methods in this post, including a data recovery tool and a recovery service. The tool is recommended for Western Digital disk recovery due to
1. 500MB of free recovery capacity and cost-effective plans
2. Easy interface for users to recover in THREE STEPS.
3. Quick scan and recover files the same as the original.
4. Cover all file types of pictures, documents, videos, audio, etc.
5. Available for all external storage devices like USB flash drives and SD cards.
Western Digital Data Recovery: Recover Data from WD Drive
With the increasing demand for data storage, more and more people will choose external removable hard drives to store more content. Well, external hard drives are typically used for users to transfer and store data that you cannot put into a computer hard drive, providing another choice of convenience to save more data. 
One of the most famous external drive suppliers is Western Digital. It also has all the features to get fast transfer speed, huge storage capacity, and reliable data protection. It has always been an excellent choice for users to store their files and documents. However, there are particular circumstances in everything. It must happen to everyone that something is lost from the external hard drive. What would you do? Do you know how to perform Western Digital data recovery?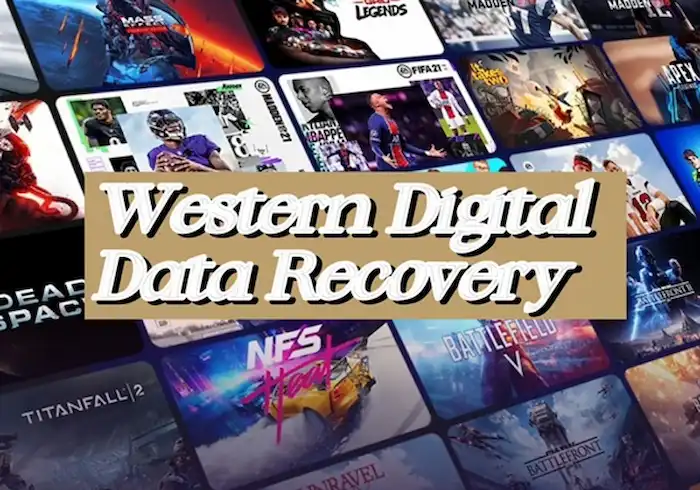 Why You Should Perform Western Digital Data Recovery?
Western Digital provides its services to many companies and enterprises for data backup and storage. However, as well as the products and services it offers. You could still lose data from WD external hard drives. The most common reasons for data loss are as follows:
☔Accidental deletion/drive formatting

: Each storage device has a limited storage size, so cleaning up storage is common to make room for other data. But this process often makes it possible to clean up what you need in the future. Also, there are cases where you accidentally formatted or deleted your valuable data.

☔

Virus attacks/hackers stealing: If you browsed some illegal websites or connected the Western Digital external hard drive to a computer that has viruses, there is a high chance that your external hard drive gets infected too and ends up with data loss.

☔

System breakdown/power failure: It is unavoidable to have situations like blackouts or sudden crashes. And compared to other accidents, it is more likely to have your data lost, and retrieving them back will not be easy.
As you can see, system crashes are typically the main reason for the disappearing files. We are not sure when it will happen or how to completely shut it down from happening. What we can do is avoid such situations as much as possible. But what if your data is already lost? What is the best solution to save it?
Don't worry. This post will offer methods and tips to restore your lost files from WD external hard drive. If you want to use one tool to restore data without much hassle directly, we recommend you use data recovery software in the method below. It is the most convenient and time-saving way to make Western Digital data recovery.
How to Perform Western Digital Data Recovery
1. Download WD Recovery Software
Suppose this is not physical damage to the external hard drive, which will require professional personnel to check and repair. In that case, you can use this recommended WorkinTool Data Recovery Software to solve data loss due to deletion mistakes, accidental formatting, etc.
WorkinTool Data Recovery Software is a professional recovery tool that helps users restore what they lose during operation. Of course, it works for data loss recovery due to a series of situations, including accidental deletion, unintentional formatting, virus infection, sudden power failure, or system breakdown. With a user-friendly interface and various features to use, whether you have ever used data recovery before or not, you can retrieve files, documents, videos, audio, and pictures at the fastest speed. Only three clicks can scan and recover any files you need.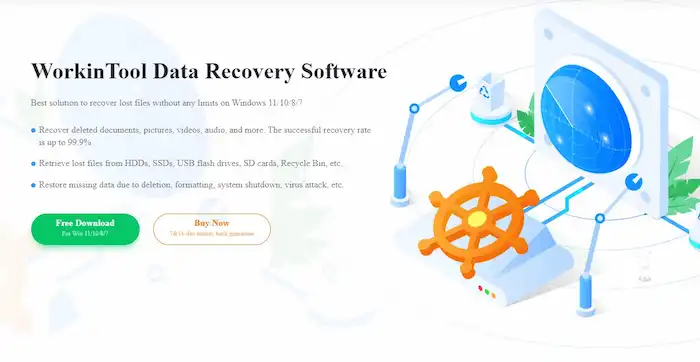 What attracts us most is that this Western digital data recovery software offers 500MB of free recovery capacity. Needless to connect the WD hard disk repair center, this WD hard disk repair tool can get your lost files back for free up to 500MB. Its premium plans offer unlimited recovery at $23.99 a month at the minimum, much cheaper than the average Western Digital hard drive data recovery cost on the market or from the official help center. You can download this Western Digital data recovery software free full version without limits.
WorkinTool Data Recovery Software Features
🌞

Deletion Recovery

: Recover deleted files like pictures, documents, videos, audio, and more types of file loss.

🌟Formatted Recovery

: It is used explicitly for hard drive formatting data recovery.

🎊USB Recovery & Memory Card Recovery

: Retrieve data from your external WD hard drives, flash drives, memory cards, and many other external storage devices.

🎉Recycle Bin Recovery

: Restore files that are permanently deleted from the Recycle Bin.

✨Disk & Partition Recovery

: Recover raw disk partitions and all the files in them.

🎇Deep Recovery

: If you cannot find your files after scanning, use this deep recovery feature to do a deeper scan.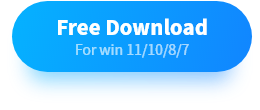 📝How to Recover Data from a Western Digital External Hard Drive
Step 1. Launch WorkinTool Data Recovery and select the location you used to save the lost file. Here you can also select WD HDDs, SDDs, USB drives, and memory cards to scan as well.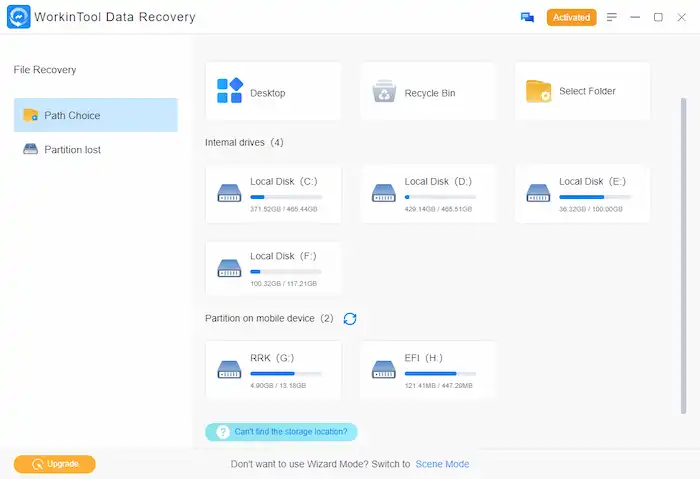 📢Notice
Remember to connect your WD external hard drive to the computer and recognize it. Otherwise, you won't be able to get your lost data back. After inserting your storage device, click Refresh again, which will read and show on this window. If your drive still does not show up, go to the Partition Lost on the left to find your missing drive.
Step 2. Select a recovery method from Quick/Deeep/Formatted Recovery. And then press Scan Now to start scanning.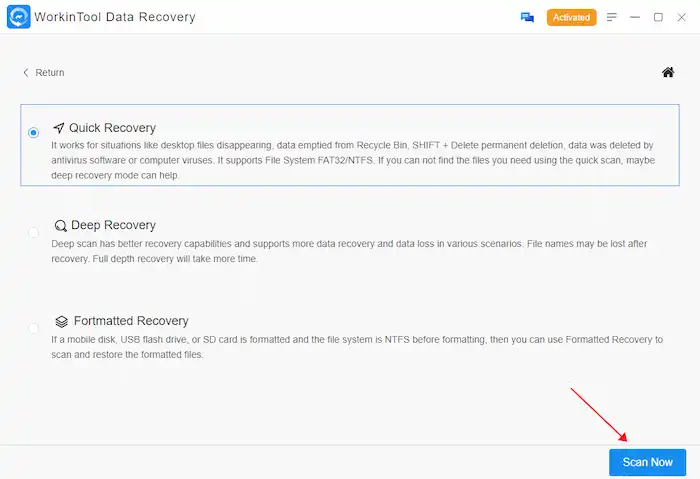 Step 3. Filter and find your lost files by the left navigation pane or the filter & search feature on the upper right. Lastly, select the files you wish to retrieve, tap Recover, and set your location to save your files.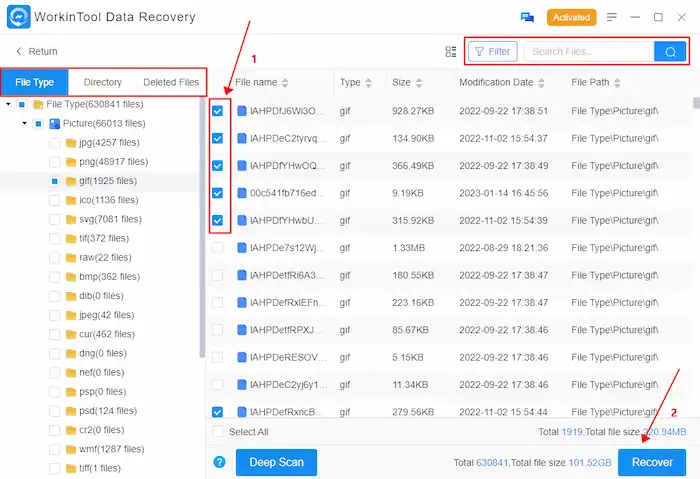 ---
2. Use Western Digital Data Recovery Warranty
Western Digital's products will pass their stringent quality standards before leaving factory. In addition, it stands behind its products throughout the device's factory warranty, which lasts for 2 or 3 years. If you are facing issues like overheating, accidentally dropping down, corruption, etc., a small amount of warranty fee will save you $1000.
📝How to Initiate WD External Hard Drive Data Recovery using Warranty
Method 1. Go to Western Digital Support for help.
Method 2. Connect Western Digital data recovery partners for professional services.
Method 3. Call the Western Digital team, i.e., 1800-200-5789/1800-11-9393, and request data recovery approval.
📢Notice: The WD recovery cost ranges from $9.99 for two years to $14.99 for three years. But only can you perform Western Digital hard drive data recovery from the WD help center after buying a data recovery plan.
---
Tips to Increase the Recovery Rate
💿After making a data recovery, it is advised to have your Western Digital external hard drive cleaned up using antivirus software. Do not store more files immediately if there are still viruses to make the data loss situation happen again.

📀

If you find out you have lost some essential data and need to recover deleted files from Western Digital products, the first thing is not to make any changes. You don't want any new data to overwrite the old ones and end up losing your files forever.

💿Disconnect

 the WD external hard drive before the recovery process begins. When you are ready to do it, put them together. The reason goes the same as the last one.

📀

Most importantly, when it comes to picking third-party data recovery software, think wisely. You will never know if the product is safe or not. Many tools can not help you find lost files and create more problems simultaneously. So here we highly recommend WorkinTool Data Recovery Software to make Western Digital disk recovery.
---
FAQ
💡Does Western Digital's warranty cover data recovery?
According to the WD website, there is no warranty for loss of data. You must regularly back up the data stored on your drive. But it provides data recovery plans, enabling protection against data loss due to hard drive failure, viruses, software issues, etc. You can go to WD data recovery FAQs for more details.
💡How to recover data from WD hard disk which is not detecting?
 A hard disk that becomes unrecognizable may be due to a faulty port, incompatible system, incorrect order of BIOS, unhealthy hard drive, etc. Check these issues first to make sure everything runs well.

In addition, WorkinTool allows users to search for missing disks and partitions. Launch this external hard drive recovery software, go to its Wizard Mode, and select Partition Lost at the left pane. Click it, and this software will help you detect missing disks.
---
Bottom Line
From now on, you don't have to worry about recovering lost data from a WD external hard drive. Whether it is your mistake to delete or format your drive and get your valuable files lost, as long as they are still not overwritten, you can perform Western Digital data recovery to get them back using WorkinTool Data Recovery Software. It is just as easy as pie with the help of WorkinTool. Now, it is time for you to try!