How to Recover Deleted Files From USB Drive for Free
Few people have the habit of backing up data from USB drives. You may have a hard time retrieving your deleted and lost files. No worries! This post shares two free and practical methods to recover deleted files from USB flash drives. And the first solution—WorkinTool Data Recovery, is highly-recommended for the following features.
1. 100% free without hidden purchases.
2. Easy to operate for all users.
3. Able to recover all kinds of files.
4. Suitable for various occasions and storage devices
How to Recover Deleted Files From USB Drive for Free on Windows
Have you ever accidentally missed important files on a USB drive? Imagine this scenario, your boss asks you to copy a document from his USB drive, but you unintentionally delete some essential documents! It's so embarrassing and terrible! But don't panic. If you are looking for safe, high-efficient, and free solutions to restore deleted and lost USB files, you are at the right place!
In this post, we've elaborated on common questions about USB drive recovery and offered some free and constructive methods to retrieve deleted files from USB flash drives on Windows. Stay put and keep reading. You'll know how to recover deleted files from USB flash drives for free with and without software.
---
Things You Should Know before USB Recovery
Before learning how to recover deleted files from USB drives, we must be familiar with some critical information. This section shares essential information you should know in advance in case of maloperation and irreversible data loss. After reading, you will know how to avoid worse situations and prevent future loss when using WorkinTool Data Recovery software and CMD.
What causes USB data loss?
Except for unintentional deletion, there are several other causes of USB data loss that you'd better know, including but not limited to:
🧷Unplug a USB flash drive while it is in use.

🔆Attacks from viruses and trojans.

💻Sudden power failure when the USB flash drive is connected to a computer.

🔌Unhealthy status of the USB drive (too much moisture, heat, or long use time).

🛠Hardware failure.
Where do deleted USB files go?
Many people have noticed that the deleted items will not appear in the computer recycle bin after deleting files from a USB or other external drive. When you try deleting something in a USB drive, a prompt will ask you, "Are you sure you want to permanently delete this file?". If you click Yes, the file is no longer visible in the USB drive or the computer recycle bin.
But it doesn't imply that the data is permanently disappeared. Instead, just the pointer to the specific file is removed. The blocks still remain intact until new data overwrite them. So, it is better to call the file 'Invisible' instead of 'Permanently Removed'. You still have a chance to restore them if new data don't occupy its space.
What to do before performing USB data recovery?
❌Stop using the USB flash drive

 and 

safely

 

eject the drive from your computer

 to avoid new data overwriting.

🚫Do not copy any remaining data from the USB to other locations 

in case of irreversible data loss. 

(If viruses infect your flash drive, it will also bring potential risks to other devices.)

✅Start USB file recovery ASAP

 to prevent more severe results.
---
How to Recover Deleted Files From USB Drive with Software
Since the deleted data from external hard drives will not be moved to the computer recycle bin, it can be recovered with the usual methods we frequently use. In addition, different from CMD Prompt and Windows built-in restore tool, third-party software will enable you to see the specification of the lost and deleted items, like file type, modification date, file size, file name, etc. And that's why we start with how to recover files from USB with software.
WorkinTool Data Recovery is FREE software that enables you to check the file specification before putting it back in its original place. This freeware runs perfectly on the Windows system. It can effectively recover files deleted for various reasons like maloperation, formatted devices, unsafely ejection of external devices, disruption of power supply, etc. Its key features are as follows. You can click the button below to free download this freeware and put it into immediate use.
100% FREE

. No registration requirement, paid plan, or any hidden purchases.

Able to restore all kinds of files

, including videos, audio files, documents, archives, databases, messages, etc.

Suitable for various occasions

like USB recovery, SD card recovery, recycle bin recovery, recovery after formatting, and more.

Easy to use for everyone

. No technical skills are required.

Quick recovery speed

 and 

high-quality output

.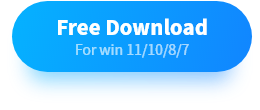 How to Restore USB Files with WorkinTool Freeware
Now, it's time to understand how to recover deleted files from USB with software. Follow the detailed instruction below.
1. Launch this USB drive recovery tool and connect your USB drive to a computer. Click USB/Memory Card Recovery. This feature is applicable to any external hard drives, like USB drives, other flash drives, pen drives, etc.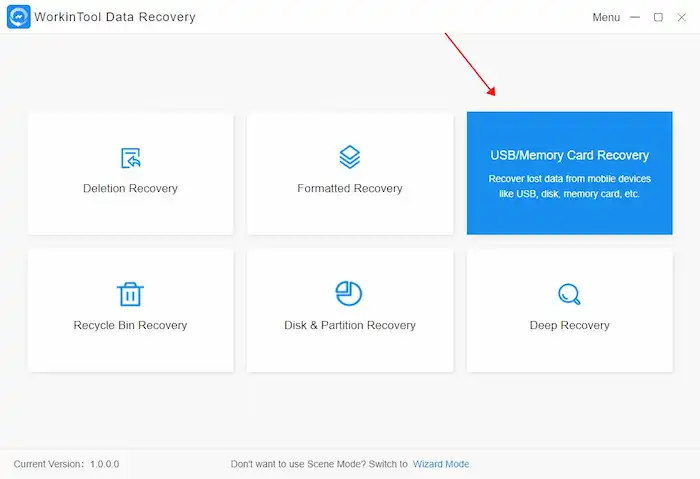 2. Select your external device and hit Start scanning. Wait for a while, and you will see an interface displaying all files in your USB drive by file type. In the Deleted Files menu, you can find all the lost and invisible files.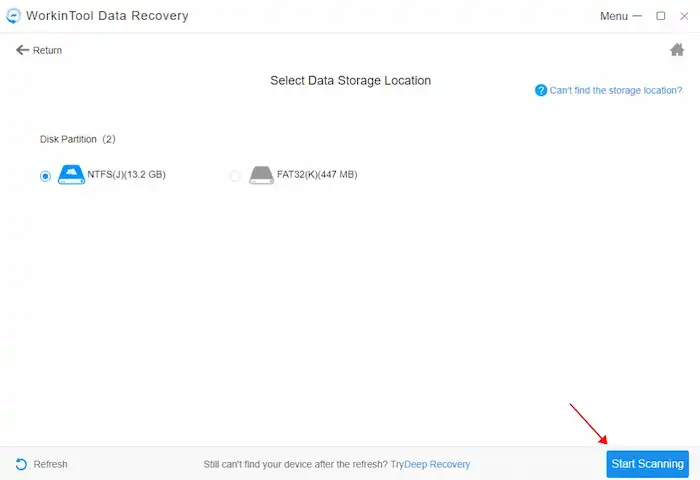 3. Go to the Deleted Files menu, and you can use the Filter option or the search box to locate your deleted files quickly. Then you just need to check and tick the searched items and press Recover to bring them back.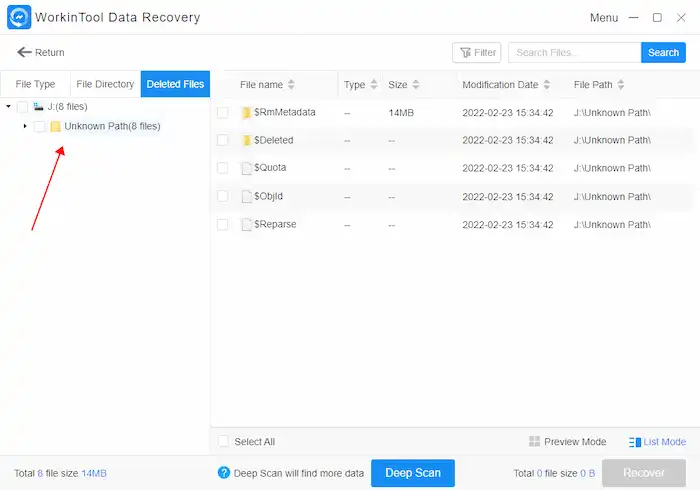 It is up to you whether to copy it to a computer folder or the USB drive. If you didn't find the files you want, click Deep Scan at the bottom and perform a deeper detection, which will cost more time but offers a more comprehensive result.
You May Also Like
---
How to Recover Deleted Files From USB without Software
When talking about how to recover deleted files from flash drives without software in Windows, the first idea that comes into professionals' minds must be CMD, also known as Command Prompt. It is not the easiest or the quickest solution. But as a free integral feature of all Windows systems, it leaves out the part of downloading a third-party tool.
Besides, unlike other data protection features such as File History, which requires you to pre-activate, CMD can run versatile Windows commands and do administrative tasks anytime you need. It helps you restore deleted, formatted, corrupted, and other lost files in the most convenient way.
How to Recover Deleted Files from USB using Command Prompt
This free tool needs some special skills. But it is not too hard to perform. Follow the steps below to recover files from USB using the CMD attrib.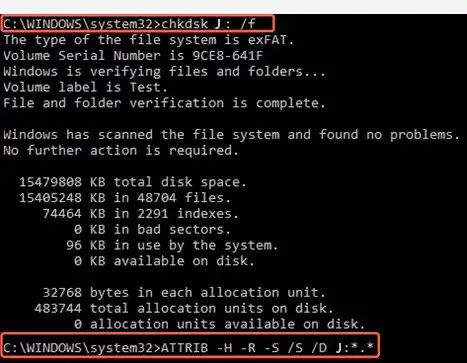 1. Plug the USB drive into your computer.
2. Press Win+R to bring out Windows Explore / Click the taskbar search box > type cmd, and press Enter to open the Command Prompt window.
3. Type chkdsk X: /f in the CMD window and hit Enter. And then type ATTRIB -H -R -S /S /D X:*.* and hit Enter again. (X represents your USB drive letter.)
4. Wait for the program to finish.
The recovered files may be saved to a new folder with the extension .chk in your USB drive. You can check these files and keep them in a different location as desired.
---
More to Share
Here is the end of this article. We share two completely free methods that enable you to bring lost and deleted files back with or without software. I believe you know how to recover deleted files from USB drives now. You can try WorkinTool Data Recovery first to check if the deleted files are in the USB first. Then you can restore those files without breaking a sweat. If not, use Command Prompt to try again.
As a note, the methods above are unavailable for physically damaged USB drives. For those USB flash drives, you need to look for help from professional data recovery labs. And it is wise for you to perform periodic backups to avoid accidental data loss from USB drives.