How to Colorize Black and White Photos: Techniques and Tools
When nostalgia becomes a craze, coloring black-and-white photos has become a way to deliver this feeling. So for us, the most convenient way is to use an AI color tool to achieve this. Use WorkinTool Image Converter to easily and quickly finish the job with one click. It's simple. You just need to upload the picture, and it will do the rest. Don't hesitate now and experience the magic yourself.
😍 1. Up to FREE 5 image batch conversions and compression try-out.
🤩 3. Easy interface for users to edit with THREE STEPS.
😎 4. Support more than 100 different image formats to operate.
🥳 5. Cover all the features that you can on the market and interesting filters.
😊 6. Available for image conversion, compression, matting, watermark, and more.
How to Colorize Black and White Photos: Techniques and Tools 2023
Black and white photographs are timeless and evoke a sense of nostalgia. However, coloring them adds a new dimension of liveliness and beauty. Now is the perfect time to learn how to colorize black and white photos or historical records – especially at a time when global isolation has us yearning for happy memories. Thanks to the wide range of applications and software available, anyone can take on this fun and rewarding project. Photoshop is the top tool for photo editing, but it can be costly and complex for non-professional users. Fortunately, there are affordable and user-friendly alternatives that will give you the same exceptional results.
For this reason, in this article, we will explore more affordable tools and techniques for black-and-white AI photo coloring. Whether you're a beginner or an expert, these options will be perfect for you. Let's get started!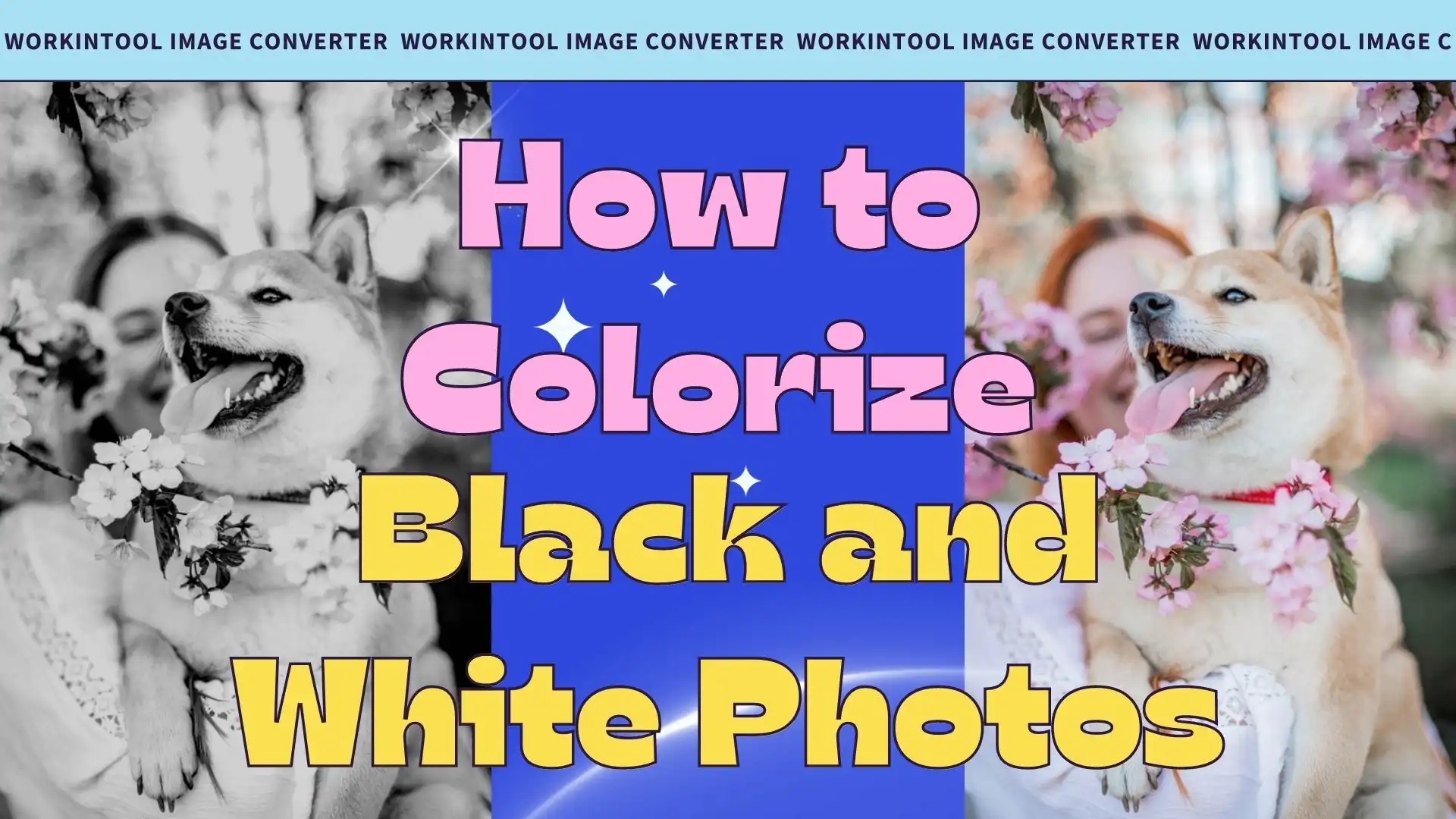 ---
The Tips and Tricks of Colorizing Black and White Photos
By utilizing these 5 tips, you can create beautiful colorized versions of your favorite black-and-white photos that capture the essence of the original photograph while adding a fresh new perspective.
---
How to Colorize Black and White Photos Automatically
1. Desktop Software
If you are not professional at picture repair and you don't want to pay extra money for it. Maybe you can try the AI-powered WorkinTool Image Converter and give it a chance. It is a powerful and user-friendly tool that can help you bring your old black-and-white photos back to life with just a few clicks. With its intelligent AI image processing technology, you can colorize your antique photos with ease and accuracy without the need for complex manual editing.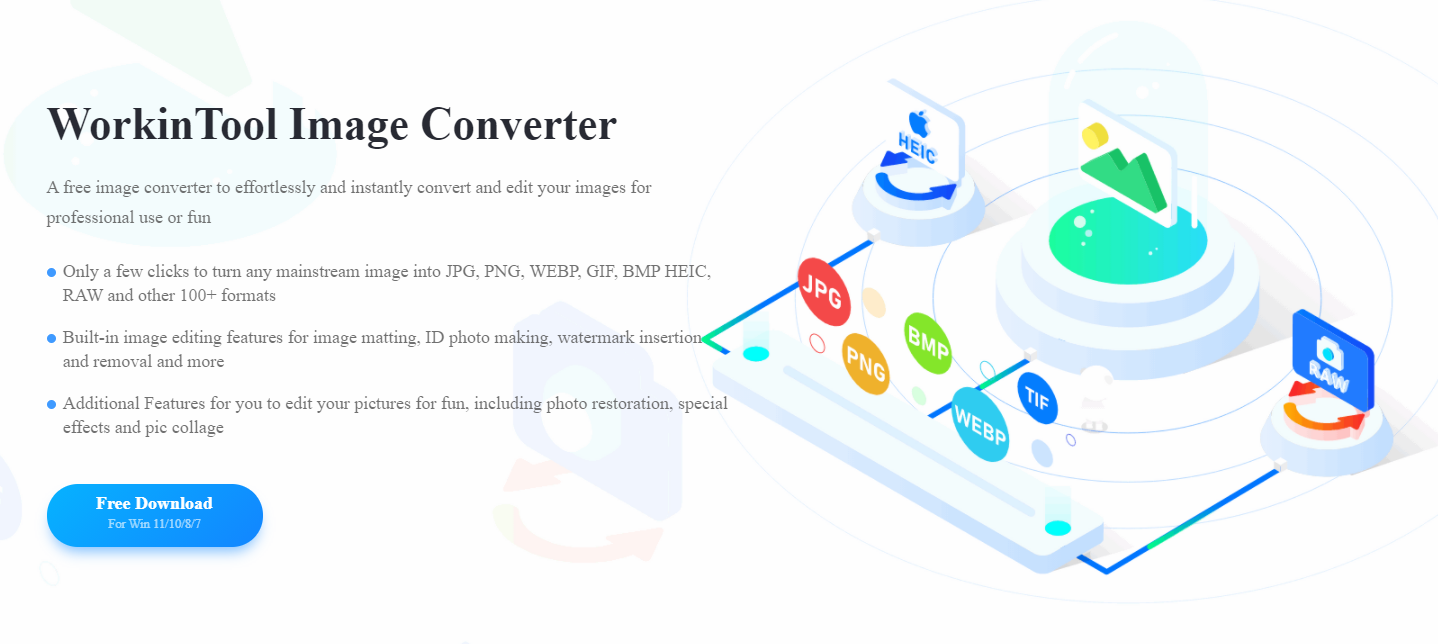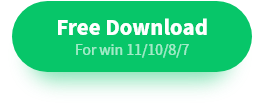 This versatile software offers a range of features, including image format conversion, image compression, background removal, photo editing filters, and, of course, a built-in colorization tool. In this tutorial, we'll guide you through using WorkinTool Image Converter to colorize your black-and-white photos step-by-step. For this tool, you won't need to learn how to upload and convert your photos, select the best color palette for your image, or apply color to the areas you want. With its advanced AI color algorithm, one single Conversion button will save you all the troubles and help you one step to bring the colors back.
Whether you're a professional photographer or just an amateur looking to create new memories from old photographs, WorkinTool Image Converter can help you accomplish your goals. So let's dive in and get started with colorizing your black and white photos today.
100 image formats conversion available

Customize to enlarge or compress images

Add or remove photo watermarks

Change or remove the image background

More than 65 image filters to apply
How to bring the old memory back to life now.
Then, find "

Color antique pictures

" in the 

Photo Restoration

. After that, add your target photo to the process window.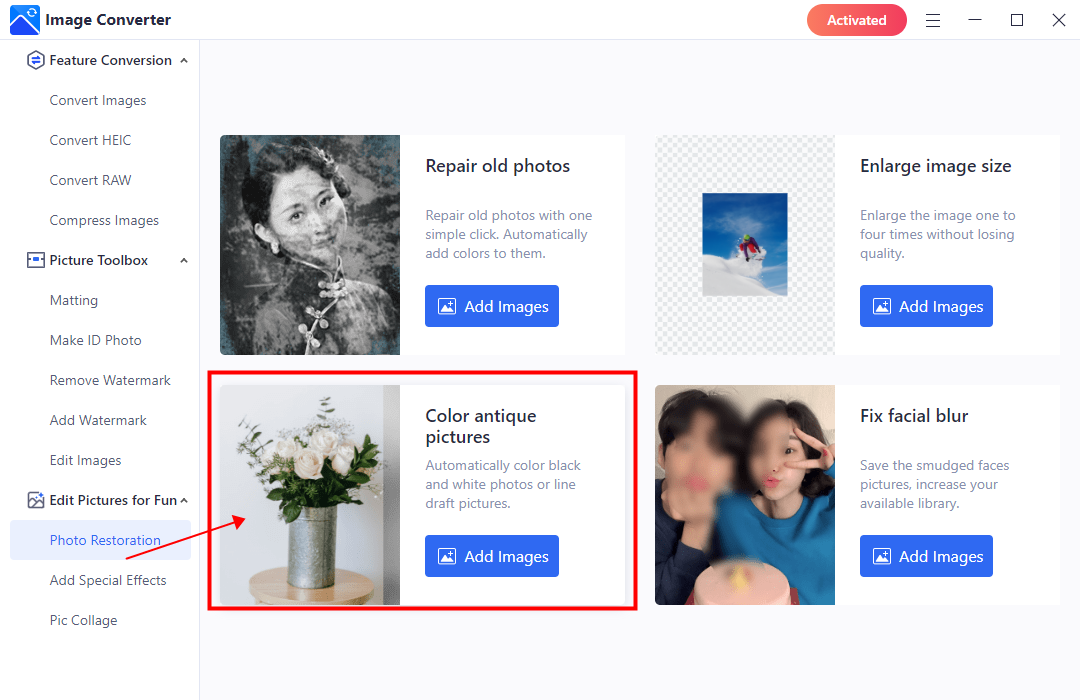 Wait for the AI to process your picture. It only requires seconds to colorize the image.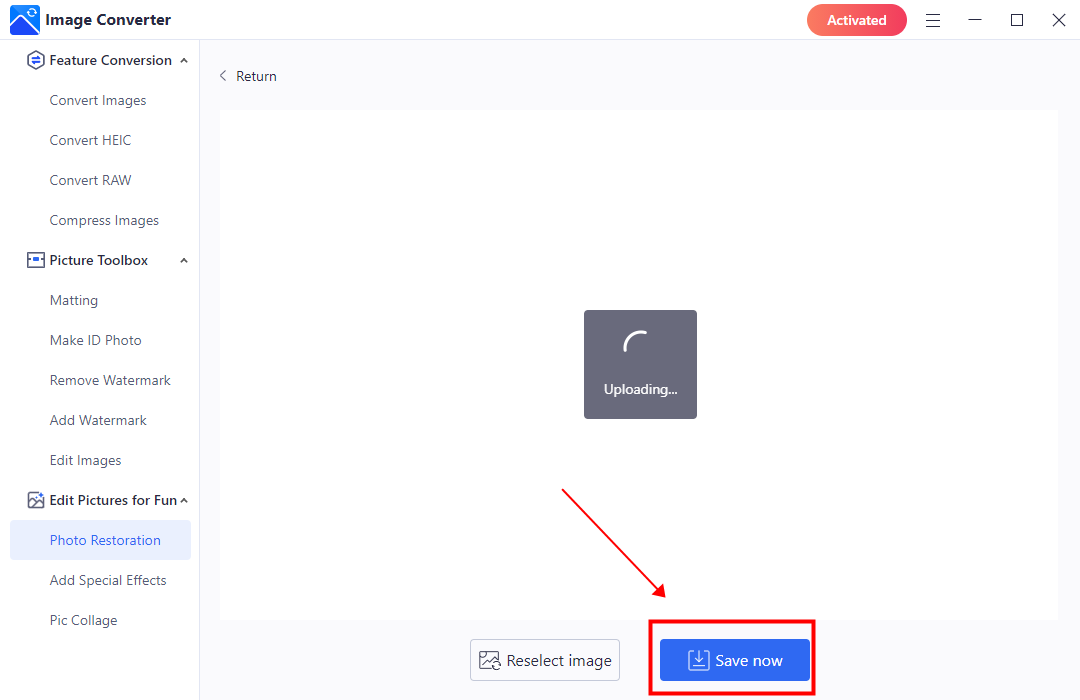 At last, after the colored picture comes out, you can choose to

Save it now

to put it on your computer or redo it again.
(Here is the comparison between the before and after pictures)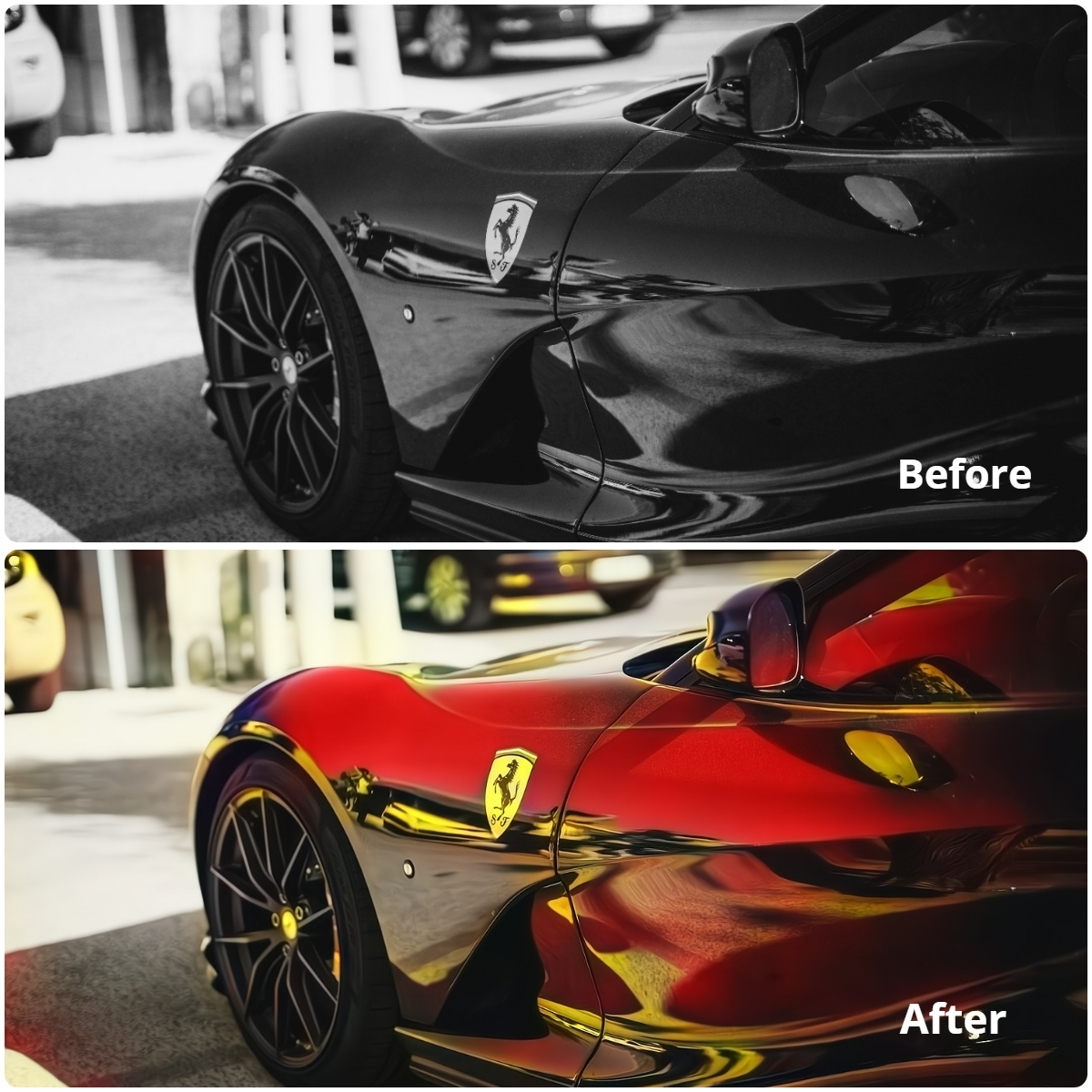 🎊

More Amazing Features for WorkinTool Image Converter

🎊
---
2. Online Tools
If you prefer to work with images online without downloading any software, we recommend using an online AI tool to help you color pictures with one click. Like the above software, WorkinTool provides an online tool to help users quickly colorize black and white photos online and for free.
But you should know since it's an online tool, some limits keep you from using this feature to edit your picture. If you want to use this black-and-white image coloring function without any limitations, your best solution is still downloading desktop software.
How to make it work:
1: Open your Website Explorer and get on the WorkinTool colorize black and white photos online page.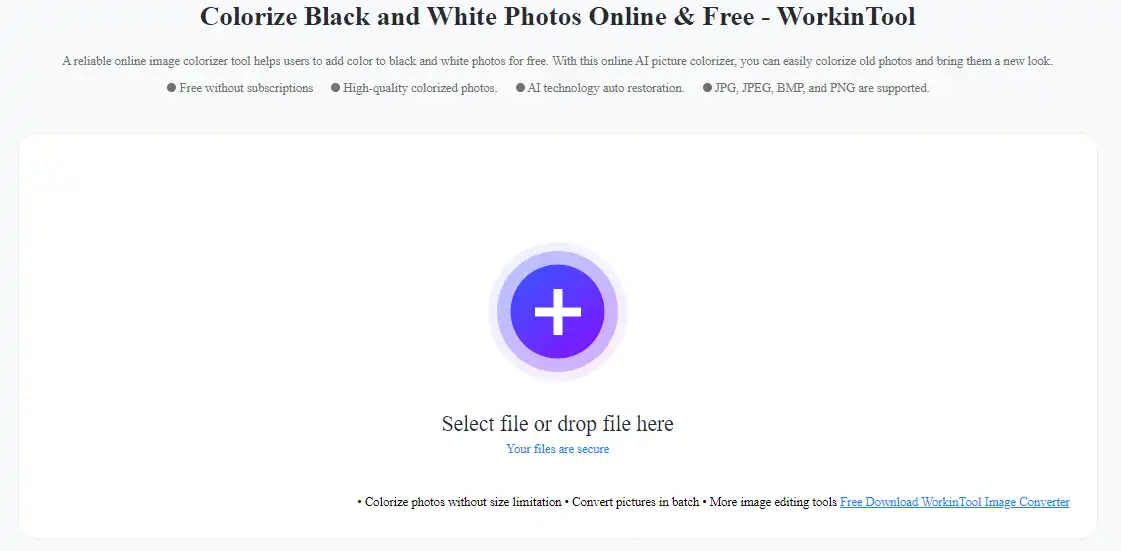 2: Upload the black and white image that you want to color.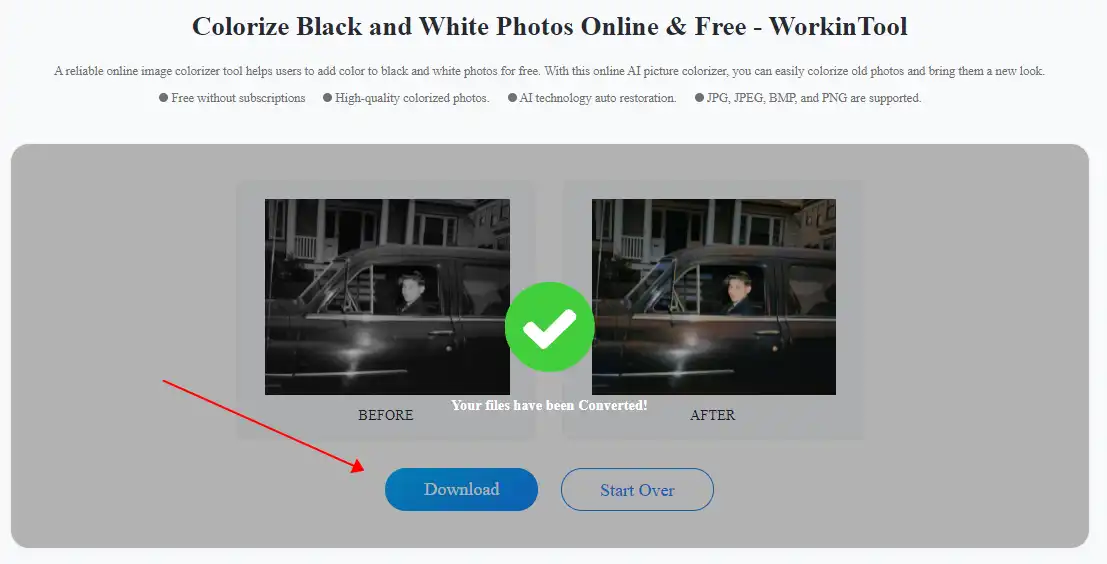 3: Click Convert and wait for the processing. Then you can see the colored image and decide if you want to download it on your device.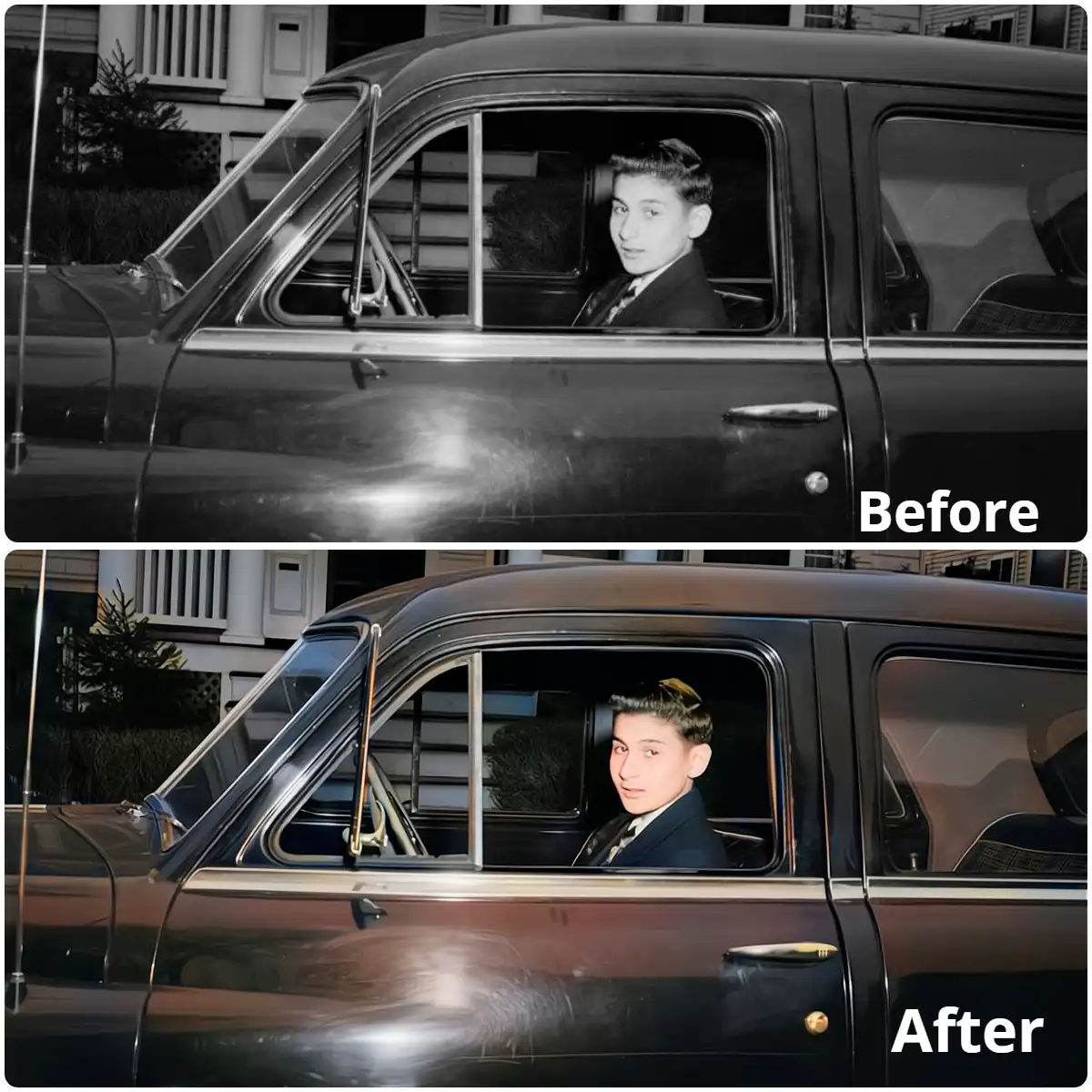 ---
Why Colorize Black and White Photos
There are many classic or monumental photographs in history, mostly in monochrome black and white, because of the limitations of the original photography. Fortunately, chatting now has ChatGPT, painting has an AI image generator, and coloring pictures can be done using AI tools instead of manually doing it. As technology improves, you can go back to the time they took the shot to relive that moment. Just like the Titanic, it is also a reenactment of the past, a reminder of the future, and a remembrance of the past.

---
More to Share
At last, I am sure you must know a thing or two about how to colorize black and white photos. Compared with Photoshop, Al-powered WorkinTool Image Converter is more suitable for people like you and me. After all, we don't have the skill to one layer after another adjusting the color, but we want to restore the good old days. It's easy enough, simple enough, and qualitatively sufficient to be worth a try. Moreover, it has all the other image editing features you can try. Also, I don't see any problem stopping you from experiencing it yourself. So hurry up and make those photos in the family album vivid again.