How to Make a Blurry Picture Clear for Free: 2023 Solutions
This WorkinTool Image Converter helps you automatically make a blurry picture clear. After uploading, it can auto-recognize the color of your image and increase its resolution. It is
1️⃣ practical and free to use
2️⃣ Supports nearly all image formats
3️⃣ No limits on the uploaded file size
4️⃣ No watermarks on the polished image files
How to Make a Blurry Picture Clear for Free: 2023 Solutions
When processing pictures, we may usually encounter that the picture is blurry. For example, sometimes you find favorite anime pictures and illustrations online and want to use them as a background image, print T-shirts, etc., but the pixels are too low, and you cannot find the original image. It is cumbersome to rely on Photoshop or other flat tools to improve image clarity and sharpness. This post allows you to learn how to make a blurry picture clear for free on your computer or mobile phone effortlessly and effectively. An online image DPI changer is also available.
How to Make a Blurry Picture Clear on a Computer
WorkinTool Image Converter is an all-in-one photo editor for the Windows system. With it, you can easily change the image resolution, sharpness, brightness, saturation, exposure, and more. It supports importing 100+ image formats, so no matter what the file form of your photo, you can upload and edit it with this professional photo editing tool. After uploading a blurry picture, it can automatically recognize it and increase image clarity. Only in seconds can you get a fixed photo in high resolution at no cost. With its simple user interface, beginners in photo editing can make use of it without effort. Apart from fixing blurred pictures, you can also use this image converter to:
Convert any image formats
Reduce image file size
Process watermarks in a photo
Change image background smartly
Add special effects to a picture
😘 Why we like it
Completely free without any hidden request
Fast conversion process
Batch operating photos
Make a blurry picture clear with great results
Various photo editing features
Free of ads and pop-ups
😞 Why we dislike it
The desktop version is only compatible with Windows
Less clear toolbar distribution
How to Make Blurry Pictures Clear for Free with WorkinTool Image Converter
Step1. Download the software from WorkinTool official website and run the program.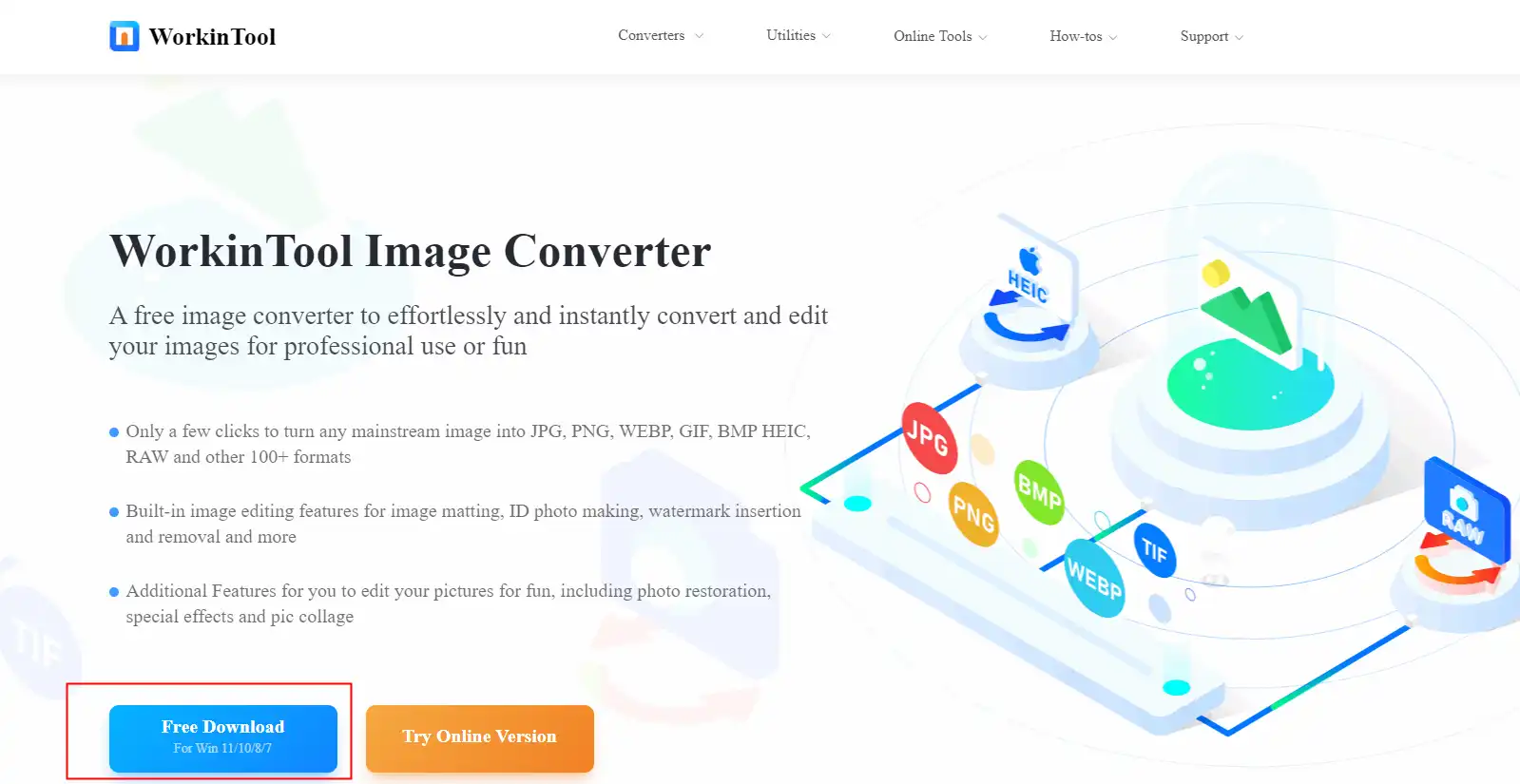 Step2. Find the Edit Pictures for Fun on the left menu bar and select Photo restoration> Fix facial blur to upload your image.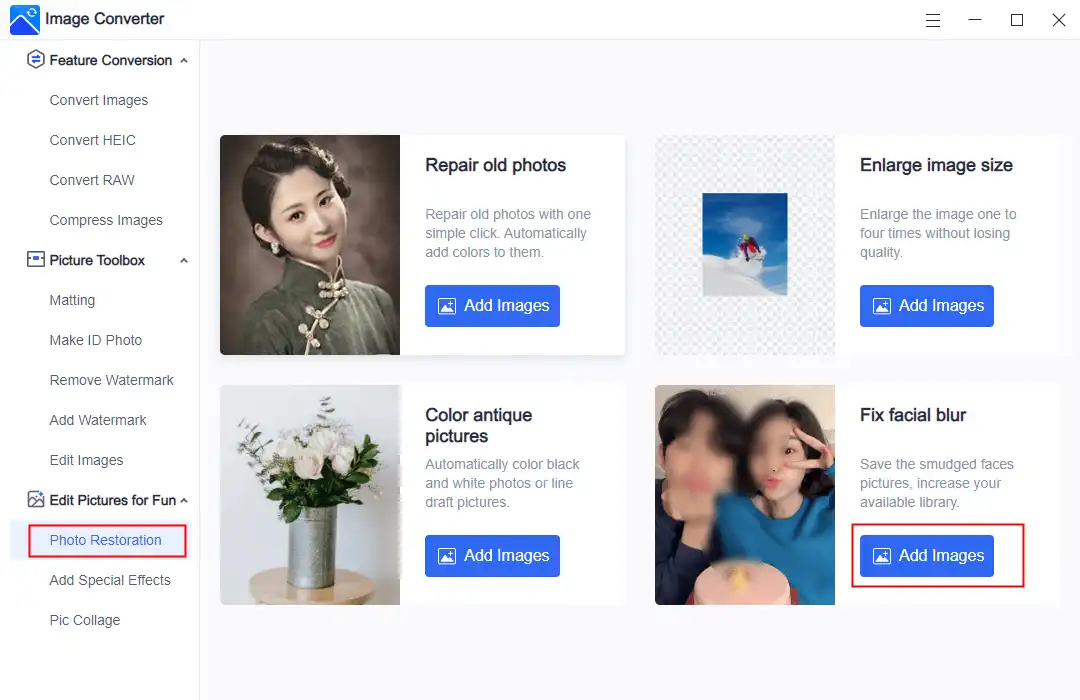 Step3. After importing, it will automatically unblur pictures. You can press the preview button to check the result. Then paste Save Now to download the edited photo.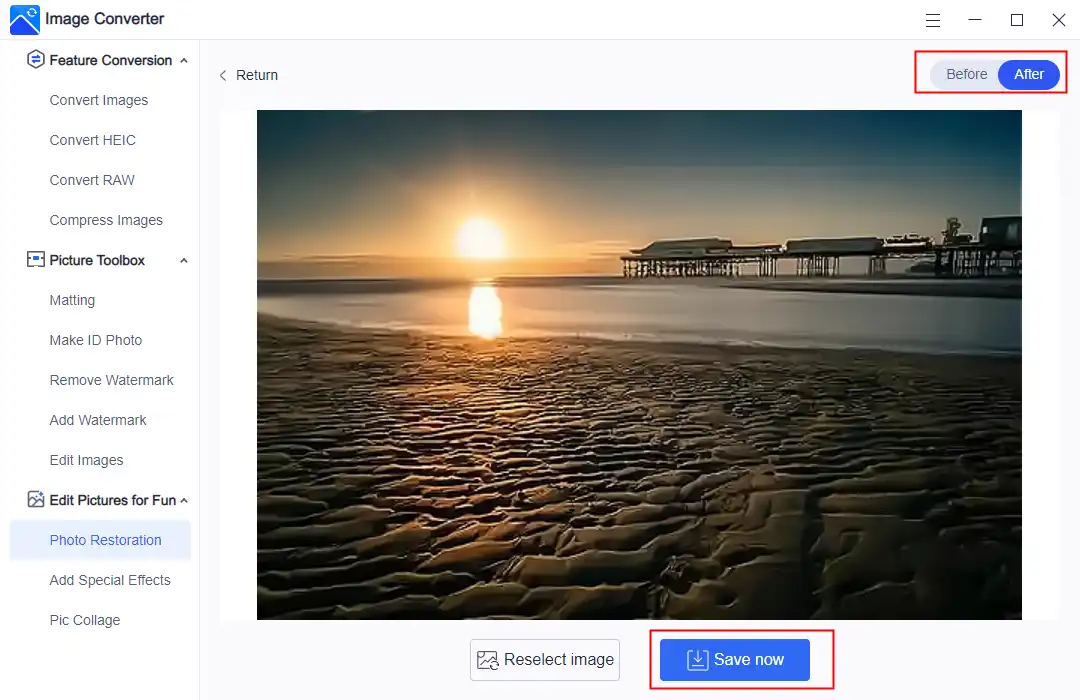 More Helpful Tutorials for WorkinTool Image Converter
How to Improve Pictures Sharpness in Mobile
Besides some professional photo editor applications, you can also have a trial of the inbuilt photo editing feature in your phone album if you need to increase image clarity on your mobile phone. Most photo albums can help you change the image's sharpness, brightness, saturation, shadow, etc. You can make pictures clearer by improving picture sharpness. Take the iPhone, for example, the Photos for iOS helps you sharpen pictures. Check out how to make a blurry picture clear with Photos.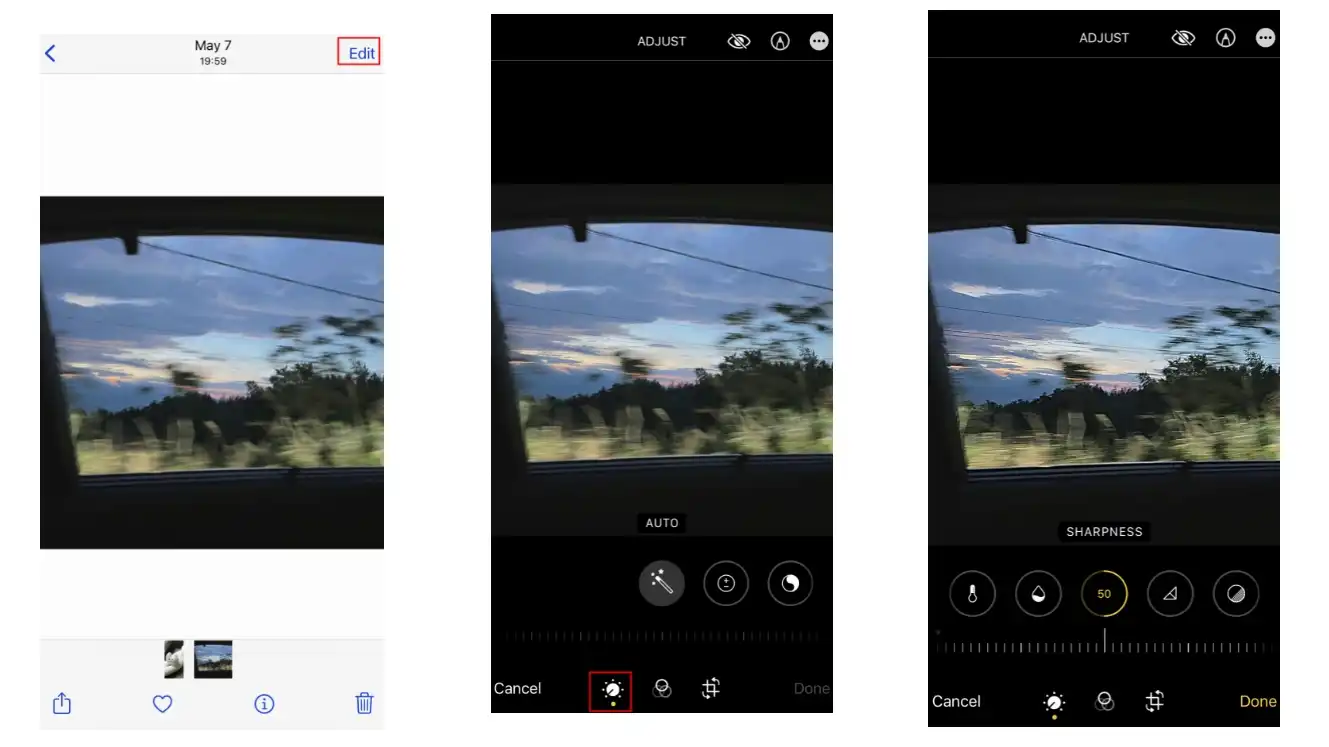 Step1. Open Photos and find the picture you want to edit. Click Edit in the top right corner.
Step2. Select the sharpness button and drag it to adjust.
Step3. After adjusting, press Save to preserve the edited photo.
Note: The photo album of your mobile phone allows you to improve the image's sharpness. But for some highly blurred pictures, it may not work particularly well. If you are eager to modify the photo to high definition, you still need to use professional picture editing software. Suppose you don't want to spend time picking and installing apps; you can try the online tools mentioned below.
How to Make Blurry Pictures Clear Online
WorkinTool Image Converter has also explored its online counterpart. Its online image DPI tool enables you to increase image resolution significantly. Several parameters are selected, such as 72, 96, 300, 350, 500, 1000 dpi, and more. Images like JPG, PNG, BMP, GIF, and ICON are compatible with this online tool. Pick a higher dpi; then, you can make a blurry picture clear. In comparison, it is more convenient and accessible to use. Regardless of your device, you can quickly access it to process image issues. However, since it is an online tool, the conversion process needs to rely on the network speed. Also, there are restrictions on the uploaded file size to maintain a faster page upload speed.
😘 Why we like it
Compatible with all devices and systems
No installation or update issues
Batch increases photo resolution
Multiple resolution options
No login is required
😞 Why we dislike it
Limits on the uploaded file size
Converting speed depends on the network
Fewer features than the desktop version
How to Make a Blurry Picture Clear with WorkinTool Online Image DPI Converter
Step1. Go to the online image resolution converter webpage and upload your pictures. (Batch conversion is feasible. You can upload multiple photographs and increase their clarity with one click.)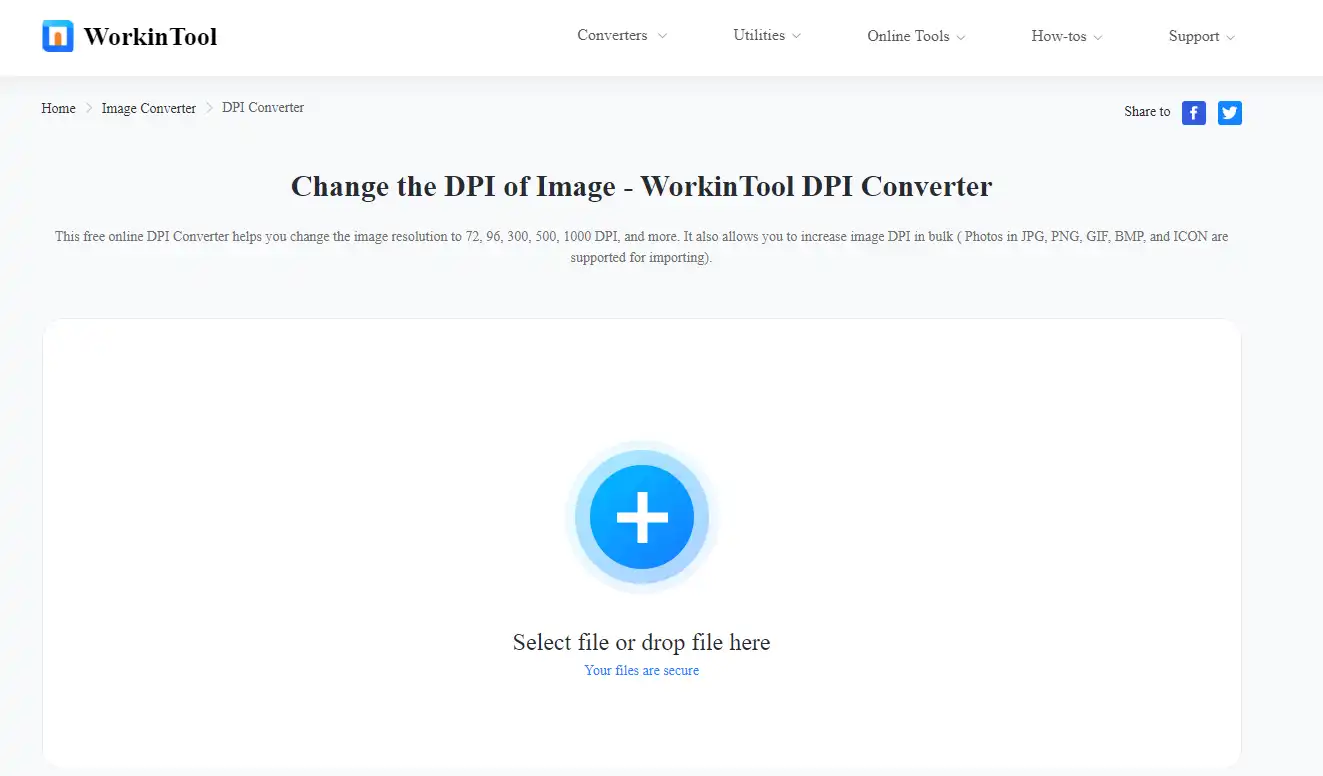 Step2. Select the DPI you want to convert. Higher DPI means higher clarity.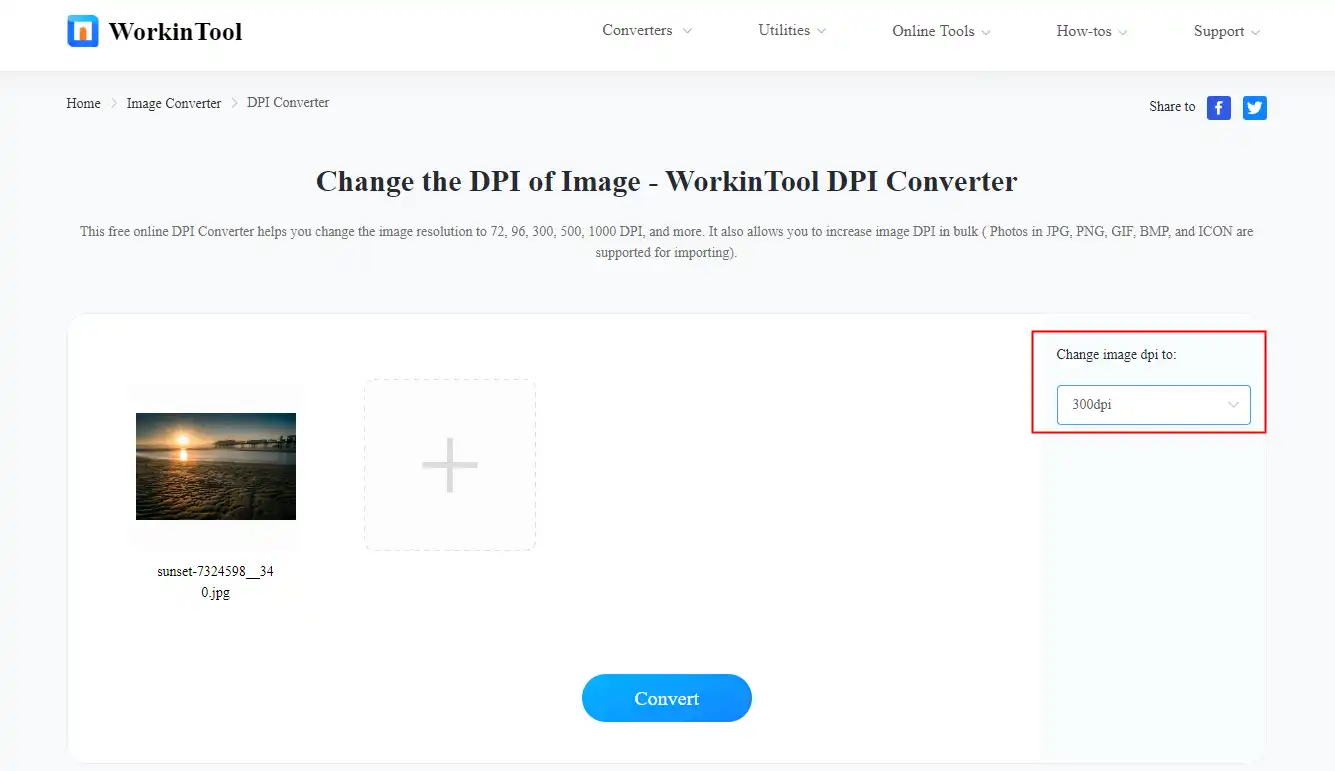 Step3. Click Convert; then it will immediately make blurry pictures clear. Then download the converted files to your folder.
Final Verdict
This guide includes effective tutorials on how to make a blurry picture clear. High-definition pictures can add points to your post or blog, while blurry pictures will affect visual perception. If you want to use an attractive image, but it's not very sharp, try the above tools to make it clearer. All three free tools have different focuses. Check their differences and then pick one to use.
WorkinTool Image Converter: It can automatically unblur pictures and lead to more remarkable results than the other two tools. However, you must convert them one by one if you have multiple images to operate.
Photo album on mobile phones: It prevents you from installing other software. However, it doesn't work for some highly blurred images.
Online image DPI converter: It helps you change image resolution in bulk and provide multiple resolution options. However, there are limits on the total file size and file format.