4 Ways | How to Make GIFs Smaller on Desktop and Online
Many users do not want to put their GIF files into online tools because of security issues or limitations. Here we recommend the WorkinTool image converter. It is an all-in-one image editor. It supports over 100 image formats for image compression and provides custom options. Download it now and try it for yourself.
😍 1. Up to FREE 5 image batch conversions and compression try-out.
🤩 3. Easy interface for users to edit with THREE STEPS.
😎 4. Support more than 100 different image formats to operate.
🥳 5. Cover all the features that you can on the market and interesting filters.
😊 6. Available for image conversion, compression, matting, watermark, and more.
4 Ways | How to Make GIFs Smaller on Desktop and Online
GIF files have become an integral part of the modern Internet. It contains the feelings netizens want to express in a way that can not be expressed through text. GIF files have always been a treasure box of humor. Especially with the rise of social applications like WhatsApp, Facebook, and Instagram, GIF files will only get more popular. But the truth is, animated GIFs are typically huge because they contain multiple images to display, creating the picture motions. So, how to make GIFs smaller?
Although they might look fascinating, animated GIFs occupy much space on your website page. If you are posting GIFs on social software, it is okay. Because there are professional networks for those applications to support them, if you upload tons of GIF files on your own website, you will retain hosting space, and your page load speed will also improve. And it will lead to people seeing nothing in places without great High-speed internet connection. Therefore, in this tutorial, we will present you with four easy ways to make your GIFs smaller without much quality loss. Let's find out.
---
Compress GIFs on Windows Desktop
It's complicated to explain if it's easy or hard to compress GIF file sizes on Windows. Because the Windows system does not come with any application that can compress a GIF directly, so the only way for users to get the result is to download third-party software to assist them. So, do you know where you can find one image tool to help you fast compress a GIF? Where can you find one device with the most custom features to get you the best compression? Well, if you don't know, here is your answer.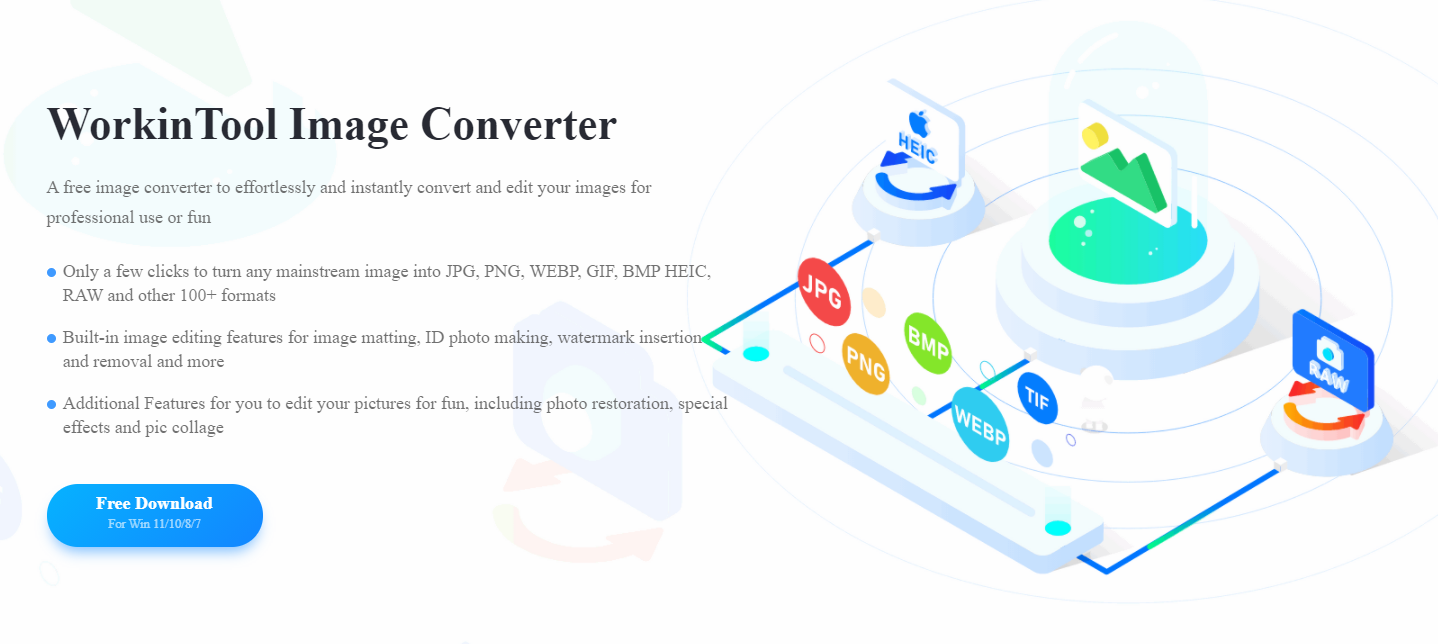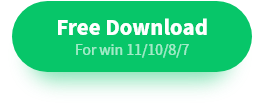 Considering all the features, WorkinTool Image Converter would be your best choice. There are so many photo editing features it contains. It includes things like image format conversion, compression, editing, applying or removing watermarks, text, filters, stickers, etc. For the feature to compress images, it offers the most options for users to customize how users would like to reduce their image size. More importantly, the compression feature also supports batch compression. And don't worry about image formatting because it supports more than 100 formats to operate. Of course, the GIF format is one of them. This tool makes it easy to do all the editing work. Each feature has a simple instruction. Even beginners in image editing can get the job done effectively.
Compression Mode: Customize, Shrink First, Equilibrium Compression, Clarity First.
Custom Option: Clarity, Size, Resolution, Target Size.
Output Format: Original Format, JPG.
How to Shrink a GIF picture on Windows:
1. Open WorkinTool Image Converter and click the option to Compress Images.
2. Select the GIF picture(s) you want to shrink and add them to the window.
3. Adjust the settings to customize your GIF compression, including image size ratio, clarity ratio, resolution, and target size.
4. After making those adjustments, you can click "Start" to compress immediately and wait for the result.
As you can see from the comparison image, the edited GIF increasingly shrinks in size after using this tool to compress. Users can compress up to five shots in a batch. You can upgrade to premium pro for unlimited features and services if you want more.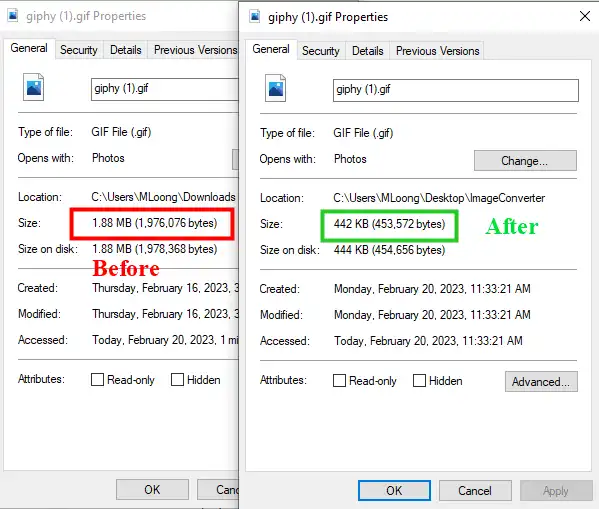 💖 Additional WorkinTool Image features 💖
---
Shrink Image Size – Video Editor
Except for the most common way to compress the whole GIF file, we could actually reduce the size of a GIF to half its previous extent by some curvy means. But these methods may not guarantee that the image quality is still the same as before processing. So you should check and consider whether you need to use it. The tool we will be using is WorkinTool VidClipper.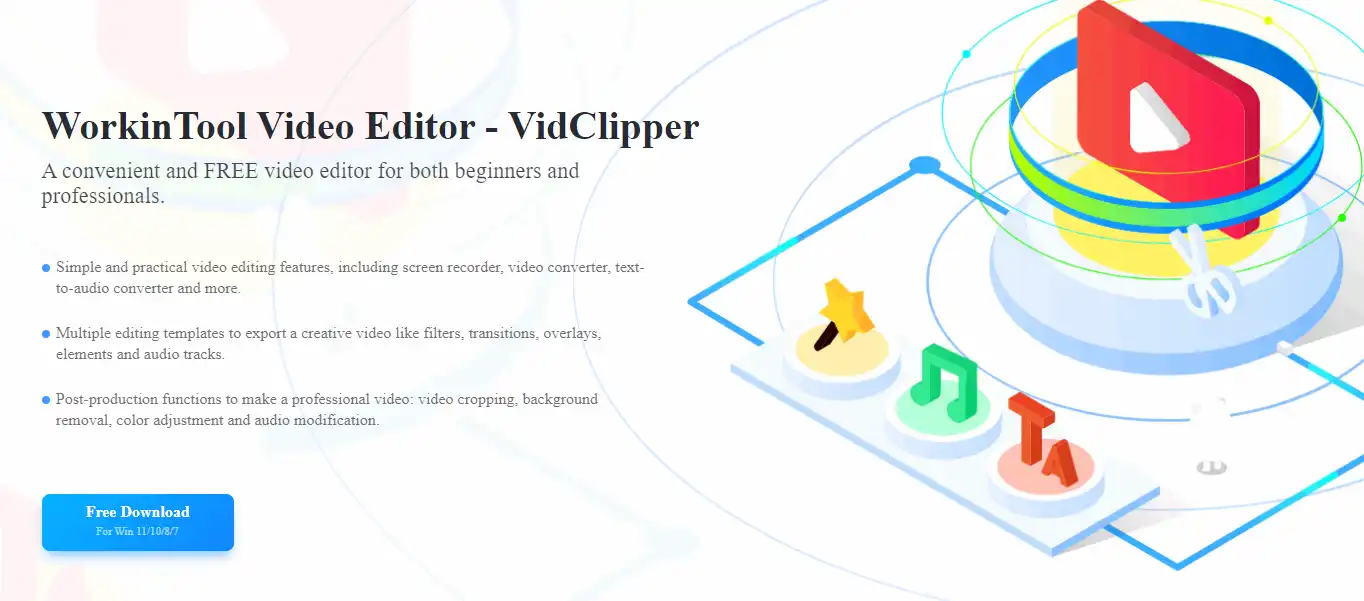 It is an all-in-one video editing tool that can help users solve all kinds of video problems. Here we will use it to deal with GIF files as the same. In order to reduce the overall size of a GIF, it offers us two features to achieve our goal. One is to use the Trimming tool to cut unnecessary parts of the playing GIF. So that we shorten the GIF length and reduce the size, and another way is to use the cropping tool to crop out extra space on the GIF image. In this way, we might zoom in on the overall image, but the GIF will also be smaller. Let's see how to do it.
Trimming GIFs
1. Open WorkinTool VidClipper.
2. Click +New Project to add your GIF files.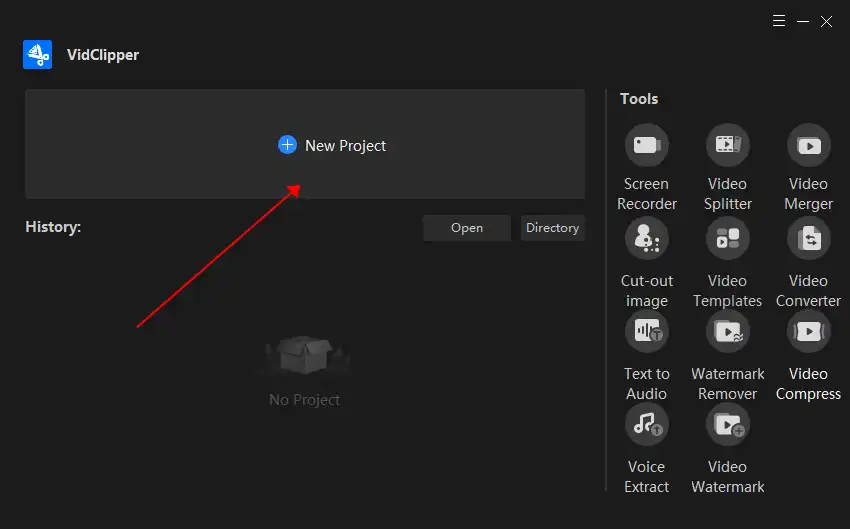 3. Drag the GIF to the timeline.
4. Use the scissor tool to cut unwanted parts of the GIF.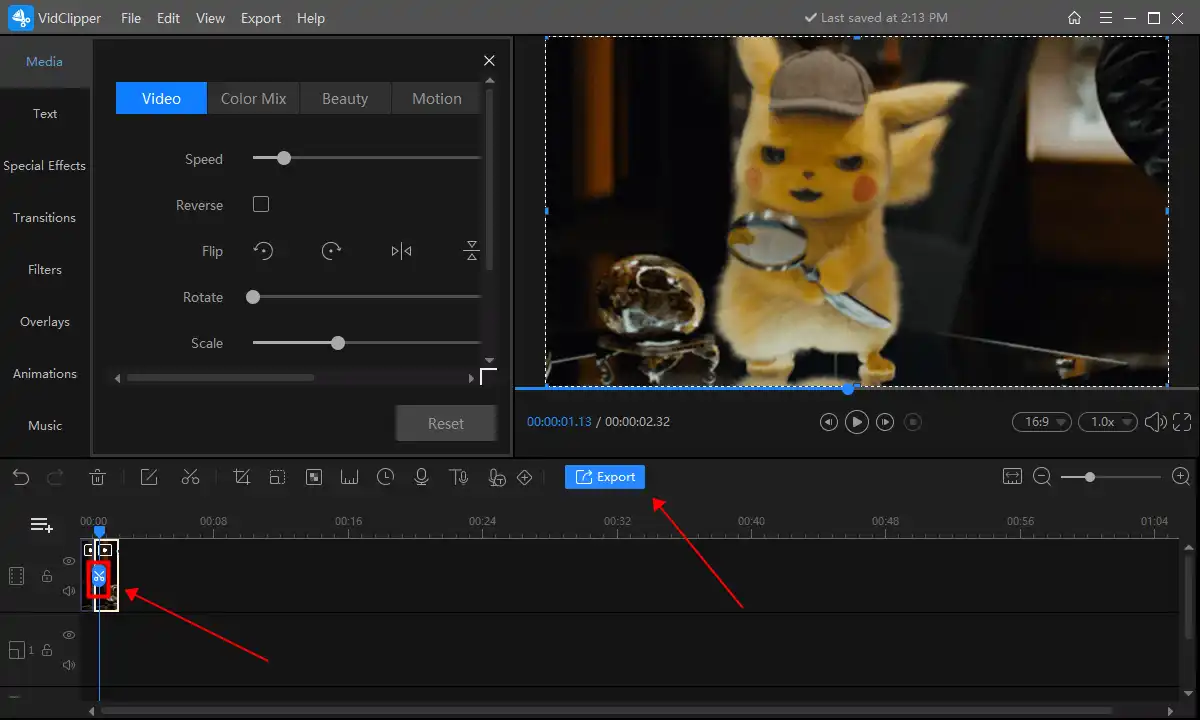 5. Tap Export and select GIF to save it to your computer.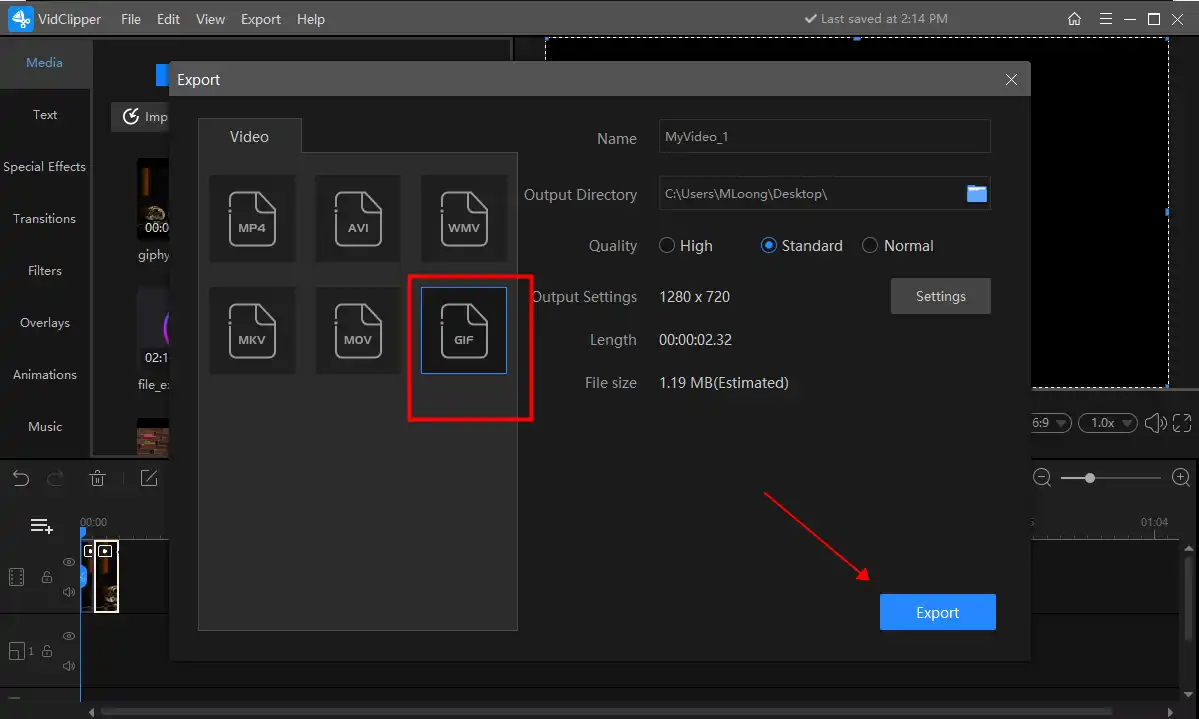 ---
Cropping GIFs
The first three steps and the last saving step are the same as the Trimming. The only different step is to use the cropping tool.
Select the 

Cropping

 tool and drag the box to crop out extra areas you don't want.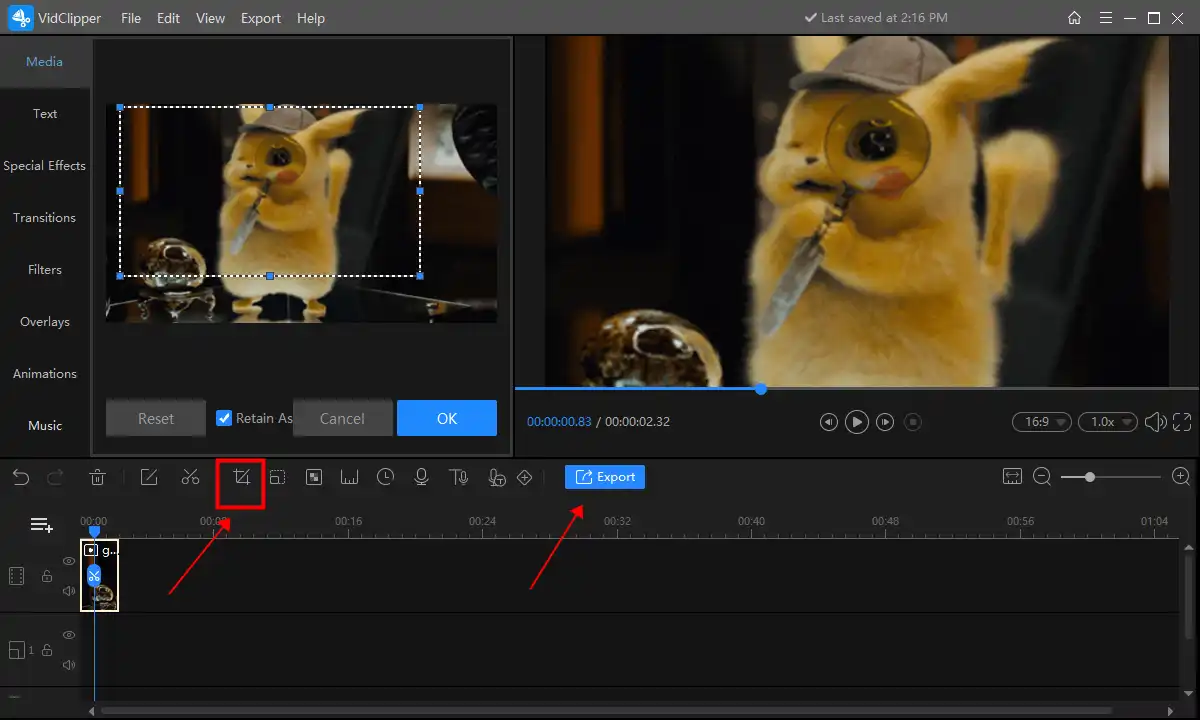 ---
Alternative Way: Get it Smaller Online
If you want to shrink the GIF file without downloading the two desktop apps mentioned above, there may be another way to do so. Try using an online image compression tool. For example, you can try WorkinTool Online Image Compressor. The free online tool allows users to upload the four most common image formats, including GIFs, and compress them with one click. It also supports batch compression. You can upload multiple images and squeeze them together.
How to Use the Online Tool:
1: Open your Website explorer and get on the WorkinTool online Image Compressor.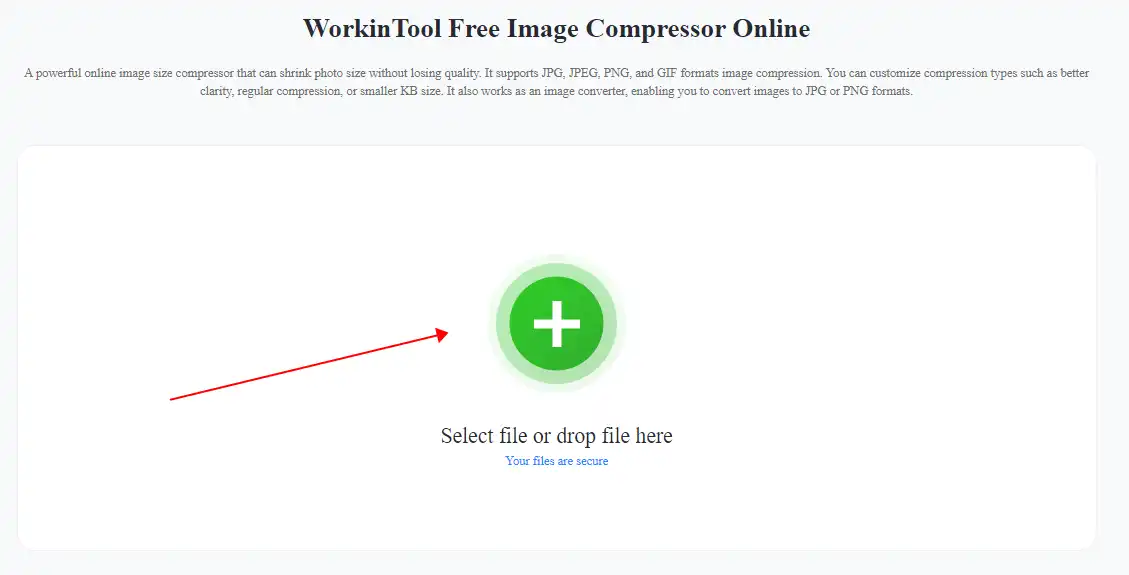 2: Upload the GIF picture(s). It also supports users in adjusting compression levels.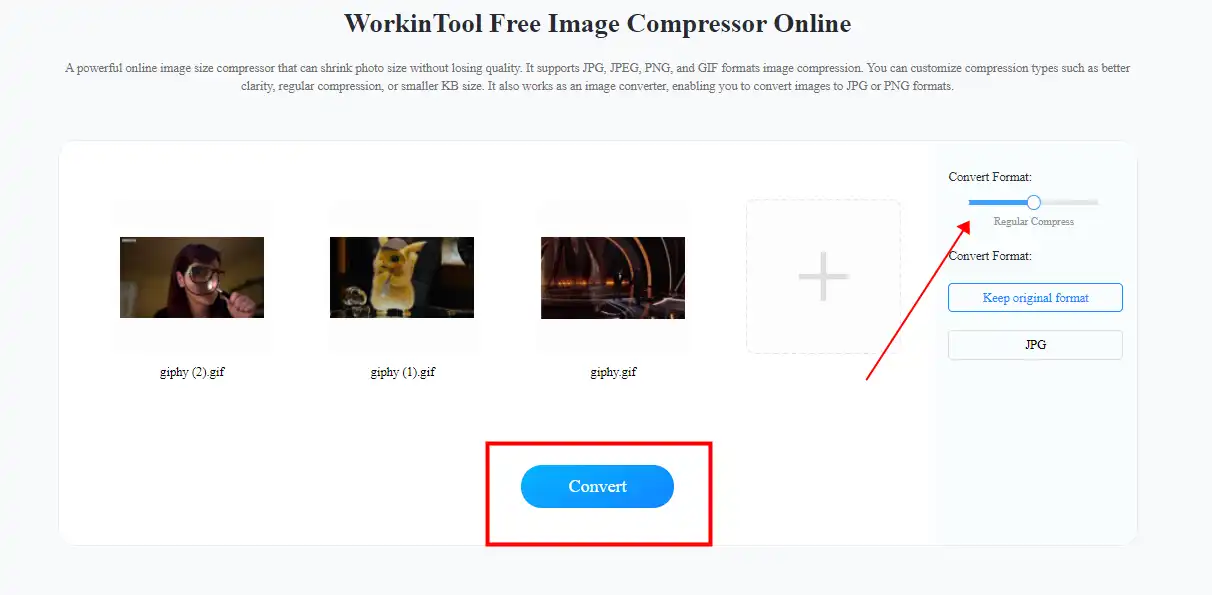 3: Click Convert and wait for the result. Then you can save the compressed GIFs on your device.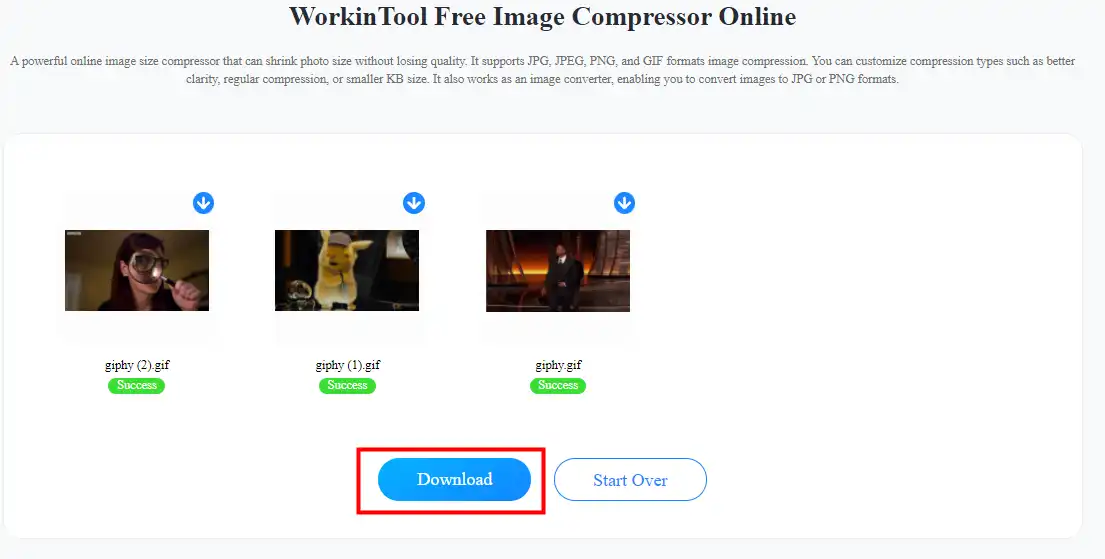 Notice:
Suppose users need to convert images into batches. This tool can only work with four files at a time to correct. The maximum size of each uploaded file is 20 MB.
---
More to Share
In our tests, the four solutions in the previous article are effective in helping users deal with the problem of making GIFs smaller. These four categories include two Windows desktop tools and online content. Our readers can now take simple steps to shrink a GIF file to any size they want. We sincerely hope you can do this using the new and alternative approaches recommended in this article. We strongly recommend that you try the WorkinTool Image Converter. After all, users can enjoy free compression.
So, are you excited about making your GIF smaller, like you wanted?