How to Compress a PNG Image Free on Windows/Mac/iPhone
If you're seeking specific methods to compress PNG files, this guide is here to assist you in effortlessly reducing the file size to your desired specifications on Windows, Mac, and iPhone platforms. Our top recommendation is WorkinTool Image Converter, an all-encompassing image solution. It provides users with the flexibility to choose the best compression settings for their needs. Take the first step by downloading it now and giving it a try.
😍 1. Up to FREE 5 image batch conversions and compression try-out.
🤩 3. Easy interface for users to edit with THREE STEPS.
😎 4. Support more than 100 different image formats to operate.
🥳 5. Cover all the features that you can on the market and interesting filters.
😊 6. Available for image conversion, compression, matting, watermark, and more.
How to Compress a PNG Image Free on Windows/Mac/iPhone
PNG file is one of the most popular image formats. Its most notable advantages are its transparency features and support for over 16 million colors. Because of this, it is often used in web logos, banners, and other image applications. But at the same time, the PNG format is a lossless data compression format, which means that files are larger and take up more storage space. For this reason, users want to reduce the size of PNG files, so learning how to compress PNG files is a must-go.
By professionally compressing PNG images, users can reduce the amount of computer memory they occupy while keeping image quality as low as possible. It's easier to manage whether you want to store images or upload and share them. In this tutorial, we will share with you some valuable and practical methods and tools to help you compress PNG files on different platforms and systems with four free compression methods.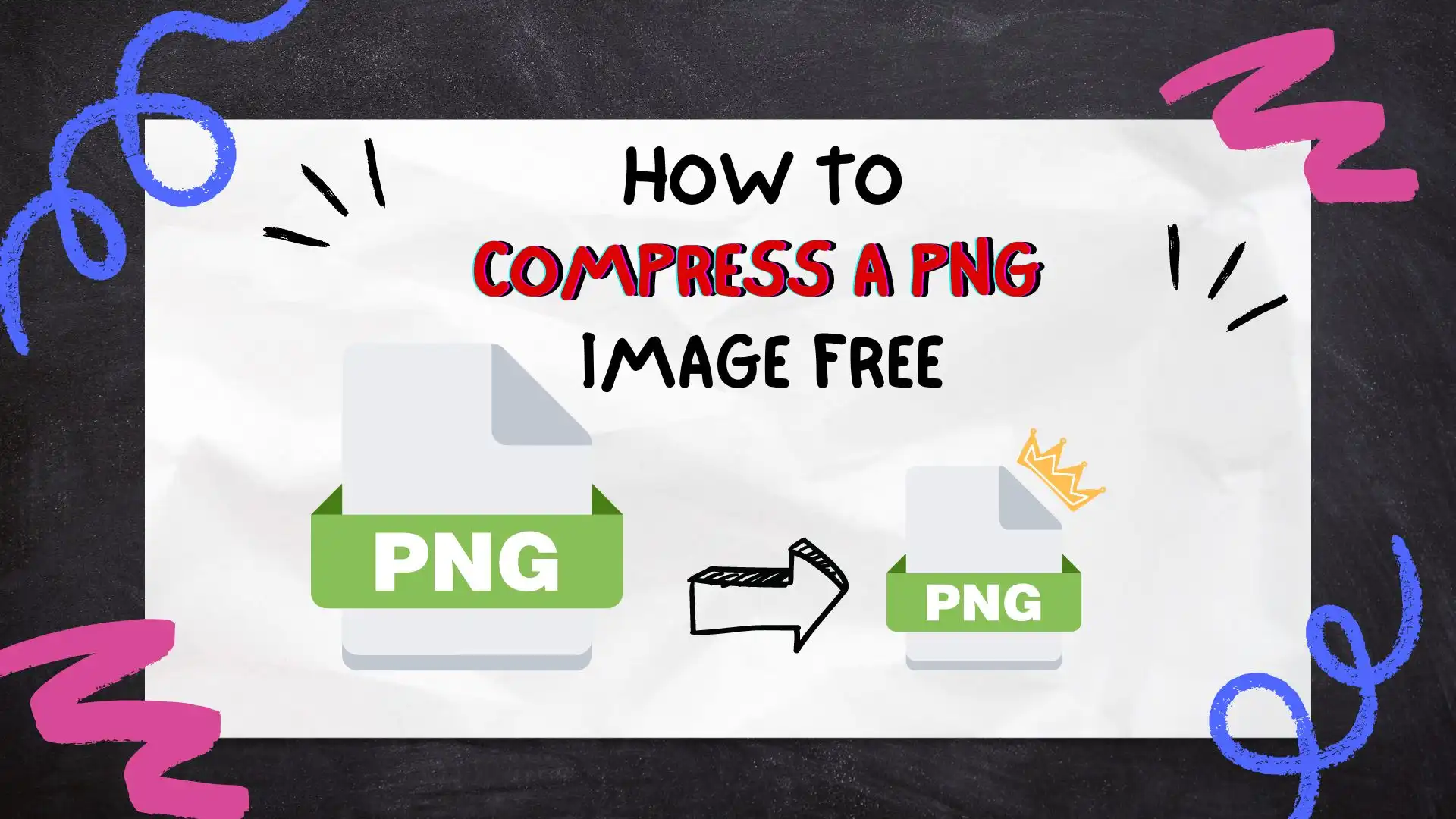 ---
How to Compress a PNG on Windows Desktop
In fact, reducing the PNG image storage space is very simple: using the MS Paint application to cut out the image of the unnecessary parts can be done. But this affects the overall quality of the image. This is not the whole picture compression method. Most users need to compress the entire image size, which does not impact the quality of the PNG method. Unfortunately, there are no such built-in tools to help you achieve this. Therefore, using a third-party conversion tool may be your best choice. WorkinTool Image Converter could be a great option.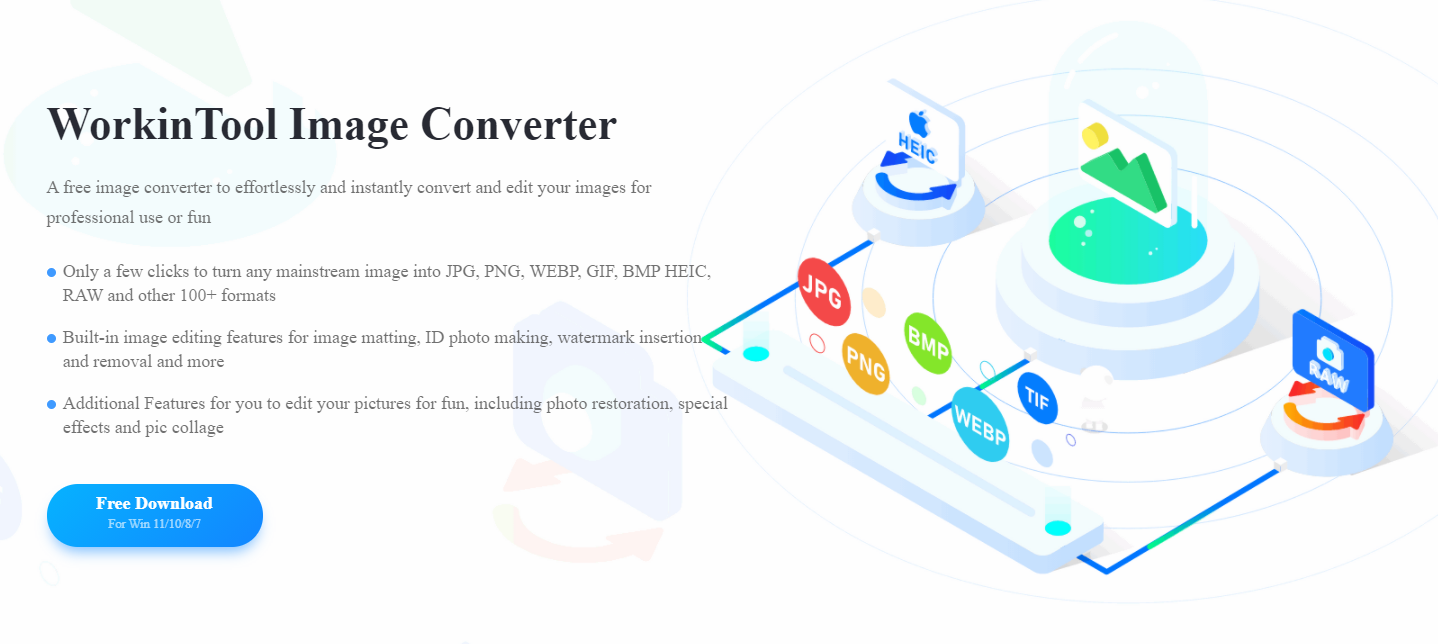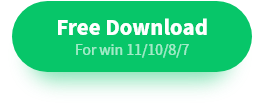 WorkinTool Image Converter is a versatile and comprehensive solution for all your picture editing needs. It goes beyond its conversion features and encompasses a wide range of editing features available in the market. This tool has got you covered from compression to editing, adding or removing watermarks, text, filters, stickers, and more. When it comes to compression, it offers the best service in the market, allowing users to customize their compression settings according to their preferences. What sets it apart is the support for batch compression, saving you from repetitive tasks. With this photo software, you can effortlessly tackle any picture editing challenge. Each feature comes with simple instructions, making it also suitable for beginners in image editing. Say goodbye to complex processes and trust WorkinTool Image Converter to deliver effective results.
Compression Mode: Customize, Shrink First, Equilibrium Compression, Clarity First.
Custom Option: Clarity, Size, Resolution, Target Size.
Output Format: Original Format, JPG.
How to Compress a PNG on Windows:
1. Launch WorkinTool Image Converter and click the Compress Images option.
2. Input your PNG images here.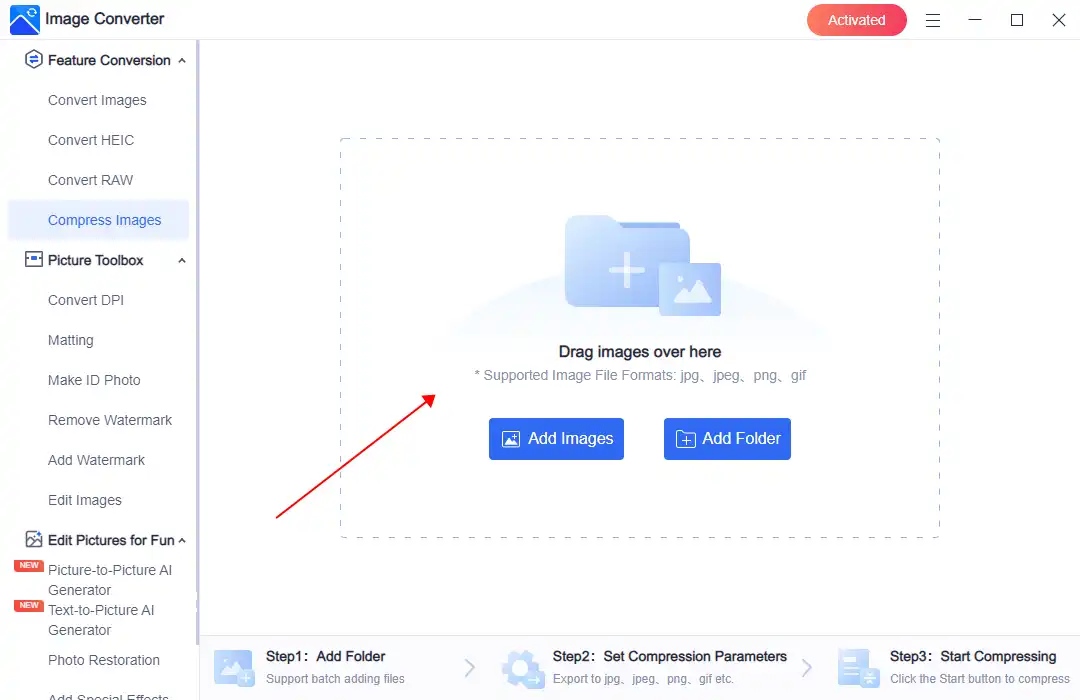 3. Users can adjust many compression options, including image size ratio, clarity ratio, resolution, and target size.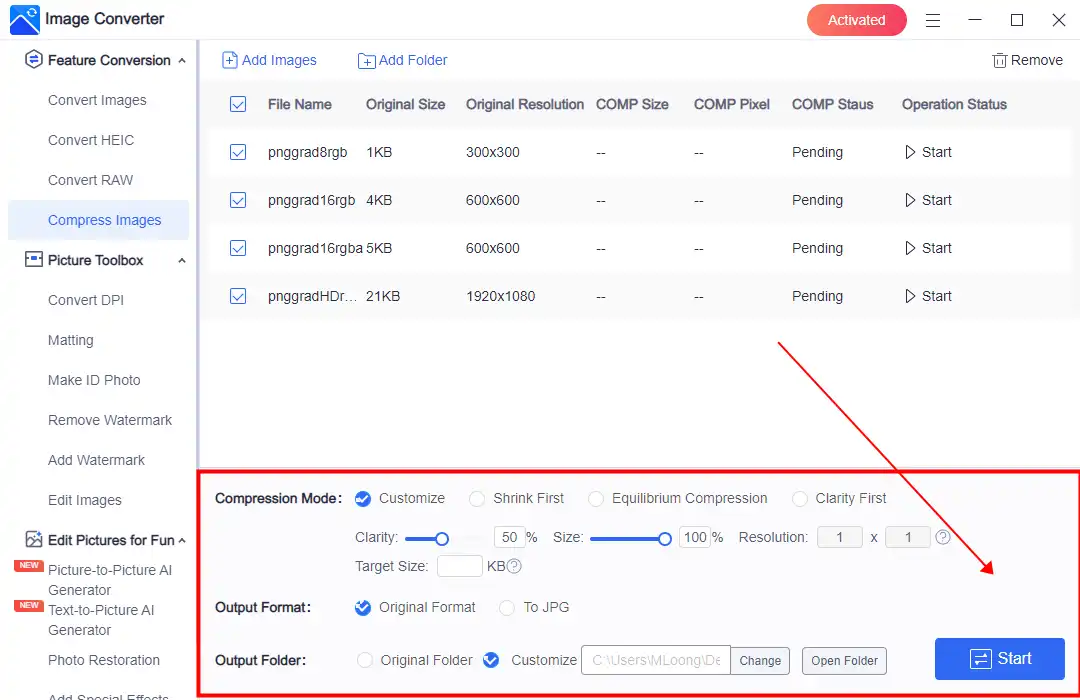 4. After making those adjustments, you can click "Start" to compress immediately and wait for the result.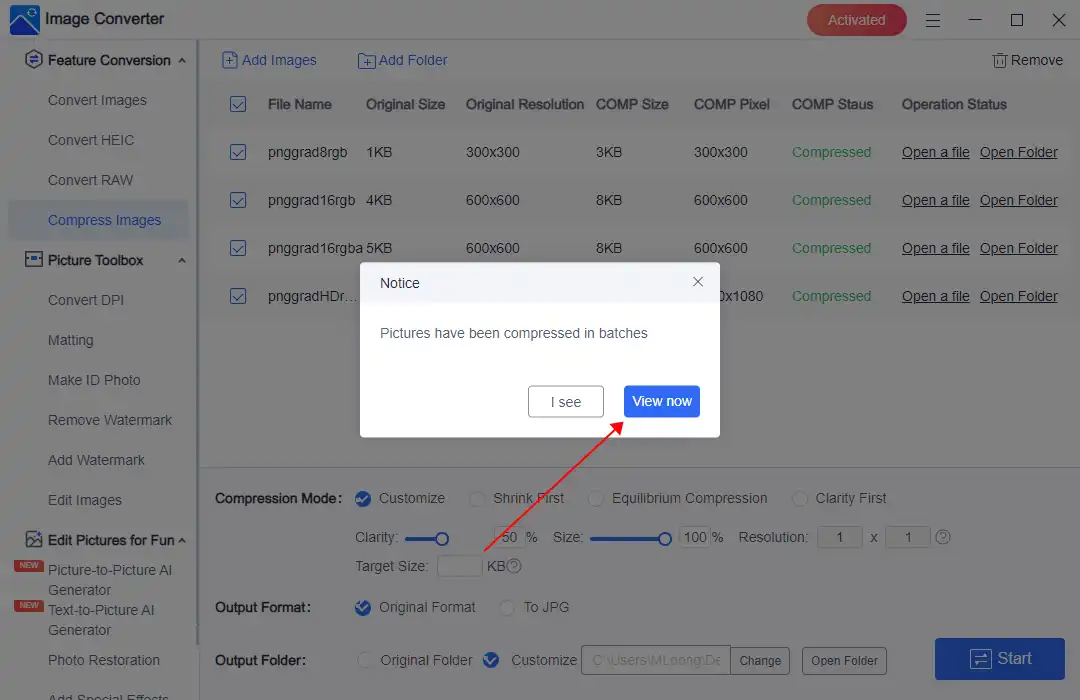 From the pre-and post-compression comparison image below, you will see that the PNG size is indeed reduced after compression. You might think it's not too compressed. That's because the original picture is small. If you like, you can reduce its size from 24 MB to 24 KB.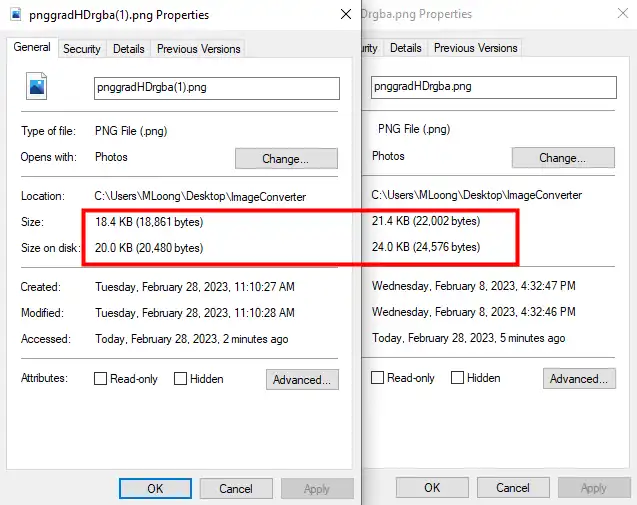 💖 Additional WorkinTool Image features 💖
---
How to Compress a PNG on Mac

Although the compression features of the WorkinTool image converter are very user-friendly and efficient for most users, unfortunately, it is not yet available for Mac. But the good news is that the Mac system has an optional built-in tool that you can use directly on the MAC to compress standard images. This is the Preview application.
Preview app is a file viewing tool that you don't need to download. Except for viewing, it is also an image editor that allows users to make some fundamental changes. And today, we will show you how to use it to compress a PDF to a specific size for better storage or sharing.
The specific steps are as follows:
Step 1. Right-click on your PNG pictures, and select Open With > Preview (default).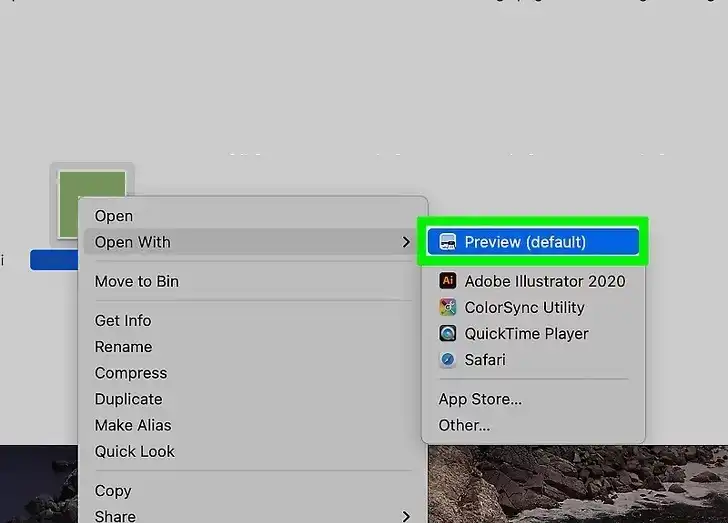 Step 2. Tap File selection to find Export in the drop-down menu.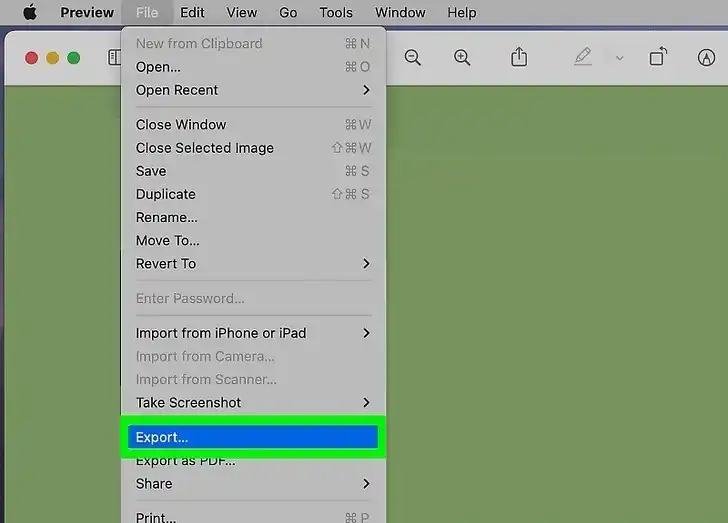 Step 3. Move the quality slider to compress the image to the required size. Click Save to save the new compressed file.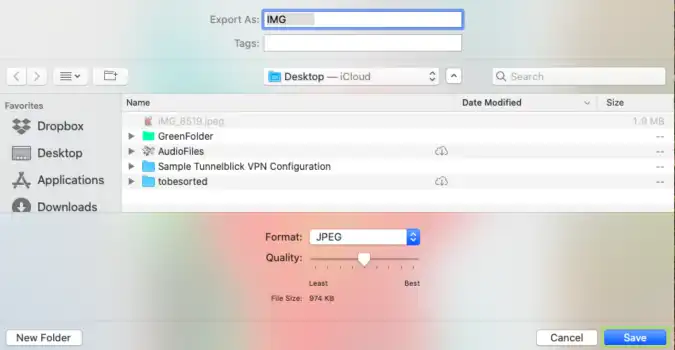 ---
Reduce Image size on iPhone
If you're using an iPhone and want to save space by reducing the size of your images, one of the easiest and most effective ways to do this is to save them in Apple's proprietary HEIC format. Since the iPhone doesn't have a direct image compression feature, we don't recommend cropping out the image itself to reduce the size. So converting to HEIC format is a convenient compromise. HEIC format is smaller and suitable for users to store high-quality photos, but at the same time, the disadvantages are obvious. Its compatibility may be better than PNG.
Settings > Camera > Formats > High Efficiency.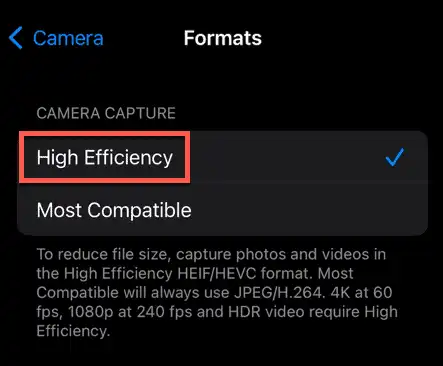 How to Compress a PNG through Email
Although iOS doesn't offer image compression, you can still compress images through its email app, and you don't need to download any other software. The idea is that when you send an e-mail with a picture, the user can compress it to a point where it can be transmitted more easily. Similarly, you can use this feature to send yourself an additional image and download it so that the processed image has been compressed. This method might be more cumbersome than the previous one. But it works.

Open the Mail app and write a New Message.
Scroll to the right: Insert Photo or Video, and select the photos you want to compress.
Click the upper arrow icon to send them.
Then, you need to select different compress modes to use for photos.
After it is sent, open the email and download those compressed images.
---
How to Compress a PNG Online
The three methods described above are for Windows and Mac on the desktop and iPhone on the mobile. Then, as a last resort, we will give you the option that is not restricted from the platform or device. And that is to use an online image compressor. For example, you can try WorkinTool Online Image Compressor. The online compression tool supports four of the most common image formats that users compress, including PNG. In addition, it offers three compression options and batch compression. All of this is free.
How to Use the Online Tool:
1: Use your Website Explorer and visit the WorkinTool online Image Compressor.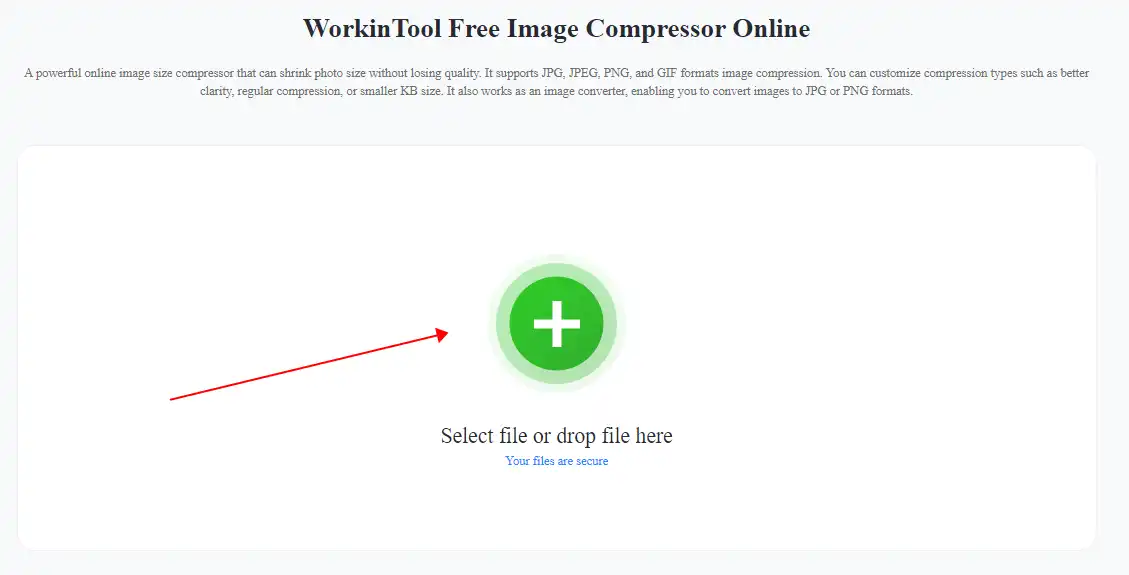 2: Upload a PNG picture(s). Adjust how much you want to compress the image.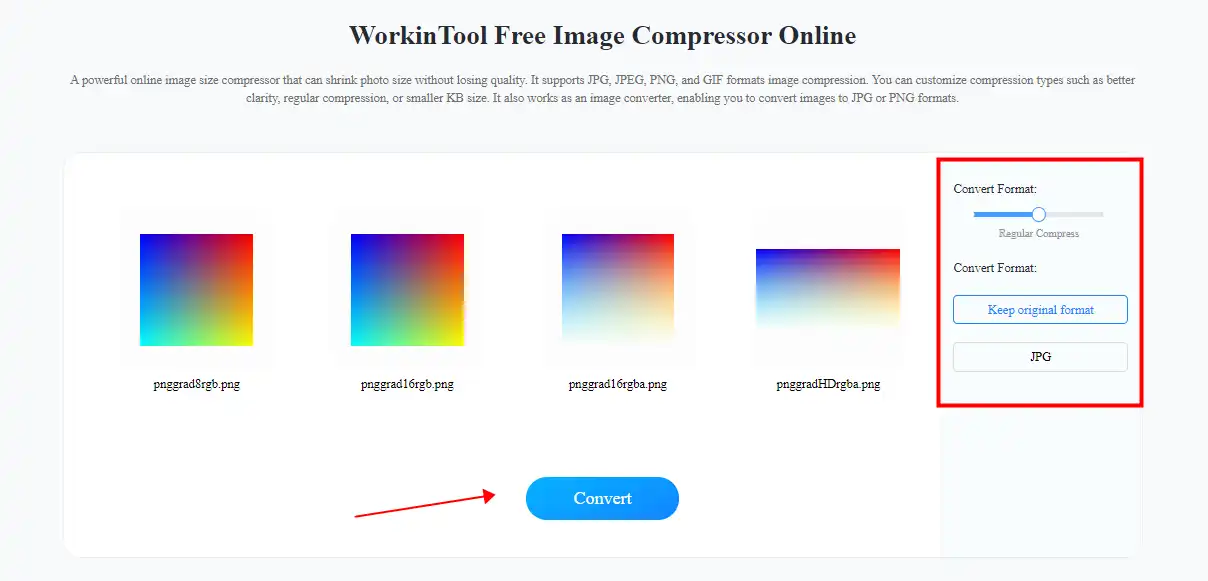 3: Click the Convert button and wait for a second. Then, you can download and save your images.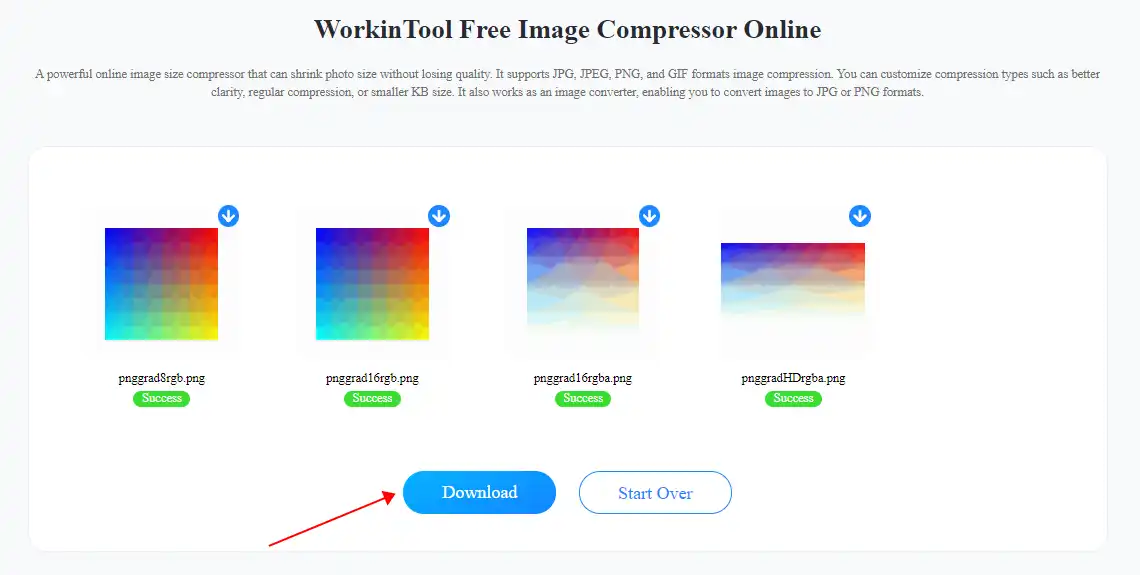 Notice:
Many users do not want to put their personal image files into online tools because of security issues or limitations. Here, we recommend the WorkinTool image converter. It is an all-in-one image editor. It supports over 100 image formats for image compression and provides custom options. Download it now and try it for yourself.
---
More to Share
Through our extensive testing and validation, we have confirmed the effectiveness of all four compression methods. Based on this, we have developed a tutorial that caters to different platforms and devices, ensuring that we address your image compression needs regardless of your chosen platform. With the aid of these tools and methods, you can effortlessly reduce the size of your PNG images to your desired specifications. Specifically for Windows users, we highly recommend giving WorkinTool Image Converter a try. It offers customizable compression options, making it an ideal choice for any user. Additionally, it provides the convenience of batch compression at no cost. So, why wait? Please give it a go and experience the satisfaction of compressing your PNG files exactly as you envision.