[Four FREE Solutions] How to Compress a PNG on Windows/Mac/iPhone
looking for specific ways to compress PNG files, this guide will help you easily compress PNG files to a specified size on Windows, Mac, and iPhone. We recommend that you use WorkinTool Image Converter. It is an all-in-one image solution. It offers many custom compression options for users to decide on. Download now and give it a go.
😍 1. Up to FREE 5 image batch conversions and compression try-out.
🤩 3. Easy interface for users to edit with THREE STEPS.
😎 4. Support more than 100 different image formats to operate.
🥳 5. Cover all the features that you can on the market and interesting filters.
😊 6. Available for image conversion, compression, matting, watermark, and more.
[Four FREE Solutions] How to Compress a PNG on Windows/Mac/iPhone
PNG files are one of the most popular image formats, like JPG. Its most significant advantage is its transparency and support for more than 16 million colors. Because of this, it is often used in website logos, banners, and other image applications, and the background can be seamlessly integrated. But at the same time, PNG format is a lossless data compression format, which means that the file size is more significant and will occupy more storage space. For this reason, users want to reduce the size of PNG files, so learning how to compress a PNG is a must-go.
By compressing PNG images professionally, users can reduce the amount of computer memory they take up while keeping the image quality as low as possible. Whether you want to store pictures or upload and share them, it's much more manageable. In this tutorial, we will share with you some valuable and practical methods and tools to help you compress PNG files on different platforms and systems with four free compression methods.
---
How to Compress a PNG on Windows Desktop
The problem of compressing PNG images on Windows is both simple and challenging. If you only want to reduce the size of the image and don't care about the loss of quality, you can use the MS Paint app to crop out the unwanted parts of the picture. But what we want is to make it possible to compress the entire image size without compromising the quality of PNG. Unfortunately, no such built-in tools can help you achieve that. So, using a third-party converting tool might be your best shot.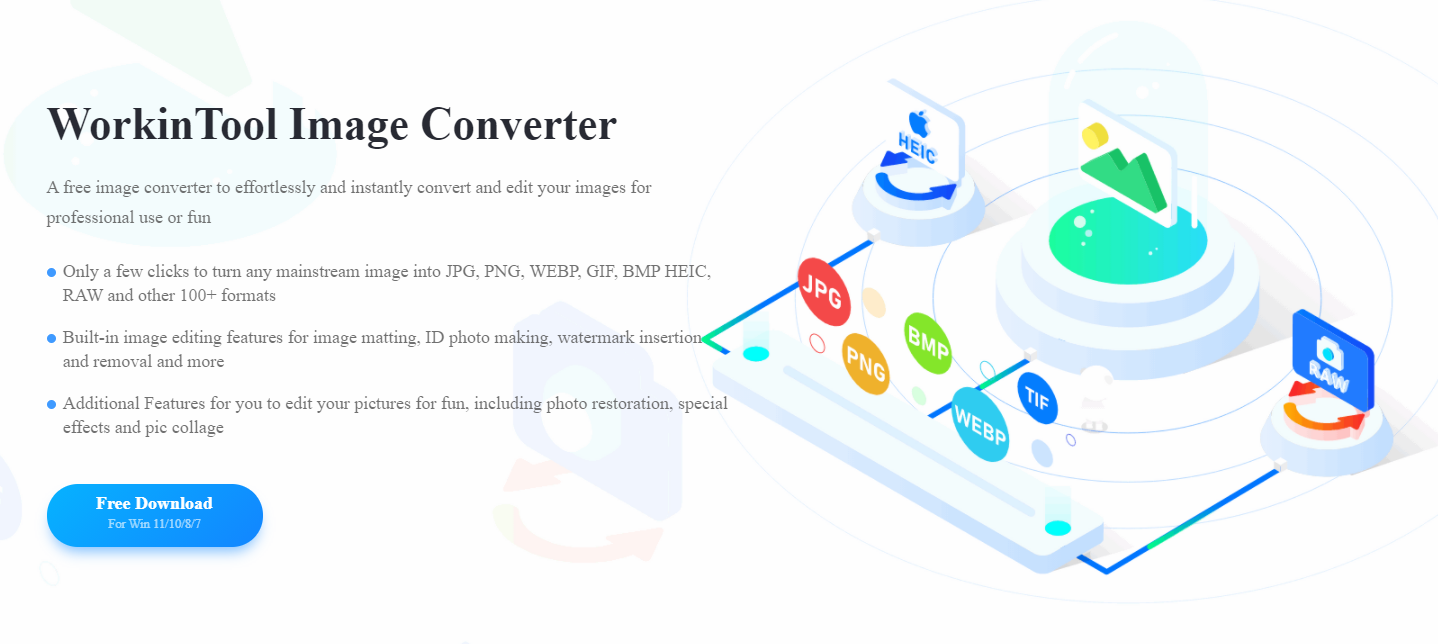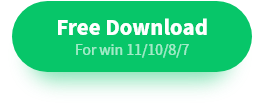 WorkinTool Image Converter may be your best helper. It is a multi-in-one picture editing solution. In addition to the conversions in its name, the tool includes all the editing features on the market, such as compression, editing, adding or removing watermarks, text, filters, stickers, and more. In terms of the compression features we need here, it provides the best compression service on the market. All users can perfectly customize a variety of ways to compress the image. What's more, unlike other image processing software, it also supports batch compression. This means you don't have to repeat the same boring thing. One compression saves all operations. With this photo software, no matter your picture editing problems, you can easily use this tool to complete your work. Each feature has a simple instruction. Even beginners in image editing can get the job done effectively.
Compression Mode: Customize, Shrink First, Equilibrium Compression, Clarity First.
Custom Option: Clarity, Size, Resolution, Target Size.
Output Format: Original Format, JPG.
How to Compress a PNG on Windows:
1. Launch WorkinTool Image Converter and click the option to Compress Images.
2. Add those PNG pictures that you want to compress.
3. On the compression page, there are many options for users to adjust to compress PNG files, including image size ratio, clarity ratio, resolution, and target size.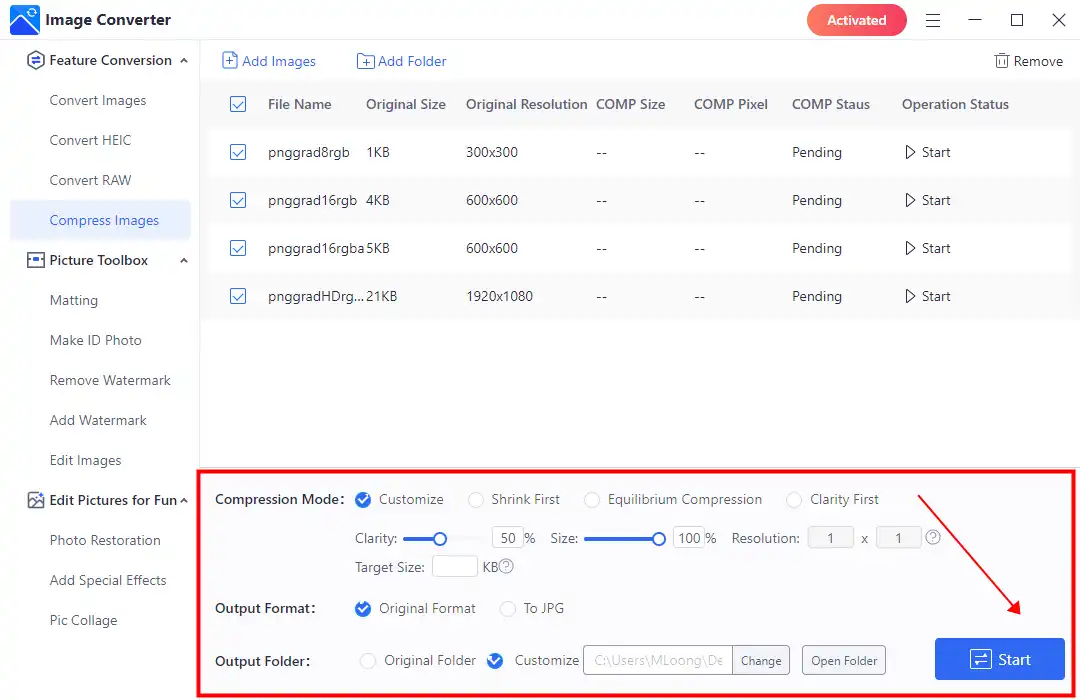 4. After making those adjustments, you can click "Start" to compress immediately and wait for the result.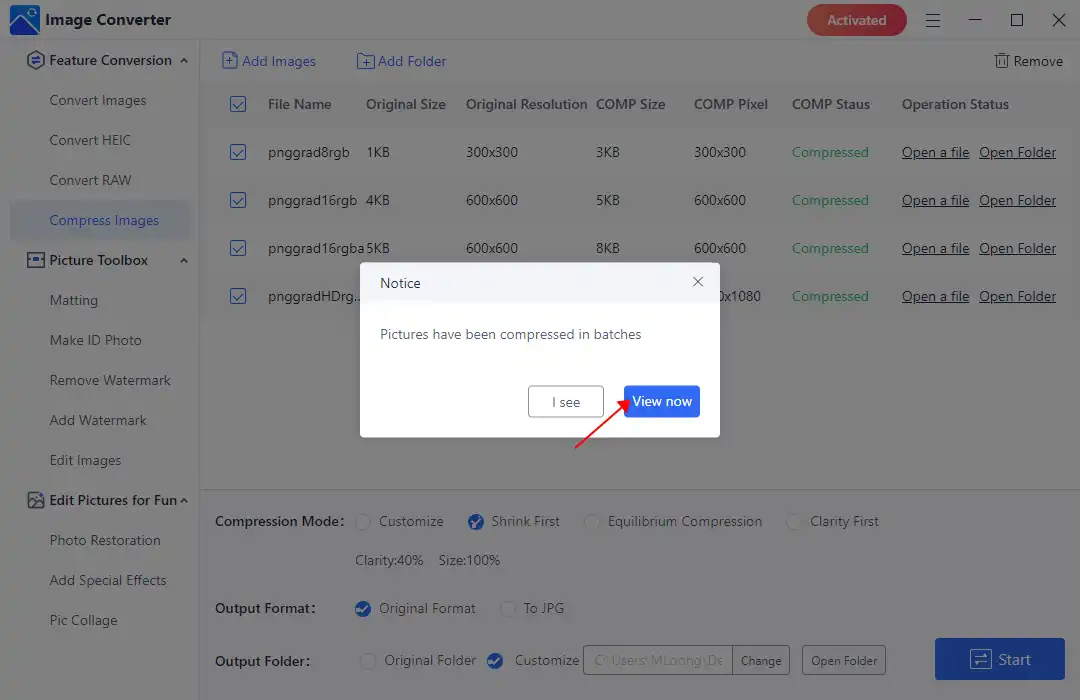 From this comparison image before and after compression, you will see that the compressed PNG shrinks in size. You might think it didn't compress too much. That is because the original picture is small. If it is 24 MB, it will still be shortened to 24 KB if you want.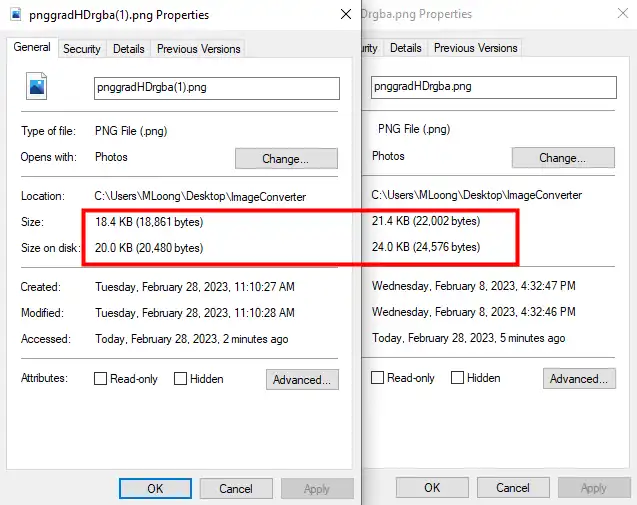 💖 Additional WorkinTool Image features 💖
---
How to Compress a PNG on Mac

Although the compression feature of the WorkinTool Image Converter is very user-friendly and effective, it has yet to be available for Mac. However, there is one alternative built-in tool that you can use directly on Mac to compress standard images. And that is the Preview app.
Preview app is a file viewing tool that you don't need to download. Except for viewing, it is also an image editor that allows users to make some fundamental changes. And today, we will show you how to use it to compress a PDF to a specific size for better storage or sharing.
The specific steps are as follows:
Step 1. Right-click on your PNG pictures, and select Open With > Preview (default).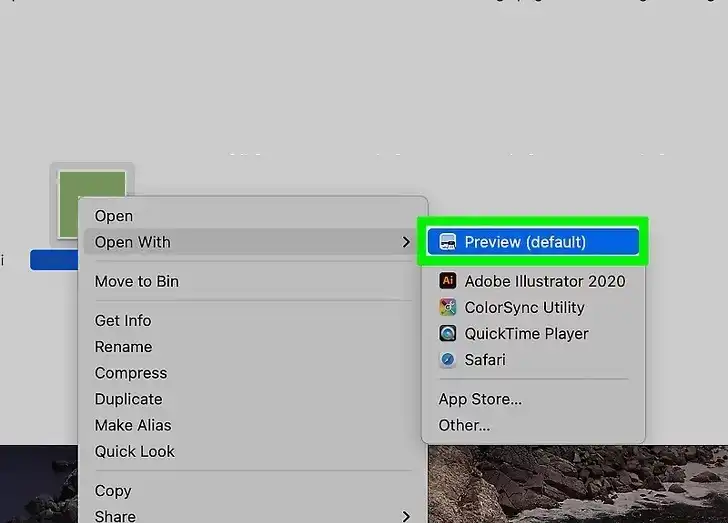 Step 2. Tap File selection to find Export in the drop-down menu.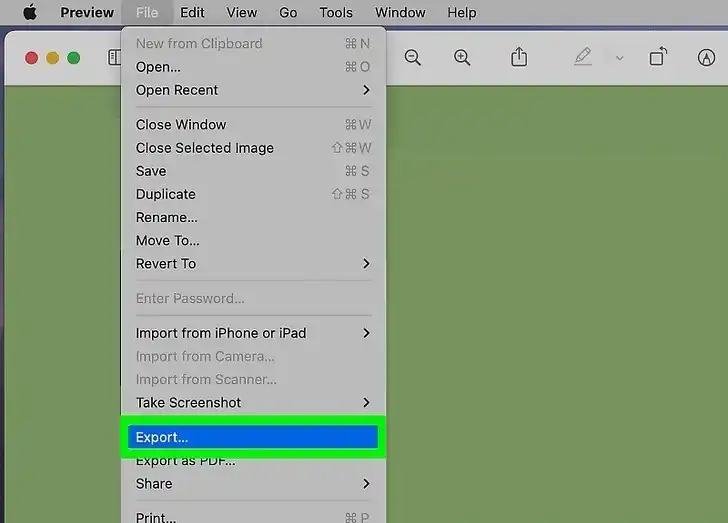 Step 3. Move the quality slider to compress the image to the required size. Click Save to save the new compressed file.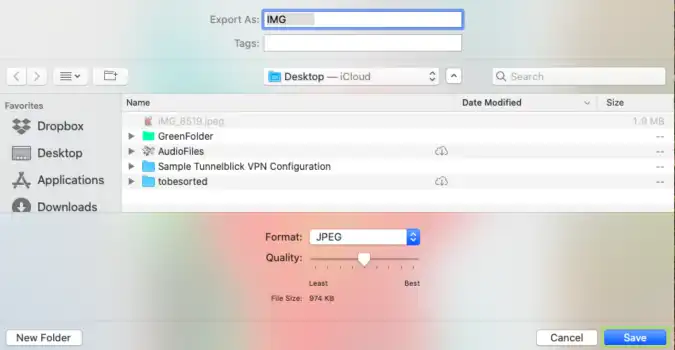 ---
Shrink Image size on iPhone
If you're using an iPhone and want to save space by reducing the size of your images, one of the easiest and most effective ways to do this is to save them in Apple's proprietary HEIC format. Since the iPhone doesn't have a direct image compression feature, we don't recommend cropping out the image itself to reduce the size. So converting to HEIC format is a convenient compromise. HEIC format is smaller and suitable for users to store high-quality photos, but at the same time, the disadvantages are obvious. Its compatibility may be better than PNG.
Settings > Camera > Formats > High Efficiency.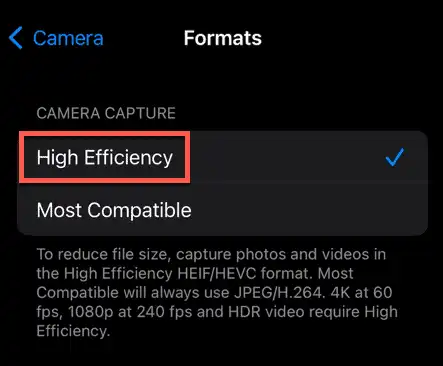 How to Compress a PNG through Email
Although iOS doesn't come with any image compression, you can still achieve compression with its Mail app, and you don't have to download any other software. This is because when you send an email with an image attached, the user can choose to compress it to a certain extent to make it easier to transfer. Similarly, you can use this feature to send yourself an attached image and download it so that the processed image is already compressed. This method is more cumbersome than the previous one. But it works.

Open the Mail app and write a New Message.
Scroll to the right: Insert Photo or Video, and select the photos you want to compress.
Click the upper arrow icon to send them.
Then you need to select different compress modes to use for photos.
After it sends, open the email and download those compressed images back.
---
How to Compress a PNG Online
The three methods described above are for Windows and Mac on the desktop and iPhone on the mobile. Then as a last resort, we will give you the option that is not restricted from platform or device. And that is to use an online image compressor. For example, you can try WorkinTool Online Image Compressor. The online compression tool supports four of the most common image formats that users compress, including PNG. In addition, it offers three compression options and batch compression. All of this is free.
How to Use the Online Tool:
1: Open your Website explorer and get on the WorkinTool online Image Compressor.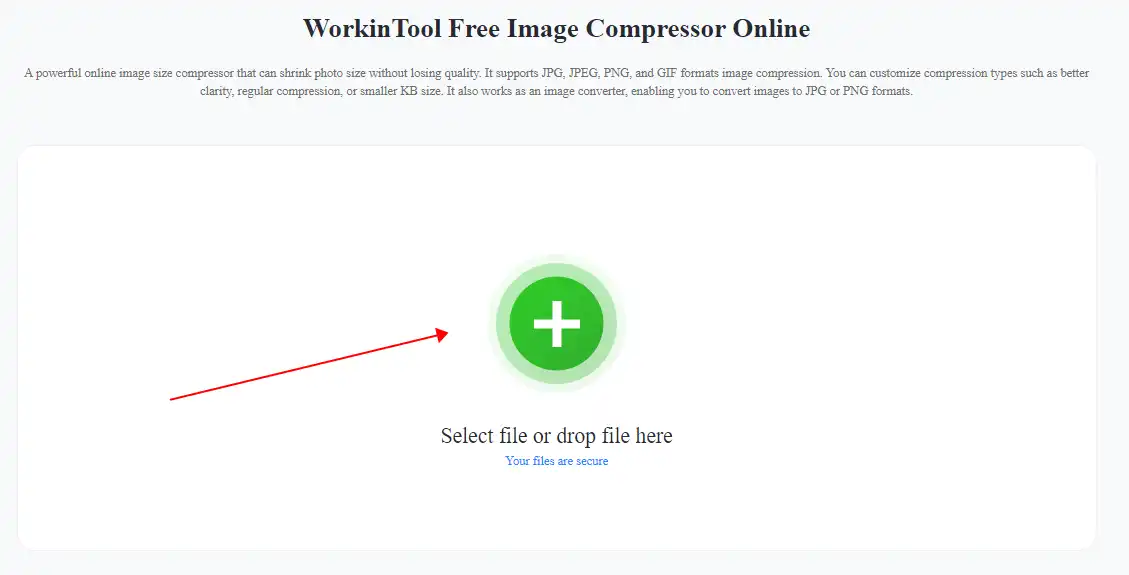 2: Upload the PNG picture(s). And adjust how much you want to compress the image.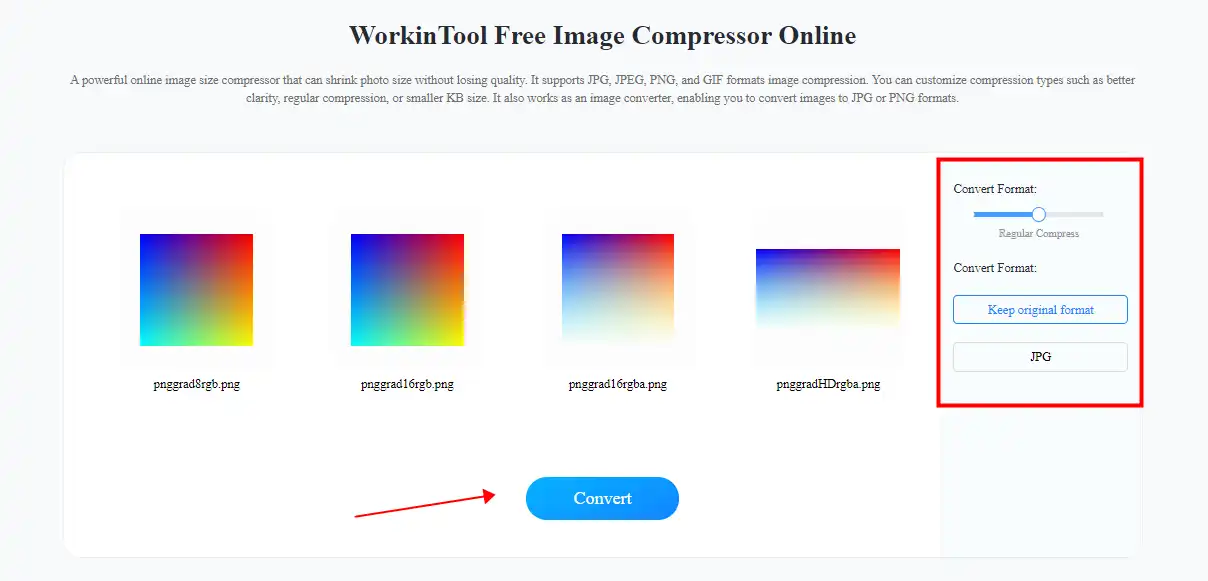 3: Click Convert and wait for a second. Then you can tap download to save your images.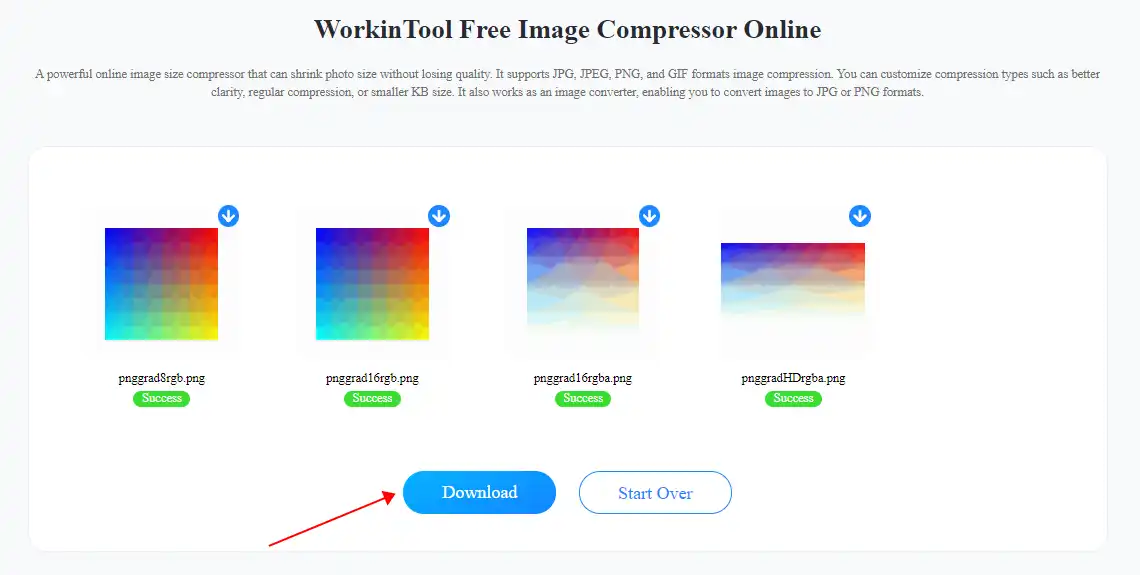 Notice:
As an online free tool, there are some limits you should know.
Suppose you need to convert images into batches. This tool can only work with four files at a time to correct. The maximum size of each uploaded file is 20 MB.
Many users do not want to put their personal image files into online tools because of security issues or limitations. Here we recommend the WorkinTool image converter. It is an all-in-one image editor. It supports over 100 image formats for image compression and provides custom options. Download it now and try it for yourself.
---
More to Share
In general, we have tested and proved that all four compressing methods are available and effective. That is why we write this tutorial according to four platforms and devices. So we have you covered whatever you plan to use for image compression. With these tools and methods, you can quickly shrink PNG images to any size you want. For Windows, we highly recommend that you try WorkinTool Image Converter. Custom compression is a better option for any user, right? Plus, it is free with batch compression.
Now, get it a go and compress PNG files just as you imagine it.