How to Add Text to a Picture on Windows, Mac, and Online
Adding text to a picture is a simple yet effective way to convey a message, enhance the visual appeal, or create a unique design. To do this, you can use various software and online tools to achieve this. For Windows users, we recommend that you try WorkinTool Image Converter. You can use it to customize font, size, alignment, color, and position to add to the image you want. Easy to use without any learning curves. Come and try it now.
😍 1. Up to FREE 5 image batch conversions and compression try-out.
🤩 3. Easy interface for users to edit with THREE STEPS.
😎 4. Support more than 100 different image formats to operate.
🥳 5. Cover all the features that you can on the market and exciting filters.
😊 6. Available for image conversion, compression, matting, watermark, and more.
How to Add Text to a Picture on Windows, Mac, and Online
As you may know, adding text to a picture can elevate your visual content, whether it's for social media, blog posts, or marketing materials. With the proper typography and design, you can create stunning visuals that capture attention and deliver your message effectively. It can enhance communication by making a picture more informative and easier to understand, especially when labeling or describing objects or scenes. This comprehensive guide explores various methods and tools to help solve the problem of how to add text to a picture, ensuring you can find the perfect fit for your project. We'll cover everything from professional desktop software to online free tools, so you can easily create eye-catching visuals.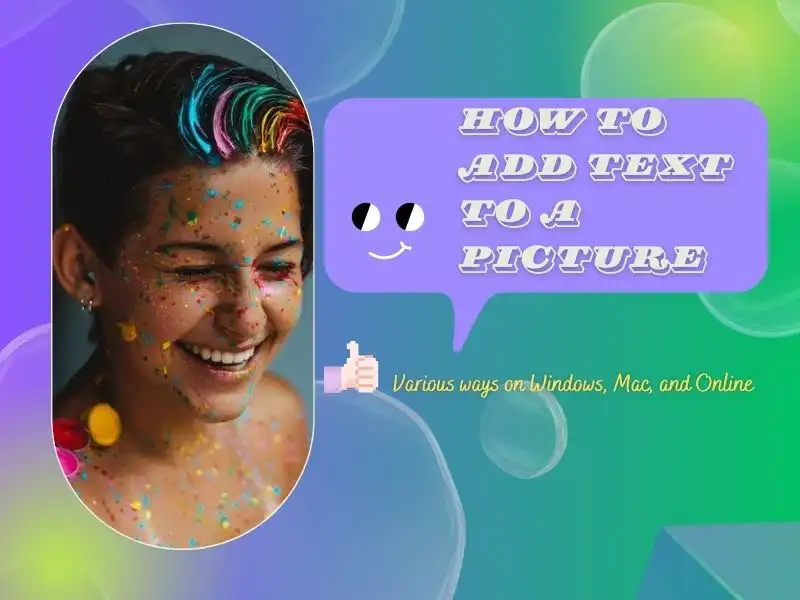 ---
🤔 Why Add Text to Pictures?
Adding text to pictures can serve a variety of purposes. And it also brings so many benefits for your personal life and career. Here are some reasons you should add text to your pictures:
| | |
| --- | --- |
| #1 Providing context: | The text helps explain what is happening in the picture and provides additional information about the image that viewers might not observe alone. |
| #2 Emphasizing a message: | Users can add text to highlight a specific message or point of view. For example, a quote overlaid on an image can deliver a more powerful message than just a plain image. |
| #3 Branding: | Adding a company logo or tagline will help to reinforce a brand's identity and increase brand awareness. |
| #4 Social media engagement: | Text overlays can help make images more shareable. Many Instagram influencers have done this to get more followers. |
| #5 Personalization: | Adding text to pictures will empower them to be more personalized and meaningful, whether as a caption to a family photo or creating a customized meme. It just has the feature. |
Adding text to pictures can enhance their impact and help them better communicate a message or tell a story. Now let's see how to do that trick.
---
How to Add Text to a Picture on Windows
It's so easy to add text to a picture on Windows that you can even use the default image browser. However, even though it is feasible, it is actually a drawing pen for you to manually write on the image. There are a few extra options for you. No font, no size, nothing. And we both know how hard it is to draw on the computer by mouse. It also provides a feature to add animated text. However, it will turn your picture into a short video. Anyhow, here is what to do: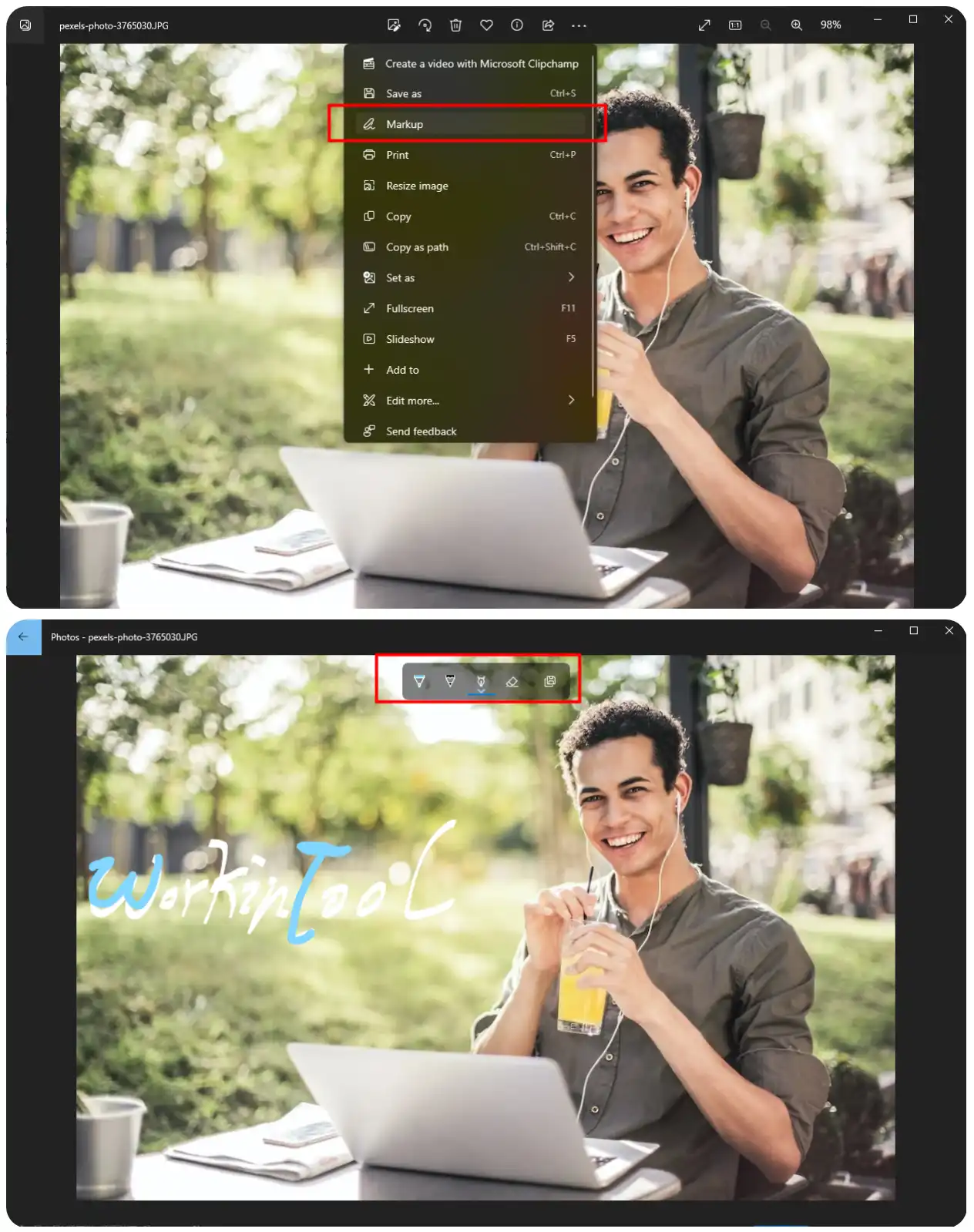 Open your picture with the built-in Photos app.
Tap the three-dots option and select Markup to draw the text you want to add.
After that, click the last saving button to close it.
---
🎉 WorkinTool Image Converter 🎉
However, there is a better option to add text. Honestly, tons of image editing applications help you do that. And they offer much more than the single Photos app. If you are after straightforward and functional software, you should definitely try this helpful one called WorkinTool Image Converter.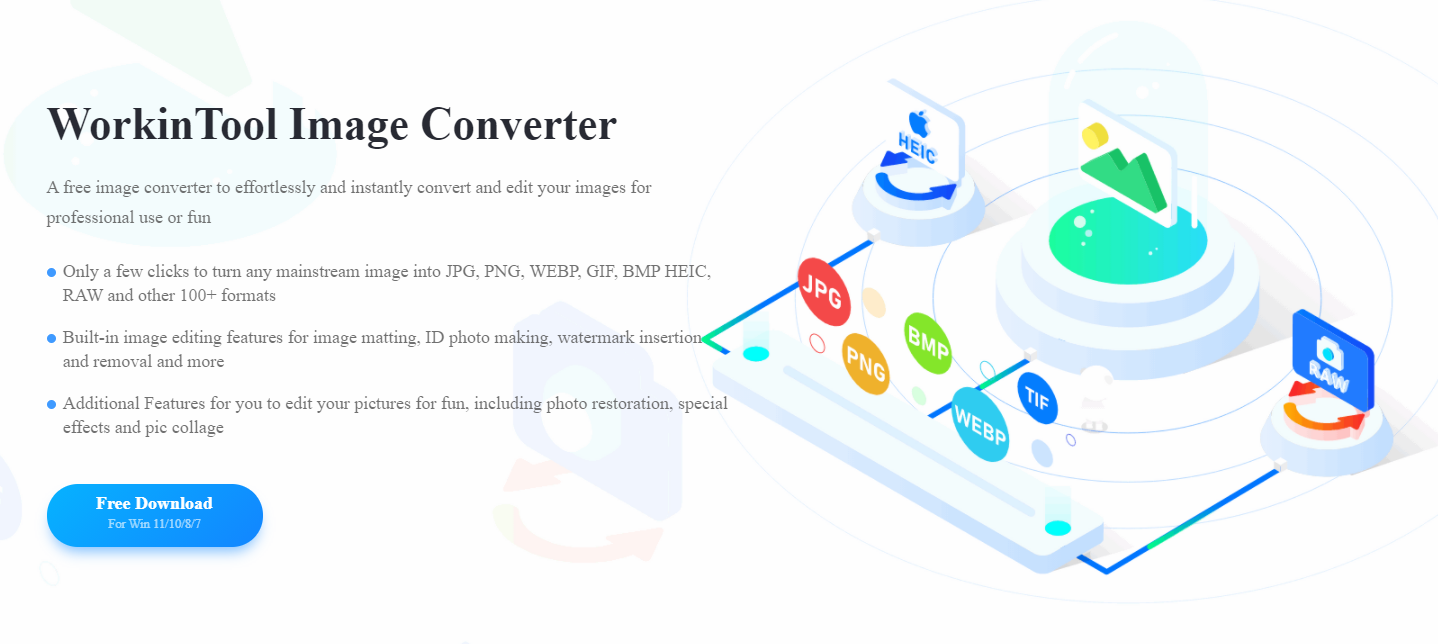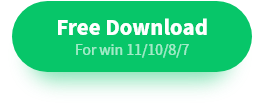 WorkinTool Image Converter is a professional tool dedicated to helping users with all image issues. It is designed to be simple in operation and easily understood. This tool is equipped with various valuable features and is lightweight. So, whether you have edited pictures before or not, it will provide you with the best experience.
As for the text feature, it provides all the customized options you want. For example, there are font, size, alignment, color, and spacing. You can also add multiple text boxes for different content. More importantly, WorkinTool will offer you the output without losing quality. Except for these, it also offers many other editing features that you can find in Photoshop. But I am sure you will get a better result and experience using it.
100 +image formats conversion available

Customize to enlarge or compress images

Add or remove photo watermarks

Change or remove the image background

More than 65 image filters to apply
📕 How to add text to a picture through WorkinTool Image Converter
1. Open WorkinTool Image Converter and click Edit Images to add your image.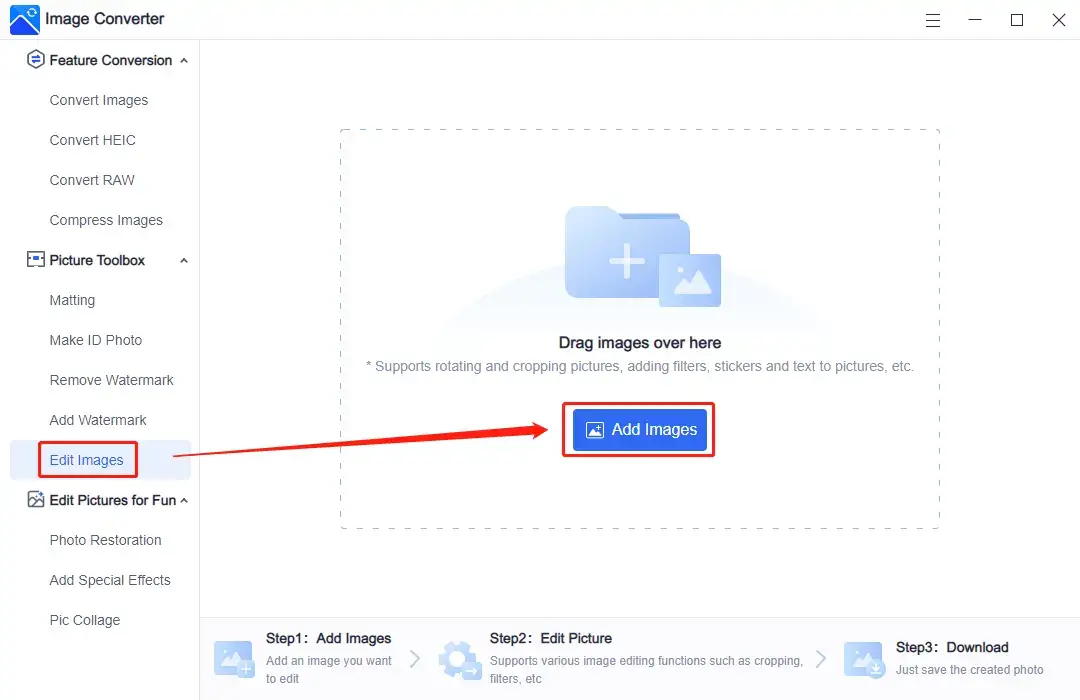 2. Choose the Text Icon (A shape) and then input the text you want to add.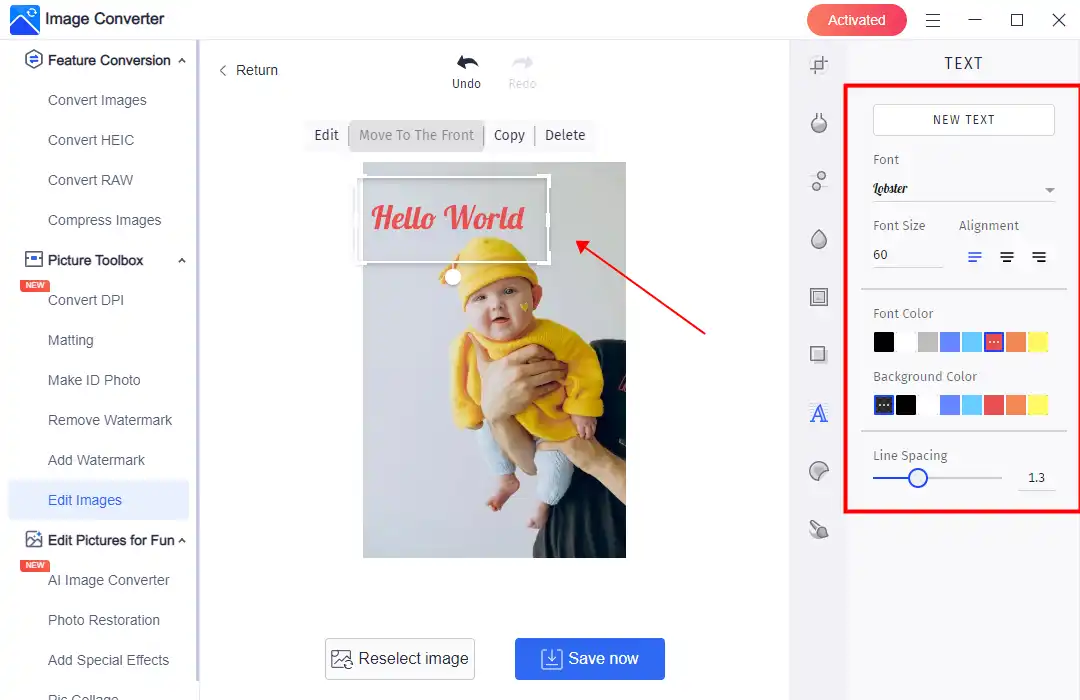 3. Adjust the text box's position, font, size, alignment, color, and spacing. Then press the Save Now tab.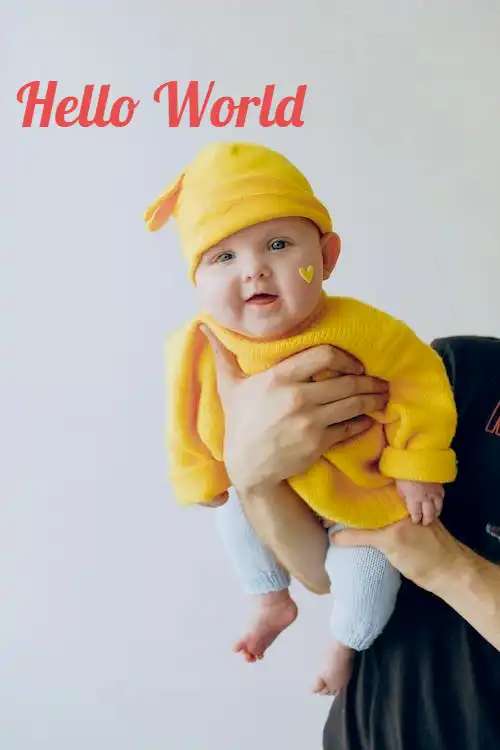 (Here is the final result.)
🎊 More Amazing Features for WorkinTool Image Converter 🎊
---
How to Add Text to a Picture on the Mac
For Mac users, it is even easier to add text to any picture you want directly. And you don't have to download any third-party tools to do that. Mac users can access built-in software to edit pictures through the Preview app. This Preview app is a free file editing and previewing tool that offers many features to help users. You can see it as an advanced version of the Photos app on Windows. And here, you can use it to add text.

Step 1. Launch Preview and open the image if you want to add text.
Step 2. Tap the pen icon button and select the "Aa" option to customize your text.
Step 3. Finally, you can save this image.
---
Online Image Text Adding Tool
If you want to avoid downloading a third-party image application to do that, consider trying online tools for text-adding features. These online tools can also be good at providing various custom services to users. However, there is one thing you should notice when using online tools. Be sure that the image you upload has no personal information in case of necessary risks. And if you need a recommendation, you can try the online image editing tool called "Canva" to add text.
AI-driven Canva is a powerful online image editing tool that can help users solve many image problems online. The shining light of it is that it always provides the most edgy templates all over the Internet. You can use it to make a trendy image better than Photoshop or Instagram. And, of course, there are many templates that you can use to add text to your picture. And it comes out with a fantastic effect.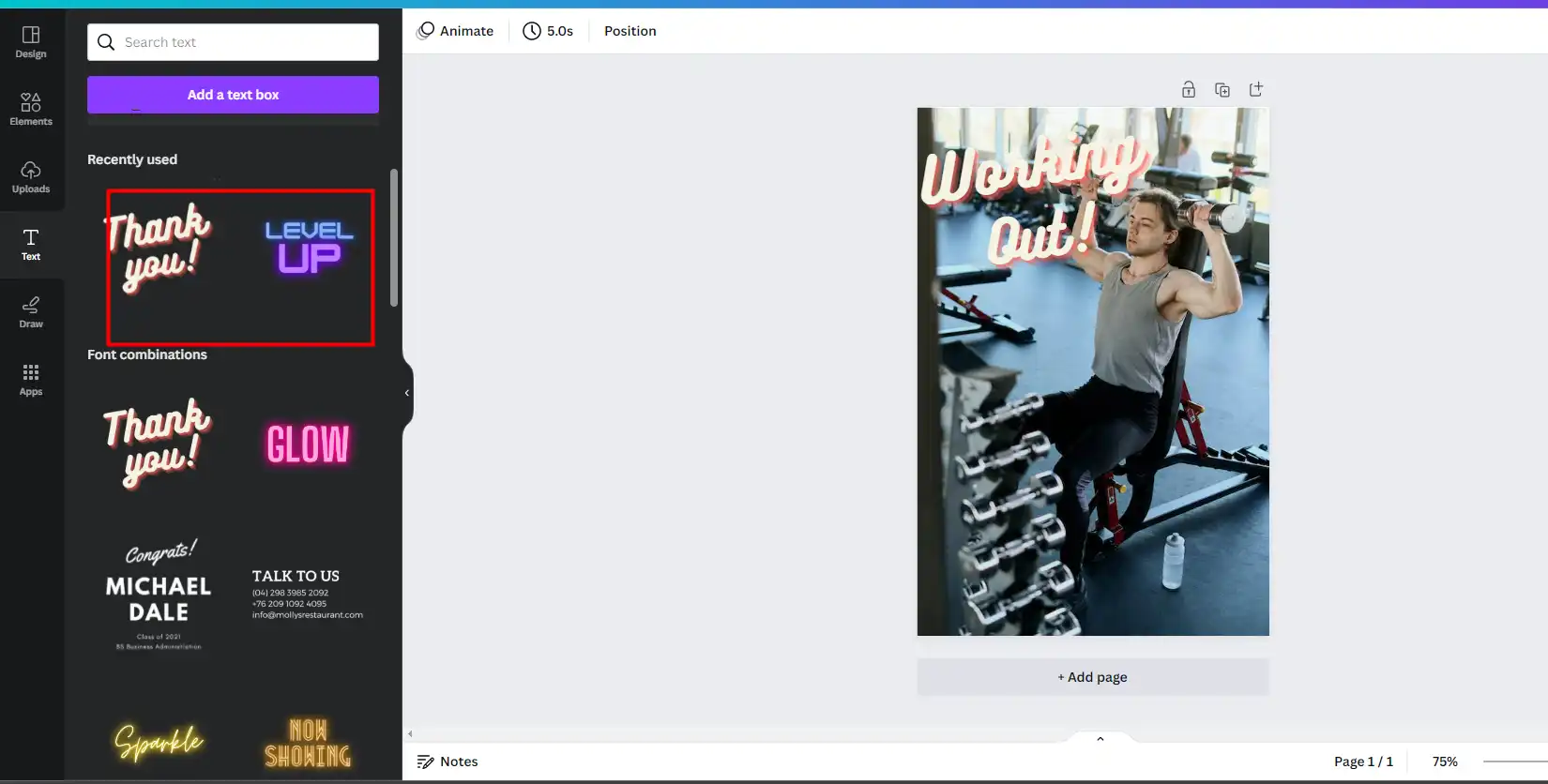 📙 Add Text to a Picture using Canva:
1: First, visit Canva using a browser.
2: Tap the text button and select a text template. Customize the text you want to add to the picture.
3: At last, adjust the position and save the image.
---
Conclusion
As you can see, learning how to add text to a picture is vital as it can significantly enhance your visual content and help deliver your message more effectively. By selecting the right tool and following best practices, you can create stunning images that capture attention and make an impact. Check out this post for all the information you need. We highly recommend that you start with WorkinTool Image Converter. Whether you're a beginner or a seasoned designer, it is the most accessible tool to suit your needs, enabling you to create eye-catching images that stand out in today's digital landscape.
Now that you know how to add text to a picture, it's time to get creative and start designing your own stunning visuals. Start now!