How to Add Free Digital PDF Stamps 2023 [Easy Tutorial]
With the development of technology, more people replace real stamps with digital PDF stamps. Instead of carrying a stamp to go every place, directly adding PDF stamps is much more convenient. But where can you find the PDF stamps and how to add them on PDF? Here comes the solution, and that is by using WorkinTool PDF Converter. It is a very powerful PDF tool. With it, you can pick a desired stamp in the template library or create your original one to paste on your PDF file. Moreover, it is totally free to use. So, go download and install now to experience the magic.
Since PDF format files were invented, most companies have used this format to deliver data and information because of its high privacy and non-editable features. It is easy to share with other colleagues and clients. In the past, you have to carry a real stamp to prove those files. But now, with the development of technology, digital stamps are generally replacing the real ones. Applying digital stamps is much easier to process PDF files. No matter it is a contract, a construction design, a company statement, the only you need to do is to paste PDF stamps on it. And shift another one to do it again if there are multiple files.
Now that we mention it, you'll need a practical and convenient PDF editor. So, here I highly recommend WorkinTool PDF Converter. Next, I'll walk you through how to add free PDF stamps and how to use this powerful software to create your own PDF stamps.
---
📍 Add Free PDF Stamps by WorkinTool
WorkinTool PDF Converter is a very easy PDF editing tool with multiple functions. With this all-in-one PDF Converter, basically, you can do all the PDF-related processes in seconds. From the basic converting functions like PDF to Word, PPT to PDF, to PDF page management like removing images from PDF and splitting PDF files. It really did the phrase "I name it, I have it. "
Additionally, in order to add digital PDF stamps, you need to use the PDF editing functions. WorkinTool supports exactly the same editing function as Adobe DC. Based on the variety of the same functions, the interface design is much cleaner. No matter you are a rookie to PDF editing or a PDF editing pro, you can get equal satisfaction by using this software. Also, there are more than thirty various PDF stamps for users to pick. From business classified files to house selling documents, you can find them all here.
How to Stamp PDF Manually
1. First, download and install this amazing PDF Converter.
2. Open your PDF in the "PDF edit" function.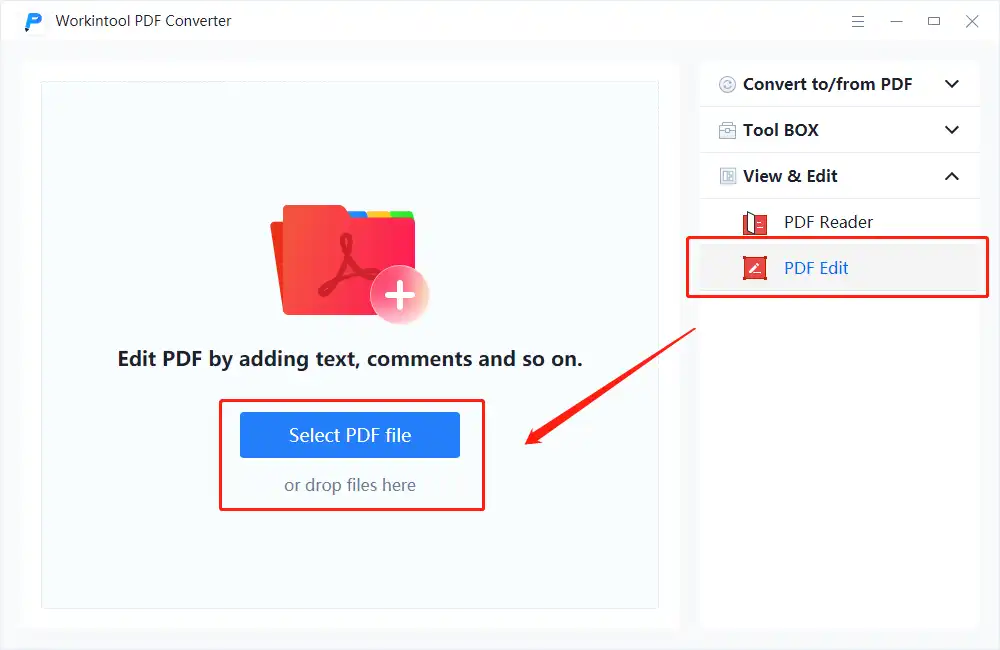 3. After opening, you will see a toolbar on the top ribbon. Go to find the "Stamp" option in the Image drop-down menu.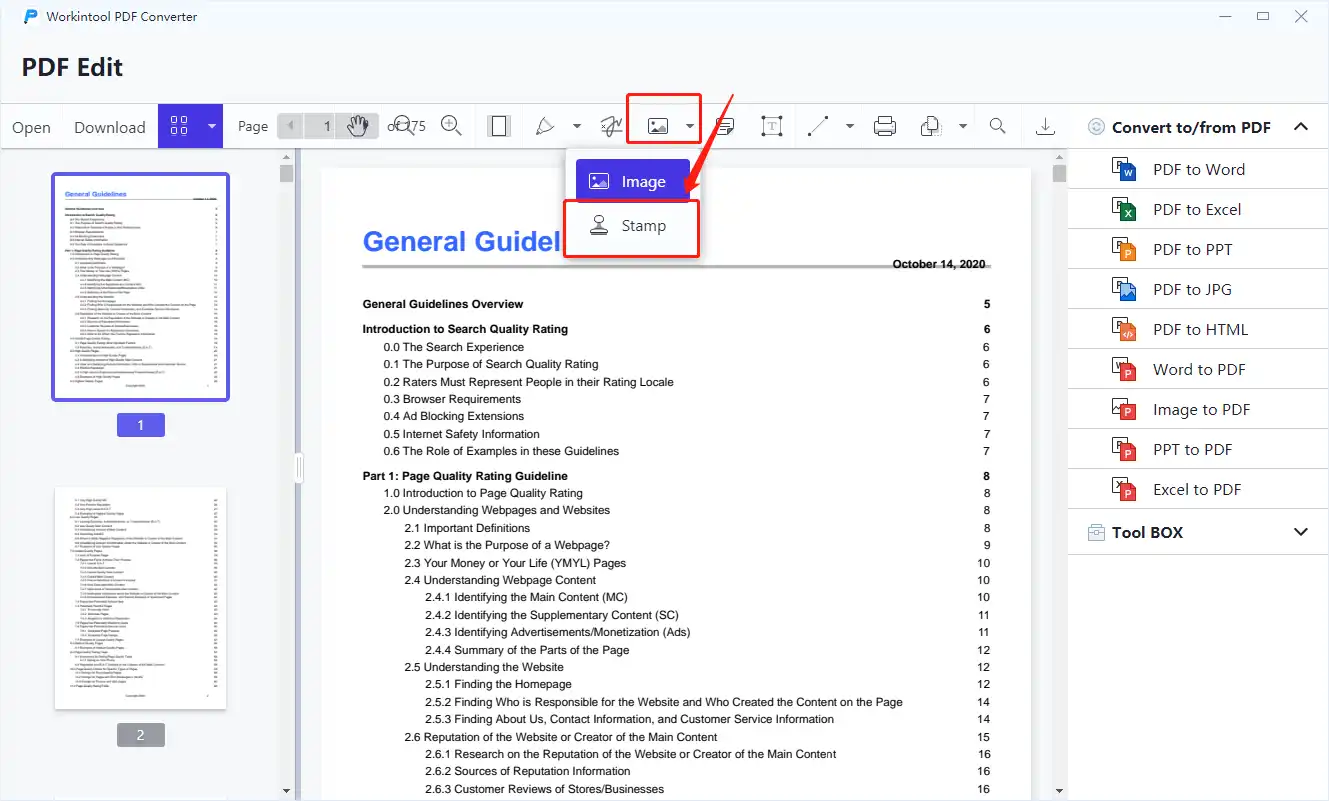 4. Then, you can pick any stamps that you like in the template library. There are more than thirty unique stamp templates for users to decide. It contains all the stamps required for each scenario.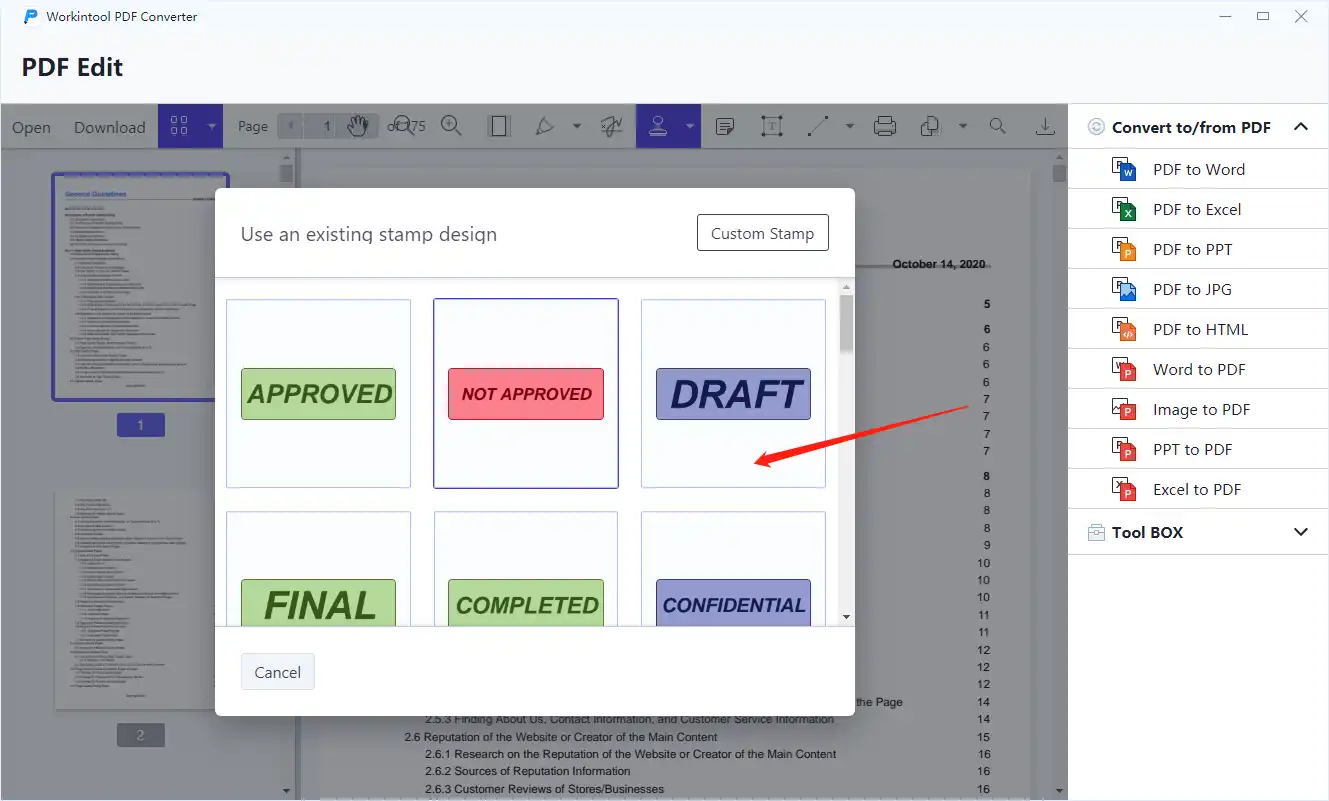 📣 Notice: 
You can modify the size of your stamps by dragging the image box. You can also adjust the transparency and add a note to your stamp by the two buttons on the toolbox. If you are not happy about it, you can delete this PDF stamp by the "Delete" option. Or tapping the "delete" button on the keyboard can also do this trick.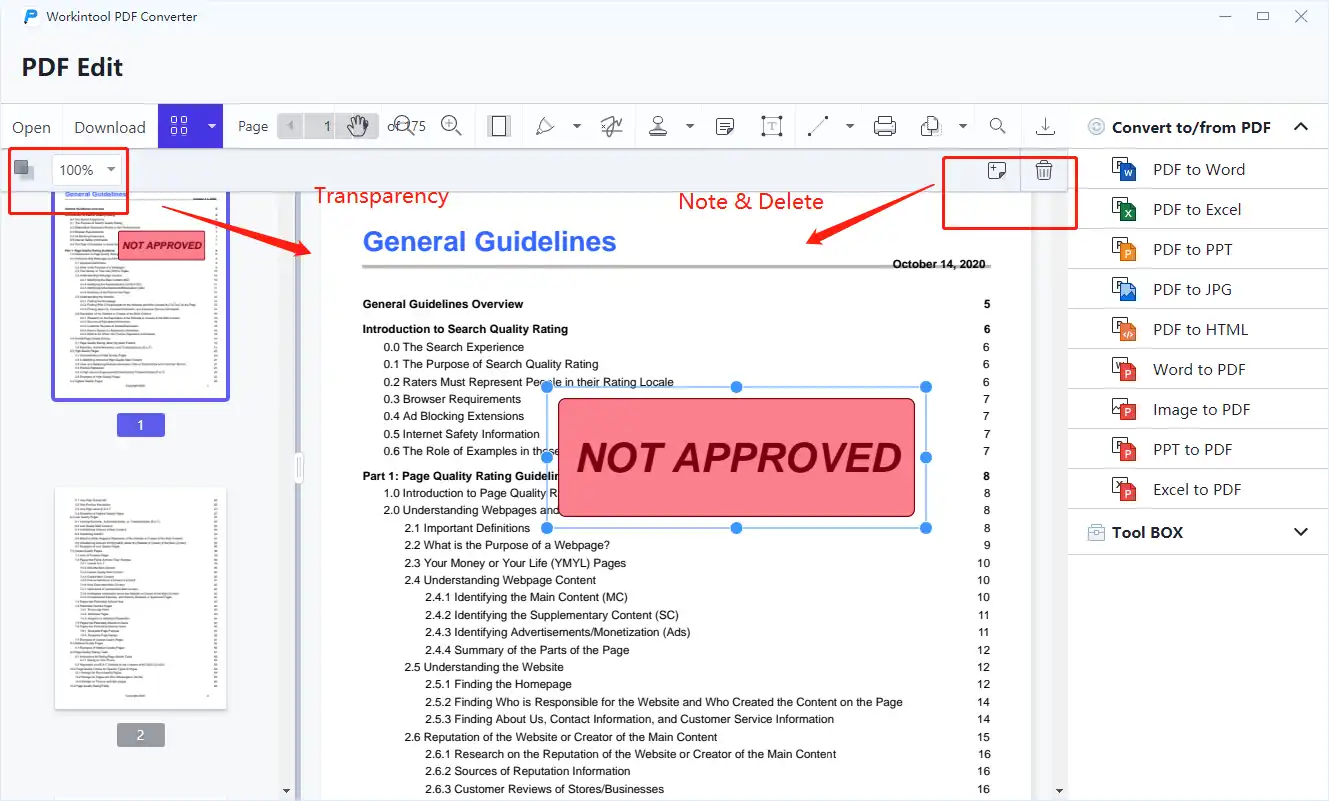 ---
 💡 Create PDF Stamps by Your Own
Except for selecting stamps in the library, you can make a special PDF stamp that belongs to you and only you. It is fairly easy. Same as adding the PDF stamp templates, you just need to find the button in the editing function. And insert the homemade stamp into your PDF, then it is done.
First, like the steps of adding PDF stamps, you need to find the "Stamp" button in the Image option.
Then you will see the "Custom Stamp" option in the template window. Hit it.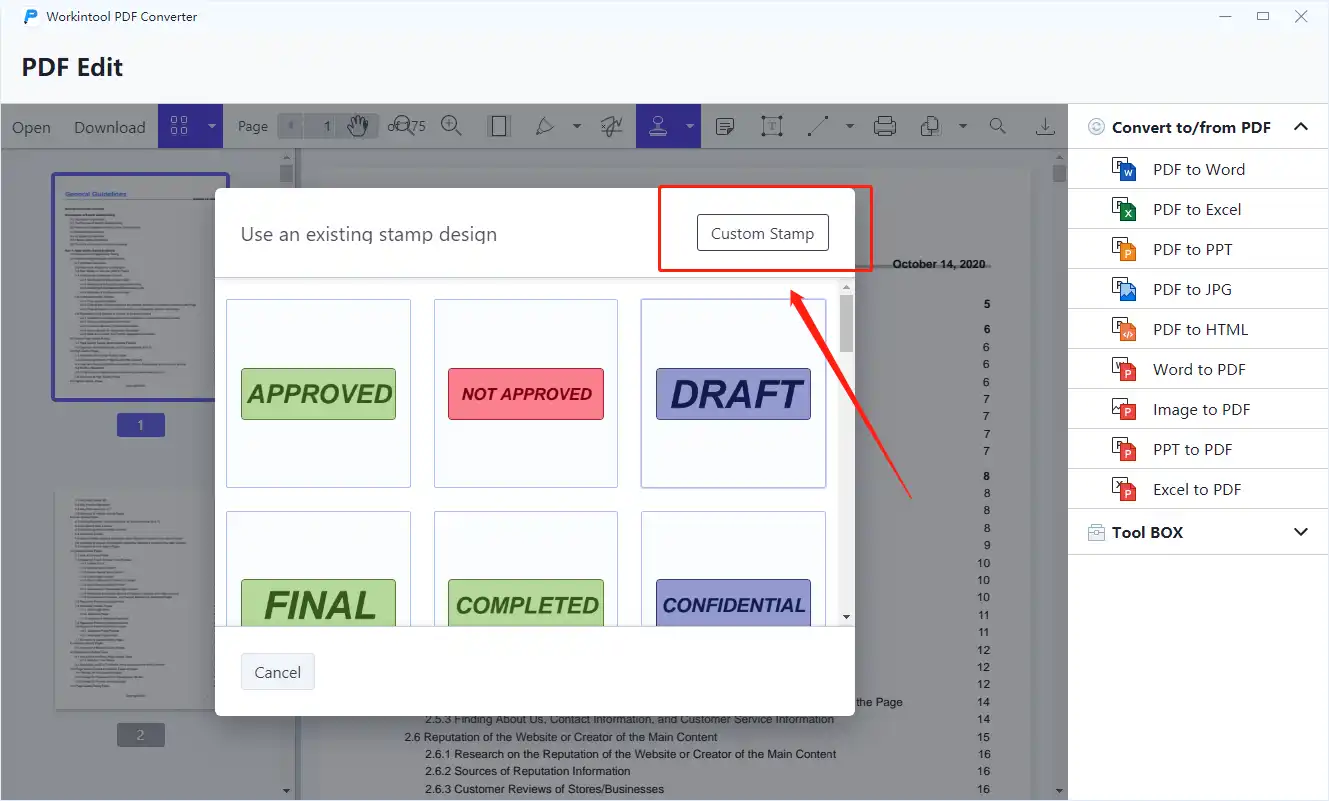 There, it is time for you to create your own PDF stamps now. You can customize the text content. If you want to display time and date, select these two options under the text box. Choose a color that the stamp theme should be like. After everything is on set, hit "Create Stamp" to seal the deal.
Then, you can control the size of your stamp, adjust the transparency and decide if you want to add any note. Basically the same as adding a stamp template, only more creative.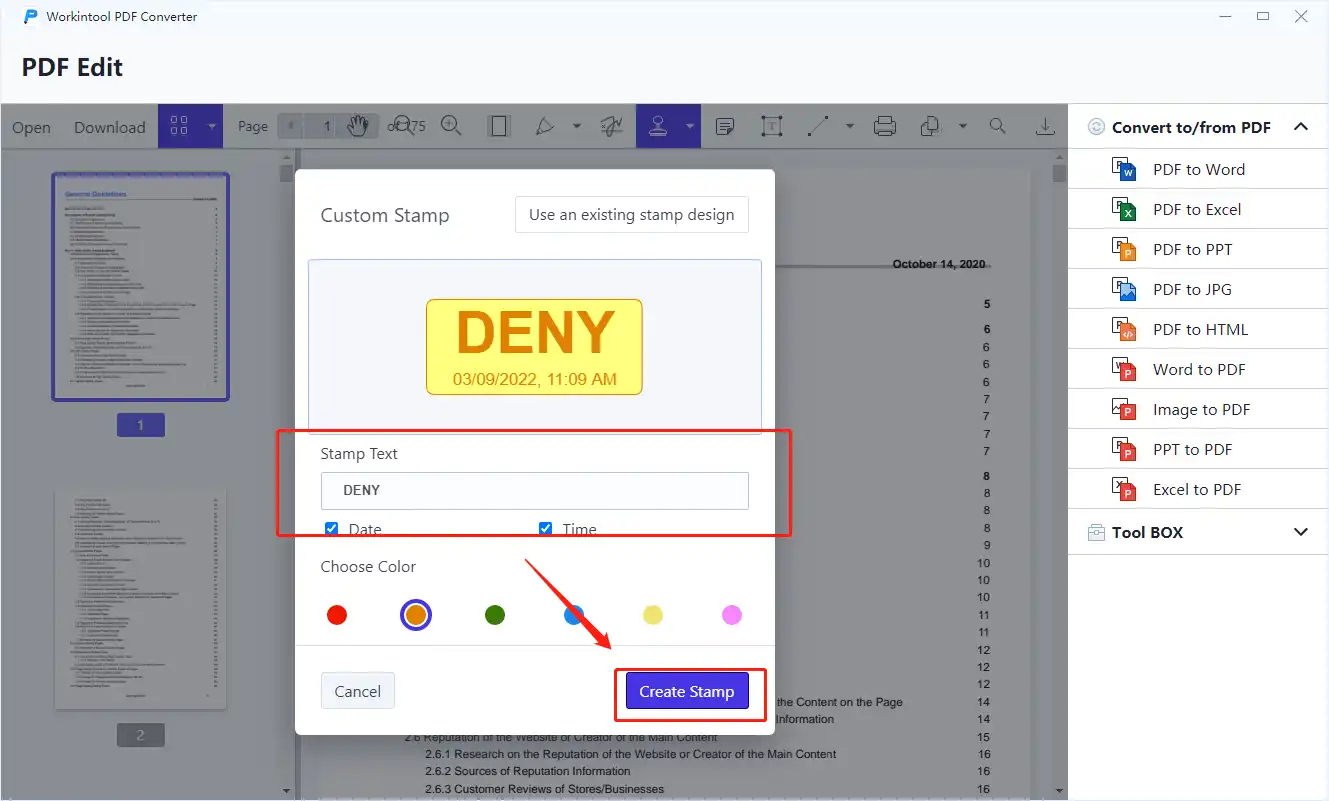 ---
🎯 How to modify PDF pages
Now, you have known the basic knowledge about how to add PDF stamps. But there are more PDF editing processes you can do.  For example, page management can be a big issue if one of your PDF files contains a lot of pages. Sure, you can decide to use the old-fashion way, by printing out and manually adjusting the order and direction. However, it is much more time-consuming and energy-wasting than directly modifying on the computer.
Therefore, I will show you the simpler way to manage PDF pages by WorkinTool PDF Converter.
As before, you need to open the PDF in the editing function first.
Then, find the "Document Editor" option.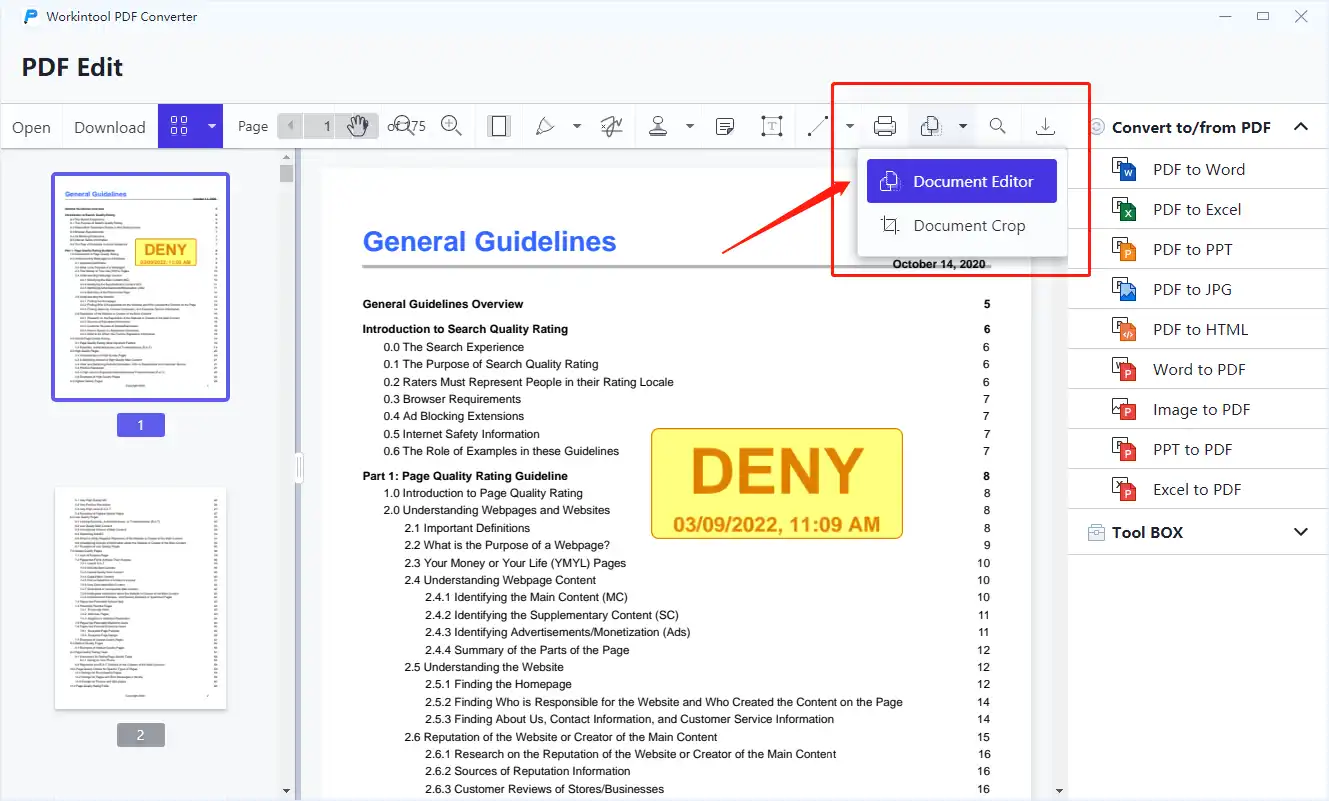 Here you will see seven different process buttons. You can add new pages, delete unwanted pages, copy pages, rotate, and move pages. Plus, WorkinTool supports users to batch process PDF files.  Same reasons here, you can control multiple pages at the same time.
For saving, you can decide to save straightly to the original PDF file, or you can save the altered copy on your computer.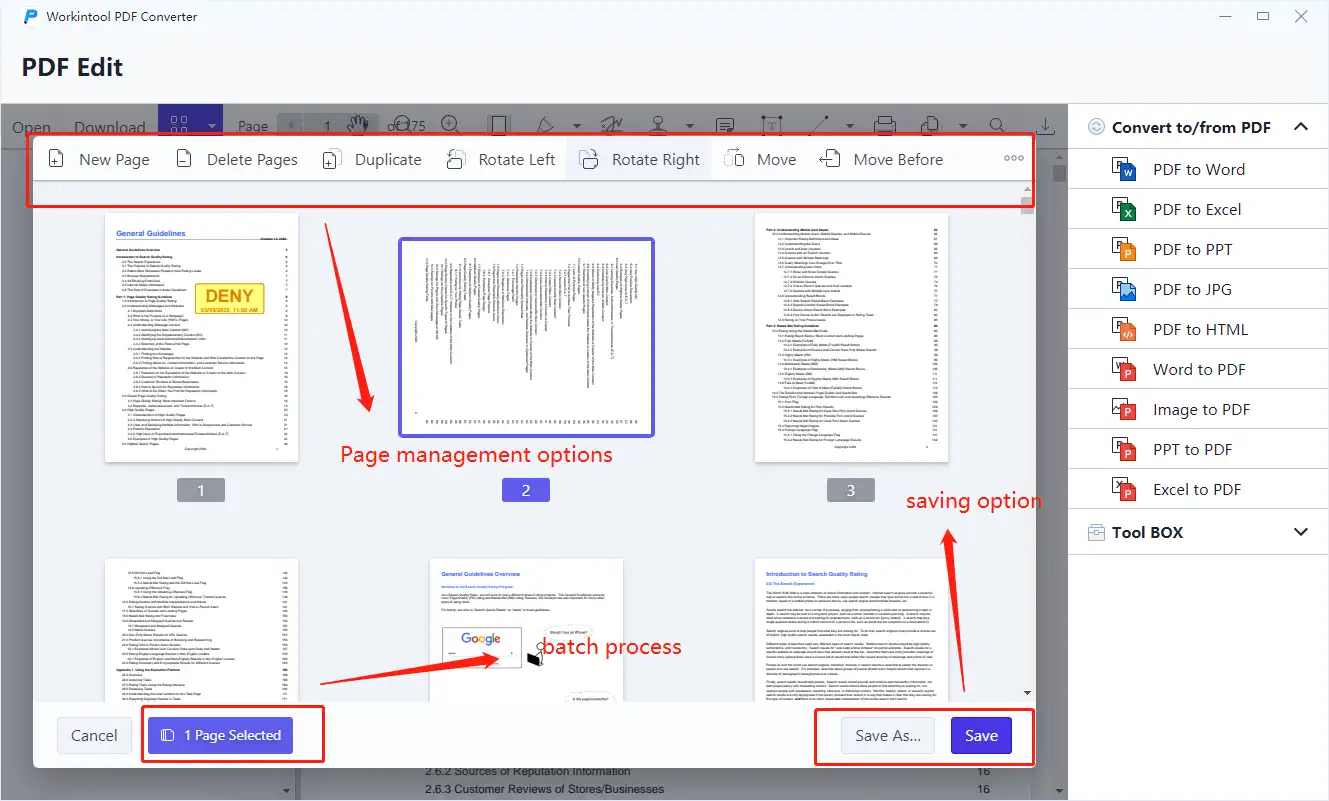 ---
🚩 Why Choose WorkinTool Over Others?
① Simple enough for beginners: WorkinTool has the nicest interface, people of all ages can easily master it.
② Multiple functions for PDF editing: From format conversion to page management, you can make any PDF modification with this tool.
③ 100% Free without any ads or watermark: Currently it won't charge users a single penny for any function. No ads or watermarks should be worried about.
④ High-quality output with speed: Every operated PDF file is guaranteed to be HQ. All the processes can be done in seconds.
---
🎊 More to Share
I'm sure you have a good idea of how to add stamps to a PDF document after this article now. And of course, for WorkinTool PDF Converter, you probably can do one or two PDF processes by now. Just as you can see, it is super easy and totally free to use all the functions.
Whether you will use this PDF tool or not, I genuinely hope you can get the best result in adding PDF stamps.