Best Solution: How to Create an SRT File for Videos on Android
Are you seeking a simple solution to create an SRT file for video subtitle? The TransVoice app is just the way to go! This impressive tool provides exceptional transcription abilities that are guaranteed to assist you in completing the task effectively. The app comes with features such as auto transcription and user-friendly editing tools, making transcribing a video effortless. Additionally, it provides supports for users to directly export the transcription content in SRT format. Try TransVoice now and see how it satisfies your needs!
😎 30+ different features available
😆 Support multiple languages and dialects
😍 Various audio and video editing functions
😘 Provide instant translation and export
🥰 Intelligent recognition and transcription
Best Solution: How to Create an SRT File for Videos on Android
In today's digital age, video content is ubiquitous, and the ability to add subtitles can make it more accessible and enjoyable for all audiences. Subtitles not only cater to viewers who may be hard of hearing or have a different native language, but they also provide an enhanced viewing experience for those who may prefer watching videos with subtitles. The SRT file format is the most commonly used format for video subtitles; it's easy to create one if you have the right tools. In this article, we'll take you through the step-by-step process of how to create an SRT file for videos on your Android device, enabling you to create a more inclusive and immersive experience for your viewers.
---
🤔 What is an SRT File
An SRT file is a standardized format for timed subtitle files that contain subtitles or captions in a plain text format. This file format includes each subtitle's start and end time codes and the associated text content. SRT files are widely used in the film and television industry as well as on online media platforms to provide translations, captions for the hearing-impaired, or additional commentary.
An SRT file usually begins with the number of the subtitle, followed by the start and end timecode, and then the subtitle text itself. Timing information is formatted in hours, minutes, seconds, and milliseconds to ensure precise synchronization with the corresponding video or audio file. Additionally, a blank line separates each subtitle to make them easier to read and distinguish.
Overall, SRT files are essential to modern media sharing, allowing anyone to add captions and subtitles to their videos and ensure accessibility to a broader audience.
What Components Should an SRT File Have
SRT files consist of several components that help provide the necessary timing and subtitle information. The following are the critical components of SRT files:
By using these components, SRT files provide a standardized and precise way to add subtitles to video content. Subtitles created in SRT format can be quickly loaded into video players that support subtitles, such as YouTube, Netflix, or VLC media players.
---
🦾 How to Manually Create an SRT File
It is feasible to manually transcribe the video dialogue and audio into subtitles as you listen. And on the way, you don't need any other software. It will work as long as your computer or phone is able to play videos and create Notepad files.
However, I have to give you a heads-up. It won't be easy if you have never done it before. Not only time-consuming, but it will also wear you out for repeating the work of listening and transcribing. Now, let's see what SRT should be like and the actual steps of how to create one manually:
Open a text editor on your computer, such as 

Notepad

 or 

Sublime Text

.

Set the time format to "

hours:minutes: seconds, milliseconds

" to match the format used in SRT files.

Begin by specifying the number of the first subtitle. Each subtitle must have a unique number that indicates its order in the sequence.

Add the start and end time codes for the subtitle. –> and the end timecode must follow the start timecode.

Type the subtitle text, making sure to limit each line to about

 40–60

 characters. SRT files typically 

do not allow more than two lines

 of text per subtitle.

Add 

a blank line

 after the subtitle.

Repeat steps

 3-6

 for each subtitle in the video.

Save the file with a 

.srt

 extension and an appropriate filename, such as "

video-name. srt

".
Here's an example of what the content of an SRT file could look like:
---
How to Create an SRT File on Android
Well, just as we said, manually describing a video subtitle by yourself can be an exhausting job. However, why would you choose that if there is a more convenient way to do all that automatically? You can totally use a transcription tool. Even if you are on the subway to work, it will help get all the SRT files created and organized.
If you are in need of a transcribing app for your Android device, the TransVoice app could be a perfect fit. It offers a variety of features both for personal and professional use, including transcribing audio, video, and images into text or vice versa. The app also allows you to record meetings while transcribing them at the same time. Additionally, it has other helpful features like audio editing and translation.
🎉 TransVoice App 🎉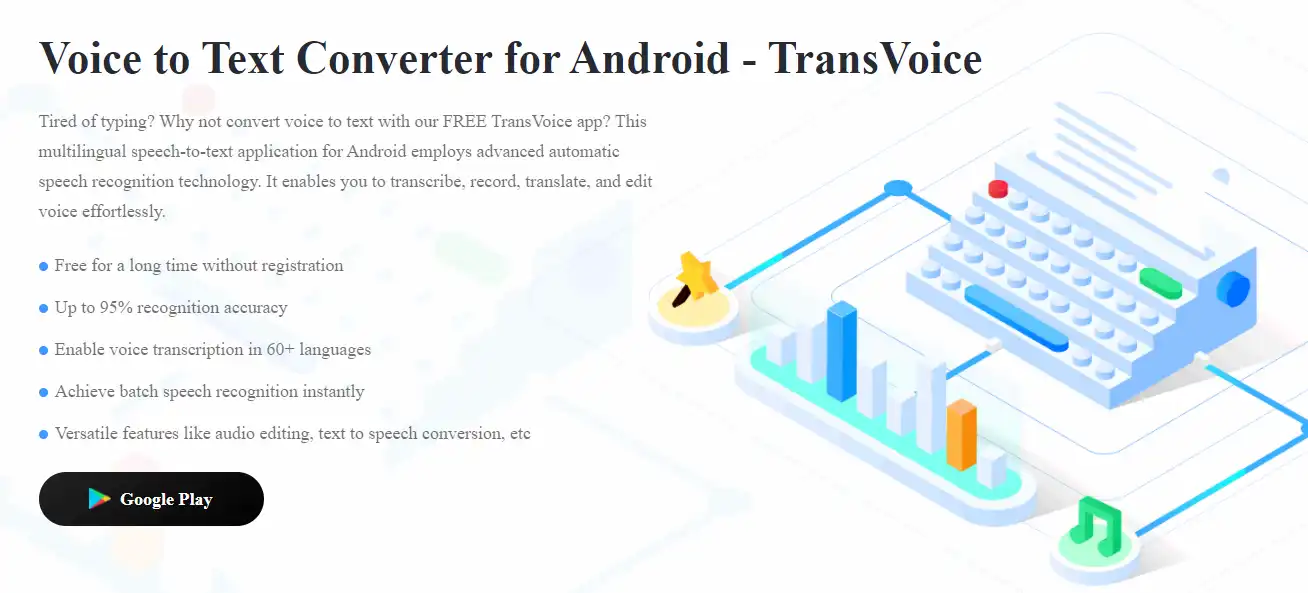 The TransVoice app, available on the Google Play Store, is a powerful tool for transcribing audio, video, and images into text. It also provides editing and translation features for them, making it a handy app for anyone who needs to work with multimedia files. The app boasts a simple user interface, making it easy to use and navigate for people who have prior transcription experience. TransVoice is compatible with multiple file formats, including MP3, MP4, and WAV, so you can quickly transcribe any media file. Depending on your needs, the app also allows you to customize your transcription settings, such as language, speed, and tone.
And here, we will be using it to transcribe the video. We can save the transcribed text as an SRT file format when it generates the transcribed text. Overall, the TransVoice app is a powerful and efficient tool for those who need to transcribe multimedia content on the go.
30+ different features available

Support multiple languages and dialects

Various audio and video editing functions

Provide instant translation and export

Intelligent recognition and transcription
🥇 Add the Video: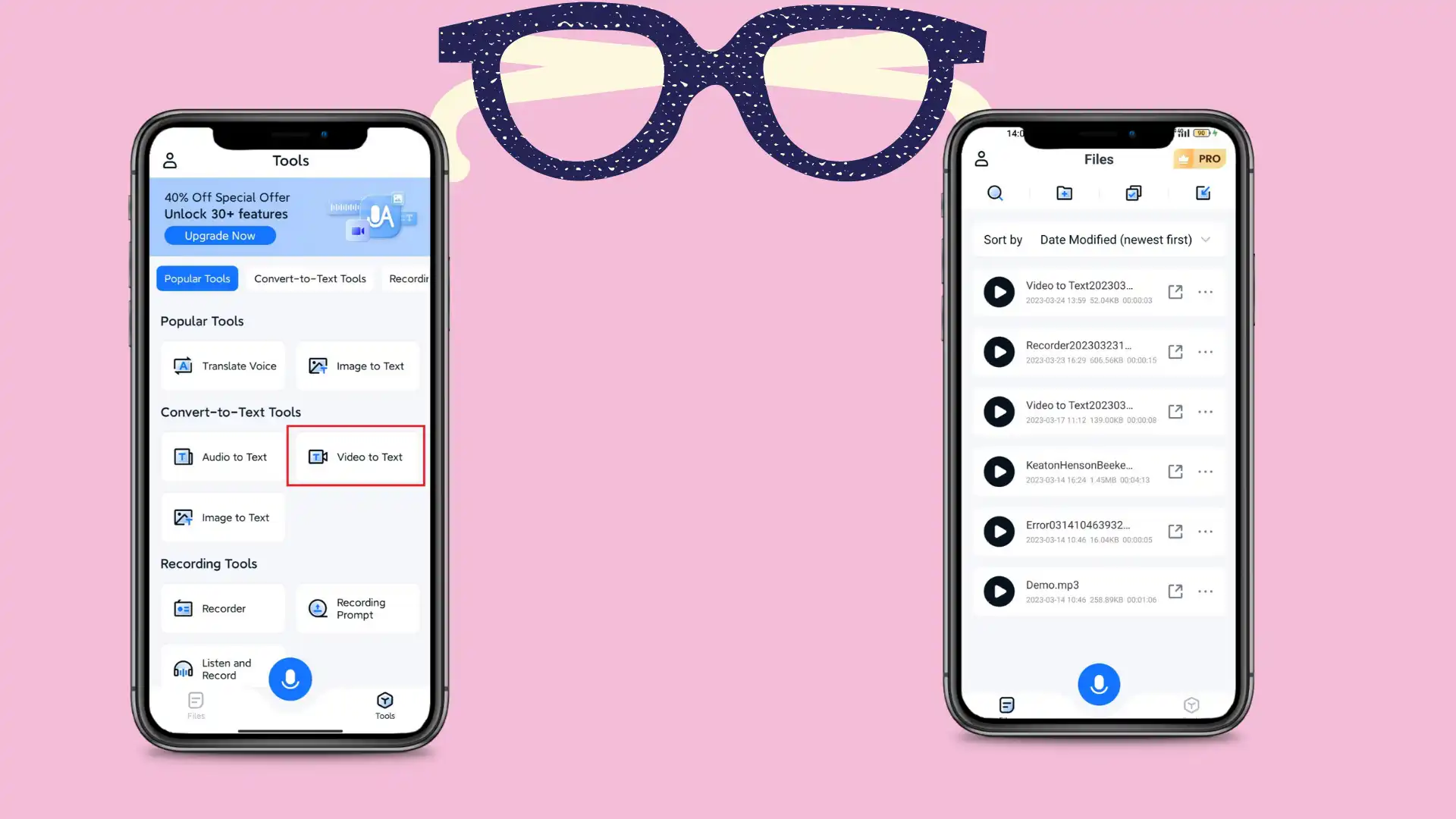 Step 1: At first, open TransVoice and select the Video to Text feature.
Step 2: After that, you can pick the video and add it to the list for transcription.
---
🥈 Start to Transcribe: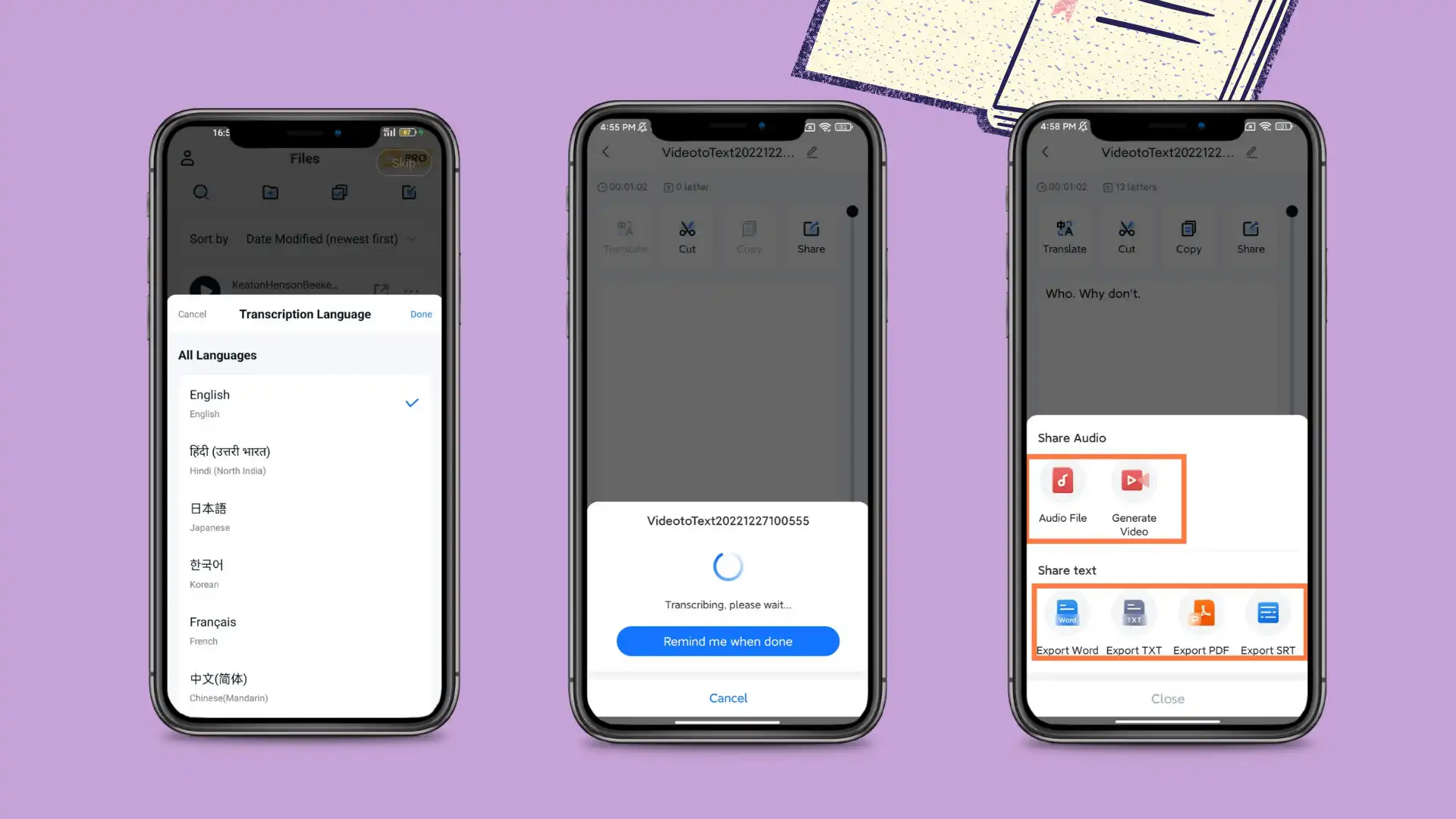 Step 1: At first, you need to pick the transcribed language for the video. Then wait for the transcription process to finish.
Step 2: At last, when it has finished, tap the Share button and select Export SRT in the Share text options. Then you will get the SRT file you want.
(Don't worry. We have tested it multiple times. On average, a 90 minutes film only took us 5 minutes to transcribe.)
---
🥉 Additional Features
Additional to the features of transcribing audio and video to text and exporting it to SRT files, there are other functions that can provide you with great customization and convenience. For example, it also offers other text formats to convert and language translation to use: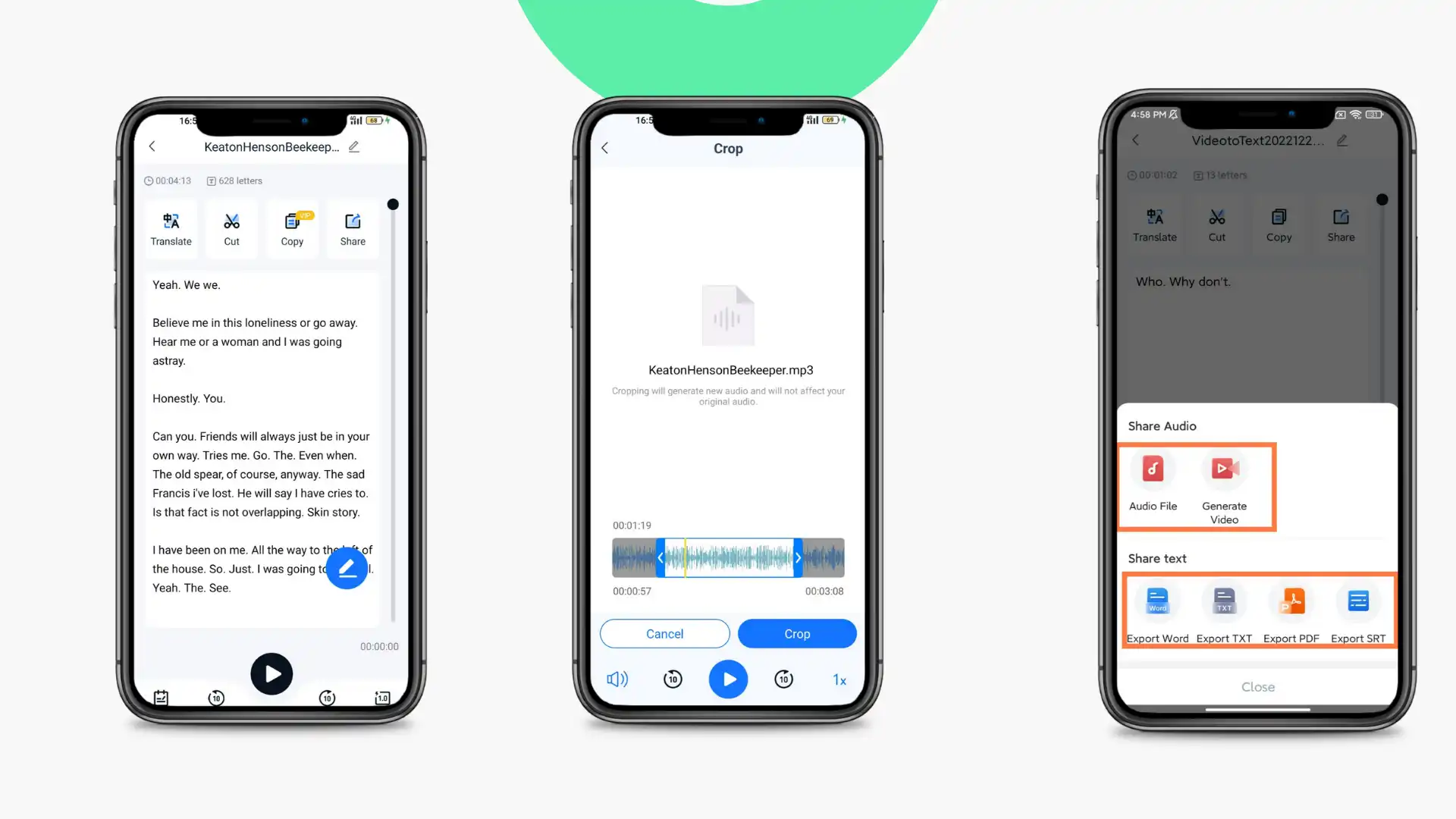 Spotlight Features
In terms of accuracy, though, the software uses artificial intelligence to help users improve recognition and transcription rates. We can only be 100% sure that it will do precisely the same with a single glitch. So when there is a slight problem with the text, the user can immediately use the edit function directly in the above text content to make changes.
🎊 More Features in TransVoice 🎊
---
Conclusion
In the words of the famous philosopher Aristotle, "The whole is greater than the sum of its parts." This statement resonates true when it comes to video content as well. You may have an excellent video with great content, visuals, and audio, but the addition of subtitles takes it to the next level, making it more powerful and inclusive. Subtitles ensure that your message reaches a broader audience, enhances engagement, and increases the possibility of sharing. With the steps outlined in this article and a good subtitle editor app, you can quickly and easily add subtitles to your video content and enhance its value.
That's why we would like you to know the most straightforward way how to create an SRT file for videos here. Remember, by creating an SRT file for videos on Android. You're not just adding subtitles. You're also building bridges between different cultures and communities. And it makes video content more accessible and understandable to everyone, regardless of their language.