How to Remove Date from Photo on Windows and Android
Effective and efficient watermark removers here can help you remove the date stamp from a photo without making the erased parts blur. It can automatically fill the eliminated part with color. Other helpful tools that can edit photos and videos are available in the WorkinTool Watermark Eraser. The Video Eraser App can effortlessly remove time and stamps from pictures and videos if you need to edit them on mobile phones.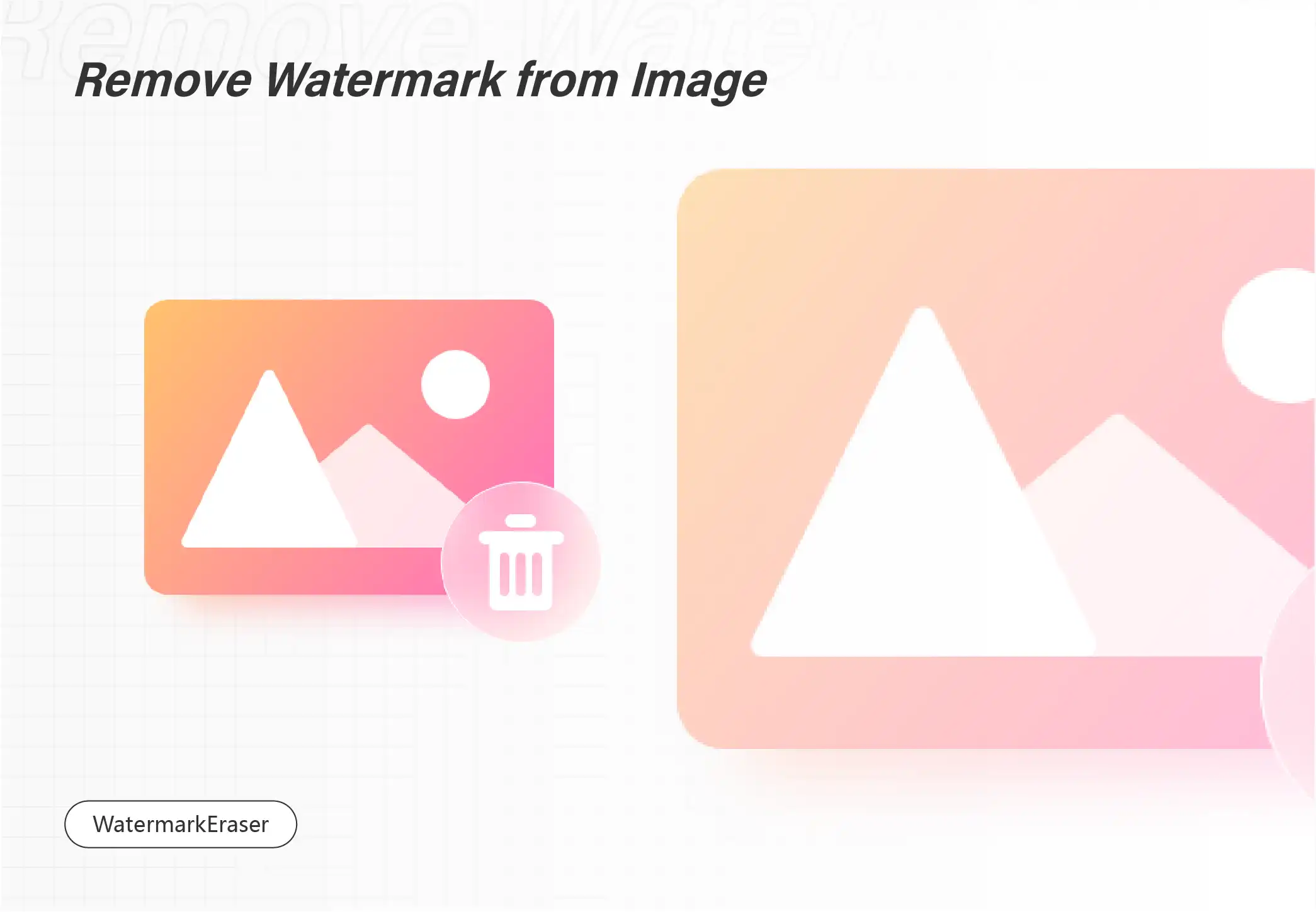 How to Remove Date from Photo on Windows and Android
Some mobile phones will put the date stamp on the already taken photos. If the date on the picture affects the overall composition of the photograph, or if you do not want others to see the time information of the image, you can choose to remove date from photo with photo editing tools. One way is to remove the date and time stamp with professional watermark erasers. Another way is to crop it out directly. Detailed tutorials are accessible in the following guide.
Method 1. Remove Date Stamp from Photo by Watermark Eraser
Effective watermark erasers can help remove date from a photo while maintaining high clarity. There are helpful watermark removers for PC and Android that can tackle your problem. See detailed product info and step-by-step tutorials in the following part.
✅ Watermark Eraser for Windows
If you need to edit the photo's stamp on a PC, I recommend this effective and efficient watermark processor software – WorkinTool Watermark Eraser. It is a desktop tool dedicated to processing watermarks on videos and photos. Now it is compatible with Windows 11/10/8/7. With its straightforward user interface, you can get what you need in seconds. According to its removal result, it can effortlessly eliminate unwanted objects from your picture without making it blur. Here are the main reasons I'd love to suggest it to you.
Fast and easy to remove watermarks

High-quality output without blurs on your photo

Batch removes multiple watermarks in a photo

High security of the uploaded files

No ads or pop-ups throughout the process
How to remove date from photo on Windows 11/10 with WorkinTool Watermark Eraser.
Step1. Launch the watermark remover software and select Remove watermark from image on the main menu bar.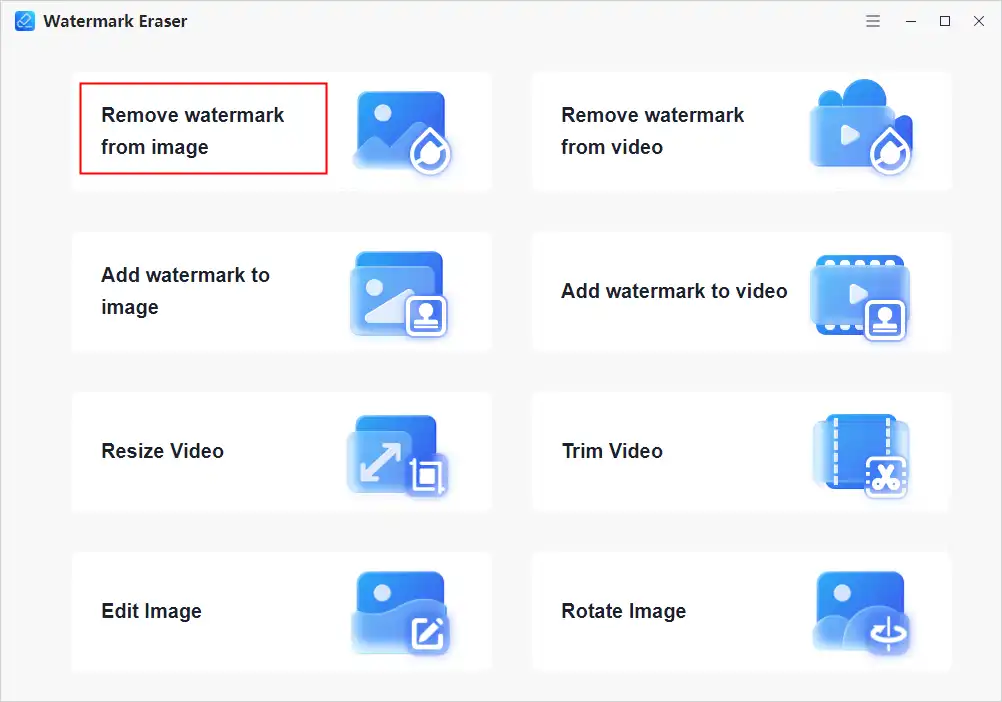 Step2. Select your photo from the folder or drag and drop it to upload. Images in JPG, PNG, and BMP are suitable for import.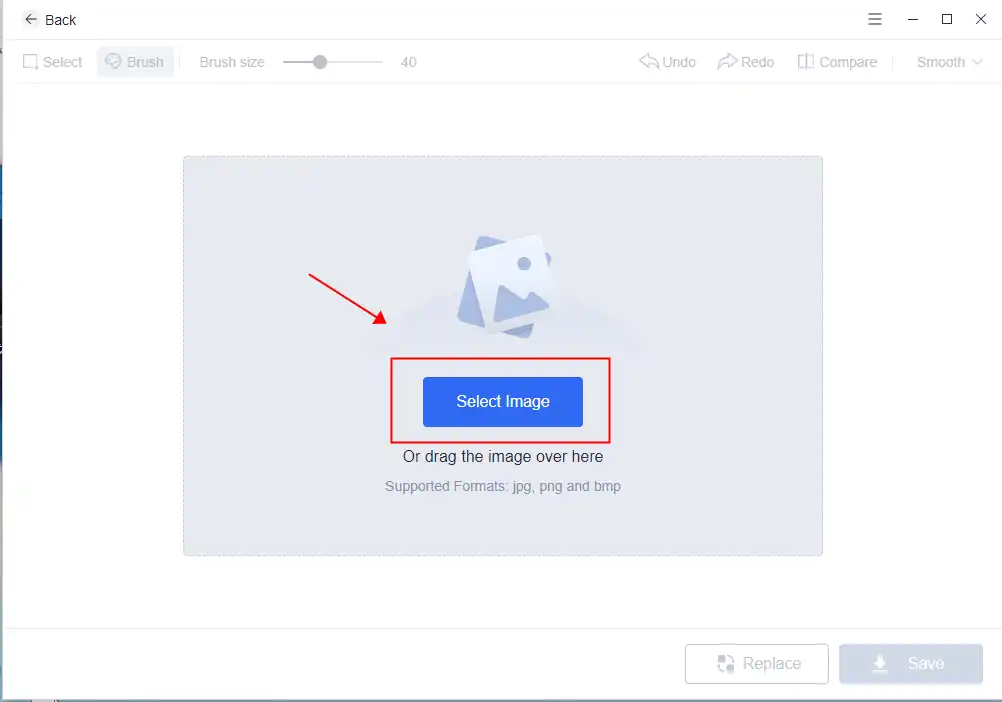 Step3. Cover the time or stamp with a brush or rectangle boxes. You can remove multiple unwanted objects from your photo at a time. It also allows you to preview the removal result. Then press Save to download the picture without a timestamp.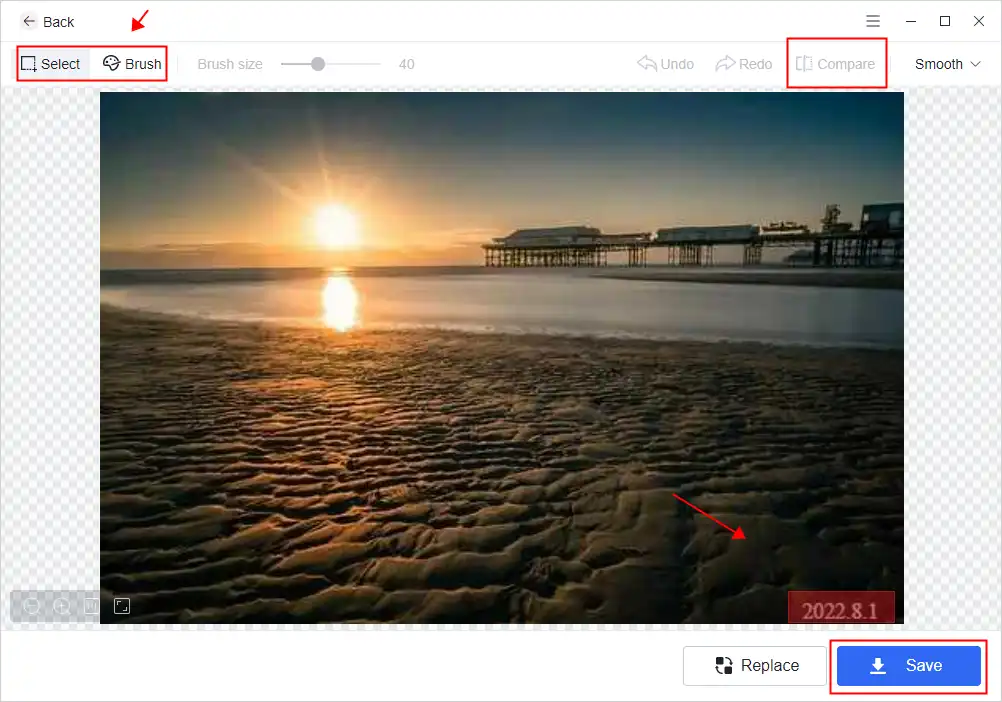 ✅ Watermark Remover App for Android
The Video Eraser App is a watermark maker and remover for Android mobile phones. It can remove watermarks, time, and messy backgrounds from photos and videos without effort. It can be said that it is one of the best TikTok watermark remover apps in the market. Besides removing watermarks from photos and videos, you can also use this application to generate watermarks on videos and pictures, cut out the image, reverse, compress, crop, trim video, etc. It offers a daily free trial for you without any hidden requests. You can use it to remove date from photo anywhere and anytime.
Why Like the Video Eraser App?
Many free features are available

Multiple videos and photo editing tools

Great watermark removal result

Easy and simple toolbar layout

Batch remove watermarks
How to remove date from photo on Android phones with Video Eraser App
Step1.

 Get the Video Eraser from Google Play and install it. Please open it and choose the 

Remove image watermark

 on the main page.

Step2.

Select your photo to upload and cover the time and date on it.

Step3.

Click Done in the top right corner and you can get a photo without the date.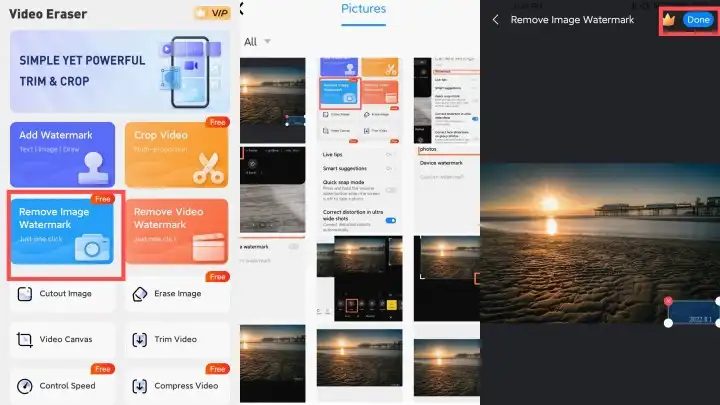 Method 2. Remove Date from Photo by Cropping
The easiest way to remove the time stamp from a photo is to crop it out directly. However, in this way, your photo size and contents may be changed. If you don't mind, you can use a photo editor to crop the date.
How to Crop Date from a Photo on Windows
There are numerous photo editing tools on Windows. WorkinTool Watermark Eraser also possesses a photo editing tool that can crop photos. Just select edit image on the user interface and upload your file. You can easily crop out the date and time.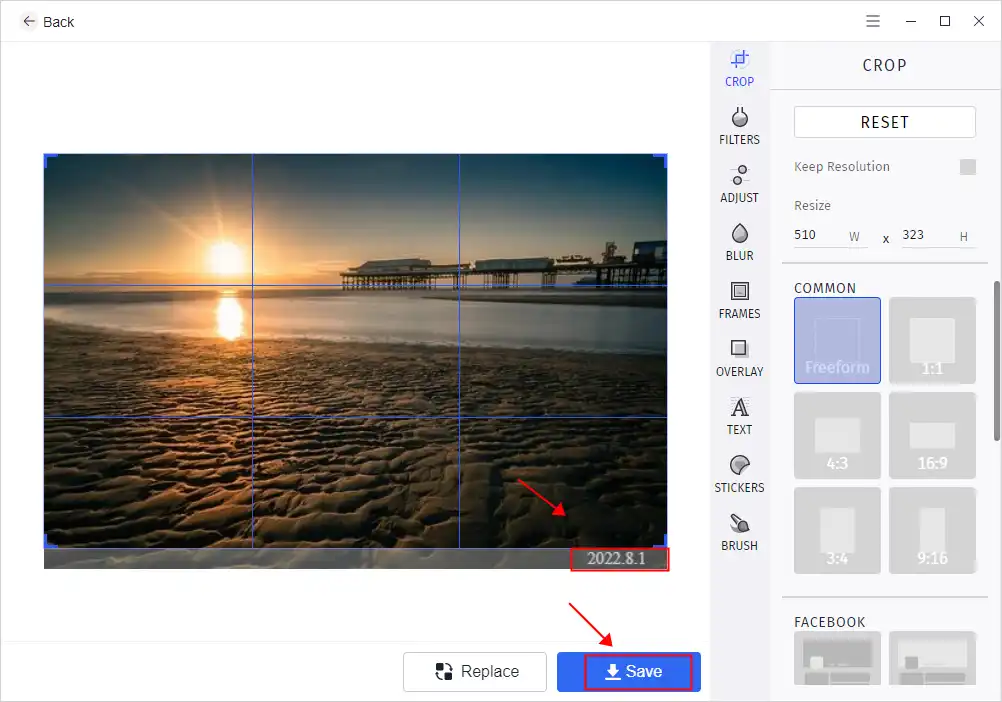 If you are unwilling to install third-party software, you can use Photos comes with the Windows system, to crop out the date on images. It is a convenient tool that can resize the photo size. However, in comparison, it has fewer features than a professional photo editor.
How to crop date out from a photo with Photos for Windows
Step1. Right-click your picture with the date and choose to Edit with Photos.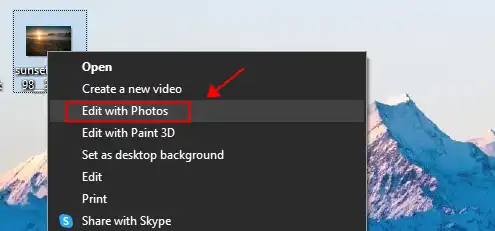 Step2. Select the crop tool and crop it as you like or resize it by ratio, then press Save a copy to download it to your folder.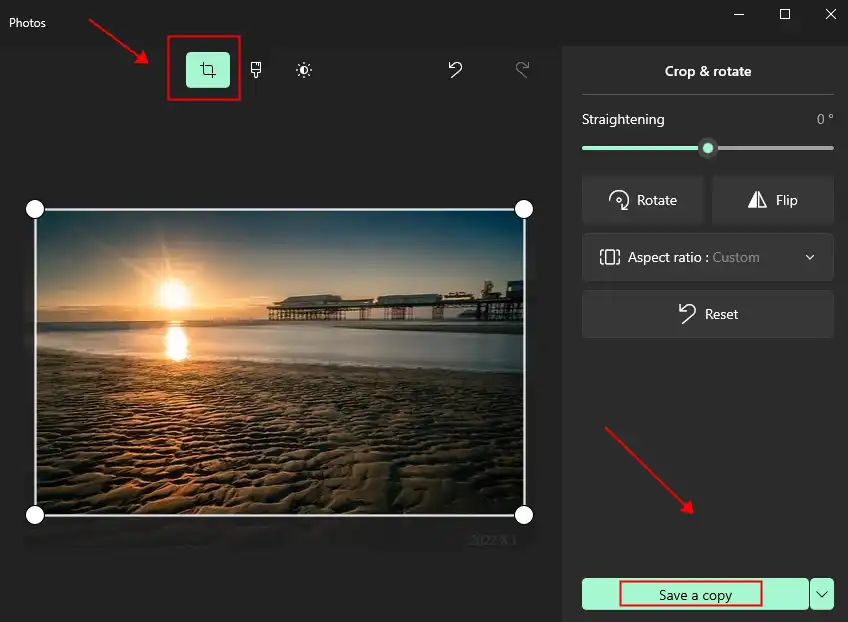 How to Crop a Photo on Android
It is pretty easy to crop a photo on your mobile phone. Generally, a built-in photo viewer can edit pictures directly, take an Android phone as an example, and see how to crop out the date on your image.
Step1.

 Select the photo in your photo album, then click the edit button in the menu bar.

Step2.

 Click Crop to remove the time and date in a photo.

Step3.

 Crop out the date and paste the confirm button.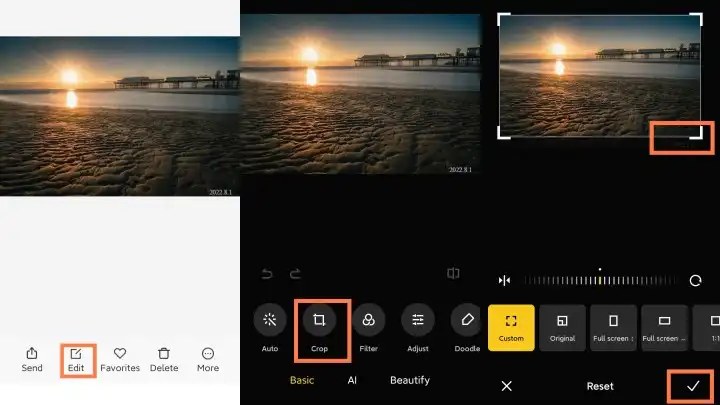 💡 Bonus Tips: Set to Not Generate Date Stamp When Taking Pictures
 If the date and time on an already taken photo is a hassle for you, you can set not to generate a date on a photo before taking pictures. You can set the camera. Go to settings, find watermark, and then choose not to add time stamps to your photos. By setting the camera, all the pictures you've taken will not have time watermarks on them. In this way, you can remove the date stamp from a photo from the root.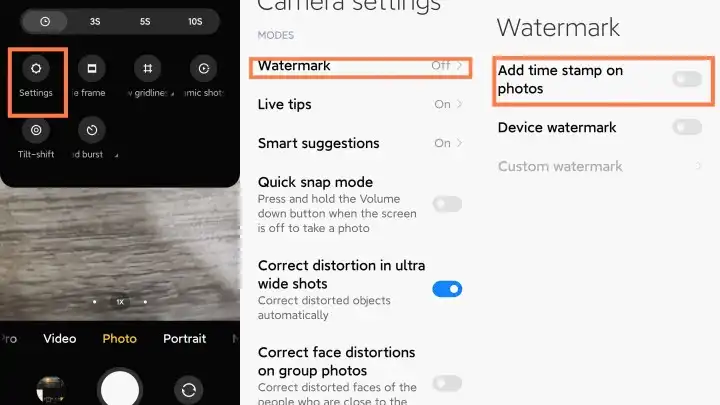 Wrapping Up
In this guide, I have explained several solutions on how to remove date from your photo. In comparison, A photo cropper is easier to use, but it may affect the content and ratio of your pictures. An expert watermark remover may solve this problem with the best effect. If you are just wondering about effective methods to eliminate the date or time from your photo, you can try the best watermark remover for PC and Android recommended here.
Products Reviews:
TrustScore
4
|
323
reviews