Remove Text from Image Without Removing Background for Free
It is easy to cover the objects in the picture, but it is difficult to remove text from image without affecting the background. Fortunately, this article will provide you with several free and easy ways to erase the text on your photos. You can find a suitable way even if you want to work on a phone or PC.
Remove Text from Image Without Removing Background for Free
I believe you have encountered this problem while reading this article. When you find an excellent image on a website and want to save it as your phone wallpaper or computer desktop, you find that the image often has a platform watermark or the author's name on it. This will inevitably affect the aesthetics of the picture. You don't want someone else's name to appear on your phone's desktop. You must be curious about how to remove these annoying words quickly. This article introduces you to several simple and practical methods for remove text from image. Come and take a look!
Crop Image to Clear the Text
We usually remove text from images in two ways. The first thing I want to introduce to you is to crop the image directly. Cut out the parts with text. This method can quickly give you a clean image. However, this method also has limitations. It is only suitable for situations where text appears in the corners of images. Cut off the small edge of the image without affecting its integrity. This method is not advisable if the text appears in the middle or some essential parts of the image.
How to Remove Text from Image on a Phone by Cropping
Cropping images on a mobile phone is simple, and we don't need to download any image editing software. You just need to open the phone album, find the image you want to crop, and select the corresponding cropping tool. Let's take an iPhone as an example and see how to use the phone's built-in tools to remove watermarks from images.
Find the picture you want to crop and click Edit in the upper right corner.
Tap the crop button to enter cropping mode.
Move the cut line to remove the text, then click Done

to save it.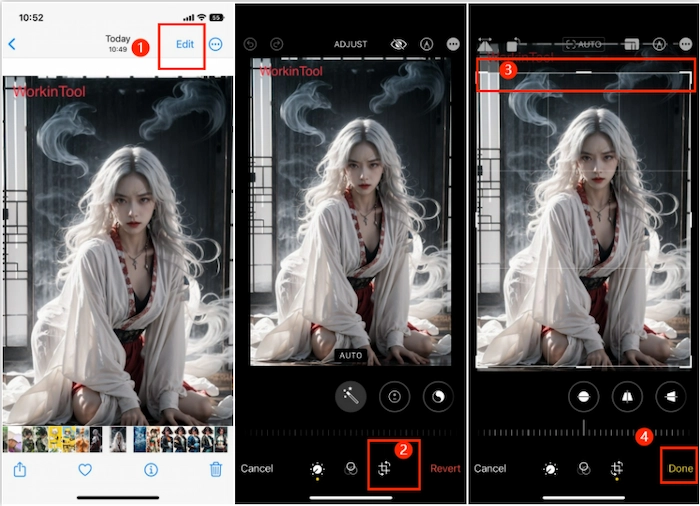 App to Remove Text from Image
Another way to remove text from an image is to use a watermark removal tool. This tool is like an eraser, which can erase the words on an image without affecting the background behind the text. This method is slightly more cumbersome than cropping images but can achieve better results. You don't have to worry about missing images, either.
However, it should be noted that tools for removing watermarks can be good or bad, and there are both free and chargeable ones. Some watermark removal effects are not sound, which can affect image quality. Some paid software may add new watermarks to your images if you have yet to become a member. Here is a software that can be used for free without blurring images.
WorkinTool Watermark Eraser is an app specifically designed to handle watermark issues in images and videos. You can use it to add watermarks to pictures or videos, such as text or logos. It can also be used to remove watermarks from videos or images. This software is suitable for Windows systems, and you can process images within 500 KB or videos within 10 MB for free. After removing the watermark, the image will not have any quality degradation. Moreover, it also has some image and video editing tools. You can crop the picture on it, too.
Download the WorkinTool Watermark Eraser on your device and open it. Upload your image to it.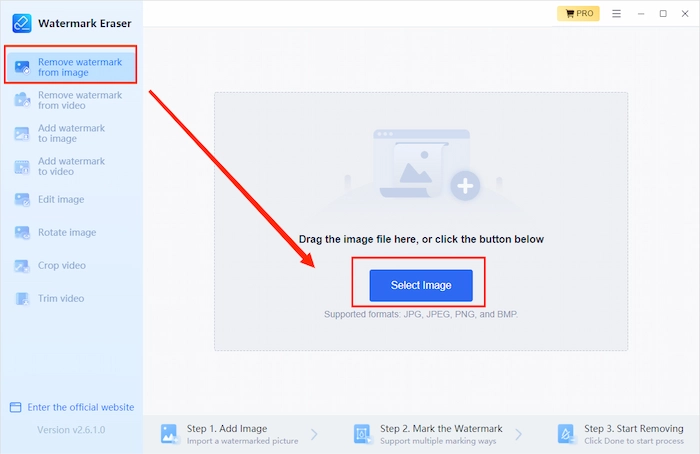 Select a suitable eraser tool and choose the removal mode. Then, mark the text and click Done to start the process.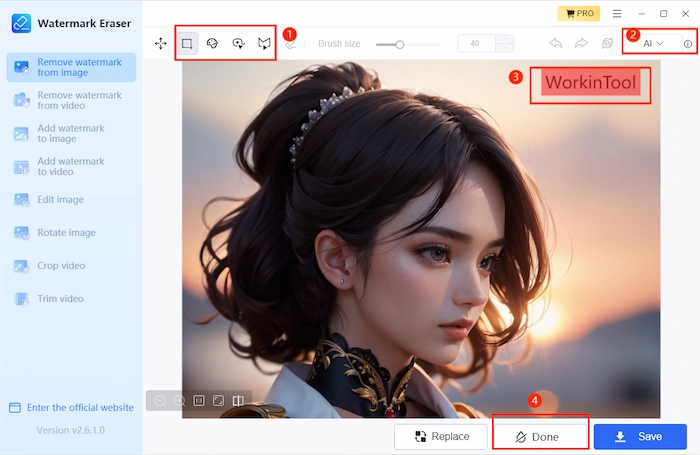 Check the effect, then click Save.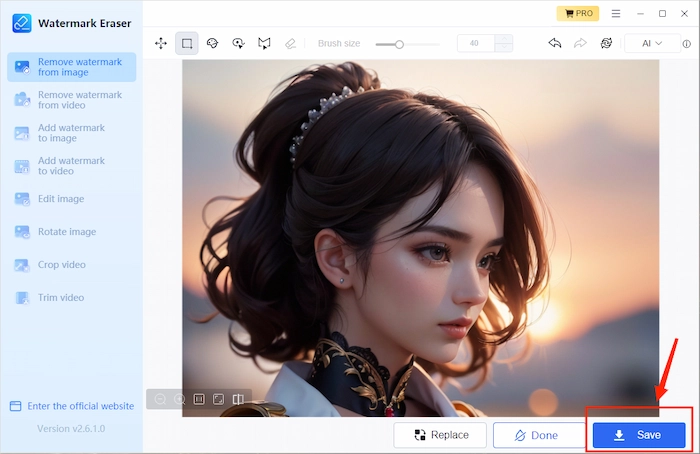 Remove Text from Image Online
If you don't want to download any apps but want to remove the watermark without cropping the image, you can try the online watermark removal tools. Most online watermark removal tools are easy to use and can even be used on different devices. The only big problem is that it cannot be used without the Internet.
PicWish – Remove Unwanted Objects Easy and Free
PicWish is a feature-rich image editing tool. And it is suitable for many platforms, such as Windows, Mac, iPhone, or Android. You can download the app or use it directly online. It has some basic image editing tools, such as compression or cropping, as well as advanced image processing functions, such as clearing an object in an image. It can help you hide passersby from the background of the image, and it can also help you remove watermarks from the image. The online feature is free, but you must log in to your account, or you can't download your edited picture.
Search the website on your browser, then import your image.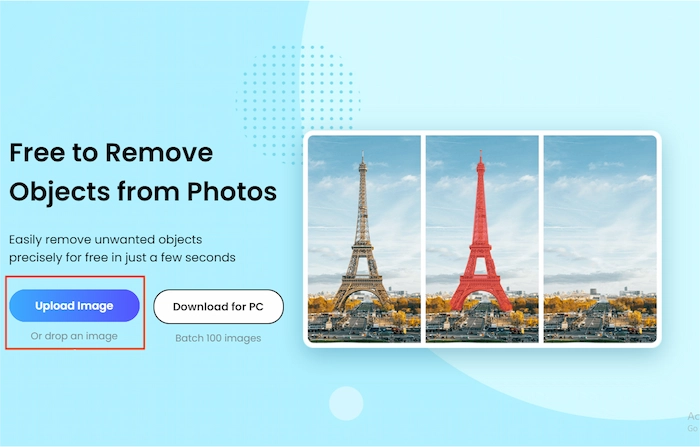 Select the removal tool and adjust the size to cover the text. Then click Erase to start.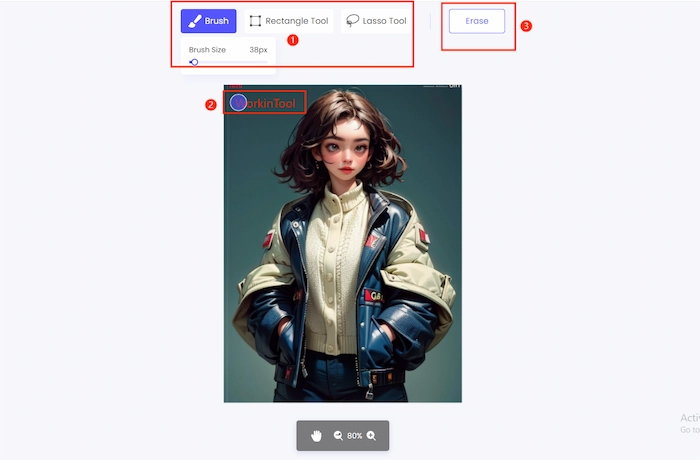 Check the results and click Download to save the photo.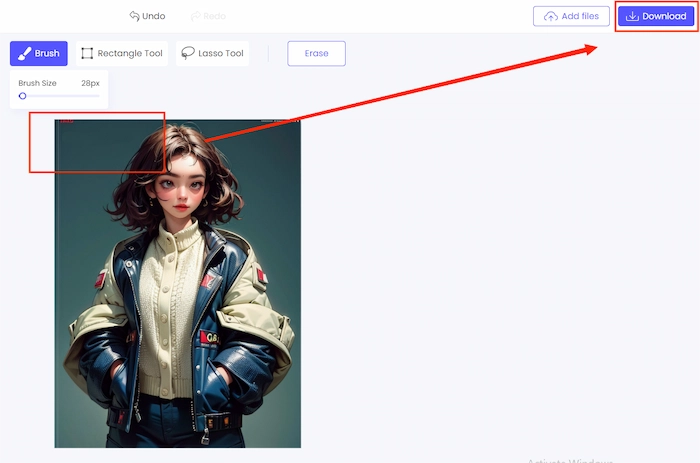 More Questions You May Want to Know
Conclusion
It is not difficult to remove text from image. The key lies in choosing which method and how to use these tools. If cropping a photo will not affect its integrity, then you can use the built-in tools on your phone to cut out the parts with text. If you don't want to crop, you can only pick one tool to erase the watermark. Only a few free watermark removal tools are available, and many are also complex to operate. Luckily, this post provides you with several ways to erase watermarks easily and free. Hope that you can get a suitable one according to your needs.