How to Recover Deleted Files on Mac for Free 2023
This post shares four Mac data recovery tools, enabling you to get back deleted or permanently deleted files in a flash. Want to learn how to recover deleted files on Mac for free in the easiest way? Read on, and you will know:
1. How to recover deleted files on Mac for free with 3 practical built-in tools.
2. How to recover permanently deleted files on Mac with software.
After reading, you will know how to get back deleted files even after emptying the Trash bin, without Time Machine or software.
How to Recover Deleted Files on Mac for Free 2023
Losing important files on a Mac can be an irritating and frustrating experience for everyone. Thankfully, we have several methods to recover deleted files. We collect some Mac file recovery solutions in this guide, enabling you to recover deleted and even permanently deleted files on a Mac computer with or without software. If you lose an important document, photo, video, or whatever else, here's what to do. Pick one data recovery option and follow the step-by-step instructions below.
Quick Navigation
How to Recover Deleted Files on Mac without Software – 3 Solutions

How to Recover Permanently Deleted Files on Mac – Quick and Easy

Conclusion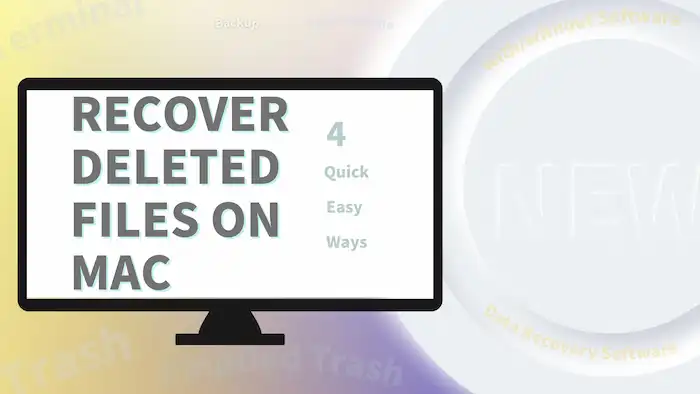 ---
How to Recover Deleted Files on Mac without Software
This section covers three practical and free methods to perform Apple file recovery. Let's dive into the simple tutorial and learn the simple instructions one by one.
1. Recover Deleted Files from Mac Trash Bin
It is the easiest and quickest solution to restore deleted files. Users can get back the essential files they need in a few clicks.
Click the 

Trash

 icon in the Dock.

Locate and select the files you wish to recover. You can search the files you need to recover by name.

Right-click the selected files and click the 

Put Back

 option to restore them to the original path. You can also drag and drop those files into any folder you want.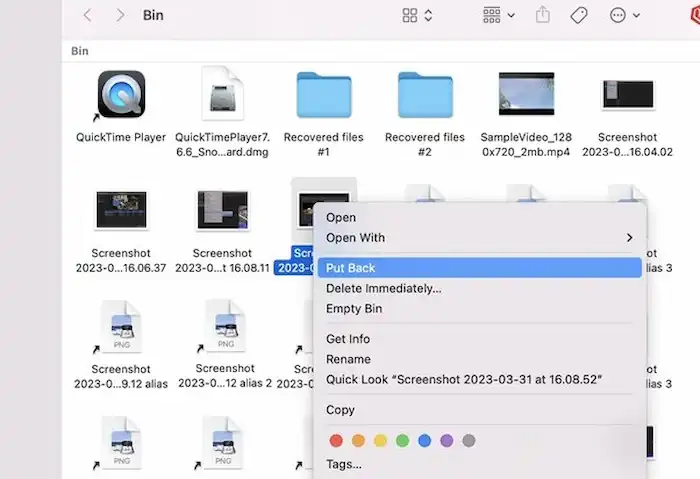 📢Note:
If you delete files via Command+Del shortcut keys, those files will bypass the Trash bin and be permanently deleted. And it is difficult to recover permanently deleted files after emptying Trash Bin. In this case, you can check the following ways to get back deleted files, even from emptied Trash.
2. Get Back Files on Mac via Time Machine
Windows has an auto snapshot file backup tool named File History. The Time Machine backup on Mac also has similar features. Time Machine is a built-in backup mechanism in macOS that automatically snapshots and saves your files on your entire Mac, including system files, application data, music, emails, photos, and other personal files. You can restore your Mac to earlier versions via incremental backups. It can be helpful when you encounter data loss, system error, hardware failure, or software corruption.
Open the folder that stored the deleted files in Finder.

Click the 

Menu

 Bar and select 

Enter Time Machine

.

Find and choose the files you would like to recover using the timeline and

up & down arrows

 on the right edge of the screen.

Preview the files by pressing 

Space Bar

. Then click the 

Restore

 button to return the deleted files to its original location.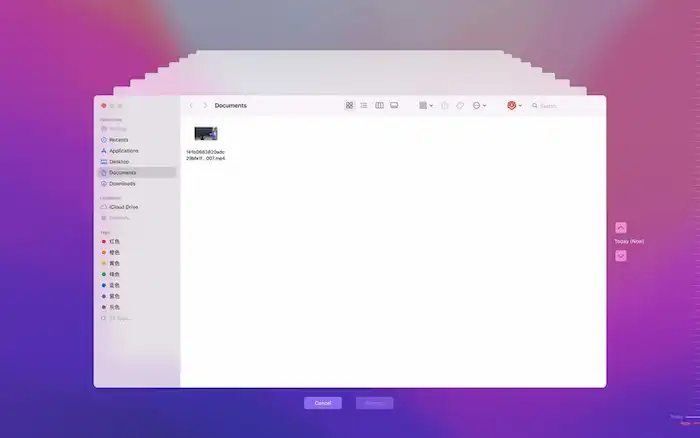 📢Note:
However, Time Machine needs to be 

manually enabled

 for file backup. By default, this backup program is turned off on your Mac, so you need to manually enable it and select a backup destination, such as an HDD, SDD, or Apple AirPort Time Capsule. If you haven't turned it on, refer to the following methods to learn how to recover deleted files without Time Machine.

Recovering deleted files on Mac using Time Machine

 might damage and erase newly-stored data on your device. Therefore, it is necessary to back up those important files beforehand in case of accidental deletion.
3. Recover Deleted Files on Mac Using Terminal
Mac Terminal, equal to Windows Command Prompt, is a command-line interpreter that allows you to interact with and operate your Mac using plain text commands. It adopts a command-line interface (CLI) instead of a traditional graphical user interface (GUI). So users with low skill levels might find this program is not as simple as the above ones. But knowledge users can apply this powerful Apple file recovery tool to perform complicated tasks that could be impossible for the GUI tools.
Navigate to 

Finder

 > 

Applications

 > 

Utilities

 to launch

 Terminal

.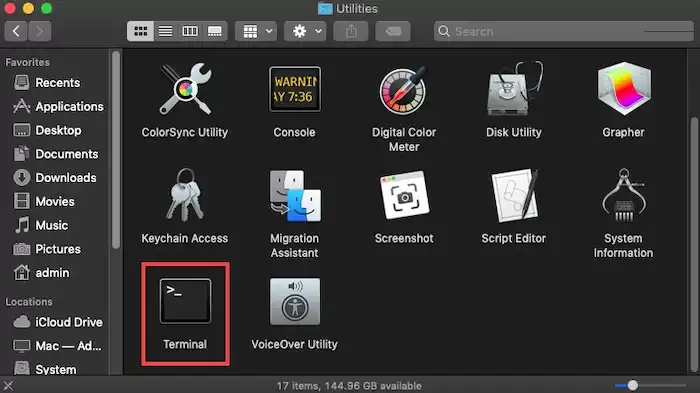 Type 

cd .Trash

 and press the 

Return 

key.

Enter 

ls -al ~/.Trash

to preview the files in the Trash folder.

Input 

mv x ../ 

and press 

Return 

to transfer the files to the home directory folder (Replace 

x 

with the full name of the file you want to recover).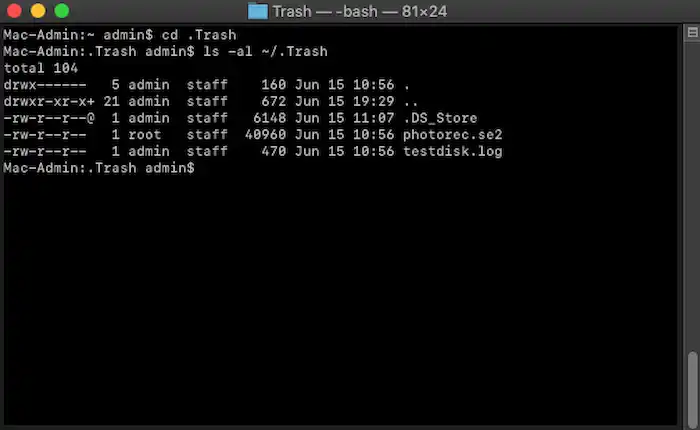 📢Note:
The Terminal can only recover deleted files from Trash on Mac. If the Trash bin becomes empty, you need to seek other solutions.

The name of the deleted file is necessary.

Batch recovery is not supported.
---
How to Recover Permanently Deleted Files on Mac
This section covers an easy-to-use data recovery software tool available on Mac operating systems.
How to Recover Deleted Files on Mac with Software (Easy and Convenient) 🔥
In addition to Trash Bin, Time Machine, and Terminal recovery, data recovery software is also capable of Mac data recovery. Using data recovery software to find and restore deleted files does not require knowledge-based skills or prepared backup storage media.
A Must-Have Data Recovery Software
WorkinTool Data Recovery Software is a practical Mac data recovery tool. This tool is compatible with both Mac & Windows systems and can recover 500+ formats of files without any obstacles. This software uses AI deep learning technology to identify and recover multiple file types. It can easily handle data loss caused by accidental deletion, incorrect formatting, virus attack, software/device corruption, power failure, system error, and more. Apart from that, users can also restore 500MB of files for free without registration or activation. More importantly, with plans ranging from $23.99/mo to $49.99/yr, WorkinTool Data Recovery can be the most cost-effective data recovery software on the market.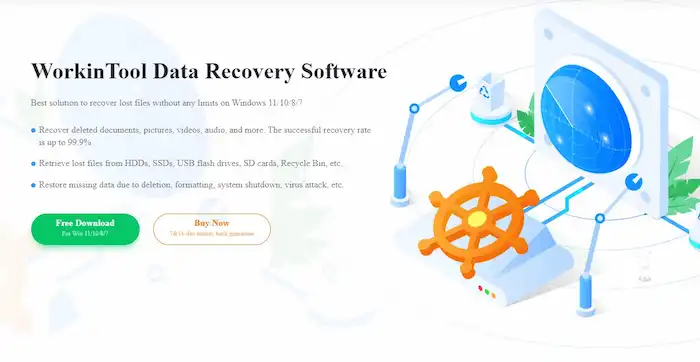 💡Compared with the above solutions with limitations, this data recovery software is more convenient for the following points:
It can get back deleted files on Mac in simple THREE STEPs 

without complicated skills

.

WorkinTool Data Recovery can 

restore permanently deleted files

 that the above solutions might not achieve.

It will not damage the original data during the recovery process. Your 

data is 100% secure

.

You don't need to create backup drives in advance. Data recovery is available anytime you need it.

Recover files 

from any device or storage media

, including Mac/Windows internal disks, external HDDs/SDDs, USB devices, SD memory cards, digital cameras, etc.
📝

How to Recover Deleted Files on Mac via Software
1. Free download and launch WorkinTool Data Recovery Software on your Mac, open it, and then select a location that is used to store the deleted files. Click the pop-up Scan option to launch a scan. You can specify the location as a folder, desktop, Mac disk, Trash Bin, external drive, and more as desired.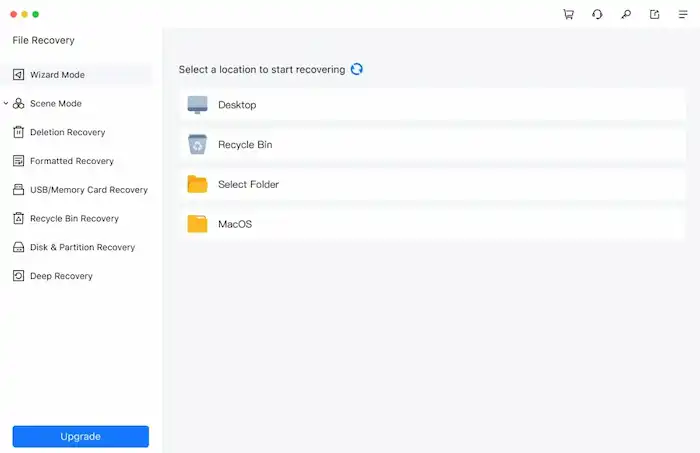 2. Select a scan method from Quick, Deep, or Formatted Recovery and press Scan Now to start scanning. Compared to Quick Recovery, Deep and Formatted Recovery take longer but are able to deal with more complicated data loss cases and unearth more files.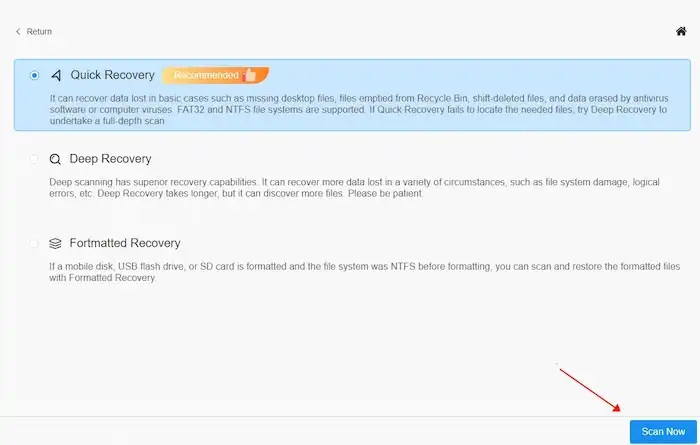 3. After scanning, use the left-hand navigation pane or the Filter & Search feature to locate files by type, size, directory, state (deleted or not), name, and date modified. You can also click the eye icon next to the file name to preview the files you want to restore. After confirming the files are what you want to bring back, hit the Recover button to retrieve them to a new path.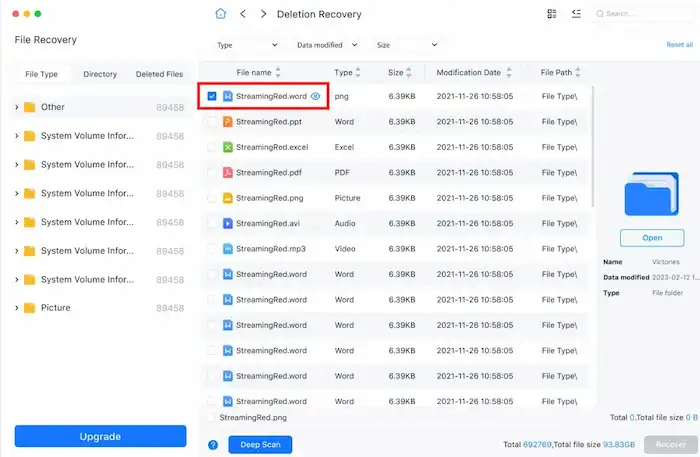 📢Note:
This software might fail to scan some system disks due to the updates in macOS. If you encounter the 'Unable to scan system disk error', asking for help from Apple official or professional data recovery service might be the last data recovery resort.
---
Conclusion
This post explains how to recover deleted files on Mac for free without software in three ways and how to recover permanently deleted files without limitations. In summary, if you fail to restore files using the first three basic solutions, WorkinTool Data Recovery Software might be helpful. Now, pick one solution that suits you best and begin to get back your deleted photos, videos, documents, or whatever else!
You May Also Need