How to Recover Files Lost by Ctrl+Z on Windows 10
Have you ever mistakenly deleted crucial files by pressing the Ctrl+Z shortcuts? If the accidental Control Z file deletion keeps your head scrambling, you are on the right page. This post offers three easy and practical solutions, enabling you to recover files and folders deleted or lost by Ctrl + Z combination keys.
1. Undo a Ctrl + Z Delete
2. Restore Deleted Files from Recycle Bin
3. Recover Files Lost by Ctrl+Z via Software 🏆
How to Recover Files Lost by Ctrl+Z on Windows 10
"What should I do? I dragged a folder that contains some important videos and photos and dropped it into a new directory. To clean up the memory, I deleted the original folder. But I forgot what I was doing, and I accidentally pressed Ctrl+Z, which to my shock, deleted the new folder as well. When I want to undo the Ctrl+Z command by pressing the same shortcut again, it doesn't work. How stupid of me! I deleted two folders! How can I recover files deleted from Ctrl+Z?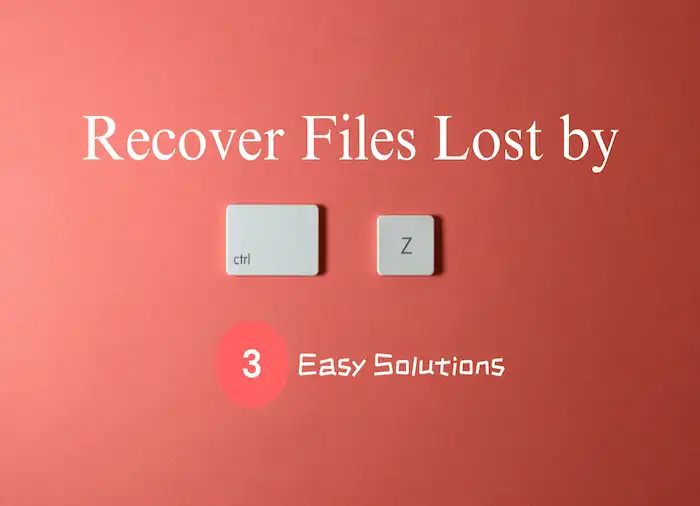 Windows shortcuts, which include "Ctrl+C," "Ctrl+X," "Ctrl+V," and "Ctrl+Z," are very helpful tools that greatly simplify labor. We usually use "copy, cut, and paste" for the first three shortcuts and "undo changes" using the final one.
We can restore other data files we're working on or undo earlier activities by hitting Ctrl+Z at the same time. It's not a master key, though. According to the circumstance, some users accidentally hitting Ctrl+Z have lost files and are looking for ways to recover deleted information. Not to worry. On this page, we'll demonstrate three efficient ways to perform Ctrl Z deleted file recovery on Windows 10. Find out more by reading on.
🔎
Quick Look
📝 1. Common Causes that Files Can Be Lost by Ctrl+Z
📝 2. How to Recover Files Lost by Ctrl+Z on Windows 10
1️⃣

Undo

 a Ctrl + Z Delete
2️⃣ Restore Deleted Files from

Recycle Bin
3️⃣ Recover Files Lost by Ctrl+Z

via Software

 [HOT]🏆
📝 3. FAQs
---
Common Causes that Files Can Be Lost by Ctrl+Z
1. Control + Z inadvertent deletion is more likely when your computer is doing numerous tasks at once. The cause is that you might not be able to recall all of your actions in their sequential order. As a result, you might press Ctrl+z in an attempt to undo one action but end up changing another or mistakenly deleting it.
2. When files are transferred using this method of Ctrl+X and Ctrl+V, they are removed from the original folder. When Ctrl+Z is used to undo that action, the files might be deleted, especially when new data replaces the original one as a result of another activity. While moving files from one disk partition to another or between a computer and an external storage device, Ctrl+Z deletion is also frequent.
3. Ctrl+Z file loss due to interrupted connections between external media and the computer is another possibility. The operation to undo the most recent action could be interrupted, resulting in file damage or temporary storage of the file, which would make it directly inaccessible on the drive.
---
How to Recover Files Lost by Ctrl+Z on Windows 10
Read on to learn the three Ctrl Z file deletion recovery methods in this part.
1️⃣Undo a Ctrl + Z Delete
If you find your files are deleted after pressing Ctrl Z and can't find them in their original location, the first thing you should consider is undeleting them directly using the easiest and most efficient ways. There are two solutions you can apply, press Ctrl + Y to recall the last action or undo a delete in the Start menu.
📝How to Undo a Ctrl + Z Delete in Windows 10
Option 1
As the opposite of Ctrl Z on Windows, the Ctrl+Y command can redo the Ctrl+Z procedure. However, if the shortcut doesn't work, do the methods listed below to undo the deletion and restore the deleted files.
Option 2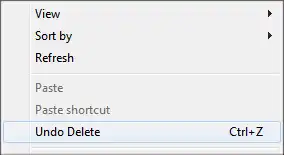 1

. Go to

 Start

 > 

Computer

.

2

. Look for the folder that used to contain the deleted files.

3

. Then, choose

 Undo Delete 

with a right-click on the folder.
2️⃣

Restore Deleted Files from Recycle Bin
On occasion, files that were accidentally deleted from your computer can be found in the Recycle Bin. The process is so easy that any level of computer user may quickly restore these types of files from the recycle bin folder. Learn how to recover files lost by Ctrl+Z with the steps listed below.
📝How to Recover Ctrl Z Deleted Files from Recycle Bin
1

. Click 

Recycle Bin

 on your desktop.

2

. Find the files or folders that you desire to recover.

3

. Right-click on the items and select 

Restore

 to bring them back to where they were before.
⏳ We've already discussed situations in which files are removed but are still easily accessible using the Ctrl Y command or in the Recycle Bin. In other circumstances, nevertheless, it is not the case. Before you give up hope that your files are irretrievably destroyed, take this last possibility into account:
3️⃣

Recover Files Lost by Ctrl+Z via Software 🏆
Keep going if the aforementioned method fails. By applying capable data recovery software, you still have a significant chance of recovering the Ctrl + Z erased files from Windows 10. There are a ton of custom and enterprise solutions on the market, some of which do data recovery to a higher degree than others in features, functionality, and price. WorkinTool Data Recovery Software, after testing, enables us to recover files mistakenly deleted with Ctrl+Z quickly. It can recover files deleted by the Ctrl+Z shortcut in Windows 11/10/8/7, SSD, USB flash drive, external hard drive, memory card, and more with advanced AI scanning and recovery technology.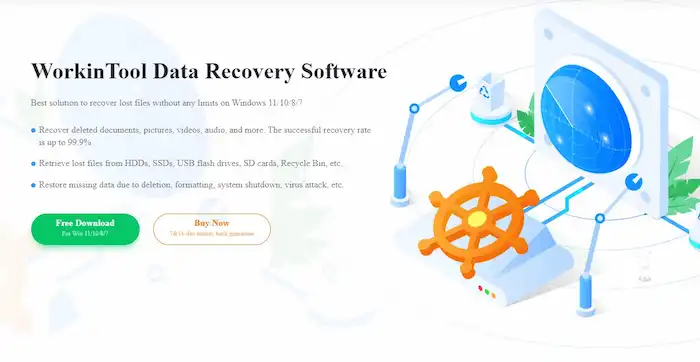 Key Features of WorkinTool Data Recovery Software
Recover 

500+

formats of files like video recovery, photo recovery, document, email, audio, compressed file recovery, etc.
Restore permanently deleted files

, formatted files, and corrupted files.

Fast scanning, processing, and recovering speed

Easy to use with a clean interface design and two recovery modes
Want to learn how to recover files lost by Ctrl+Z via professional software in three clicks? Now, download this data recovery software to recover deleted folders and files after mistakenly pressing the Ctrl Z command with step-by-step guides.

📝
How to Perform Ctrl+Z Deleted Files Recovery via WorkinTool
1

. Open WorkinTool data recovery software and select a location where you lost files to scan. You can select a specific folder, an internal/external drive, the desktop, or the recycle bin.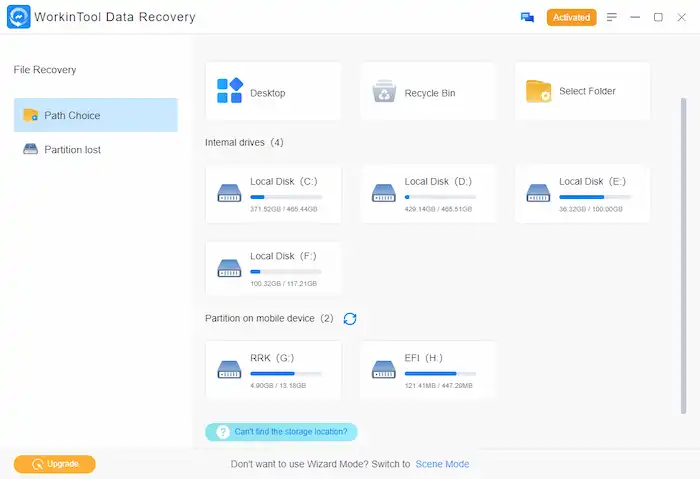 2

. Select a scan method from the 

Quick

, 

Deep

, or 

Formatted Recovery

 and then press 

Scan Now

 to start scanning.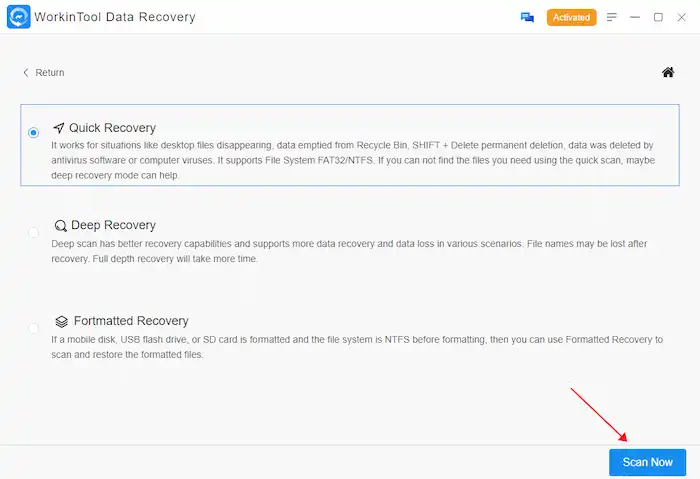 3

. Go to the

 Deleted Files

 tab to look for your files by directory. Or you can filter files by type, size, and modified date. After finding the files or folders that you desire to recover, select them and then press

 Recover

 to save them.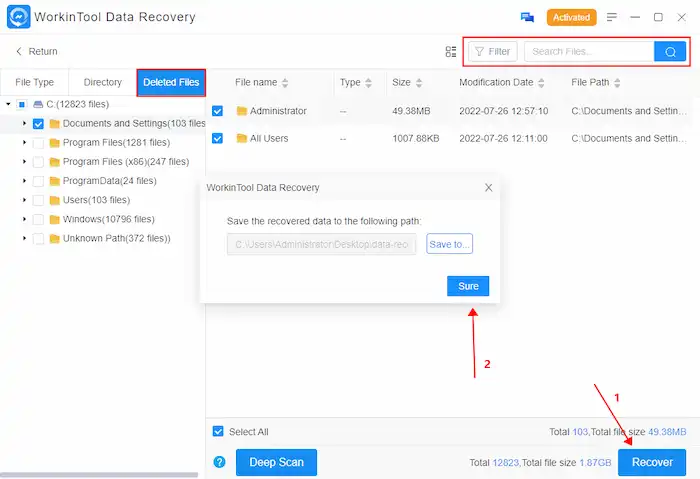 📢Note: It is better to restore the to-be-recovered files to a new path in case of accidentally overwriting.
---
FAQs
In addition to learning how to recover files lost by Ctrl+Z on Windows 10, it is also necessary to know the following information.
👁‍🗨What does Ctrl/Control Z do on a computer?
Ctrl+Z is used for undoing an action. To redo an undone action, press Ctrl + Y. You can undo or redo one or more typing activities using the Undo and Redo features, but you must take actions in the order exactly as you did or undone them. You cannot skip steps.
👁‍🗨Can Ctrl Z restore deleted files?
Yes. On a Windows computer, you can always undo delete by pressing Ctrl+Z before the command is overwritten and get the unintentionally deleted file back.
👁‍🗨How to undo a delete on a computer?
You can select multiple choices to recover a file or folder you accidentally deleted. Just as we've mentioned, you can undo a delete on a computer by the following methods. It is also feasible to recover Ctrl+X lost files.
Pressing Ctrl + Z shortcuts

Get deleted files back using the Ctrl+Y combination keys

Find deleted files and recover them from the Recycle Bin

Use data recovery software like WorkinTool to recover permanently deleted files

Restore deleted files from their previous versions
---
Bottom Line
So far, we have discussed the common causes that files can be lost due to the Control Z on a computer, how to recover files lost by Ctrl+Z in Windows 10 and other versions with three possible solutions, and common questions on Ctrl + Z deleted file recovery. Being familiar with shortcuts and data recovery methods on Windows systems is always useful. After reading this post, hope you can recover lost or deleted files or folders after mistakingly pressing the Ctrl Z command.