How to Recover Uninstalled Programs on Windows 10/11
Wondering how to recover your uninstalled programs and associated data? You are on the right page! In this post, you will get three practical and easy solutions to recover uninstalled programs on Windows 10/11. Read on to learn:
1. How to reinstall a program on Windows 10/11 with built-in tools.
2. How to recover uninstalled programs on Windows 10 with software 🔥
3. Best Practices For Uninstalled Program Recovery
All these solutions can be used for free. Pick one solution and start recovering!
3 Ways to Recover Uninstalled Programs on Windows 10/11
Can you get back an uninstalled program? There are always cases in which users delete programs on a computer to clean up storage space but later find they accidentally delete a critical app. Since uninstalled apps differ from deleted files, which will be transferred to the Recycle Bin, you can't restore uninstalled programs there.
Of course, a remaining installation package might be on your local drive for reinstallation. You can also visit the software's official website to download and reinstall it. However, the program might become brand new, and the associated data and configuration won't be there because you deleted them when uninstalling. The official program, sometimes, may update to a new version or upgrade to paid one, which is not what you want. Therefore, learning how to recover deleted programs on Windows 10/11 is essential.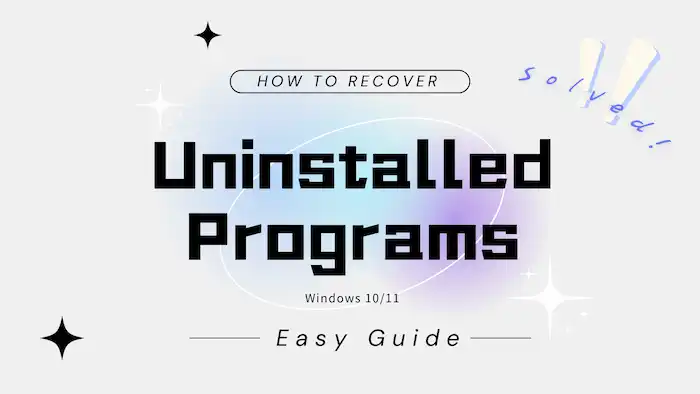 Don't fret. This post shares three easy and free solutions for reinstalling uninstalled programs. You can recover uninstalled programs using built-in tools on Windows or specialized third-party recovery software. These methods can help you reinstall uninstalled apps on your computer in a few clicks.
| | |
| --- | --- |
| 🚨 Important | Taking action quickly and proactively is important because the remaining data could be overwritten and damaged anytime. Once new files overwrite them, restoring uninstalled programs with associated data will become impossible. |
---
How to Recover Uninstalled Programs on Windows 10/11
Ordinary deleted files on Windows can be recovered in various ways, such as File History, data recovery software, System Restore, cloud backup, and Recycle Bin recovery. But undeleting programs on Windows 10/11 can be a challenging task. There are limited methods you can try. Here you can see how to find uninstalled apps on Windows 10/11 and recover them.
1. Use System Restore to Reinstall an Uninstalled Program
The first and simplest method to restore uninstalled programs is to use the built-in backup utility – System Restore. This utility is accessible on Windows XP, Vista, 7, 8, 10, 11, and Windows Server. It allows users to create snapshots of the system's current state, including installed programs, system files, and drivers. It then saves the snapshots as restore points that can restore systems to their previous state.
If you turn on System Restore, Windows will automatically create a backup before updating. Installing and uninstalling software or downloading something on your computer will trigger it to save backups. It can easily roll back the change if there are system errors or data loss.
📝

How to Reinstall an Uninstalled Program via System Restore
1. Type Control Panel in the Windows search box and click on it.
2. Once more, search recovery in the search box and select it from the pop-up options.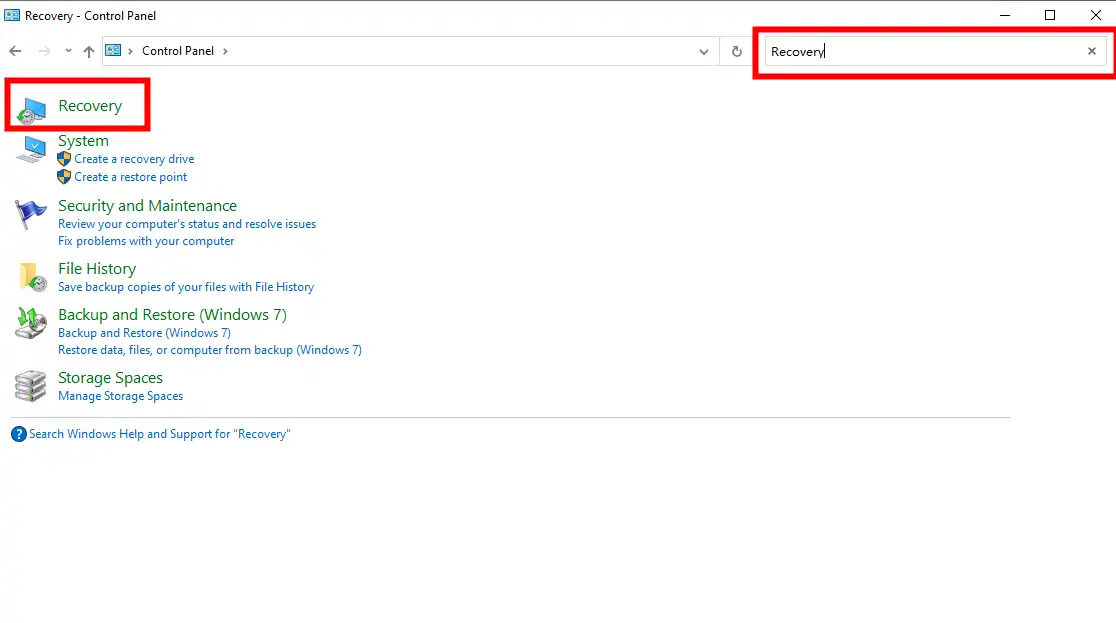 3. Go to Open System Restore > Next > Scan for affected programs and follow the wizard to complete.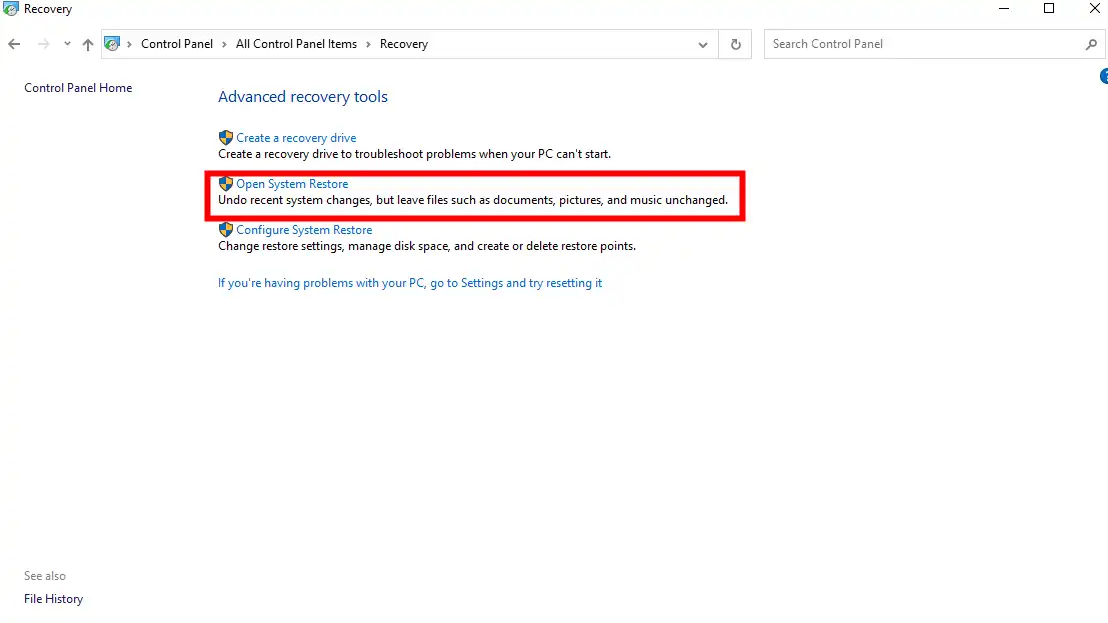 🚨Note that System Restore will return your entire system to a previous version. So please back up important files before restoring uninstalled programs via System Restore points.
2. Try Data Recovery Software to Recover Uninstalled Programs 🔥
Several data recovery software tools are available for undeleting programs and file remnants. WorkinTool Data Recovery Software is a popular option. This professional tool specializes in detecting and recovering deleted programs, installation packages, temporary files, logs, and app data with its advanced AI scanning and recovery technology.
Users of any skill level can get started with this data recovery tool for its intuitive design and simple operation steps. The detected data will be well-categorized by file type, directory, state (deleted or not), size, and date modified. Most files are previewable. With this data recovery software, you can easily restore uninstalled programs and retrieve deleted data.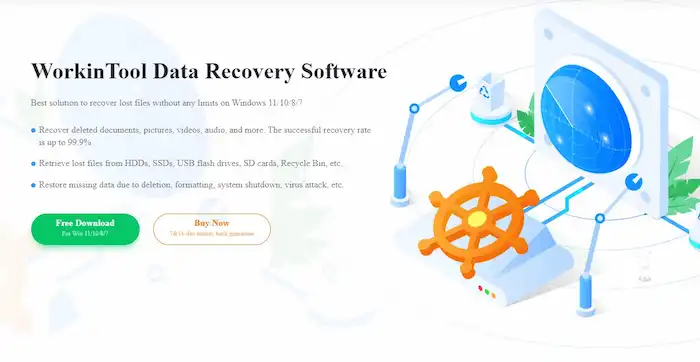 What WorkinTool Data Recovery Can Do?
Handle data loss due to accidental deletion, software corruption, formatting, etc.

Offer 500MB of free recovery capacity, enough for the uninstalled program and associated data recovery.
Get unlimited recovery for only $23.99/month, cheaper than most products of the same kind.

Recover files from USB flash drives, memory cards, external HDDs, computer hard drives, SDDs, and more.

Restore 500+ types o files, including Office documents, pictures, videos, audio, compressed files, app data, etc.

To use this tool, you need to download and install it on your system, then follow the instructions to scan for and recover the deleted files.
📝How to Recover Deleted Apps on Computer via WorkinTool
1. Open WorkinTool Data Recovery and specify a location to scan. It can scan specific folders, desktop files, drives, and partitions.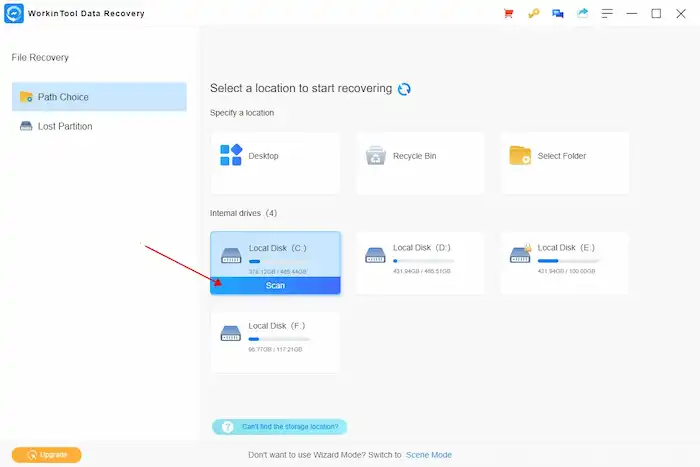 2. Click Quick Recovery > Scan Now to initiate a quick scan. Deep and Formatted Recovery take longer. You can try them later if the program files you want to recover don't appear.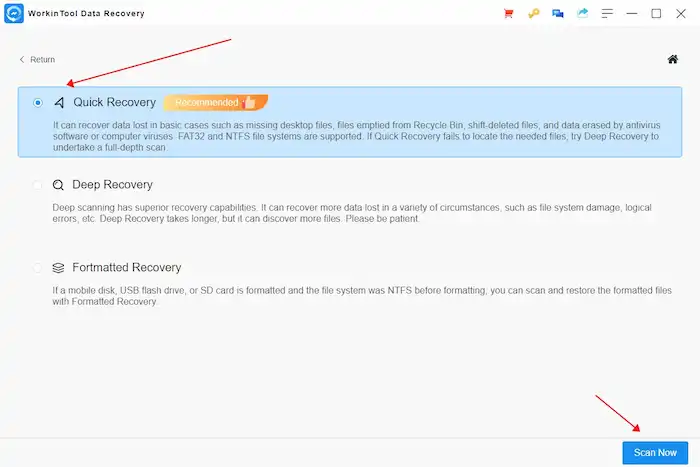 3. Locate your files by the Filter & Search feature and the left-hand navigation pane. Preview them and click the Recover button to undo the uninstallation.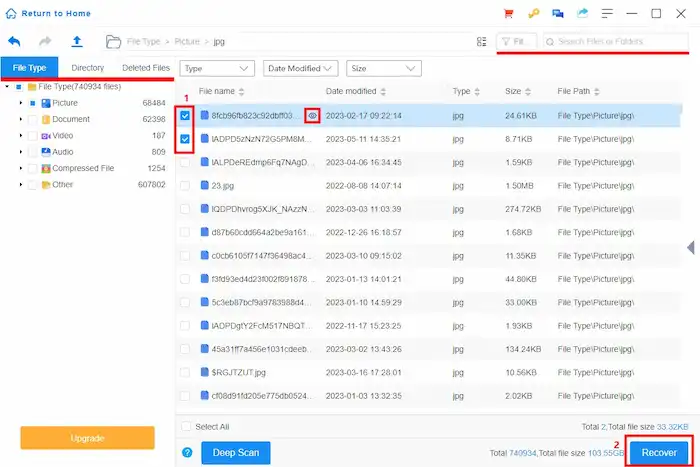 3. Use File History to Recover Uninstalled Programs
If you have enabled the File History feature, you may recover some program files, including programs, installation packages, documents, pictures, downloads, and more. Like System Restore, File History can help users recover lost or deleted files. This built-in utility also requires manual activation before automatically taking snapshots of your files.
But they serve different purposes. System Restore is designed to fix system errors or problems by changing your entire system to a previous state. But File History is designed to help you recover individual files to a previous state instead of the entire system.
📝

How to Restore Removed Apps on Windows 10 via File History
Type "Restore your files with File History" in the Windows search bar.

Browse through and select the folders to locate your uninstalled programs.

Click the Previous/Next version to select the one you want to undo.
Select the uninstalled program and click the green Restore button.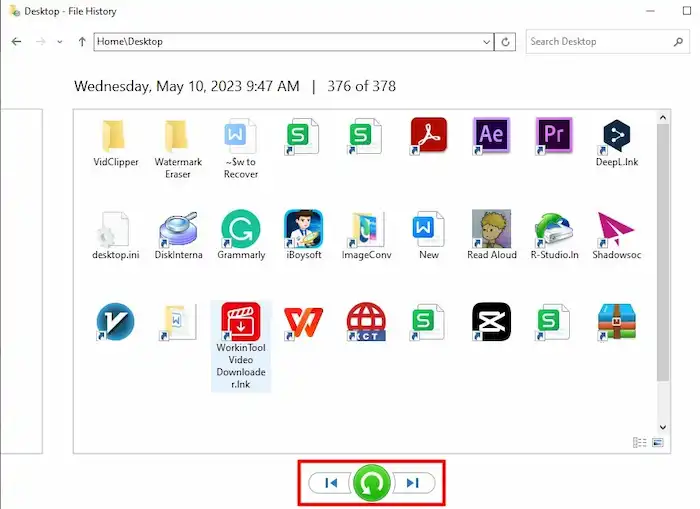 ---
Best Practices For Uninstalled Program Recovery on Windows 10/11
After learning how to reinstall a program you uninstalled on Windows, you can select a solution to have a try. This process may take some time if you cannot be sure where the uninstalled program is.
Also, please note that not all programs are easily recoverable. The recovery rate depends on factors such as the time of uninstallation, the type of software, and the extent of damage. Even the most advanced recovery methods cannot guarantee a 100% recovery rate. Therefore, to avoid such tricky situations from happening again, it is necessary to master some preventive measures.
Turn on System Restore and File History to regularly back up important files and folders.

Avoid installing unreliable software of unknown origin.

Update your Windows systems and drivers regularly to avoid accidental corruption.

Download and install a data recovery software tool just in case of need.
---
Conclusion
Accidental uninstallation happens anytime. Knowing how to recover uninstalled apps and data on your computer is important to avoid data loss. We share three practical methods on how to reinstall a program on Windows 10/11. If you haven't enabled System Restore or File History utility, you can always use WorkinTool Data Recovery Software to reinstall uninstalled programs. Hope you can find the solution that suits you best and recover uninstalled programs successfully.
You May Also Need