How to Restore a File from Avast Virus Chest | 2 Easy Ways
You may have noticed Avast Antivirus sometimes will flag your files as virus-infected data and automatically move them to Virus Chest (Quarantine). If Avast removed a file you need, you could try the two methods in this blog to undelete them, including using Avast Virus Chest and a third-party Avast file recovery program—WorkinTool Data Recovery. It provides advanced algorithms that enable you to:
💙 Recover more than 1000+ types of files.
🤍 Retrieve deleted/formatted/corrupted files with ease.
💙 Restore files on any device, including local & external disks, memory cards, USB flash drives, etc.
🤍 Get started easily with a clean and intuitive interface.
💙 Get back up to 500 MB of data for free.
How to Restore a File from Avast Virus Chest | 2 Easy Ways
This post covers everything you need about Avast deleted file recovery. Users who are searching for tried-and-tested methods to recover deleted files from Avast, including files in or no longer present in Virus Chest, can find answers in this post.
---
What is Avast Virus Chest?
Before learning how to restore a file from Avast Virus Chest, we need to know what is Avast Virus Chest and how it works. Avast Antivirus is one of the most popular cybersecurity applications to protect users' computers from threats and dangers. This antivirus software can detect suspicious viruses and malware on your computer. After scanning and detecting those vulnerable files, Avast will automatically delete them and send them to the Virus Chest (older name of Quarantine) folder with other malware, putting them in isolation to keep the computer system safe and sound.
But take it easy. The problem is frustrating but also reversible. This article is for all Avast users looking for tried-and-tested methods to restore Avast-deleted files, including those no longer present in the Virus Chest. You can learn how to restore a file from Avast Virus Chest, how to recover files when Avast Virus Chest is not working, and how to prevent Avast from automatically deleting files without asking.
---
How to Restore a File from Avast Virus Chest
"Does Avast automatically delete infected files? It removes a file I need without asking! How can I restore my deleted files from Avast Antivirus?"
Yes, it is. After detecting, Avast will move the infected files to the Virus Chest directory by default. But don't worry. There are two feasible ways to retrieve deleted files from Avast. Read on to experience the simple steps.
📢Note: Before moving to the central part, make sure you have already checked your computer Recycle Bin and existing backups. It is likely to find the deleted files there.
How to Restore a File from Avast Virus Chest
We know Avast Virus Chest locks the detected threats to protect your computer from risks. You can regard it as a safer Recycle Bin. And the files resing there are not deleted. They just can't be readily accessed. But the good news is that files in Virus Chest are recoverable. However, before you undo Avast deleted operations, ensure these files are legitimate. You must don't want to run the risk of recovering an actual virus, right?
📢Note: Where is the Avast Virus Chest folder?
Access Virus Chest by navigating to

 Avast Antivirus

> 

Protection 

> 

Virus Chest

/

Quarantine. 

Right-click

 the Avast icon and select 

Virus Chest

/

Quarantine

 in the bottom right corner of your computer screen on the system tray.
How to recover files moved to the Virus Chest by Avast Antivirus?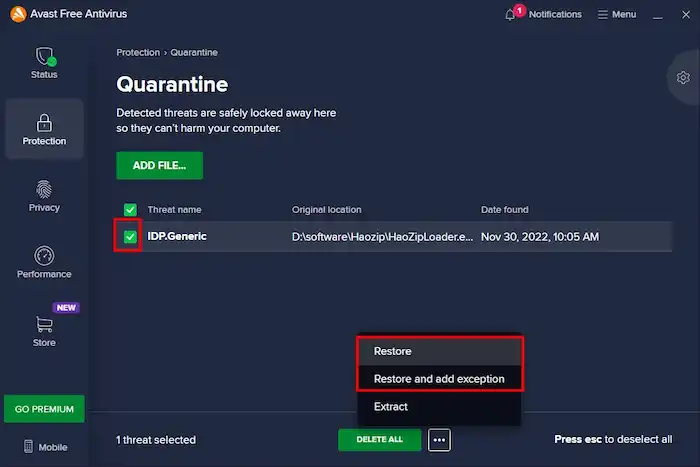 Navigate to the Avast 

Virus Chest

 folder/

Avast Quarantine

 folder.

Tick the checkbox left to the deleted files you want to recover.

Click the bottom three-dot icon and select 

Restore 

(bring files to their original location)/

Restore and add exception 

(recover files and prevent them from being deleted in the future).
---
How to Recover When Avast Virus Chest Restore not Working💯
The Avast Chest folder stores and can restore files that it suspects to be malware or contain viruses. However, there may be instances in which Avast can't retrieve files from Virus Chest. Errors like Avast Virus Chest can't restore, not working, and permanently deleting files from Avast Virus Chest are frustrating and can severely impact the chance you can recover files. So it is essential to learn how to restore a file from Avast Virus Chest when it is permanently deleted.
Use Data Recovery Software to Perform Avast File Recovery
When you need files that Avast Quarantine/Virus Chest can't restore, you need to use data recovery software. A professional data recovery software can scan the physical hard disk space and look for traces of the deleted files. As a Windows user, you can pick up many different data recovery tools, but we highly recommend WokrinTool Data Recovery. Why? When looking for reliable data recovery software, you must consider its overall performance. And the following are some of the salient features of WorkinTool Data Recovery.

Recover deleted, formatted, and corrupted files.

Restore lost files from lost partitions, internal & external disks, SD cards, Recycle Bin, digital cameras, camcorders, etc.

Support 500+

 types of files, including videos, photos, documents, audio files, compressed files, etc.

Users can recover up to 

500 MB

 of data 

for free

. And its paid edition is one of the cheapest among its competitors.

A clean and straightforward interface with easy-to-use features.

No ads, viruses, or safety issues.

Two scan modes with rapid speed and high success rate.
How to Restore a File from Avast Virus Chest using WorkinTool
1. Download and launch WorkinTool Data Recovery and select a recovery mode. Then select where you have lost files due to Avast deletion and click Scan.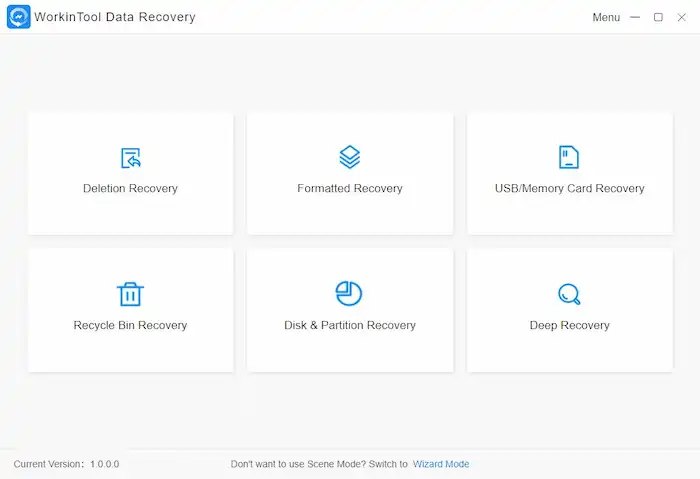 2. Wait a while for the scan to finish. Then go to Deleted Files menu to look for your files. You can filter the lost files by type, size, and deletion date.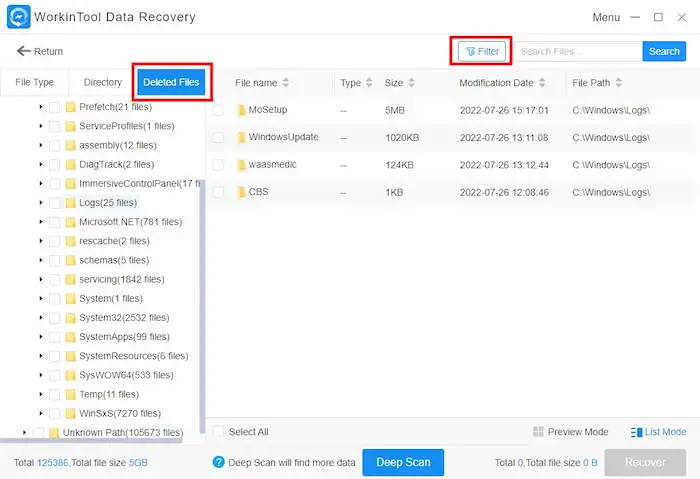 3. Tick the checkbox left to the file name, hit Recover, and select a path to store the to-be-recovered file.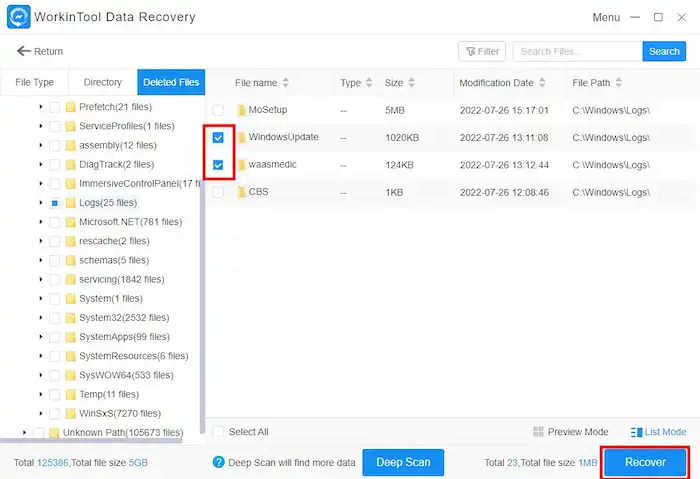 You May Also Like
---
How to Stop Avast from Deleting a File?
The text above lets you know how to restore a file from Avast Virus Chest. But it will not stop avast from deleting files again. To break the circle, you need to click Restore and add exception when restoring a file from Virus Chest. Or follow the steps below to use the Exceptions feature proactively.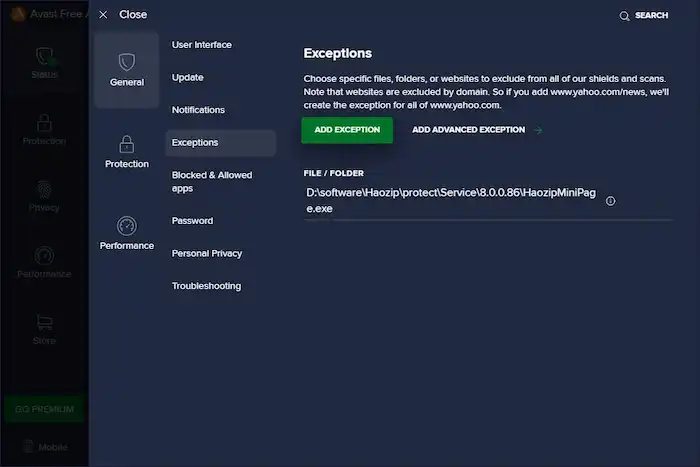 Go to 

Menus

 in the top right corner and select 

Settings

.

Navigate to

 General

 > 

Exceptions

 > 

ADD EXCEPTION

.

You can type a file path, a folder path, or a website domain to exclude.

After adding, click 

ADD EXCEPTION

 to exclude your files from being mistakenly deleted.
---
FAQs
😉What happens to the Virus Chest when I uninstall Avast?
The files in Virus Chest are deleted, too, and cannot be recovered from the folder. They will disappear during the uninstall process.
😊Where does Avast store the deleted files?
You can find the deleted files in Virus Chest or Quarantine (the newer name of the former). If the files are not there, try WorkinTool Data Recovery to scan and restore them.
😀How to recover files deleted by antivirus?
Before the files are permanently deleted, you can apply third-party software like WorkinTool Data Recovery to recover deleted files from antivirus.