How to Recover Files Infected by Virus Attacks in Windows
Trust me; it will be one of the most challenging things to do when you attempt to cope with a virus-infected computer. In addition to a system breakdown or paralyzing, your data or files may be severely infected and subjected to permanent removal, which will be terribly painful. What should you do in case such a dire situation happens? Please take a breath and spend a few minutes on this article focusing on how to recover files infected by virus attacks in Windows. You will get informed of two proven ways–CMD and data recovery software (WorkinTool Data Recovery). However, it is strongly advisable to try the latter method as it is:
💖FREE trial plan to recover 500-MB files
🧡Temporarily and permanently deleted data recoverable
💛High recovery rate
💚Easy to use and green
💙Multiple file formats supported
💜Batch recovery available
💝Partition recovery possible
How to Recover Files Infected by Virus Attacks in Windows [2 Proven Solutions in 2023]
Thanks to the antivirus, it works effectively to prevent virus attacks. Trust me; it will be one of the most challenging things to do when you attempt to cope with a virus-infected computer. In addition to a system breakdown or paralyzing, your data or files may be severely infected and subjected to permanent removal, which will be terribly painful. What should you do in case such a dire situation happens? Please take a breath and spend a few minutes on this article focusing on how to recover files infected by virus attacks in Windows. We hope you can pinpoint an ideal solution after finishing this blog post.
Now, let's take a look at the specific information.
---
Before Virus-Infected File Recovery
📌How does a virus invade your computer?
If you don't have an antivirus program on your computer, you will likely to expose it to virus infection. Usually, the virus enters your PC in the following ways:
Websites showing the sign-not secure
Casual downloads from unknown sites
Pirated or unknown software/programs/applications
Unknown links in emails sent from strange providers
Virus-infected external drive devices like flash disks, SD cards or external hard drives
Besides the above, viruses can invade your PC in other unexpected ways. Hence, it would be better to run antivirus on your computer.
📌Can viruses delete your files or data?
The answer is affirmative. The viruses are disturbing enough to remove your important files, such as office documents, images, audio files, videos, ZIP archives, etc., make your data inaccessible and even damage your system.
📌Is it possible to recover files infected by viruses?
Well, yes. You don't have to panic since opportunities remain to recover these infected or cleared files or data. Here are some examples:
| | | |
| --- | --- | --- |
| Virus Type | Where to Spot/Hide | Recoverable or Not |
| File-Infecting Viruses | .exe, .com, etc. | Yes |
| Macro Viruses | Office Documents | Yes |
| Web Scripting Viruses | Malicious websites or infected files downloaded | Yes |
| Boot Sector Viruses | Boot Sector | Yes |
| Resident Viruses | A Computer's Memory (RAM), | Potentially Yes |
| Encrypt Viruses | Ransomware | Potentially Yes |
| Spacefiller Viruses | Empty Disk Space | No |
| Overwrite Viruses | Trojan and Email Worm | No |
So how can I recover the files infected and deleted by the virus if they are deemed recoverable? Please read on to learn the specific solutions.
---
2 Proven Ways to Recover Files Infected by Virus Attack in Windows
In this chapter, you will be informed of two practical methods of virus-infected file recovery.
CMD is helpful if your files or data vanish when your hard drive or external storage device infected by viruses is working fine.
Data recovery software will be effective if your virus-attacked hard drive or external storage drive completely fails to work.
Please continue your reading to know the detailed information.
1. Restore Files Attacked by Virus in Windows with CMD
CMD (Command Prompt or cmd.exe) is a built-in console in Windows operating system to display the hidden files on your computer or external storage devices. When you spot the deletion of your files as a consequence of virus attacks, here is what you need to do:
1). Connect your external storage device (a USB disk, a memory card or an external hard drive) to your PC if necessary.
2). Type CMD in the search column at the bottom to activate Command Prompt directly.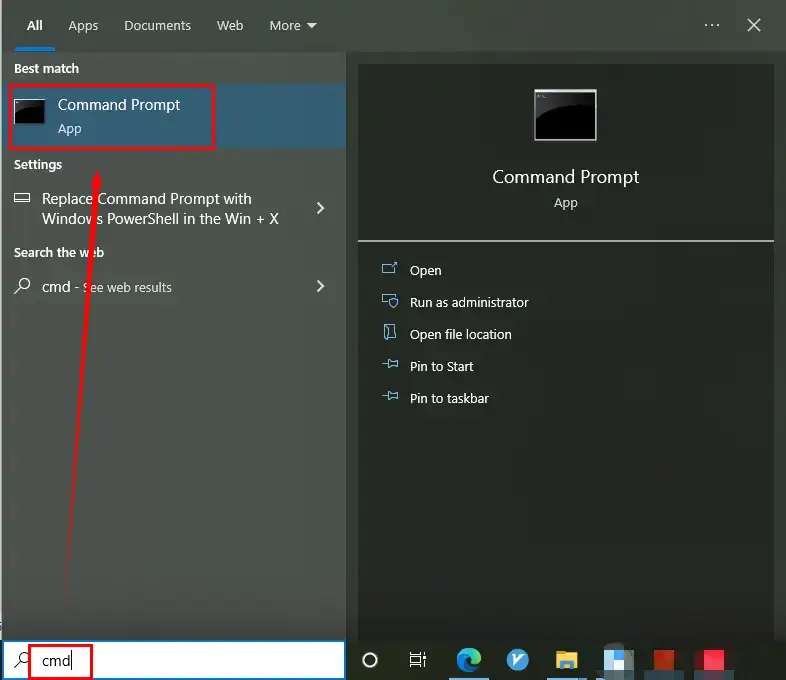 3). Enter the following command chkdsk X: /f in the command prompt window.
(X represents the letter of the drive in which your files go missing and the letter should be in upper case.)
4). Then type Y and hit Enter.
5). Here, press X (drive letter) and hit Enter again.
6). Then enter the command attrib -h -r -s /s /d *.* and press Enter.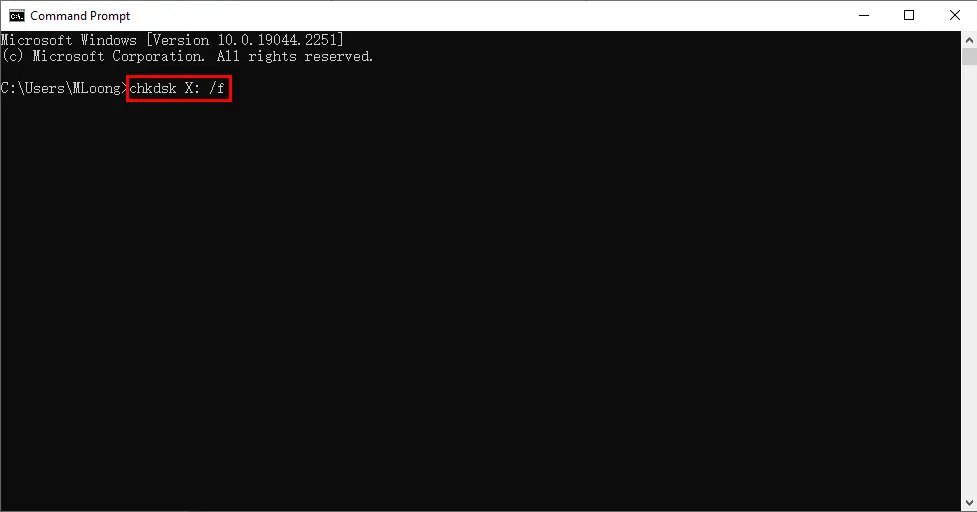 When the aforementioned steps are finished, your computer will fix issues in the virus-infected external drive or USB. This approach will enable you to retrieve your files from a virus-infected drive to some extent.
2. Recover Files Infected by Virus Attacks in Windows Through Data Recovery Software
Data recovery software will definitely guarantee the maximum recovery effect so as to help you regain more lost files or data, particularly from an entirely ruined (external) hard drive. Plenty of the options prove to be easy and convenient, so you don't have to be tech-savvy for any of them. Today, we will present you with a useful tool like this–WorkinTool Data Recovery.

How to Recover Files Infected by Virus Attack in Windows Using WorkinTool Data Recovery?
(Connect your external storage device to your PC first if you intend to get back the missing files on it.)
Step 1. Click open WorkinTool Data Recovery and pick a recovery scene.
(You can switch the opening interface-Wizard Mode to this feature-Scene Mode by clicking the relevant command at the bottom.)
📢Notes:
Select Format Recovery if your virus-infected disks or devices undergo accidental or manual formatting.
Choose USB/Memory Card Recovery if you plan to restore erased files or data from a damaged external storage device like a flash disk, USB drive, memory card, external hard drive, etc.
Pick Disk Partition Recovery if a disk or partition completely disappears due to virus attacks.
Opt for Deep Recovery if you want to recover as many files as you can since this choice will adopt a more complete and time-consuming scanning mode to find more eliminated files.
Step 2. Choose a location and then hit Scan Now.
(Tick the whole disk if you have no idea where your files are deleted exactly.)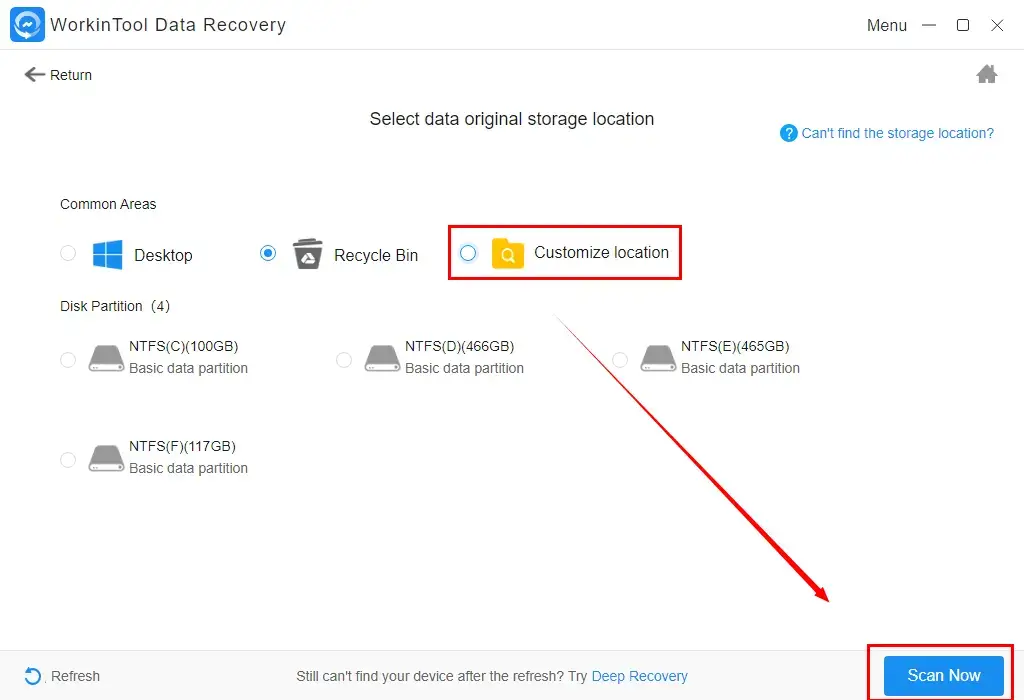 Step 3. Two methods are available for virus-infected file recovery here:
Method 1: Find Deleted Files, check all the folders or the files in the selected folder and then hit Recover.
Method 2: Navigate to Filter > the wanted file type(s) > Sure > Recover.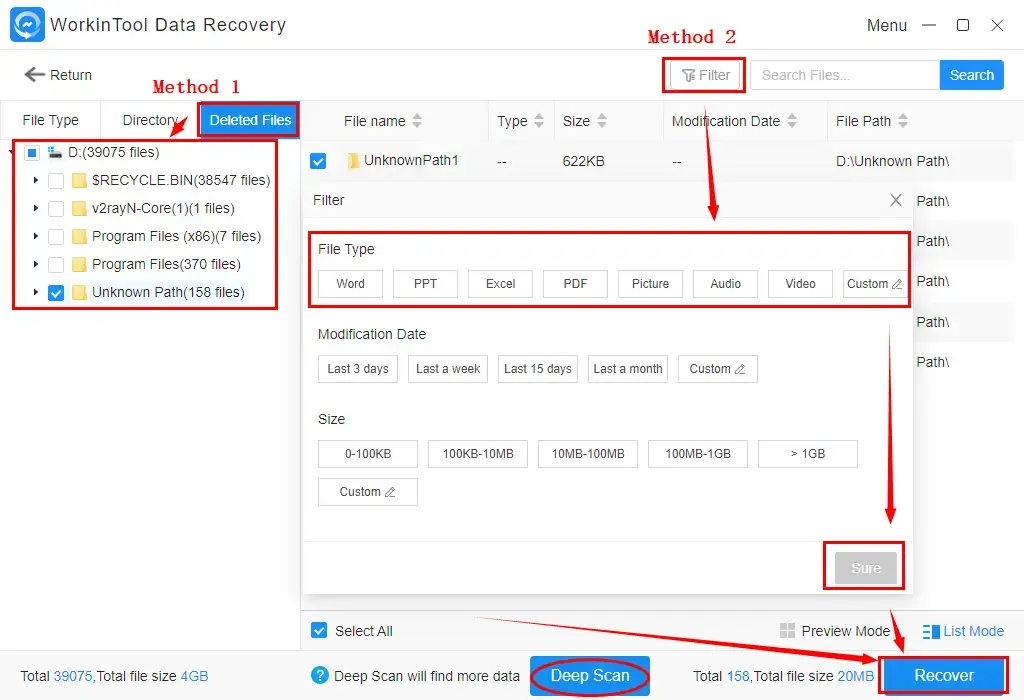 📣PS: You can change the mode to deep recovery here by clicking Deep scan to scan your computer deeper and bring back more removed files infected by the virus. However, please be patient as it will be time-consuming.
Step 4. Select all the desired files (a necessary step for method 2), hit Recover, set your save path and then click Sure.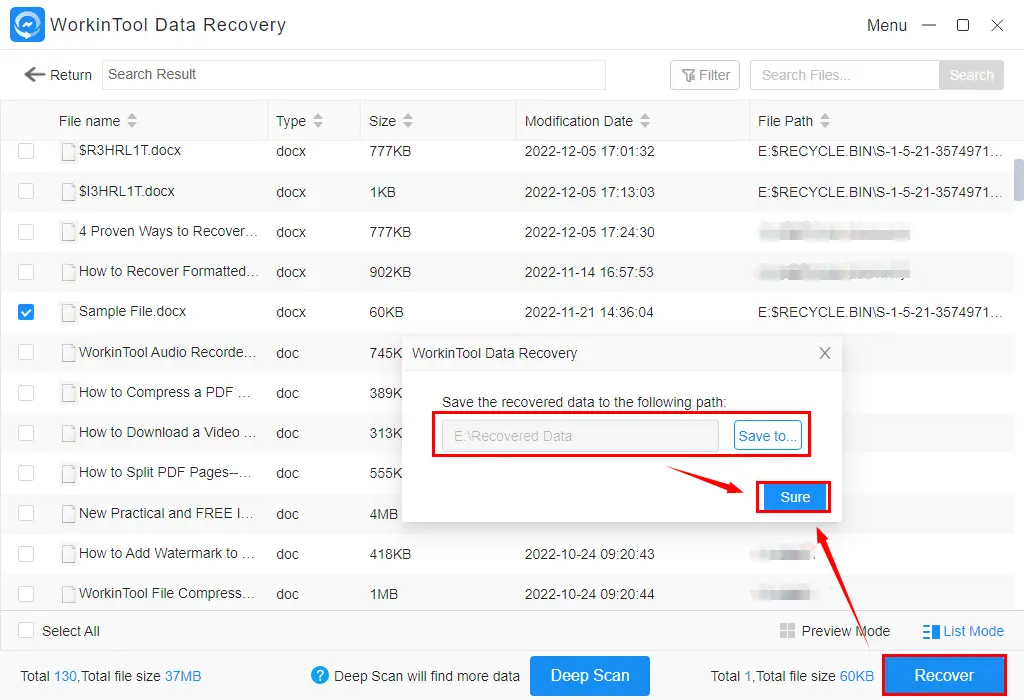 Step 5. Press Open to lead you to the recovered files.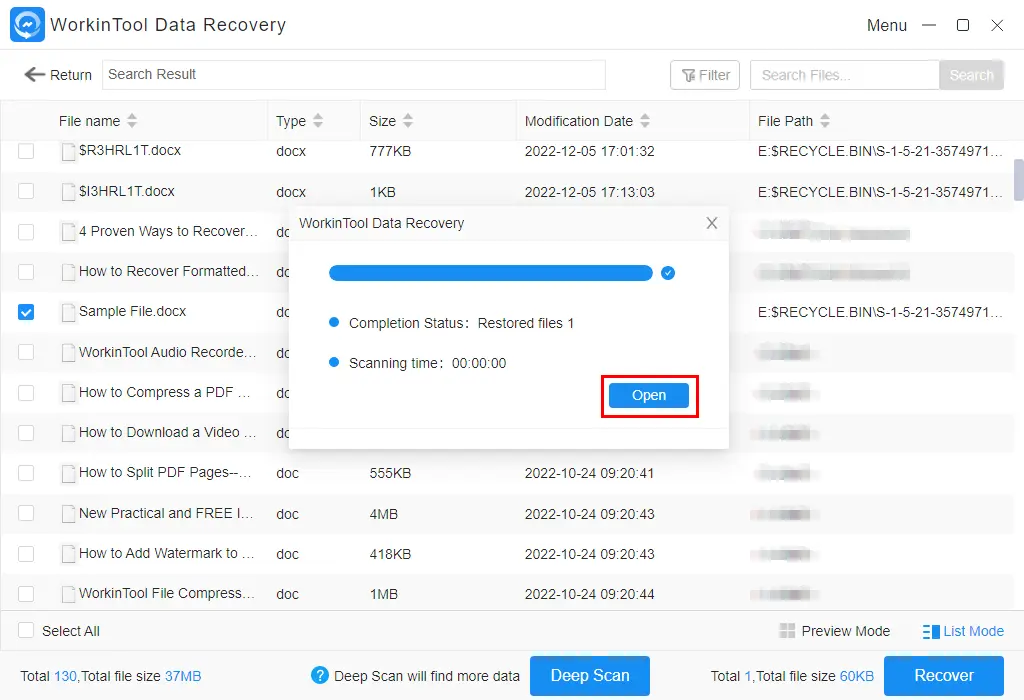 Additional Words
💡Why should you pick WorkinTool Data Recovery?
WorkinTool Data Recovery is a helpful and powerful data recovery tool created to retrieve your temporarily or permanently deleted files in multiple formats. It grips the users' attention instantly thanks to the following features:
Easy to Use: For most of its recovery features, approximately five steps are needed to accomplish your data recovery.
Multiple Formats: It enables the recovery of all the common files or data on your computer, including office documents (Word, Excel and PowerPoint), photos, PDF files, audio, videos, emails, ZIP files and other essential ones.
Batch Recovery: It aims at the restoration of unlimited data in batches, effectively enhancing your working efficiency.
Partition Recovery: As a piece of free partition recovery software, it helps to effortlessly bring back the removed files due to missing disk partitions.
Currently FREE: The recovery of 500-MB files is available within its free-trial plan and no compulsory registration is required to enjoy its features.
Less Expensive: You will spend less to have the same experience as most tools do in the market.
Green: No ads will pop up in your data recovery, whether you choose its free trial or premium plan.

💡Where else can WorkinTool Data Recovery retrieve files infected by viruses from?
WorkinTool Data Recovery would be beneficial to the following scenarios:
---
After Virus-Infected File Recovery
🎯How to protect your files from being infected by viruses and deleted?
These are common recommendations to effectively keep you away from virus attacks:
Avoid unknown links or attachments enclosed in anonymous emails
Stop visiting and downloading files from strange or suspicious websites
Always check hard drive health and scan the USB drive or any external drive to ensure its safety before you use it
Keep your PC up-to-date to equip it with the latest features to resist the latest security threats
Activate your network firewall to block any unauthorized access to your computer
*Run Antivirus software to prevent your computer from possible virus threat
Create backups to provide you with additional protection for your files
Install WorkinTool Data Recovery to keep your files or data safe
*PS: If you accidentally lose your files after running antivirus software, you don't need to worry. You can rely on WorkinTool Data Recovery to recover deleted files from Antivirus in Windows.
---
Final Thought
This is our discussion on how to recover files infected by virus attacks in Windows. We hope you will never have to face a problematic situation like this. However, you will be less worried after reading this article. If you must deal with a similar issue, it is strongly advisable to try WorkinTool Data Recovery.
Now, are you ready to restore your virus-infected files?