How to Recover Deleted Files from Desktop in Windows
Deleting something important on the desktop can be a pain in the neck. So is there nothing we can do about it? The answer is negative. Today, we will discuss how to recover deleted files from desktop in Windows and hope we can help you crack this hard nut. You will be introduced to two topics: How to recover temporarily deleted files from desktop? How to recover permanently deleted files from desktop? You will learn one method in the first topic-Recycle Bin while three approaches for the second one–Data recovery software (WorkinTool Data Recovery), Restore previous versions and Windows backup. However, it is strongly advisable to try WorkinTool because it is
💖100% FREE and green
🧡Easy to use
💛Multiple file formats supported
💚Batch recovery available
💙Partition recovery possible
How to Recover Deleted Files from Desktop in Windows [3 FREE Solutions]
OMG! I accidentally lost all the screenshots taken from a live show and some clips recorded from a YouTube live stream saved on my desktop. The live show can't be replayed for me to record again, while it will be painful to re-locate and re-record the clips from the YouTube live stream one by one, even if it can be found. What can I do?
This is a typical problem faced by nearly all netizens. Deleting something important on the desktop can be a pain in the neck. So is there nothing we can do about it? The answer is negative. Today, we will discuss how to recover deleted files from desktop in Windows and hope we can help you crack this hard nut.
Please read on to know the solutions.
---
Words Before Deleted Desktop Files Recovery
📌Why are my files lost on my desktop?
File deletion happens on your desktop for various reasons:
Accidental Deletion (especially by the shortcut key-Shift + Delete)
Unintentional Formatting
System Breakdown
System Updating
Virus Attack
So what can you do when such a dire situation occurs? Please continue your reading to learn the specific solutions under the following topics:
Restore Temporarily Deleted Files from Desktop in Windows?
Recover Permanently Deleted Files from Desktop in Windows?
---
How to Restore Temporarily Deleted Files from Desktop in Windows
If you happen to remove your files on your desktop without shift deleting them, their destination will be the Recycle Bin without fail. Therefore, the first thing you should do is checking your Recycle Bin when any file loss takes place. Here is what you need to do:
Double-click the Recycle Bin and locate the accidentally deleted file(s).
Right-click it or them one by one to open a small menu.
Then hit Restore.

The erased files will re-appear in the exact location on your desktop.
📣Reminder
This method will only be effective when
The shortcut operation-Shift + Delete is not used.
No further deletion is made inside the Recycle Bin.
The Recycle Bin is not emptied.
The deadline (30 days) for deleted file storage doesn't exceed.
---
How to Recover Permanently Deleted Files from Desktop in Windows
It will be a bit more challenging to retrieve files lost from the desktop for good in Windows, but there is always a way to pull you out of the mud.
Can I recover permanently deleted files from Desktop?
Well, yes. Much as your files are not physically present on your computer, their data are stored somewhere inside it. With some proper approaches, you may likely get your permanently lost files back. Here are some normal ways to recover permanently deleted files from desktop with and without software in Windows.
1. Recover Permanently Deleted Files from Desktop with Data Recovery Software.
Data recovery software is definitely the most guaranteed way to recover a large number of lost desktop files. Plenty of the choices in the current market prove to be friendly for green-hand IT users, and you can pick the one that you think is appropriate. However, today, it is strongly advisable to try WorkinTool Data Recovery. It will help you with your desktop file recovery with minimal effort and in a flash.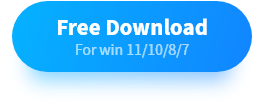 How to Recover Deleted Files from Desktop via WorkinTool Data Recovery?
Step 1. Open WorkinTool Data Recovery and then select a scene for recovery.
(The default opening interface is Scene Mode and you can switch it to Wizard Mode by clicking the relevant notice at the bottom.)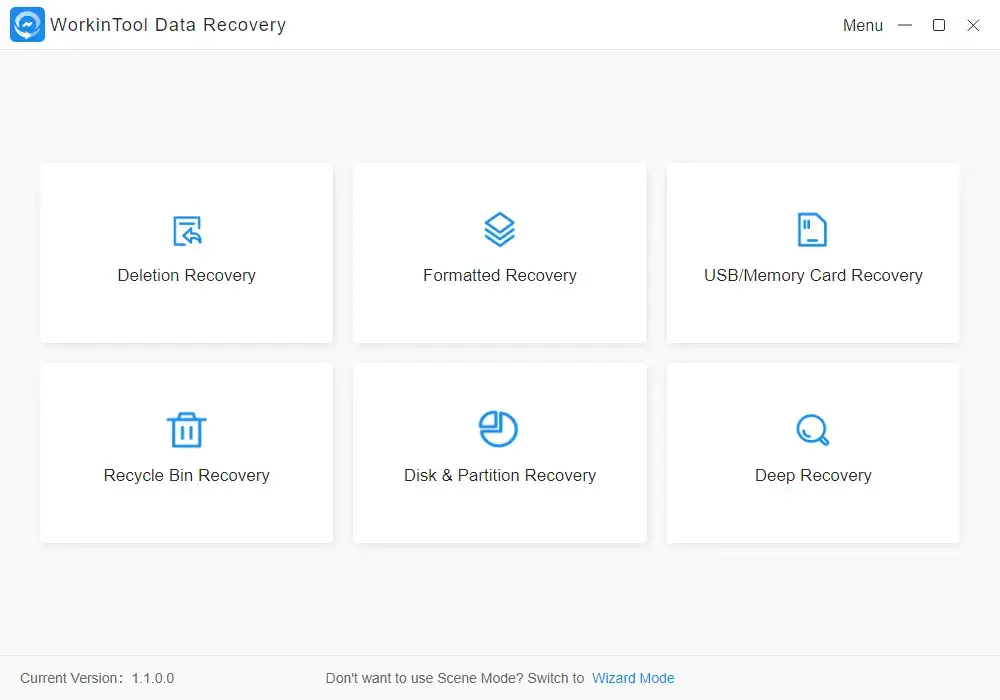 Deletion Recovery: It allows you to recover the files deleted or lost on your desktop in Windows.
Format Recovery: It enables you to get back the files as a result of desktop formatting, missing disk partitions, formatted SD cards, etc.
USB/Memory Card Recovery: Bring back the disappeared files from mobile devices like USB, HDD, memory card and more.
Recycle Bin Recovery: Quickly and precisely retrieve and recover desktop files erased or cleared from the Recycle Bin.
Disk Partition Recovery: Effectively repair file loss due to missing disk partitions.
Deep Recovery: A more complete and time-consuming search mode will be adopted to find the vanished files from the desktop in order to maximize the recovered data. It is quite suitable for getting permanently deleted desktop files back.
🎯PS: In addition to files from desktop, WorkinTool supports data recovery from a range of locations. Please refer to our following tutorials for more information:
Step 2. Tick the option-Desktop and then click Scan Now.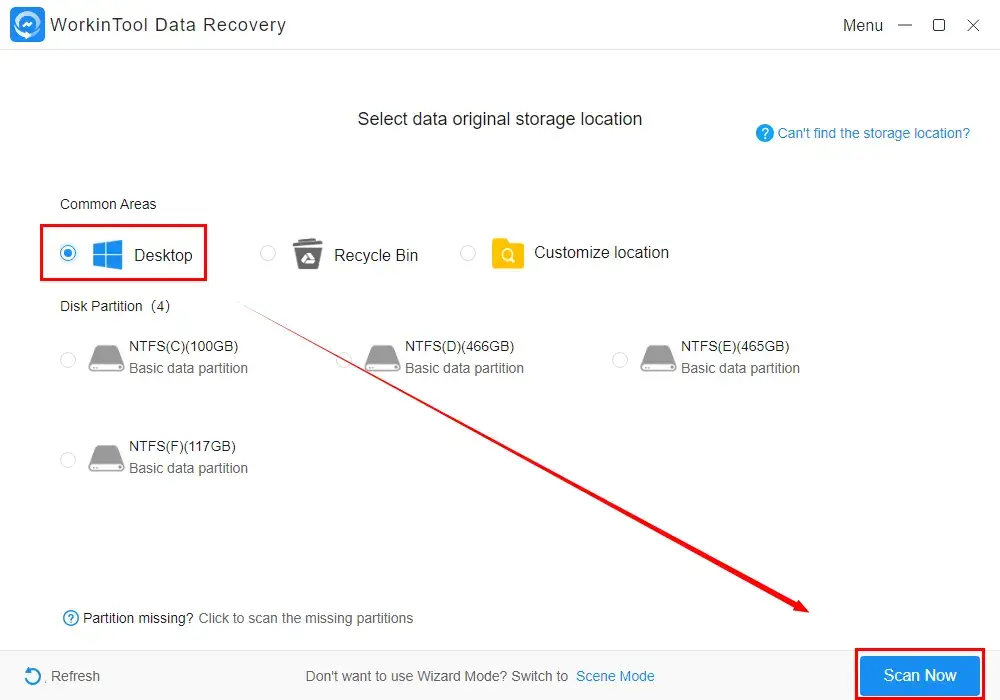 Step 3. Two methods are available in this step:
Method 1: Navigate to Filter > The file type you desire > Sure > Recover.
Method 2: Find the file folder you want, tick all the options that apply under it and then press the Recover tab.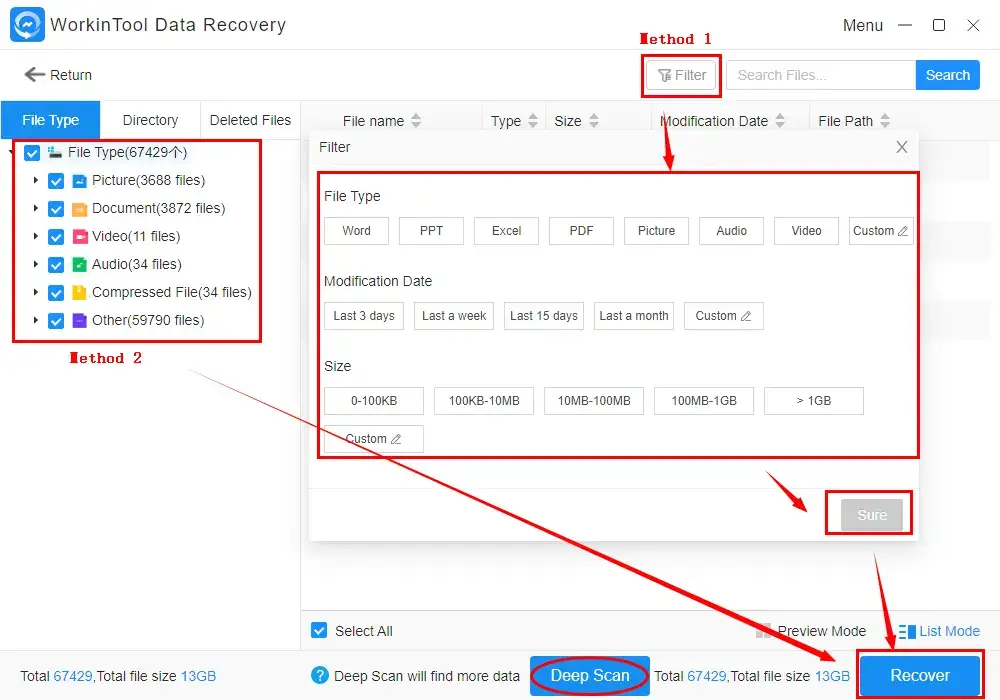 A deep scan is available if you are discontent with the current outcomes. It is exceedingly suitable for retrieving and recovering permanently deleted files from the desktop. This mode will prompt the software to scan your computer deeper and retrieve more vanished files. However, it will be time-consuming, so please be patient.
Step 4. Check all the choices (a process required if you choose Method 1), set the save path as you like and then click Sure.
(Take the recovery of permanently lost videos as an example)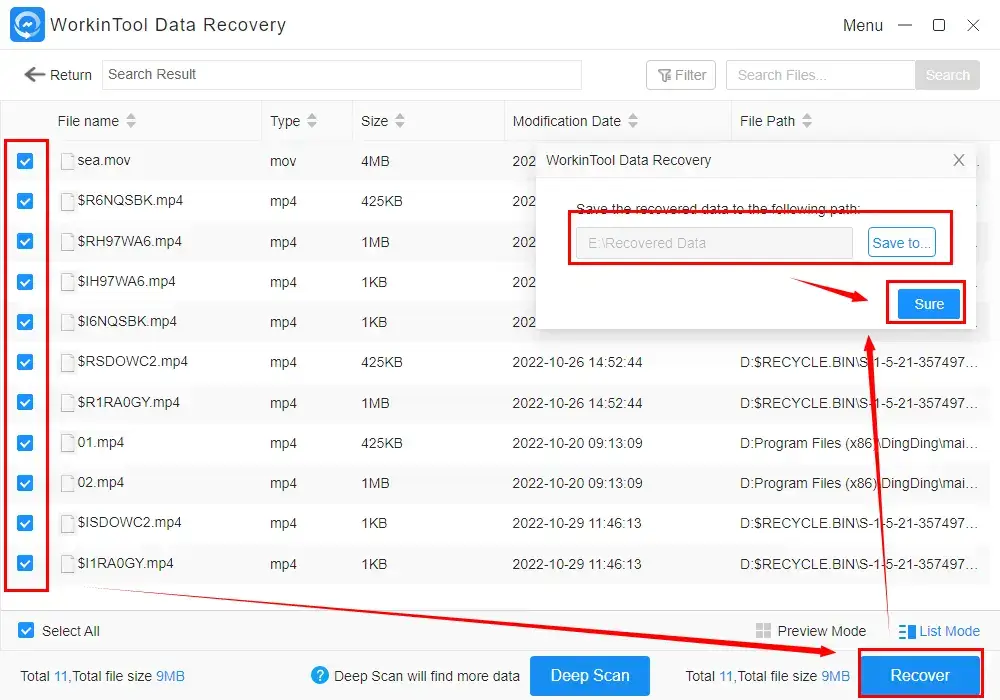 Step 5. Hit Open to lead you to the recovered files.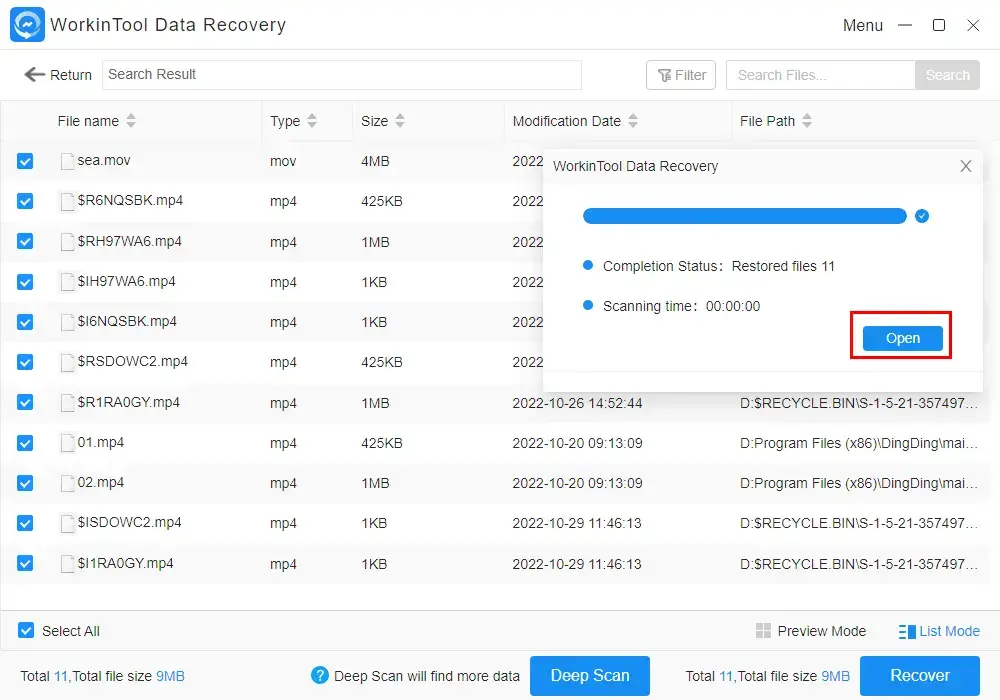 The Outcome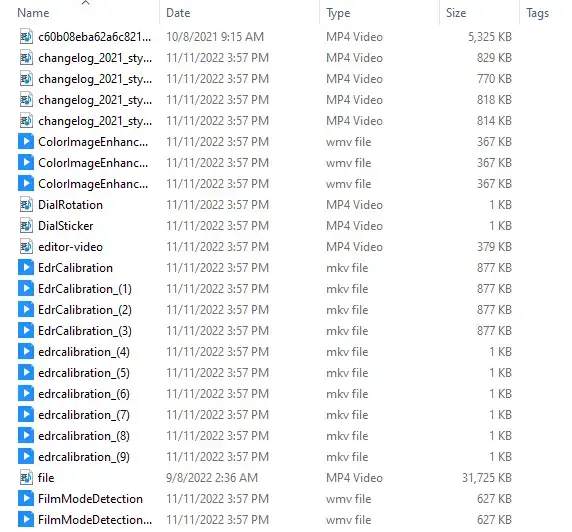 Something More to Say
🔑Why should you choose WorkinTool Data Recovery?
WorkinTool Data Recovery is a new but significant member of the WorkinTool product family. It captures the users' minds instantly through the following features:
Easy to use: For most of its recovery features, WorkinTool takes you approximately five steps to recover all the desired files or data.
Multiple Formats: WorkinTool can bring back all the common files or data in your computer, including office documents, PDF files, audio, videos, E-mails, archives and other essential files.
Batch Recovery: WorkinTool enables you to recover unlimited data in batches, effectively enhancing your working efficiency.
Partition Recovery: As a piece of free partition recovery software, it is simple to get back the deleted files as a result of missing disk partitions.
FREE and Green: All the features of WorkinTool Data Recovery are accessible without a license payment and compulsory registration. Meanwhile, though it is freeware, there will be no ads involved in your data recovery.
2. Retrieve Permanently Lost Files from Desktop Without Software
Is it possible to bring back all my files permanently lost on the desktop? Yes. Though it will be less effortless than using data recovery software, you can still find your vanished desktop files with the help of two methods as follows:
A. Get back Permanently Erased Files from Desktop using Restore Previous Versions
Restore Previous Versions is a built-in feature in Windows operating system. When activated, it will allow you to find the previous versions of your files on your desktop before their data are subjected to complete overwriting. Please follow the steps below:
Step 1. Right-click any file or folder on your desktop.
Step 2. Find Restore previous versions in the pop-up menu.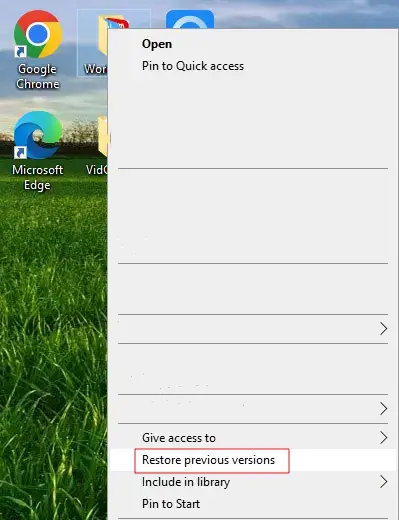 Step 3. Locate the wanted file version and then hit Restore > OK.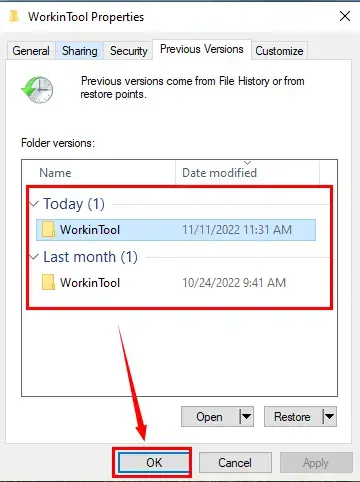 📝Bonus Tips
How to activate the feature-Restore previous versions?
1). Type System Protection in the search box at the bottom.
2). Find Create a restore point.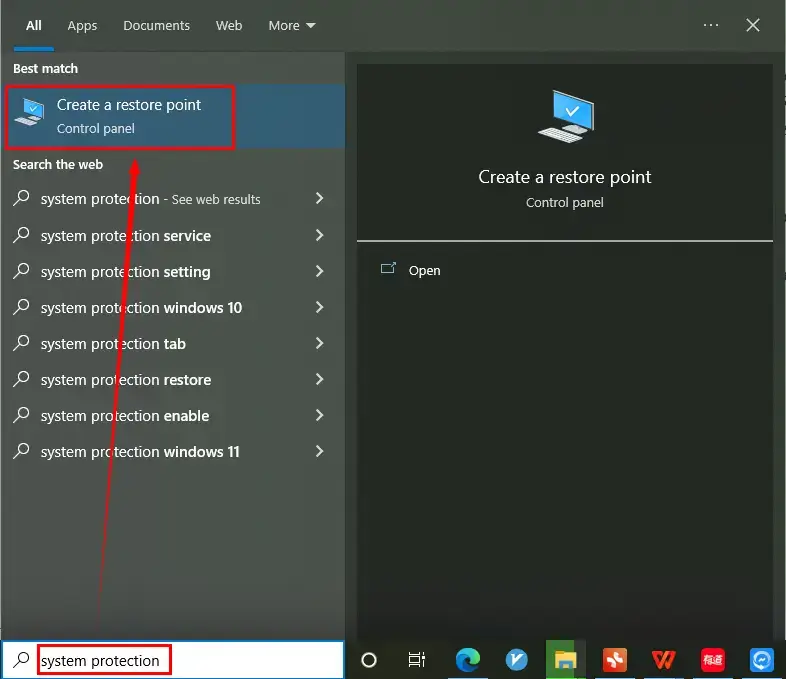 3). Choose the disks and then click Configure.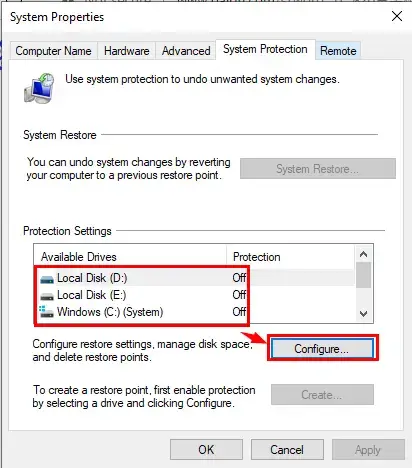 4). Tick the option-Turn on system protection and then hit OK.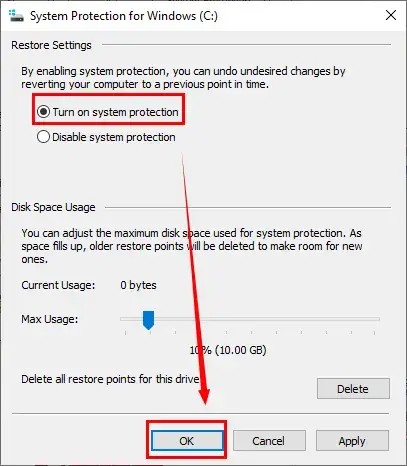 📢Notes
This method is only effective when this feature is activated.
B. Bring back Permanently Removed Files from Desktop with Windows Backup
If you set up the Window's backup feature, it will be likely for you to retrieve your lost files from your desktop. Please read the following guidance.
Step 1. Click Control Panel on your desktop or type it in the search box at the bottom.
Step 2. Navigate to System and Security > Backup and Restore (Windows 7).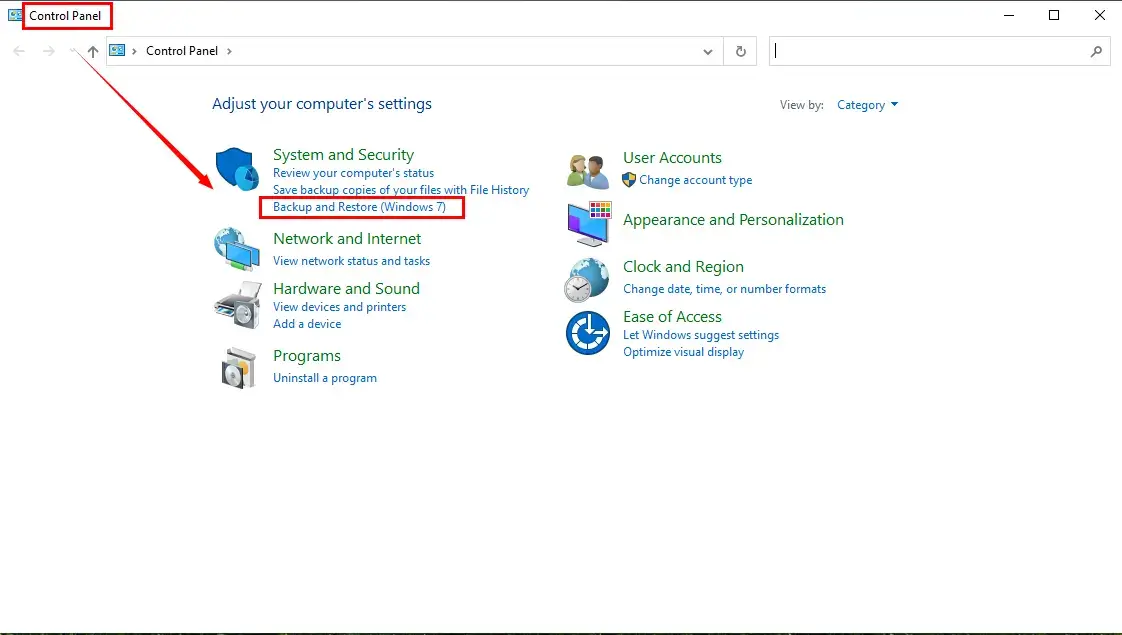 Step 3. Hit Restore my files.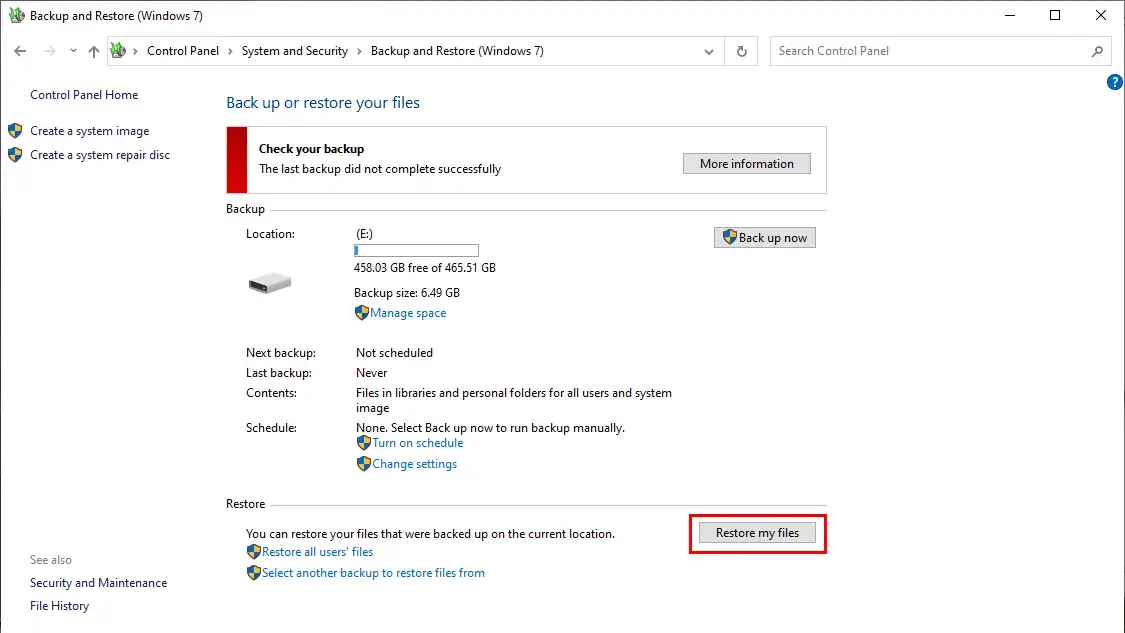 Step 4. Locate your deleted files found by Windows in the backup panel or manually search for them by choosing the Search, Browse for files, or Browse for folders button. Then click Next.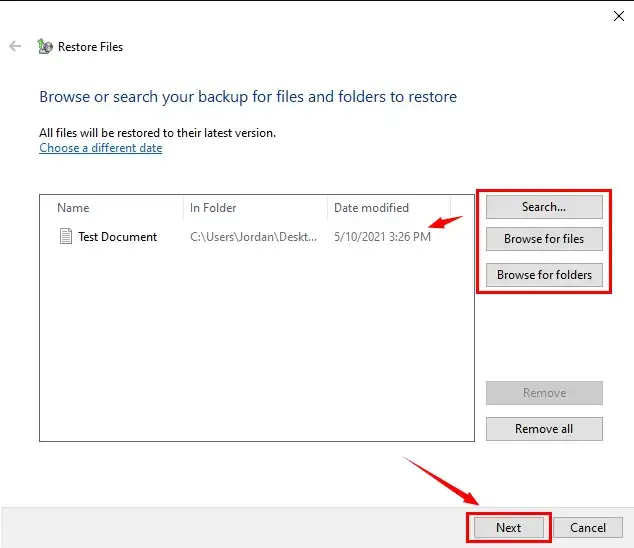 Step 5. Set the location path as you like and then hit Restore.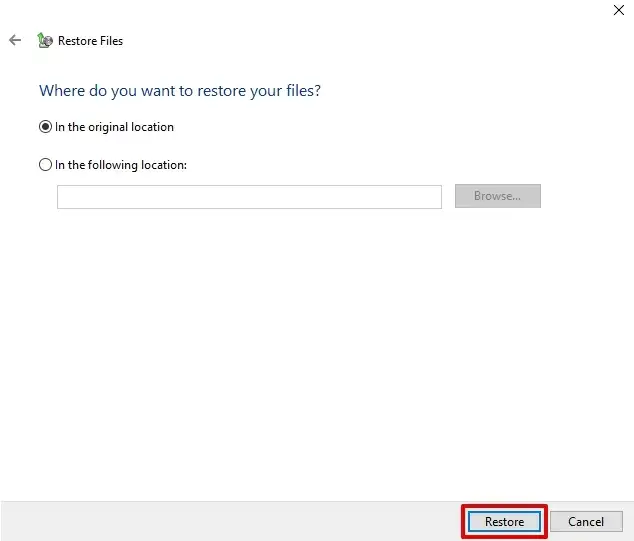 🎤Attention
The approach is available when this Windows backup feature is turned on.
---
Additional Words for Deleted Desktop File Recovery
💡How to recover deleted folders from desktop in Windows?
When you lose a new folder you created on your desktop, you can turn to the aforementioned solutions. However, the best way is still to try WorkinTool Data Recovery. You can use it to recover a deleted folder in Windows for FREE.
💡How to effectively avoid losing your files on your desktop?
If you are inclined to save your files on the desktop, you'd better form the following habit:
Avoid accidental loss of data
Get rid of the shortcut key operation-Shift + Delete.
Install data recovery software to recover lost files in time
Back up your crucial files via external hard drives or online backup services
Back up your hard drive before desktop emptying or a major Windows update
---
Final Words
This is all our discussion about how to recover deleted files from desktop in Windows. We sincerely hope that you can pinpoint an ideal solution to this problem. However, it is highly recommended to try WorkinTool Data Recovery.
Now, are you ready to restore your deleted files from your desktop?