How to Compress Video for Discord for Free
If you are wondering how to compress video for discord without any cost, this article will provide you with several new ideas. Most of the video compressors on the market charge expensively. Today, I'll recommend you a free and easy-to-use video compressor for Discord. Hope you can benefit a lot from it.
How to Compress Video for Discord for Free
If you are a Discord user, you probably have encountered the following situation: want to send your high-end operations in your game, but your video is too large to send on Discord. If you have this kind of trouble and you are eager to figure it out, this article will give you a hand by presenting you with a FREE Discord video compressor. It will cost you about 10 minutes to read. I will appreciate it if you read it with patience.
📌 Why Need to Compress Video for Discord
Discord is a free online live call software and a digital distribution platform, which is specially designed for the online community. It is mainly oriented to gamers, educators, friends, and business people. Users can communicate through messages, pictures, videos, and audio on the chat channels. However, there are several limits to uploading videos on Discord. For instance, it allows users to upload video files of 8 MB or smaller, and it only supports the following video file types: MOV, MP4, GIF, and WebM. This limit applies to direct messages or chat channels. If you want to send larger files, you can subscribe to Discord Nitro, which allows uploading videos up to 50 MB, but it cost highly. If you want to send videos on Discord without any cost, you can compress your video with a video compressor.
📌 Compress Video for Discord by WorkinTool File Compressor
WorkinTool File Compressor is a powerful and effective file compressing software that is new in the market. It can realize compress many mainstream file formats, including Video, PPT, Word, Image, PDF, etc. It is lightweight and easy to operate. Don't worry about the operation if you are a beginner. What's more, there are no ads on its interface, so you can make use of it with ease. More importantly, it is completely free for Mac users without any request. And it provides a free trial for Windows users to compress video within 2 MB without any other limits. These benefits make it outstanding among many file compressors.
✨ How to Compress Video for Discord with WorkinTool File Compressor
Now you may have a basic understanding of Discord and WorkinTool File Compressor. Let's find out how to use it to compress video for Discord for free. Here is a detailed tutorial for you.
Step1. Open the tool; find "Video Compressor". Then upload the video by clicking "Add file" or dragging it directly.
💡 Notice: It is supported to upload videos of  MP4, WMV, AVI, and FLV formats.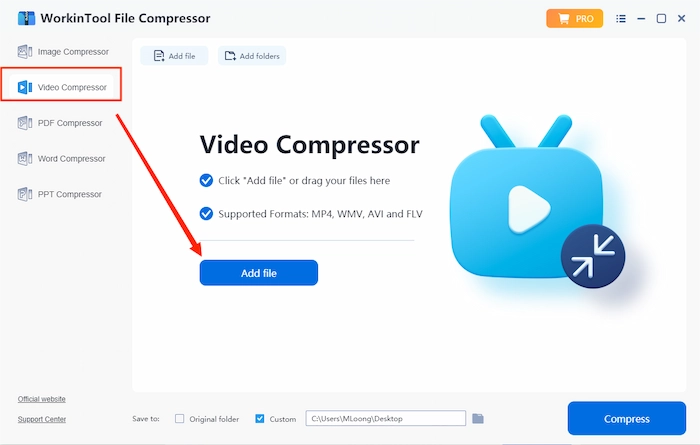 Step2. Adjust the settings of the new video. If you don't have any video editing experience, choose "General Settings". As for "smaller size", it will export your video in a size as small as possible. As for clearer output, you will expect a compressed video with high quality. If you are not satisfied with the two default modes, you can select "Additional Settings". You can alter the parameters of video and audio. It is viable for you to pick the output formats, MP4 or original one.
📢 Notice: If you want to send the video to Discord, you have to select the MP4 format.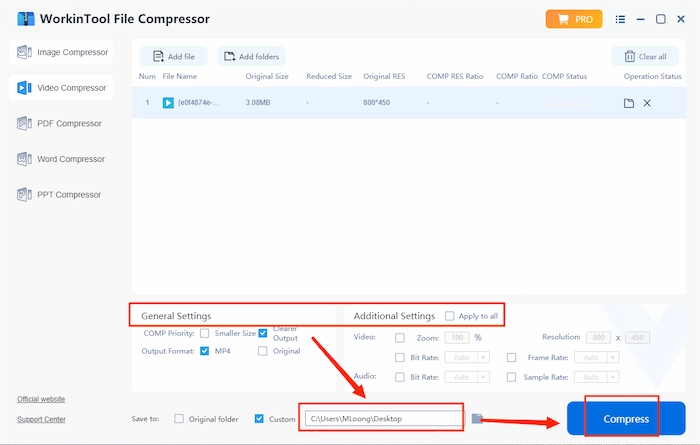 Step3. Change the location of the new file if you want by clicking "Save to". Then don't forget to press "Compress" to obtain the reduced video.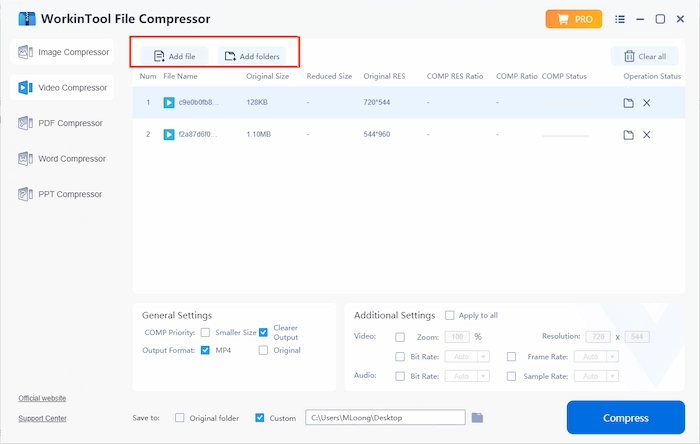 Finally, check whether the size of the converted video is below 8 MB (the limit of Discord). If not, you can compress it again by repeating the same steps.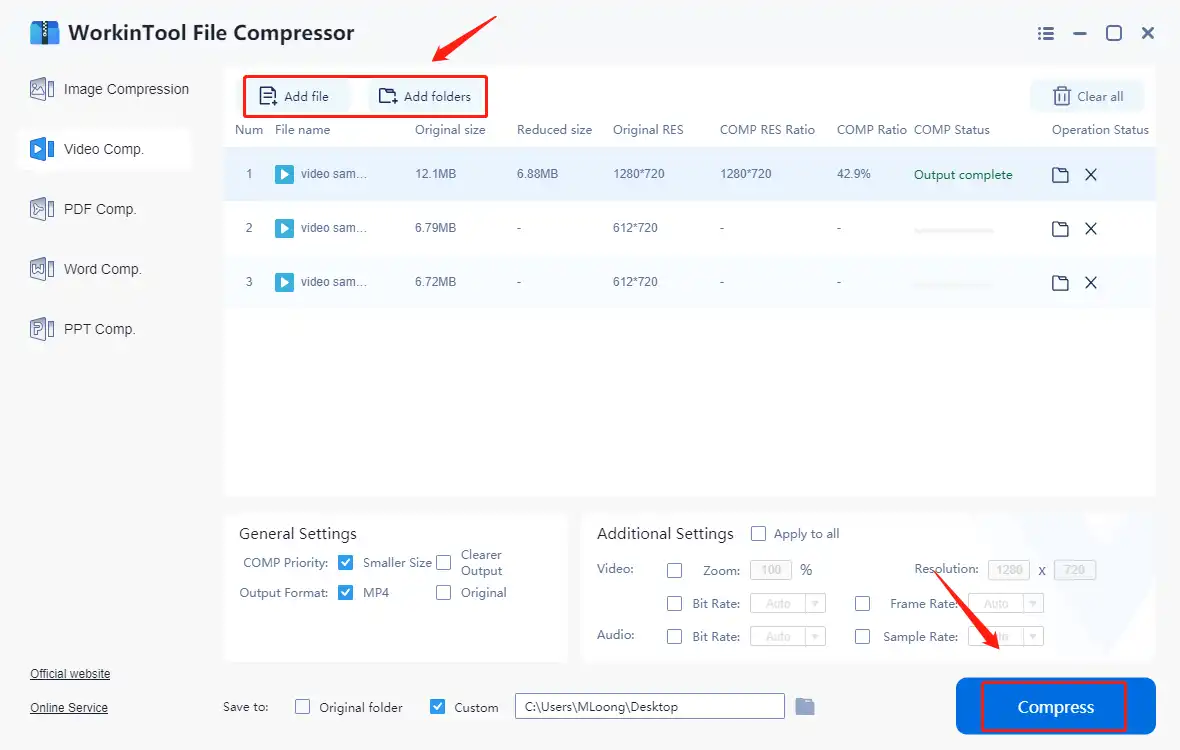 Another prominent advantage of this software is that it fulfills batch compressing. You don't have to compress videos one by one. With just one click and in a few seconds, your videos will be reduced without losing quality. By the way, the number of files will not affect the compressing speed as well. You can click "Add file" or "Add folders" to input more videos. Then press "Compress" to accomplish batch compression.
✨ Key Features of WorkinTool File Compressor
This tool proceeds with countless benefits. Here is a list of its key features that you can refer to.
✅ Free
It has a long trial for free, and there is no extra task quota for you.

There is no limit for Mac users. All functions are costless.

😉 Easy-to-use
It is developed from the view of new users.

With its clear interface and simple operations, even beginners can use it without any effort.

🎉 High-quality output
It won't reduce the quality of your video, even for batch processing.
✅ Safe
It asks no registration. You don't need to log in or create your account.

It promises to ensure your personal data and information.

😉 Light-weight
The size of its program is small. It is unnecessary for you to be concerned that it will occupy too much space on your PC.
🎉 No ads
There are no ads anywhere. You can use it with ease.
💡 More to Share
You can compress the video to fit Discord. Also, there are other alternative ways available to reduce your video.
Option1. Use a video trimmer to cut the unimportant part of your video, then you will get a smaller one.
Option2. Split your video into small sections, then send them to Discord. To do so, you may need a video editor.
🌟 Summing Up
You will agree with me that the limit of video uploading in Discord is sometimes a hassle. If you are always looking for an effective solution, maybe this article has given you a hand. In the above, I have recommended you an effective and free tool, WorkinTool File Compressor, to compress video for Discord. It is definitely the easiest way to cope with your trouble. If you are a fanatic user of Discord, for sure, you will frequently open this desktop tool. As well, I have provided you with two other alternative ways to reduce your video size. Personally speaking, I still prefer a video compressor, for it is easier to operate, and it won't cut the video content. You can choose it as your Discord video assistance after your free trial. If you are eager to know more about video processing tools, please visit WorkinTool.