A Full Guide on How to Compress MP4 on Windows for FREE
Although MP4 video files have already been compressed, normal in the case that they will stay large in size, which is not good for sharing or storing. So, learning how to compress MP4 becomes a challenge that many people have to overcome. Well, one of the easy methods is to use a video compressor. Lucky you, here I highly recommend you try WorkinTool File Compressor. It is an all-in-one compressor tool. It is equipped with multiple options for users to customize their compression choices. Moreover, it provides a long-term free trial!. Just go and experience it right now.
💡 A Full Guide on How to Compress MP4 on Windows
Video has become a very essential part of our daily life and work. As the carrier of culture and knowledge in the new century, it has been integrated into everyone's life. It could be in many forms, such as vlogs, TV shows and movies, interviews, advertisements, and online courses. Video also drives consumption. Video is more accessible than other print media such as newspapers in the past, and it's easier to absorb more information in a short time. Just see how successful TikTok is now. But in the meantime, videos always come in a large quantity in size, the challenge of how to compress MP4 video files comes with it.
MP4 is basically a video container that includes a lot of information. Even though MP4 video files are already compressed through high technology, most of them would continue to stay large in size. And further compression, however, could make them more manageable. Now, with the development of technology, there are various methods on the network that can teach users how to compress MP4 video format. We've rounded up three of the easiest and most concrete ways to do this.
---
How to Compress MP4 – Practical Method
In this post, we will mention a total of three methods. Taken together, the most effective way to give users maximum operating space for compressing is to use compression software. However, there are tons of various compression tools on the market, how can you be sure which one is the most useful for your condition. Well, lucky you. In order to save your efforts and time. We are here to offer you the best video compressor – WorkinTool File Compressor.
Actually, as a file compressor, it is compatible with a variety of file compresses. It's not just video, you can use this tool to compress images, reduce the size of your Word document, and shrink the size of your PowerPoint presentation. The simple software design style and the operation interface also make the user's compression more convenient. And for the video compression function, it is to supports batch compression. Multiple user-defined settings are built in to allow users to adjust the resolution and bit rate of video and audio for compression purposes. More importantly, it provides a long-term free trial for all users to compress MP4 files within 2 MB.
---
🎊 Simple Steps to Reduce The Size
1. Launch this amazing video compressor tool and go to Video Compressor to add your MP4 files. You can click the Add file button or directly drag your videos into this box.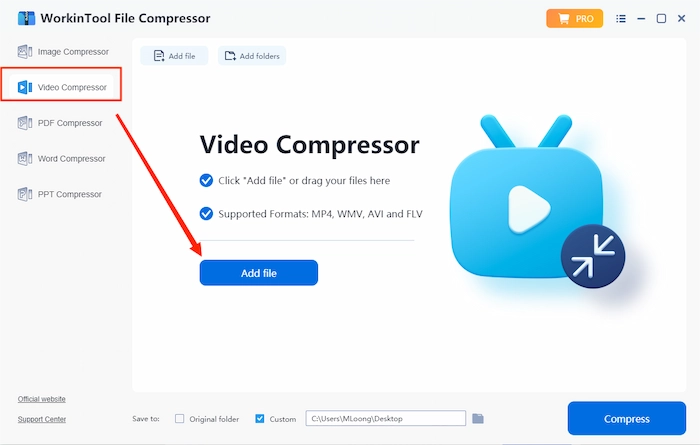 2. Then, customize those setting options below to get your MP4 videos ready for compression.
(📣 Notice: There are two setting sections. The General Settings are for new beginners or people who don't have a specific requirement on how much they want to compress. They can decide if they want quality first or compression first. And then another one is for people who have a clear need for the resolution and bit rate.)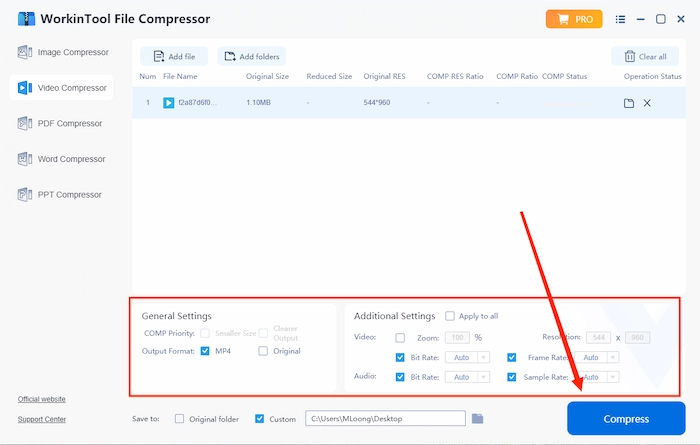 3. After adjusting those options, you can hit Compress to process your MP4 videos. Wait until the Status becomes to be complete, then you will see the reduced size on the operation window. Go to your saving location for a second checking.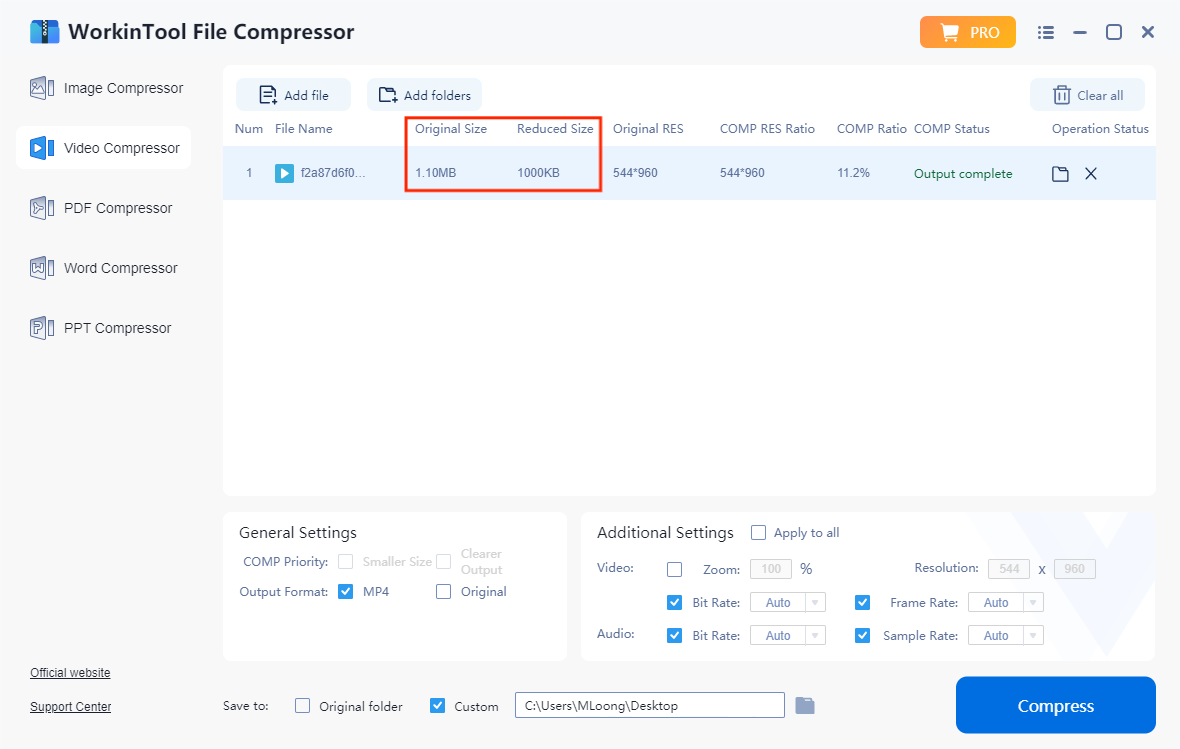 Here is a comparison picture before and after compression. In the absence of a specific adjustment to the compression level, the software intelligently chose quality first, and the MP4 size was adjusted accordingly. As you can see, WorkinTool File Compressor really works.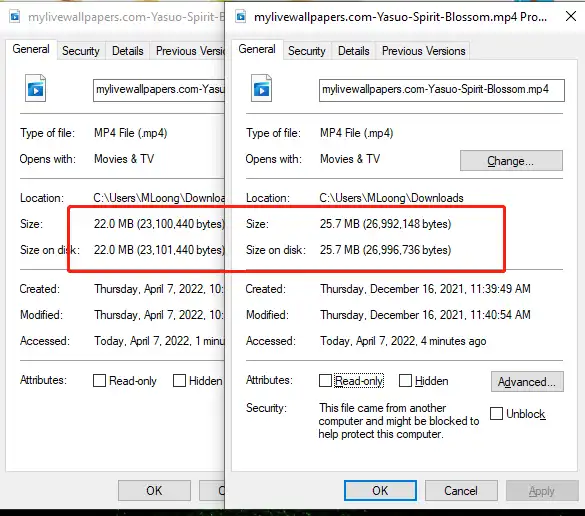 ---
How to Shrink The Size of MP4 – Alternative Solution
A second way to reduce the size of MP4 will need you to have a VLC media player on your computer. Although it is a free multimedia player software, the main function Its main function is to play video. For that, if you want to find the settings to compress MP4 by VLC, you will need some tricks to get it done. It is buried deep in the setting menu. And you have to know that, the VLC media player can only compress the video by adjusting the resolution.
🎊 VLC's Hidden Menu
1. Open VLC > Media > Convert/ Save…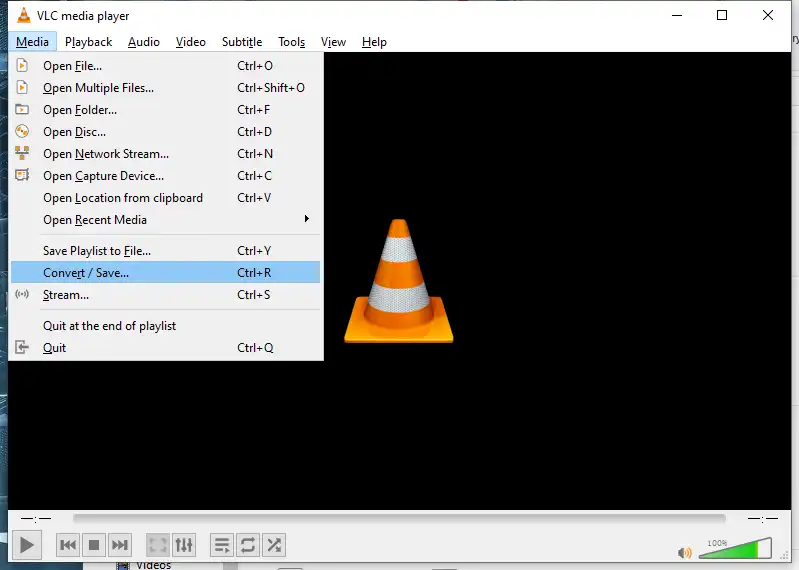 2. File > + Add… > Convert / Save
3. Settings > Profile > Video – H. 284 + MP3 (MP4)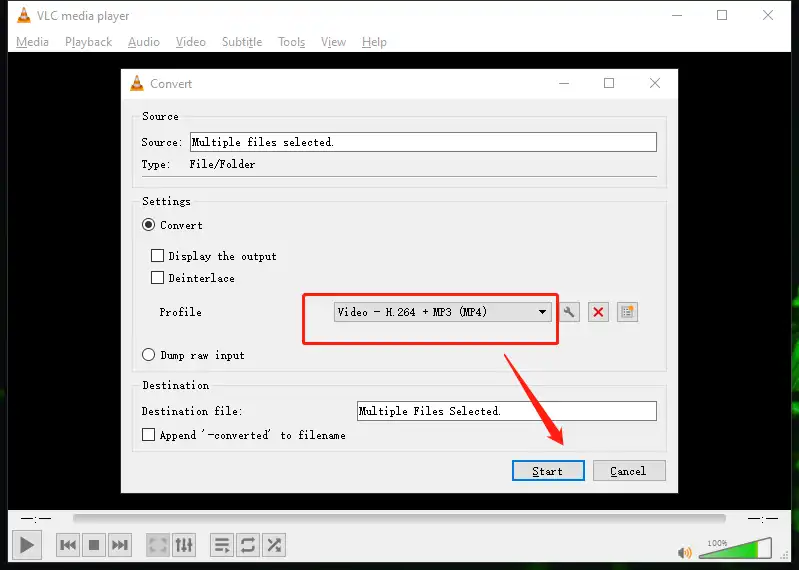 4. Video codec > Resolution > Scale > Save. Then it will start to compress the MP4 video.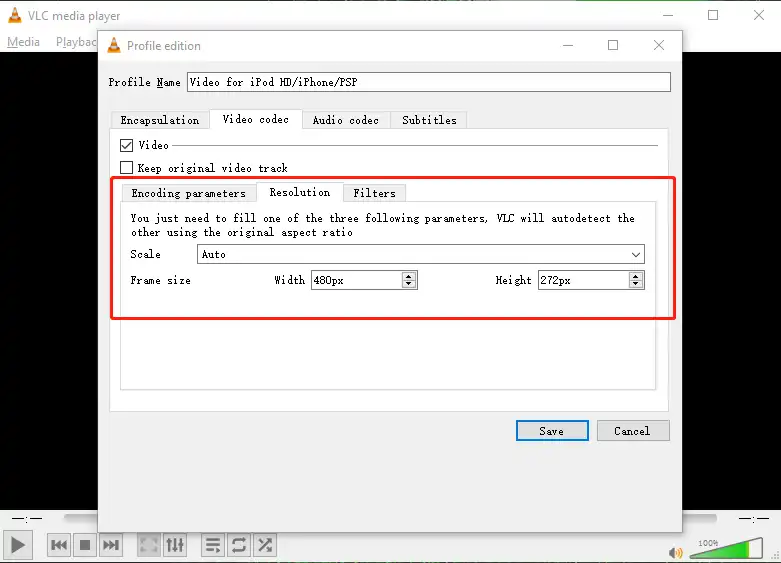 ---
How to Compress MP4 for Email – Create a Zip File
The last method I'm sure most of you must have known is to make your MP4 video become a zip file. The file will be reduced in size and the quality of your videos won't get affected. If you have multiple MP4 video files to be compressed, just box them up and zip them together into a zip file, that will do.
Although this is a fast and easy way to compress MP4, you should know the original files are the same as before. You could think of it as putting them into a bag. Once you get them out, they will become large again. Plus, when you zip them up, every time when you want to open them, you have to unzip them, which is time-assuming as well. So, it is only available for videos that you won't need to regularly open or you need to share with others. Otherwise, we recommend you try the other two methods to compress MP4 video files.
🎊 The Approach to Zip MP4
Right-click on the video file:
Windows: Send to > Compressed (zipped) folder
Mac: Compress name
---
More to Share
Comprehensively speaking, each of the three methods of compressing MP4 video has its own advantages. The first of these, the WorkinTool File Compressor, is arguably the most user-friendly and experience-friendly of all. From the operating interface, you can directly adjust compression details, more intuitive to see the compression process and the completion of the compressed video size. Moreover, all these features won't charge you a penny to realize.
So, are you ready to get on this journey to compress your MP4 video files? Surely you won't regret your decision.