The Best Way to Compress Video for WhatsApp in 2023
WhatsApp has a 16 MB restriction on the size of videos, which causes many troubles. However, the target files are generally very large nowadays, especially for videos. That's why there's an urgent need to figure out the best way to compress video for WhatsApp. Fortunately, I've got you a comprehensive compression software, WorkinTool File Compressor, to help you compress videos without losing quality. Download and install it now!
The Best Way to Compress Video for WhatsApp in 2023
As one of the most widely welcomed communication apps, WhatsApp has gained over 2 billion monthly active users in over 180 countries. You can share all the meaningful photos and videos with your friends and family via this app, like wedding scenes, ceremony activities, birthday celebrations, and so on. However, though it brings much convenience to users, there are still many restrictions. For example, you cannot send any large videos because WhatsApp has a limitation of 16 MB on the size of the videos, which causes many troubles, too. However, with the improved performance of devices, the resolution of photos and videos has also increased tremendously, so the target files are generally huge. And it's not that easy to share them. That's why there's an urgent need to figure out the best way to compress video for WhatsApp.
Undoubtedly, you can not finish the compression without a professional tool. But what's the most suitable one? How to use it for newcomers? Some people do not like bothering with ads, and others hope for a great tool without payments. It's not easy, of course, to access software that processes both advantages mentioned before. However, the good news is that this article may do you a favor. It recommends the best software and gives several helpful methods to solve your problem of how to compress video for WhatsApp.
Compress Video for WhatsApp – WorkinTool
WorkinTool has experience in document processing and has produced a lot of high-quality software. WorkinTool File Compressor, a comprehensive compression software, is one of the most representative ones that supports many formats, such as images, videos, PDFs, and so on. There are no complicated commands or dazzling designs; anyone can operate it fluently, even without the user guide. It also offers a long-term free trial for users. I promise you that it's the most wonderful free video compressor so far. And in case you want to be familiar with WorkinTool File Compressor, I can show you a detailed guide on using it.
Step 1. Download and install WorkinTool File Compressor on your device.
Step 2. Click the Video Compressor button, then add your video to the operating space.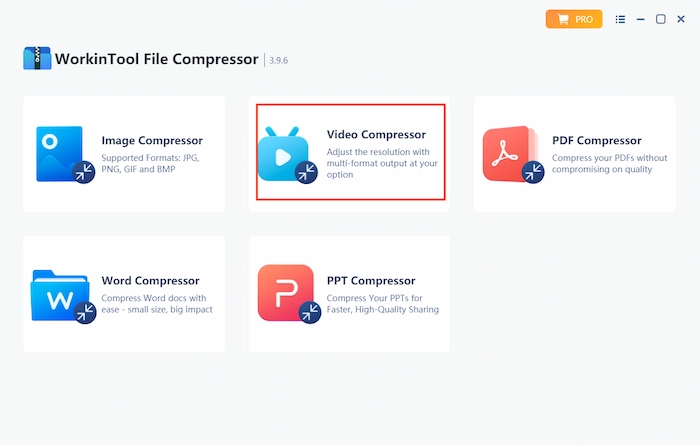 Step 3. Just touch the Compress button. Your video will get compressed now.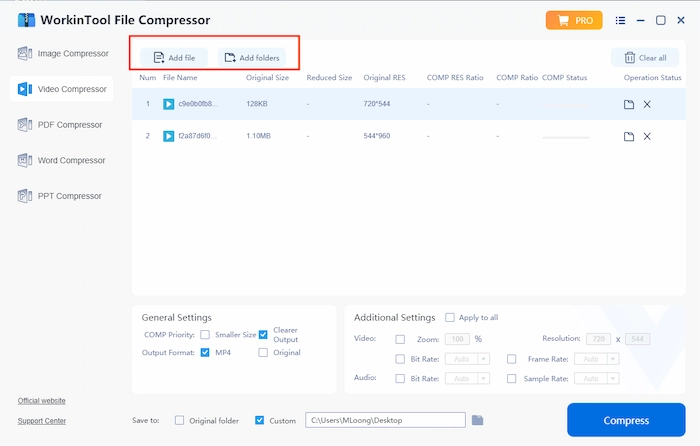 Tips: Batch conversions are also supported in WorkinTool File Compressor. If more than one video needs to be compressed, you can use this function to save time to a large degree. There are two options for you: add files and add folders. You can create a new folder to hold all the target videos and upload them with only one click. And the information about your videos and audio can be customized, such as size, bit rate, definition, and so on. Also, it will create a new dedicated folder under the original file directory to save the compressed files, making it easier for you to distinguish between the original file and the processed file.
Helpful Ways to Compress Video for WhatsApp
#1 Trim the Video to Adapt the Requirements of WhatsApp
Now that you cannot send the video because of its size, you can trim it into pieces to less than 16 MB. When you make a large into pieces small enough, you will have no restriction on sending it on WhatsApp. Since the mention of trimming, I have to introduce you to WorkinTool Watermark Eraser, which can help you resize and trim videos. As the name suggests, it also supports adding watermarks to your videos to protect your copyrights. However, there is still a disadvantage to trimming. It takes too much time to cut a very long video into clips. Think about this: your video size is over 200 MB and over 15 minutes. How much time do you need to cut it one by one?
#2 Use Google Drive to Share a Video on WhatsApp
Google Drive is a super convenient cloud storage method for users to share files, even if they are 5,000 miles (ca. 8,047 km) away. You can upload almost all kinds of files, including videos. And the sharing would be easy, too. You only need to copy the link and send it on WhatsApp. The recipient can view your videos by entering the link address. This way, your video can be shared without losing quality. In addition, you can send access emails to people by adding their accounts. You also have the right to decide whether the viewers can print and copy it or not. Nevertheless, you must watch out that Google Drive only offers users 15 GB of free space. If you need more storage, you must pay for it.
#3 Dropbox Is Also a Good Choice
Another recommended method of cloud storage is Dropbox. In the same principle as Google Drive, you can share your videos on WhatsApp by copying and pasting the link. It supports both Google and Office files. But Dropbox offers users much smaller free storage than Google Drive, which is only 2 GB. Free storage will run out soon if you have lots of huge videos.
The Bottom Line
Out of the four methods mentioned before, there's no doubt that choosing a compressing tool is the best way to slim your video. And I must say that the most outstanding one is the WorkinTool File Compressor, which makes it much easier to compress video for WhatsApp. You can send your videos to people without cutting them into pieces or making it difficult to access another website. In addition, WorkinTool File Compressor supports the compression of images and other files. So it solves more than just your problem of sending WhatsApp messages. And you will get a lot of help with this compressor to solve your work problems.