How to Compress a Folder Free | 2023 Guide
There are many situations in life where compression software is needed, such as sending emails or uploading images or videos to social media platforms, which have file size restrictions. Or if your device is running out of storage space and files cannot be deleted, you can only save storage space by reducing the file size. Read this article to learn how to compress a folder.
How to Compress a Folder Free | 2023 Guide
Whether in work, study, or life, we will encounter many situations where we need to compress files. For example, if the computer's storage space is insufficient, it is necessary to reduce the storage space occupied by some files. Or when transferring files through email, the file exceeds the email attachment size limit. Or perhaps you want to share the video on a shared platform, such as TikTok, but the platform also has restrictions on the size of uploaded files, and so on. But if you have many videos or images, compressing them one by one will waste a lot of time, so we need to know how to compress a folder directly.
📍 Words Before Compressing
Before learning how to compress a folder, you need to know what kind of Compressing Tools you should choose. Here are two kinds of Compressing Tools. One is to reduce the file size (hereinafter file compressor), and the other is to convert your file into a zip (hereinafter zip). The most significant difference between them lies in the compressed file storage format. The compressed files of the former are still independent, while the latter can compress an entire folder.
In addition, the apparent difference is that the compressed files of the former can also be opened directly, while the latter requires the use of tools to decompress. If you want to compress each file separately, select the former.
How to Compress a Folder with a File Compressor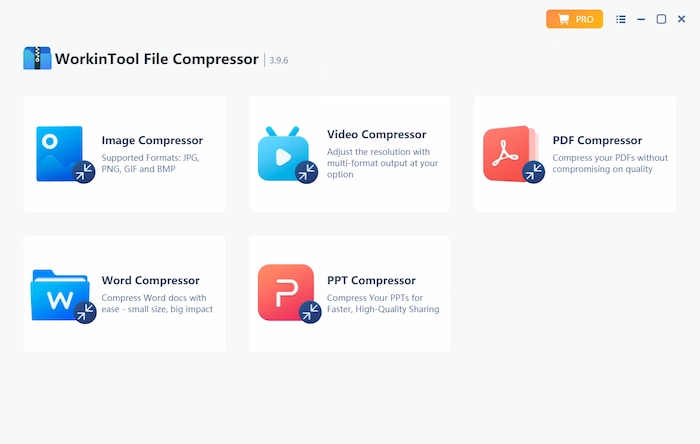 WorkinTool File Compressor is a professional file compression software. It supports compression of images, videos, PDF, PPT, and Word documents. You can use it to compress individual files or upload an entire folder at once, but the compressed files are still independent. You can try this software if you need to upload some pictures or videos to other platforms. It can greatly improve your transmission efficiency.
It has a simple interface and is easy to use.
Compressing a single image within 200 KB and other single files like video within 2 MB is free on Windows. And for Mac users, it is totally free without any limits.
Supported image formats: JPG, PNG, GIF, and BMP.
Supported video formats: MP4, WMV, AVI, and FLV.
It is supported on Windows and Mac.
Export files without watermarks.
How to Compress a Folder with WorkinTool:
Step 1. Download the app on your device and open it. Select the file type you want to compress. Then click Add folders.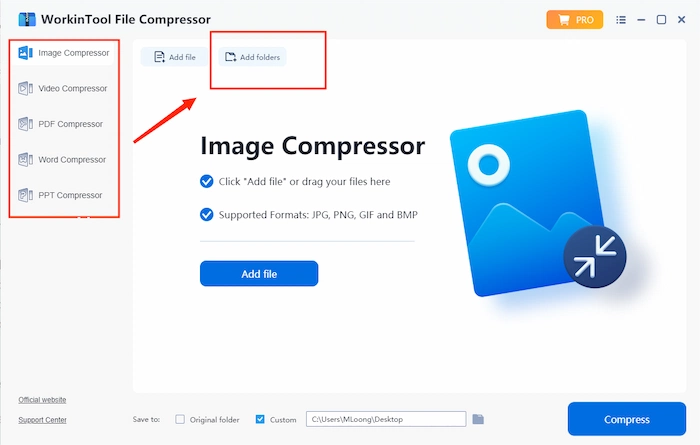 Step 2. Adjust the settings according to your needs, then select a file folder to save your compressed files. You can create an empty folder in advance to save the compressed files. Once ready, click Compress to start compression.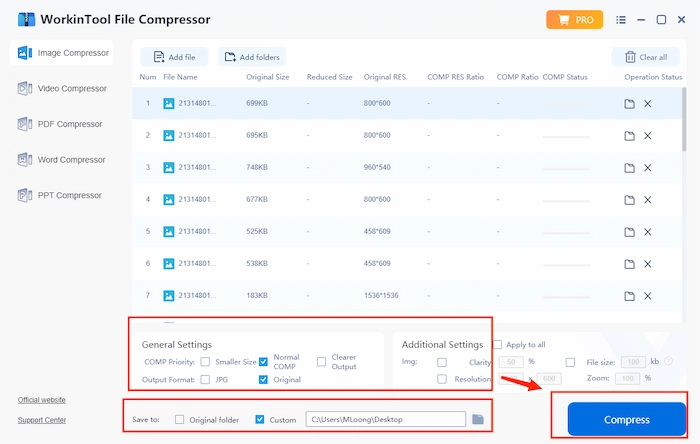 How to Convert a File Folder into a Zip
2️⃣ How to Compress a Folder with WinRAR
It is not difficult to convert a folder to zip format, as this is a common file compression method. You only need to search on the website or software store to get many compression software that can compress in zip format. However, choosing one that suits oneself among numerous software is not easy. Here is a compression app named WinRAR, which is very suitable for beginners, simple, easy to use, and free.
Way 1 to Use WinRAR:
Step 1. Download it on your device, open it, and find the file folder you need to compress. Then click Add.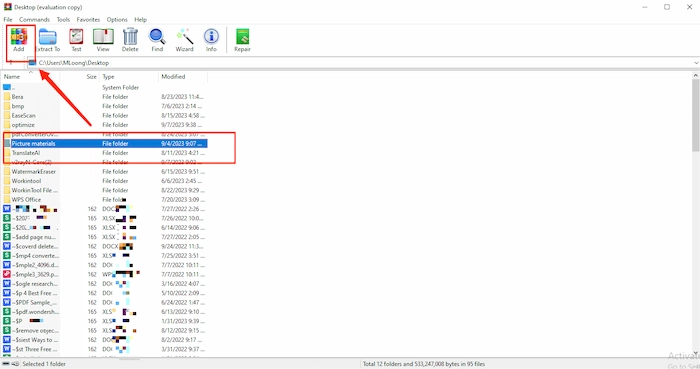 Step 2. Adjust the settings. You can set a new file name, select the compression format and method, then click OK.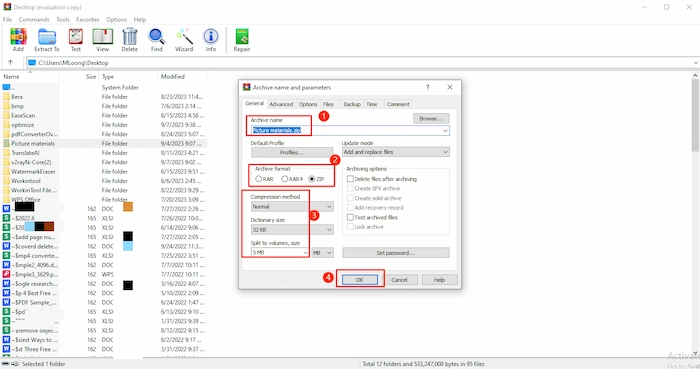 Way 2 to Convert File:
Here's another way to use WinRAR, which you don't need to open the app. Just right-click on the folder you need to compress, find Send to, then click Compressed (zipped) folder. Your file will be saved as another zip file rapidly.

3️⃣ How to Compress a Folder Online
If you don't want to download any software, you can try some online compression tools. Here is an entirely free online compression tool for you. You just need to enter the URL in your browser to use it immediately. It is also a tool for compressing software into zip format. It is very simple to use and is not subject to any restrictions.
Guide to Making a Zip File:
Step 1. Search the website on your browser and drag or drop your file folder into it.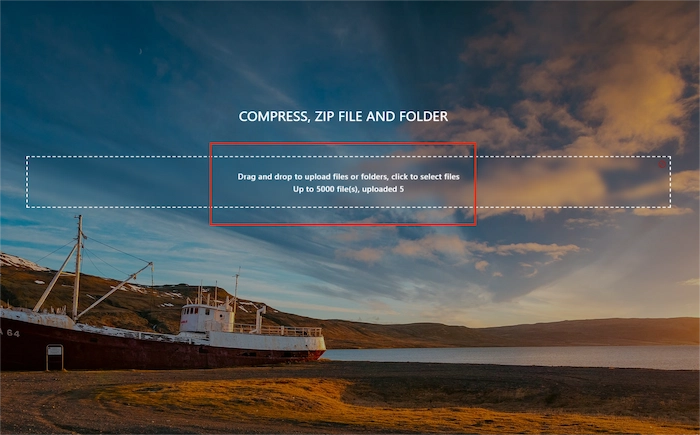 Step 2. Click the Settings button in the upper right corner. Set the file name and password if needed.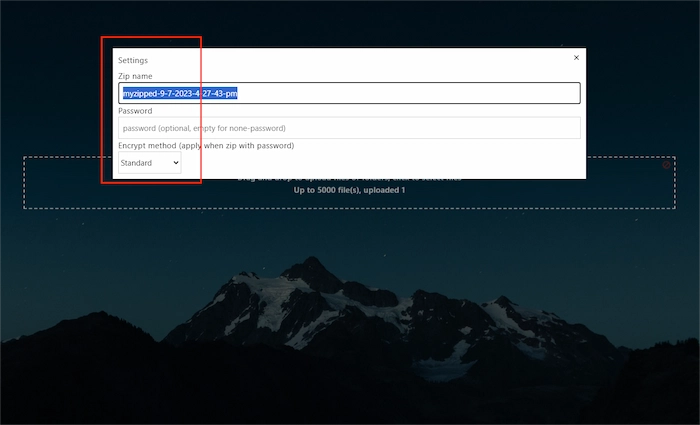 Step 3. Click Zip to start compressing, then click the download button.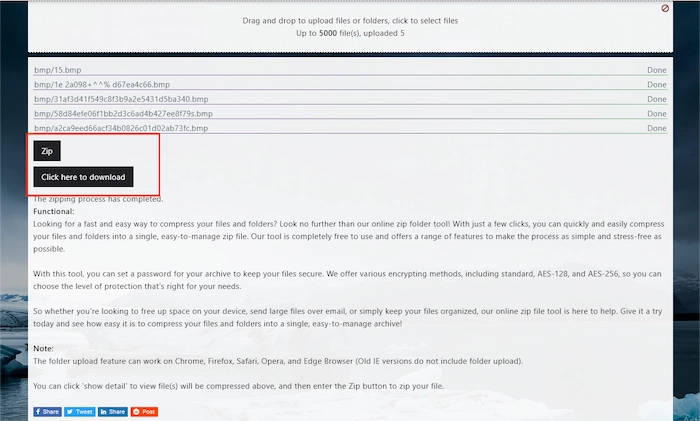 ❓ More Questions You May Want to Know
Conclusion
There are many methods and tools for compressing files. What we need to do is understand what compression tools we need or how we want to compress our files. This article explains the characteristics and differences between the two compression methods and introduces several easy-to-use apps. You can also learn how to compress a folder. The software mentioned in the article is free to use. Hope that you can get a suitable one according to your needs.