How to Compress a PDF for Free | Four Easy Ways
Are you worried about how to compress a PDF for free? Do you want to easily transfer your PDF file to others or save it without taking too much storage space? You are so lucky to open this page! Here, I will tell you four ways to reduce PDF file size on Windows and online. Let's take a brief look!
✅ WorkinTool File Compressor – The best decision for you to compress all kinds of files easily.
✅ UPDF – Compress your PDF file to the size you want.
✅ WorkinTool PDF Converter Online – Quickly reduce PDF file size online for free.
✅ Gorilla PDF – Four compression modes for you to compress the file without losing quality.
How to Compress a PDF for Free | Four Easy Ways
PDF files are usually large in size because they always contain a lot of text and images inside. Whether uploading PDF files or saving them, there are always obstacles due to their large size. For example, if you want to send your PDF file to someone else via email, but the file size exceeds the email limit. Or your device may not have enough memory to save large PDF files. We need to reduce the size of the PDF without reducing the content, and the best way is to compress the file. So, how to compress a PDF for free? This post will provide you with four PDF compressors and tell you how to use them.
If you have knowledge of file compression software, you will find that most tools that can compress various types of files are online. If you want to download a compression app that includes various types of files, it is not easy to find. Most compression software can only compress one type. Fortunately, you can get an all-in-one file compressor now. WorkinTool File Compressor can help you compress images, videos, PDFs, PPTs, and Word Documents. Its interface is simple and easy to operate, making it particularly suitable for beginners. More importantly, it only limits the file size. If your PDF file does not exceed 2 MB, you can always try out all its features for free. And you can upload and compress multiple files at once.
🏃‍♀️ How to Compress a PDF for Free with WorkinTool:
Step 1. Download WorkinTool File Compressor and open it. Select PDF Compressor.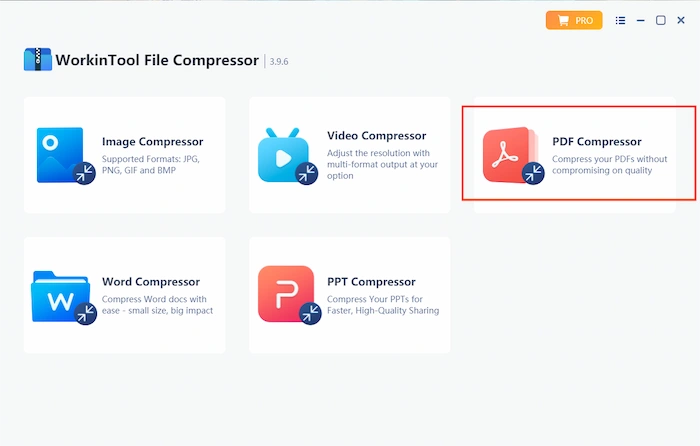 Step 2. Click Add file or drag your files to the program.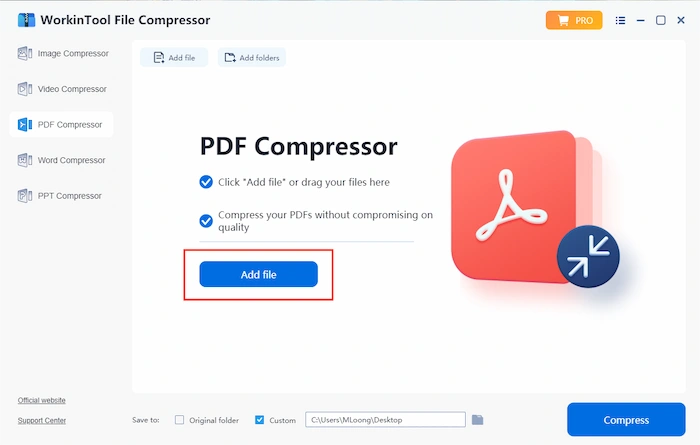 Step 3. You can add more PDF files to it. Select the suitable General Settings and file folder. Then click Compress.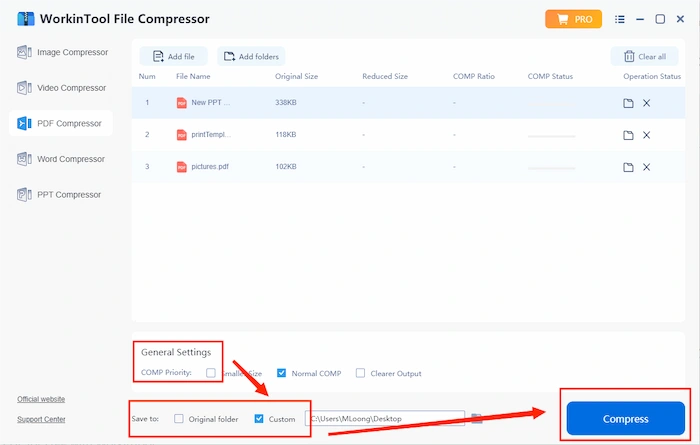 🍄 Notes:
Supported on both Mac and Windows.
Support to compress images, videos, PDFs, PPTs, and Word Documents.
Free to compress images within 200 KB and other files within 2 MB.
Three compression modes for you to select: Small Size, Normal COMP, and Clearer Output.
No registration or login required.
Batch compress more files within seconds.
Compress PDF with UPDF Quickly
WorkinTool is already an excellent compression software, but it has one drawback: it cannot preview the compressed file size. Some users may have this need to have a clear understanding of how much size their files can be compressed before confirming whether their files can meet upload restrictions. Therefore, I would like to introduce you to another PDF compression software, UPDF. This software is designed explicitly for PDF. All the functions inside are related to PDF. For example, editing PDF content, deleting unnecessary pages, and converting other types of files into PDF.
🏃‍♂️ Ways to Reduce File Size by UPDF:
Step 1. Click Open File to upload or drag your file to it.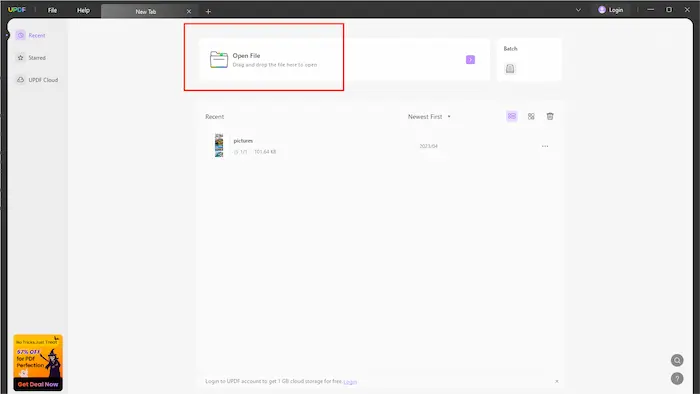 Step 2. Find Reduce File Size in the File list.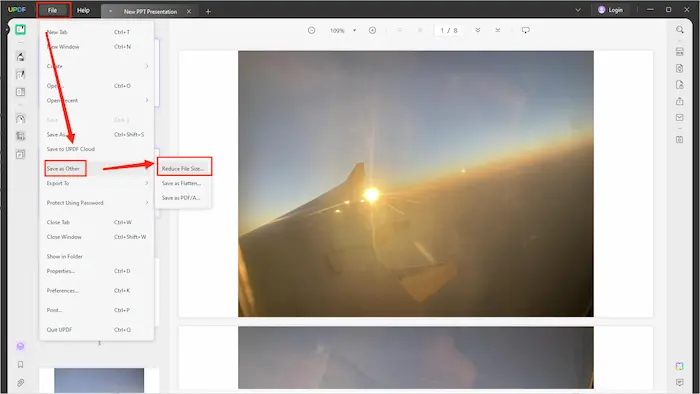 Step 3. Select compression mode. You can preview the compressed file size. Then click Save As.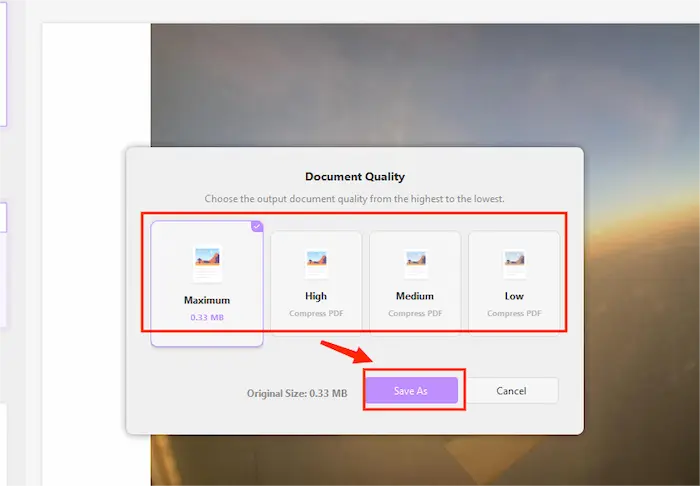 🍄 Notes:
Free to download and compress the PDF.
No need to log in.
Four compression modes with different qualities for you to select from.
You can preview the compressed size.
The compressed file will be automatically saved in the background.
How to Compress a PDF for Free Online
If the purpose of compressing files is to save storage space on your device, then you will definitely not want to download a new PDF compression software. At this point, you can try some online compression tools. As a professional office app development team, the WorkinTool team will also provide users with free online compression tools. It is always free for all users. However, the online version does not support simultaneous compression of multiple files. If you need to compress multiple files quickly, it is recommended that you still download the desktop version.
🏃‍♀️ Guide to Using the Online Tool:
Step 1. Open the page on your browser and upload your PDF file to it.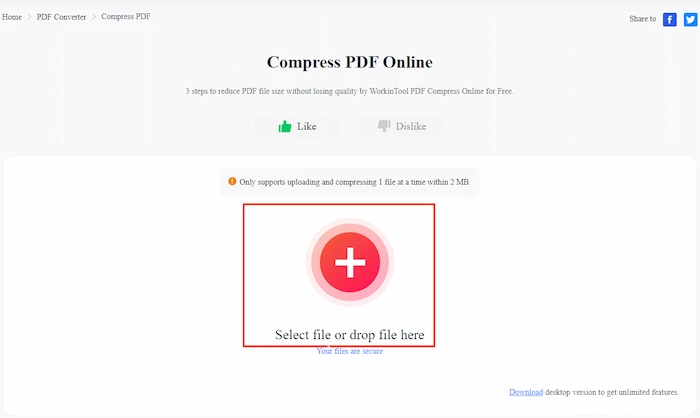 Step 2. Select a compression mode from Normal Compression or Extreme Compression. Then click Convert.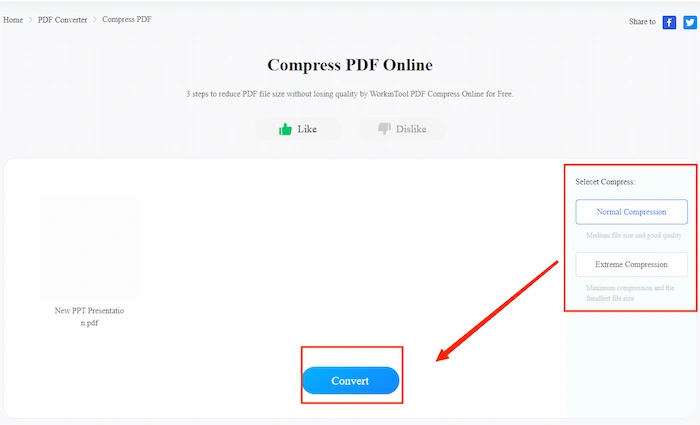 Step 3. Click Download to save the compressed file.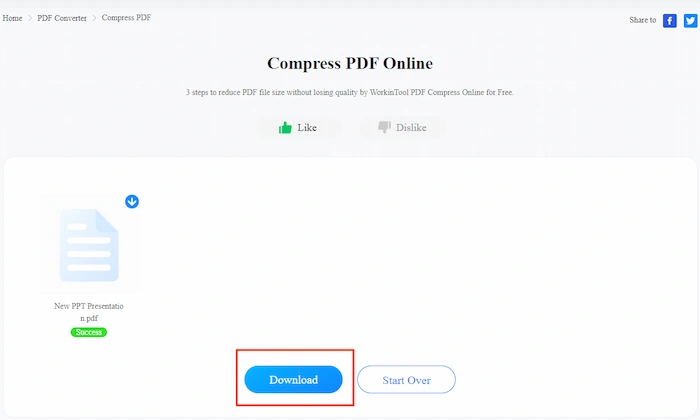 🍄 Notes:
Compress PDF files without quality loss.
Quickly compress within three steps.
No compressed time limits.
Only supports uploading and compressing 1 file at a time within 2 MB.
Compress Larger PDF File Online Free with Gorilla PDF
The free online compression tool for WorkinTool limits the size of uploaded PDF files to 2 MB. If the file size you need to compress exceeds this limit, you can try Gorilla PDF. It supports uploading files up to 50 MB. It provides four compression modes that can meet your different compression needs, such as compressing files to the minimum or compressing them in a small range while maintaining the original quality of the PDF. However, the minimum file it can compress is not as low as WorkinTool, and some already relatively small files can only be compressed to a smaller size through WorkinTool, while Gorilla will display compression failure.
🏃‍♂️ How to Compress a PDF for Free with Gorilla:
Step 1. Upload your file by clicking Browse or drag and drop it.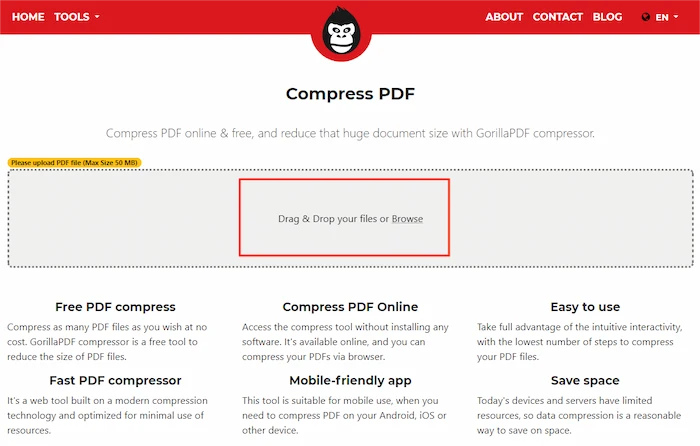 Step 2. Select a suitable compression mode.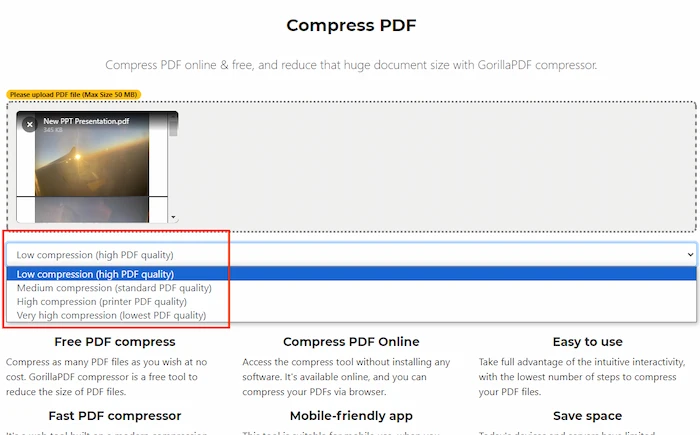 Step 3. Click Compress PDF to start compressing.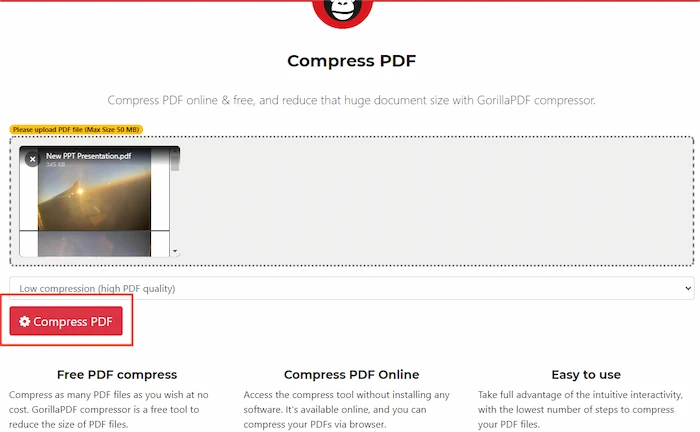 🍄 Notes:
Four compression modes for you to select.
Compress PDF files without cost or time limits.
Only three steps to compress your files.
No need to download any apps.
The max file size is 50 MB.
📍 More Related Questions
Conclusion
As a reliable type of office document, PDF has been widely used in daily life or work. Because it cannot be directly edited, it has higher security than other files, such as Word documents. However, due to the fact that it usually contains a large amount of information, such as images, its printing size often causes trouble for people. The hardest part is its transmission. Whether it's the transmission speed or the upload file size limit, we must learn how to compress a PDF for free. Fortunately, after reading this post, I believe you have found a suitable tool to reduce the size of your PDF files on Windows and online.