Compress WMV – WMV Compressor on Windows/Mac/Online Free
The WMV video, though less commonly seen as an MP4 file, remains one of the mainstream video formats. Therefore, it is still essential to know the skills of compressing a WMV video. Today, we will discuss how to compress WMV files for FREE on Windows, both offline and online. The offline way is to use a piece of useful desktop compression software–WorkinTool File Compressor (It is powerful, easy and free.) and the online method is to try Clideo. Please start your reading now to know the specific information.
Compress WMV – WMV Compressor on Windows/Mac/Online Free
A WMV video, though less commonly seen as an MP4 file, remains one of the mainstream video formats. However, many video compression software only supports uploading files in MP4 format, so finding a tool that can compress WMV format videos is not easy. Here are several methods for compressing WMV format videos, I hope you can find a suitable one for yourself.
Things to Know Before Your WMV Compression
📌 What is a WMV file?
WMV, short for Windows Media Video, is a video format developed by Microsoft with the extension of .wmv. This video file is based on the Microsoft Advanced Systems Format (ASF) container format and compressed with Windows Media compression. Also, it is a common format that stores videos in the Windows operating system, usually used for short animations, clips, TV episodes, and films. Besides, it can be easily opened by various video players like Windows Movies and TV and other third-party video programs.
📌 Why do you need to compress a WMV video?
Since a.wmv file supports high-definition (HD) video, it can end up in a large size. If you intend to compress it to email, add it to your PowerPoint slideshows without affecting the loading speed of the latter document or saving space on your PC. It is definitely essential to reduce its size to realize these goals.
How to Compress WMV Files on Windows/Mac
Resorting to a handy offline compressor can be an effective solution to shrinking a WMV file. However, it is not easy to find a compression app that is both user-friendly and cost-effective. Fortunately, WorkinTool File Compressor provides you with an excellent solution for this problem. It is easy for all beginners with its clear and straightforward interface. It supports many video formats, like MP4, WMV, AVI, and FLV. What's more, it is totally free for Mac users. And for Windows users, you can use it to compress WMV files for free within 2 MB.
📕 Ways to Reduce WMV File Sizes Offline:
Step 1. Download the app and open it. Find Video Compressor.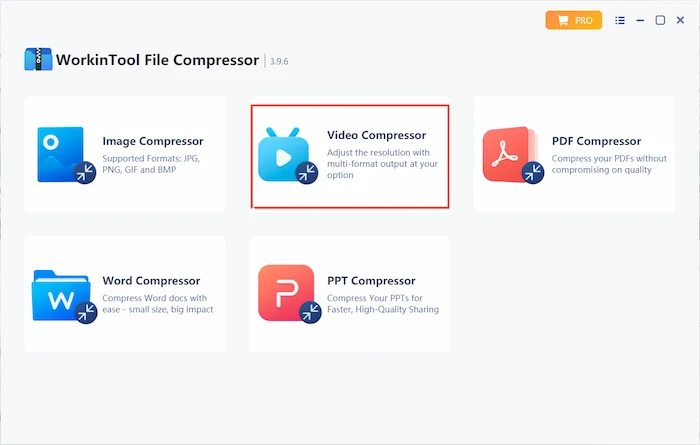 Step 2. Click Add file to upload your video or drag the file to it.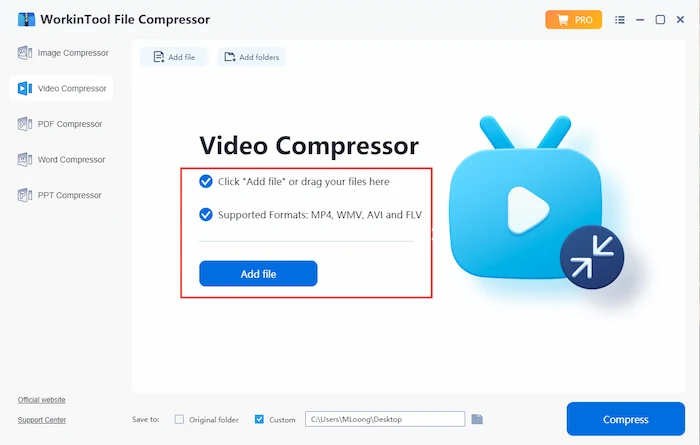 Step 3. Choose the appropriate settings according to your needs and choose a folder to save the compressed files. Then click Compress.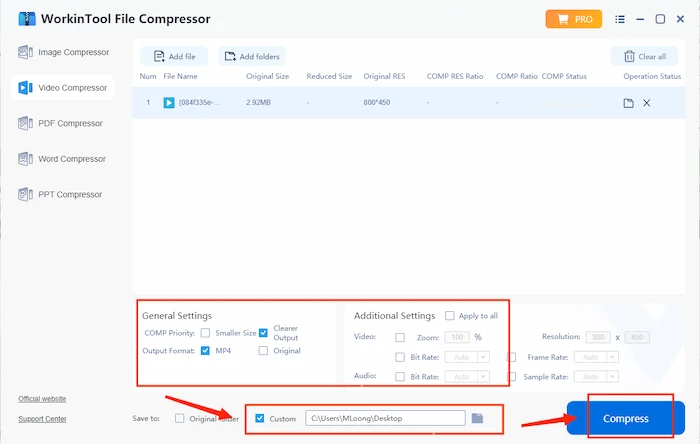 📢 Notes:
1). Two default compression modes are optional in WorkinTool:
Smaller Size: Your WMV file(s) will be reduced to the smallest size possible, while their quality will be subject to the slightest influence.
Clearer Output: The best video quality is what you can get when this feature is chosen. You can expect an outcome with a reduced size without losing quality. This will compress less size than the above option does.
Here are the results.


2). Additional settings are here to help you customize your compression in WorkinTool:
🎬 Video
🎼 Audio
Zoom

You can enlarge the size of the content in your WMV video. The higher the bit rate of your audio is, the better its quality will be.

Bit Rate

The higher the bit rate of your audio is, the better its quality will be.

Resolution

You can adjust the definition of your shrunk WMV video through this function.

Sample RateJust like bit rate, it also decides the ultimate quality of your audio. The higher, the better.
Bit Rate

The higher the bit rate, the better your video quality will be.

Frame Rate

It decides the speed at which the images in your video are shown. The higher the frame rate, the more still images are packed into each second of a video, which results in a larger size.
3). For output formats, you can choose to save your compressed video as a .mp4 file or its original format.
4). Batch compression is available in WorkinTool. Therefore, you save the cumbersome process of doing a one-by-one compression and can simultaneously make multiple compressed WMV videos with just one click.
How to Compress WMV File Size Online
An online video compressor could be a helpful solution if you are impatient to get a desktop tool. Whenever you have internet access, you can complete your compression. Based on our research, Clideo is a useful free online video editing tool that can meet your request for WMV compression.
Clideo is an all-around and free online video editor. There are various practical online tools to choose from, including video compression. Most of its features are free. The best thing about Clideo is that you can either download your compressed WMV video on your PC or save it to a cloud device like Google Drive or Dropbox. However, a brand logo watermark will be generated on your output if you use its free trial version.
📕 How to Compress WMV Files via Clideo:
Step 1. Open Clideo and find Compress.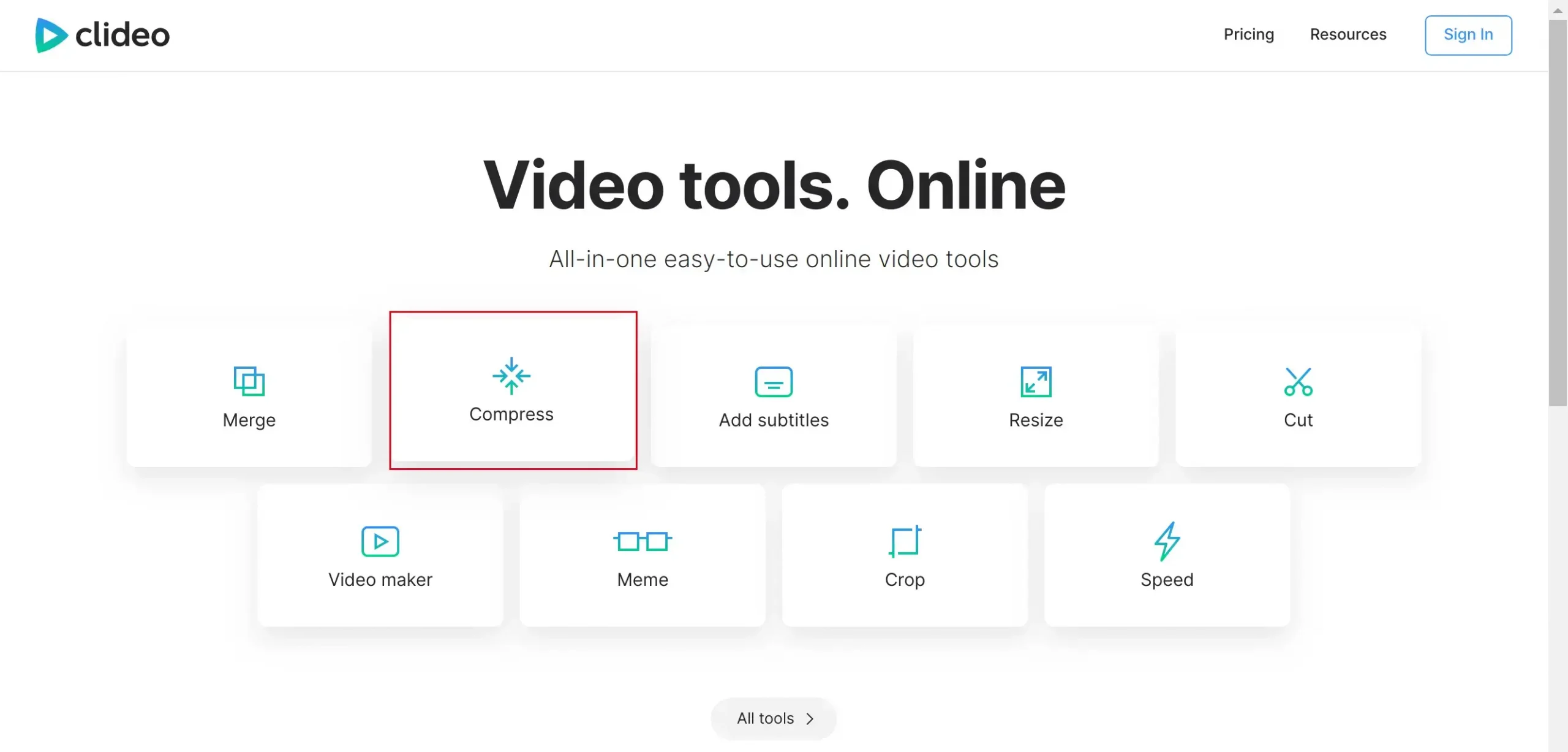 Step 2. Click Choose file to upload your video.


Step 3. Press the Download tab to reduce your WMV file size automatically.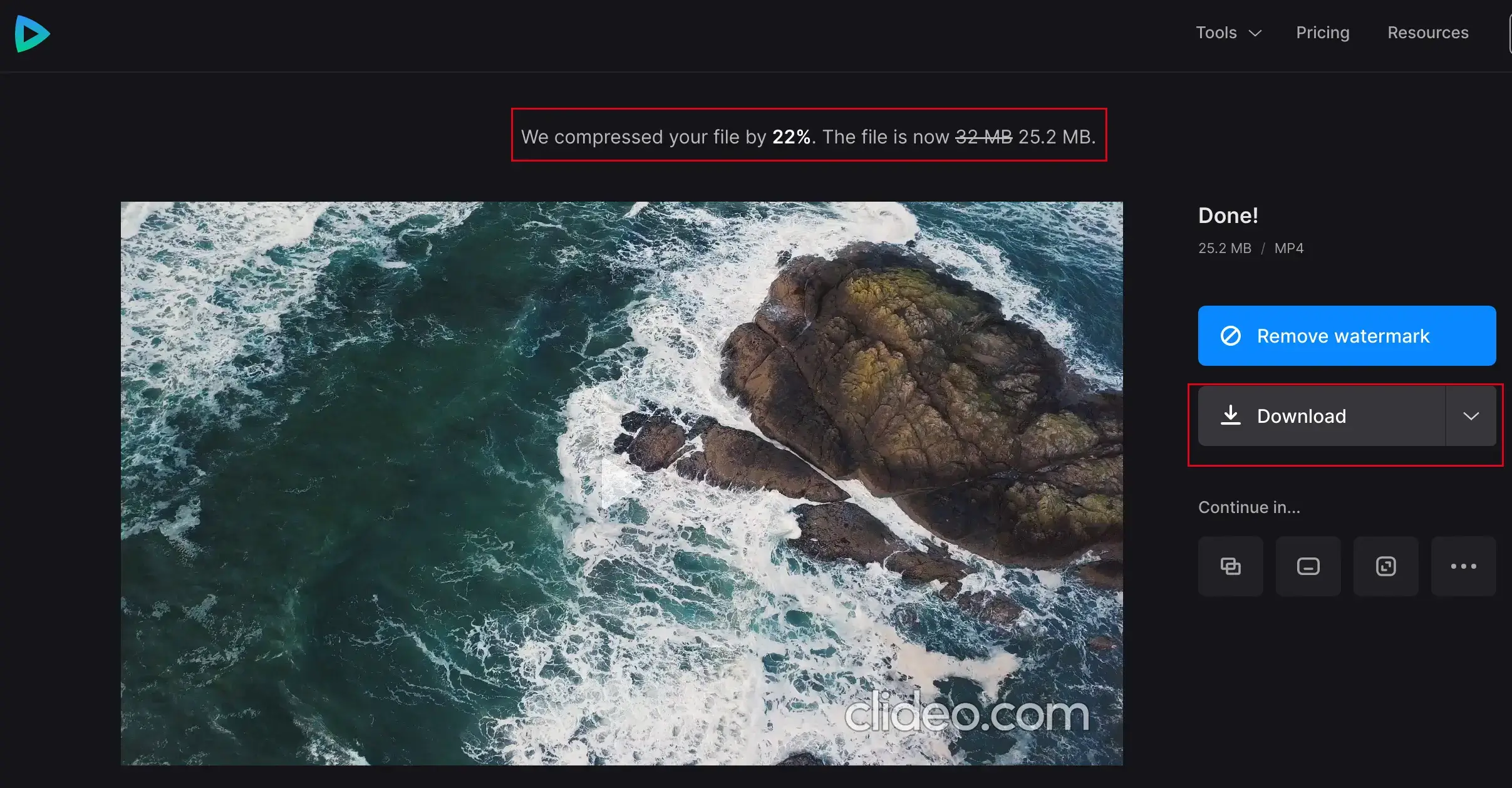 Here is our study of this method:
😊 Good News
😒 Bad News

No offline software is installed
Simple compression process
Automatic file size reduction
Further editing options
High-quality output

Internet access required
Unstable uploading speed
No compression mode
Batch compression unavailable
Company logo watermark on the outcome (free trial version)
More Related Questions
Wrapping up
Compressing WMV files doesn't have to be tricky if you have a proper solution. We sincerely hope the ones mentioned in this article will be ideal for you. And hope that you have learned how to compress WMV file now. It is strongly advisable to give WorkinTool File Compressor a try. Not only because it is free but also because of its convenient, fast, and high-quality compression function.
Now, are you prepared to reduce your WMV file size?