[4 FREE Solutions] How to Convert RAW to JPEG on Windows
Since RAW is not a common image format for internet use while JPEG is, it would be better to convert RAW to JPEG. This post provides you with four effective and free solutions to do this on Windows in this article. The ways are using WorkinTool Image converter, Microsoft Photos, Adobe Photoshop, and an online tool. You will get the specific tutorials on how to convert RAW to JPEG through each software. Please start your reading now.
😍 1. Up to FREE 5 image batch conversions and compression try-out.
🤩 3. Easy interface for users to edit with THREE STEPS.
😎 4. Support more than 100 different image formats to operate.
🥳 5. Cover all the features that you can on the market and interesting filters.
😊 6. Available for image conversion, compression, matting, watermark, and more.
[4 FREE Solutions] How to Convert RAW to JPEG on Windows
Thanks to the rise of smartphones, people have turned away from cameras in favor of mobile phones as their primary choice for daily photography. However, the out results still need to be better than those in the hands of professional photographers. And you should know that the format of the digital camera output is different from the JPEG (JPG), PNG, or WEBP format you usually see. It is a more original format called RAW. It is a professional image format you cannot open directly on Windows. This is why learning methods to convert RAW to JPEG is useful.
Different from JPEG, RAW is difficult to open and view on Windows, let alone print or share, without the help of the appropriate image tools. At the same time, large RAW images require more storage space than JPEG files. Adobe has written an article about When to use raw vs. JPEG. With years of experience with image editing, you can convert it directly to a more versatile format like JPEG if you need more compatibility. The exact methods are also straightforward. This tutorial will guide you on four FREE ways to change RAW to JPEG on Windows in seconds.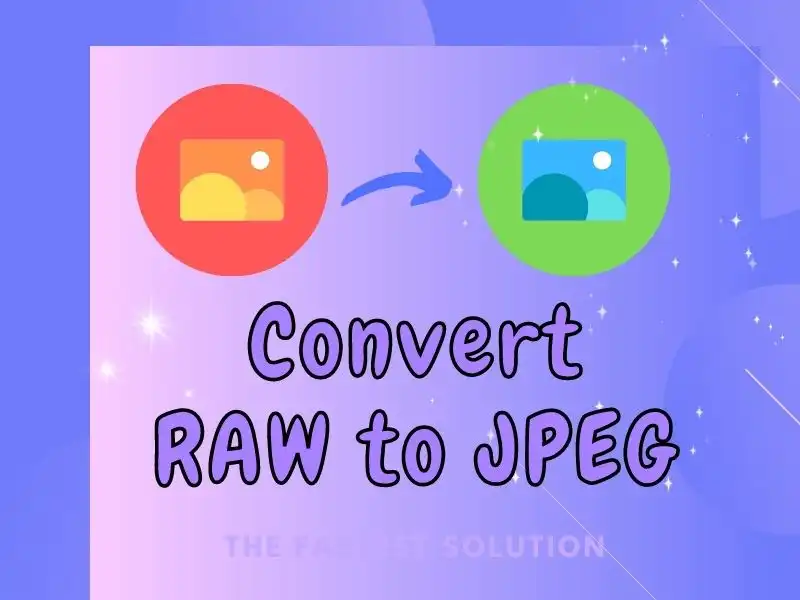 ---
RAW vs JPEG
RAW files are images captured and saved by a digital camera. It records raw data. It is not ready to be printed or edited with a bitmap graphics editor. RAW is usually tied to a specific model. It can only be easily opened, viewed, printed, or shared if it is processed with the help of editors that works with this format. In addition, RAW uses a lossless compression algorithm to produce high-quality images. However, it is typically quite large.
JPG or JPG is an image format that uses lossy compression to store and display digital images. It has become a standard image format in our daily life. You can easily open, view, print, and share a JPEG file because it has already been processed. Although it uses a lossy compression algorithm, the image quality is good enough for everyday use. And JPEG files are much smaller than RAW images.
In general, for RAW format, you can edit the image, adjust the exposure, and keep the details because of the raw data. It is better suited for pre-output editing by a professional photographer. But the JPEG format is more suitable for people like us. It's a compressed format, smaller in size but sharp enough for everyday use. The most important thing is that it is the most compatible. Don't worry if you can't open the preview properly on other devices.
---
Convert RAW to JPEG – The Easiest Way
You have to admit that, to convert image formats better, installing a handy image tool on your PC will be more convenient. Today, we will present you with a practical and helpful desktop tool called WorkinTool Image Converter. It should be a great tool to help you solve the problem of how to convert RAW to JPEG.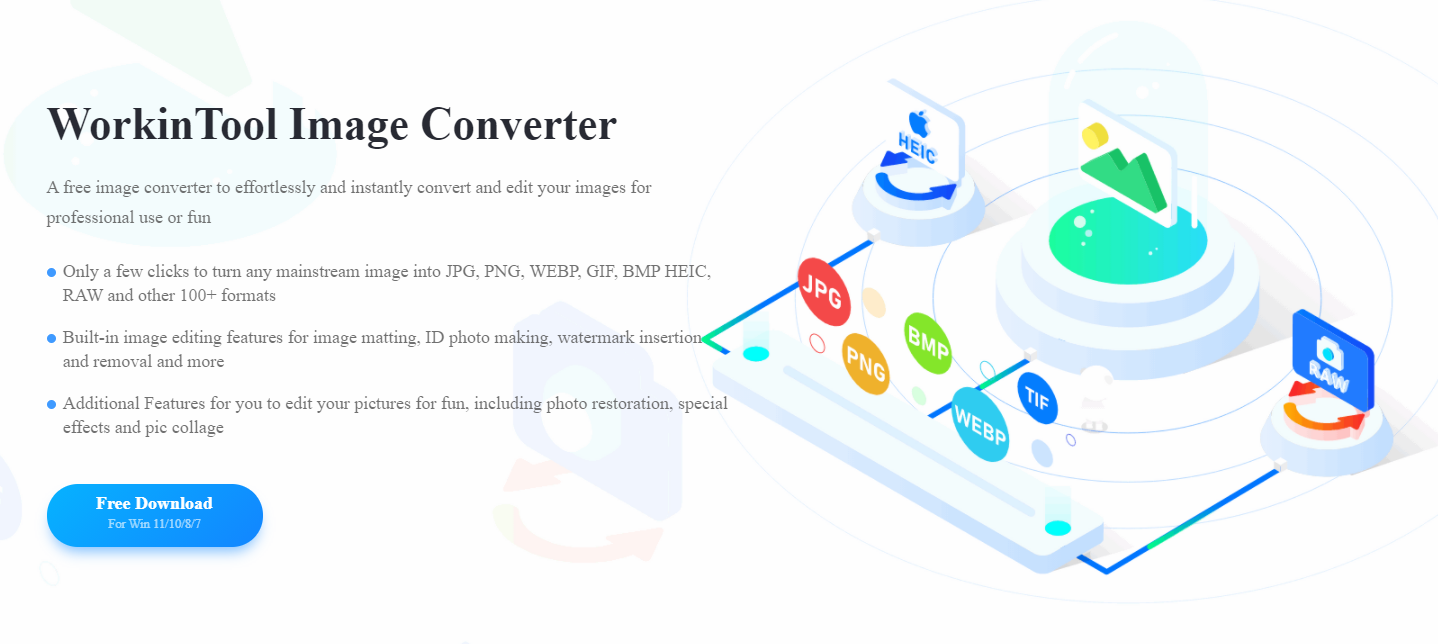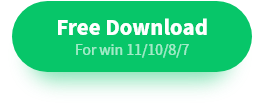 WorkinTool is a practical all-in-one image problem solution. It is lightweight and effortless. The image format conversion can provide users with high-quality results. It supports over 100 image conversions, including RAW. In addition, only less than three steps will be required to complete your RAW-to-JPEG conversion. In addition, this tool can handle your conversion batch within five images, so you will immediately expect multiple conversion images simultaneously. If you want more to convert together, upgrade to premium pro for unlimited service. It will only cost you half the price of Photoshop. Of course, it contains more picture editing features, like image compression, detail editing, watermarking, adding text, filters, stickers, etc.
100 +image formats conversion available

Customize to enlarge or compress images

Add or remove photo watermarks

Change or remove the image background

More than 65 image filters to apply
📒 How to make it work using WorkinTool
1. Open the tool, find Convert RAW and add your RAW image(s).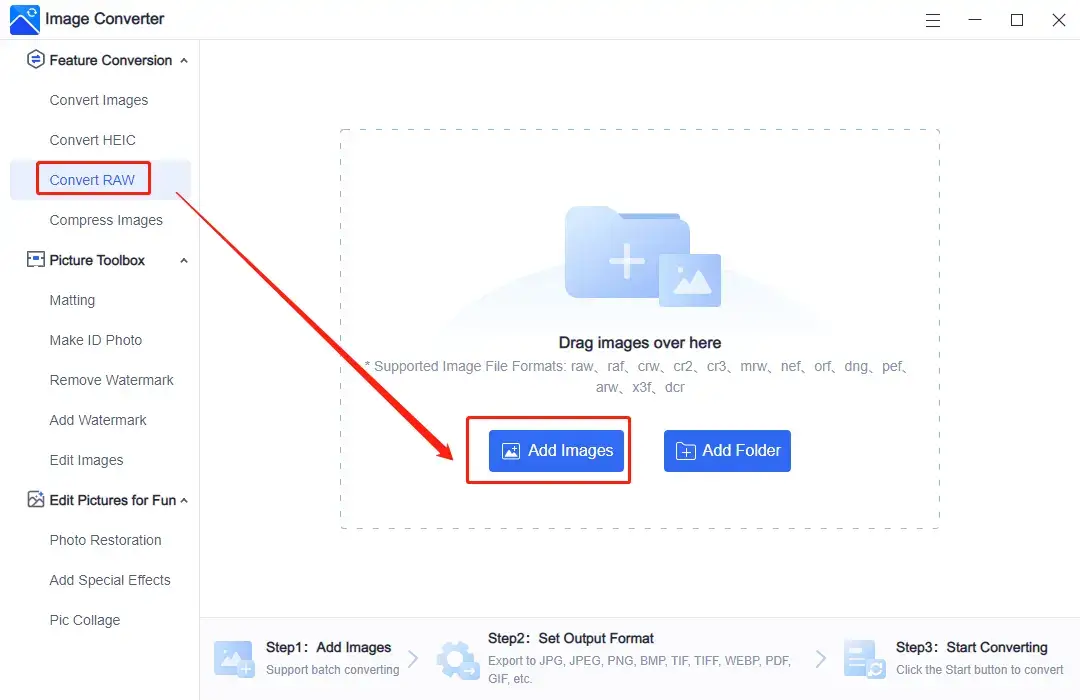 2. Select JPEG in the Output Format drop-down menu and click Start.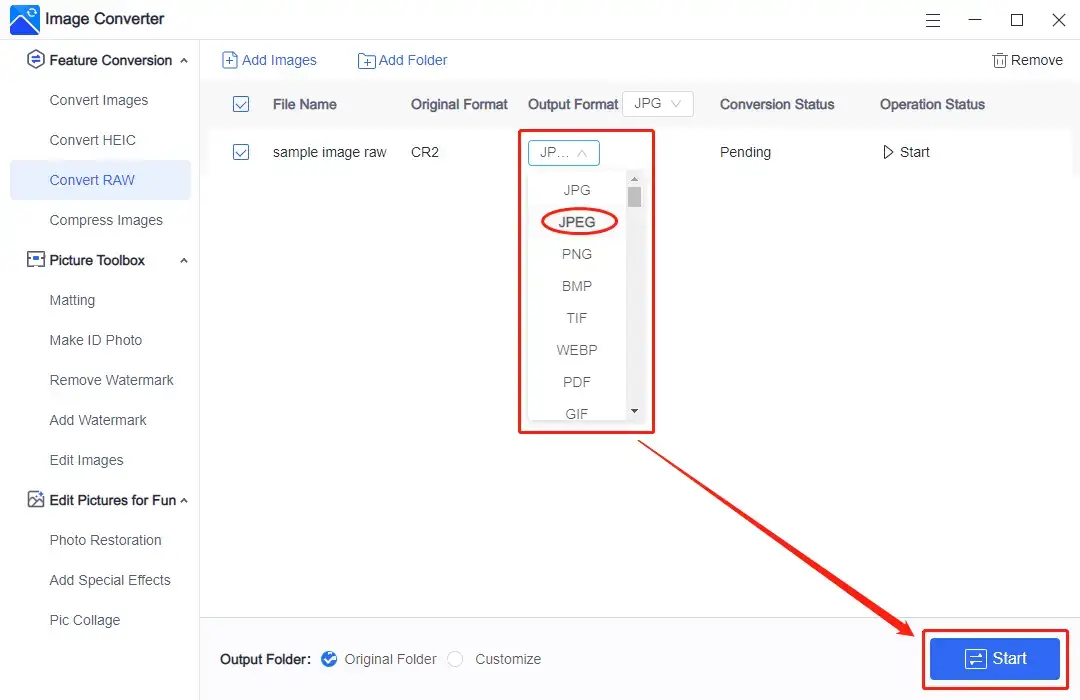 3. Click View now to retrieve your converted picture(s).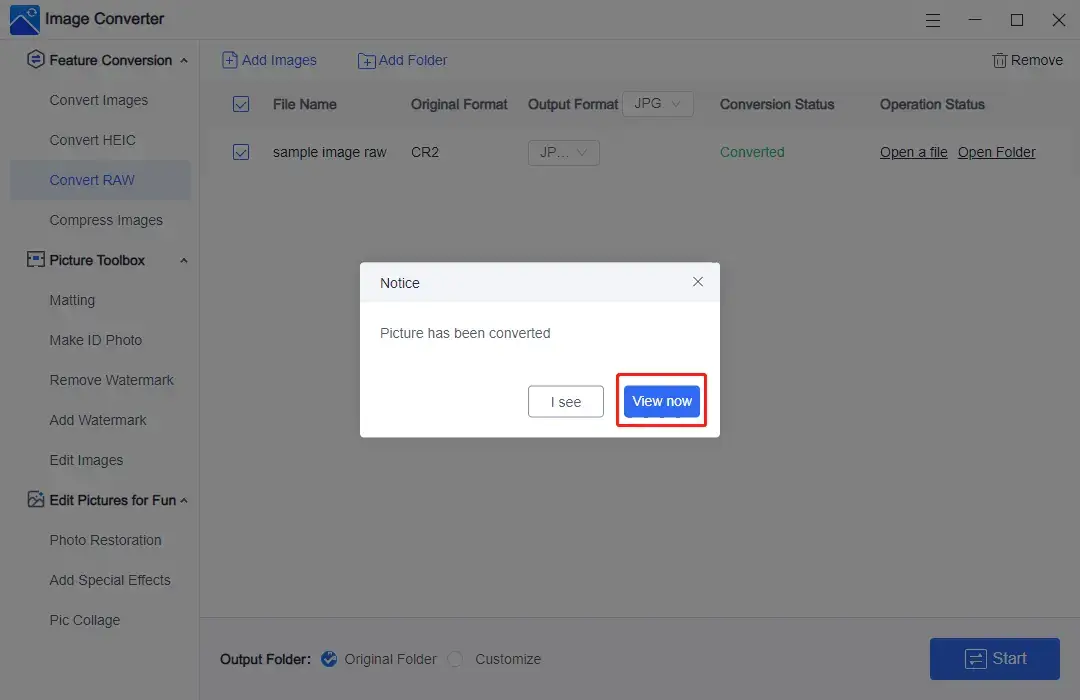 📢 Notes:
1. WorkinTool Image Converter allows you to turn multiple RAW files into JPEG images simultaneously.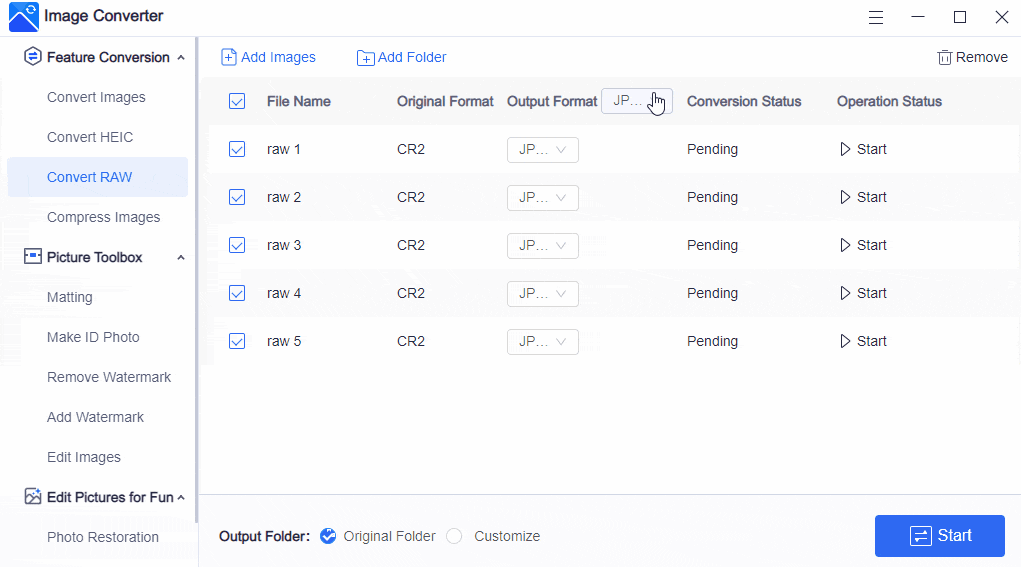 2. WorkinTool Image Converter will offer you an outcome without losing quality. Here is a comparison of the results.

💖 Additional WorkinTool Image features 💖
---
Convert RAW to JPEG-Two Alternative Ways
1. Save RAW as JPEG through MS Photo
MS Photo is a free built-in program on Windows. If you have upgraded your Windows operating system to the latest version, like Win 10/11, you can open and view a RAW image with it. Of course, you can also use this tool to save your RAW images as JPEG if needed. It is totally free. But since it is not a converter, it doesn't support users to convert images in batch.
1). Open your RAW picture with the Microsoft Photos app.
2). Click the three-dot icon and find Save as.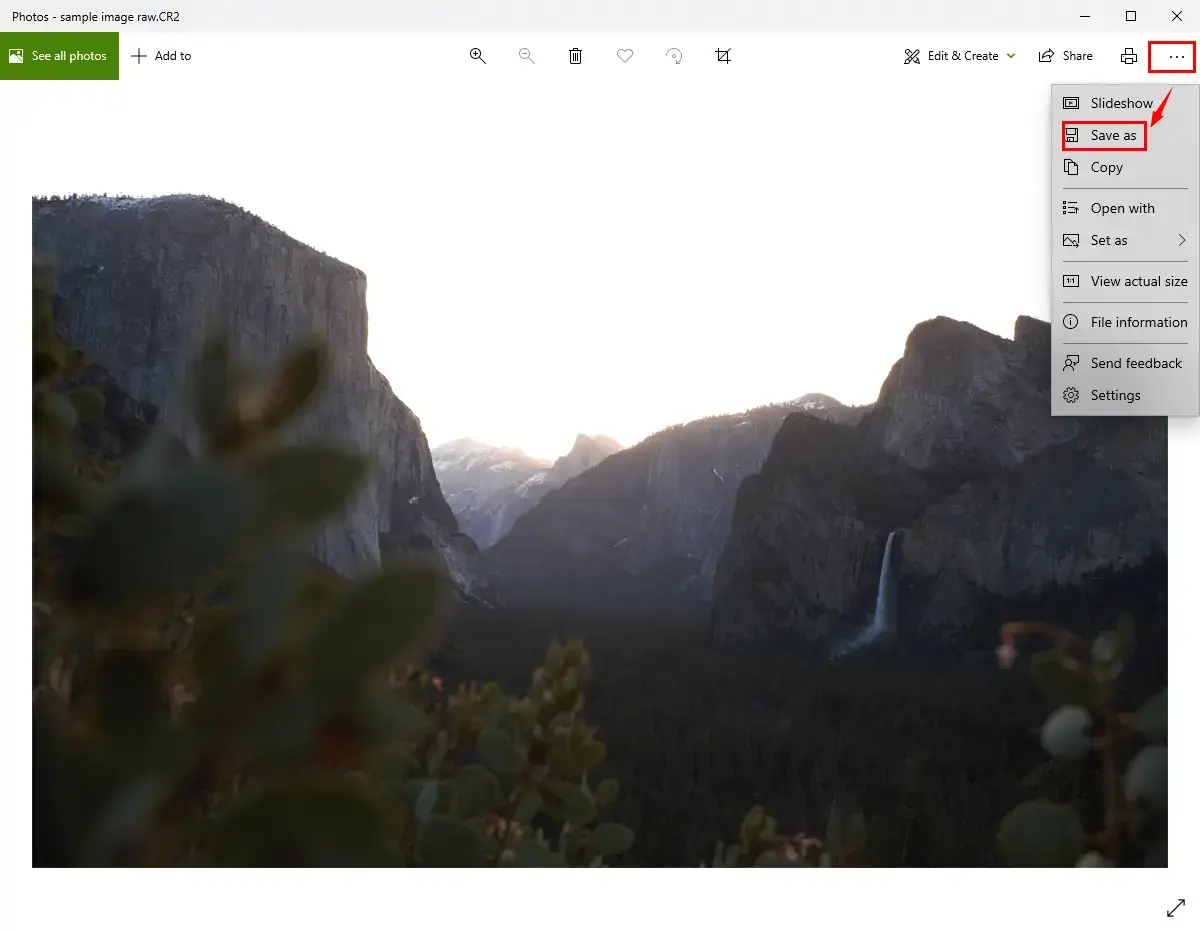 3). Choose .jpeg in the drop-down menu and click Save.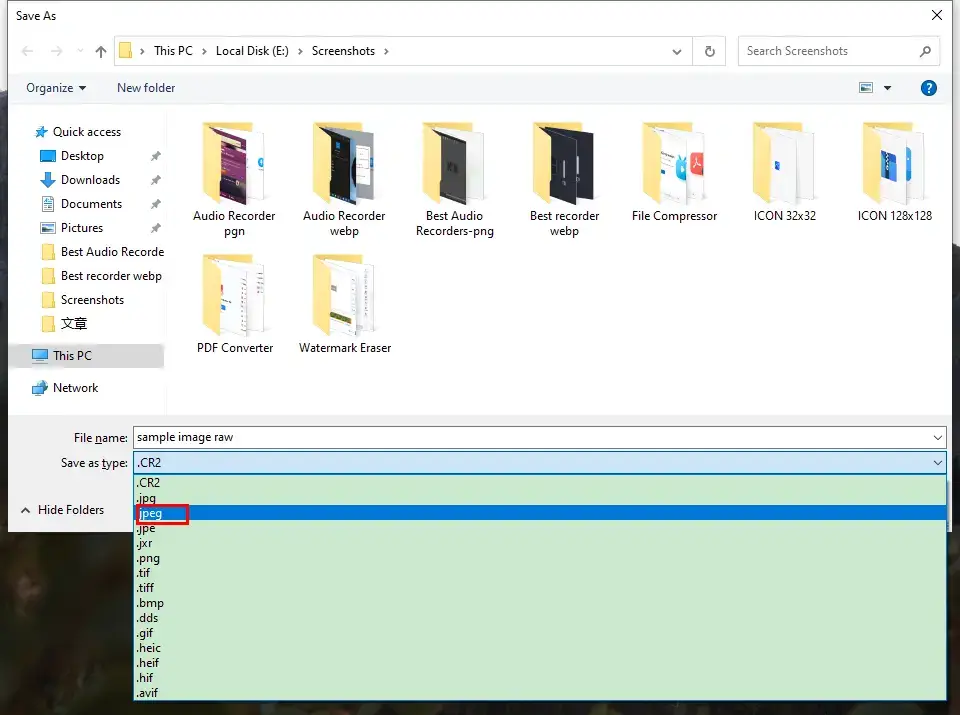 Here is our verdict on this method
---
2. Change RAW to JPEG via Adobe Photoshop
As the top choice for image editing and conversion, Adobe Photoshop is a tool that you can not miss. Sure, it will offer you all the functions that you need to process your photos. Much as it is designed with a complex interface, transforming a RAW file into a JPEG image is less challenging with its help. It may be more complex compared with other image editing solutions. Also, though it isn't a free program, it provides users with a free trial period to meet their basic needs. Please see the guide below:
1). Open your RAW image with Adobe Photoshop.
2). Click on Save Images.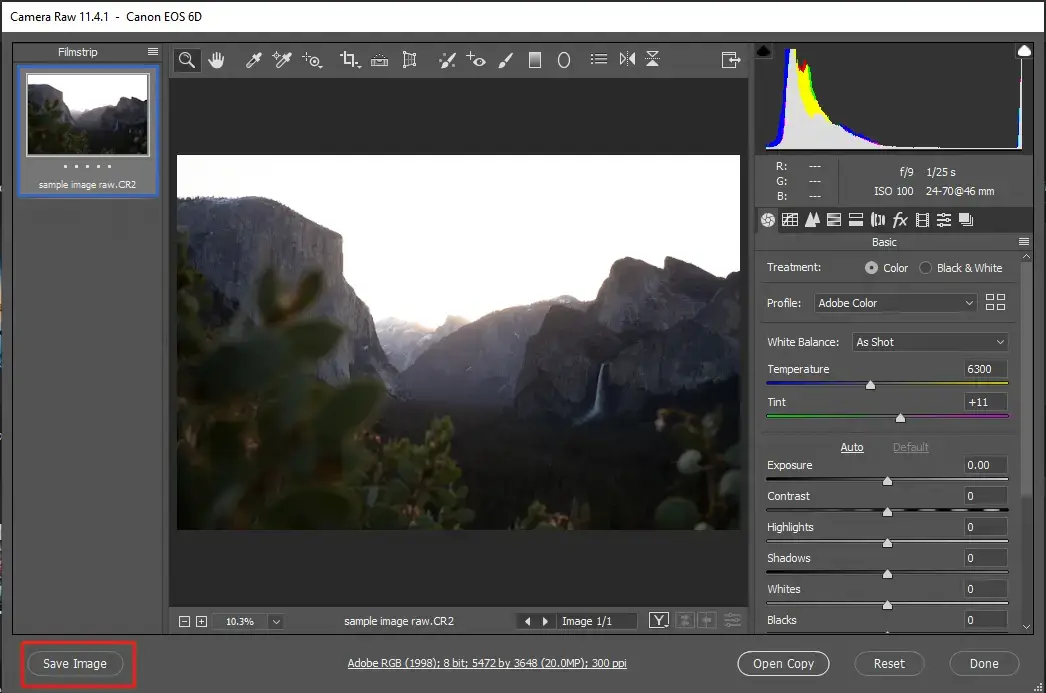 3). Choose .jpg in the File Extension section and adjust the settings below it to customize the output.
4). Click Save to get your converted picture.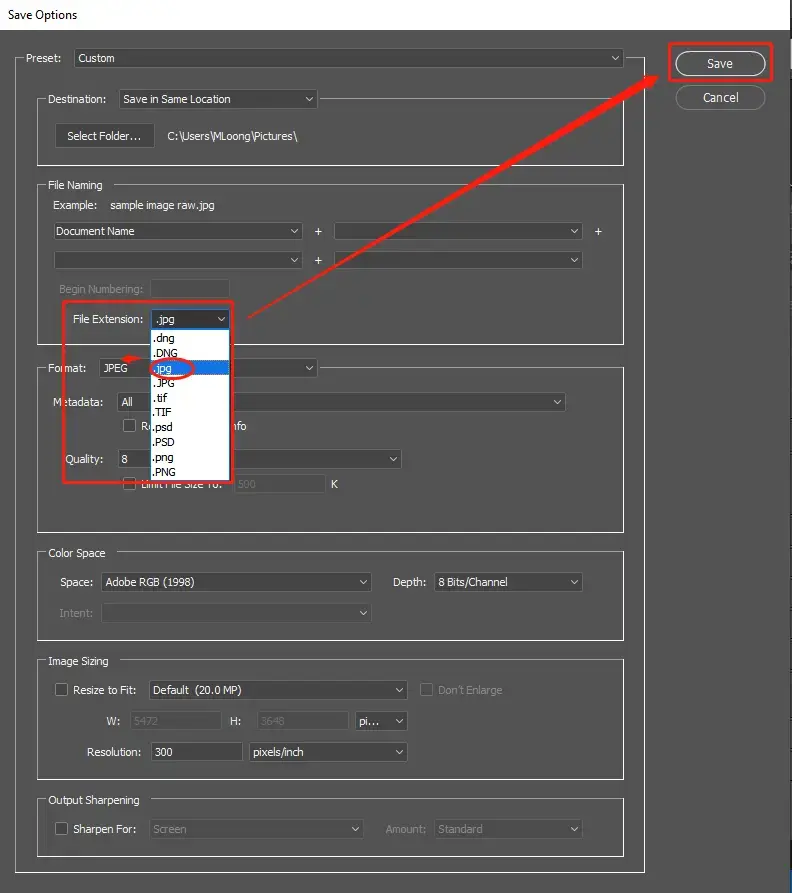 Here is our verdict on this method
---
Online Conversion – A Convenient Way
All three of the methods above are done using desktop image editing software, but what if you don't have a PC with you and need to do some image conversion? Is there any other way besides downloading software to handle it? In fact, there is, and that's done by using the online image conversion tool. If you Google Image conversion, you'll find a number of web pages offering similar services. But at the same time, they all ask users to upload pictures to the Internet. You should be aware of that.
You can try Convertio online CR2(RAW) to JPEG. It is also an online website explicitly providing format conversion services. You can find all the digital file formats there to convert. Of course, RAW images are also included. And users can use it to make batch conversions as well. However, it is still an online tool, so you must upload images. If you care about personal information leakage, we can promise that your photos are 100% safe, and we don't recommend that you try this.
📕 How to Change RAW files to JPEG Online:
1. Visit the online tool and add your RAW file(s).

2. Adjust the converted format to JPEG and click Convert.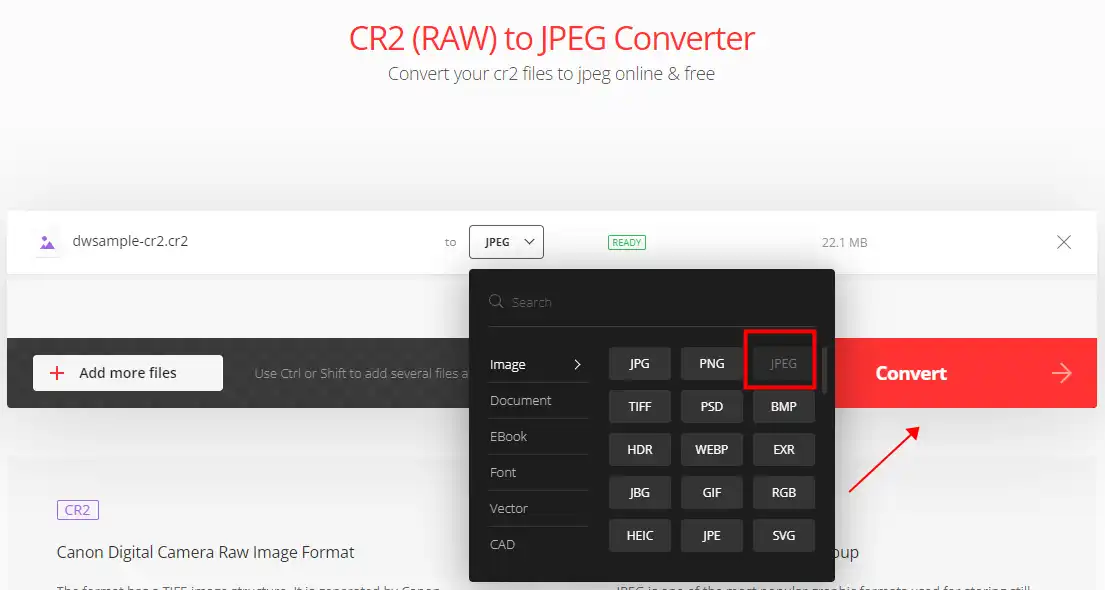 3. Then, wait for the result and download the JPEG format image to your computer.

Notice:
Suppose users need to convert images into batches. Here are the free online limits:
The Max file size: is up to 100 MB each.

Max number of conversions in the last 24 hours: 10 files per 24 hours.

Max number of concurrently launched conversions: 2.
---
Final Thought
Converting RAW to JPEG can be as easy as a pie if you have a helpful tool or find your ideal approach. We hope you can learn valuable ways to fulfill this objective. However, it is strongly recommended that you try WorkinTool Image Converter.
So are you ready to convert your RAW files to JPEG images now?