How to Convert SVG to PNG for FREE on Windows and Mac | 3 Solutions
SVG images are great on Website to display, but it only suitable for simple images like logos, icons, and graphics. But sometimes quality comes first, and PNG may be a better choice because it is based on Pixel. That is when you should consider changing SVG files to PNG format. Among all three methods we mentioned here, WorkinTool Image Converter works best.
😍 1. Up to FREE 5 image batch conversions and compression try-out.
🤩 3. Easy interface for users to edit with 3 STEPS.
😎 4. Support more than 100 different image formats to operate.
🥳 5. Cover all the features that you can on the market and interesting filters.
😊 6. Available for image conversion, compression, matting, watermark, and more.
How to Convert SVG to PNG for FREE on Windows and Mac | 3 Solutions
Both SVG and PNG image formats are widely used in website design. SVG is a vector image format, which can be more effective on the web for animation and interaction. But at the same time, SVG is a vector image, so it cannot bring as many image details as PNG, the image format based on Pixel. PNG images offer better and higher density for colors. And just like JPG, this format is compatible with all the devices and systems on the market. Therefore, many want to know how to convert SVG to PNG. In this tutorial, we will show you the best solutions to get your job done on Windows and Mac for free.
---
Something About SVG and PNG
📌

What is SVG?
SVG (Scalable Vector Graphics) is an extensible vector open format file. Its scalability is reflected in the SVG graphics on the web page when the rendering of image effects can freely transform the size of the image. And even when they are very large or tiny, they still retain their original quality. But usually, this image format will remain small. Unfortunately, because of the vector images, the picture details can not be presented in high-quality content. And it's less compatible with other old-school image formats like PNG.
📌

What is PNG?
PNG (Portable Network Graphics) is a raster image file type that allows lossless data compression. The quality of such an image depends on the pixels and resolution it consists of. So unlike SVG, PNG image quality is altered when you zoom in or out of a PNG image. But because it is made up of pixels, more can be seen in the details of the image. As one of the raster graphics files, PNG is small in size, fast in loading, and more convenient and easy to use than new formats such as SVG.
The Comparison between PNG and SVG
While both PNG and SVG formats are now widely used in web design, SVG is more commonly used for small images such as logos and icons because it is a vector image. If you want to show higher quality, PNG is definitely a better choice.
A more detailed comparison of PNG and SVG image formats is also provided. You can see the comparison between the better and the lesser parts.
Why Convert SVG to PNG
In fact, the two kinds of image formats play different roles on a website. But sometimes converting SVG to PNG might be more helpful for better performance. Here are a few tips that may help you:
---
How to Convert SVG to PNG on Windows for Free
First, you should know that XML-based snippets like SVG can not be opened directly from the Windows image viewer. And if you want to convert SVG format effectively. The best way to do this is to use professional image conversion tools to help you. In that case, we recommend WorkinTool Image Converter for Windows.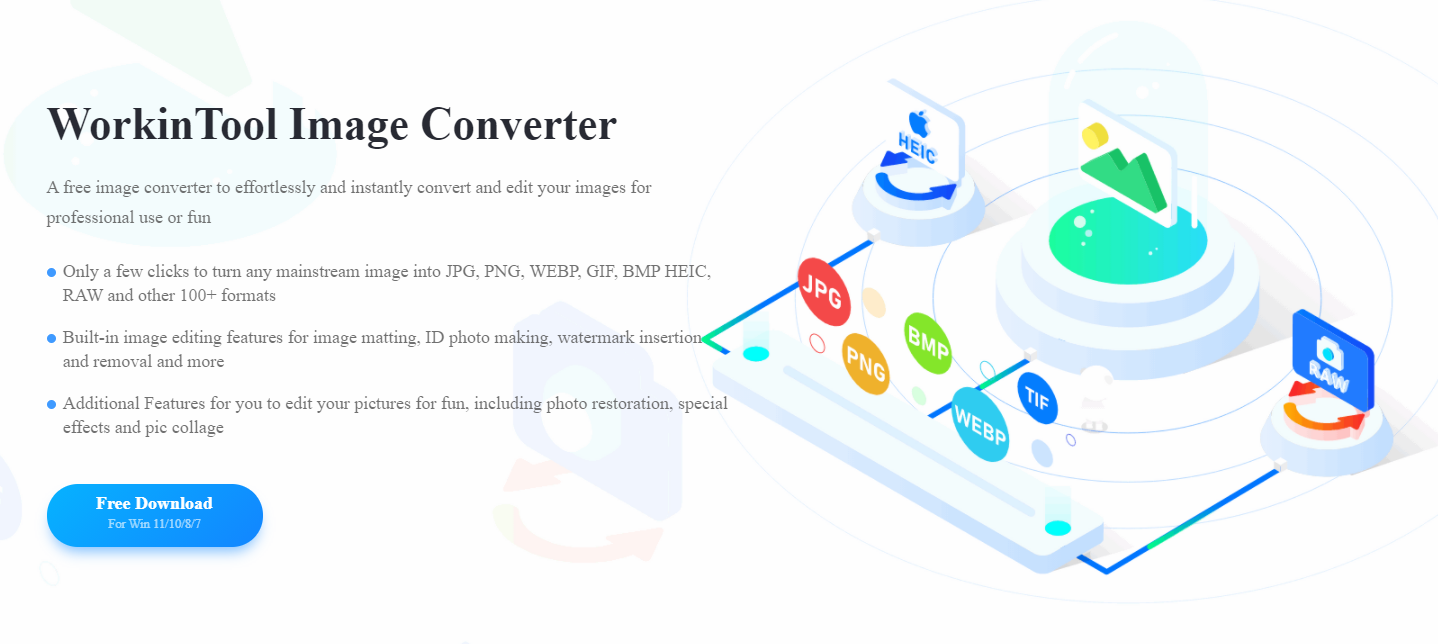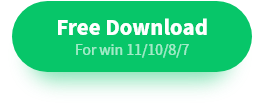 WorkinTool Image Converter is definitely one of the top software on the list of comprehensive image editing and conversion software. This tool supports more than 100 different image formats for conversion services for input and output. Of course, you can easily find PNG and SVG in it. Also, It allows users to make batch conversions of up to 5 images at once for free. Other than that, it has more image features than you might find on the market. For example, you can use this editor to make compression, add or remove watermarks, adjust the background, edit image details, and so on. More importantly, it is effortless to use. You can see all the steps on the home page. Whether you are a beginner or professional, it is absolutely the best on Windows.
100 +image formats conversion available

Customize to enlarge or compress images

Add or remove photo watermarks

Change or remove the image background

More than 65 image filters to apply
📒 Look how it works with WorkinTool:
Step 1. Open WorkinTool Image Converter, and click Convert Images to input your SVG file(s).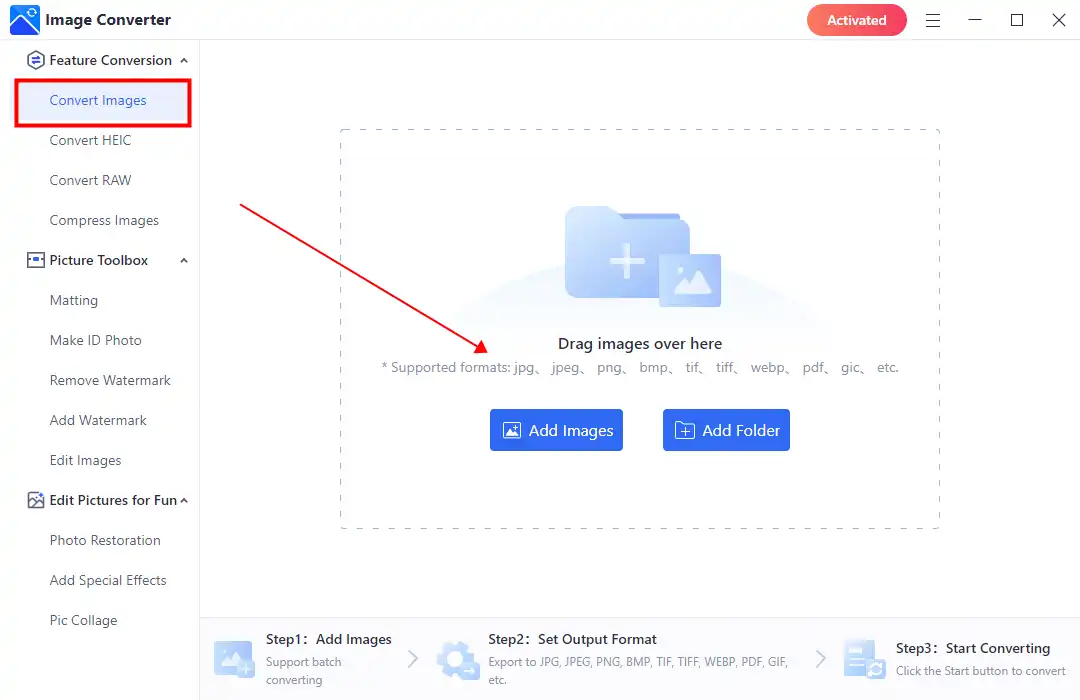 Step 2. Pick PNG from the drop-out menu on the Output Format banner and Click Start to get it started.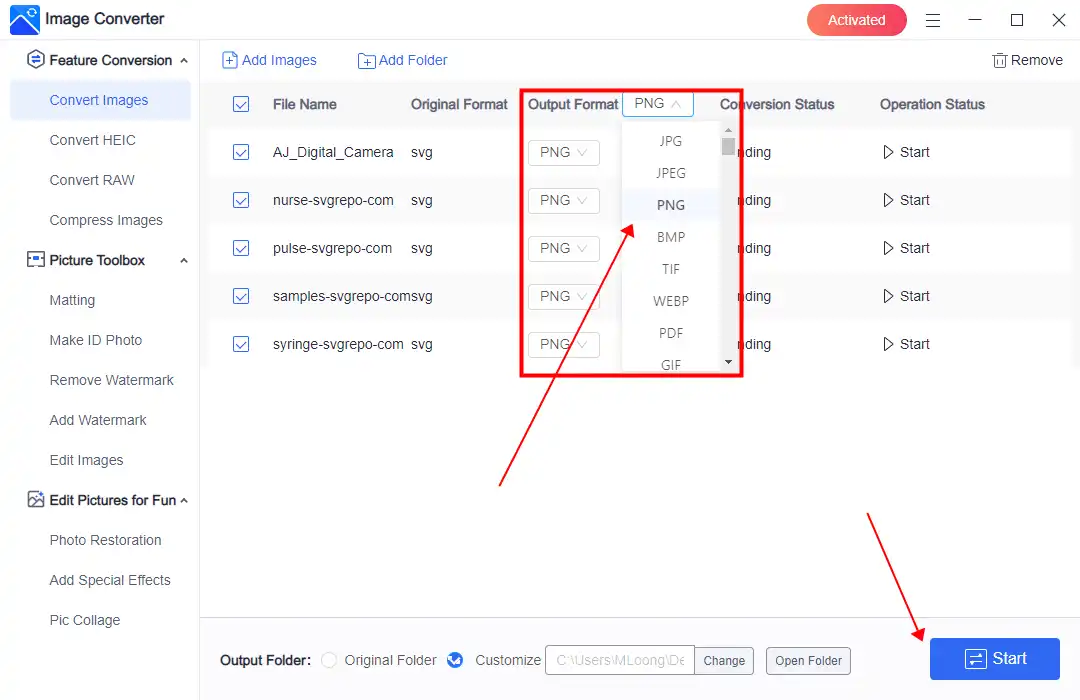 Step 3. When it stopped, click View now to check the result.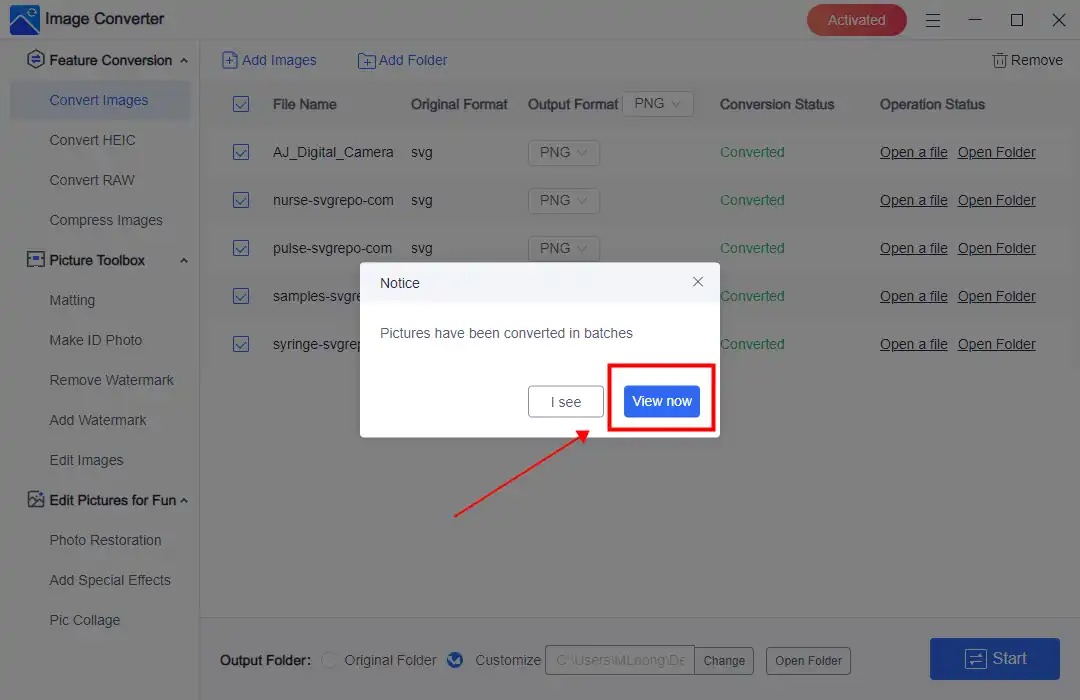 💖 More Additional Features for WorkinTool Image Converter 💖
---
How to Convert SVG to PNG on Mac
Unfortunately, WorkinTool Image Converter is currently unavailable on the Mac system. Even the Preview app doesn't support any viewing or editing features in SVG format. In that case, it is time for you to seek help from Adobe Photoshop.
As long as you use a computer, you should know one or two about Adobe Photoshop. It is basically the mother of all image tools today. Even if the time has come today, it still works perfectly for professional image editors. It could be because some features are a little bit hard to learn, or the price of this software is high, and only people in need will choose it. However, it offers a 7-day trial plan for users who have never tried it. So, we can take advantage of that to use it to transform SVG to PNG.
📕 how to transform SVG into PNG via Adobe Photoshop
1. Open the SVG file with Adobe Photoshop.
2. Go click File > Export > Export As.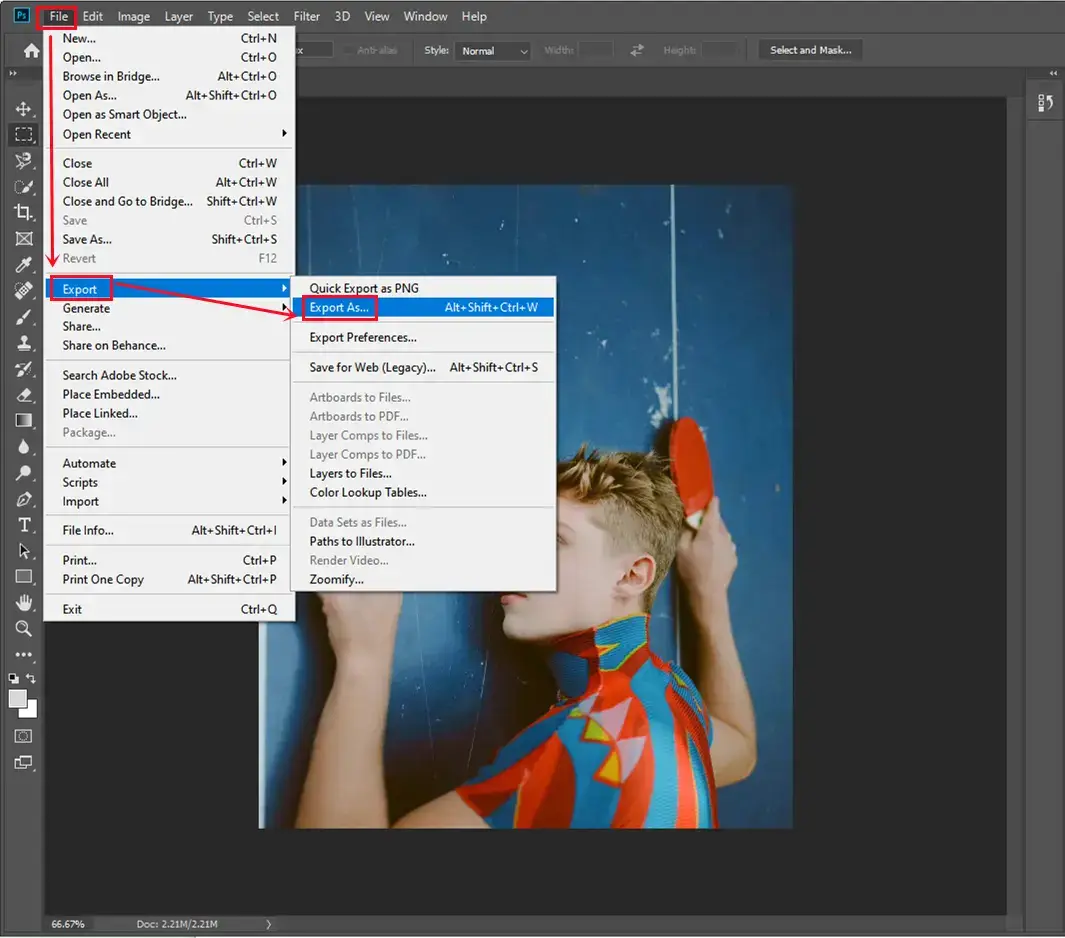 3. Then follow this: File Settings > Format > PNG, the first one on the drop-down menu.
4. Lastly, click Export All and save this PNG image to your computer.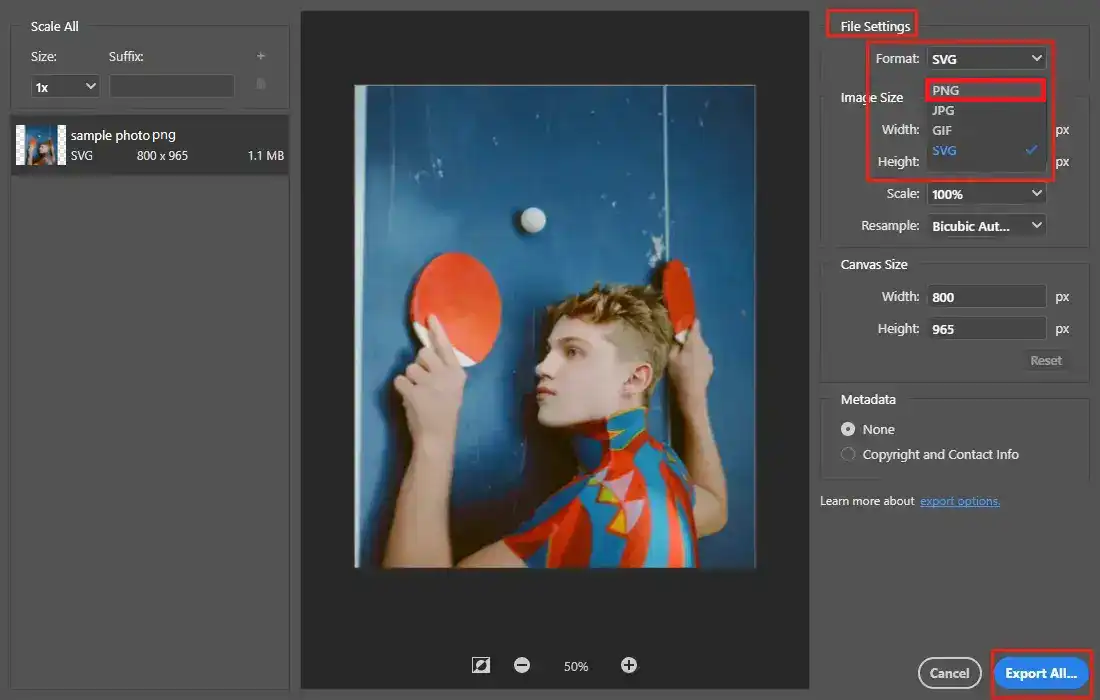 Here is the result.

---
Alternative: Online SVG to PNG Converter
You don't have to use a desktop converter to convert an image. An online image conversion tool is also a good choice. As long as the SVG files are not involved with business privacy or other legal issues, you have nothing to worry about to make an online conversion. There are tons of image online converter tools for you to select from. Among all, you can try Convertio SVG to PNG.
Convertio is a professional format conversion tool based on the website. You don't need to download any software or register to use it anywhere, any time you want. It covers all the file formats you could use. And this tool is super easy. Add SVG files, select PNG, and click the conversion button.
📙 Convert SVG to PNG using Convertio:
1: Open your website explorer and visit Convertio.
2: Input your SVG picture(s) and select PNG in the selection menu.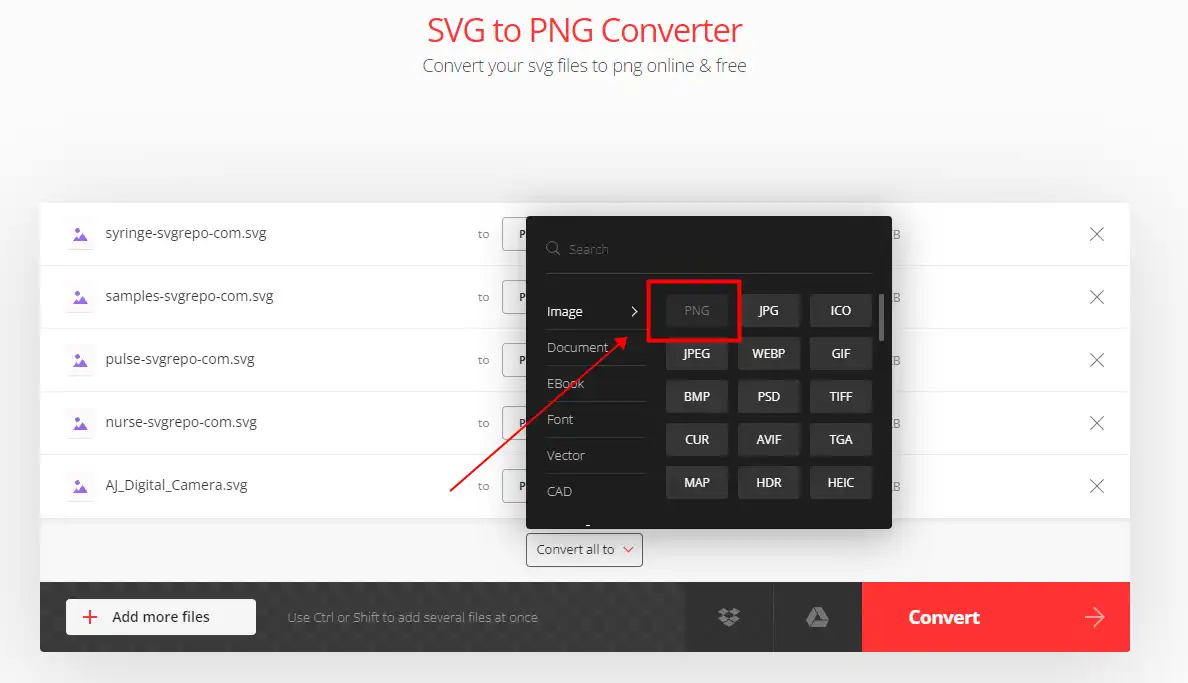 3: After that, you can click Convert to start the conversion. When it stops, download images in PNG to your computer.
Notice:
Even though it is a useful free converter, you should know that it is an online tool. There are some limits to follow:
---
More to Share
Although the SVG format is outstanding on websites, there are still circumstances in which you need more details on your images rather than several lines are all you got. SVG images are only for simple decorative website graphics, logos, icons, and charts. But PNG is better for banners, menus, and other bigger parts. For that, focusing more on the free methods to convert SVG to PNG is a good idea. All three mentioned approaches are available for users to try. I am sure that they will get you a great hand.
If you target the Windows converter, WorkinTool Image Converter is definitely the one you should try. First, it covers more than 100 different formats. Even if you have other image format conversion needs in the future, it will handle them effortlessly. Whether you are new or professional in image conversion, this tool is easy to operate. The best part is that it is 100% FREE for image batch conversion and compression. Please don't wait, and get it started right now!