How to Convert PNG to SVG with Color Free on Windows
Looking for how to convert PNG to SVG with color for free, but no effective solutions? WorkinTool can deal with it in just a few steps. Just upload the image, then export PNG to SVG. WorkinTool Image Converter is professional and free, which can realize the conversion of PNG to SVG without losing color. In addition, its functionality is out of your imagination. It can convert from/to 100+ image formats. The image compressing, and editing is available as well.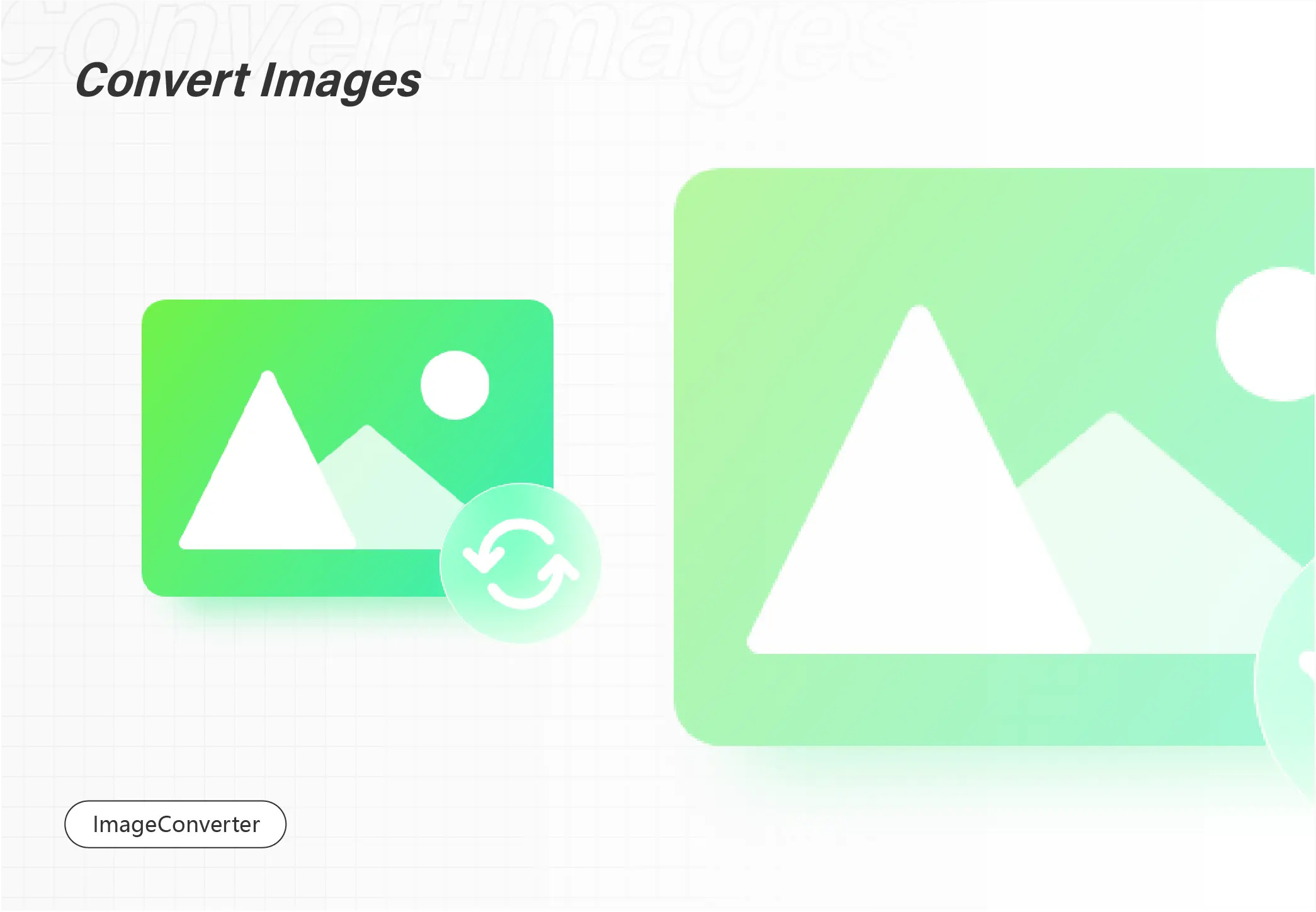 How to Convert PNG to SVG with Color Free on Windows
In this post, I'll introduce you to two effective and free tools to convert images from PNG to SVG, both of which can transform without losing image color. I'll specify the following aspects: things that need to know before conversion, brief introductions of the two software, detailed steps of how to convert PNG to SVG, and the comparison of the two tools. It won't take you too much time to read. Hope you can get helpful information from it.
What is PNG & SVG File?
PNG is short for Portable Network Graphic, which is a compressed bitmap graphics format without losing quality. Its design purpose is to try to replace the GIF and TIFF file formats while adding some features that the GIF file format does not have. The PNG format has the advantages of small size, lossless compression, using the indexed color mode, supporting true color and grayscale, in favor of transparent effects, using a streaming transmission, etc.
Scalable Vector Graphics (SVG) is an editable image format, which is very popular at present. Using the SVG format, we can directly use the code to describe the image, you can open the SVG image with any word processing tool, and make the image interactive by changing part of the code. With SVG images, you can design delicate, high-resolution web graphics pages.
Why Convert PNG to SVG?
The SVG format has the advantages that the popular JPG and PNG formats cannot realize: it can arbitrarily enlarge the graphic display, but never at the expense of the image quality; it can retain the editable and searchable state;  SVG files are much smaller than image files in other formats, and thus can be downloaded quickly. Converting PNG to SVG makes it feasible to produce delicate web pages from a PNG file.
🌟 How to Convert PNG to SVG
Here are two effective and free tools that are recommended to you. One is a powerful image processor – WorkinTool Image Converter, and the other is a professional image-maker – Inkscape. I'll elaborate on their basic information, features, and step-by-step tutorials about how to transform PNG to SVG with color on Windows.
🟢 Save PNG to SVG with WorkinTool Image Converter
WorkinTool Image Converter is new in the market, whose design purpose is to deal with image operating problems. It is completely free without any requests. And its interface is simple and clear without any ads, so if you are a beginner at making SVG files, you can use it with ease. It can convert from/to 100+ image formats in great quality, such as JPG, JPEG, PNG, GIF, SVG, PDF, etc. In addition, it is also in favor of compressing images, matting photos, removing and adding watermarks to photos, adding special effects, etc. With WorkinTool, only in a few steps, you can alter PNG files into SVG with color. If a downloaded program is a kind of hassle for you, don't worry about that, there is an online version available to you. WorkinTool will release the online tool of Image Converter very soon.
Step1. Launch the software and choose Convert Images. Then upload your PNG file by dragging it or selecting it from the folder.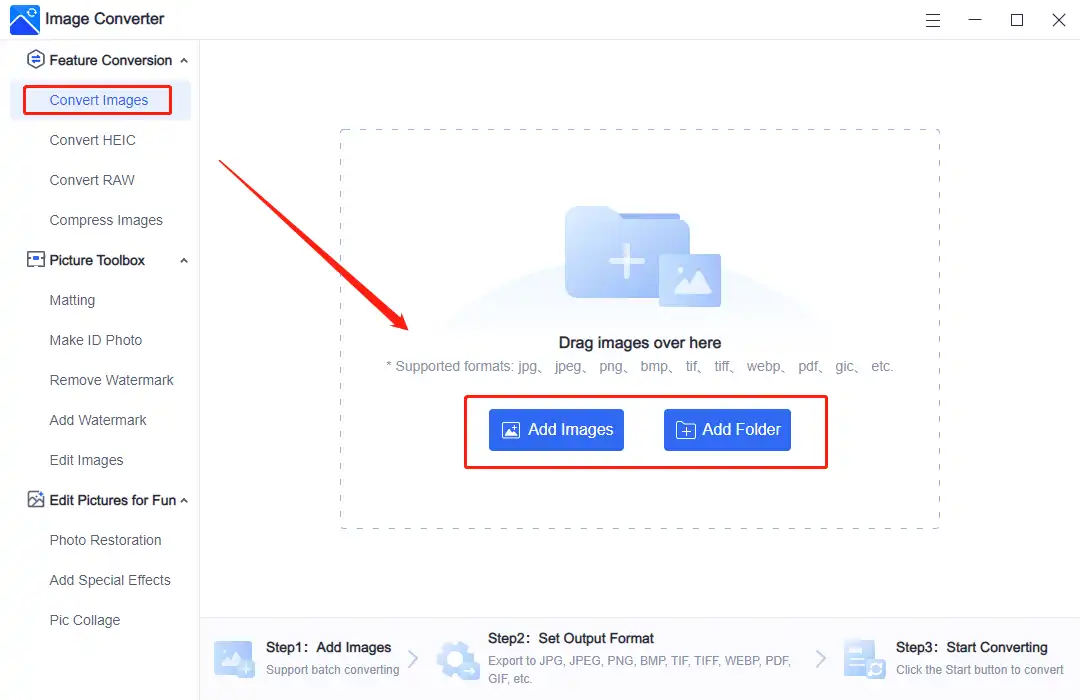 Step2. Select the output format as SVG. Change the location of the new file if you want, then press Start.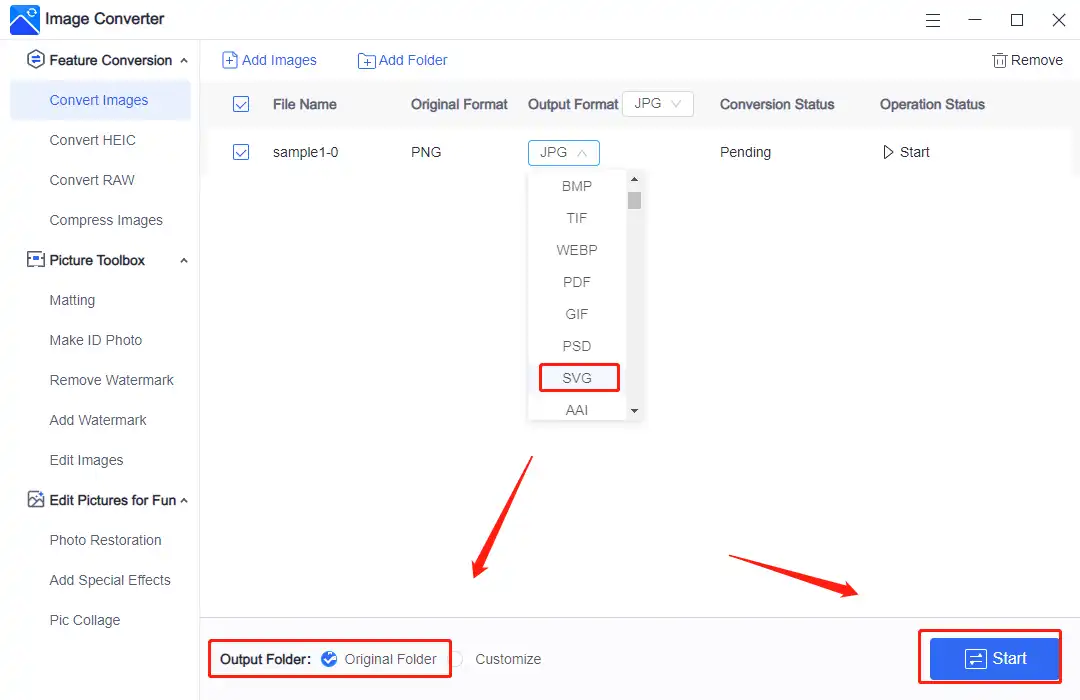 Step3. Check the converting result by clicking View Now. The new SVG file will be saved directly to your folder.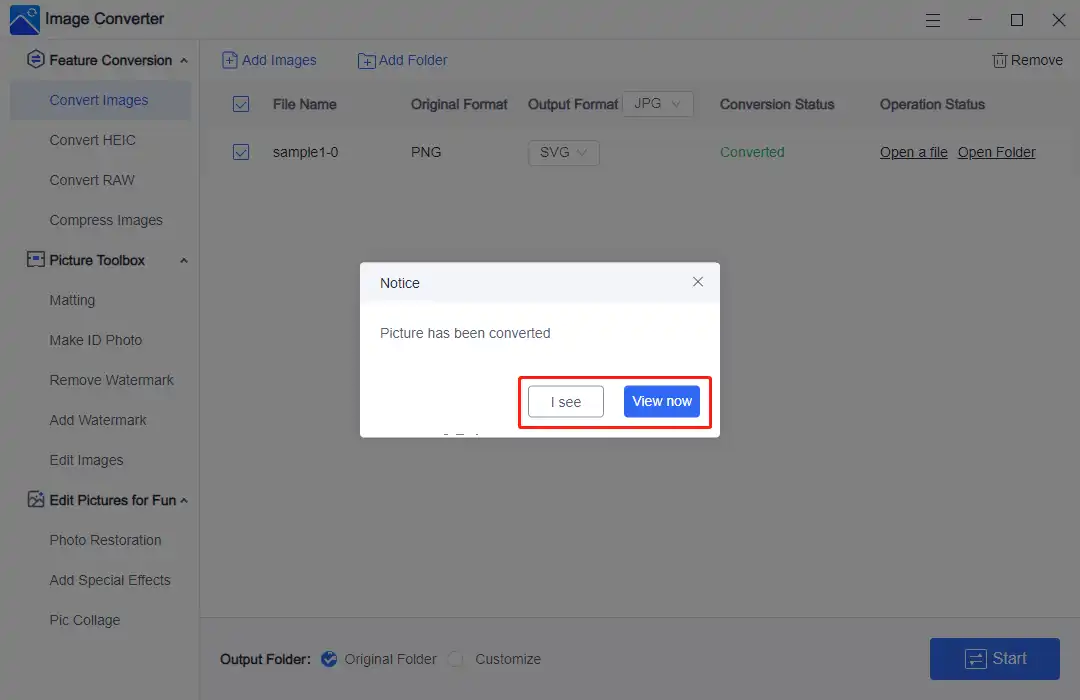 Note: WorkinTool Image Converter supports batch converting. Just add more PNG files and convert with one click.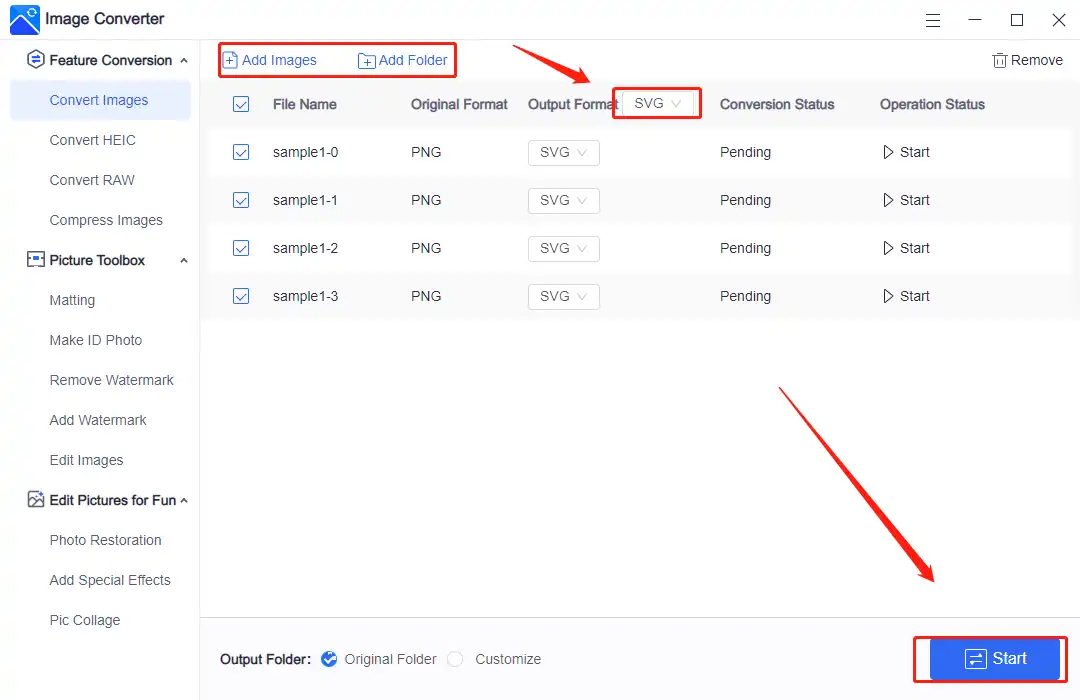 Here is the result of converting PNG to SVG by WorkinTool Image Converter.

Other Functions of WorkinTool Image Converter
It is a professional and powerful image operating tool that is bound with countless merits and functions. Here is a summary of its other functions for you.
Feature Conversion
Picture Toolbox
Edit Pictures for Fun

Convert images
Convert HEIC
Compress images
Convert RAW

Fix facial blur
Make yourself young
Add aging filter
🟢 Convert PNG to SVG in Inkscape
Inkscape is a professional vector graphics editing tool that supports Windows, Mac OS X, and GNU/Linux. It is highly sought after by professional designers and hobbyists from all over the world and can be used to create illustrations, icons, logos, drawings, maps, and web graphics. As for its functions, it is more suitable for professionals.
How to Switch with Inkscape
Step1. Open Inkscape. Then add a PNG file by clicking File>Open.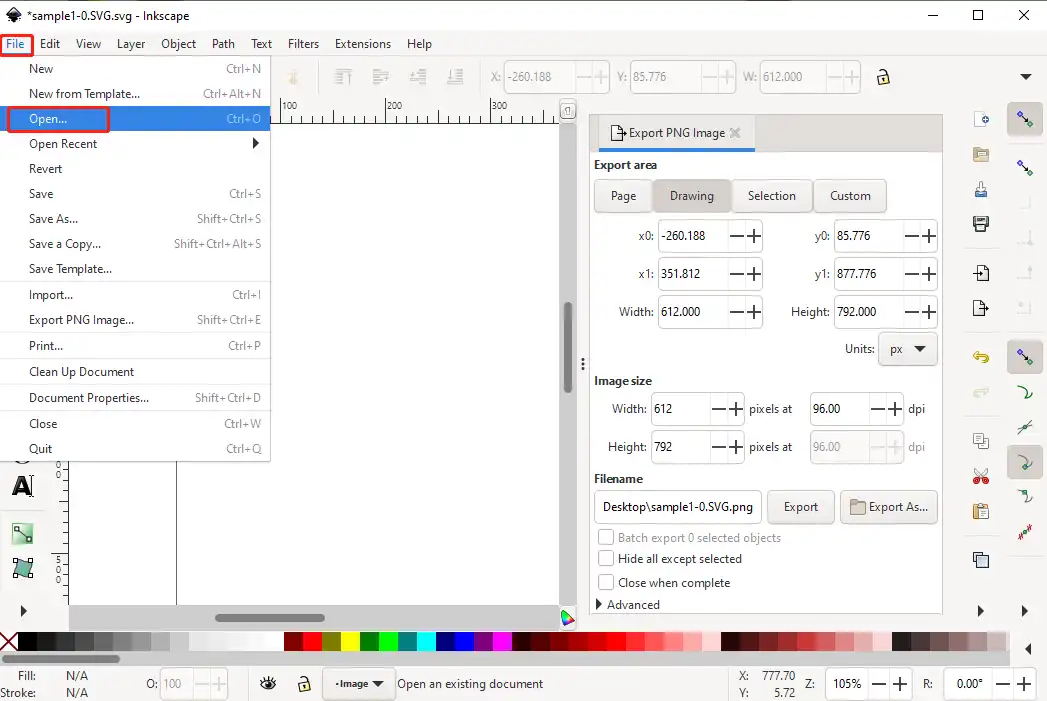 Step2. Export by choosing File> Save As.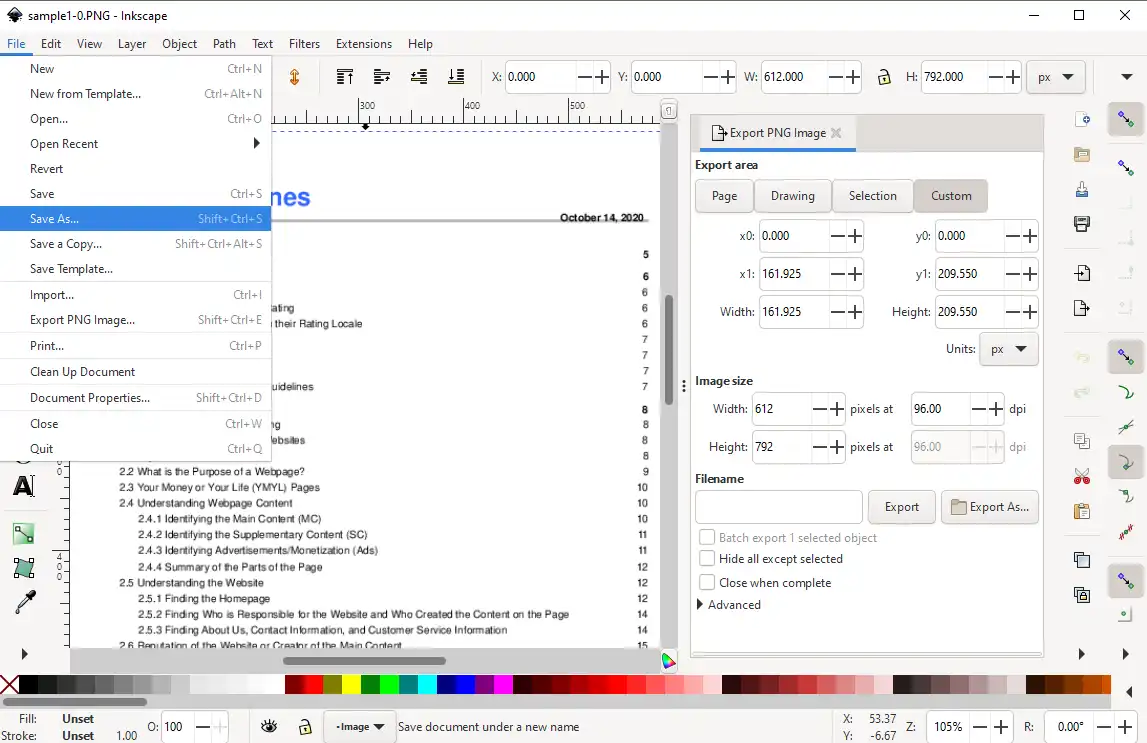 Step3. Select SVG format as the outputting form. At last, press Save.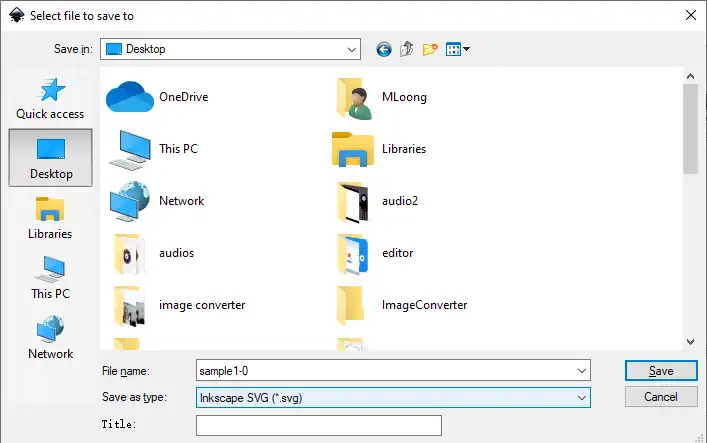 Comparison of Two Tools
Both the two tools can realize the conversion from PNG to SVG with color within seconds. Most importantly, both of them have a long-term free trial. And there is not much difference in the converting result. However, taking their functionality into account, they have different preferences. As for the WorkinTool Image Converter, it is an all-around image processor, which is not limited to coping with a specific image format. As for the Inkscape, it is proficient in editing vector graphics. You can pick one of them according to your request. In addition, there are too many operation icons on Inkscape, which makes it seem difficult to operate. Another salient difference is that WorkinTool has its online version, but Inkscape doesn't.
Summing Up
In today's article, I have shown you how to convert PNG to SVG with color with two free tools. Both of them are effective. However, as regards me, I prefer the WorkinTool Image Converter, for its operation and interface are more friendly for new users. What's more, it can be used online. This benefit makes it outstanding in the market. If you are interested in more image editing tutorials, you can visit WorkinTool.
Products Reviews:
TrustScore
4
|
323
reviews