How to Convert WEBP to GIF on Windows and Mac FREE – 3 Solutions
With the rise of AI technologies and the increasing use of web-based animated images, it's becoming more important than ever to have a reliable tool for converting various file formats. In this article, we'll cover four different solutions for converting WEBP to GIF on both Windows and Mac platforms. Among these options, WorkinTool Image Converter stands out as the most effective when it comes to generating high-quality GIFs with text and art. Be sure to give it a try for the most comprehensive set of features and capabilities.
😍 1. Up to FREE 5 image batch conversions and compression try-out.
🤩 3. Easy operating steps with AI technology.
😎 4. Support more than 100 different image formats to operate.
🥳 5. Cover all the features that you can on the market and interesting filters.
😊 6. Available for image conversion, compression, matting, watermark, and more.
How to Convert WEBP to GIF on Windows and Mac FREE – 3 Solutions
WEBP is an image format developed by Google. It's famous for compressing images without losing their high-quality visuals. However, not all platforms and devices support WEBP, which can make it tough to share them. On the other hand, GIF is a widely supported format that allows for animation. So, sometimes, it is best for you to convert WEBP files to GIFs. In this article, we will guide you through various methods of how to convert WEBP to GIF format on both Windows and Mac. With these methods, you'll be able to get around compatibility issues and share your images without any problems.
---
Something About WEBP and GIF
The Comparison between WEBP and GIF
GIF and WEBP are image formats, each with advantages and applicable scenarios. However, they also have some differences in terms of features and capabilities. Here are some of the main differences:
| | |
| --- | --- |
| Compression: | WEBP is better at compressing images than GIF. This means that a WEBP image can be smaller in size than a GIF of the same quality. |
| Animation: | Both formats support animation, but GIF is more commonly used for simple ones. WEBP supports more advanced animation features. |
| Transparency: | Both formats support transparency, but WEBP is more advanced in allowing partial transparency. |
| Browser support: | GIF is compatible with most browsers, while WEBP is not universally supported. |
The Most Common Scenarios
People may choose to convert WEBP to GIF to improve compatibility, work with animated images, edit images in programs that don't support WEBP, or reduce file size.
In conclusion, converting WEBP to GIF can provide users with a better browser compatibility experience and help them get what they want for the effect.
---
How to Convert WEBP to GIF on Windows for Free
Considering WEBP is an image format based on a website page, there are no built-in tools to do the conversion on Windows. The Paint app could save a WEBP image as GIF. However, it can only open and convert static WEBP images. So, we will skip that. In that case, we suggest WorkinTool Image Converter as your top Windows conversion tool.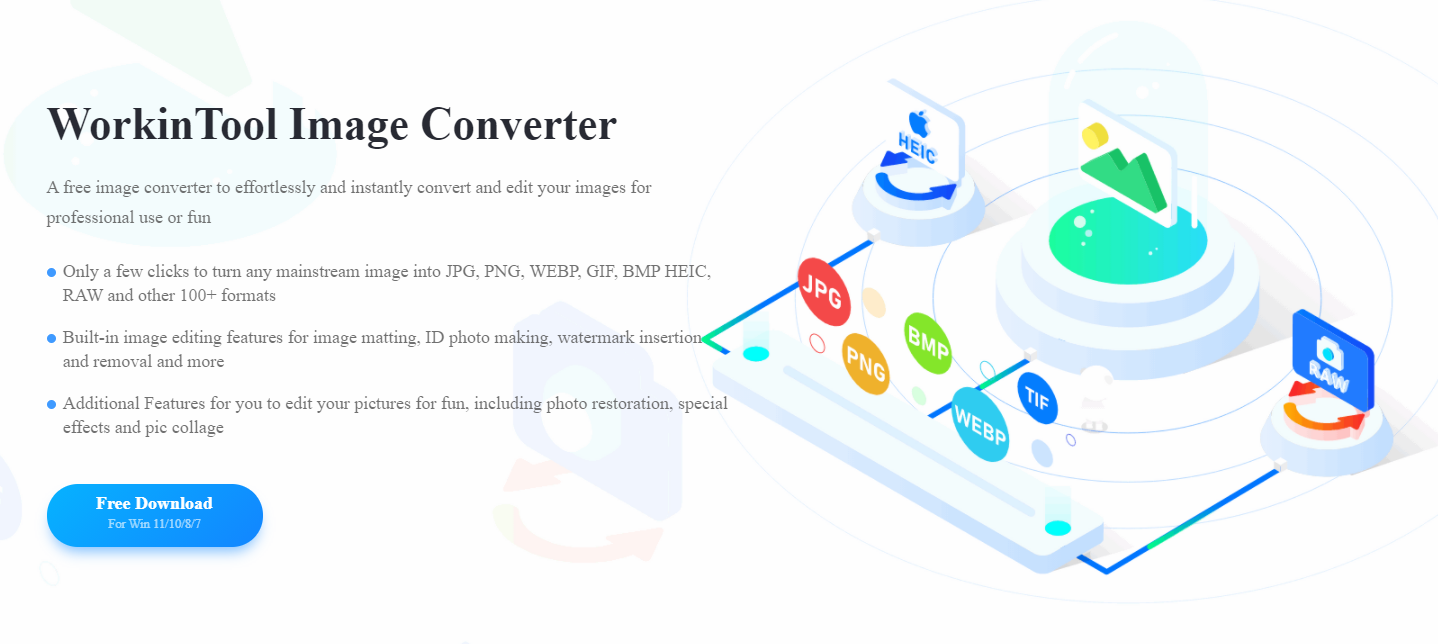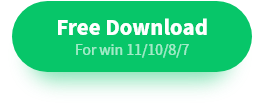 WorkinTool Image Converter is a fantastic software package that helps you convert desktop image formats with the help of artificial intelligence. You can access more than 100 different image formats, including all the commonly used formats in your daily and work life. Even tricky formats like WEBP and GIF are no match for this software. Thanks to the power of AI, WorkinTool Image Converter can convert WEBP to GIF quickly and with excellent image quality. One of the most valuable features of this software is its ability to perform batch conversions. WorkinTool Image Converter can convert up to five images at once, and the best part is that it's completely FREE to convert.
WorkinTool Image Converter is also incredibly user-friendly, making it the most straightforward and easiest-to-use image tool. The home page provides detailed steps for each function, so you can quickly complete your image tasks even if you don't have any experience.
100 +image formats conversion available

Customize to enlarge or compress images

Add or remove photo watermarks

Change or remove the image background

More than 65 image filters to apply
📒 Look how it works with WorkinTool:
Step 1. Open WorkinTool Image Converter and tap the top option Convert Images to add your WEBP image(s).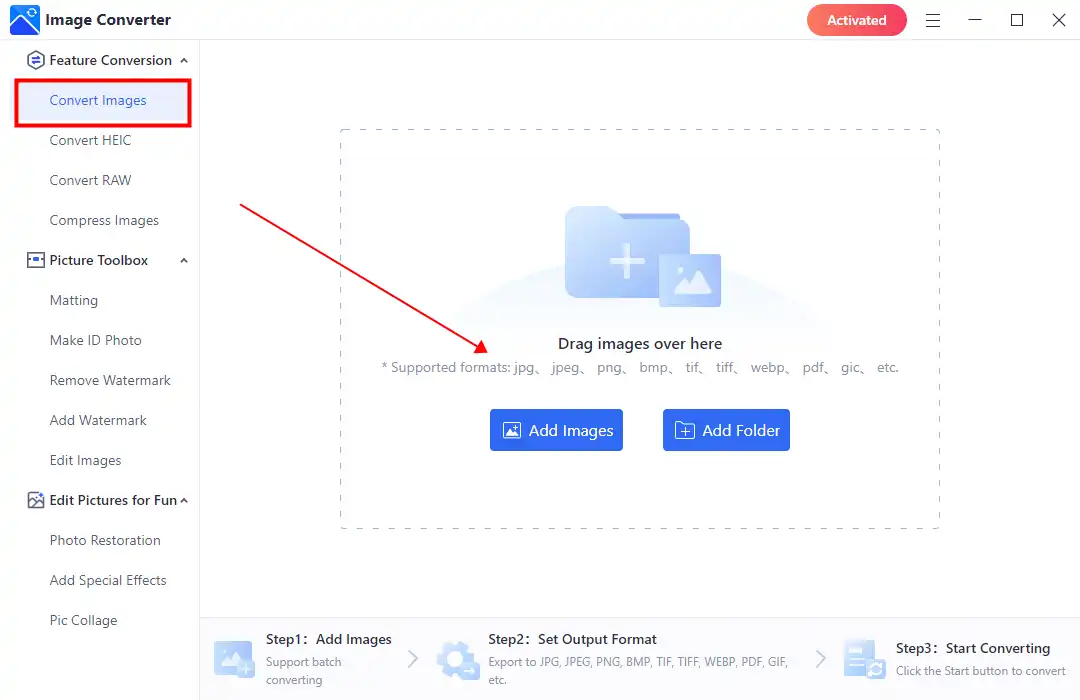 Step 2. Find GIF from the drop-out menu, Then you can click Start to convert immediately.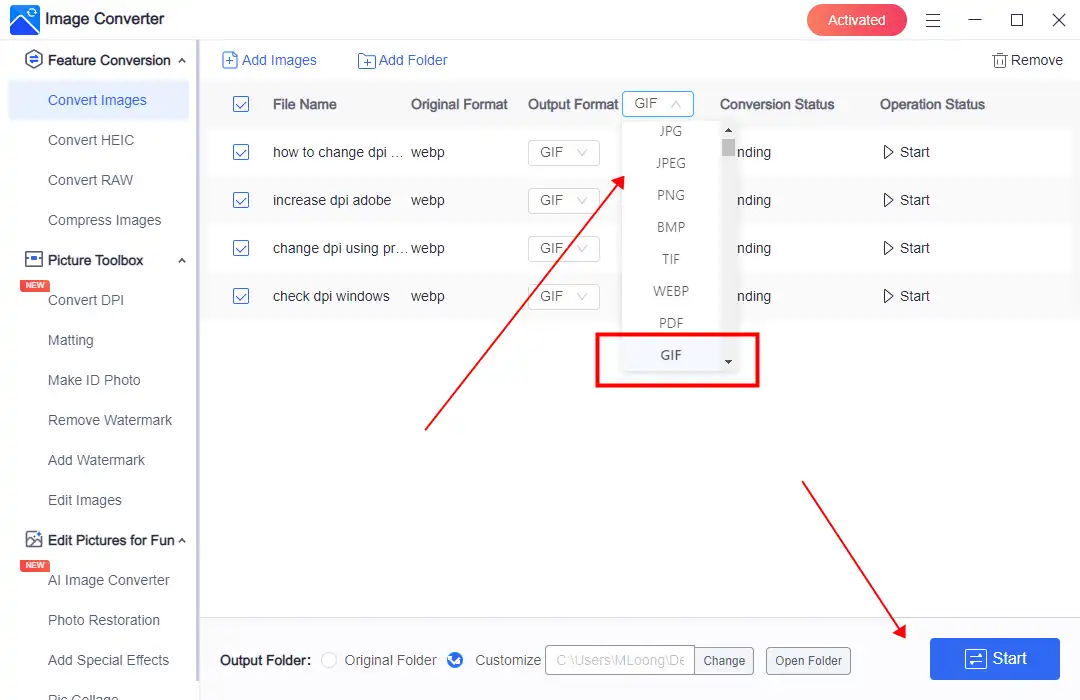 Step 3. When the conversion is finished, click View Now to check the converted result.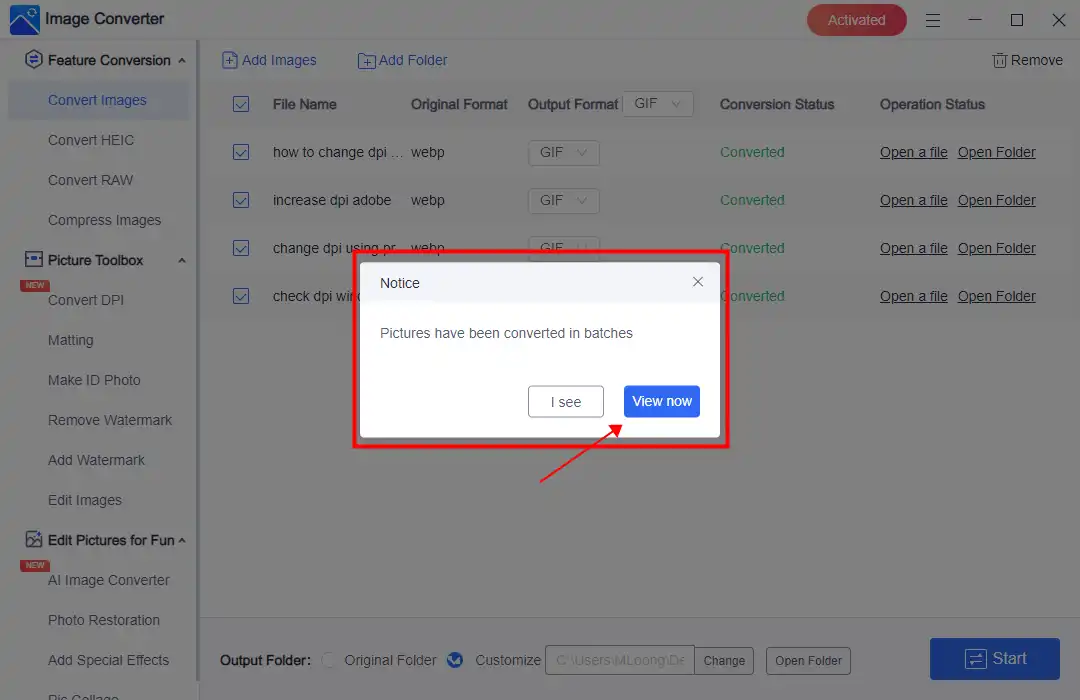 💖 More Additional Features for WorkinTool Image Converter 💖
---
How to Convert WEBP to GIF using Adobe Photoshop
Unfortunately, the Preview app has limited editing capabilities and cannot perform format conversions. In this case, you will need to use an advanced third-party tool like Adobe Photoshop.
Adobe Photoshop is a professional photo editing software that provides comprehensive image editing and retouching features. It allows you to adjust image color, contrast, brightness, crop, and fix photo imperfections. More importantly, Photoshop supports a wide range of image formats, including vector formats like EPS. You can easily convert images from WEBP to GIF or any other format. Although Photoshop is not free, you can download a free 7-day trial to convert your WEBP images to GIFs.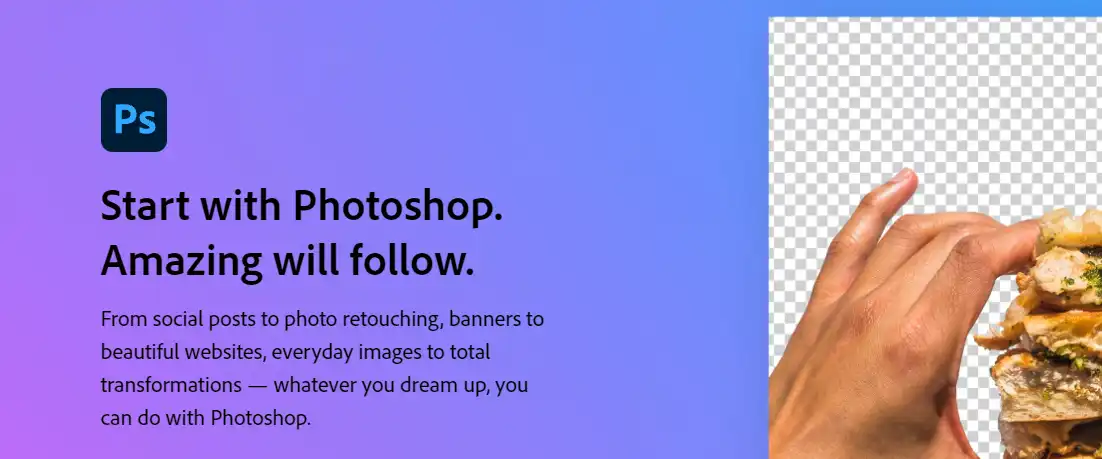 📕 how to transform WEBP into GIF via Adobe Photoshop
Use Adobe Photoshop to open your WEBP images.

Follow this instruction: go to '

File

' > '

Save As

.' In the 

Format

 options, select 

the GIF

 option.

Then, it should be converted immediately. Check the result in the saving folder.
---
Alternative: Online WEBP to GIF Converter
To avoid the hassle of downloading or paying extra money for desktop image converters, online image conversion tools are a great alternative. These tools are just as effective as their desktop counterparts, if not better when it comes to producing high-quality image conversions. However, remember that online converters require you to upload your images to the internet, so it's critical to only use them for non-sensitive images. If you need to know which one to use, Why don't you start with Convertio WEBP to GIG?
We recommend trying out Convertio, a professional online file format conversion tool that consistently ranks high on Google's conversion list. Convertio allows you to convert all types of files, including images, for free and without requiring registration or downloads. Upload your WEBP File and select GIF as the output format, and Convertio will handle the rest. It's a reliable and highly recommended option for all your image conversion needs.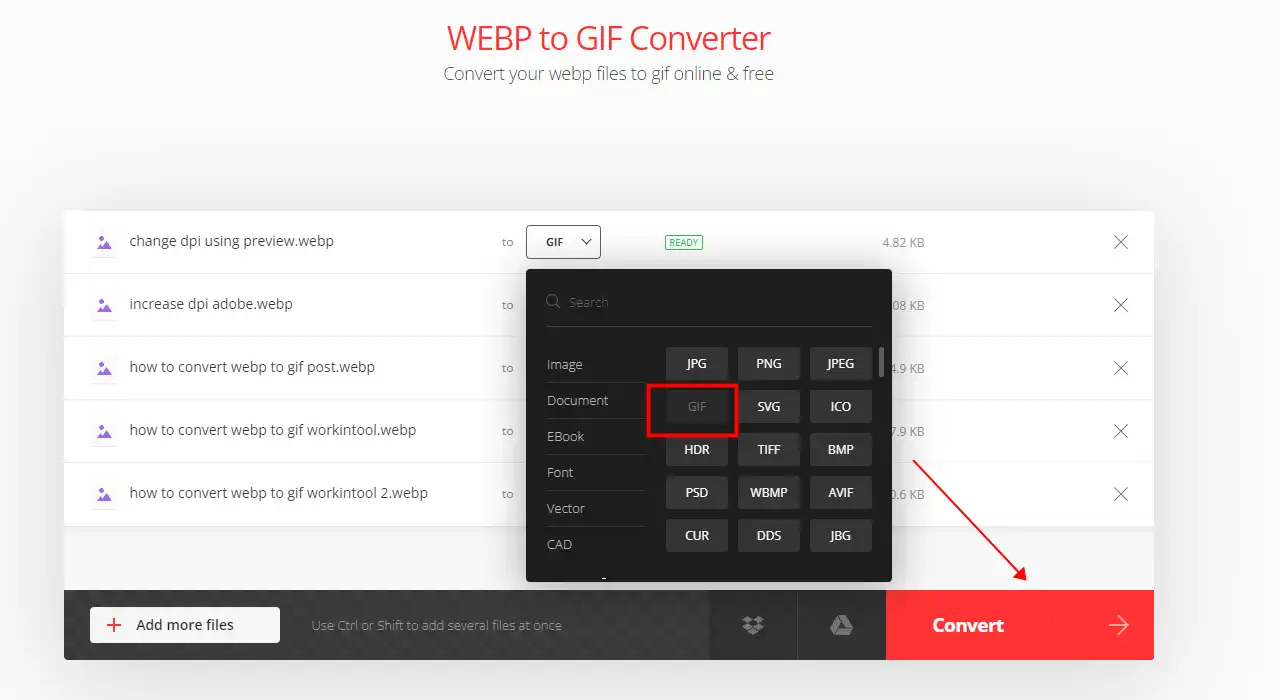 📙 Convert WEBP to GIF using Convertio:
1: Use your website explorer and go to Convertio.
2: Input your WEBP picture(s) into it and select GIF as the output format.
3: Finally, you can click Convert and wait for it to finish.
---
More to Share
In conclusion, converting WEBP files to GIF format can be essential for sharing images on websites and social media platforms that don't support WEBP. With the increasing popularity of the WEBP format, it's crucial to have a reliable and easy-to-use converter at your disposal to create high-quality GIFs. For those using Windows, AI-powered WorkinTool Image Converter is an excellent option that can simplify the process and support a wide range of formats for batch conversion. It supports WEBP and GIF formats and over 100 standard and uncommon formats and offers a variety of image editing features. With its robust capabilities and user-friendly interface, WorkinTool Image Converter is a reliable and powerful tool that won't cost you a dime for image batch conversion.