[Seven Solutions] How to Flip an Image on PC in 2023
Flipping an image seems like a simple task, and you can find it in many image applications. In this article we make a list of the easiest methods for you to get the total control to flip your images. We recommend that you try WorkinTool Image Converter. It is easy to use and provides the customization options on image rotation, flipping, and mirroring. There are more image editing features waiting for you to explore! Download and try it now!
😍 1. Up to FREE 5 image batch conversions and compression try-out.
🤩 3. Customization options to flip, rotate, and mirror.
😎 4. Support more than 100 different image formats to operate.
🥳 5. Cover all the features that you can on the market and interesting filters.
😊 6. Available for image conversion, compression, matting, watermark, and more.
[Seven Solutions] How to Flip an Image on PC in 2023
There are many situations when you need to reorient images on a page while creating digital documents at work. Rotating images can help users read the document's content more efficiently and professionally. Flipping an image on a PC may seem like a simple task, but with numerous tools and methods available, it can be overwhelming to find the best approach. This comprehensive guide will provide you with detailed instructions on how to flip an image on your PC using various tools and techniques in 2023. Follow these steps to easily rotate, mirror, and flip your photos, ensuring you have the perfect image for any situation.
---
🔥 A Recommended Tool to Flip an Image on Windows
Before we dive into the content to flip an image, it is undoubtedly essential for you to understand the difference between rotating and flipping first. Rotating an image is like moving the picture clockwise or counterclockwise according to the center point. On the other hand, flipping refers to reflecting an image according to the midline. There are two types of flipping: horizontal and vertical. Using an image editor is the best way to rotate multiple photos quickly and satisfactorily. For that, we recommend that you try WorkinTool Image Converter.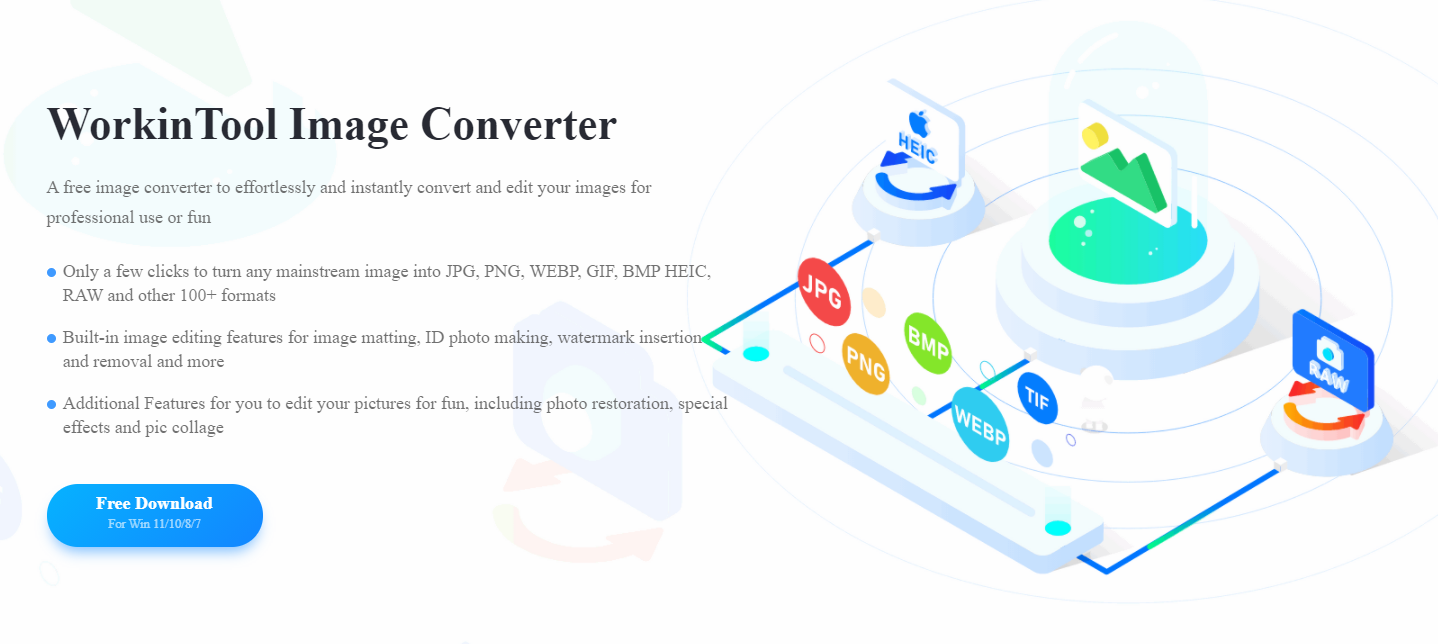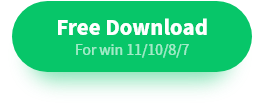 WorkinTool Image Converter is a professional AI-powered image editing software. It supports the editing and conversion of more than 100 image formats. So it's even easier to deal with image rotation. Users can rotate, flip, and mirror images in any direction. The user has maximum freedom to customize the angle and direction. In addition, the software is also equipped with a complete editing function. Image cropping, adding text, and special effects, including fine-tuning the details, are all together in the editing selections. This tool is simple enough to be valuable and practical. Each feature has a simple instruction. Even beginners in image editing can effectively complete the work. Not only rotating images but there are also many other image features that you might want to try:
100 +image formats conversion available

Customize to enlarge or compress images

Add or remove photo watermarks

Mirror, flip, and rotate images

More than 65 image filters to apply
How to flip an image using WorkinTool
Step 1. Download and open WorkinTool Image Converter.
Step 2. Click Edit Images to add your desired pictures here.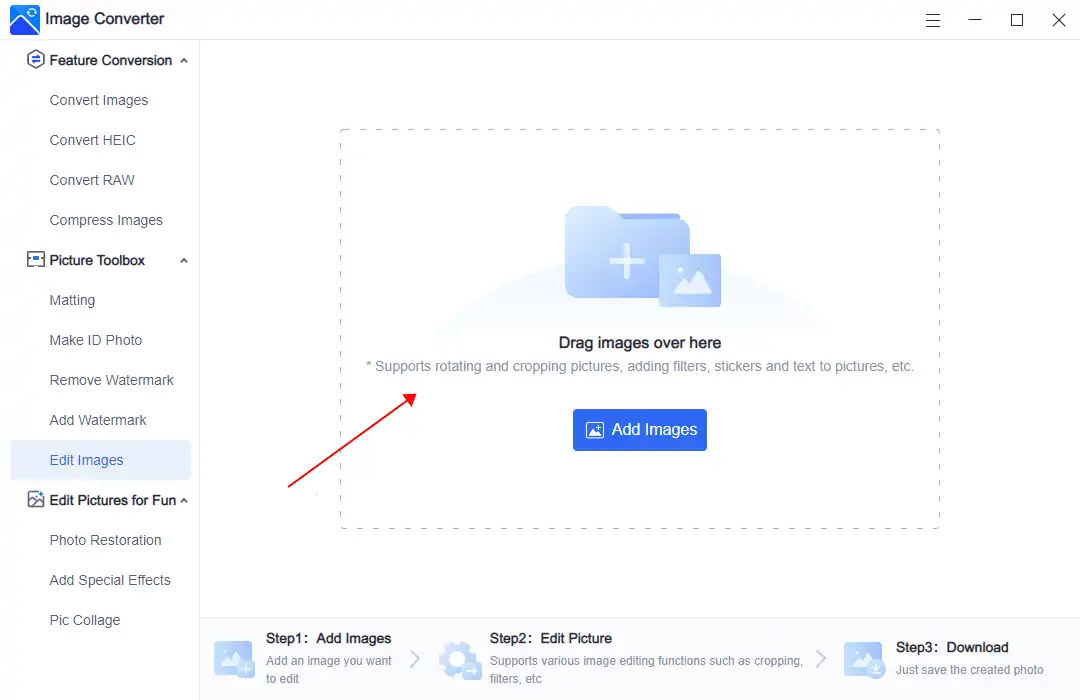 Step 3. Control the rotating and flipping buttons to get the best angle. When it is done, click Save Now and check it in your local folder.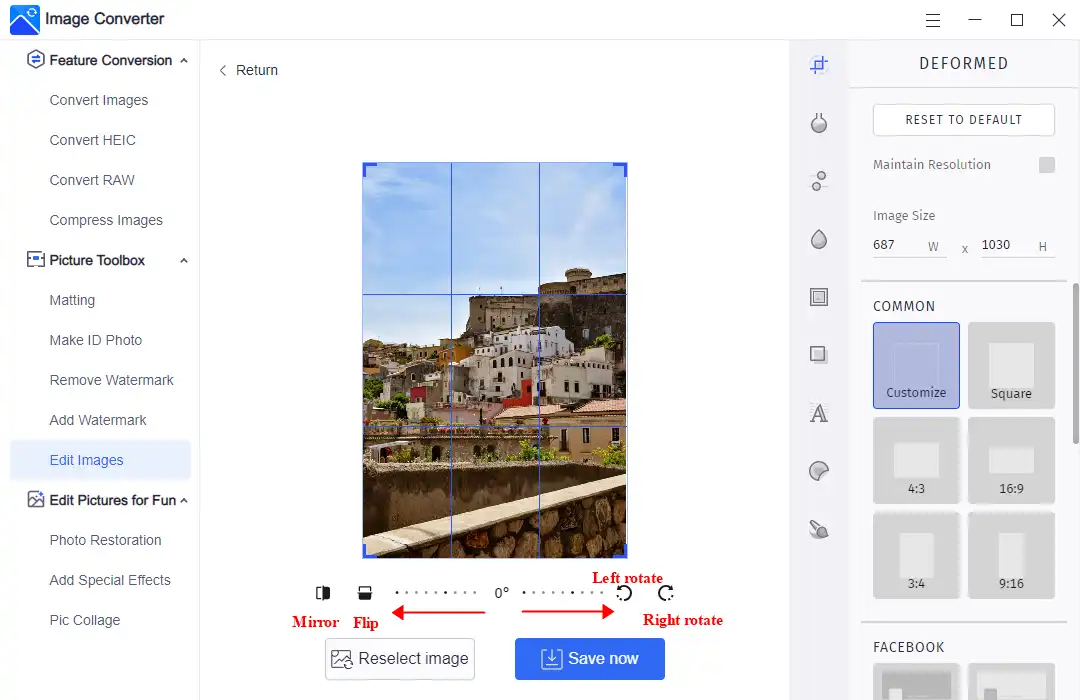 Here you can directly mirror this image, upside down flip this image, left/right 90° rotate this image or fine-tune the rotation of this image (The maximum adjustment range is 45°)
More Helpful Tutorials for WorkinTool Image Converter
---
🎉 How to Flip an Image via

Built-in Tools for Windows Users
1. The Paint
Paint is a classic Windows program that has been around for decades. Despite its simplicity, it offers basic image editing features, including flipping.
To solve the problem of how to flip an image in Paint: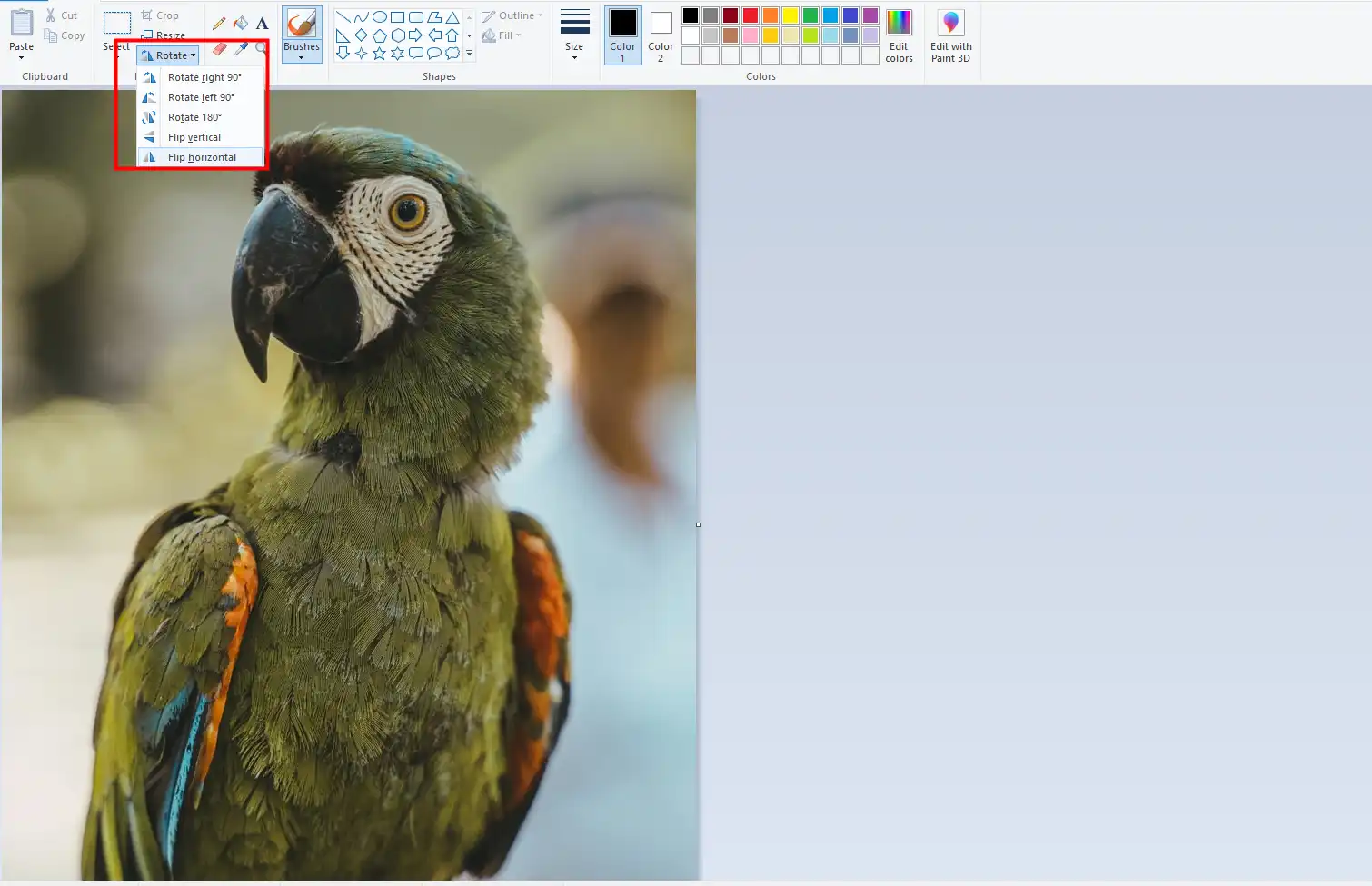 Step 1: Select your image and open it with Paint.
Step 2: Find the Rotate bottom and select a flip option from the drop-down menu. Then you can save this flipped image.
---
2. Photos App
The Photos app is a modern image viewer and editor available in Windows 10 and later versions. It also provides an easy way to flip images.
Step 1: Right-click your image > Open with > Photos.
Step 2: Here is a semicircular image that you can rotate clockwise or click Edit & Create > Edit.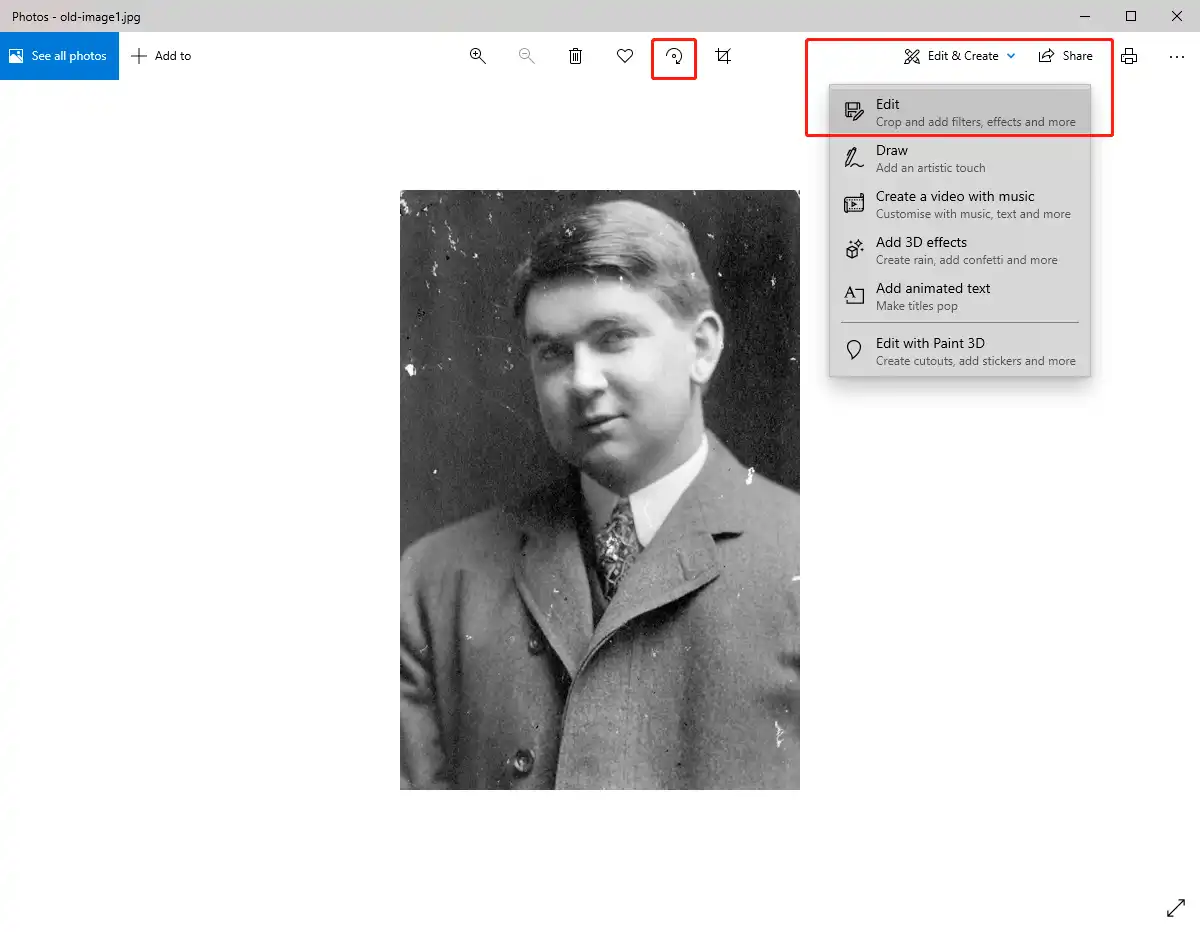 Last Step: Adjust the right buttons to turn the image to the angle you want. After modifying this image, click the "Save a copy" to save it to your computer. The original image will remain untouched.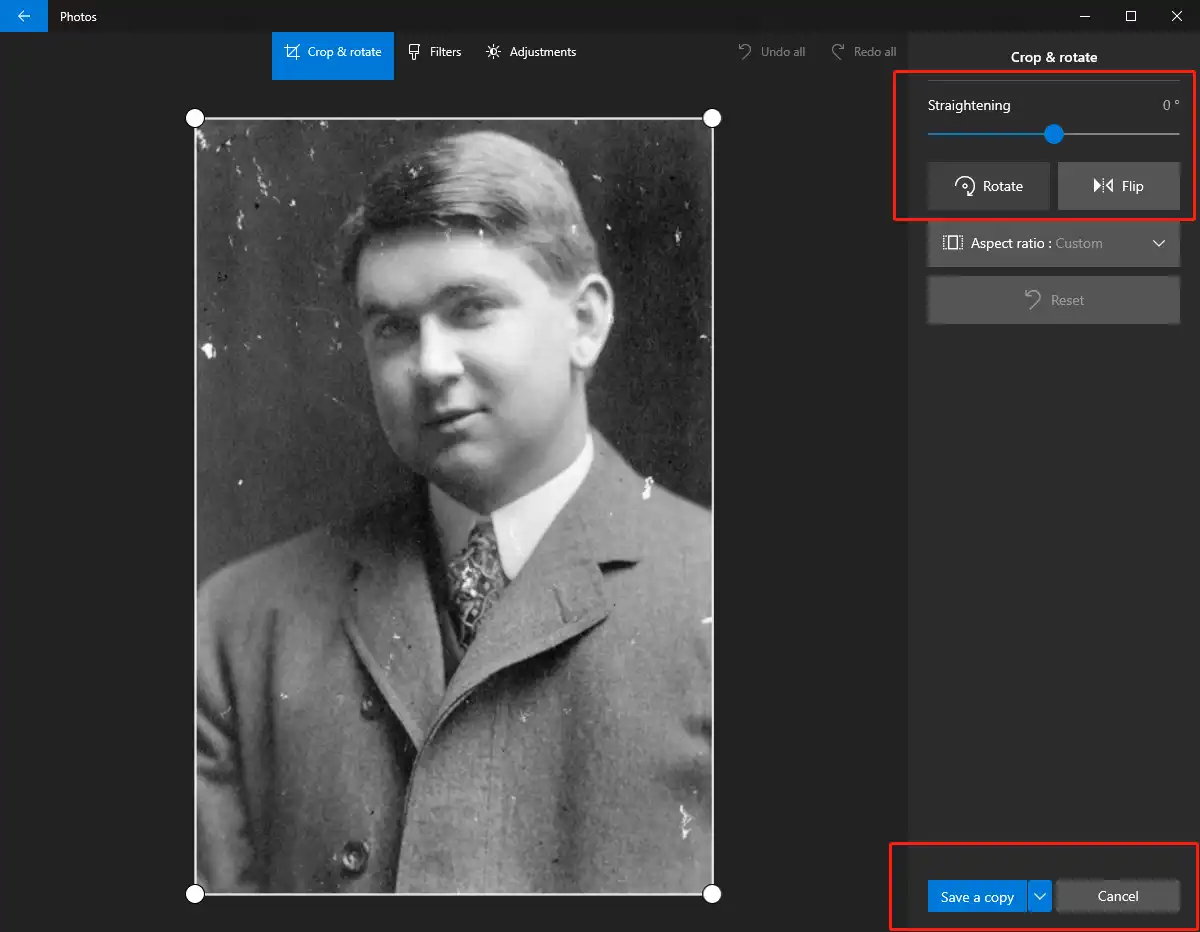 ---
🎇 How to Flip an Image via

Built-in Tools for Mac Users
1. Preview
Mac users can also flip images using built-in tools. Preview is the default image viewer on macOS, offering basic image editing features, including flipping and rotating.
How to flip an image in Preview: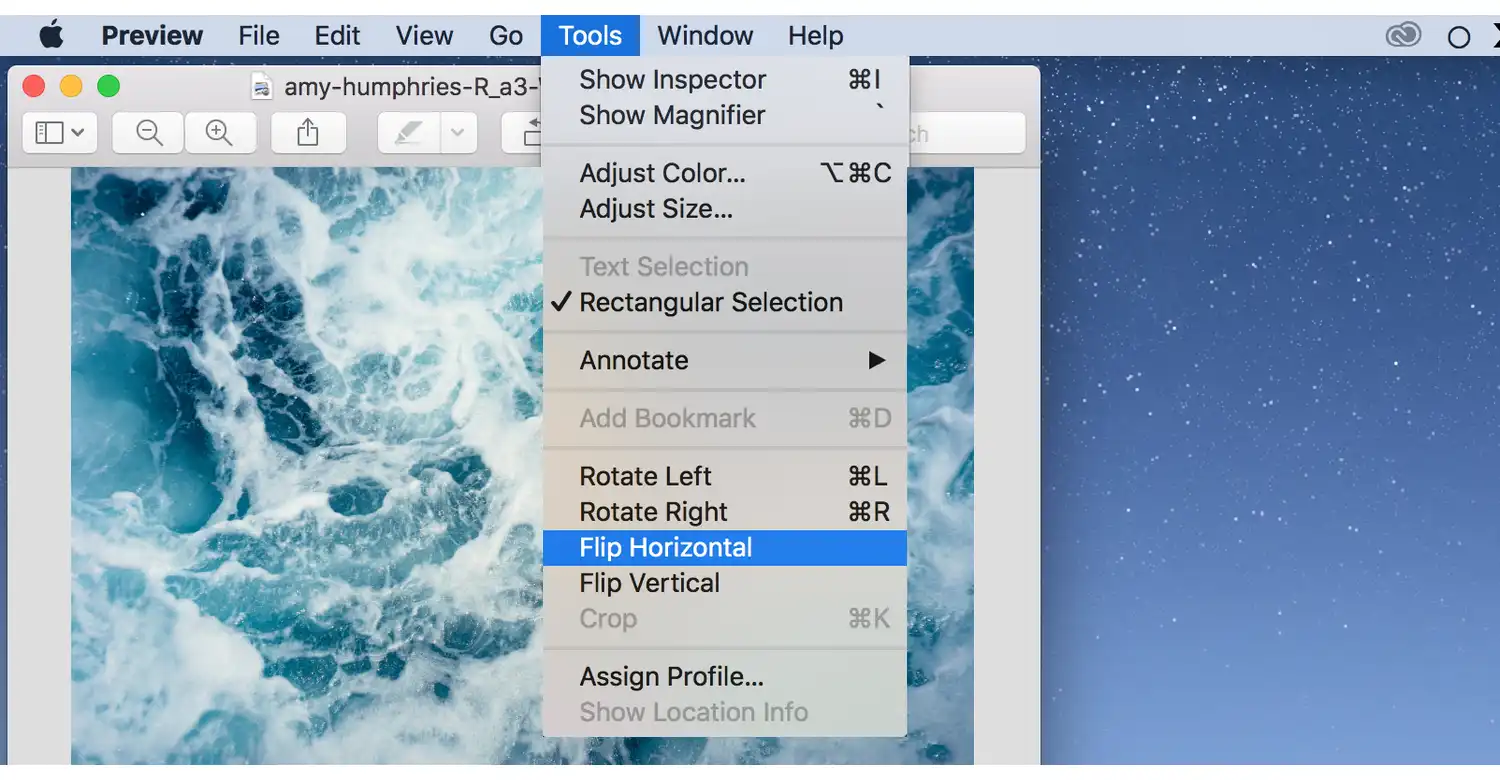 Open your picture with 

Preview

.

Click 

Tools

 in the toolbar and select whether you want to use the 

Flip Horizontal

 or 

Flip Vertical

 functions.

Finally, click 

File > Save

 to save your flipped image.
---
🎊 Other Popular Desktop Flipping Methods
In addition to the recommended software above and the image rotation tool that comes with the system, you may also see some other software that can flip an image. So here are three of the most popular desktop apps that you can use to flip over your pictures.
How to Flip an Image in Microsoft Word
When you want to rotate and adjust an image in a document, you will need more than the software above to help you. Then we can do it directly using MS Word or PowerPoint. They both operate in the same picture. This method is especially suitable for people who frequently use this office software. It can quickly and effectively help users solve problems.
We will use MS Word as an example. Let's see how to do it.
First, open the file using MS Word on your computer.

Insert

 > 

Picture

 > 

From this device,

 put your image in Word. Then you will see the image showing on the middle part with a twirling icon. Drag the icon to rotate the picture.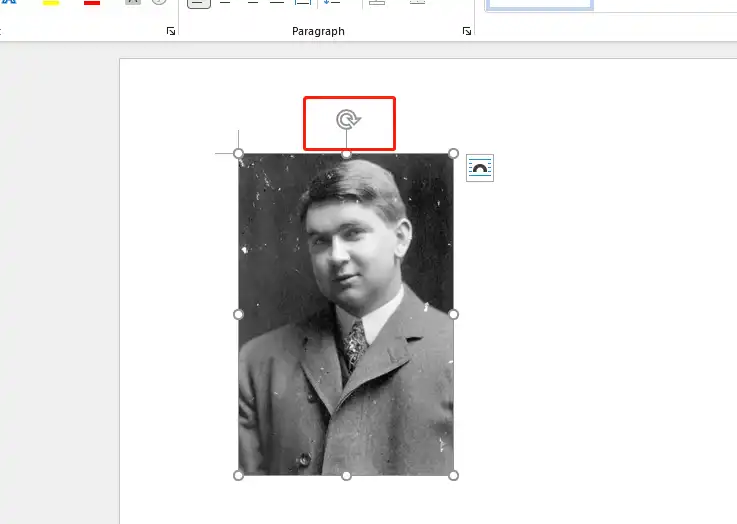 If you go to the top ribbon, a Rotate option provides more choices to turn the image. You can find more possibilities here.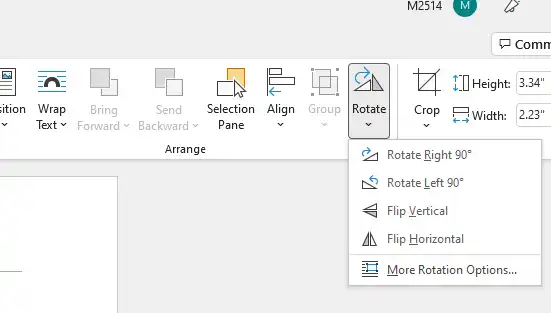 ---
How to Turn a Picture in Google Docs
Google Docs is a free, online file-handling application widely used by small and medium-sized businesses, school students, and teachers. Users need to log in to their Google account to use it. Google Docs can be a great alternative if you need to use documentation software without purchasing a proven solution like Microsoft Office to create professional documents, spreadsheets, and presentations. When you insert an image into your paper, you can adjust the picture's orientation by moving the rotation button at the top of the image. Or change it in the Image options.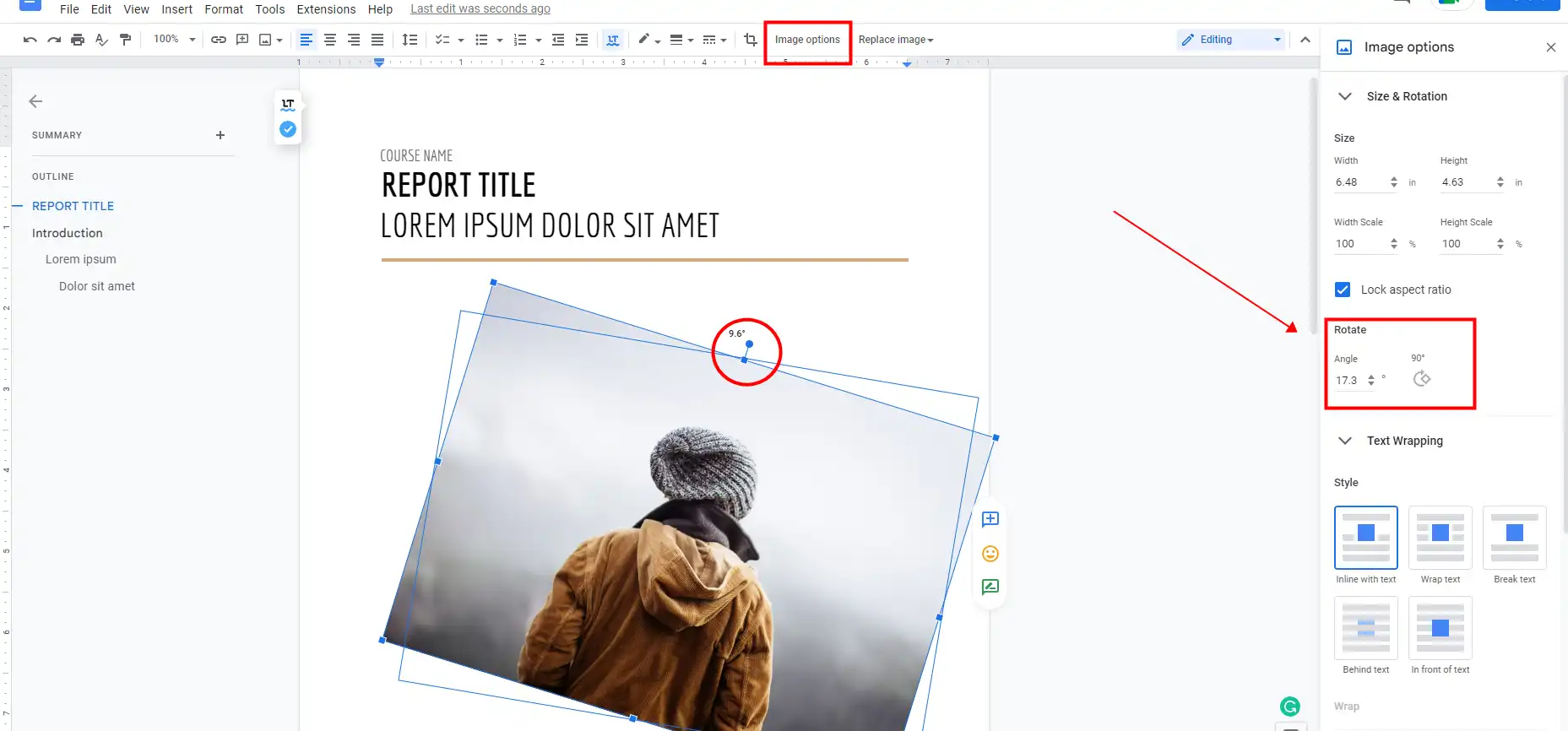 Open the Google Docs file and find the picture.

1.

 Move the mouse over the small circle above the image. Click and hold the mouse button, and then move the mouse in the direction you want the image to rotate.

2.

 Click 

Image options

, and there in the 

Size & Rotation, 

you can rotate your image 90° or a customized angle.

After setting it, you can save the image and the file.
---
How to Turn a Picture in Photoshop
Adobe Photoshop is a very famous image editing software. It is also necessary software for professional photographers. Almost all commercial images will be released with this software to process. So if it's you, take a vertical picture, but you want to use Photoshop to make it horizontal. Do you know how to do that? It's effortless, and you can do it in just a few simple steps.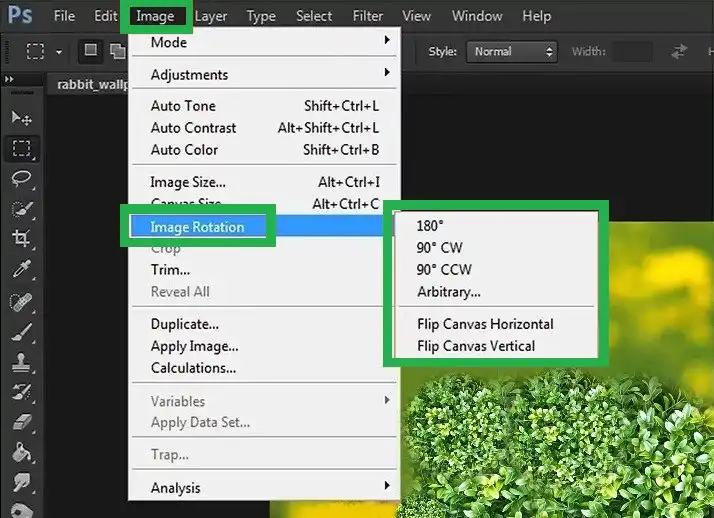 Open your image with Adobe Photoshop.

Click the 

Image

 from the top banner, and find 

Image Rotation

 from the drop-out menu.

Here you can choose to rotate the image 180°, 90° CW, 90°CCW, flip the canvas, or turn it to any angle you want.

After the adjustment, you can save the image or do a better image editing job.
---
More to Share
Remember that each method has its advantages and limitations. Built-in tools like Paint and Preview are simple and convenient but may need more advanced features. Online image editors offer more functionality but may require an internet connection. Desktop image editing software like Adobe Photoshop provides the most comprehensive set of features but may have a steeper learning curve. Just one, WorkinTool Image Converter, is the most suitable one.
By understanding the differences between these methods and selecting the one that best suits your needs, you'll be able to flip images on your PC with ease and confidence in 2023.